10 Best Big Cities in Italy to Visit
Which are the most beautiful big cities in Italy that you should add to your bucket list? From south to north, there are plenty of smaller towns to explore, and there are the best cities to visit in Italy, which usually are the regional capitals. Now, since each region of Italy is very diverse, the cities you find there are diverse too. This makes all of Italy worth visiting, and this makes each city different, and unique in its own way. Let's discover together the most amazing big Italian cities that you should visit, and discover what are the unique characteristics of each of them!
10 Best Big Cities in Italy to Visit
When it comes to the best cities to visit in Italy, we've got to deal with a pretty large number of amazing places. Each region has at least 2 beautiful cities and even more astonishing Italian towns you can explore. This is why we always suggest if possible, checking car rentals in Italy, so you can make sure to explore larger areas with more destinations. You can learn on our website about smaller towns in Italy, as well as the regions in Italy, so you can plan a better itinerary.
We also cover the 10 major international airports in Italy, to help you plan your trip even easier. In this article though, we're concentrating on the biggest cities in Italy that are really worth exploring. These destinations require from 2 to 6 days at least, in order to fully discover them. We will be pointing out at each city what our suggestions are for days to spend there, and when to visit!
Recommended: car rentals through Discovercars.com, and accommodation bookings through Booking.com.
1. Rome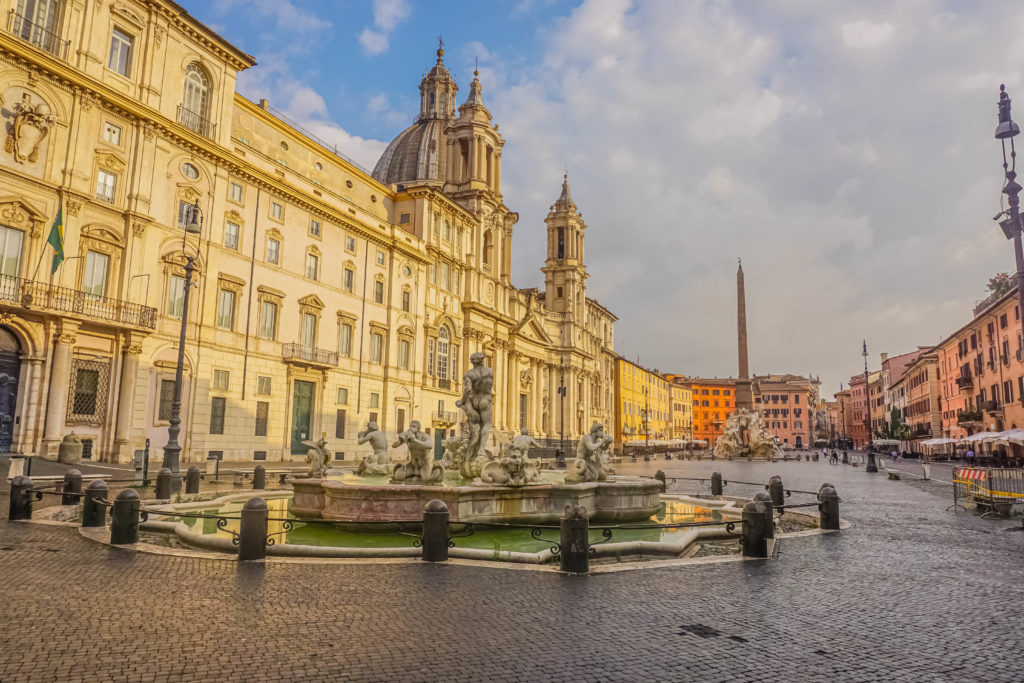 The number one most visited city in Italy is the capital, Rome, the Eternal City. If you've never visited Rome, you should know that this city is one of a kind, a huge museum in itself. On every hill, street, or square there's something incredible waiting to discover. There are of course the essentials, such as the Colosseum, Pantheon, or the Trevi Fountain, but beyond these, you can find some of the most famous, most important landmarks, and works of some of the most famous artists of all time.
Rome is one of the most beautiful Italian cities, offering dozens of breathtaking squares, beautiful fountains, charming streets covered in cobbled stones, and even more museums. Don't forget one of the most important highlights of Rome: the churches. Beyond the St. Peter Basilica, Rome has hundreds of churches, one most beautiful than the other, with some incredible art inside.
Then, there are those amazing Roman dishes too! You must explore gelaterias in Rome while wandering in the historic center, and stop by for a coffee at some of the most charming cafes! Explore the amazing Roman cuisine with the best restaurants in the city, and eat a delicious Cacio e Pepe in Trastevere, a delicious pizza, or a Carbonara by the Trevi Fountain!
Roll into a cooking class in Rome to learn how to cook Italian style. Then, you can visit some of the most amazing rooftop bars in Rome for Aperitivo, and maybe see one of the best Michelin-starred restaurants too! In the evening, you can get into the best nightlife in Rome to end the day.
Airport: Fiumicino Airport, Ciampino Airport
Minimum days to spend: 3-6
When to visit: Year-round destination – Spring and Autumn are most recommended
Where to stay: Luxury Hotels in Rome, Hotels in Rome, Hostels in Rome, Hotels in Trastevere, Hotels near Vatican City
2. Florence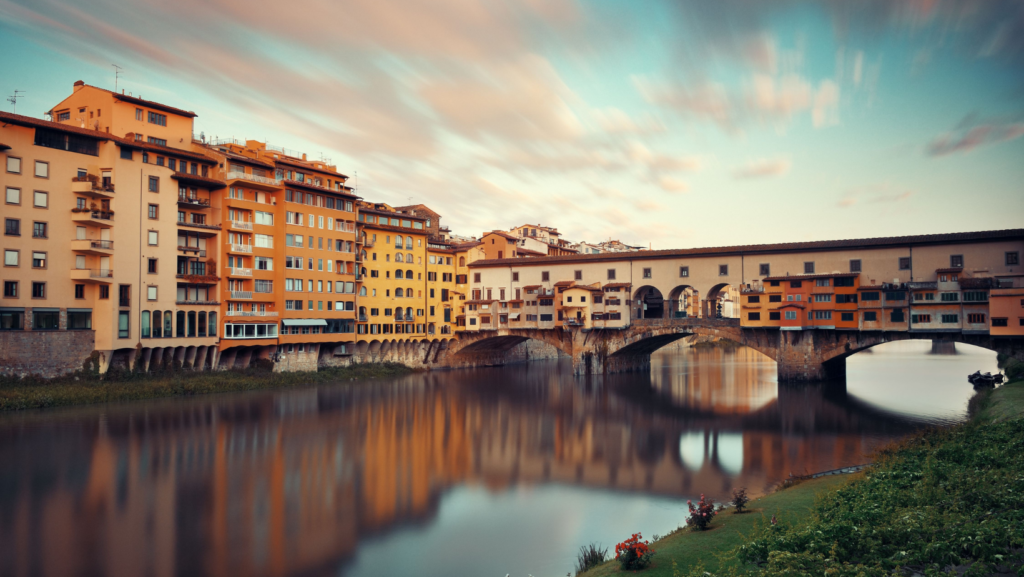 Florence is one of the most significant and beautiful cities in Italy, the birthplace of the Renaissance, and the home of some of the most famous artists in history. Charming streets, breathtaking buildings and landmarks, colorful houses, and art, art everywhere. Florence is charming and exquisite, elegant and simple at the same time. This destination is perfect for those who are seeking art and beauty.
In Florence, you can find plenty of museums and art galleries, such as the Galleria dell'Accademia, the Uffizi Gallery, the Palazzo Vecchio, and also the Pitti Palace are some of the most important places to find some of the most famous artworks of all times! On the other hand, you can't ignore churches either! The Cathedral of Santa Maria del Fiore or the Basilica di Santa Croce is not to be skipped!
And don't you forget about the delicious and famous Tuscan food, and Tuscan wines either! Make sure you head down to find some of the best restaurants in Florence and try the famous Bistecca alla Fiorentina, or pasta dishes with Tartufo (truffles), all accompanied by some great Tuscan red wines. Some of you might not be interested, but we do recommend trying boar ragu too, as that's something absolutely fantastic in Florence to eat!
As in Rome, you can join cooking classes too, and spend the evening at some of the best rooftop bars in Florence with astonishing views over the city. Don't forget that Tuscany hides some of the most beautiful small towns, so if you do visit Florence, make sure to plan some day trips outside the city too! If you skip that, you don't know what you're missing out on! Shopping for leather goods and jewelry is a must too!
Airport: Aeroporto Amerigo Vespucci
Minimum days to spend: 3-4
When to visit: Spring, Summer, early Autumn (September, October)
Where to stay: Luxury Hotels in Florence, overall best hotels in Florence, and hostels
3. Venice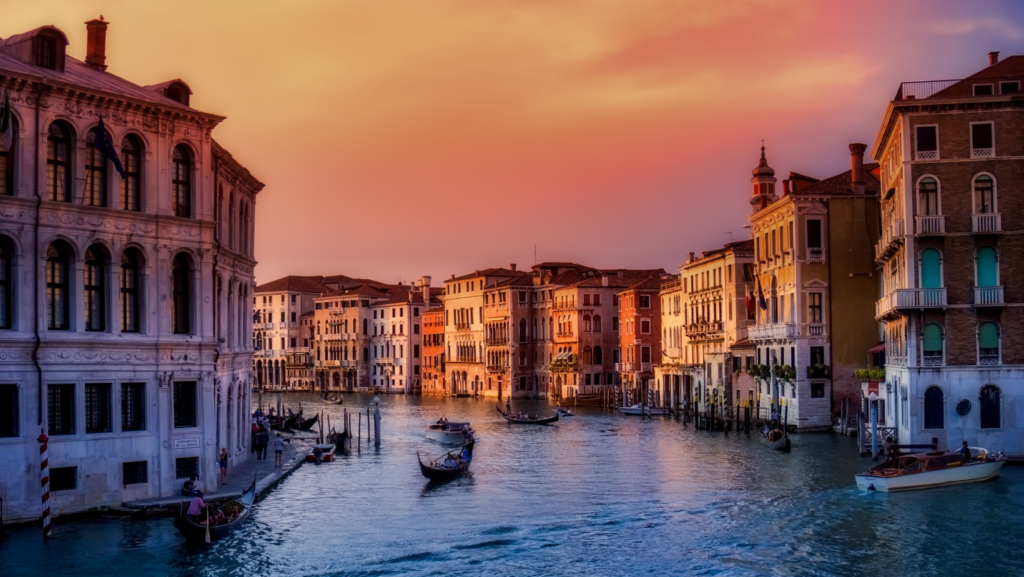 Venice is one of the best cities to visit in Italy, and I dare to say that it's among the top 5 Italian cities that must be seen! Getting lost on narrow streets that are running alongside the canal labyrinth, admiring the beautiful palazzos from a boat, and falling in love on a gondola is what Venice is about! Venice is an island city that can be reached by train, bus, or boat.
If you are flying into Venice, you can also take a ferry from the airport. The Vaporetto and the water taxis are the main way for getting around Venice if you don't want to walk. One of the highlights is always to get a gondola ride, though these are used for the experience, and not for transportation. The center of Venice is Piazza San Marco or St Mark's Square. This is the one spot in Venice that you cannot miss!
Stop by for a coffee or have an aperitivo on the square, listen to music, and take in the beautiful view of the piazza, the Doge's Palace, and the cathedral itself. Grand Canal (Canale Grande) is the main canal sliding Venice and a boat trip down on it is really worth it. Due to the many canals in the city, as you can imagine, there are several bridges as well that you must see. A highlight would de the beautiful Rialto Bridge.
Aperitivo in Venice has a ritual, where you must try some Campari or Aperol Spritz along with Cicchetti, which are tiny sandwiches and a specialty of Venice! Make sure you look after the best restaurants in Venice too, and if you're in the city, planning some day trips from Venice is something you shouldn't miss out on!
Airport: Venice San Marco, Venice Treviso airports
Minimum days to spend: 2-3
When to visit: Summer, late Spring, or early Autumn ( autumn is risky due to high water)
Where to stay: Luxury hotels in Venice, and overall best hotels in Venice
4. Milan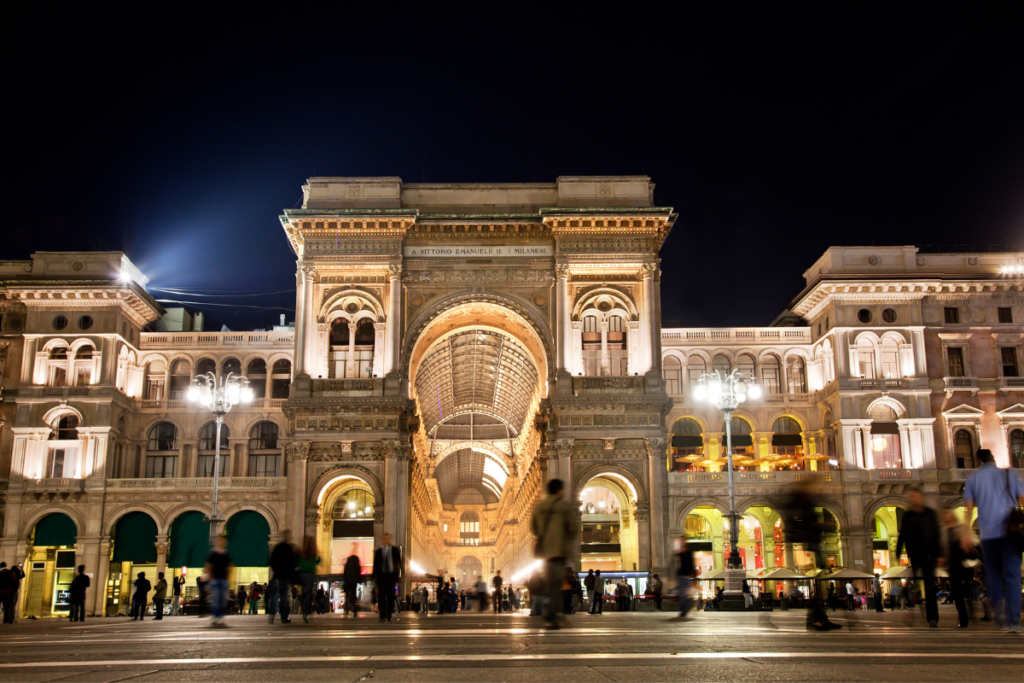 Beyond being the first on the list of the fastest-developing cities in Italy, Milan is the financial capital and fashion capital of Italy. The capital city of Lombardy has many faces, and it's a destination that's not too overwhelmed by visitors, while it should be. Beyond the iconic Duomo di Milano, there are a few basics to see, like the Teatro alla Scala opera house, and the Galleria Vittorio Emmanuele II, Italy's most famous and oldest functioning shopping mall.
Beyond these, there are plenty of other things to do in Milan, that you can explore in the linked article! The beautiful city is overpacked with art galleries, museums, art museums, and the most stunning villas. There are plenty of breathtaking churches to explore in Milan and some real hidden gems that only we, locals know about. Milan is at the same time cheap and expensive.
A place for any traveler. From luxury hotels, spas, and Michelin-starred restaurants to some really iconic bars like the Martini Terrace and the Camparino bar, there's much to do! Exploring Brera Design district, the world's most famous Italian luxury brands, jewelry stores, and art galleries. Of course, there's Castello Sforzesco and the most charming park, Parco Sempione to see as well!
Let's not forget about the charming Navigli neighborhood either for Aperitivo, and the most amazing day trips from Milan to the nearby mountains and lakes. When it comes to food, there are some specific Milanese dishes, like the Ossobuco and the Risotto allo Zafferano that you should try! Oh, and of course, there's the Milan Fashion Week, Design Week, and many festivals and activities around the year! Milan is a place to explore, one of the most beautiful modern European cities, that's also our base!
Airport: Milan Malpensa, Linate, and Milan Bergamo
Minimum days to spend: 3-4
When to visit: Spring, Winter, and Autumn are the best
Where to stay: Luxury hotels in Milan, affordable hotels, and hostels in Milan
5. Bologna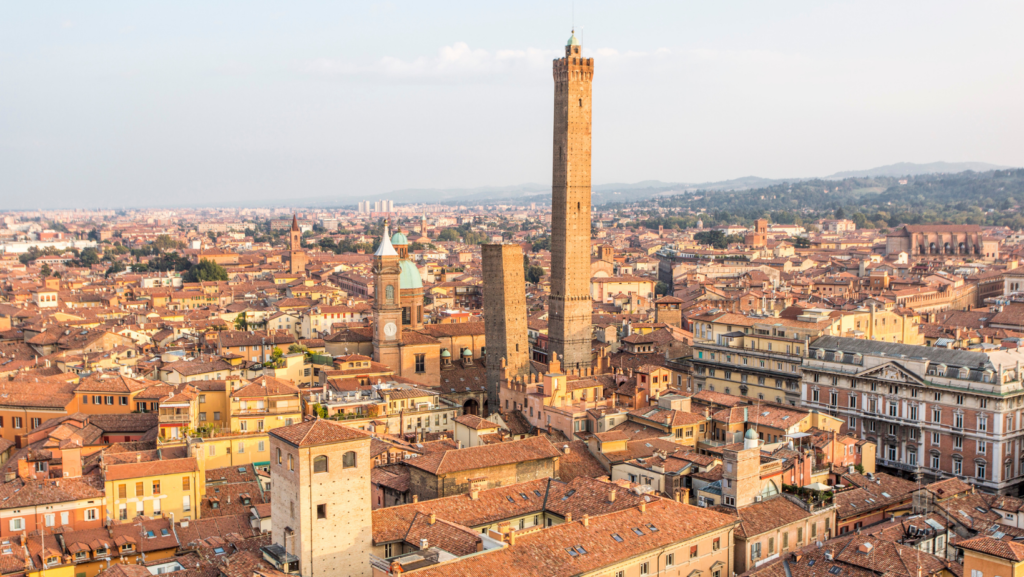 Bologna is the capital city of the Emilia Romagna region and definitely one of the best cities to visit in Italy! It's located just about an hour away from the east coast. Bologna is halfway between Florence and Milan, Or Venice and Florence. Also, getting to Bologna is super convenient, as it has an international airport, as well as many train lines that are passing the city. Alternatively, you can reach the city by bus or train as well!
Bologna is home to the world's oldest university that's dating back to the 11th century. You can also visit the old anatomy classroom while you're exploring the city! Another highlight of Bologna is the food! Bologna has some of the most famous Italian dishes, including the popular Bolognese sauce (Bolognese ragu) and different types of handmade egg pasta, mortadella, tortellini, and much more!
If you're in the city, you must have at least once a Tagliatelle al Ragu. You won't taste a bolognese as great as it's done in its birthplace! Strolling around the city center, and discovering the Piazza Maggiore, the small streets nearby where you can also find street markets with fresh food is a must! We cover some of the best restaurants in Bologna for you!
Bologna is famous for its porticoes as well! In fact, the city has 38km of porticoes with beautiful arches and columns. For those who are looking for lively nightlife (youth), since Bologna is a university city, you'll find plenty of locals and nightclubs too! Last, but not least, you must also visit the two leaning towers of Bologna, Garisenda, and Asinelli. You can also climb the Asinelli Tower for a breathtaking view over the city of Bologna!
Airport: Bologna Guglielmo Marconi Airport
Minimum days to spend: 2
When to visit: Spring, Summer, early Fall
Where to stay: Hotels in Bologna
6. Verona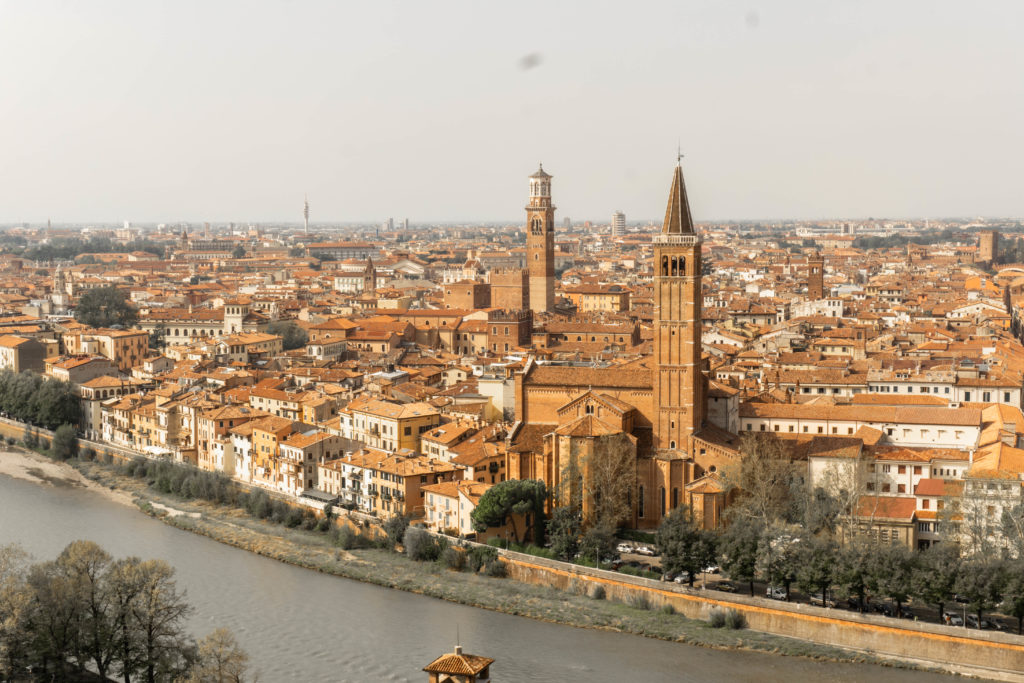 Verona is one of the best cities in Italy to visit for those who are looking for romantic destinations, as it is indeed one of the most romantic Italian cities you could ever find! The famous story of Romeo and Juliet made Verona known worldwide, and it feels like the vibes of their love are just all around the city center.
Verona has some really charming streets, aligned with beautiful houses, plants, and stunning piazzas. If you're in Verona, you must visit the Piazza Bra, as well as Piazza delle Erbe. This second is without question the most beautiful square in the city!
Some other highlights are the Arena di Verona, which's the 3rd largest amphitheater of the Roman Empire. Then, there is of course the unmissable Juliet's House, the stunning Castelvecchio, and the Castel San Pietro which offers the most beautiful views over the historic center.
Enjoying local food, and wine from the region (north of Verona is one of the most famous wine regions in Italy), and exploring some of the best restaurants in Verona is a must! Besides the charms of this city, you can plan some amazing day trips to one of the most beautiful lakes in Italy, Lake Garda. You can head up north towards Trento, in Valpolicella for some wine, or take the train and be in an hour in Venice!
Airport: Valerio Catullo Airport
Minimum days to spend: 2
When to visit: Year-round destination – best: late spring, early Fall. Summers are VERY humid!
Where to stay: Hotels in Verona
7. Turin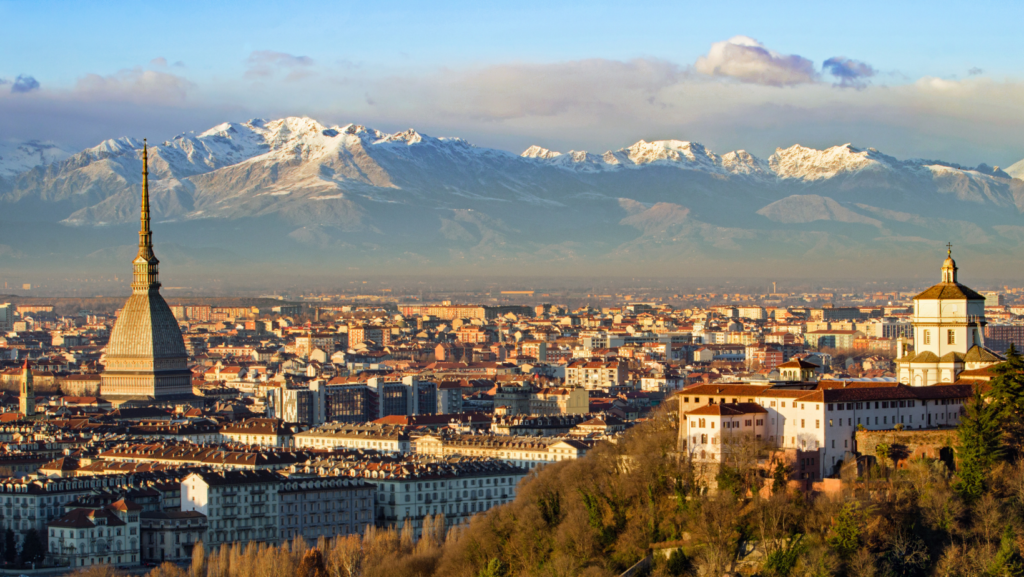 Torino, while it appears to be an underrated city in Italy, it is however one of the best cities to visit in northern Italy! Turin is only an hour away by train from Milan, and it's a place that's really unique, not similar to any other city in Italy. A city where you can discover a lot about the royal history of Italy!
Torino was the capital of the House of Savoy during the 16th century, and it was also the capital of Italy for a short period in the 19th century. The city is aligned with elegant streets and breathtaking palazzos reflecting the Baroque age. There are also impressive royal palaces to discover, an Egyptian Museum, the Cinema Museum, and the stunning Mole Antonelliana.
While you're in Torino, you must also know that the city is really famous for its automotive history, since it's the home of the two famous brands, the Fiat and the Lancia. You can also visit the Automotive Museum in the city! Moreover, Turin is also really famous for their Italian chocolate brands, and the delicious sweetnesses to treat you. Since it's close to the mountains too, it's ideal for those who'd want to explore the Valle d'Aosta in the winter for skiing, or in warm months for hikes and stunning views.
Airport: Turin-Caselle Airport
Minimum days to spend: 2
When to visit: Winter (if you want to go skiing nearby), or Spring, Summer
Where to stay: Hotels in Turin
8. Naples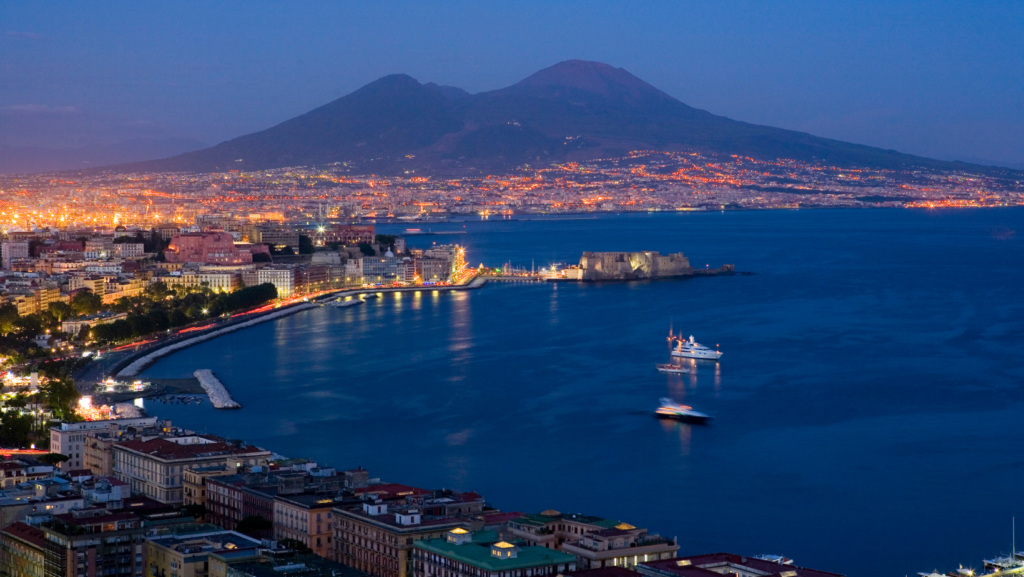 Naples is one of the most colorful, and diverse, and also one of the major cities in Italy. The southern city is offering a really exciting experience for its visitors that's followed by the most famous dish in Naples, like pizza, pastries, and many others!
Naples has its own international airport so you can fly directly into the city, but you can also get there by car, train, bus, or even ferry boat! Some of the highlights of Naples are the Duomo di San Gennaro and the stunning Castel Nuovo right near the sea. Among the many things to explore in the city of Naples, we must highlight the most famous Italian volcano that's also nearby.
You can also plan a day trip to visit the Vesuvius volcano, as well as the ancient cities that were destroyed by its eruption. Pompeii one of the most famous towns in history that were destroyed by a natural disaster is one of these. For a very long time, Pompeii was covered in lava, but now it's open for explorers! A day trip from Naples to Herculaneum is just as perfect, having more options to discover the ancient Roman Empire!
When it comes to food in Naples, you can't leave the city without eating pizza! The Neopolitan pizza is something incredible, and something so delicious, that it's a sin not to try it! Simple and delicious! Neapolitan pastries are also incredible, especially the Sfogliatella and the Baba. Indulge in the lively and chaotic Neapolitan life, and discover one of the most unique cities in Italy!
Airport: Naples International Airport
Minimum days to spend: 2-3
When to visit: Spring, Winter, Fall – if you're just doing a city break. Summer if you're headed to one of the seaside destinations from Naples.
Where to stay: Hotels in Naples
9. Genoa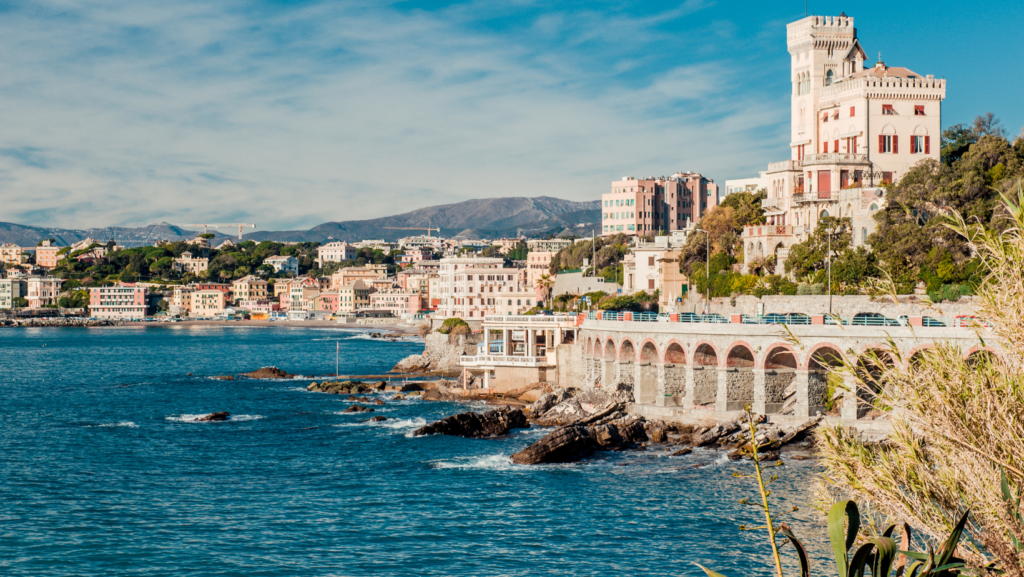 Genoa was once a really powerful maritime city-state and it's one of the highlights of the best cities to visit in Italy, more specifically in the North of Italy. You should know that Genoa has its own airport, but it's also close to Milan and Turin (about an hour away from both), so you can reach it by train, or car too.
Wandering around the historic center is the first must-do when you visit Genoa. Right after that, you must see Porto Antico, which is the old port of Genoa. Here, you can find the largest aquarium in Europe, the botanical gardens, and Bigo Crane, which's taking you up to 40m to get a stunning view over the city of Genoa.
Some other things to do in Genoa are visiting Palazzo Reale, the Galleria Nazionale di Palazzo Spinola, and let's not forget the seaside and the fresh seafood and fish dishes either! Make sure you also check the best restaurants in Genoa for the best seafood and then explore the local beaches too! Since Genoa is on the Italian riviera, you can plan day trips to Cinque Terre and other amazing towns, such as Portofino too.
Airport: Aeroporto di Genova Cristoforo Colombo
Minimum days to spend: 2-3
When to visit: Summer
Where to stay: Hotels in Genoa
10. Palermo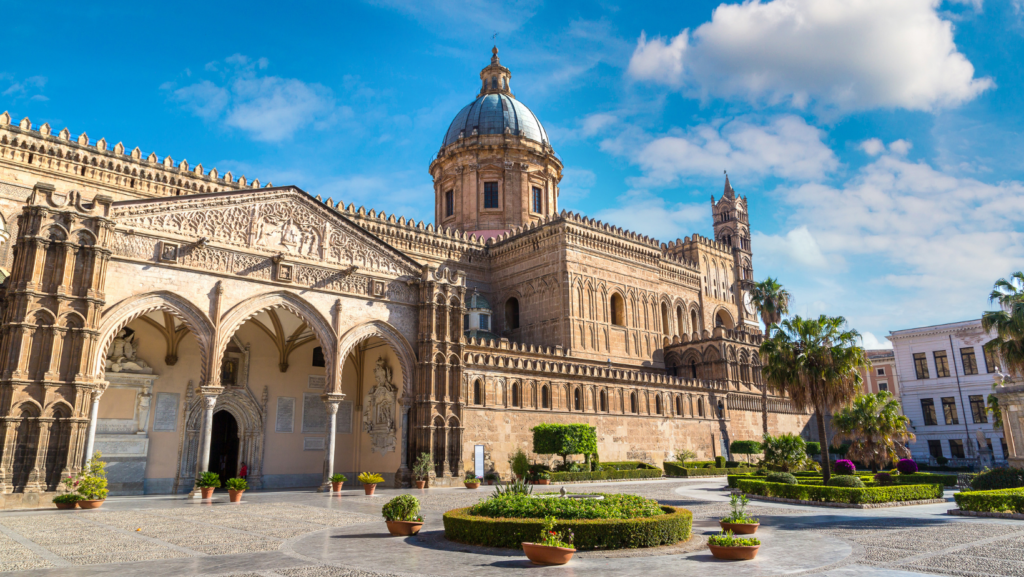 Now let's head down south again, to the beautiful island of Sicily. Palermo is definitely one of the best Italian cities with mixed culture and great vibes. The city has its own airport, but you can reach the city by other transportation methods as well, such as a Ferry boat, or by car.
Palermo is colorful, with street markets, and stalls overflowing with fresh products from fruits to fish. We must highlight, that Palermo is rich in culture as well, as Italy's biggest opera house is to be found here. The city is also full of unique, characterful churches and beautifully decorated squares and fountains.
Quattro Canti is one of the highlights you must see in Palermo! The four Baroque buildings standing face to face with each other, the statues that represent the four seasons. This city is rich in stunning architecture, real Sicilian vibes, amazing food, sea, and sunshine. It's a major city in Italy that you shouldn't miss, especially if you love warm destinations!
And the Sicilian food, that's another big highlight! Make sure to try some granita, canollo, arancini, and cannelloni too! Also, since Sicily is one of the best summer destinations, make sure to check out the best beaches in Sicily, get a rental car, and drive around to explore the beautiful island and its many treasures. If you're not only visiting Palermo but the whole island, we suggest you plan a trip of at least 10 days!
Airport: Aeroporto di Palermo Falcone e Borsellino
Minimum days to spend: 3-4
When to visit: Late spring, summer (VERY HOT though), and early Fall
Where to stay: Hotels in Palermo
Best big cities in Italy FAQ
What is the capital city of Italy?
Rome is the capital city of Italy. Located in Central Italy, in the region of Lazio.
Is Vatican City in Italy?
Vatican City is in Italy, but it's a separate state inside the country.
How many cities in Italy?
In Italy, there are two cities with a population of over 1 million. There are 31 cities with 100.000 to 1 million inhabitants and another 923 cities with inhabitants between 10.000 and 100.000.
Which are the 3 biggest cities in Italy?
The three largest cities in Italy are as follows: Rome, Milan and Naples
Which are the safest cities in Italy?
Every city in Italy is safe in its own way, as well as every city has criminals, and pickpocketers too. Verona, Bologna and Genoa are among the safest from our list.
Wrapping up the 10 best cities to visit in Italy
Now that we've been through the 10 major cities in Italy, which are also truly the best cities to visit in Italy, we hope you're ready to explore our beautiful country! If you love the south, definitely add to your list, Palermo or Naples. Also, if you're looking for places rich in culture and history, Rome and Florence are a must! If you're looking for an Italian city that's calmer, and it has amazing food, then Bologna is your place! For stunning and unique experiences, choose Venice! To discover the North of Italy, Verona, Milan, Turin, and Genoa is definitely a must-see! Make sure to explore our site, and all the articles linked in here, so you can plan better your trip! We've got infinite resources to help you have the best holiday in Italy!
Italian version: Piu belle citta grandi in Italia
Pin it: 10 best cities to visit in Italy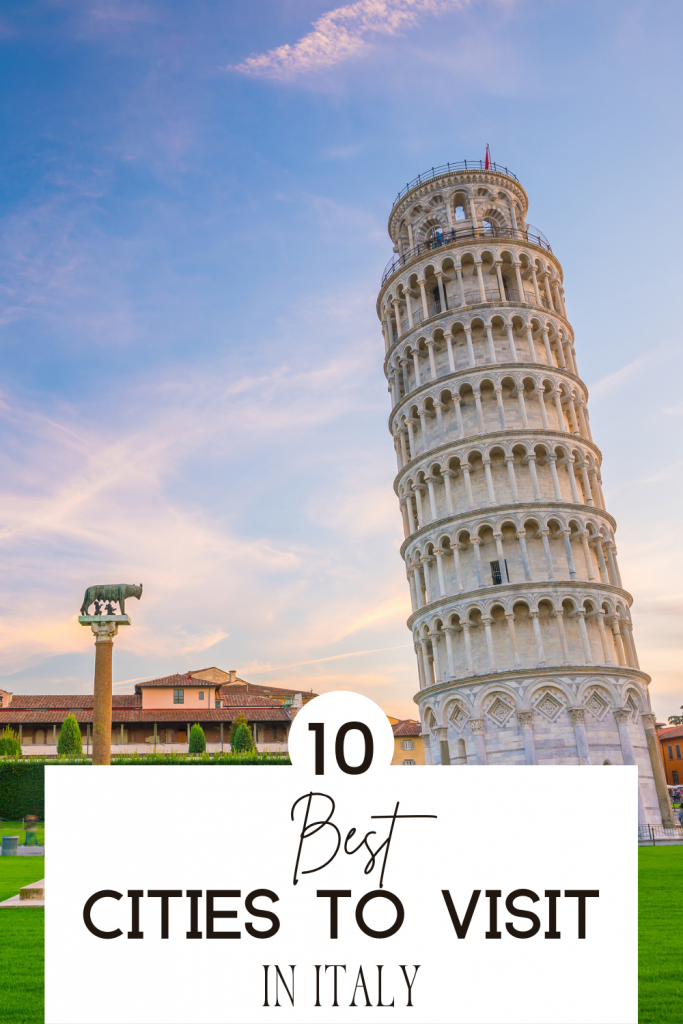 This article contains affiliate links. This means, that if you click through to our affiliate partners' websites, and make a purchase, we will earn a commission from their commissions. This doesn't affect you, or the price of the product/service at all!