10 Best Cooking Classes in Rome Italy
Are you visiting Rome soon and you're looking for an experience that makes both your mind and your stomach happy? If you love Italian dishes as we do, and you're wondering how to cook like an Italian, we've got the answer for you! When in Rome, you can join many great cooking classes. We've come up with the 10 best cooking classes in Rome Italy, of which, Eatalian Cooks is what we personally recommend! If you search on the internet 'cooking class Rome' you'll find a number of classes throughout the Eternal City. To make things easier for you, we have chosen the 10 best classes that include how to make pizza and pasta or even desserts like the delicious Tiramisu!
10 Best Cooking Classes in Rome Italy
Are you traveling with your kids? The family cooking class in Rome will be perfect for your needs then, or even the half day cooking class in Rome in case you have enough time. Whatever you choose from this list you will not be disappointed. The chefs are experts, the reviews truly speak for themselves. And besides your usual sightseeing, why not experiment and try one of the best cooking classes in Rome Italy? Let's get to our list of cooking classes in Rome Italy!
1. Eatalian Cooks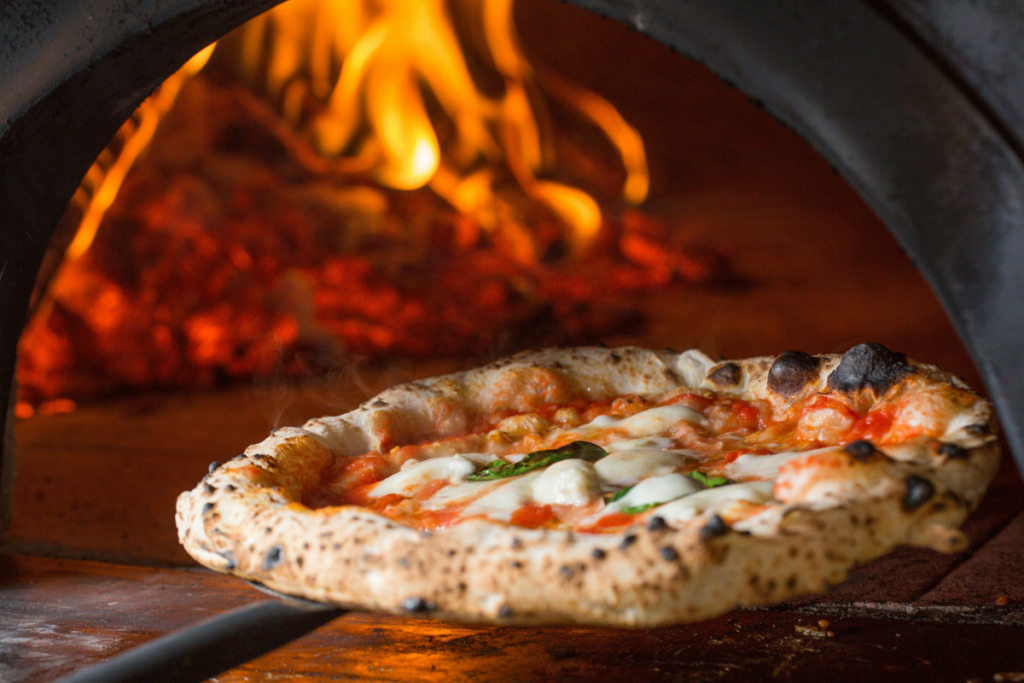 For those who are looking for the best Italian cooking class Rome offers, make sure you check out and book a cooking class in Rome with Eatalian Cooks! For the pizza cooking class Rome has, you'll find yourself at one of the best restaurants near Piazza Navona, Osteria Pasquino. They also have gnocchi classes, ravioli classes, and pasta with tiramisu classes.
Beyond the simple pizza class, you can also book a pizza and tiramisu class. Let's put it like this: Eatalian Cooks covers almost all types of famous Italian dishes to make. This is a perfect getaway from the continuous walking and museum tours, to learn to cook something good and enjoy the meal along with other visitors.
The instructors are trained, fun, and they will assist every guest in creating their different types of pasta, dessert, or pizza! These experiences take around two hours, and since they are on and around Piazza Navona, they are conveniently in the middle of all sights in Rome. Great vibes, delicious food, cool staff, and you and your very own Italian dishes. You can book the pizza-making class here!
2. Pasta & Tiramisu Lovers Workshop: a Must to Do in Rome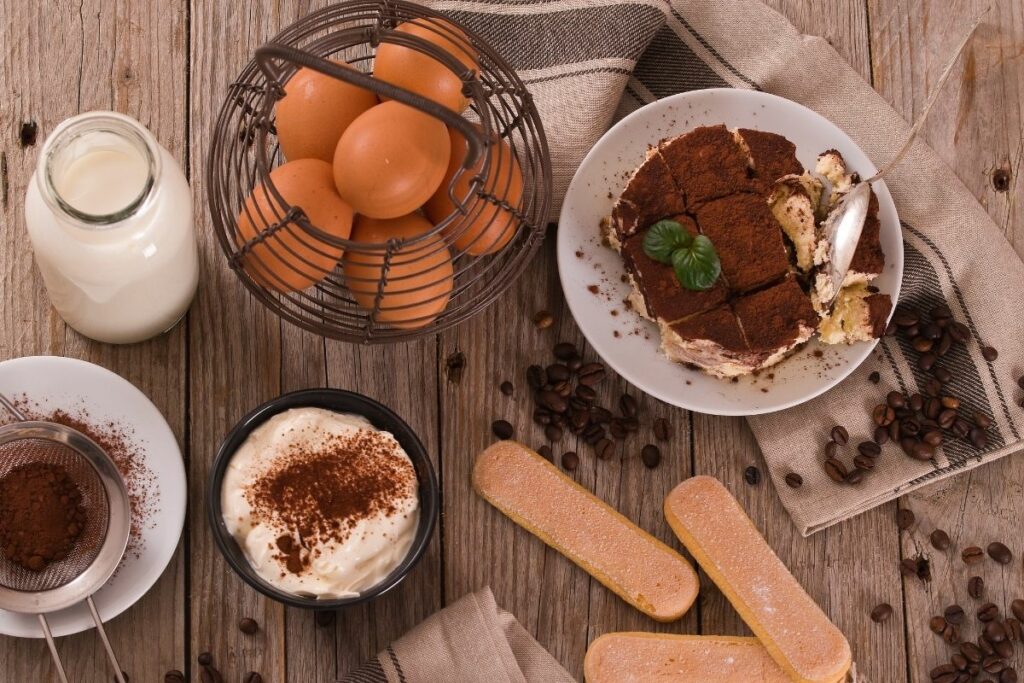 Getting on with our list of cooking classes in Rome Tripadvisor, the Pasta & Tiramisu lovers workshop might be the next best class you do. It's not only convenient due to its low price but also because it only lasts around one and a half hours. This Italian cooking class Rome can be followed in both English and Italian. It's very simple as you'll be learning how to make pasta and tiramisu. The best of both worlds.
The sample menu includes the main dish which is fresh Fettuccine with a sauce of your choice. The dessert will be the best homemade Tiramisu. And after you created your delicious two-course dish, enjoy a glass of wine with your companions. Besides the wine, they also offer Limoncello or Coffee while you are cooking. The cooking class takes part at the Ristorante Tucci which is in the heart of Rome. It's right in the Piazza Navona, one of the most iconic Piazzas in Rome. Let's continue with the best cooking classes in Rome Italy.
3. Cooking experience hosted by Chiara & Nonna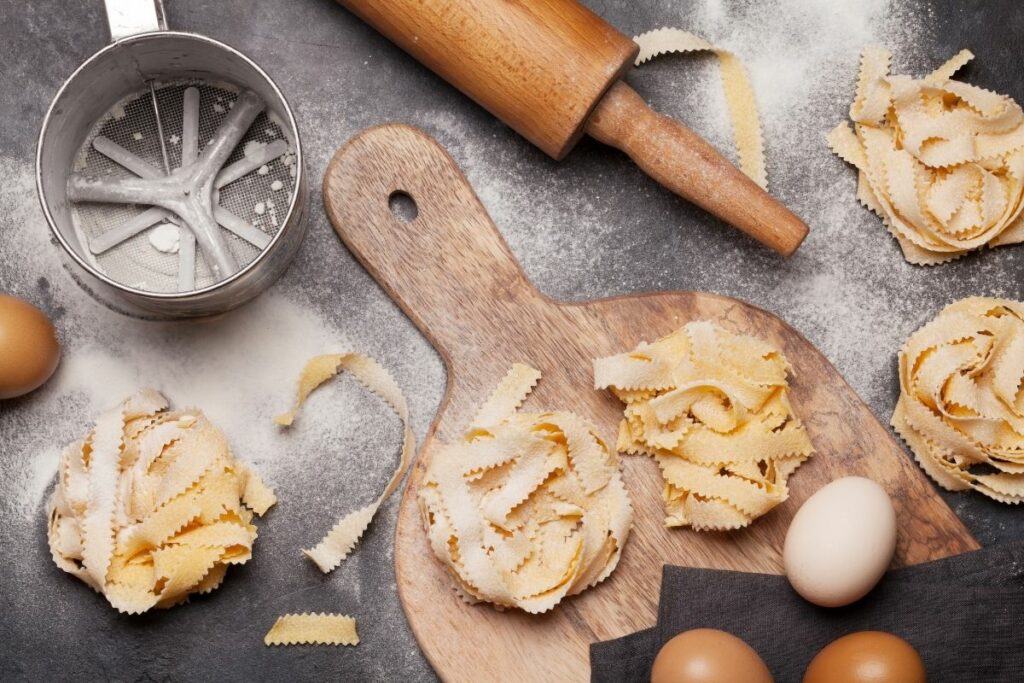 Learning from Nonna might be the best thing to do while you're in Rome. This is why you need to take part in this Airbnb Rome cooking class hoster by Chiara and her Nonna. It has over 1400 reviews and nearly 5 stars from everyone! In this class, you can learn how to make the perfect handmade pasta using only your hands. The ingredients are fresh and local which makes the dishes so much better.
The class offers to teach you Ravioli, Fettuccine, and Farfalle. They also mention that "you will be in a food coma at the end of the experience!" Besides learning how to make pasta you can also listen to Nonna tell about her childhood memories of herself and her grandma. These are the precious moments we all cherish and you'll get to learn these in Rome with lovely hosts. From the many customer reviews, they all said it's a one of the kind experience and you'll be left with so many beautiful memories of this cooking class Rome.
4. Become a Roman Masterchef: Pasta, Ravioli and Tiramisù class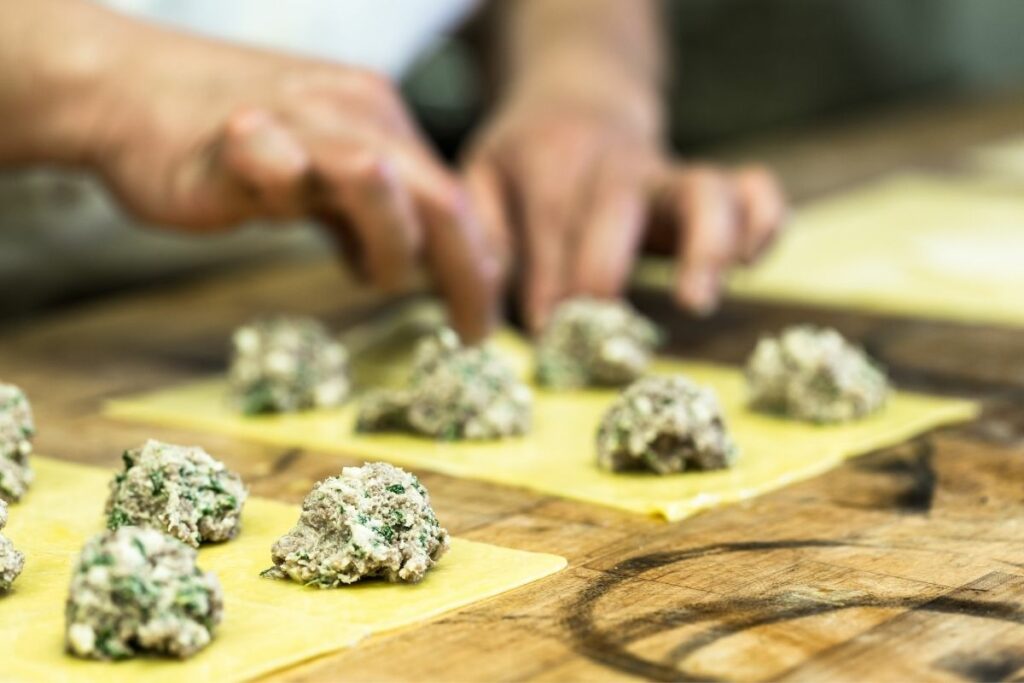 You can never know enough Italian dishes. That's the reason why you should check out this Rome cooking class pasta as it teaches you the basics of the finest Italian dishes. Become a Roman Masterchef class has nearly 200 5star reviews and it lasts about 2 and a half hours. Whether you wish to attend in English or Italian it's completely up to you. Thankfully the chefs do both languages.
The host will teach you how to make Ravioli from scratch. Everyone will have their own workstation to make the pasta and tiramisu. Next to the food, you'll also receive welcome drinks, most probably a bubbly Italian drink. Some other dishes you'll be taught to make are Bruschetta, then the Ravioli, and Fettuccine pasta.
Lastly, the Tiramisu is accompanied by another drink of your choice. Besides making these delicious dishes, your chef will teach you how to use your apron and cooking utensils. At the end of the class, everyone will sit down to enjoy the dishes they made and talk about what they love in Rome. This Italian cooking class Rome takes place in the Pummare restaurant. More details are included when you book the class.
5. 3 in 1 Cooking Class: Fettuccine, Ravioli and Tiramisu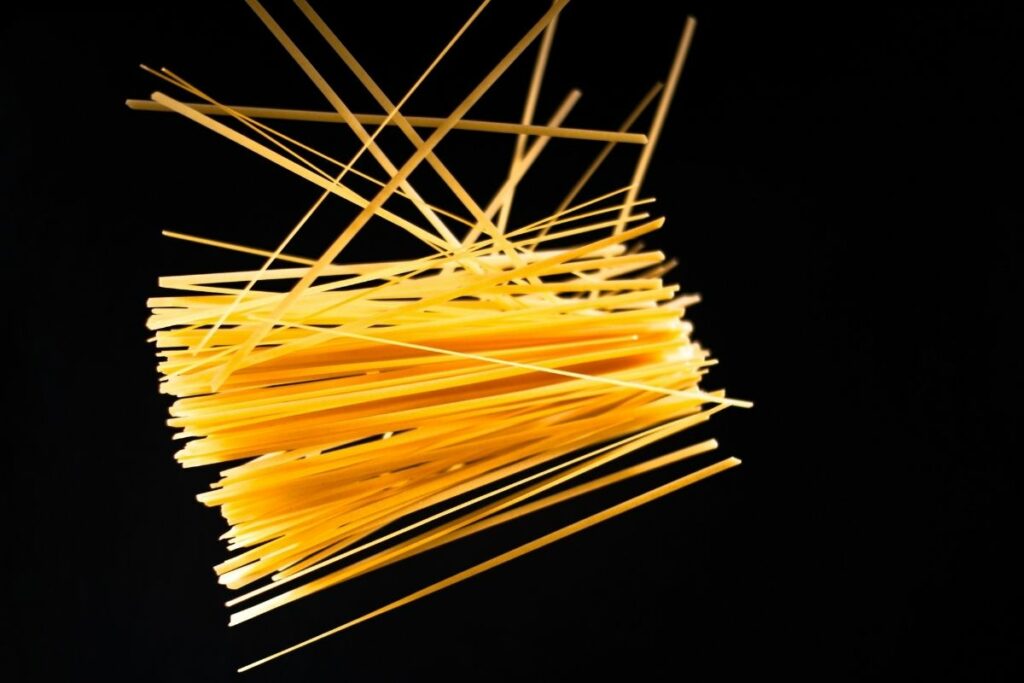 Speaking of the best cooking classes in Rome Italy, this 3 in 1 cooking class in Piazza Navona will blow your mind. Besides learning how to make three types of dishes, the price is a steal! The class will take approximately 3 hours and the guide can explain the steps in both English and Italian. You'll learn how to prepare delicious Fettuccine with a sauce of your choice. After that, the main course will be Ravioli with butter and sage.
Finally, the dessert is a classic favorite the Tiramisu. The chef will teach you how to make a top-notch tiramisu as you would eat in an authentic Italian restaurant. And the best part is that you get to enjoy the works of your labor at the end of the cooking class. You'll be in a group of tourists or travelers who are either new to cooking or just love Italian dishes. Enjoy a cup of coffee, wine, or limoncello. Guests all think this is a great experience and they would recommend it to others.
6. Pasta Making with Wine Tasting and Dinner in Frascati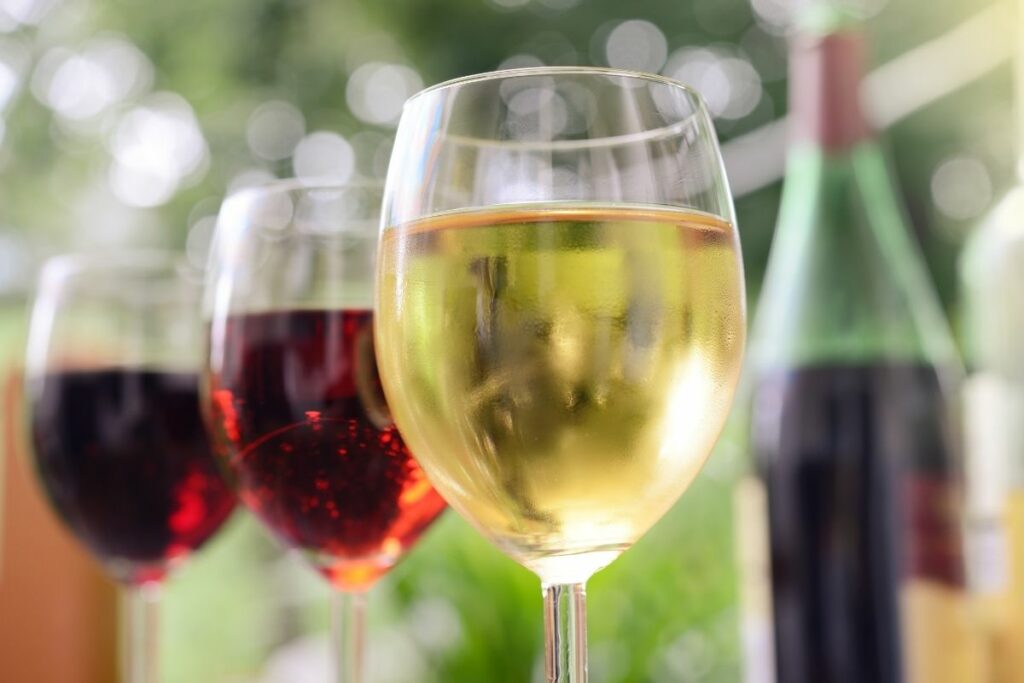 Travel to Frascati to get away from all of the tourists in Rome. Frascati is a commune in the Metropolitan City of Rome. It is further outside of the capital so you need to take the metro. It's also the perfect spot for an Italian cooking class Rome. It will be a one-day trip for you to get there as well as taking part in the cooking class which lasts about two and a half hours. You can follow the cooking class both in English or Italian.
What is also included in this cooking class is wine tasting. The class takes place at a family-run winery and you can taste both red and white wines. These will go perfectly with the delicious pasta that you have prepared with the rest of the people taking part in the class. As it's rather in the countryside, the scenery is tranquil, making the experience even more pleasant. Guests gave this class five stars and praised the whole experience.
7. Make Your Own Pizza in Rome – Pizza Making with a Local Chef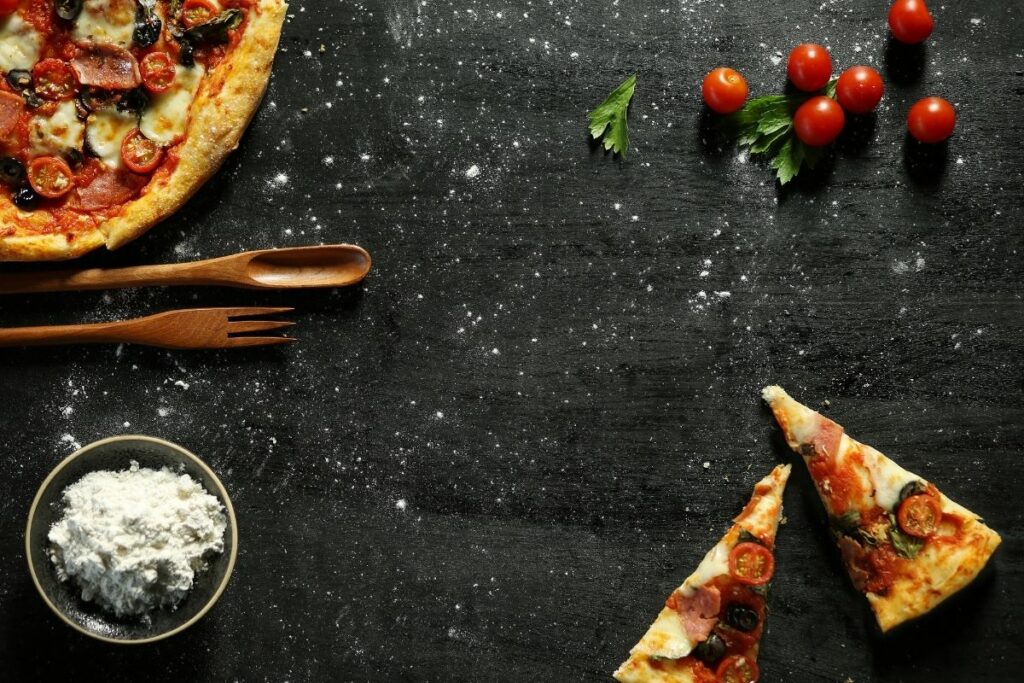 Italian dishes are not just about pasta. This pizza cooking class Rome might be just what you need to spice up your dinners from time to time. A local chef will teach you just how to do that. It only takes about an hour and you'll be explained everything in both English and Italian if necessary. Don't be alarmed, it is a short workshop but you'll be learning the basics of pizza making. First off the class will start with Bruschetta.
Then you can get to the pizza-making process where you can top off your pizza with tomato, mozzarella, and other toppings. Let's not forget the wine. Choose either red or white next to your delicious pizza as well as limoncello or coffee along the way. Once you have finished making the pizza, sit down with the rest of the class and enjoy it. They'll be providing you with all the necessary equipment so the only thing you have to worry about is showing up!
8. 4-Hour Combo Pizza and Pasta Cooking Class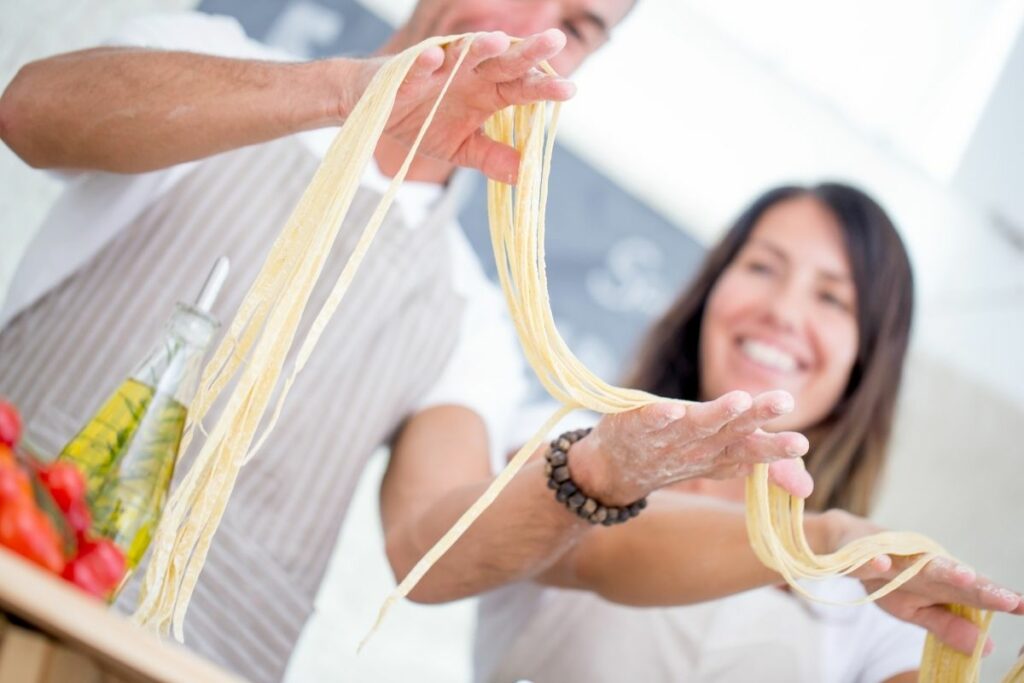 Unlike the previous class, this one is half day cooking class in Rome. The 4-hour combo pizza and pasta Italian cooking class Rome will make you work hard but leave you'll leave with knowledge of pasta and pizza making. First of all, the chef will show you how to prepare Neapolitan Pizza. This will be decided on-site whether it's Pizza Margherita or Capricciosa. At the same time, the chef teaches you over 10 different pasta shapes.
Like we said, in this class, you will certainly not leave empty-handed or with an empty stomach! What's best is that you'll have an unlimited amount of red wine, which you have to be careful with if you want to survive the whole 4 hours and make delicious pasta along the way. Dessert is also offered at the end, delicious Tiramisu. This is one of a kind experience that you should not leave out if you are traveling to Rome!
9. Fettuccine Making from Scratch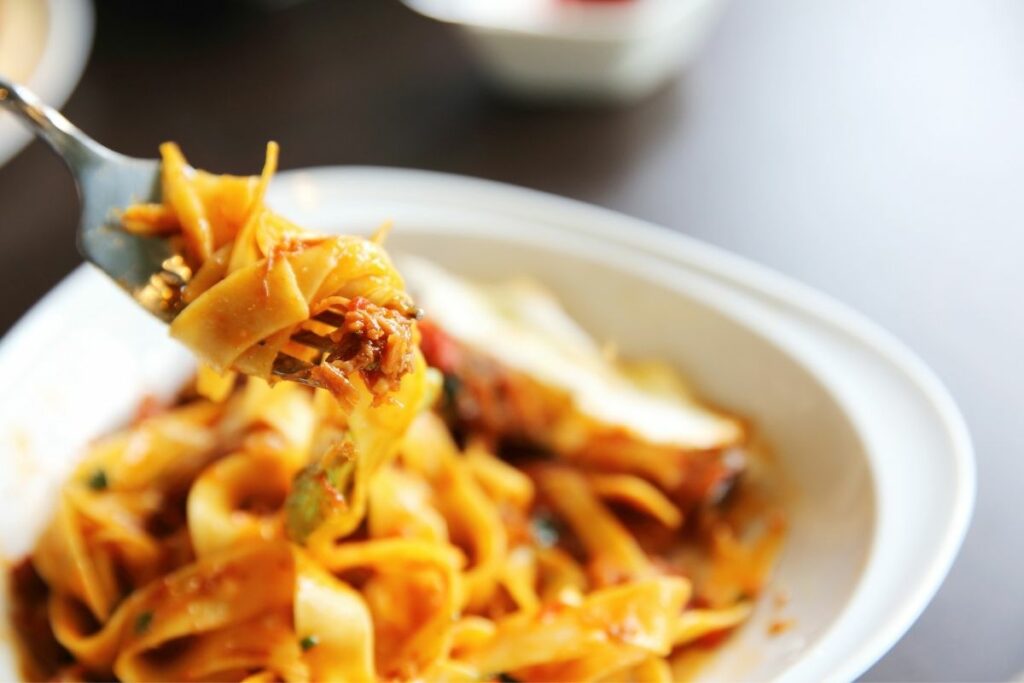 Fettuccine is a delicious pasta so why not learn how to make it with one of the best cooking classes in Rome Italy? This Fettuccine making from scratch class will teach you all that you need to know about this pasta. The instructor will tell you about the dish in English. Right, when you arrive you are treated with a glass of prosecco as well as meeting the rest of the participants. The chef will teach you how to make your own dough. Everything from the flour to how to cut your pasta.
Besides these basic steps, the chef will also show you how to type other pasta such as tagliolini, pappardelle, fettuccine, and maltagliati. You get to choose the sauce for your pasta. For example, carbonara, amatriciana, cacio e pepe, alfredo and so on. Meanwhile, your pasta is boiling, enjoy some bruschetta and sip on some good wine. Once the pasta is done you can enjoy your creation with the rest of the group.
10. Pasta Cooking Class in the Kitchen of Mamma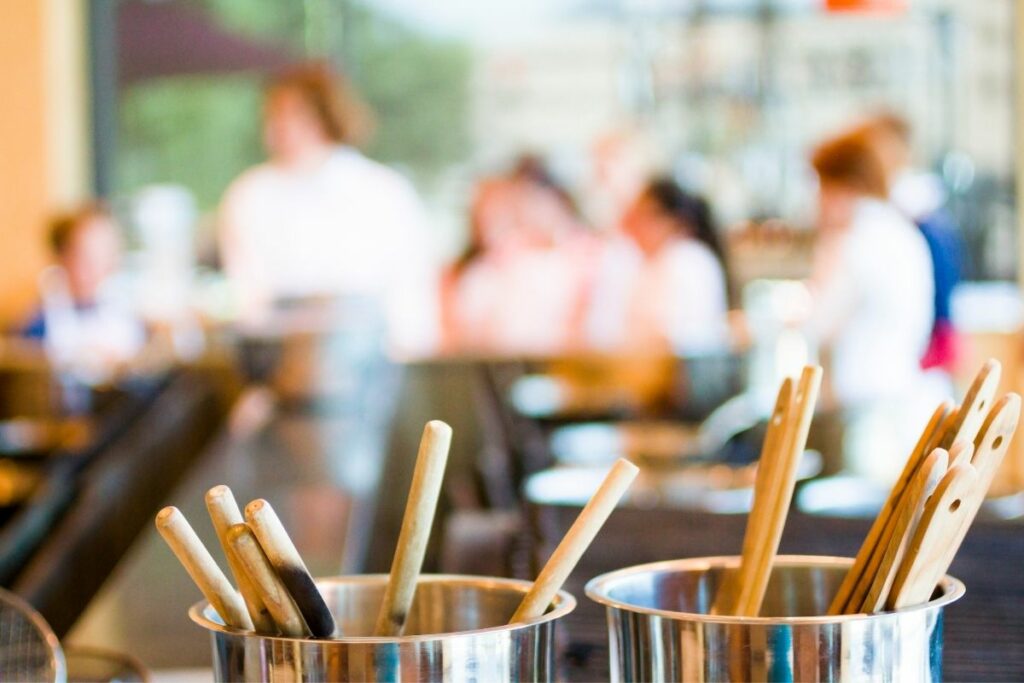 Lastly, we have a family cooking class in Rome. The name is a pretty good indication that you'll learn how to make pasta like a real Italian Mamma. This is perfect for families too. You can enjoy the class in either Italian or English. There will only be about 9 participants. First off, you'll be taken to buy fresh ingredients. After you arrived, the instructor will take you through the tip and tricks of making pasta.
With over 116 reviews and 4.8-star reviews, guests loved the instructor and the whole experience of this cooking class. Once you have learned how to make your own pasta and choose the sauce, you get to sit down with the whole group and enjoy the meal. The drinks and lunch are included in the class. This will take about 4 hours so you better plan ahead and clear your schedule!
Cooking classes in Rome – Conclusion
This concludes our list of cooking classes in Rome. Learn how to prepare the best pasta in all shapes or forms as well as pizza. Italian dishes will always be the most delicious and by learning them from real chefs or even Nonna's, you'll be impressing your friends and family on the next get-together. If you enjoyed these classes in Rome, check them out in Florence as well! In case you are not ready to learn how to make pasta, then check out the 10 best Italian pasta brands.
Pin it: 10 Best Cooking Classes in Rome