10 Best Restaurants in Verona
Verona is a city that's rich in history, the architecture will take your breath away. You'll experience different times in Verona as you walk through the city, from ancient times to Renaissance and even the modern day. The food is also fantastic and the best of the Verona Italy restaurants will surely leave you with a full belly of delicious meals.
Verona is in the Veneto region and there are many reasons to visit the city. You can roam around the Piazza Bra, which is the largest square in Verona. The best restaurants in Verona Italy are also in the heart of the city, you'll find a few of them at the Piazza. Then you have Piazza delle Erbe, which has a beautiful fountain in its center.
10 Best Restaurants in Verona – Italian restaurant Verona
In case you wish to discover even more restaurants in Verona Italy, just wander around the city. And let's not forget that Shakespeares' tragedy happened in Verona, so you'll be able to visit Juliet's house as well, otherwise known as Casa di Giulietta Verona. But there are many other things to see in Verona! If you're interested to know where is the best food in the city, read our list of the best restaurants Verona Italy.
1. Osteria Al Duca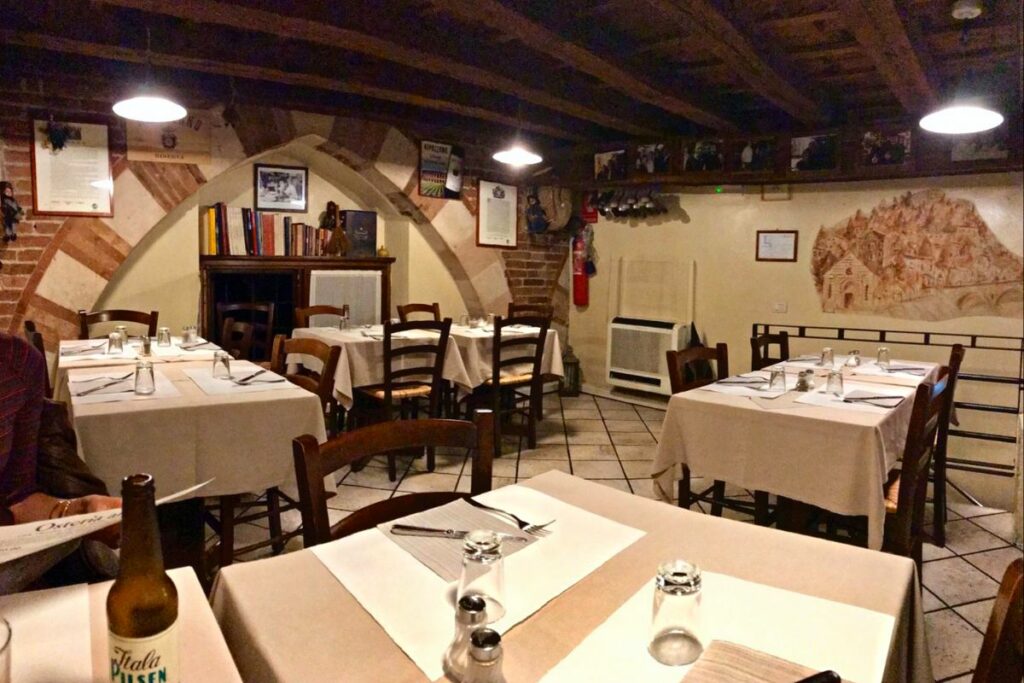 The very first of the Verona Italy restaurants we suggest you visit is the Osteria Al Duca. It's situated right in the heart of Verona and nearby Arche Scaligere. The inside of the restaurant is designed in a rustic style. A family runs the inn and the dishes are typical of the region's cuisine. There's also a wine cellar that you can visit and taste the best wine productions of Verona.
The menu has a wide variety of dishes and you can choose from first and second courses. Among the first courses, you'll find dishes such as Penne Arrabbiata, Pappardelle with duck sauce, Spaghetti with garlic and paprika, or even Barley soup with potatoes and mushrooms. Then Osteria Al Duca has a great selection of the second courses. Choose from veal with tuna sauce or roast veal with mushrooms.
Furthermore, there's chicken breast, snails, horse meat, horse tartar, tender beef, and even Tagliata of beef fillet with balsamico and radicchio. As you can see, the menu is very diverse yet they kept it traditional. Choose the best wine to go with your dish, just ask the waiter which one he recommends. There are a number of whites and reds but also based on regions. For example, choose one from Friuli Venezia Giulia, Umbria, Sicilia, Piemonte and so on.
Osteria Al Duca location: Via Arche Scaligere, 2, 37121 Verona
2. Ristorante Mare Nostro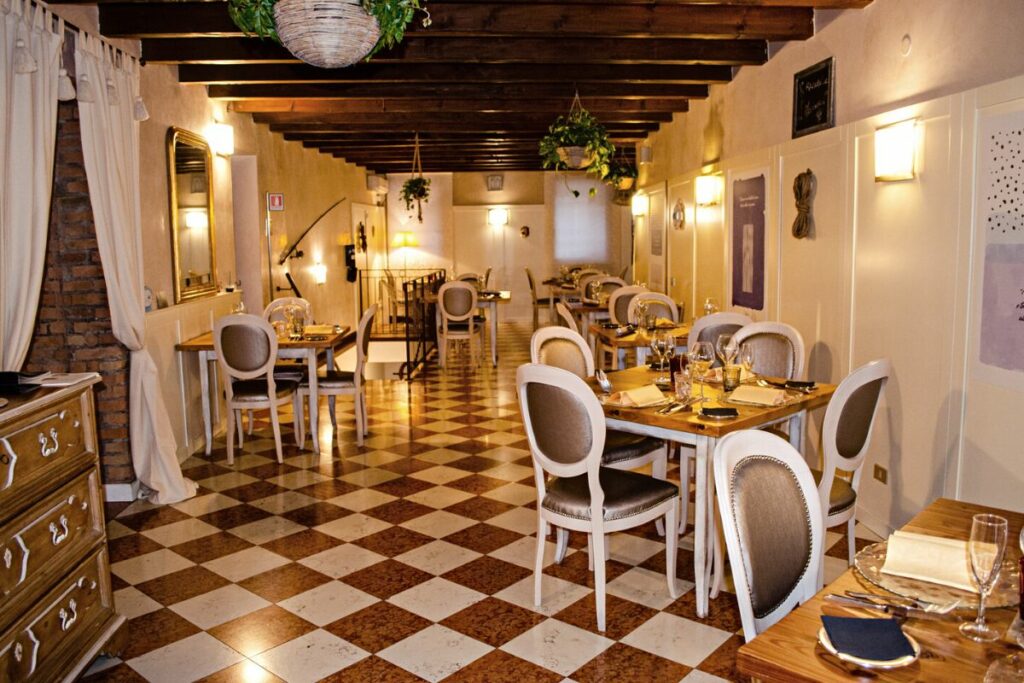 Mare Nostro Verona Italian restaurant is a specific fish restaurant. Guests can eat Neapolitan specialties, rich in flavor, and although traditional the chef is still innovative and bring something new to your plate. There's an extensive list of fish dishes on the menu. What's great about Ristorante Mare Nostro is that you can taste different meals depending on what they catch that day.
Besides the dishes, you also have a great atmosphere at the restaurant. The decoration has a lot of brown and gold accent colors mixed with white. The staff is absolutely lovely and the reviews speak for themselves. It is one of the top-rated restaurants Verona Italy. If you're wanting to celebrate any event, whether that's with family or private, you can book the Mare Nostro private room.
Choose from a selection of appetizers such as Tartare, Carpacci,o or Oysters. There is also a mix of these called Plateaux Tasting. The menu offers cooked seafood such as Gulf salad, octopus salad, Positano's Soup, Scallop Alla Caprese, and so on. It's not over yet, try out some of the Neapolitan fried dishes such as seaweed Zeppoline. It's easy to get lost in the menu as there's a huge selection of seafood, however, you'll have the best culinary experience!
Ristorante Mare Nostro location: Via Giambattista Moschini, 26, 37129 Verona
3. Ristorante Il Desco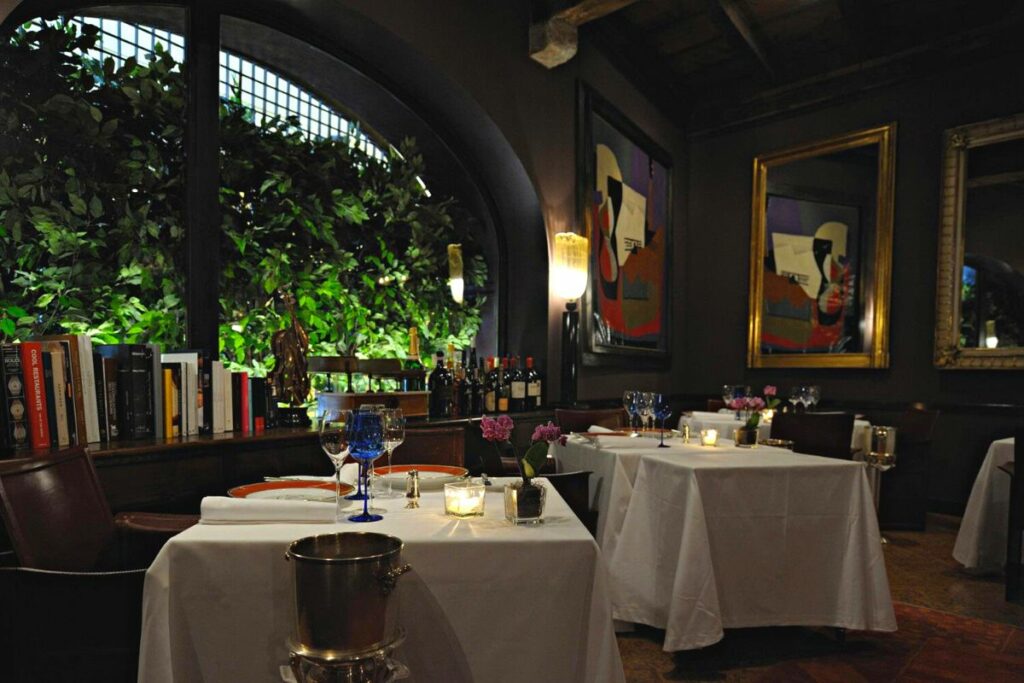 Are you interested in one of the fine dining Verona Italy restaurants? Verona has quite a few, however, we would recommend Ristorante Il Desco. The founder is Elia Rizzo who opened the restaurant in 1981. They wanted to raise more awareness of Venetian gastronomic traditions. They did so well, that Il Desco won a Michelin star in 1985. Matteo Rizzo, the son of Elia has returned to help his father bring the best dishes to the table for new guests.
As they would say "The dishes are the best ambassadors of Il Desco's philosophy". Everyone can guess that the dishes are exquisite. It is a fine dining restaurant, therefore do not expect to go there and get a full plate of pasta. Fine dining restaurants are for the purpose of experiencing new dishes in a way you've never had before. It allows you to taste multiple ones within one sitting as they are small.
You can choose either a 3 or 5-course menu. Il Desco menu offers Dark Salmon, cream of capers and coffee powder, Fried scampi with an aromatic salad with raspberry vinegar, or Risotto with peat, tomato, and onion. There is also another menu called "Generations" which is available for the whole table and you can consume it at lunch or dinner.
Ristorante Il Desco location: Via Dietro San Sebastiano, 5/7, 37121 Verona
4. Vescovo Moro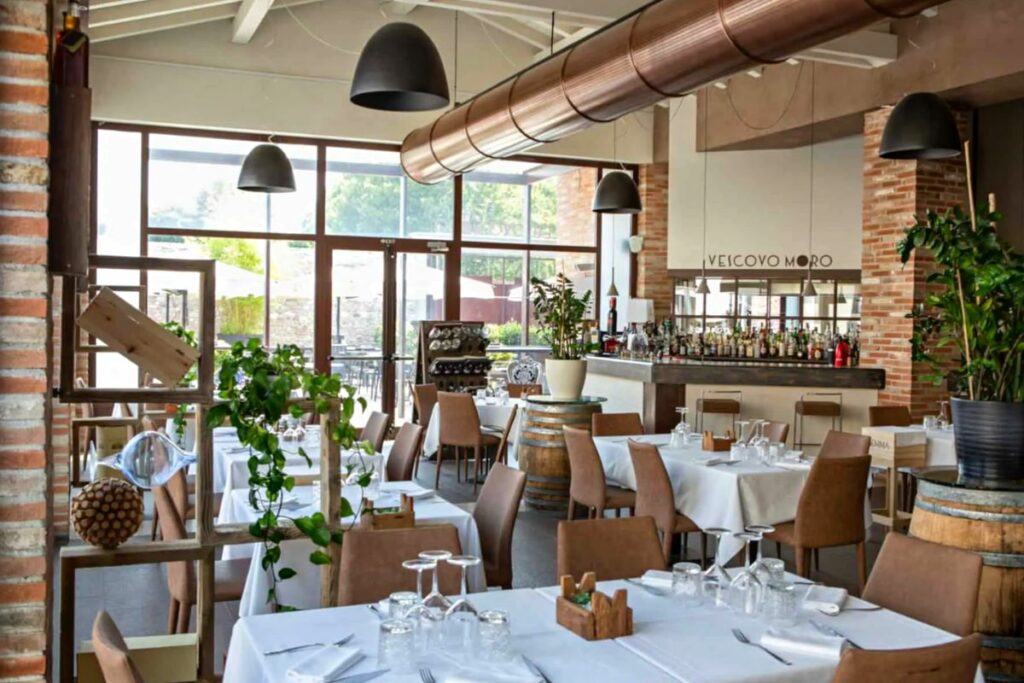 The next on our list of best restaurants in Verona Italy that earned the Michelin star in 2022 is Vescovo Moro. Michele Motta is the main chef of the restaurant and has been in this business for over 20 years now. The executive chef is Moreno Bortolotti and he also has over 20 years of experience in creating delicious dishes. In case you wish to taste the best wine, leave it to Stefano Valetti who's the Sommelier at Vescovo Moro with over 40 years of experience in both Italian and foreign wines.
Guests will not be short of selecting dishes from the menu. There are three different categories for each course. Fish, meat, and vegetarian. I think that's a genius way of solving the menu as each guest will have something to choose from based on their dietary requirements. The fish starters include shrimp, golden octopus, marinated sturgeon, or raw sea bream.
Among the first courses, guests can choose from rabbit, deer, or chicken meat. The vegetarian options are also delicious. For example the calamarata with almond pesto, and beans in the eye. And lastly, the second courses once again are rich in seafood and meat options like beef, pork, or lamb. Don't forget to taste the delicious variety of desserts and select from the best DOC or DOCG wines.
Vescovo Moro location: Via Pontida, 3, 37123 Verona
5. Trattoria I Masenini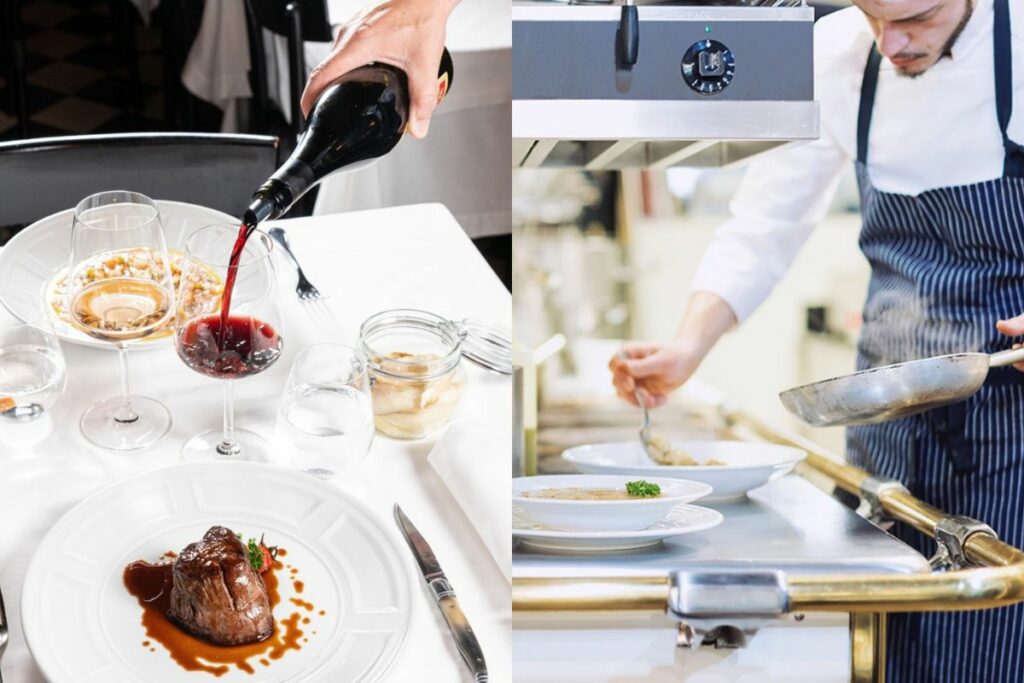 Let's look at Trattoria I Masenini, a Verona Italian restaurant that's located in the heart of Verona. Their motto is "Masenar par l'aenir" which means "put flour aside", but in fact, this phrase was intended toward foreign invaders. They called themselves at the end "Masenini". These people met in 1836 in a tavern just next to the now-existing kitchen of the restaurant. Inspired by these heroes, the founders of Masenini created the Italian restaurant Verona, to offer exquisite dishes to its guests.
The restaurant looks beautiful, it is just a few steps away from the Arena and the terrace is filled with flowers. Trattoria Masenini has a great menu. There are a few main courses to choose from which can be served with sides. For example, beef fillet with Fernet sauce and fresh sprouts. Although it doesn't recommend which side goes best with this, you can select either mashed potatoes, fresh salad, fried eggplant, or pickled vegetables mate at Masenini's kitchen.
Trattoria I Masenini location: Via Roma, 34, 37121 Verona
6. Il Cenacolo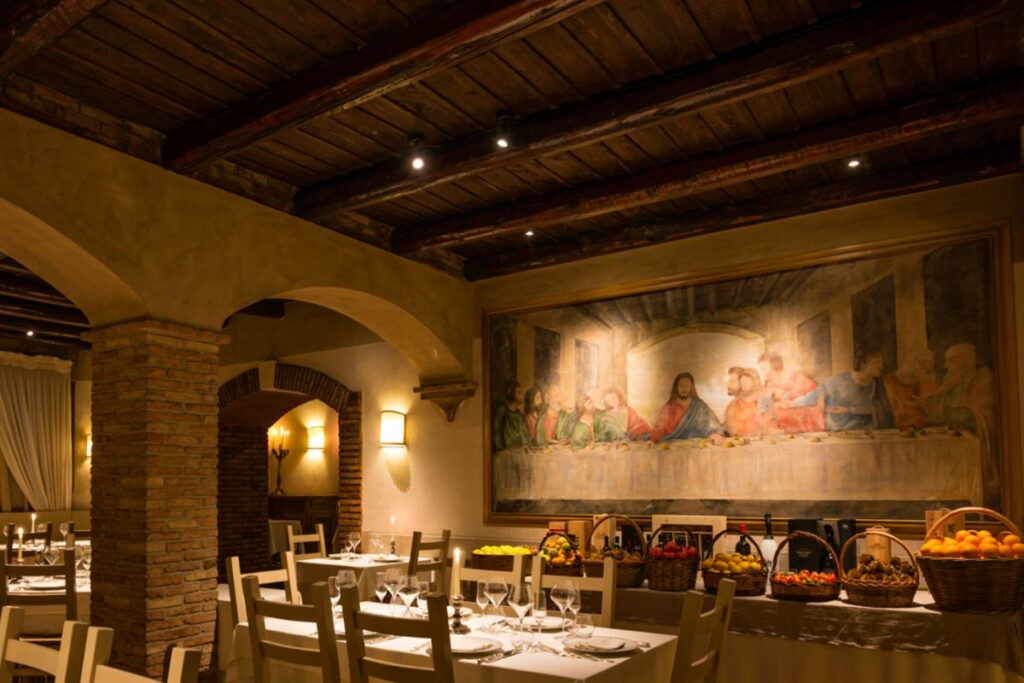 Il Cenacolo has been welcoming customers for over 30 years in their lovely restaurant. We have included them on our list of Verona Italy restaurants because of the beautiful atmosphere, dinnerwear, their Italian plates, and decor. Also, let's not forget the "The last supper" painting on the wall, which looks stunning. Il Cenacolo prides itself on serving Veronese traditional dishes.
What I love about this restaurant is the different types of menus they have. To be more specific, there are three different menus: a Tasting menu since 1980, an A 'La carte menu, and one for groups and events. Furthermore, there's a Vinitaly menu, the cellar, and also Valentine's day menu! Among the dishes they are most proud of are the traditional "Tortellini di Valeggio" and "risotto all"Amarone".
These are both renowned dishes thanks to the quality of the rice and the Amarone wine that makes the taste even better. All of their meat is cooked at that moment when you order it on an evocative fireplace. And Il Cenacolo also caters to vegetarians or anyone who has food intolerances. In case you're in need of delicious wine, just ask the staff and they'll suggest to you the best wines to go with your food! Let's move on to the nest of the restaurants Verona Italy, only three left!
Ristorante Il Cenacolo location: Via Teatro Filarmonico, 10, 37121 Verona
7. Osteria La Fontanina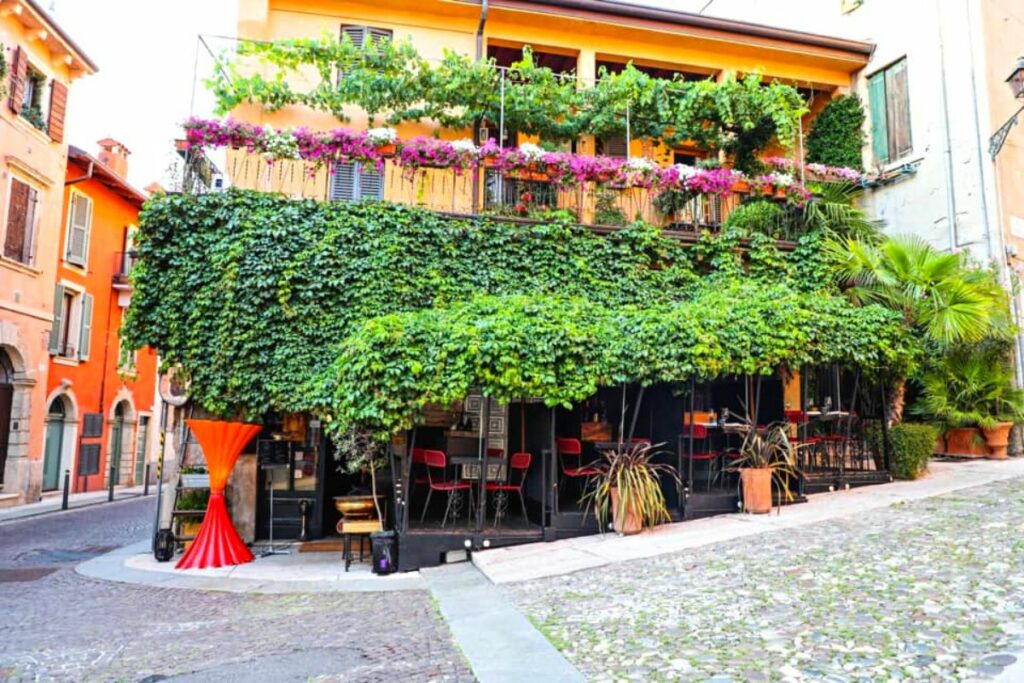 If you're already in the center of Verona, why not visit the next of the best restaurants in Verona Italy, Osteria La Fontanina. They call the restaurant a historical place of Verona as it is near the Roman Theatre and Ponte Pietra. The inn can be dated back over 200 years. Osteria La Fontanina is managed by the Tapparinis family since 1984. They take care of this restaurant and make sure guests feel welcomed with their extensive list of meat and fish dishes as well as wines.
So what does the menu actually contain? Well, for starters you can choose from raw meat tartar, salmon, or scallops. The tartar is very common to have as a starter. There's a list of pasta dishes such as black spaghetti with squit, Linguine with clams, or Bigoli with burrata cheese and anchovies. Then from the main courses, guests can choose between beef, octopus, or Baccala which is a salt code. Thankfully the menu is not too long, it's easier to select what you'll have for lunch and dinner!
Osteria La Fontanina location: Portichetti Fontanelle, 3, 37100 Verona
8. Locanda 4 Cuochi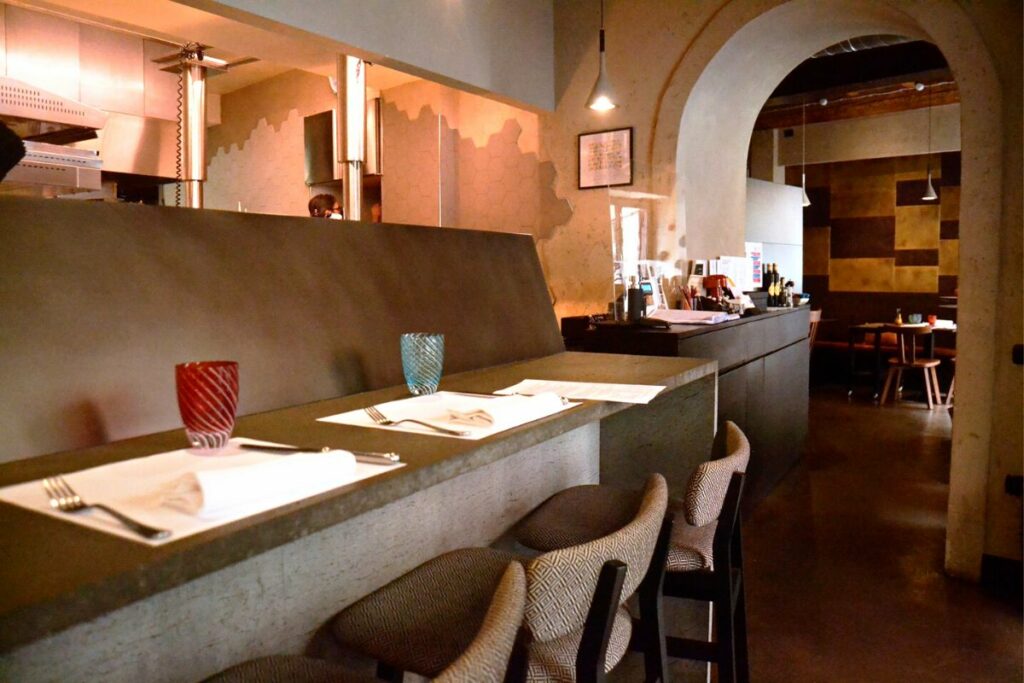 Locanda 4 Cuochi Verona Italian restaurant was born at the hands of Dario and Moreno who were both pupils of Giancarlo Perbellini, a famous Italian chef. They create "traditional Italian dishes re-interpreted in a contemporary version". The restaurant inside is very modern and feels elegant, while the dishes are a combination of unusual flavors and textures.
The great thing about this Italian restaurant Verona is that the menu changed every six months. This way guests can taste different dishes throughout the year. The beef tartare is not missing from this menu either, along with some puff pastry and anchovy fillets. There's a selection of seafood such as prawns.
At the same time, you can also taste Arancino with beef ragout, lamb, roasted chicken, or pink veal. You must try the delicious Tiramisu or strawberry parfait. Everything on the menu is delicious! There's also a wine cellar at Locanda 4 Cuochi with a variety of wines from Veronese territory. Alternatively, guests can choose from regions like Piedmont, Tuscany, and even beyond the Alps, like Burgundy or Bordeaux.
Locanda 4 cuochi location: Via Alberto Mario, 12, 37121 Verona
9. Casa Perbellini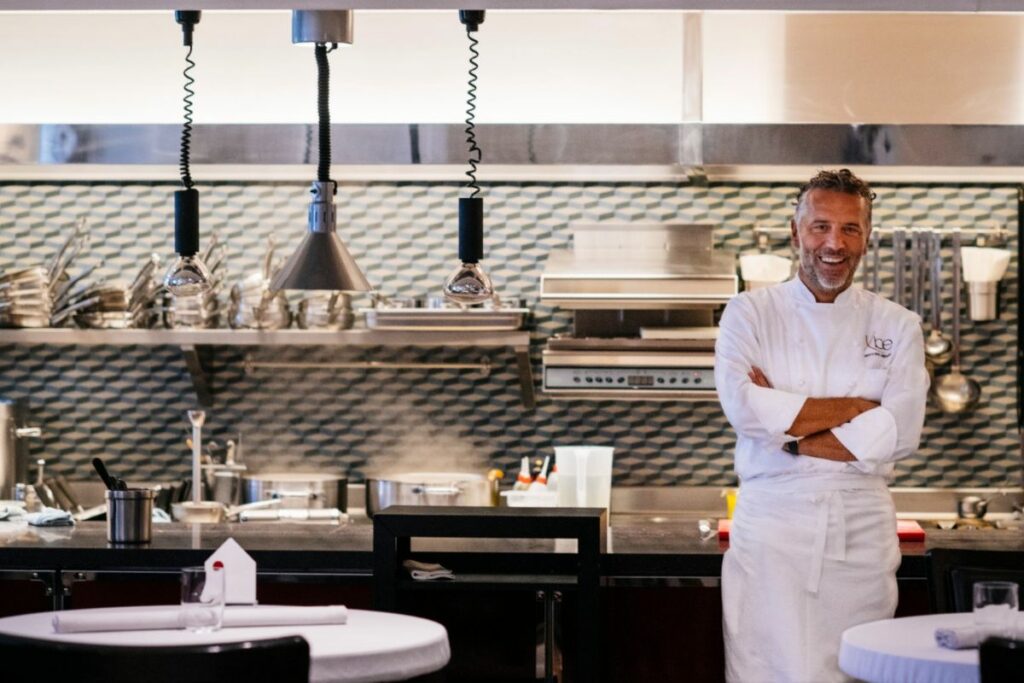 Speaking of Perbellini, in case you wanted to try out one of the best Verona Italy restaurants, then Casa Perbellini should be on your list. Giancarlo Perbellini is "One of Italy's most celebrated pastry chefs", he's a legend and it's only natural that you visit his restaurant to experience the excellence in his meals. The restaurant is located in Piazza San Zeno. It is very small, but that just makes it easier for the chef to create a unique atmosphere for the guests.
It's natural for Italian restaurants to offer seasonal menus and Casa Perbellini is no different. They are divided into different categories such as Assaggi, Oggi Classico, Dalla Terra and X Non Finire. From the tastings menu, customers can try out caviar, spaghetti salaf with beef and fried shrimps, ravioli pasta, or roasted squid. Today's classic will be different each day. It's a 3-course menu with dessert and it is a set menu, you'll have to request it on the day you dine.
A few of the sides called "From the earth" are aubergine, potato, salad, rice, and zucchini. The Casa Perbellini amuse-bouche and Casa Perbellini's sweetness are special menus, gluten-free with meat and fish. Lastly, try out a selection of cheese at the end of your lunch or dinner. Casa Perbellini's winery is exquisite too. A wide selection of wines from Italy every year. Will you be visiting this two-star Michelin restaurant?
Casa Perbellini location: Piazza San Zeno, 16, 37123 Verona
10. Dari Ristorante & Enoteca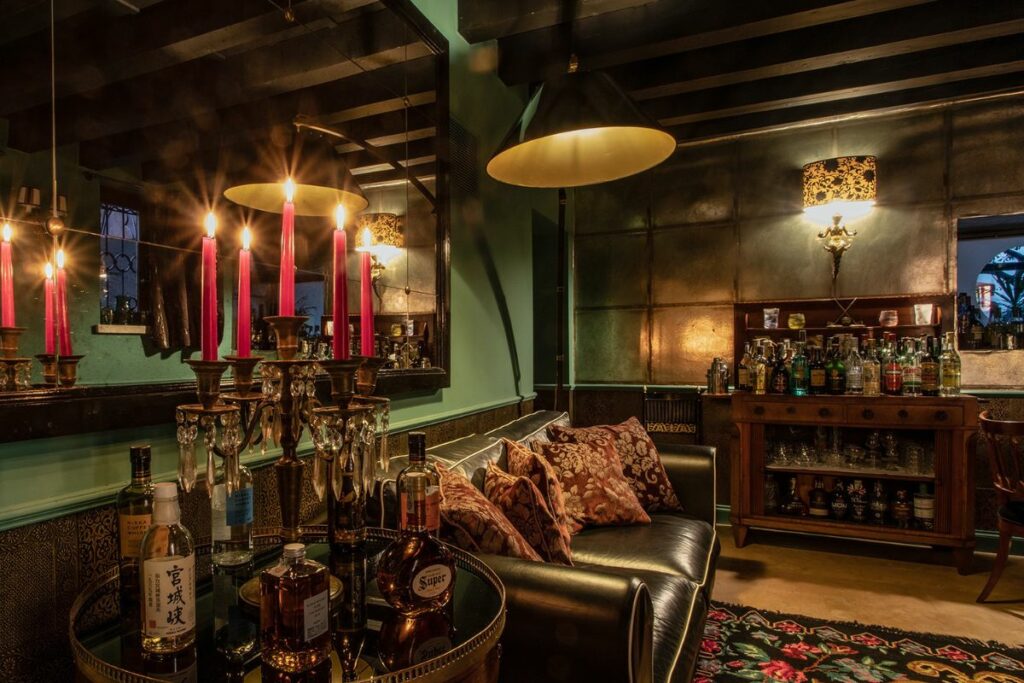 Dari Ristorante & Enoteca is the last Italian restaurant Verona we have to mention, which is also in the heart of Verona. It is just a few minutes away from the Arena. The building is absolutely stunning and waits until you see the interior of the restaurant! It was founded by Corinna and Giuliano and they created an intimate atmosphere for their guests.
The menu includes traditional dishes that Corinna remembers, it's the best gastronomic experience and a mix of aromas. Dari's recipes might be old, but they put a modern twist on them. They are either based on meat or fish, paired with local ingredients. Let's not forget the cellar, where guests can taste the local products.
Dari Ristorante & Entoca menu has delicious appetizers like Fired Moeche, Capriani-style Carpaccio, or Fried Piza. Try out the best pasta, such as Tagliolini with truffles, or fresh pasta swirls with chickpeas. Then lastly guests can enjoy and taste a number of meat and fish dishes. For example, cuttlefish, diced monkfish, and fillet Rossini.
Dari Ristorante & Enoteca location: Vicolo Cieco S. Pietro Incarnario, 5, 37121 Verona
Conclusion Restaurants in Verona Italy – Best Restaurants in Verona Italy
There you have the best restaurants in Verona Italy. There are hundreds to go to and visit, however, based on our experience and reviews from other guests these are the best of the Verona Italy restaurants that you can visit. Some of them are Michelin starred or they appeared in the Michelin guide. Besides the delicious food they serve, Verona is a great city to visit in the Veneto area. Verona is also close to Milan and Venice, it's only about an hour away by train to Milan!
Pin it: Italian Restaurant Verona – Restaurant in Verona Italy