15 Best Cafes in Rome Italy
I'm sure each of you who are dreaming of Rome has seen a movie with someone at a cute Roman cafe, and you imagined yourself sitting there once. Am I right? Because it's for sure that I did have my own cafe Roma dream before my very first visit to the Eternal City 7 years ago. When you're visiting Rome it's key to know all the best places for food and drink experiences, so you must know which is the best cafe in Rome Italy too! Well, the good news is that there are plenty of amazing places for the best coffee in Roma. Actually, there are so many, that we should publish a book to fit each of them in. However, don't worry, we did try our best to find truly the best coffee shops in Rome Italy, so when you visit the Eternal City, you can relive that Roman coffee fantasy!
Where to have coffee in Rome? 15 best Roman Cafe you can't miss!
When it comes to picking the best Roman cafe, we must remember that since it's a place for morning coffee, the most important part of deciding between the best coffee shops in Rome Italy is that it must be close to your accommodation! Nobody wants to be grumpy for 30 minutes just because you want to get to a cafe in Rome Italy, that's actually on the other side of the city. We're covering different neighborhoods, and coffee shops bear Pantheon Rome, around Piazza Navona, and other central locations, as well as some that are in different neighborhoods, such as Monti.
When you're visiting the Eternal City, your first important thing must be to go and get the best coffee in Rome, with some cornetto, or other pastries on the side, and enjoy those first sips from the best Italian coffee brands. For the rest of the day, you make sure to check out the best restaurants in Rome, as well as the best places for nightlife, pizza places, and ultimately, the best rooftop bars too!
1. Bistrot & Wine Bar Pasquino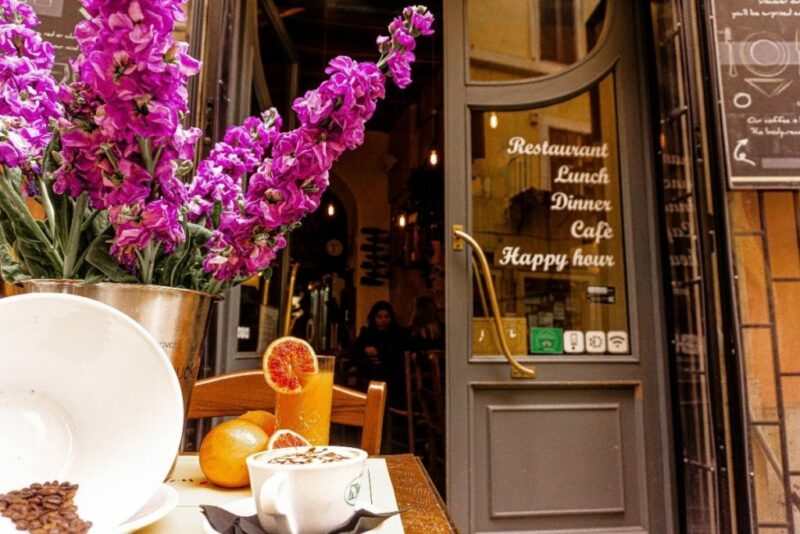 There's one favorite coffee place for everyone right? When it comes to my favorite Roman cafe, I never changed my answer in the past 7 years: Bistrot & Wine Bar Pasquino. A small bar set on Via del Governo Vecchio near Piazza Navona, with a cute outdoor seating area on one of the most charming streets in the historic center of Rome. The quality, the charming environment, and the staff are all amazing!
Since 2015 Pasquino has been my favorite place for coffee, Aperitivo, and late-night drinks. Since its location is really convenient, it's always easy to stop by here every morning when I'm in Rome. The cappuccino at bar Pasquino is perfect, the roast and blend they use are delicious, and they've got a morning food selection including pastries and sandwiches too. Bistrot & Wine Bar Pasquino is definitely one of the best coffee shops in Rome Italy you must stop by! The perfect place to start a day in Rome.
2. Roscioli Caffè Pasticceria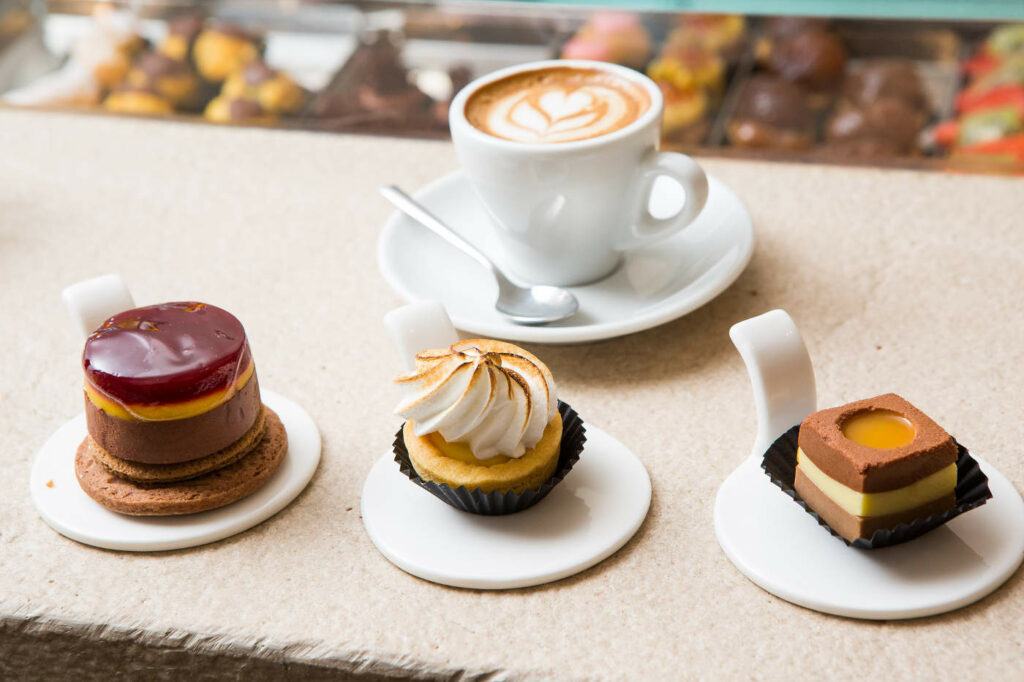 Bar Roscioli is a Roman cafe, but also a restaurant later in the day. Now, Bar Roscioli is considered the place where you could get one of the best coffee in Rome, and the interior design and style of this place are also really appealing. Just near Campo di Fiori, I'd call Roscioli Cafe also one of the best places to go for small sweets, delicious sandwiches, and other dishes.
The coffee as well as the mini pastries are something exquisite. Roscioli Caffè Pasticceria offers a variety of quick bites, and you can also buy their boxed products on site. Since this place is right near the market that's operating in the morning on Capo de Fiori, you might want to head early there, so you get a table if you want to sit.
3. Jazz Cafe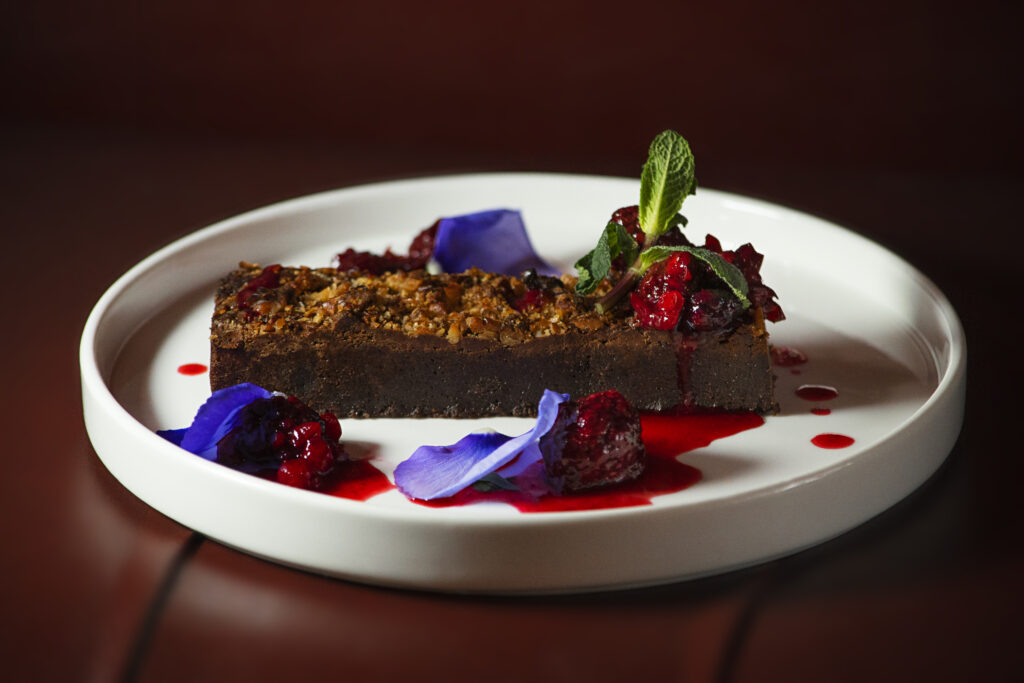 Jazz Cafe is known and famous for many things. When it comes to a cafe in Rome (cafe Roma) it's the to-go place outside Piazza Navona, it's the to-go place if you want the types of dishes that Romans eat (it's not a for-tourists place, but one where many locals go), that's also hosting art exhibitions. For those who are looking for a coffee shop near Pantheon Rome, and are willing to walk 5 minutes more, I recommend doing so and coming to Jazz Cafe for a morning coffee.
You can get breakfast pastries on side of your coffee, or you can do deep into vacay-cheating and order some of their most delicious desserts. I mean, if you're in Rome, you're allowed to eat dessert near your coffee right? Food is absolutely delicious at Jazz Cafe Roma, so you would definitely want to try out some of their offers.
At Jazz Cafe beyond the coffee, you can also come for dinner and live music nights over the weekends. There are some amazing artists and singers performing, and they've got their monthly schedule on their site, so you can check and plan in advance. A to-go place for nightlife in Rome! On top of all that, if you're looking for cooking classes in Rome, you should roll in Eatalian Cooks' cooking classes at Jazz Cafe. You can book a class at this link!
4. Caffe Novecento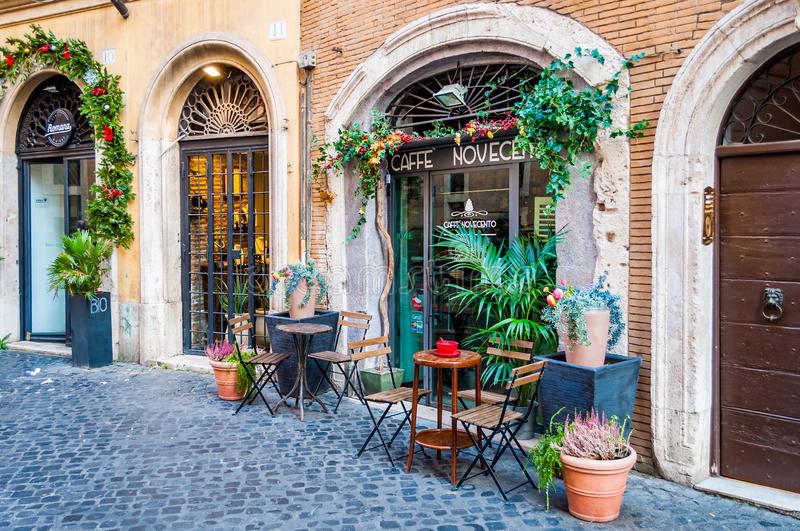 If you're looking for a really cute cafe in Rome Italy, we recommend you stop by Caffe Novecento on Via del Governo Vecchio, about 3 minutes away from Bistrot & Wine Bar Pasquino, as you're heading toward the Castel Sant'Angelo. Caffe Novecento is the place that people stop by and admire because its outside setting is just really nice and catching. We've also spotted this place on Social Media many times because travelers keep posting about its shopfront which is lovely!
When it comes to Roma coffee, Caffe Novecento isn't only a coffee place, but it's also a teahouse, a spot for brunch, Aperitivo, organic wines, lunch, and dinner. They are heading more towards the Roman dishes, Italian cheese, cold cuts, and traditional food and they've got really great coffee as well. A great place to stop by if you're heading to the Vatican City, or back from the Vatican City actually. The vibes here are unmissable!
5. Pasticceria Panificio Panella Roma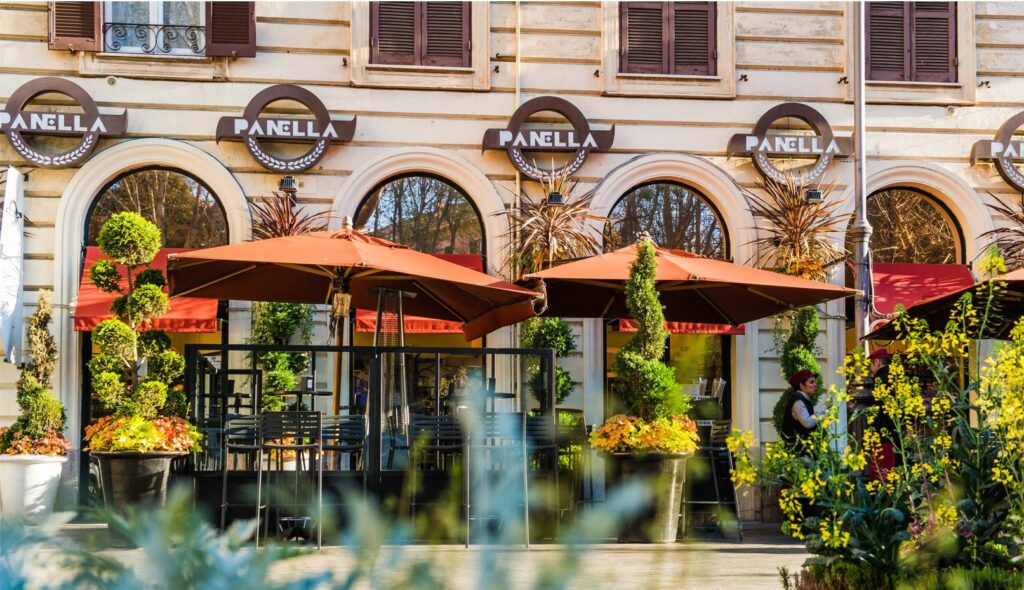 One of the greatest names, when we speak about a Roman cafe, is Pasticceria Panificio Panella Roma. Panella is one of the best coffee shops in Rome Italy, and also one of the best cafes in Rome if you want fresh and extremely delicious pastries on side of your coffee. It's a great coffee place in Rome to go for those who stay between the Termini train station area and the Colosseum area.
Panella is mostly famous for its artisanal pastries and bread. You will be truly amazed by what they create! The outdoor seating area is surrounded by colorful flowers, the place is really nice and elegant, and well, it's only perfect to enjoy a coffee. Stopping by at Pasticceria Panificio Panella Roma in the morning on our way to the Colosseum really just made our day start better.
6. Vivi Bistrot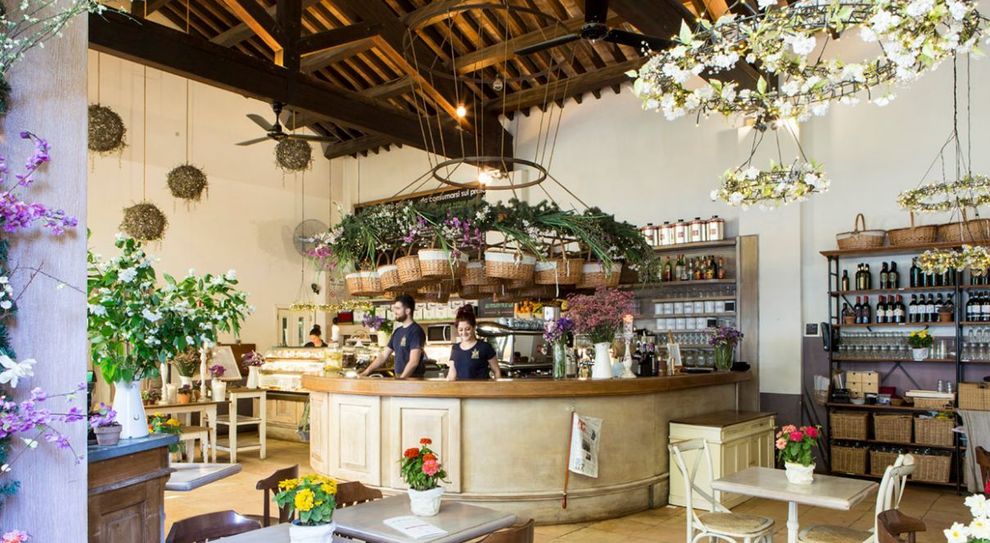 If you are looking for a beautiful, country-style spiced cafe in Rome Italy, you cannot, and I'll say again, you can not skip Vivi Bistrot! Ladies will especially want to go to this place and every content creator who's hunting for a shootable, lovely cafe in Rome. When it comes to Roma coffee and Vivi Bistrot, there's not only one but 4 places you can find the, One cuter than the other and that on Piazza Navona is great for those looking for cafe near Pantheon Rome.
First Le Serre, also at Villa Pamphili, on Piazza Navona, and at Rinascente on Via del Tritone. The coffee shop chain in Rome is owned by two ladies, Cristina and Daniela who combined style, creativity, quality, great food, and drinks, with fantastic service, and created their amazing hotspots for coffee in Rome. They offer simple but delicious cuisine using organic ingredients and they are inspired by the travels of the owners and ideas they collected abroad. A must-visit for everyone!
7. Hosteria del Mercato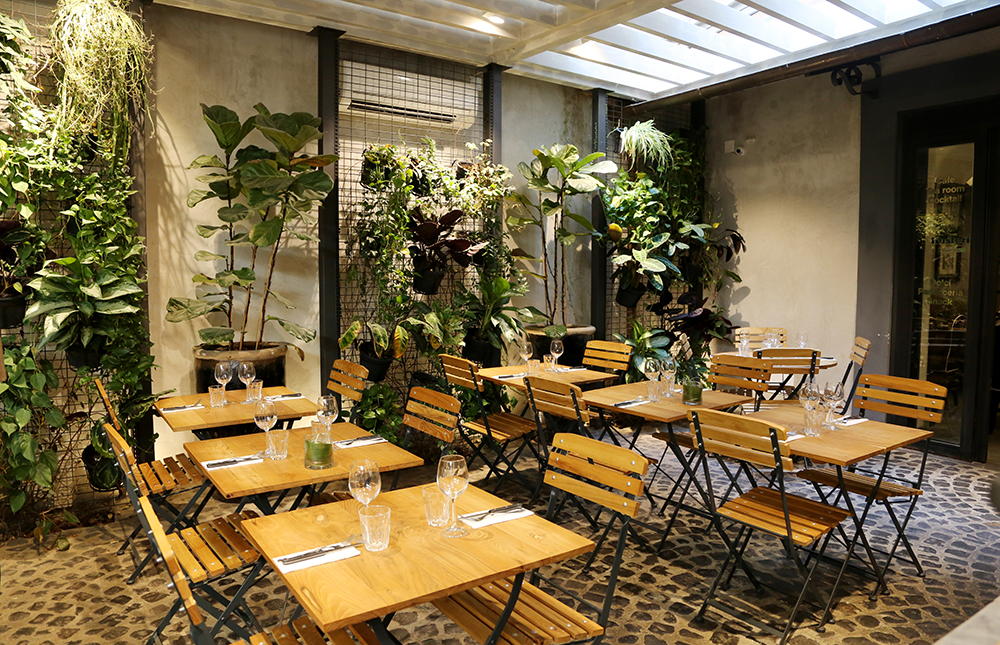 If you've been to London, or you are from London, the setting of Hosteria del Mercato will be very familiar to you. London is packed with cute cafes and restaurants which are decorated with dozens of plants, and we all just love them, aren't we? Well, if you're looking for the best coffee in Rome, and a cafe in Rome that has this green setting, Hosteria del Mercato is where you must go!
Hosteria del Mercato is set in a Renaissance garden a few steps from the beautiful Piazza di Spagna and the Spanish Steps. The place is inspired by London markets, such as the Queens Road Farmers market, and they actually use for their dishes organic and bio products coming directly from farms instead of shops. A great spot for a morning coffee, and to explore the organic juice bar, the tea room, the cocktail bar, and the bio food market. Also, their interior pieces are natural and sustainable.
8. Bar Pasticceria Romoli Roma
When you're looking for the best coffee in Rome, and you're looking for traditional, real Roman spots, then Bar Romoli should be on your list! It's a bar and pastry shop that looks back on three generations, and it is considered one of the best coffee shop in Rome! The story of Romoli is the story of the Africa neighborhood in Rome.
Customers trust and love Romoli since it started 65 years ago. The family-owned business was started by the parents of today's owners, three sisters. You can head to Romoli for delicious coffee, breakfast options, pastries, and different desserts they make. At Romoli, they use fresh ingredients, and the Romoli team creates some of the best sweets (and not only) you could find in Rome!
9. Gatsby Cafe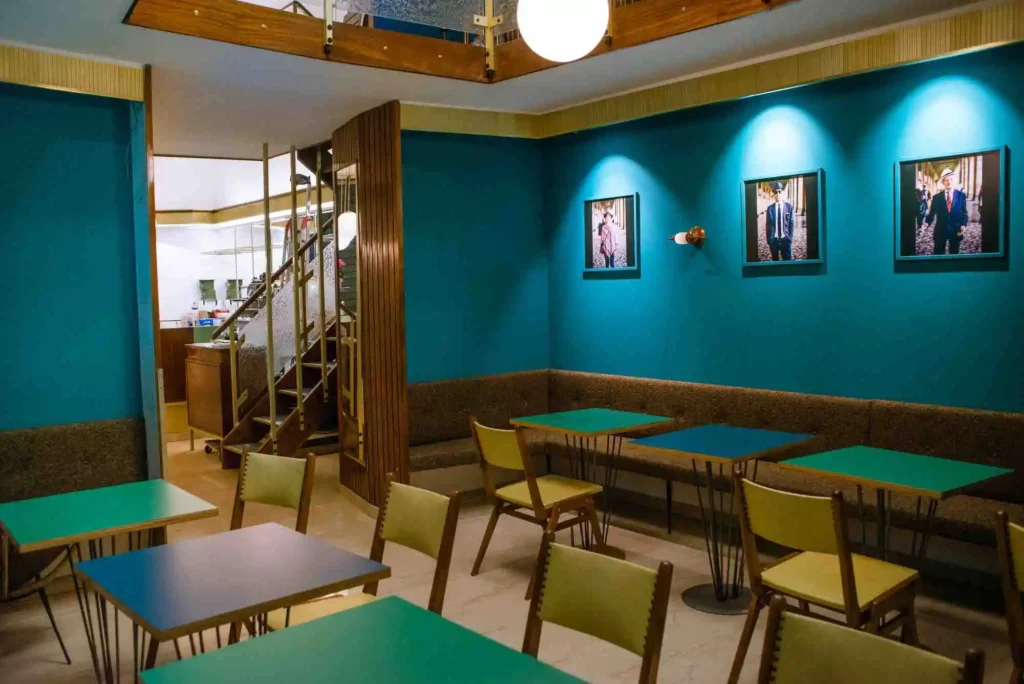 The popular Gatsy Cafe is one of those cafes in Rome Italy that you'd want to check out. It's set in P.za Vittorio Emanuele II, so if you're staying in the area, it would be your perfect Roma coffee place. Gatsy Cafe is open from 8 am until midnight every day, so it's not only a place for coffee, but for lunch, dinner, and drinks as well.
When it comes to the best cafe Roma, Gatsby is an interesting choice that many of you would surely appreciate. The style, the design, and everything they offer are really lovely. The owners are 5 young guys who created this place with their own hands. A group of friends made of engineers, economists and so who each have their own tasks running this cool place. Make sure you stop by at Gatsby Cafe in Rome!
10. Cafe Greco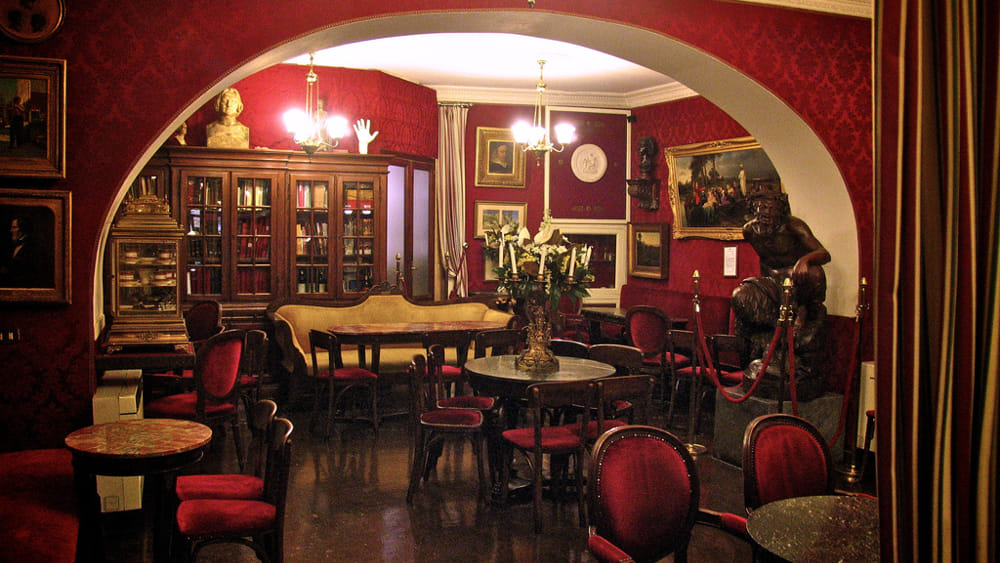 Another famous cafe in Rome Ital is definitely the elegant Cafe Greco which is set opposite the Spanish Steps between the designer boutiques. This is a place of elegance and history, and it's considered one of the best coffee shops in Rome. At Cafe Greco, you can sit at the tables where intellectuals and artists set once, such as Andersen, Gogol, or Goethe.
If you're into the stunning Belle Epoque, just as in Paris there are the specific cafes to go to, in Rome you'd want to go to Cafe Greco to relive that age. The elegant atmosphere reflects the design and style of the period of history that's considered one of the most beautiful and peaceful ones. When the industries were booming, and the intellectual world was thriving.
11. Sant'Eustachio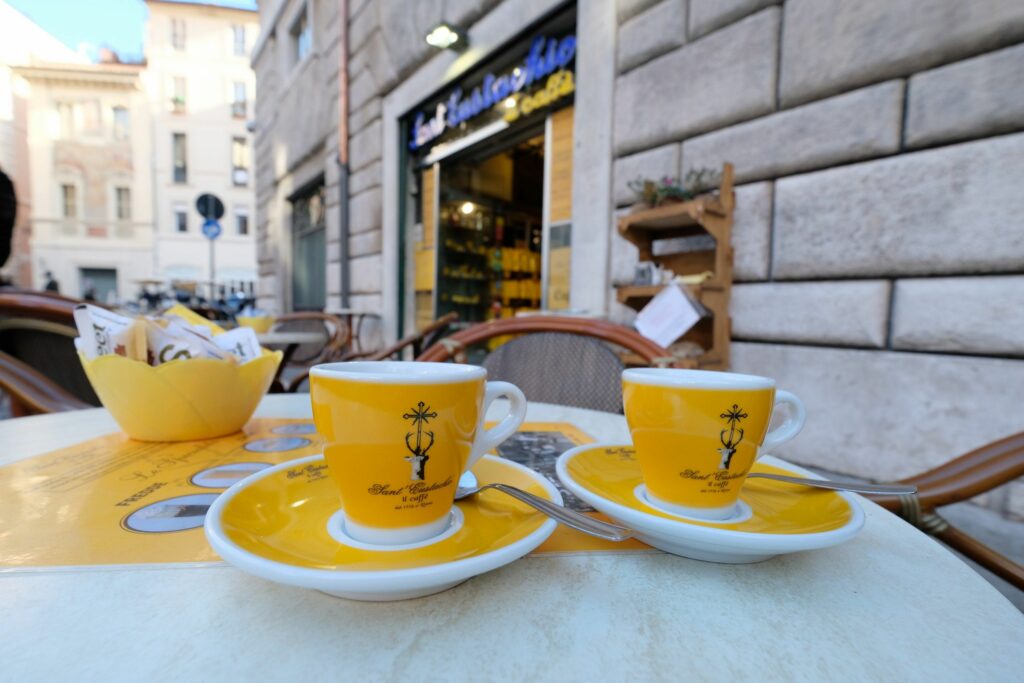 Sant'Eustachio became really popular among travelers to Rome, but less popular among locals. I noticed every morning that more of the tourists were heading right to Sant'Eustachio, while most of the Romans were going to a simple, less pricy coffee shop right across the street on this small and cute piazza. It is indeed a bit more pricy than other local cafes in the area, but it's also of great quality, so it's unmissable.
And it's actually not as pricy as if you'd be having a coffee in the middle of Piazza Navona! Sant'Eustachio is the place you'd have closest if you're looking for a coffee shop near Pantheon Rome since it's literally 1 street away. This cute coffee shop that's also serving their own coffee which they import from Brazil from Maya descendants.
So if you're looking for the best coffee in Rome that has so interesting roots around the coffee they use, we recommend stopping by in the morning! The owners of Sant'Eustachio regularly travel to Brazil to select the best coffee beans they then sell and make the coffee for you as well. You can get at this cafe Roma place cookies, cakes, chocolate bars, as well as different pastries on side of the morning coffee.
12. Bar Monti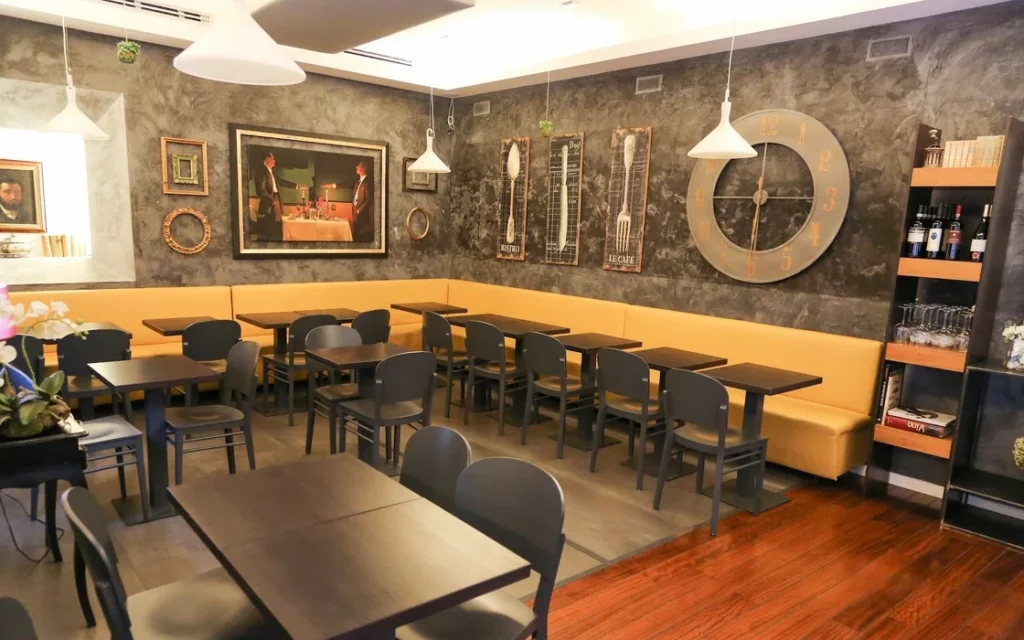 When it comes to the best coffee in Roma, and the best cafes in Rome, we can't skip the Monti neighborhood either. Here, one of the best cafes in Rome Italy is definitely Bar Monti where you can get your perfect Roma coffee if you're staying in the area. Bar Monti is set in Via Urbana 93, which is not too far from the Basilica Santa Maria Maggiore, the Termini area, and the Colosseum.
At Bar Monti, you can head for coffee, and get some delicious pastries and other breakfast dishes on-site, or you can stop by later on for lunch or dinner as well. Actually, you can stop by Bar Monti also for Aperitivo and get some delicious cocktails here too. A modern place with a hint of Roman traditions, and a great bar to go to in the area.
13. Faro – Luminaries of Coffee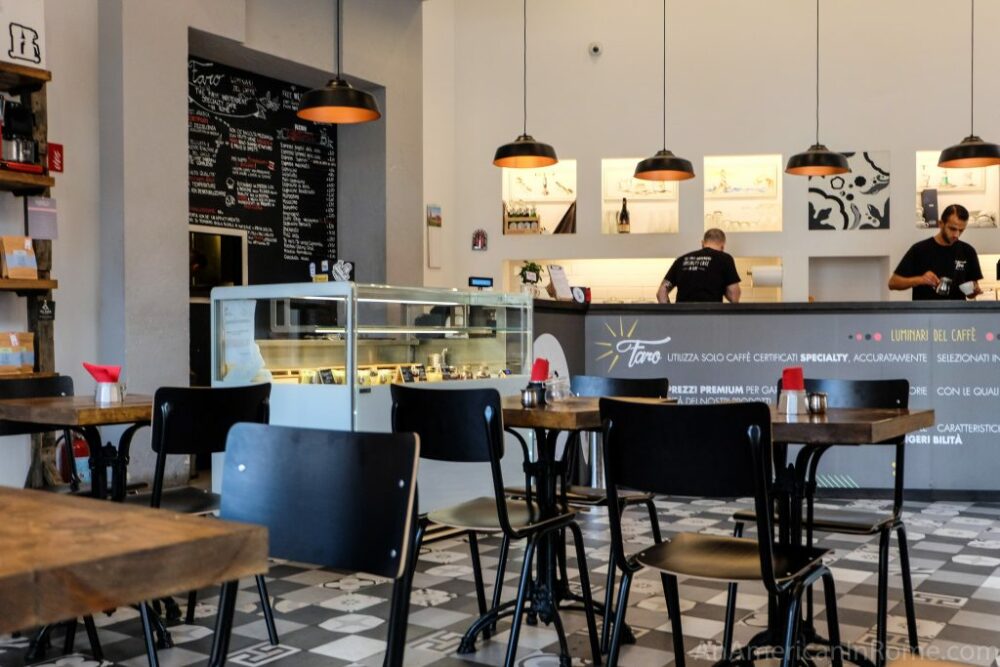 When it comes to the best Roman cafe, we can't skip Faro – Luminaries of Coffee which opened in 2016. At Faro, they specialize in coffee and they've got an impressive coffee menu as well. It's a more modern, less traditional Italian-style place, comfy, simple, and perfect. Faro is a coffee shop chain actually and you could find them in different parts of the world.
Faro is about 15 minutes away from Roma Termini train station, and it's the place to go if you're staying at hostels in Rome in this area especially. Considered one of the best coffee shops in Rome Italy, they also roast their own coffee beans from Brazil, Colombia, Kenya, Ethiopia, and Colombia as well. Also, you can find at Faro a selection of teas, sandwiches, and different quick dishes.
14. Babington Tea Room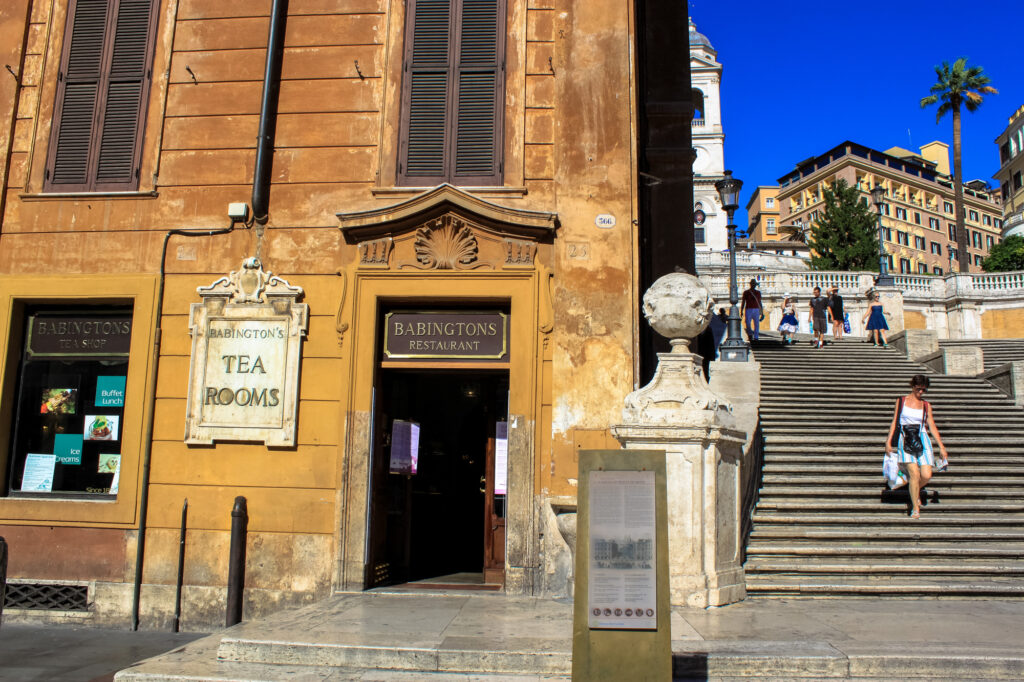 One of the most famous tea rooms in Rome, which is also a great spot for those who are looking for a cafe in Rome Italy, is the Babingtons restaurant and tea rooms. When it comes to the best coffee in Rome, you've got a lot of options, but what about those who don't drink coffee? Especially who loves tea? Well, this is the place you should come to!
The Babingtons tea room is set literally on side of the Spanish Steps in Piazza di Spagna. They've got some amazing tea selections, and really good coffee as well. Of course, since it's a restaurant as well, you can come here at any part of the day (though they do open a bit late for morning coffee hunters). They've got delicious desserts and cookies, and online you can shop their teas and coffees too!
15. Pasticceria Andreotti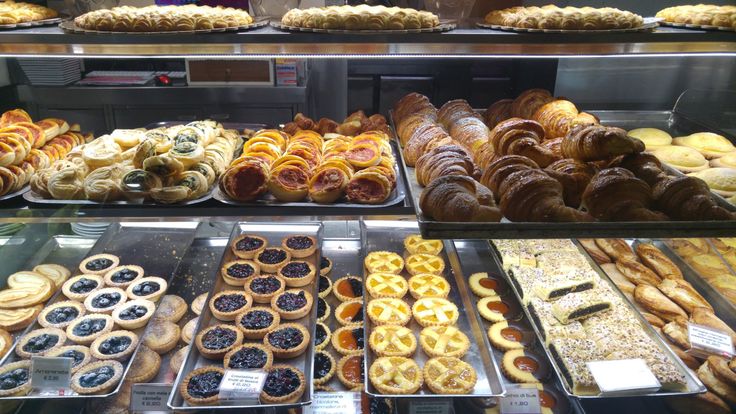 The last on our list of Roman cafe and pasticcerias is Pasticceria Andreotti. When it comes to the best coffee shop Rome offers, and some of the best pastries, you want to go to Pasticceria Andreotti. Indeed this spot is really far from the city center, but if you live or stay in this area, it's definitely worth visiting.
Pasticceria Andreotti looks back to history since 1931, and the Andreotti family brings up until today some of the most delicious pastries in Rome. The decor is bright and modern but it has a vintage snapshot of the Andreotti family that reveals the history and roots of the family-run coffee shop and pastry shop in Rome. You can get yourself small pasticcini here, and you can get a beautifully wrapped tray of pasticcini to take away too.
Wrapping up the 15 best places to get coffee in Rome Italy
Now that we've discussed my favorite cafe in Rome Italy, and 14 other great cafe Roma (best coffee shops in Rome Italy), we hope you've found your perfect match. If you're staying in a central area and you're looking for a coffee shop near Pantheon Rome, the Piazza Navona, or other central places, we've covered plenty of the places for the best coffee in Roma. Enjoy your Roman experience!
Make sure you check out our articles for gelato shops in Rome, to try a great Italian gelato. Also, if you didn't decide on your accommodations, we've already published an article about the best luxury hotels in Rome, as well as hostels. Everything else is coming later. Beyond all that, we've got some articles for the best fountains to see in Rome, the best things to do, hidden gems, and restaurants in specific places such as restaurants near the Trevi Fountain if you want to stop to eat before/after you tossed your coins in the Trevi Fountain. Also, we've got covered the best restaurants and hotels in the Trastevere neighborhood as well!
Pin it: Cafe Roma – The Best Roman Cafes