10 Best Luxury Hotels in Venice Italy
Venice might probably be one of the most enchanting cities in the world, that's on every single person's bucket list. The lagoons and canals, the gondolas, the real Aperitivo, the food, and the carnival are all great attractions. Enjoying a coffee on St Mark Square, or a romantic gondola ride in the afternoon is one thing, but Venice is also about elegance and luxury. There are plenty of elegant festivals and balls in Venice, which the wealthy attend each and every year. If you're one of those, who are looking to find Venice's glamourous, elegant, and luxurious side, then you'll surely find what you're looking for in this article! Now, let's talk about where to stay in Venice and discover together the top 10 best luxury hotels in Venice Italy! In our selection, we've picked the best-rated and most famous 5 star hotels in Venice Italy based on different factors, such as reviews, ratings by previous guests, facilities, amenities, level of elegance and luxury, interior design (and exterior too at some), and those that offer the absolute best service.
10 Best luxury hotels in Venice Italy
While you'll be able to discover the 10 best luxury hotels in Venice Italy, we wanted to make sure you also know how to enjoy the city to the fullest. Depending on what time of the year you're visiting, and if there's a special event that makes you attend, you must know, that summer and the time of the Carnival are the two busiest periods in the city. Another interesting fact about these hotels is, that many can be only reached by water taxis or gondolas!
Though tourism in Venice is now more controlled, it's better to be aware of what to expect. Floods are more common in early spring, and in the autumn, when and if there is too much rain in the area. If you're looking for unique experiences, and you're trying to avoid the crowds, beyond these 5 star hotels in Venice Italy, you must check out the best Michelin-star restaurants, elegant cocktail bars, and of course, those restaurants that make the best local dishes and shouldn't be missed!
You can also book tickets in advance to one of Italy's most elegant opera houses here, as well as (if) you have the connections to join balls. Make sure you try some Cicchetti, the traditional Venetian Aperitivo food, and book tables at some of the most beautiful spots in the city. Venice is a place where the wealthy can enjoy their freedom, and the most beautiful high-end places while traveling back in history, to a city-state that was one of the wealthiest of all Italian city-states for hundreds of years.
Recommended: car rentals through Discovercars.com, and accommodation bookings through Booking.com.
1. The St. Regis Venice
The king of luxury hotels Venice Italy is definitely the St Regis Venice. This is one of the best 5 star hotels in Venice Italy, offering a spectacular view right over the Grand Canal. On booking.com it has a rating of 9.2 from over 400 guests, which means that it's also one of the best-rated hotels in the beautiful city of lagoons. Why choose St Regis Venice? The hotel chain is known worldwide for its excellence and elegance.
Beyond the fact that from this hotel you're getting a beautiful view over the Grand Canal, you can be assured that you're also receiving the best service. What to expect? St Regis features a panoramic restaurant and bar with Venetian-style decoration. Beyond the beautiful surroundings and setting, St Regis is located in a quiet calm area, so it's also perfect for those seeking more privacy on their stay!
The beautiful marble interiors, and lavish and designer furniture provide the most luxurious setting for the perfect stay. Who is St Regis good for? Well, of course, you must be able to afford it, as in this article each hotel has 5*, which means that they are pricy. Overall, who's looking to stay at one of the most elegant, most famous international hotel chains that offer the most unique experience, for those St Regis is perfection!
Address: S. Marco, 2159, 30124 Venice, Italy
2. Baglioni Hotel Luna – The Leading Hotels of the World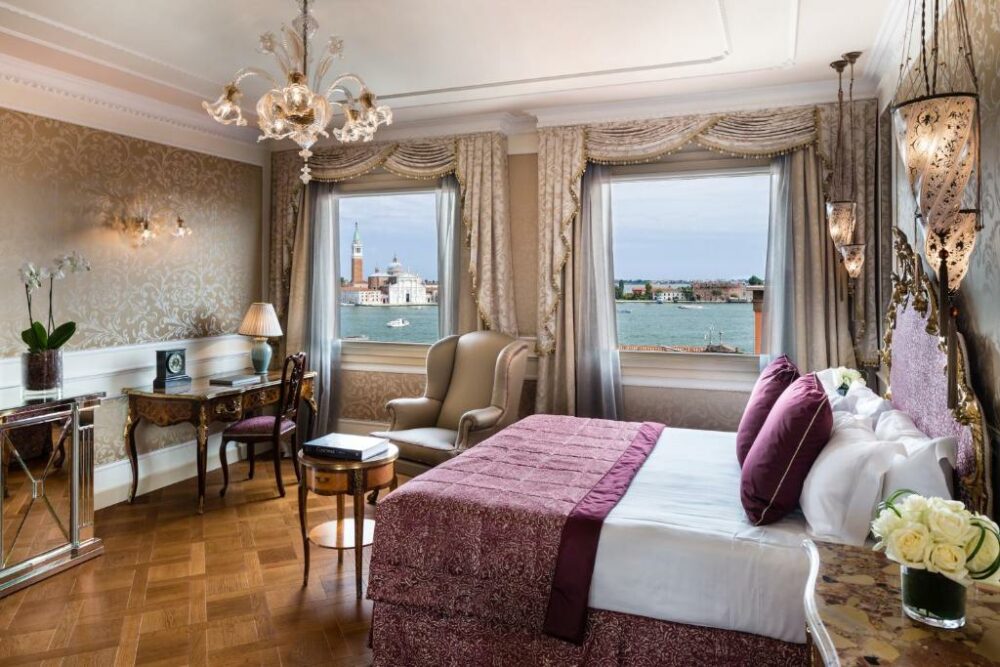 The city of lagoons boasts beautiful, and high-rated luxury hotels in Venice Italy. Baglioni Hotel Luna is one of the most charming of all, with the most perfect location, only 80 meters from Saint Mark's Square. Why choose this hotel? As you can see at Baglioni Hotel Luna, as well as among many Venice Italy luxury hotels in this article, they all have a typical Venetian-style interior design, which is elegant, colorful, and antique too.
What to expect at Baglioni Hotel Luna? Beyond the stunning rooms, and the perfect view of the Grand Canal and islands, you're also very central, so it's easy to arrive anywhere quickly. The rooms are fully equipped with self-care products and tools, Murano glass chandeliers, and marble bathrooms. Rooms come with TV and minibar of course.
Also, the hotel has its own private dock, so you can arrive in style on a boat or gondola. You should also know, that not all rooms are overlooking the lagoon! There are only some suites that do so. Who is Baglioni Hotel Luna good for? I believe the large buffet breakfast that's served in the gran frescoed Salone Marco Polo hall, the drinks and snacks available throughout the day at Caffe Baglioni, and the restaurant Canova, which is an award-winning restaurant serving Venetian specialties and fine wine are for everyone.
The hotel has the most perfect location, while its prices aren't going over the roof, and, it also has a rating of 9.2 on booking.com from over 800 guests! There are many reasons to pick this specific accommodation for your stay in Venice, but you must also consider the downsides. If you're looking to have a more private stay, accommodation by the busiest square of Venice might not be for you.
Baglioni Hotel Luna Address: San Marco 1243, San Marco, 30124 Venice, Italy
3. Londra Palace Venezia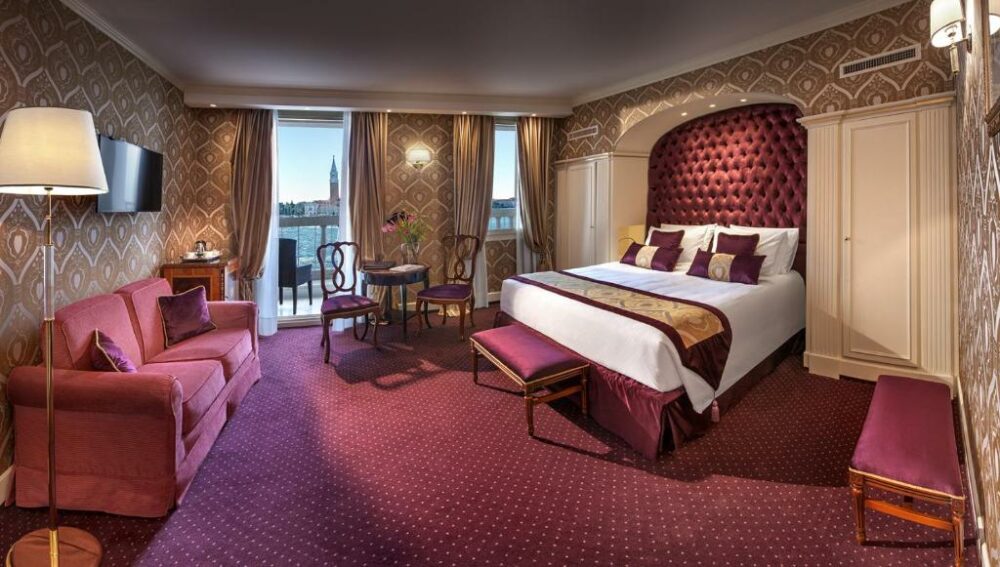 We will be saying this many times when it comes to Venice luxury hotels, as each of those selected for this article are only too beautiful not to praise them! Londra Palace Venezia is one of the best-rated 5 star hotels Venice Italy, also with a 9.2 rating on booking.com from over 800 travelers.
We are truly enchanted by its interior design featuring lots of velvet and original silk furnishing in beautiful colors, matching each room's style, and of course, the marvelous antique pieces of furniture can't be ignored either. As for its location, Londra Palace is actually very close to Baglioni Hotel we featured as 2nd, and it offers the same stunning view as that one.
Who is Londra Palace good for? Being only 5 minutes away from St Mark's Square, this is a perfect location for everyone who wants to be close to all sights, in the heart of Venice. Why choose Londra Palace instead of another? Well, there are certainly differences in the prices too, but the design of the rooms is quite unique too. For those, who are not obsessed to have wooden floors, the soft carpets here can be another reason, to go for Londra Palace.
Another reason to choose Londra palace is, that it also has rooms and suites with a small terrace, or even a balcony with a seating area, all overlooking the lagoon. They also feature an award-winning restaurant, Do Leoni, which offers modern Venetian cuisine. If the weather allows it, you can enjoy breakfast, lunch, or dinner on the terrace of the restaurant, which allows you to admire the beautiful view throughout your meal!
Londra Palace Venezia Address: Riva Degli Schiavoni – Castello 4171, Castello, 30122 Venice, Italy
4. Hotel Ai Reali – Small Luxury Hotels of the World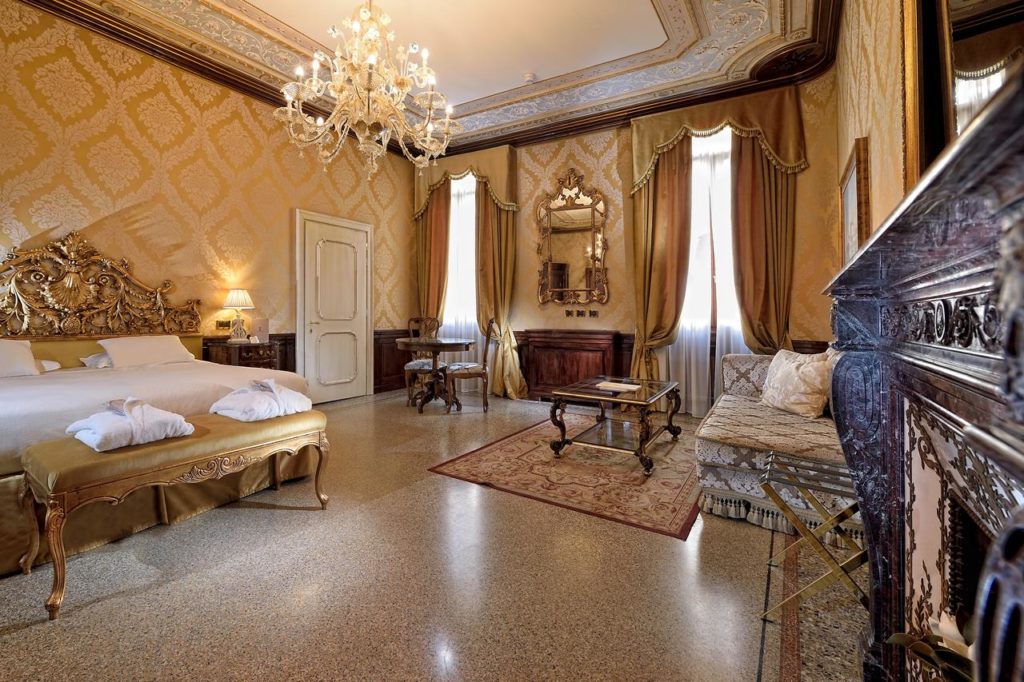 The hotel's name literally suggests "at the royals", and this is already a reason why we have on this list Hotel ai Reali as one of the best luxury hotels Venice Italy features. Actually, this isn't the main reason, but the fact, that this is one of the 5 star hotels in Venice Italy that's set in an ancient Venetian palace, in the heart of the city, that's also one of the most popular luxury hotels in the city of lagoons.
Why choose Hotel ai Reali? Something that makes accommodations more than unique in Venice, is that you can reach them by water taxi or gondolas, and Hotel ai Reali is one of these! Arriving on the water, you'll be dropped off right at the waterside entrance of the hotel. When you walk inside, guaranteed you'll feel like you've traveled back to the era of royalty.
What to expect at Hotel ai Reali? Beautiful marble indoors, the most exquisite rooms with breathtaking ceilings, chandeliers, golden-covered antique furniture, and the most elegant interior design. A place where you will not only be treated as a royal but will also feel like one in every moment you spend here. Rialto bridge is only 2 minutes away, while the breathtaking rooms are well-equipped, and you get served buffet breakfast every day.
Moreover, at Hotel ai Reali you'll have a fitness center, a spa & wellness center at your disposal, as well as you can dine at Alle Corone restaurant which offers both Italian and international cuisine. You can also enjoy drinks at the lounge bar if you'd like, in an exquisite ambiance. Hotel ai Reali is rated 9.1 on booking.com from over 1.200 guests. A 5-star hotel in Venice that's really worth it!
Address: Calle Seconda de la Fava, 5527, 30125 Venice, Italy
5. The Gritti Palace, a Luxury Collection Hotel, Venice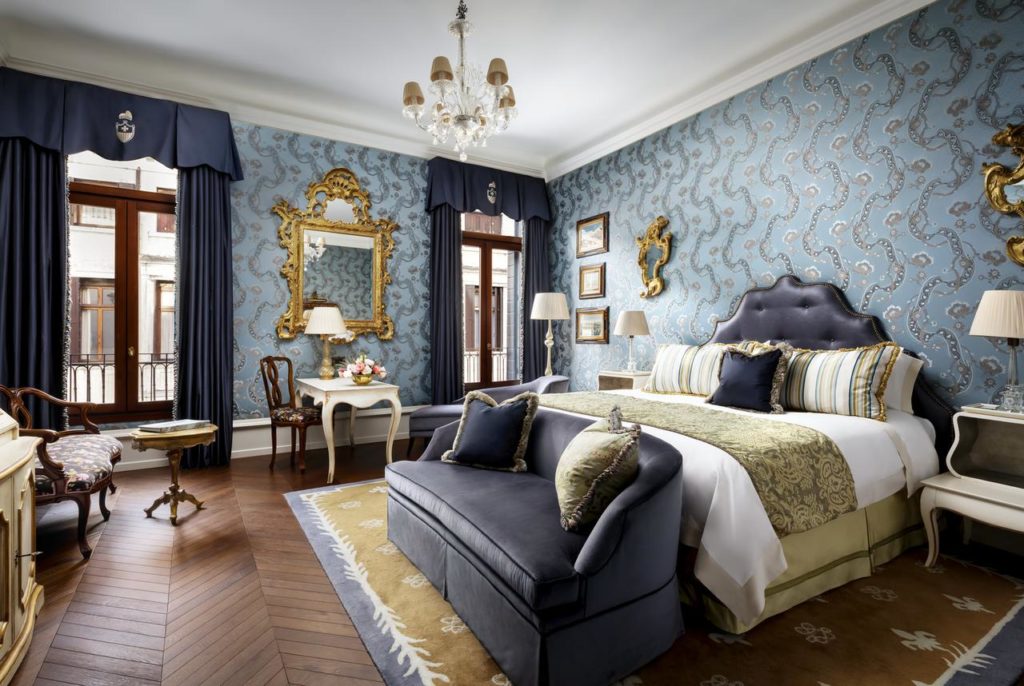 When it comes to more restrained, still very elegant luxury hotels in Venice Italy, The Gritti Palace is a real icon. Somewhat reminds us of the Netflix series, the Bridgerton, just this is the Venetian version. First and foremost, the main reason we love the Gritti Palace, and why you should definitely consider booking here is the location.
The accommodation is set in the former Doge's residence, which makes it one of the most important buildings in Venice's royal history, hence the building actually dates back to 1475! This incredible location was transformed into a hotel in 1895, which also makes it one of the oldest luxury hotels in the city. Inside the building, it's featuring beautiful antiques and frescoes on the ceilings, and the interior design is absolutely breathtaking.
In some rooms, you can find an elegant and beautiful bath set next to the window, which offers a breathtaking view over the canal, while other rooms feature marble bathrooms and the most charming wallpapers you can imagine (Bridgerton style, really). Each room has its own soul and its own style. You can pick from simple rooms to the most elegant suites, and you'll feel like the Doge family member enjoying the royal life of Venice, really.
The view is also spectacular, and I believe this is another reason why it has become one of the best Venice Italy luxury hotels. From the rooftop, where there's a tiny pool and tables too, you can see the beautiful Santa Maria delle Salute church, as well as you're having a marvelous look over the Grand Canal. Reviews on booking.com suggest this charming hotel is rated 9.3 from over 160 guests.
Address: Campo Santa Maria Del Giglio 2467, 30124 Venice, Italy
6. Monaco & Grand Canal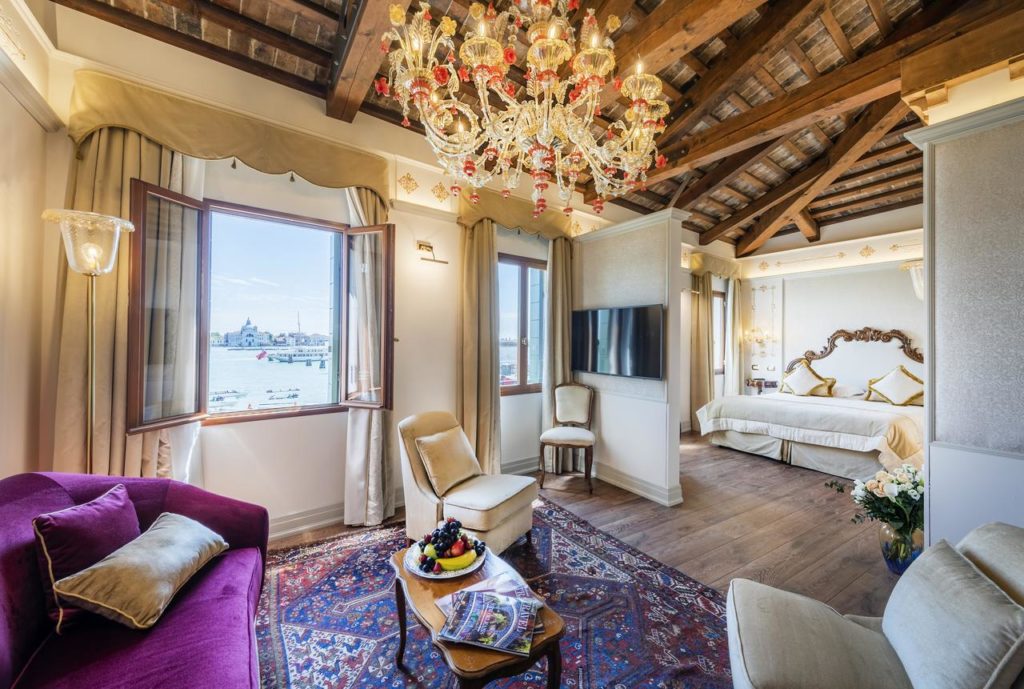 The Monaco & Grand Canal Hotel is another beautiful example of Venice luxury hotels. The hotel is set in a historic building, offering a view over the Canal Grande, and it's also very close to Saint Mark's Square (about 100 meters). Booking.com ratings are at 8.9 from over 1.000, which suggests it deserves this place in our article.
Why choose The Monaco & Grand Canal Hotel? First, because compared to some other 5 star hotels in Venice Italy in this area, this accommodation is somewhat more budget-friendly. It's also a very elegant place, but not too sophisticated, as some of the other accommodations we already discussed. Many of you might prefer elegance and beauty but are not exaggerated, and for those Monaco & Grand Canal Hotel is perfect.
What to expect at this hotel? On side of the fact that it offers spectacular views that will burn into your memory, the modern amenities combined with antique furniture in a more "minimalist" way is a big reason for many. We don't highlight it at every hotel, but of course, rooms are well-equipped with everything you could need, and they also have a restaurant to enjoy top-quality Venetian cuisine from the side of the lagoon.
Monaco & Grand Canal Address: P.za San Marco, 1332, 30124 Venice, Italy
7. Hotel Danieli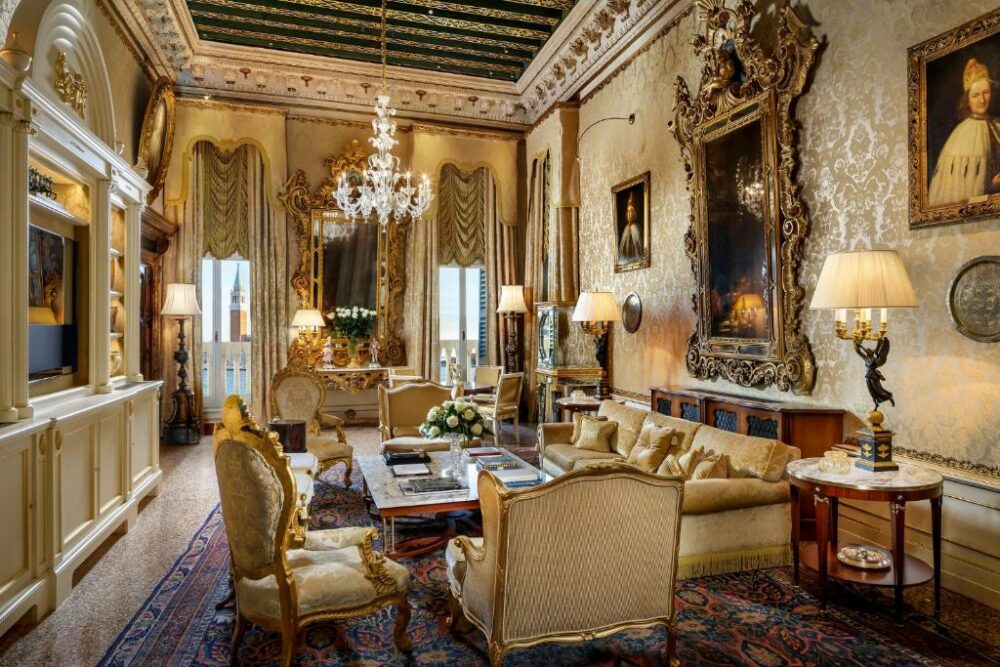 We almost skipped over Hotel Danieli A Luxury Collection Hotel Venice, but only because we had the 10 best luxury hotels in Venice picked by the time we found this one. While in rating it has the lowest rating of all the accommodations in this list, it's not that bad! Hotel Danieli has an 8.8 rating on booking.com from almost 1.000 guests, which makes it basically the same level of perfection as any other hotel on this list.
One of the main reasons why choose Hotel Danieli is the interior design. The 5-star hotel offers one of the most beautiful rooms and suites, with antique golden-painted furniture, and elegant decoration, yet, including a hint of modernity too. Some rooms have the most breathtaking frescoes above the bed in the bedroom, which is the main reason we love, love, love this place!
The most elegant and luxurious hotel, with the most beautiful view over the Grand Canal. Hotel Danieli also features a rooftop restaurant called Terrazza Danieli, that's one of the best bars & restaurants for a majestic view over Venice. We surely recommend this place while we keep dreaming of visiting it again as soon as possible!
Hotel Danieli, Venice Address: Riva degli Schiavoni 4196, Castello, 30122 Venice, Italy
8. Palazzo Veneziano – Venice Collection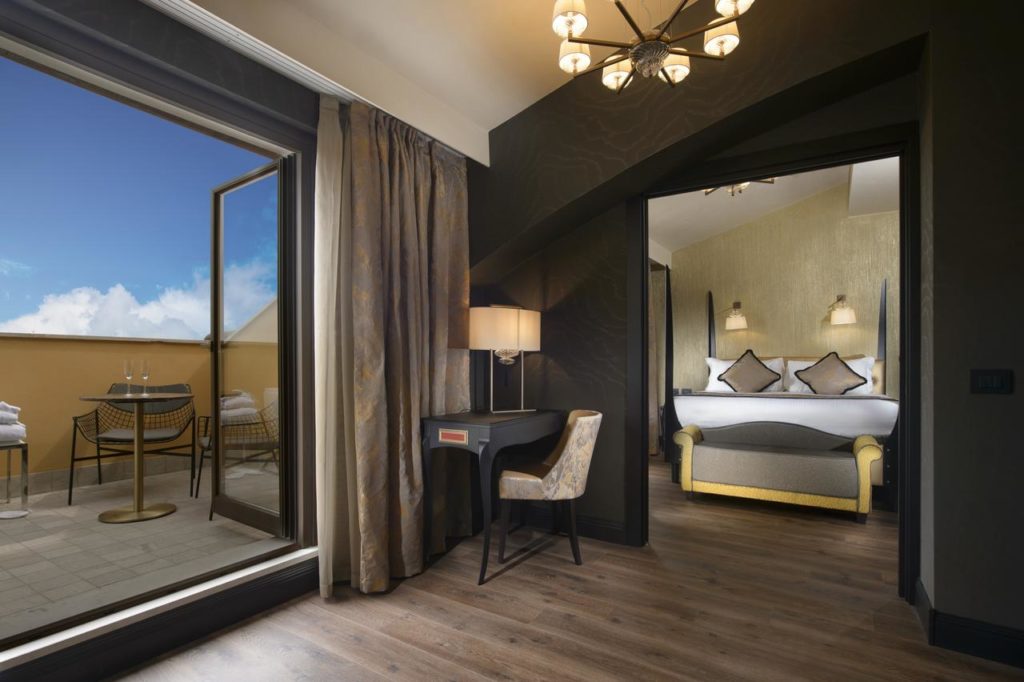 Palazzo Veneziano is not one of the 5 star hotels in Venice Italy, as it's actually a 4-star hotel, but for many, it will be well worth picking this, instead of any of the above-mentioned luxury hotels in Venice Italy! Why choose Palazzo Veneziano? For starters, the location in the Dorsoduro neighborhood is lively, yet peaceful, and minimalist, and it's along the Grand Canal.
Why choose Palazzo Veneziano? When you walk into the lobby of Palazzo Venezia are already something that will catch your eye quickly, and as you continue your way through the hotel, you'll notice how modern elegance is combined with minimalist style, yet still having a very Venetian vibe. Using the marble and metallic details together, along with modern and elegant furniture is something we adore!
What more to expect? Wooden floors in the rooms, the possibility to book rooms with a balcony, a beautiful and elegant bar, and a dining room/restaurant that is absolutely charming. You can get an amazing continental breakfast in the morning, enjoy the surrounding canals, lagoons, and green areas, and return to a luxurious, modern, stylish accommodation. Many rooms feature bathtubs or jacuzzi as well, while the black-gold-brown combination is very specific for this hotel.
Address: Fondamenta Zattere Al Ponte Lungo, 1413, 30123 Venezia VE
9. Palazzo Vendramin Costa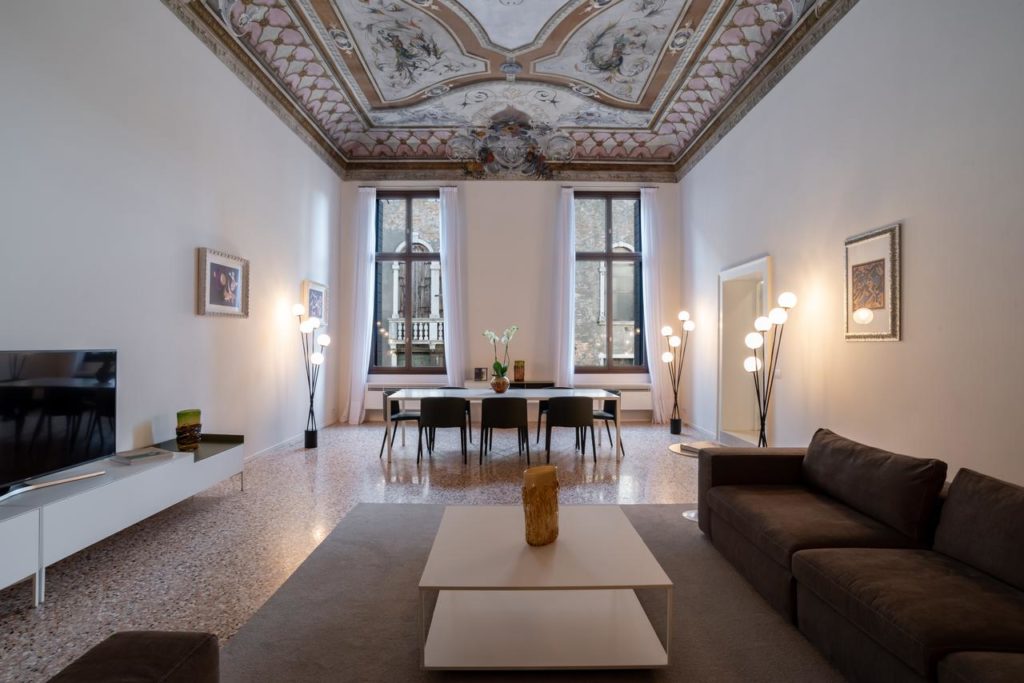 If you're looking for elegant private apartments instead of luxury hotels Venice Italy, we can definitely suggest one of those too! Palazzo Vendramin doesn't take part in the Venice Italy hotels 5 star list, as this one features private suites and apartments, which means you've got all the privacy and peace you'd like. So if we wanted to answer why choose Palazzo Vendramin, this would be one of the main reasons!
Also, this is a 4* accommodation and according to booking.com, their rating is at 9.6 from over 200 guests! It is significantly cheaper than most of the accommodations listed in this article, and for those who don't fancy the elegant Venetian style, this place could work well! What to expect at Palazzo Vendramin? The accommodation is located in a beautiful district called Cannaregio.
Cannaregio is outstanding as it reflects the continuity of growth and modernization from the 15th century til today. You can find yourself looking at different buildings here, and each of them would date back to different eras. If you book an apartment with a balcony, you can actually enjoy a splendid view over the Rio di Santa Fosca, one of the most charming canals in Venice. The apartments feature fully dotted kitchens, a living area, a dining area, a bathroom, and of course, a bedroom too.
Address: Fondamenta de Ca' Vendramin, 30121 Venice, Italy
10. Hotel Donà Palace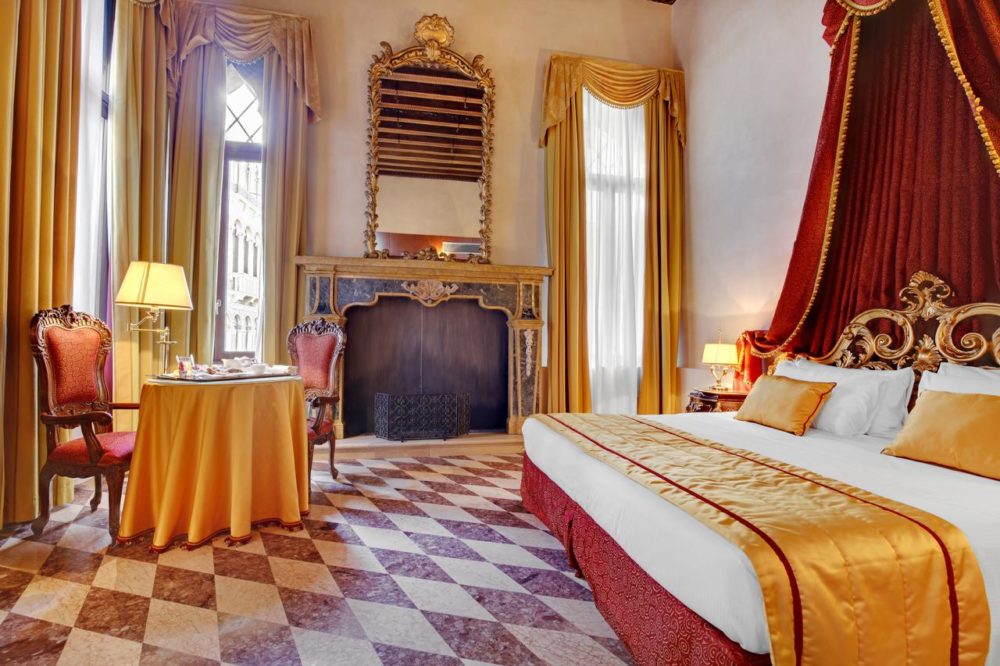 Velvet, elegant colors, marble, and antique furniture. If you want to feel like a king/queen, you surely want to check out the classy Hotel Donà Palace, another gem of our selection of the best Venice Italy luxury hotels. Hotel Donà Palace has a very unique location, overlooking the Rio di Palazzo Ducale and the famous Bridge of Sighs. But why choose Hotel Donà Palace?
This is also a 4-star boutique hotel, which means the prices are lower than in most of the hotels we listed already, but in the meantime, it also means, that while it's not a 5-star hotel, it is indeed a precious gem with an 8.9 rating on booking.com from over 1,200 guests. Also, if you're visiting when the weather is good, you've got access to their terrace that's opening onto a canal. The real Venetian "downtown" experience from the elegance of a Venetian villa.
What to expect at this accommodation? You can expect beautiful rooms, the most unique furniture, and authenticity. Hotel Donà Palace is set in a 14th-century building, and they offer rooms fully equipped with everything needed from toiletries to hairdryers, air conditioning, and TV. You can enjoy American breakfast served each morning, and drinks in the internal garden during the summer, and you can also arrive by water taxi, as they've got a landing dock.
Hotel Donà Palace Address: S. Marco, 391, 30124 Venice, Italy
Bonus: H10 Palazzo Canova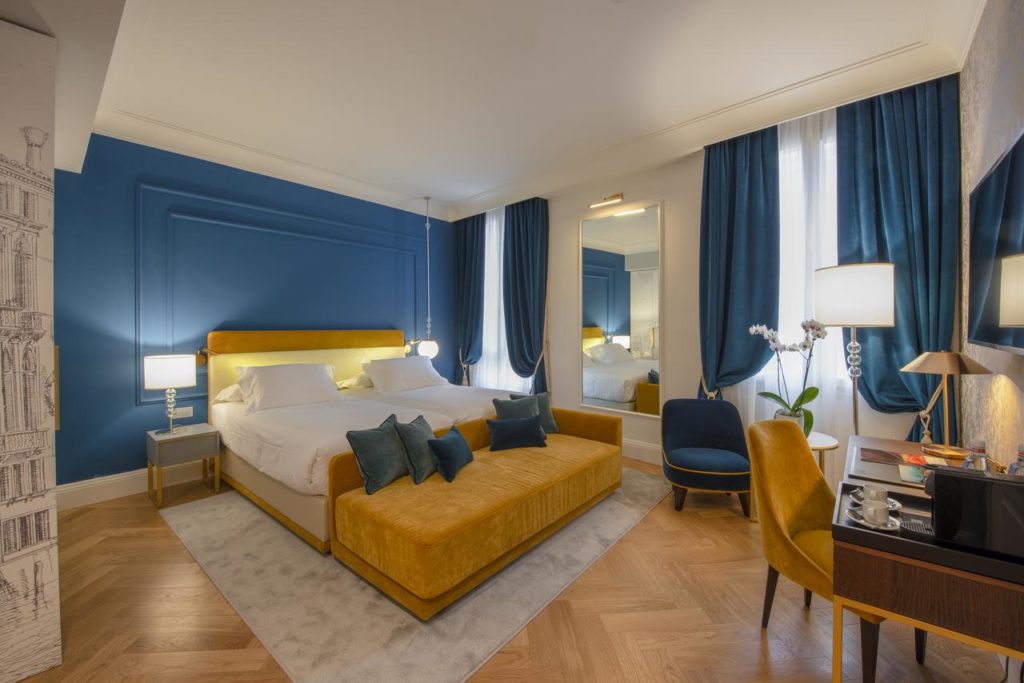 Hotel H10 Palazzo Canova is the last on the list of Venice luxury hotels, where visitors can find one of the most beautiful terraces in Venice. Located on the Grand Canal, in the heart of Venice and not far from Rialto Bridge, the H10 Palazzo Canova is a four-star superior hotel housed in a 19th-century building with nice decoration and kind staff.
As you can see for our last one of the featured 5 star hotels in Venice Italy, we are actually bringing you a 4* hotel, so those who are looking for something more budget-friendly, and more modern, can also find something for their interest! Hotel H10 Palazzo Canova has a rating of 9.3 on booking.com from over 3.000 guests!
This can give you a pretty good idea about the place, as beyond the fact that it's more affordable, it's also loved by travelers staying here! Rooms are modern and elegant, with a combination of beautiful colors. They are also all well-equipped. In addition, breakfast is delicious and guests can enjoy it on the terrace or in the courtyard!
H10 Palazzo Canova Address: Riva del Vin, 744, 30125 Venice, Italy
Wrapping up the 10 best luxury hotels in Venice Italy
All travelers going to Venice should seize the opportunity to spend a night in this unique city. The Venetian experience is not complete without the aperitivo and a romantic dinner on the lagoon watching the sunset. After that, being pampered by gentle hotel staff in luxurious historic buildings it's just a dream. And, that's what our article on luxury hotels Venice Italy was made for!
Choose from the best Venice 5 star hotels and make your stay will be unforgettable! Make sure you also check out the best restaurants in Venice, but if you've got the time you shouldn't miss our articles on the best day trips from the city, as well as beaches in the region.
Italian version: Hotel di lusso a Venezia
PIN IT: The 10 best luxury hotels in Venice Italy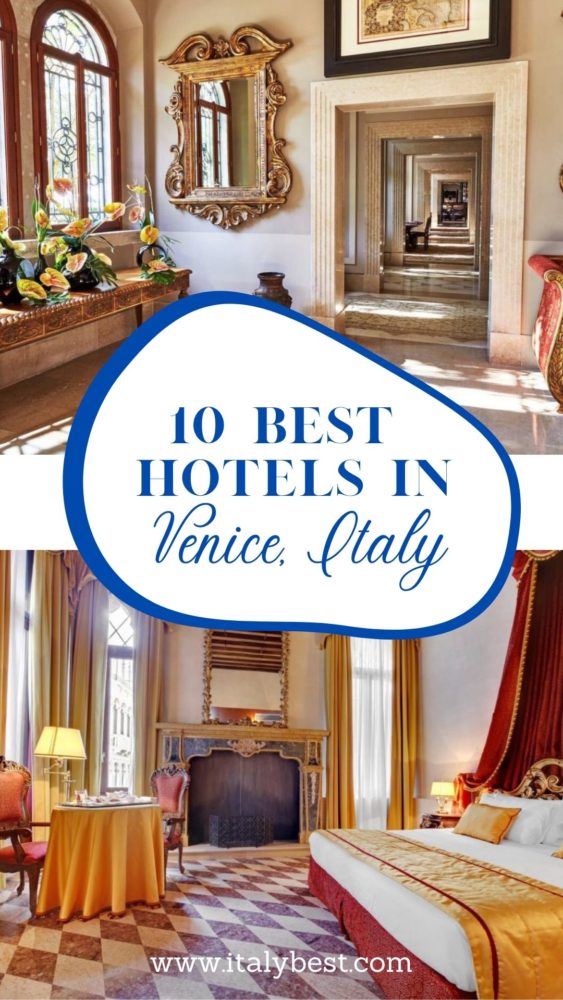 The original article was written by Eleonora Rossi – A complete editorial update in 2023
This article contains affiliate links. This means, that if you click through to our affiliate partners' websites, and make a purchase, we will earn a commission from their commissions. This doesn't affect you, or the price of the product/service at all!