20 Best Things to Do in Milan Italy
What are the best things to do in Milan Italy, and how come we can list you 20? Fair question, since Milan isn't the most popular tourist destination in Italy, but it's not because there aren't PLENTY of things to see in Milan! It's simply because this fast-developing metropolis doesn't rely so much on tourism, but more on business, fashion, arts, and creation. Most people who visit Milan would stay only for 1-2 days, see the basic 5 attractions, and move on, thinking that they've seen it all. Well, let me tell you, that Milan is packed with amazing things to discover, and I, as a resident of the city, will share with you 20 of the most important Milan things to do!
Before we get to our list, allow me to share a few basic pieces of information you should know about the city! When you ask what to do in Milan Italy, you must be aware, that opposite to Rome, in Milan, you can find more modern than old, and there's LITERALLY something for everyone's taste! For instance, would you ever think that there's a surfing possibility on the outskirts of Milan, on a lake?
This is just one of the many surprising things you may find in the city though! Another eternal truth for Milan is, that in the same area, you might enjoy fine dining for hundreds of euros, or you could go 2 steps down the street to the local bar where a beer is only 2 euros. In this matter, the city can be tricky, and it's always best to check prices online! But what I want to say with this is, that whatever your budget is, you may enjoy Milan just as much!
20 Best things to do in Milan Italy
Now, Milan is the 2nd largest city in Italy, with a population of over 1.5 million, and it has the largest metropolitan area in the country with over 8 million inhabitants. Due to this, Milan is known as one of the global alpha cities. The capital city of Lombardy is a strong base of many industries, with an even stronger influence.
This includes innovation, commerce, design, art, education, entertainment, architecture, media, and research. Milan is one of the four motors of Europe. It's also the wealthiest non-capital city, having the 2nd largest economy on the continent. In case you didn't know, Milan is also one of the four fashion capitals in the world.
Since Italy Best is based in Milan, we cover plenty of different topics about the city, such as fine dining restaurants, bars, rooftop bars, restaurants with local cuisine, vegan restaurants, cafes, churches, spas, gyms, fashion brands in Milan, jewelry shops, luxury hotels, hostels, affordable hotels, car rentals in Milan, and much more! And now, I believe it's time we speak about the best things to do in Milan!
Recommended: car rentals through Discovercars.com, and accommodation bookings through Booking.com.
1. Duomo di Milano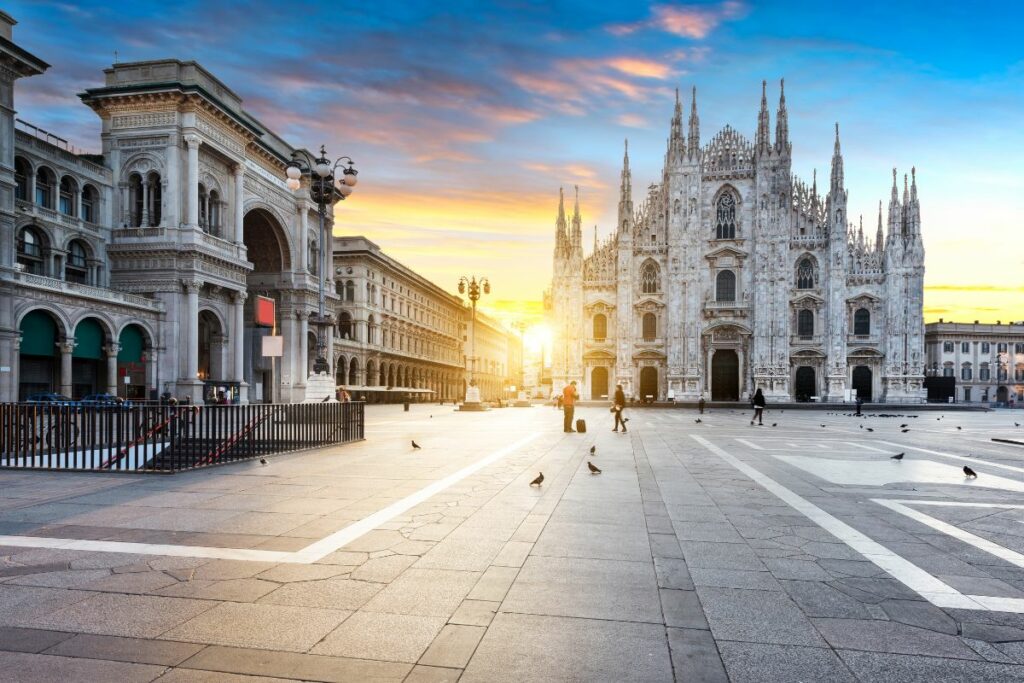 When it comes to the best things to do in Milan Italy, on every single list you'll find what you can see in this article: the Duomo di Milano. Even though there are over 20 amazing places to discover in the city, the Duomo is the most important symbol of the city! Therefore, it must be your number 1 choice on what to see in Milan Italy. For us who live in Milan, the Piazza del Duomo is considered the central point of the city. Everything starts here!
Duomo is a colossal cathedral, that's one of the most outstanding pieces of Gothic architecture in the world. Constructions began in the 14th century, and it took nearly 6 centuries to be completed. Even today, there's continuous work on the cathedral, as the details must be kept in check at all times. The Duomo, otherwise known as Milan Cathedral, is the 2nd largest church in Europe, and the 5th largest on the planet.
Its plan consists of a nave with 4 side aisles, and the nave itself is about 45 meters tall. The structure is held by 40 immense pillars, which can give you an impression of a colonnade forest when you're walking inside. Along the sides, but especially at the back, there are some giant rose windows, which are one of the finest works when it comes to the inside of the cathedral.
Now, I personally do recommend you get yourself a full ticket to visit the Duomo. These tickets can be purchased on-site or online, and they allow you to visit the inside of the cathedral, as well as the rooftop. I must highlight the rooftop before sunset is something unbelievable!
This one rooftop I guarantee will make your visit to Milan well worth it! You're also able to visit the cathedral's museum with these all-in-one tickets, which again, I recommend, as that's something incredible too! Imagine getting lost in these dark rooms full of gargoyles from different ages. For everyone, but especially for those who love architecture, this museum is unmissable!
2. Galleria Vittorio Emmanuele II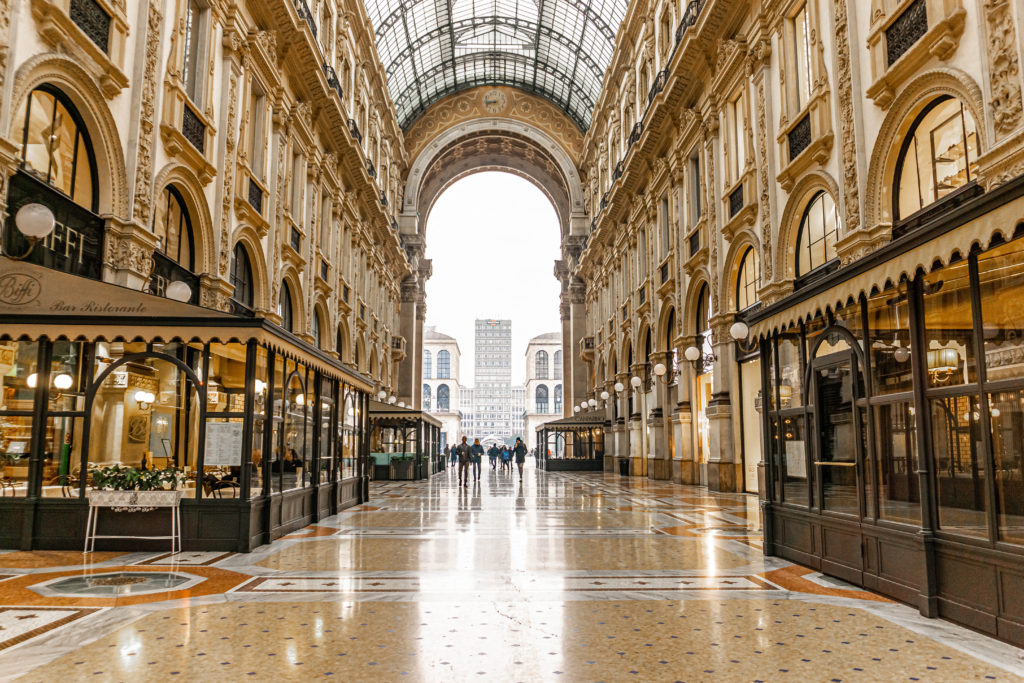 The forever 2nd on every Milan things to do list is the Galleria Vittorio Emmanuele II. This place isn't a favorite only for those who are visiting the city and are looking for what to see in Milan Italy though! It's a favorite place for Milanese people too, as it's a piece of architecture that you can fall in love with, even if you have to see it every day.
The Galleria was named after the first king of unified Italy, and it's also the oldest functioning shopping mall in Italy. Some of the best things to do in Milan Italy are shopping, eating, and enjoying some extremely elegant bars and restaurants. You can do all this and more at Galleria Vittorio Emmanuele II. A building complex that was built at the end of the 19th century, and it's home to some of the most iconic bars, restaurants, and fashion houses too!
About the Galleria Vittorio Emmanuele II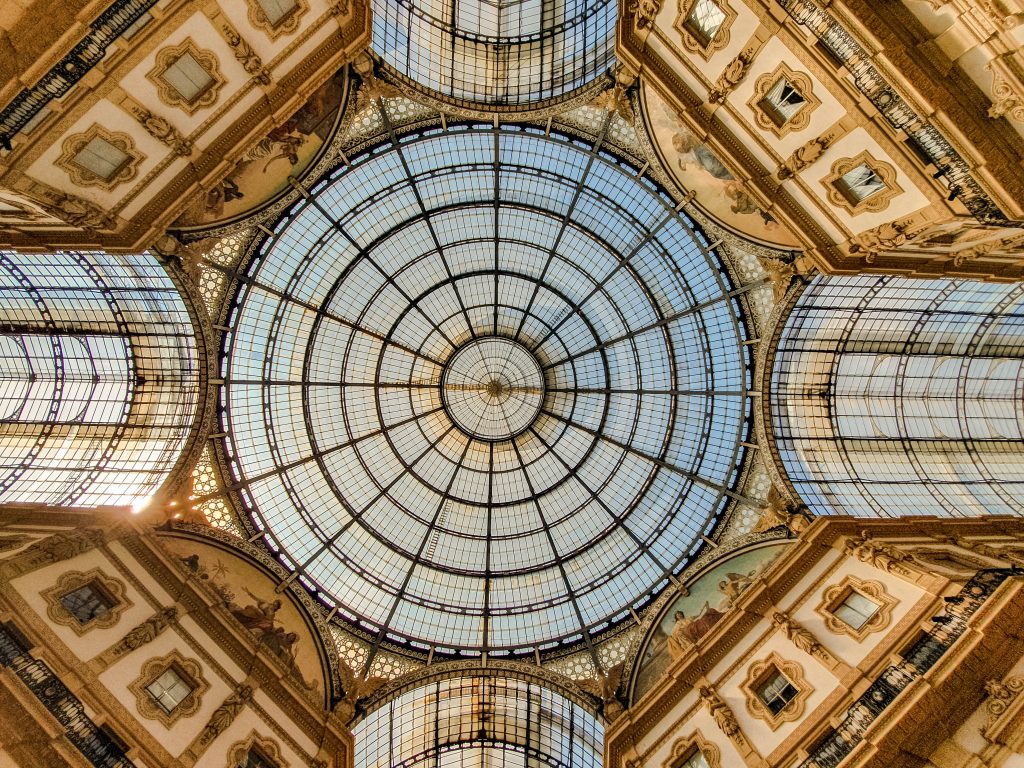 What you should know about the architecture of the complex is, that beyond the asymmetric 4-story glass vaulted Neo-classicist building, it features some stunning Baroque elements too. If you're paying attention to the details, you can also spot frescoes just above the ceiling.
Now, the building consists of two arcades intersecting in an octagonal piazza in the middle, just under the glass dome. Standing under the glass dome, there are four mosaics showcasing the four coats of arms of the three Kingdoms of Italy. These would be Turin, Florence, Rome, and also Milan as the fourth.
The tradition says if you spin around three times with your right heel on the testicles of the bull from the Turin coat of arms, you'll have luck. Beyond this interesting fact, you can find plenty of jewelry brands, luxury fashion brands, bookshops, and iconic bars, like Camparino, or the Aperol terrace here. There's also a luxury hotel inside the Galleria, between many other shops, cafes, and restaurants.
3. Teatro alla Scala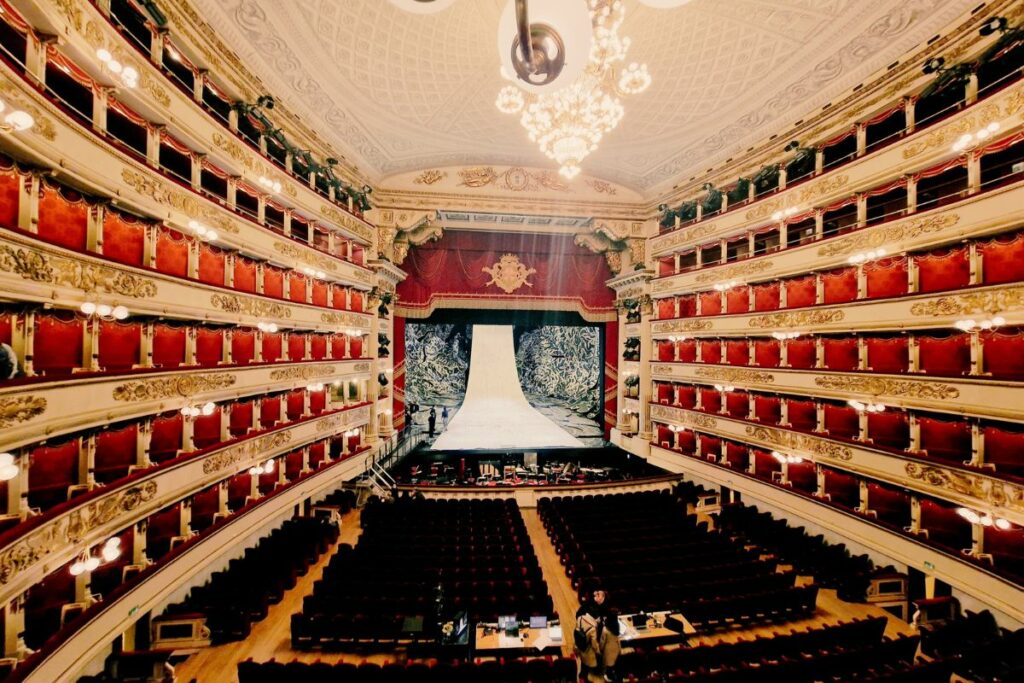 Since I live in Milan, I can finally change what's the actual 3rd place for the best things to do in Milan Italy! Teatro alla Scala is one of the most beautiful places you could ever see in Milan, and this makes the famous opera house the 3rd best place when it comes to what to do in Milan Italy! The magnificent opera house is only a few minutes away from the Piazza del Duomo, and a few steps away from the Galleria.
Teatro alla Scala is located on Piazza della Scala, and it's one of Italy's greatest opera houses (it's in the top 3 in the country). The Scala opened in 1778, and on side of the opera, it's also one of the leading ballet theatres in the world. Many fine names have played, sung, or danced on the stage of the Scala, and up until today, it offers the best of the best.
Teatro alla Scala is another fine masterpiece of Neoclassicism, with a truly breathtaking interior. Now, you must know, that tickets sell out in 2 hours for anything really that plays at the Scala. The only way to secure your best place is to look up months in advance what you want to see and book it right away.
If you don't want to see a show, during the day, you can visit the opera house, paying a small fee to see the exhibition of the museum and the opera boxes and auditorium from above. I recommend doing this, as it's not expensive, but the views are exquisite!
4. Brera Design District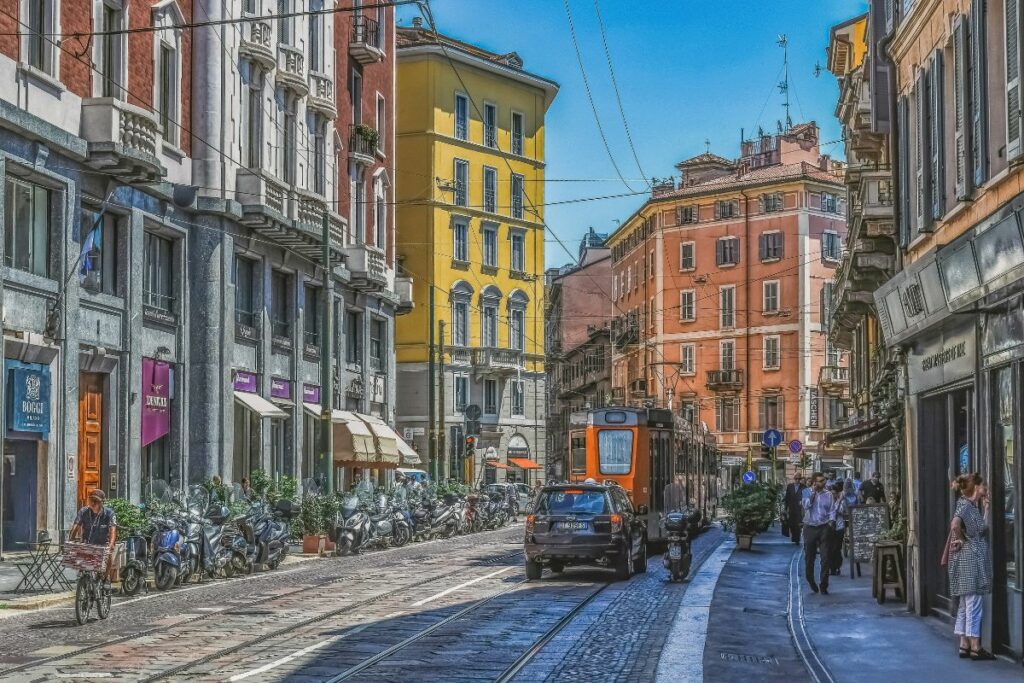 Brera Design District is one of my personal favorite neighborhoods in Milan, and some of the best Milan things to do are hidden here! When it comes to the best things to see in Milan, you must visit Brera, as this is truly one of the most beautiful neighborhoods in the city! Brera is where art, fashion, and the Made in Italy label together create a unique atmosphere.
The neighborhood in the past years became the most important benchmark for design on national, but also international levels. All this is thanks to a project that was created to serve territorial marketing purposes but then escalated to international levels. There are two big events in the neighborhood: Brera Design Week and Brera Design Days. The district developed around the Accademia di Belle Arti di Brera – Fine arts Academy.
The streets of Brera offer some of the most beautiful artisan, and designer shops, art galleries, and boutiques. You can't miss the "luxury" street either, where most of Milan's luxury brands have their base shops, Via Alessando Manzoni, Via della Spiga, Via Montenapoleone, and Via Sant'Andrea. Usually speaking from our Milanese point of view: everyone who's someone can be found in Brera. On top of all this, some of the greatest restaurants, cafes, and cocktail bars are also in this neighborhood!
5. Pinacoteca di Brera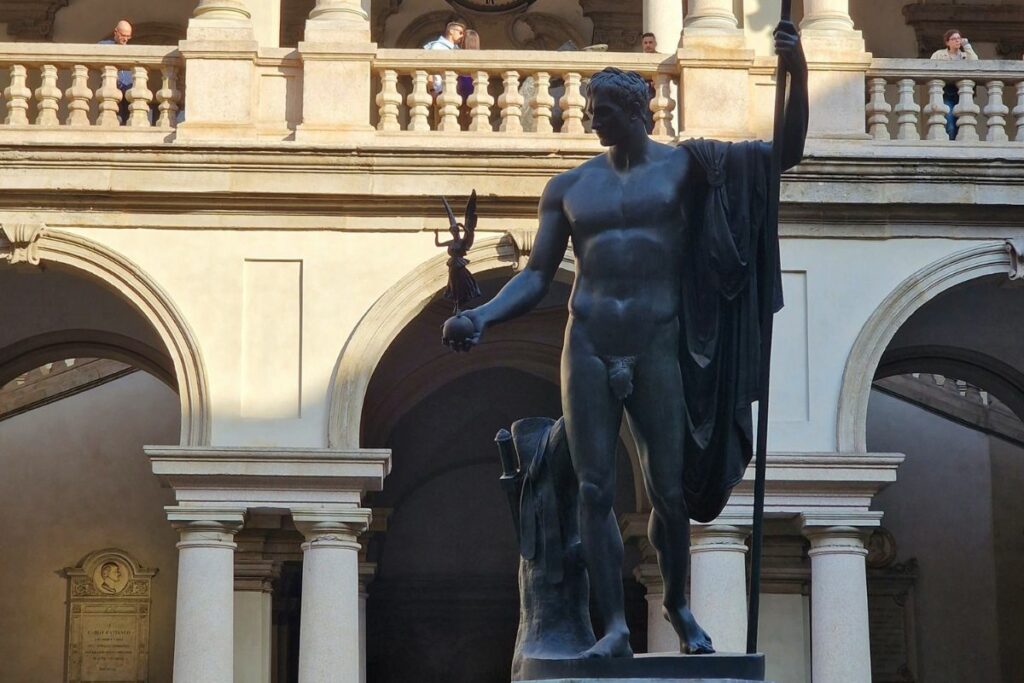 Location: Via Brera 28, Milano
Since we started to talk about Brera, to see some more about this neighborhood, here's another highlight for what to see in Milan Italy! The Accademia di Belle Arti (Fine-Art Academy) is a public athenaeum functioning in the Palazzo Brera.
Now, the academy is specialized in arts and science as well, having thousands of students applying every year. Accademia di Belle Arti is one of the oldest schools in Italy, and a symbol of arts. The building complex is home to the academy, but also to the Pinacoteca di Brera.
The Pinacoteca di Brera is the main open gallery of arts in Milan. Also located in Palazzo Brera. This gallery has one of the foremost painting collections in Italy. In addition, there's a stunning, stunning library on the top floor of the building. If it's open, it's really worth seeing, as it's really beautiful!
To enter the Pinacoteca di Brera, there's a €25 fee to pay, but considering the art collection, I believe it's really worth it! Also, you can explore the backyard of the building complex the Botanical Garden that belongs to the institution. This one is free, you can walk through, and explore some rare plants, or sit down on a bench and just enjoy nature in the middle of the city.
6. Castello Sforzesco
Exploring Castello Sforzesco is considered one of the best things to do in Milan Italy! You must know, that this castle is actually one of the most important landmarks of the history of Milan, and it's located northwest of the historic center. It's just on the border of the Brera Design District too!
Before sharing personal experiences and recommendations, please allow me to say a few words about its history! Castello Sforzesco was built by duke Francesco Sforza in the 15th century. He was the 4th duke of Milan, which is very important since Milan was one of the city-states of Italy for centuries. One of the strongest ones, if I may add.
You should also know about Castello Sforzesco, that it was considered one of the largest citadels in Europe for hundreds of years. An interesting fact is, that Europe has never officially recognized the duke because he took the power over Milan with force. While the castle was first enlarged during the 16th, and 17th centuries, it was then extensively rebuilt in the 19th century.
Today, the castle is home to Milan's archeological, civil-history, numismatics, music, design, and art museums. It also has a rich fine art collection that you can explore. There's a significantly small fee to enter the museum side, but you can also just explore the gardens, and the fountain, and walk through towards Parco Sempione.
7. Chiesa di San Bernardino alle Ossa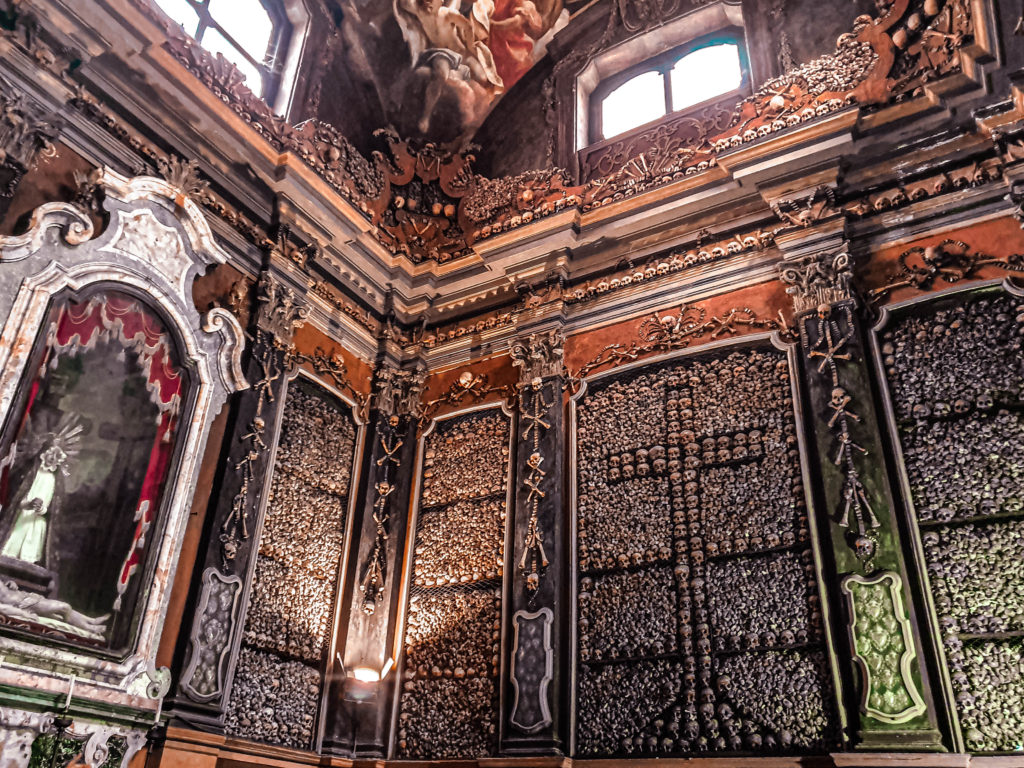 Location: Piazza Santo Stefano, Milano
Chiesa di San Bernardino alle Ossa is one of those fascinating Milan things to do that only a few know about. This place is one of the highlights in our Milan hidden gems article too! San Bernardino alle Ossa was first built in the 13th century and rebuilt after a fire destroyed it in the 18th century.
A remarkable piece of the Baroque and Rococo style, known for its ossuary and famous skull chapel. When you arrive on the piazza, don't enter the church that stands in the center, but the one that's on the left-hand side. The chapel is on the right-hand side as soon as you enter the church, at the end of a small corridor.
Originally, the ossuary was built in 1210, to collect bones from a nearby hospital's graveyard. Later the church was attached to it. The tall chapel is covered all around with thousands of human skulls and bones from the original ossuary and other nearby cemeteries from the 17th century. The ceilings are covered with breathtaking frescoes by Sebastiano Ricci.
8. Navigli neighborhood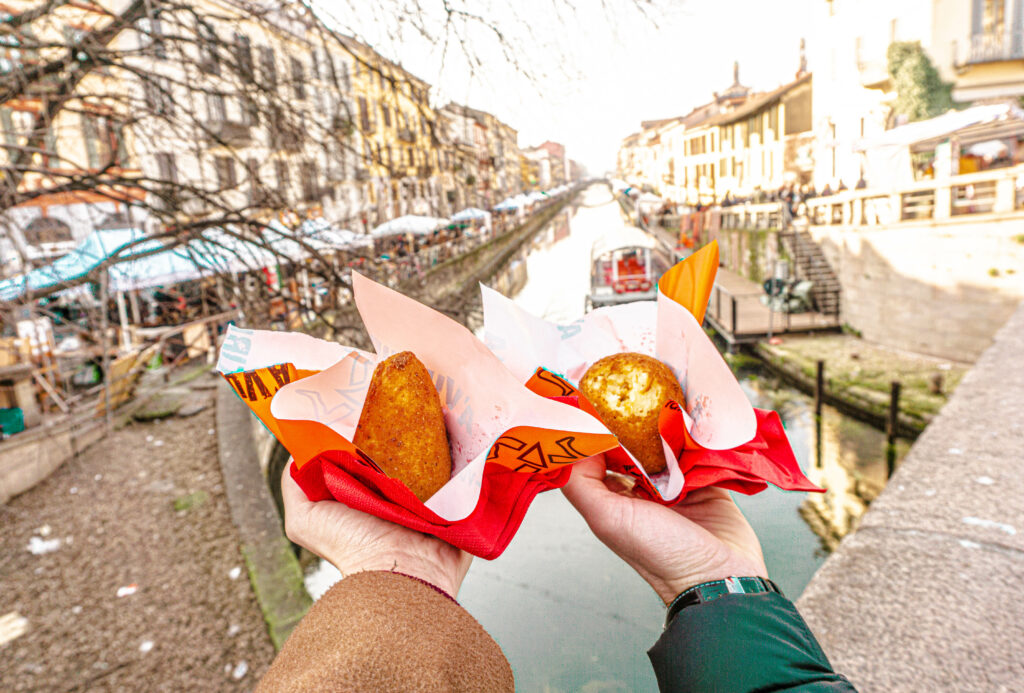 Right, so let's leave behind the churches, art, and architecture for a while, and let's speak about some fun things to do in Milan Italy! Navigli is the most colorful neighborhood in the city, featuring cute colorful houses, restaurants, cafes, and bars on the sides of the canals of Naviglio Grande.
I've been lucky to catch the flea market on Sunday in Navigli, and I was super excited, as someone who's obsessed with old books and unique, vintage items. I love for the same reason the Navona neighborhood in Rome. Navigli is a great place to visit during the day if you fancy exploring some authentic, possibly quite noisy neighborhoods of canals and passages.
Taking a walk along the charming canals, and getting lost in hidden alleyways is always leading to finding unexpected gems. You can also visit the Basilica di San Lorenzo church, and art galleries, try some great street food, or sunbathe near the Darsena canal.
It's also a very popular evening-night destination for folks looking for fun, so if you're looking for a night out in Milan, definitely pay a visit to Navigli! This is one of the most popular Aperitivo places in the city, and it's actually mostly visited by tourists, instead of locals. Though there are plenty of locals too!
9. Milan's financial district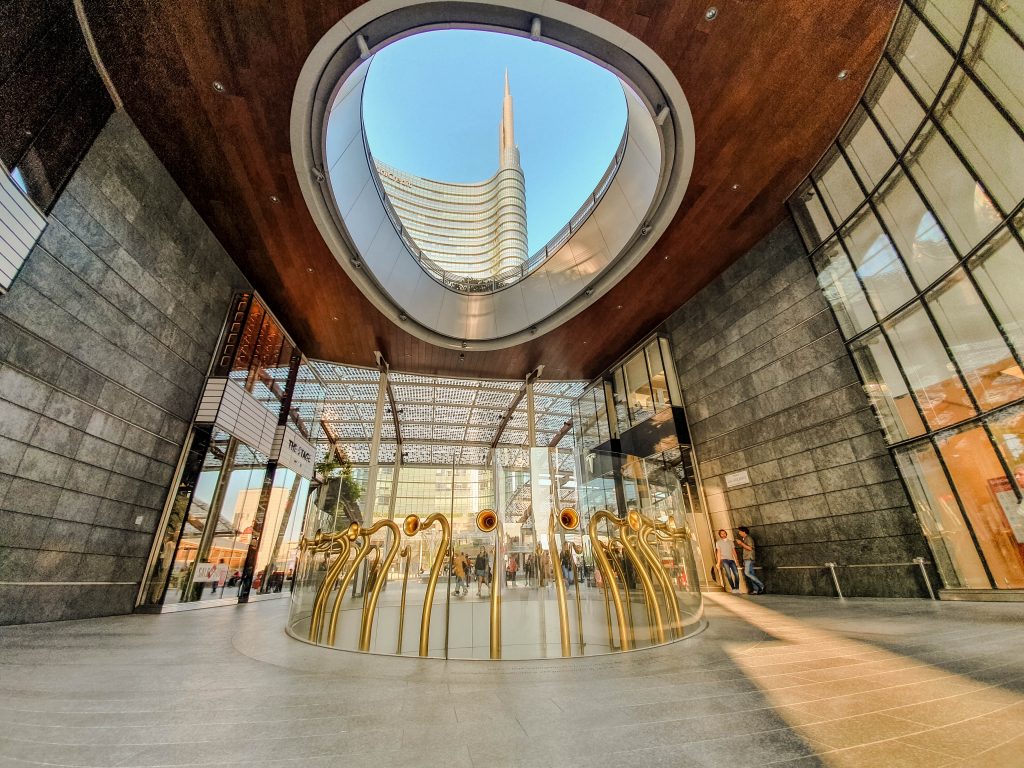 When it comes to the best things to do in Milan Italy, the area of the financial district is really unmissable! Porta Nuova, Milan's financial district is one of the wealthiest in Europe, and it's continuously developing. Its name comes from the Neoclassic gate built in the 19th century in this area.
Its financial district is hosting the Italian stock exchange and headquarters of big national and international companies. Three companies on the Fortune magazine's Fortune 500 list are also based here. The best area to explore close to the financial district is the Isola, a very colorful neighborhood just around the corner.
You'll find here the famous vertical forest towers of Isola along with plenty of restaurants, and amazing street art around! If we are concentrating on the actual area where the skyscrapers are, there you'll find plenty of luxury and mid-range shops of the biggest brands. Cafes and restaurants are also plenty to choose from. The famous Corso Como is just a few steps away, and if you're working remotely, there are coworking spaces in the skyscrapers too!
10. Basilica di San Lorenzo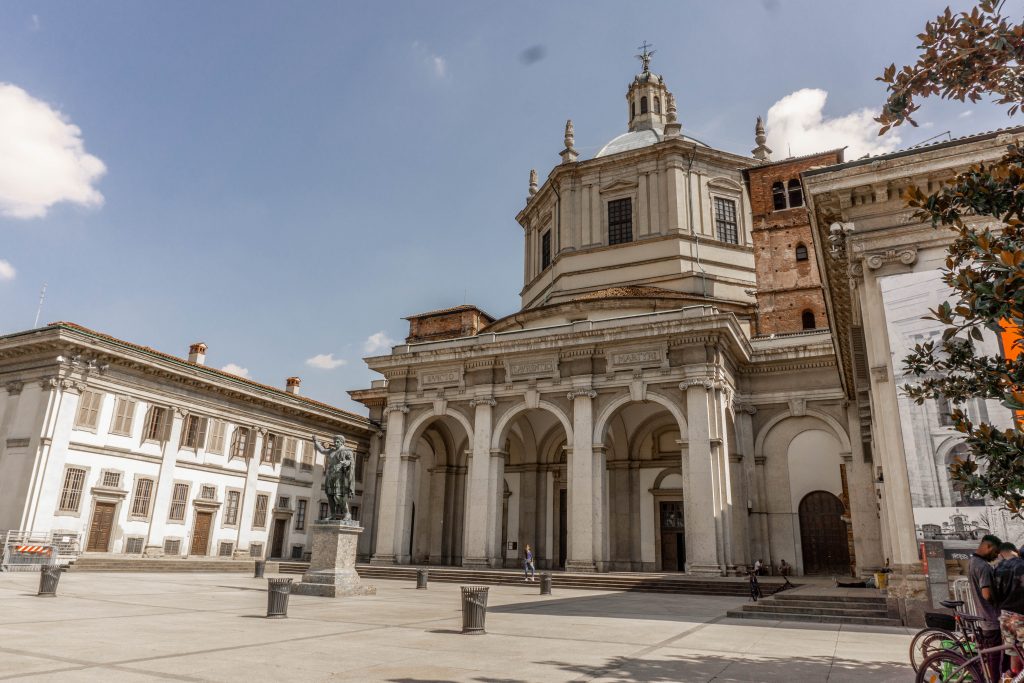 We're now heading back again to some historical places and great things to see in Milan. Basilica di San Lorenzo is one of the most important churches in Milan, and it's located in the southwestern part of the city center of Milan. Imagine, that the original church was built in 402, which was destroyed by a fire in 1072. What you can see today was built in the 16th and 17th centuries.
When you're in Piazza del Duomo, and you're wondering what to do in Milan Italy on your way to Navigli, well, this is what you should do! Stop by Colonne di San Lorenzo and enjoy the view of the basilica and the statue of Emperor Constantine, while sitting under roman colonnades. Have a tour inside the church, to explore the historic building, and the unique frescoes and mosaics decorating the walls and ceiling.
11. Museo del Novecento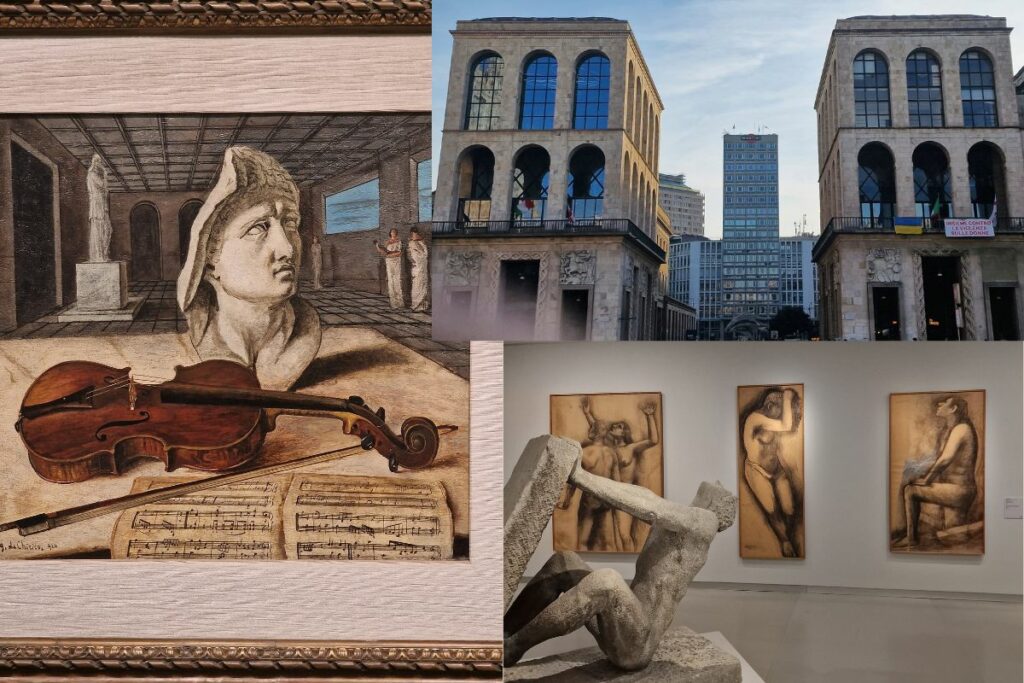 One of the best things to do in Milan Italy, which I personally just discovered in 2021, is Museo del Novecento. It's a museum that's located right on Piazza del Duomo, on the right-hand side of the Duomo di Milano. If you love arts, and you're looking for fun things to do in Milan Italy, this museum is well worth it!
Museo del Novecento is dedicated to the art of the 20th century. It's set in the Palazzo dell'Arengario, which on its last floor offers an exquisite view over the Duomo di Milano and the piazza. We must highlight, that this is a fairly new museum, established in 2010, and its collection consists of about 400 works. As you start on the 2nd floor, you'll find art from the early 20th century.
You can see some Picasso works are exposed on side of some of the most famous Italian painters of the time. Then, as you're moving further, you'll arrive further to the 80s and 90s. There are fun and interactive labyrinths and dark rooms too that make the experience different. The entrance fee is very low, and it's a place where you can easily spend 3-4 hours exploring modern arts.
12. Palazzo Reale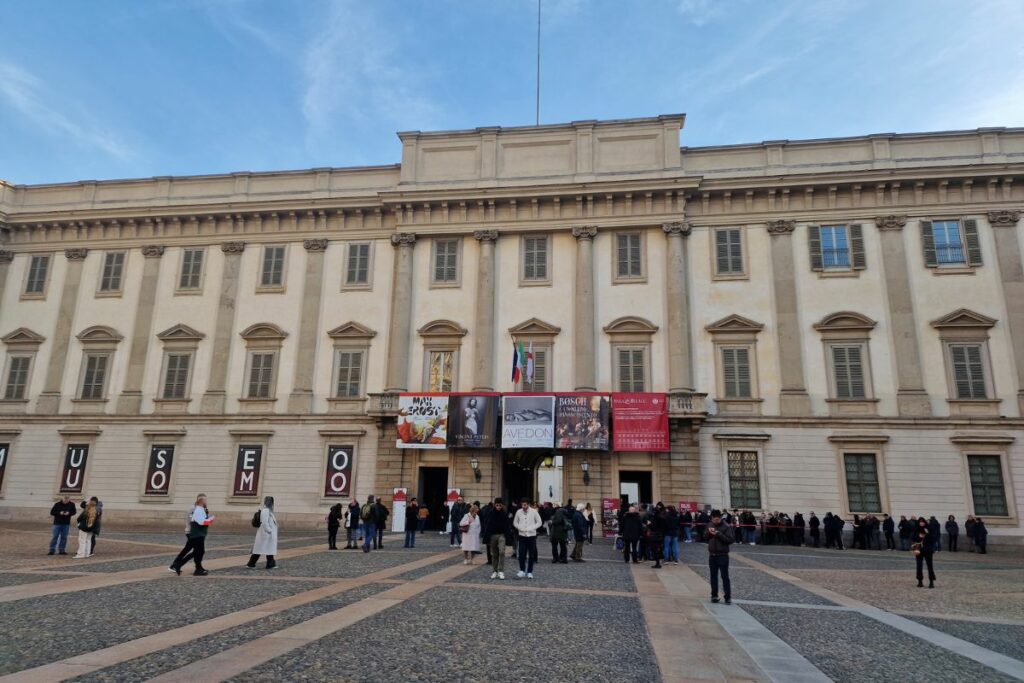 Palazzo Reale might be one of my favorite Milan things to do lately, as it's continuously having the most amazing art exhibitions! For instance, in 2022 they had the Monet expo that was amazing, and now they have Bosch until the end of 2023. Now, Palazzo Reale is the Royal Palace of Milan, which was the seat of government of the Italian city-state for many centuries.
Since I made the spoiler already, today it serves as a cultural center that hosts international art exhibitions. The building complex is huge (over 7.000 square meters), and they regularly have over one exhibition. Since you have to visit the Piazza del Duomo anyway, to see the Duomo di Milano and the Galleria Vittorio Emmanuele II, you better know that Palazzo Reale is just on the right from the cathedral itself, near the Museo del Novecento. If you're visiting Milan, why not check in advance what exhibitions they have, and visit one?
13. Fondazione Prada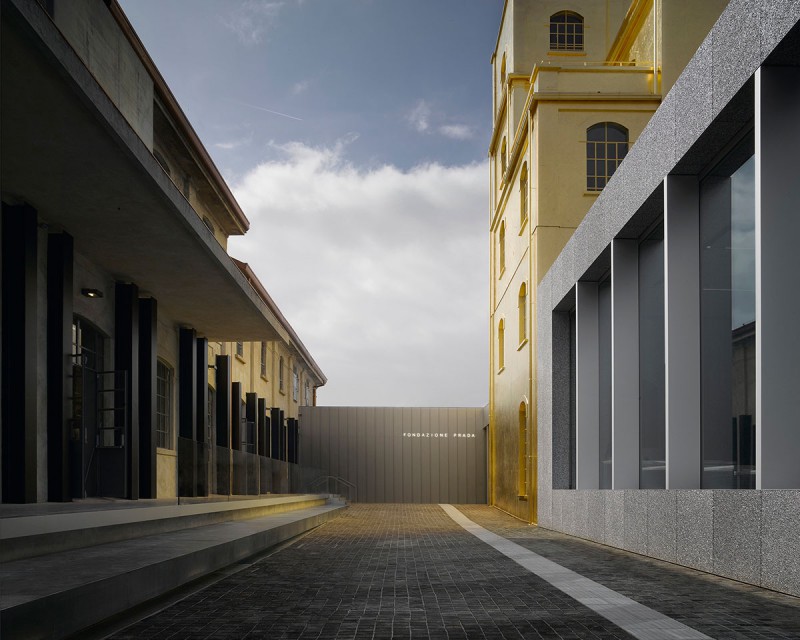 Fondazione Prada is one of the new unmissable, best things to do in Milan Italy. The venue of was created by an architect focusing on spatial typologies in which art can be exhibited and shared the best way with the public. This venue is the result of the transformation of a distillery from 1910s'.
Now, Fondazione Prada is co-chaired by Miuccia Prada and Patrizio Bertelli since 1995. This is an institution dedicated to contemporary art and culture. From its opening until 2010 only, Fondazione Prada organized 24 solo shows in Milan, and they also have a temporary second space now at Galleria Vittorio Emmanuele II. It is a place for abstract modern art as well, with an exhibition that's fun and facultative at the same time.
14. Parco Sempione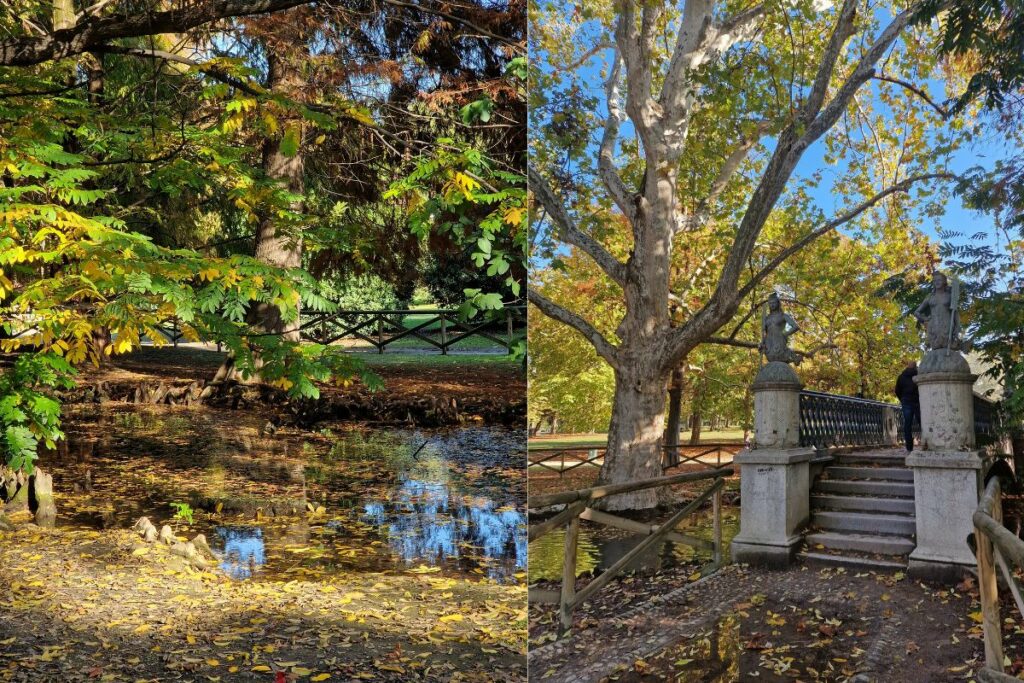 Parco Sempione many times, in many guides is missing from the list of fun things to do in Milan Italy, while it is the most beautiful park in town, where you can just run away from the concrete, and the crowds, and enjoy nature in this beautiful setting.
Besides the obvious activities you can do in the park, there are plenty of statues and architectural beauties that give a hint of extra charm to the park. Huge, old trees, small lakes, animals, and street musicians make this place even better. Truly an oasis to enjoy a walk, go cycling, or just have a picnic. Those who visit Milan with kids would definitely appreciate this place!
15. The Last Supper & Basilica di Santa Maria delle Grazie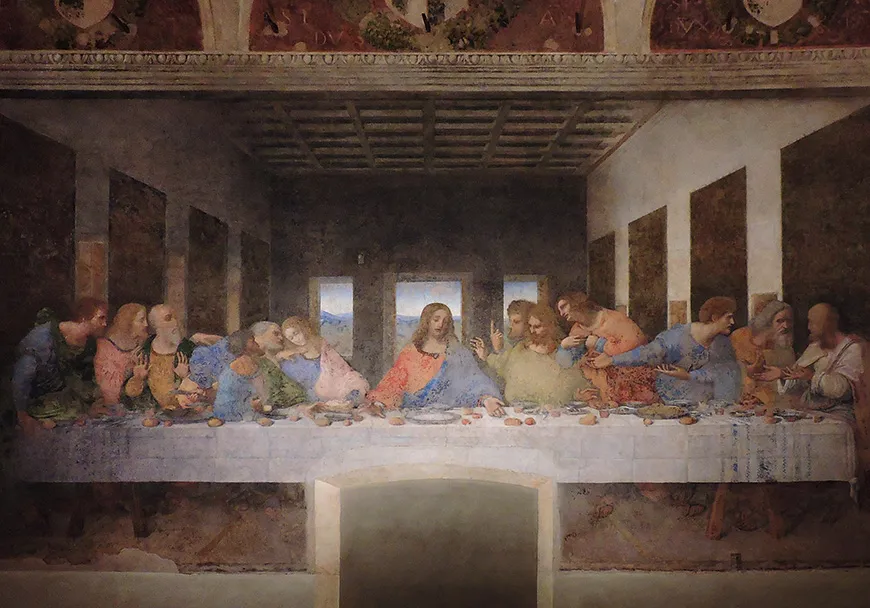 One of the most important, and most famous things to see in Milan is the Last Supper by Leonardo da Vinci. If you're looking for truly unique, famous, and old pieces of art what to see in Milan Italy, well, there's nothing more famous than da Vinci's famous fresco. You may first visit the basilica of Santa Maria delle Grazie.
The church was built in 1497 in gothic style, using red bricks on the outside as cover. Santa Maria delle Grazie is located on Corso Magenta, and this is where you'll find the Last Supper too. Though it is pricy to visit the chapel where the fresco is, it is something that's important to see if you're already in Milan. It's also really recommended to book tickets in advance, as they sell out very fast, and there's a limited number of people they can let in daily.
16. Iconic Bars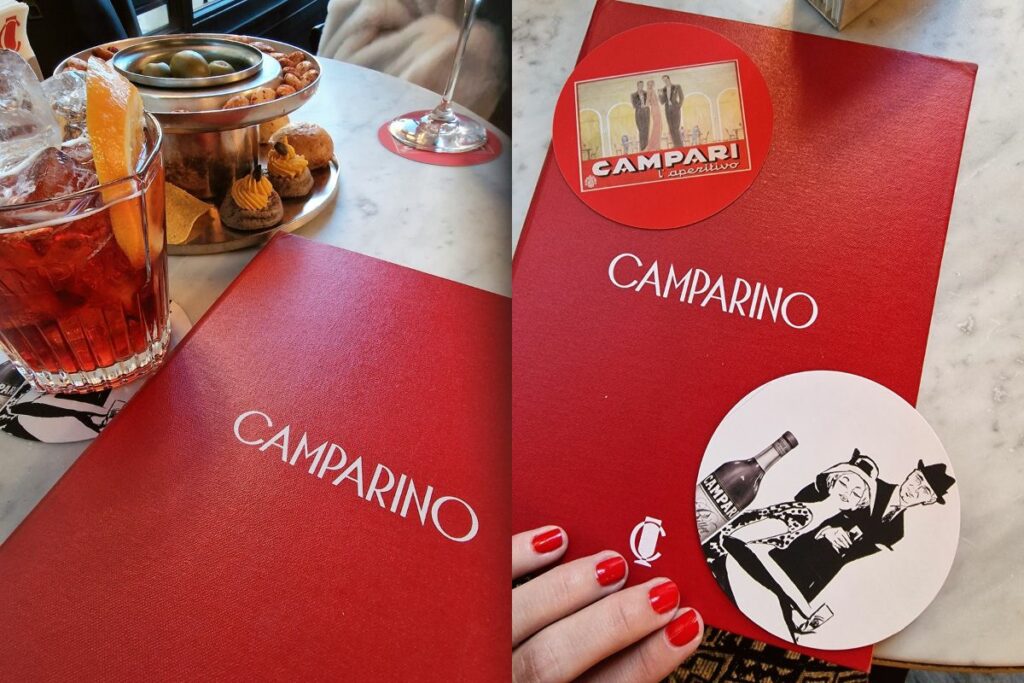 One of the best things to do in Milan Italy is visit iconic bars. Though I must warn you, that prices in these facilities are not really low-budget, they are just so worth it! Some of these bars are owned by some of the biggest Italian liquor brands. Others are owned by some of the biggest Italian fashion brands, and luxury brands in Milan.
These would be first and foremost the Camparino in Galleria Vittorio Emmanuele II. Campari is one of my all-time favorites, and especially the cocktails made of Campari are unbeatable! Then, in the same place, on the first floor, you'll find the Aperol terrace too, with amazing views over the Duomo. On the other side of Piazza del Duomo, there's the iconic Martini bar and rooftop terrace that can't be missed!
To go further to the luxury levels, places like the Bulgari Hotel and their restaurant and bar can't be missed. The bar is really nice, and chic, like a jewel. On the other hand, there's the bar and restaurant at the Armani Hotel, which again are unmissable for those who prefer some luxury on their trips.
17. Villa degli Atelani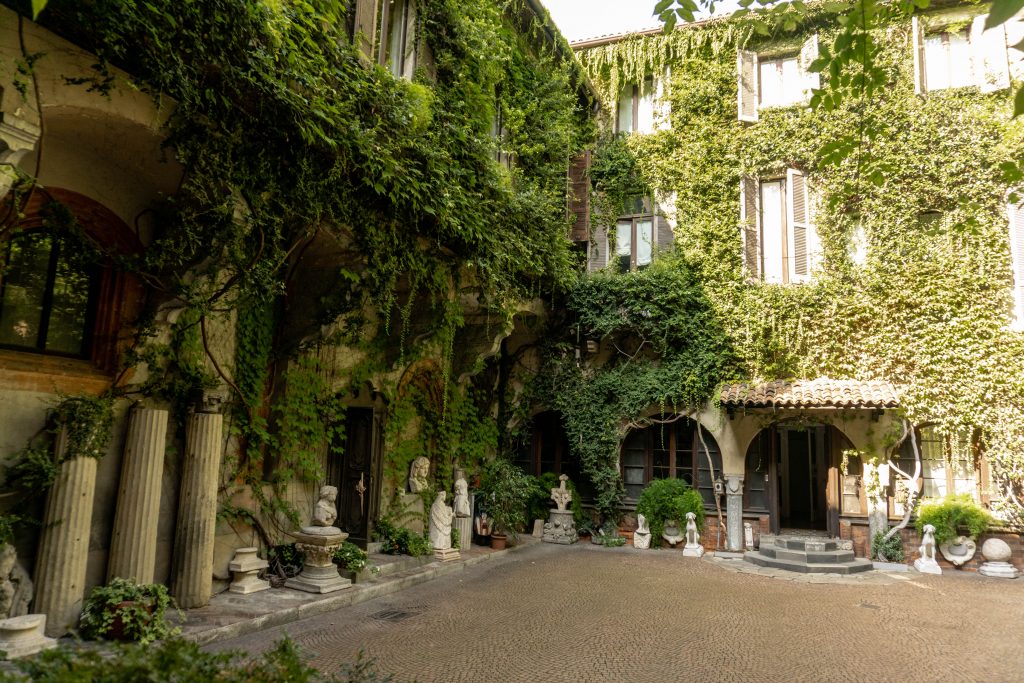 The Villa degli Atellani is definitely one of the most charming things to see in Milan! I never knew it existed until an Italian blogger friend who's based in Milan didn't tell me about it! La Vigna di Leonardo and the Casa degli Atellani is a pretty new museum. It's located right near the Santa Maria delle Grazie church, where you can see The Last Supper by Leonardo da Vinci.
The famous figure of the Renaissance age, Leonardo da Vinci had once his vineyard in the backyard of the today-standing Casa degli Atellani. While visiting the museum of Casa degli Atellani, which is divided into 7 areas to explore, you'll travel back in time. The 7 areas are the courtyards of Pero Portaluppi, the Zodiac Hall, the Luini Hall, Ettore Conti's studio, the Staircase Hall, the Garden of Earthly Delights, and Leonardo's Vineyard at the back.
The Casa degli Atellani is a stunning Renaissance dwelling and all the areas you can discover on your museum tour will make you fall in love with historic Italian palazzos. The tour doesn't take long, about 30-40 minutes to get around everything. So if you've booked your visit to the Last Supper, definitely cross the street for some charming venues in the Vigna di Leonardo and Casa Degli Atellani museum, a spectacular hidden gem in Milan Italy!
18. Shopping in Milan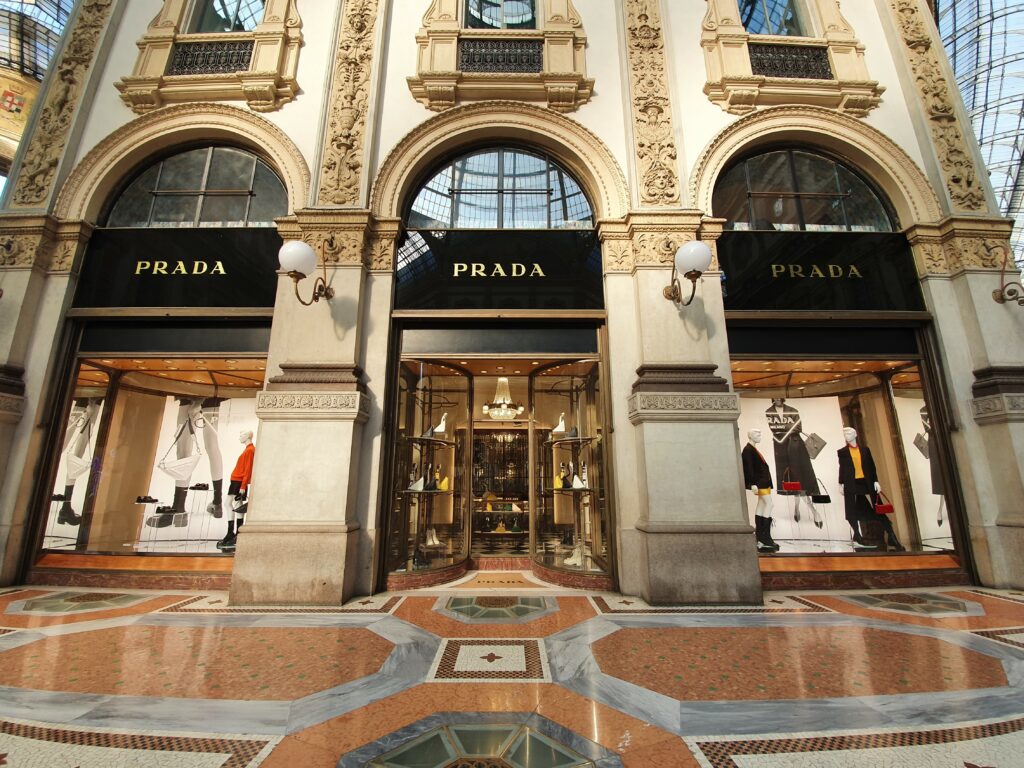 One of the top Milan things to do is obviously shopping! When one asks what to do in Milan Italy, in one of the fashion capitals of the world, well, shopping is definitely unmissable! Let's start with the biggest luxury brands such as Prada, Armani, Dolce & Gabbana, Bulgari, or even Elisabetta Franchi. There are plenty of shoe brands, jewelry brands, and specific jewelry stores in Milan to explore. If you're looking for Italian watch brands, lingerie, or swimwear, you'll find everything and more in the city!
Make sure you explore first Galleria Vittorio Emmanuele II. Then, just by the Duomo is Corso Vittorio Emmanuele II, where mid-range brands can be found mostly. Also on this street is the famous shopping mall, the Rinascente, that's unmissable. Continuing your shopping tour in Brera is a must! For more budget-friendly options we recommend Corso Buenos Aires, as well as Via Torino. For flea markets, visit the Navigli neighborhood on Sunday! And last, but not least, there are plenty of brand outlets on the outskirts of the city, and let's not forget the famous shopping village outside Milan!
19. Arco della Pace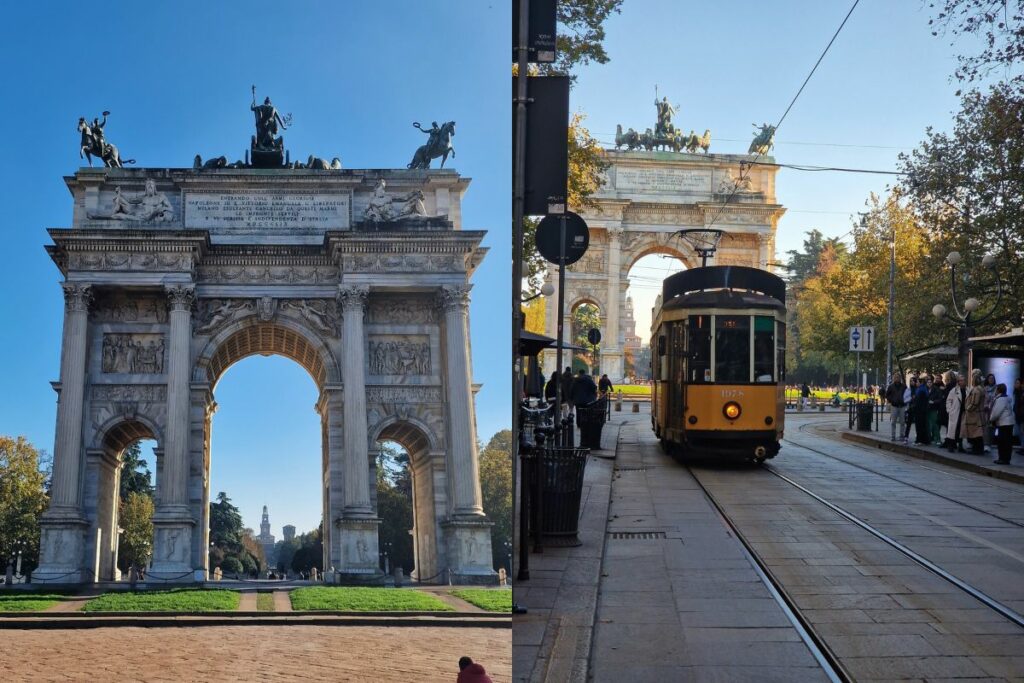 Arco della Pace, otherwise known as Porta Sempione is one of the most beautiful arches in Milan, and this area belongs to the best things to do in Milan Italy! The arch is located between the beautiful Corso Sempione street and the Parco Sempione. This is one of the most picturesque areas of Milan since the vintage trams are passing here.
Also because looking at the monument from Corso Sempione, you've got a charming view through the park until the tower of Castello Sforzesco. The Arch of Peace dates back to the 19th century, however, its origins date back to the gate of Milan from Roman times. This is one of the most beautiful areas of the city, and there are plenty of amazing restaurants here too! Also, some restaurants have outdoor seats with views directly from the arch. One of the most charming, and beautiful spots in Milan, for sure!
20. Eating Local Milanese Dishes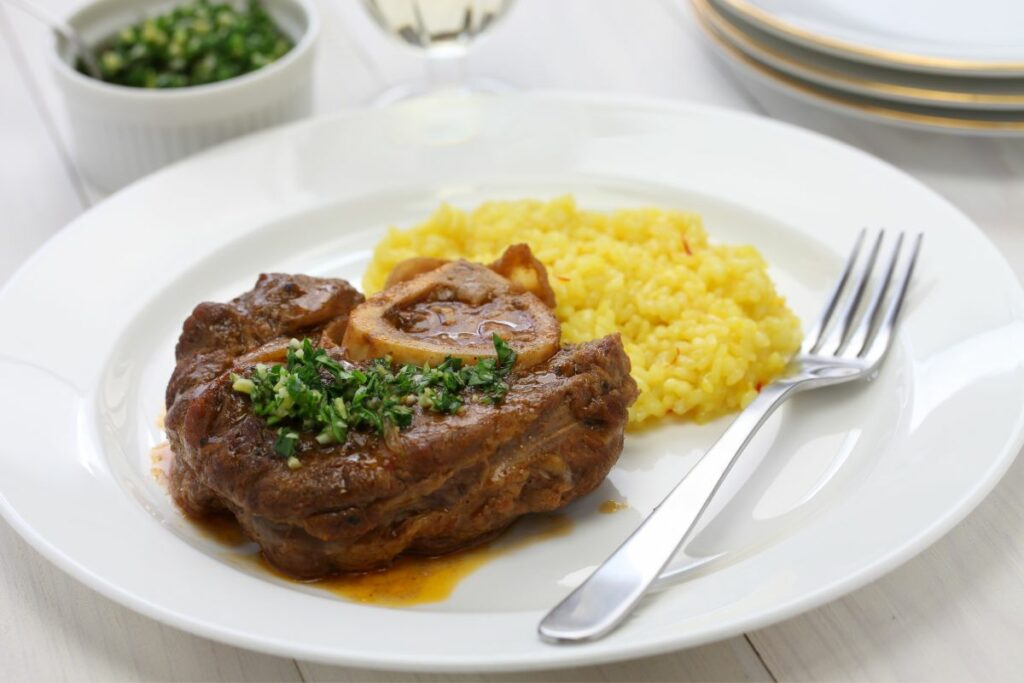 Are you still asking what to do in Milan Italy? If there's one thing I love about living in Milan is the food! There are a few Milanese dishes that have become my favorite meals since I moved here. First, you must try the Ossobuco, which is a typical local dish, as well as the risotto allo Zafferano, which is risotto with saffron. That's something incredible! On top of these two, the Costoletta, the Minestone, and the Panettone are some things you MUST try in Milan!
Some of the greatest restaurants in Milan where I personally suggest you go are Trattoria Milanese, Antica Trattoria della Pesa, and if you want to eat pasta prepared in a cheese roll, then Caminetti del Sempione is a must! If you want something other than Milanese dishes, for the best dishes from the region of Emilia Romagna I suggest Salsamenteria di Parma. For the best Roman dishes, Osteria Da Fortunata. They are both located in Brera district!
When to visit Milan?
One of the best things in Milan is, that the winter is not too cold, and the summers are not too hot. They are hot indeed, but not as if you'd be visiting the cities of southern Italy. Milan is perfect to be visited all year round. Of course, this depends also on what you're looking to do!
If you want to just hop over for a quick city break, and you want to see the city without thousands of tourists, I suggest the winter. In December especially, Milan is breathtaking! You'll find the most beautifully decorated historic center, where the designer brands are also making sure to make their storefronts, and their area stunning. And, there's also a Christmas Market near the Duomo di Milano!
Spring and autumn are nicer for city breakers too, since it's not too cold, and it feels really nice walking around and discovering the city. During these periods, you can also enjoy your drinks and food at outside tables of restaurants and bars, which is again great! Summer is the best for those who plan to do day trips from Milan. Visiting Lake Como, Lake Garda, or anywhere in the Italian Alps maybe. Or, as you may know, the beaches in Liguria are also pretty close!
Where to stay in Milan?
We are covering on Italy Best some of the best places to stay in Milan! We have the best roundup for the best luxury hotels in Milan, as well as we cover affordable hotels. Moreover, there's a list for you of the best hostels in the city too! There are plenty of beautiful, budget, and luxury accommodations to pick from in Milan! I do suggest though, that you better invest a little more, and stay in the historic center.
Or, wherever you're staying that's a bit more far out, make sure that a metro station is within 5 minutes from your accommodation! Milan is huge, and especially if you're not staying for long, it's always better to stay as central as possible, or as close to the metro as possible! Avoid staying in areas that are unsafe! I know, there are a lot of accommodations around train stations, but these are the least safe places in the city, so if you're alone, or only girls, and you're planning nights out, just pick Brera or the area around Piazza del Duomo!
Wrapping up the best things to do in Milan Italy
So there you go, there are MORE than 20 best things to do in Milan Italy, and we'll make sure to bring in another article for you about hidden gems in Milan too! These hidden gems will include some more fun things to do in Milan Italy, as well as museums, villas, parks, and other delicacies!
When it comes to what to see in Milan Italy, as you can see, the possibilities are quite endless, so we really suggest you check out the hotels we're suggesting to stay at, and do plan a trip for a minimum of three days. If you visit in warm months, you can easily do some day trips to Torino, Verona, Lake Garda, Lake Como, Lake Maggiore, Lugano, Piacenza, Parma, Cinque Terre, and many other amazing places. The best thing in Milan is, that many beautiful places to visit in northern Italy are only 1-2 hours away!
Hungarian article: Milánó látnivalók
Pin It: best things to do in Milan Italy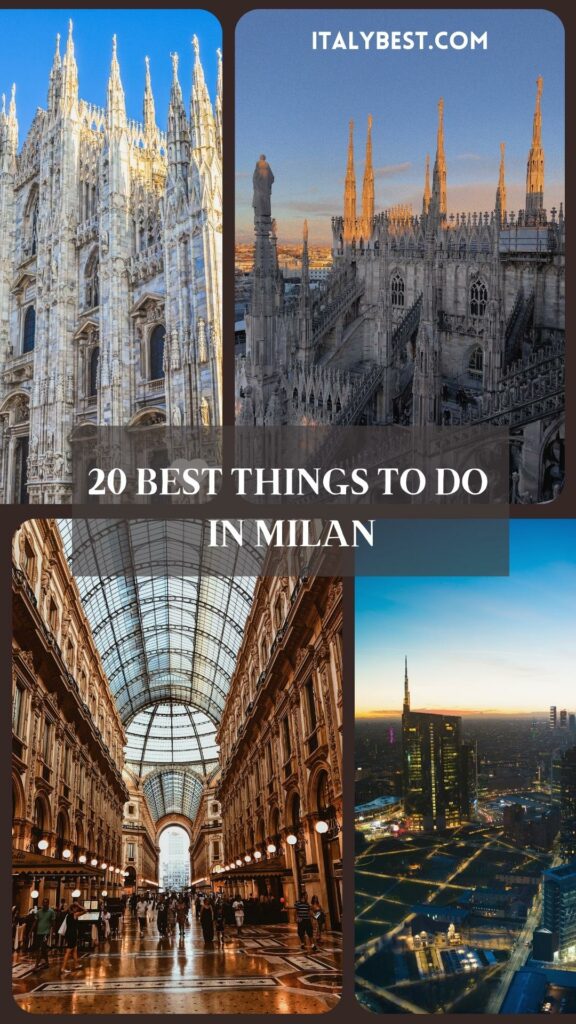 This article contains affiliate links. This means, that if you click through to our affiliate partners' websites, and make a purchase, we will earn a commission from their commissions. This doesn't affect you, or the price of the product/service at all!