10 Best Spa in Milan Italy
Milan is special for many reasons, known for its historical, cultural, and architectural landmarks, as well as being famous for its fashion weeks and having the best fashion houses in the world, such as Armani, Bulgari, and Versace. So when you visit Milan, you must indulge yourself in some shopping and treat yourself to a relaxing evening at the spa. What's better than visiting a Milan day spa?
Speaking of the famous fashion houses, Armani and Bulgari have their own spa, and let me tell you, they are stunning! If you haven't thought about visiting Armani Milan spa or Bulgari spa in Milan Italy, then think twice. This is a luxurious experience, you will be pampered and feel as good as new when you come outside.
10 Best Spa in Milan Italy – Day Spa Milan Italy
If you are ready to discover some of the amazing spa in Milan Italy, then read our list below. There are so many treatments you might not know about. It's so amazing that there is a massage for most of the issues we experience in our daily lives. And a few of these spas even have a gym inside. Some of the best gyms in Milan include a nice swimming pool too! Whether you suffer from water retention, tense muscles, or sore back, by booking a few sessions you can get rid of all of these. Of course, if it's something more serious, then please seek medical help! Let us get into our list of the best spas in Milan!
1. Armani Spa
The first Milan day spa we have to mention is the Armani one. The spa is inside the Armani hotel where both guests and visitors of Milan can enjoy a relaxing evening. As they say "walk away from the daily stress and relax". That is exactly what you should do! The wellness section has plenty of facilities and personalized treatments made for each individual.
It is situated on the top floor of the hotel, in a safe environment overlooking the beautiful city of Milan. Some of the treatments you can get are different massages. For example, facial or body massage as well as facial scrub and mask. The Liberta treatment is made to free your mind and body from physical stress. It also soothes the aching muscles and dissolves tension in your joints. Then they have the Fluidita which is a collection of purifying treatments.
It's supposed to help you harmonize your mind and body as well as remove any excess water and toxins from your body. With these treatments, Armani uses its own products within the signature collection range. These are luxurious products that feed the skin from within. Furthermore, Armani spa also offers specific body treatments as well as waxing, manicure, makeup, or hairdresser services. It's the complete package!
Armani Spa location: Via Alessandro Manzoni, 31, 20121 Milano MI
2. Shiseido Spa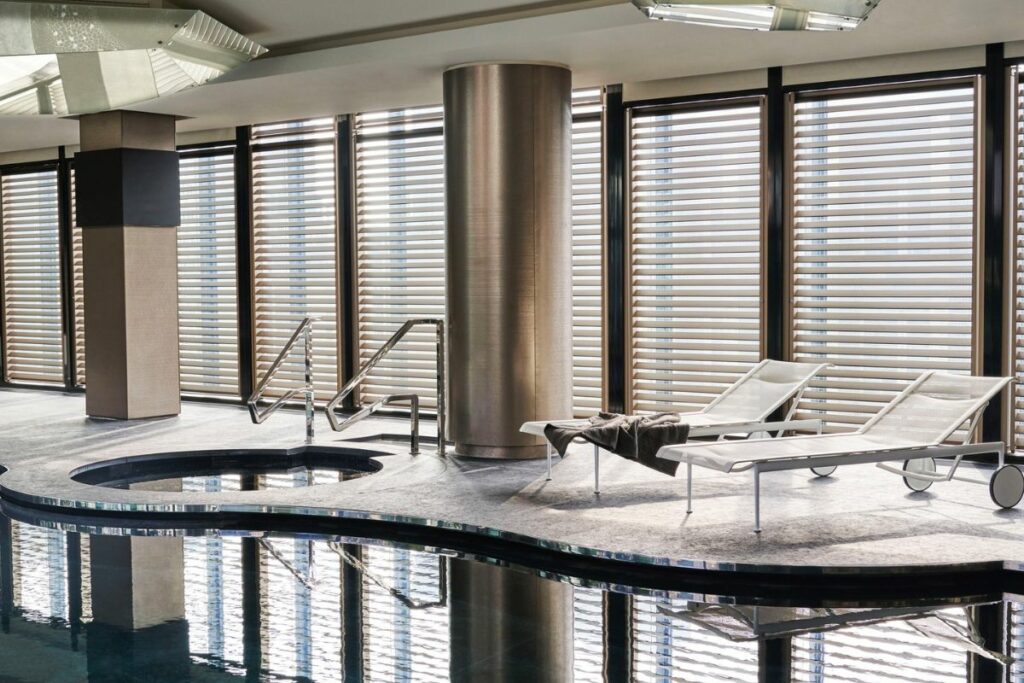 Shiseido is a Japanese cosmetics company founded in Tokyo. They are high-end and have amazing products. Shiseido has its own day spa Milan Italy that you have to visit. It is inside the Excelsior Hotel Gallia and it's stunning! It's probably not your usual spa, although the treatments are similar. They combine western and Eastern traditions and deliver luxurious treatments. Choose from signature, facial, or body treatments as well as spa journeys and even Japanese bathing ceremonies.
Let's take the Japanese bathing ceremonies for instance. The replenishing bathing ceremony means that you'll get full body exfoliation combined with a relaxing massage. It also includes a 30-minute jacuzzi and Japanese foot bath ritual. It does sound amazing! The facial treatments can include wrinkle treatments, express facial, uplifting and firming treatments, or anti-aging facial treatments. These are all done by professionals who have studied how to take care of the body.
In the Shiseido Milan spa the facilities are great. There's a rooftop pool, which is of course a part of the Excelsior Hotel Gallia. A private Spa Suite in case you want to surprise your loved one. Here you can book couples' massages, and enjoy a private jacuzzi and ice fountain. It also has a sauna and Turkish bath! A 24/7 fitness center for all of the hotel guests.
Shiseido spa location: Piazza Duca d'Aosta, 9, 20125 Milano MI, Italy
3. Grand Spa – Palazzo Parigi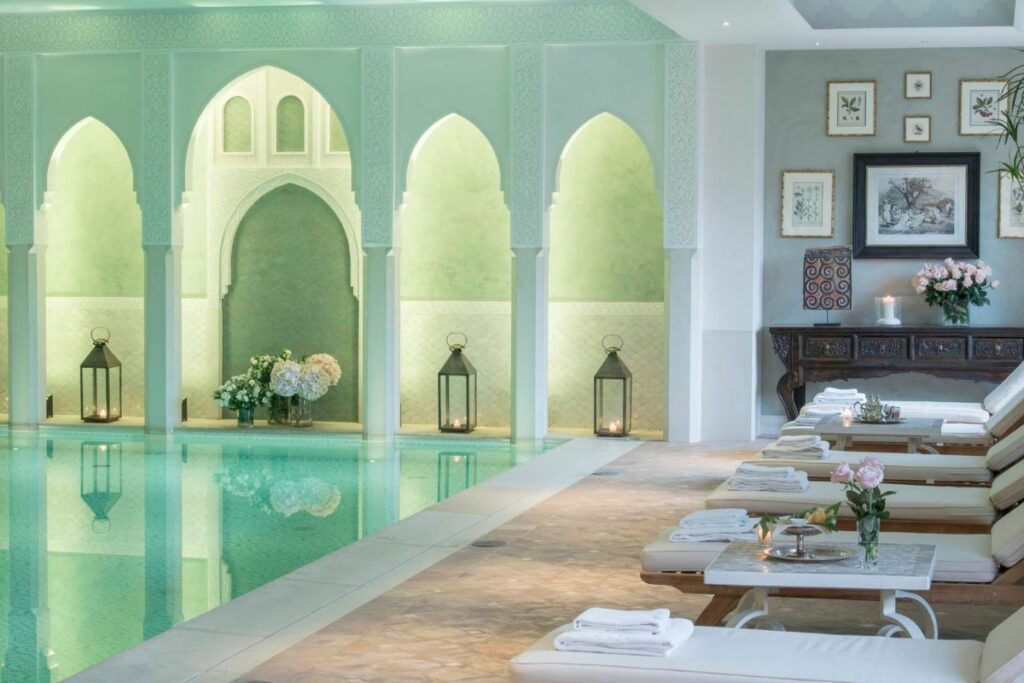 In the center of Milan, you'll find the Grand Spa which is part of the Palazzo Parigi luxury hotel. This is a space for a relaxing getaway. A Milan day spa that offers a five-star luxury experience. Some of the facilities include a large swimming pool, jacuzzi, steam bath, sauna, large fitness area with the latest machines, and so on.
Besides all of the facilities at the Milan Italy spa, you can enter separate wellness rooms for different purposes. For instance, the Royal Hammam Suite is a Moroccan-style sanctuary. It feels like you have teleported to a Moroccan bath. Then there's the wellness program, which is a separate space, with different decor and different colors. The treatment room is where you can book all sorts of appointments.
Grand Spa & Valmont are collaborating to provide guests with special treatments. These are high-quality beauty products used during treatments. And to top it off, there's even a healthy bar & restaurant that serves delicious food. When you are done with your treatment, you can replenish your body with nutritious meals!
Grand Spa location: Inside Palazzo Parigi – Corso di Porta Nuova, 1 – 20121 Milano
4. The Spa at Mandarin Oriental Hotel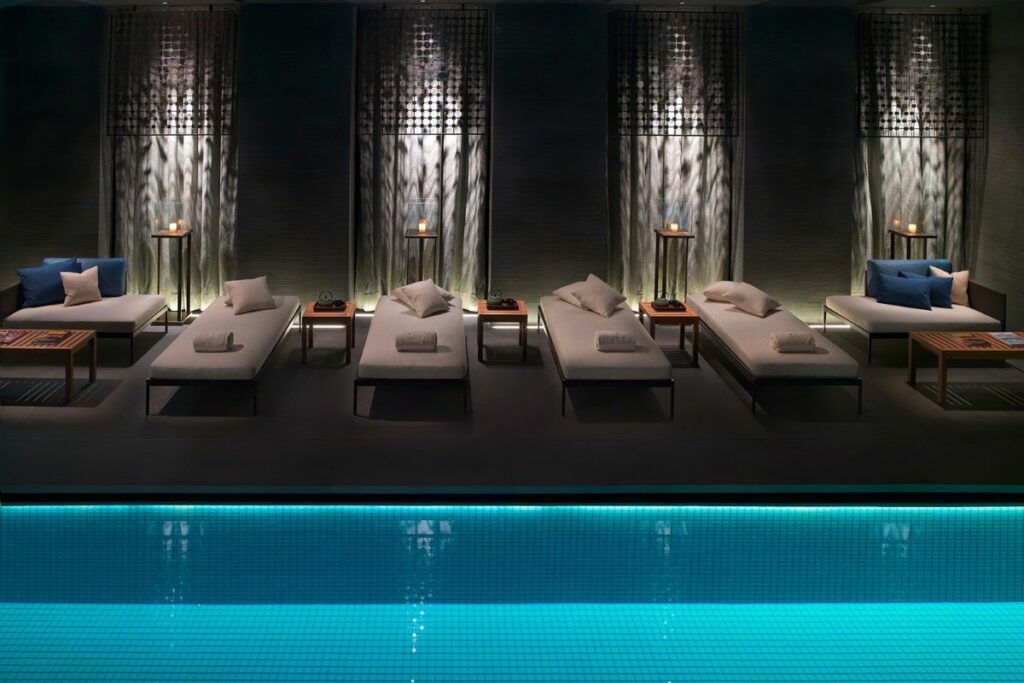 If you wish to try out the best spa in Milan Italy, check out the one at the Mandarin Oriental Hotel. It has some great facilities and treatments that will surely leave you feeling rejuvenated. There are quite a few treatments to choose from. The Italian Beauty treatment is 3 hours and 30 minutes and it offers a 90-minute massage, then a 60-minute aromatherapy facial. After that, the staff will take you to a private Spa Suite where you're greeted with a fruit platter and healthy snacks.
However, if this sounds too much for you, the Oriental Qi is only 1 hour and 50 minutes. It's an effective spa experience. There are advanced skin care and body care treatments and you can even custom-make them. The Mandarin Oriental Hotel Milan Spa also includes a fitness center, swimming pool, and G Hair stylist salon. So you have everything you need in one place.
Mandarin Oriental Hotel Spa location: Via Andegari, 9, 20121 Milano MI, Italy
5. Bulgari Spa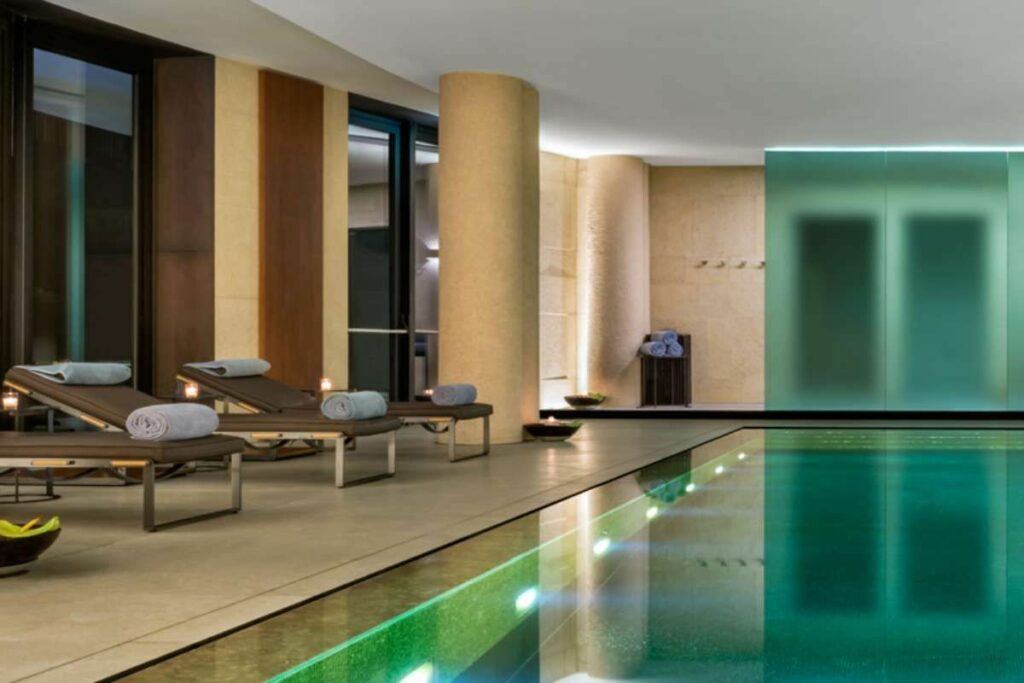 Just like the Armani Milan Spa, the Bulgari one will make all of your relaxation dreams come true. It's a beautiful atmosphere that was designed to help you relax and unwind from your busy lifestyle. "A refuge for the body and the spirit", that's exactly what they offer at the Bulgari Hotel Milano Spa. The difference between this Milan Italy spa and the rest is that they combined ancient treatment philosophies with modern architecture.
After all, Bulgari's hotel is a joy to look at, but mixing that with a spa is paradise. There's a long list of treatments that you can get. Holistic touch will apply Ayurvedic techniques to help relax the mind and body. Skin balancing is all about toning your skin and rejuvenating it with facials. There are also different types of massage therapies available to book. Some of them last 50 minutes, while others are 25 minutes but can also be extended to 50.
Then Bulgari spa offers body therapies. For example, detoxifying salt scrub. They deep cleanse your skin and apply nourishing creams afterward. The facial treatments done at the hotel can be booked with La Mer products. If you are familiar with La Mer, you know that your skin will look it's absolute best after these treatments. It's definitely an investment to go here every now and then!
Bulgari Spa location: Via Privata Fratelli Gabba, 7B, 20121 Milano MI, Italy
6. QC Termemilano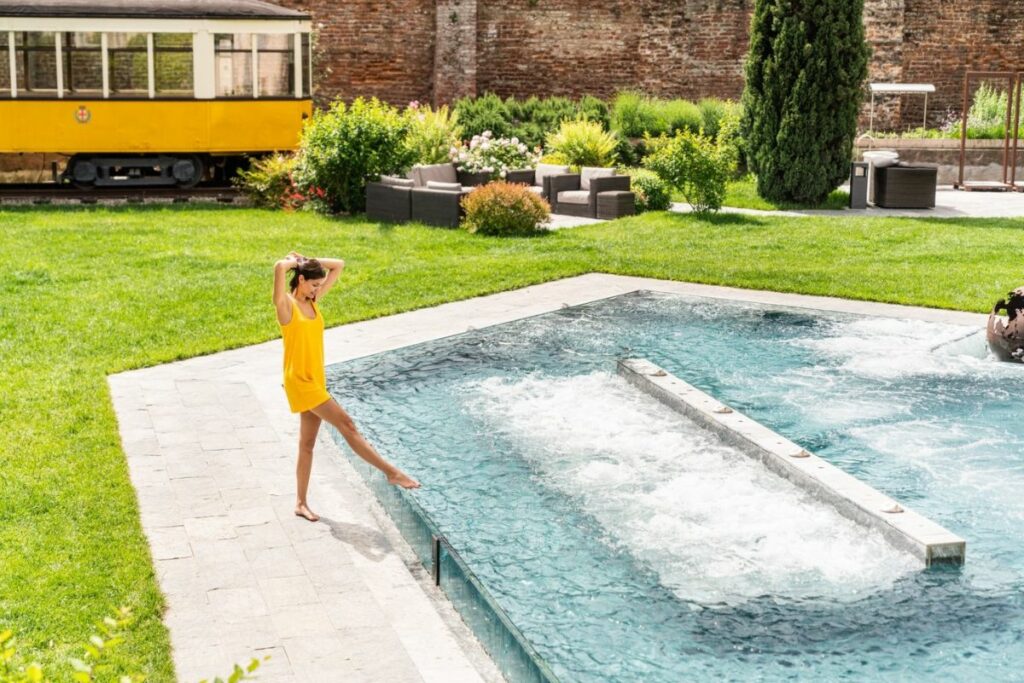 QC Termemilano has an interesting location. It's in the heart of Milan between the Spanish walls. This is your perfect weekend getaway with your partner or even friends/family. "A multisensory journey a few steps from Porta Romana". The best spa in Milan Italy has a lot to offer. A wellness path, massages, and treatments as well as some delicious and nutritious meals. The wellness path means that the building is an Art Nouveau complex of over 3000 square meters.
It has the first bio-sauna in the world built inside a tram, and at the same time, you can visit a beautiful crystal-walled pool built in the remains of an ancient archeological site. This you really have to see for yourself! Firstly, guests can take a walk in the garden of la Darsena. There are water and salt rooms, relax mount tabor, steam baths, and of course the bio sauna built into the tram.
As you can imagine, there are plenty of treatments. If you're with a loved one, take out the couples massages that can last either 50 or 25 minutes. This way both of you can bond even more during your visit to QC Terme Milan day spa. Furthermore, the facility provides antistress massages or just traditional ones. Whether it's your back, shoulders, or face, a massage is needed in this crazy world!
QC Termemilano location: Piazzale Medaglie D'Oro, 2, 20135 Milano MI, Italy
7. The White Medispa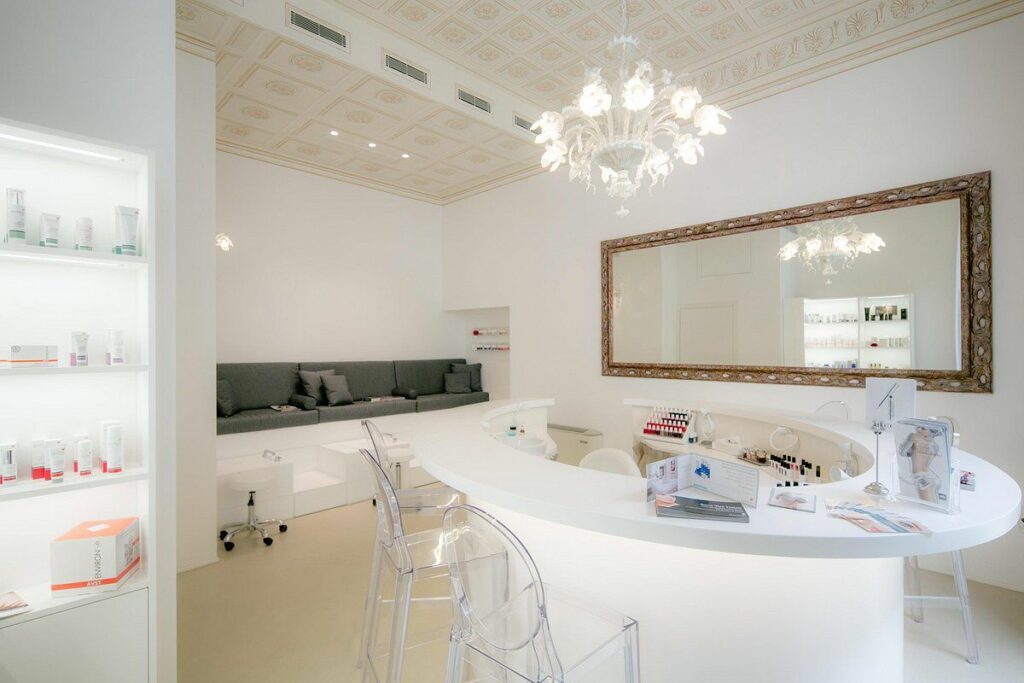 The white Medispa day spa Milan Italy is a bit different than the previous ones we have talked about. It is nonetheless a space to relax and unwind, however, it's not as luxurious as the Armani one for example. Here they concentrate on many different treatments, not just for the body but also beauty treatments like epilation or manicure. It is located near the Castello Sforzesco in the Zona Magneta.
They use the highest technology to help you understand what your body needs. From the facials, one can book detox, glow, or sculpting facials. Then we have massages, which is a must if you're working in an office or sitting on a chair the whole day. The massages can range between 50 and 90 minutes. If you get the Linfodrenaggio it will stimulate the elimination of excess liquids and help with circulation.
Body treatments can also help one feel comfortable and confident. The White Medispa offers treatments that reduce fat and promote tissue elasticity or T-shape treatments which are great for producing collagen. Besides the waxing, laser hair removal, and manicure, the spa also has a Must Try list for customers. I love everything that has to do with exfoliation and leaving my body feeling smooth. Which one would you try out?
The White Medispa location: Via Sebeto, 1, 20123 Milano MI, Italy
8. Spa at Four Seasons Milano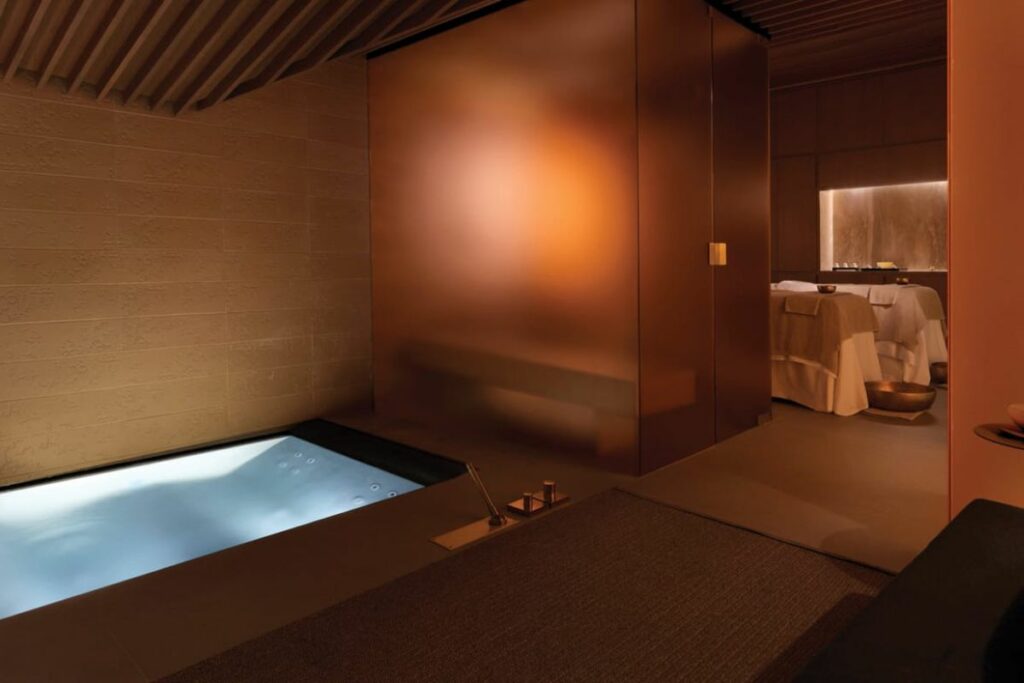 The Four Seasons hotel is a great option as well for a Milan day spa. There's a spa, swimming pool, fitness center and also a Hair spa. If you've been meaning to get away from the busy life, the Spa-suite experience might be what you're looking for. It's a private suite that includes aromatherapy, and massages and you can also use the whirlpool and steam bath. If you purchase this package, it's just you alone or whomever you bring with you.
They also offer a Mediterranean aromatherapy massage. You'll listen to relaxing sounds and the room will be infused with scents of the Mediterranean sea. Some of the spa services include several types of massages, body treatments, facial treatments, and beauty treatments like manicures, pedicures, or waxing. The Rossano Ferretti Hair Salon will make all of your hair dreams come true. This is the Spa in Milan Italy you should hit up on your next visit.
Spa at Four Seasons Milano location: Via Gesù, 6-8, 20121 Milano MI, Italy
9. Montenero 8 Beauty & Luxury Spa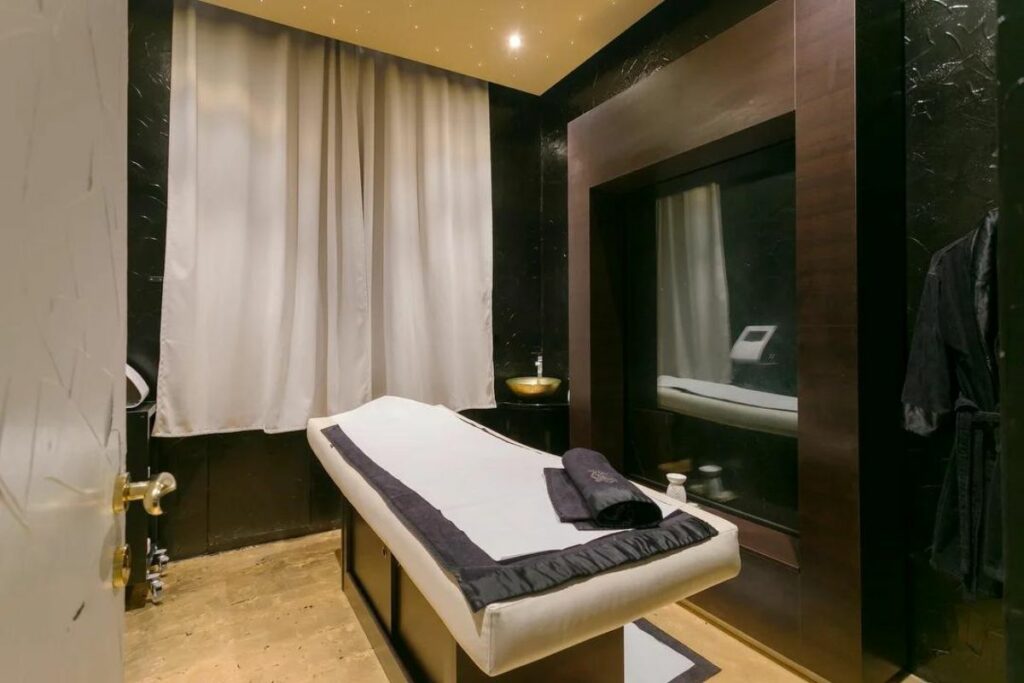 Looking for a day spa Milan Italy in the heart of the city? Montenero 8 Beauty & Luxury spa is right in the city's heart near the Porta Romana stop. It has all of the relaxing body treatments you wish for as well as several high-tech beauty treatments. They use high technology to make sure customers are treated the best way and they leave the salon with fresh-looking and feeling skin. Montenero offers manicures, pedicures, epilation, aesthetic massages, face treatments as well as body treatments.
Some of the technologies they use are Microdermabrasion, body radio frequency, or Pressotherapy with infrared. At this Milan Italy spa, one can take advantage of their rituals and promotions. For example, if you take out the Gold Ritual you'll have the microdermabrasion treatment with a face massage and you can select between a nail polish application or a hand massage. It's really worth it!
Grand Visconti Palace Spa Location: Viale Monte Nero, 8, 20135 Milano MI, Italy
10. Club 10 Fitness & Beauty Center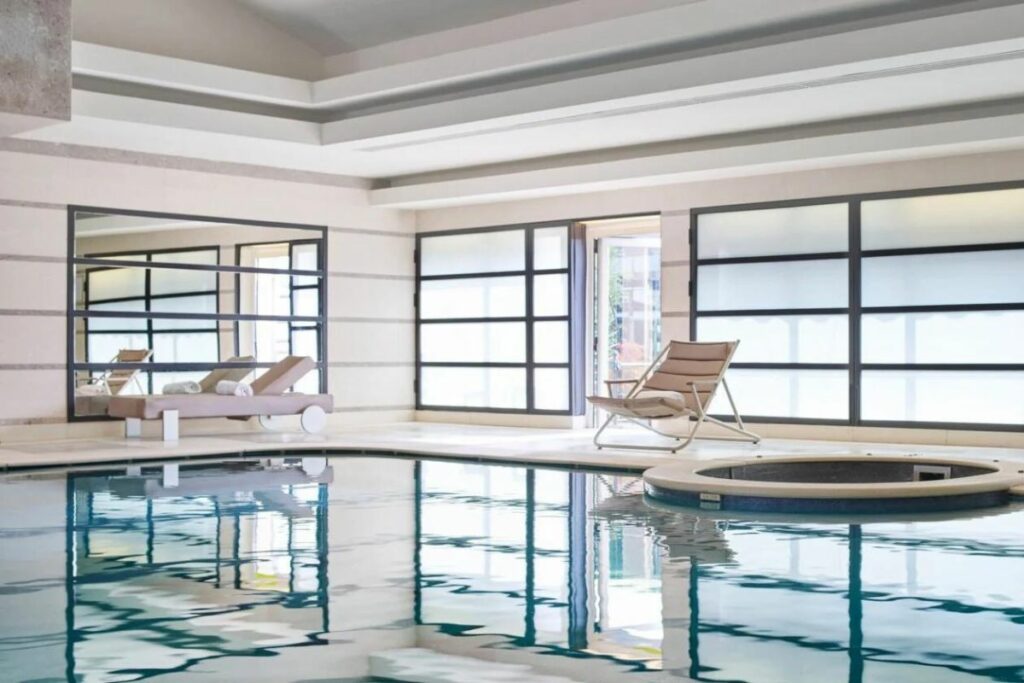 We arrived at the last of the amazing spas in Milan which is Hotel Principe di Savoia. It is available for all of the guests within the hotel and also anyone who just wants to relax and unwind. Simply book an appointment for the desired treatment. The space is aesthetically pleasing and it offers a variety of massages, rituals, and body treatments. You can also get your nails done, get facials, waxing, and treat yourself with different spa packages.
Within the massages and rituals, you can take advantage of the Himalayan Salt Detox. It can be booked for either 50 minutes or 8- minutes. It is performed with warm stones, and Himalayan salts and its purpose is to relieve pain and stimulate metabolism. In case you suffer from water retention, there's a massage for that too. At the Club 10 spa, they use techniques that will relieve the body of water retention and swelling. Book your treatment and discover the best packages they offer!
Club 10 Fitness & Beauty Center Location: Piazza della Repubblica, 17, 20124 Milano MI, Italy
Conclusion – Milan Day Spa
There you have the 10 best spas in Milan Italy. Luxury, relaxing and beautiful atmosphere, all of them are welcoming you for an epic downtime. Get away from the busy city life, enjoy a massage after sitting for hours on your chair or couch, and hopefully, you'll feel relieved after each session. Or choose the beauty treatments such as getting your nails done, waxing, and even hairdressing. Most of these spas have a gym too which is amazing. For anyone who loves to work out, taking a swim after a nice session feels like a blessing! Don't miss out on the best luxury brands in Milan either!
Pin it: 10 Best Spa in Milan