10 Best Cooking Classes in Florence Italy
If you're visiting the Renaissance city, but not quite sure what other activities to include while you're there, why not try out one of the cooking classes in Florence Italy? It's fun to walk around the city and go to museums, however, it's even more fun to cook, dine and drink like Italians. Try out the best one-day cooking class in Florence Italy if you don't have a lot of time. They usually last for 3-5 hours. At the end of the class, you can taste the dishes you made and enjoy a glass of wine, or two!
10 Best Cooking Classes in Florence Italy
On this list of cooking classes in Florence Tuscany we have included a 7-day one. This tour includes a number of cooking classes as well as wine tasting. After all, drinking Chianti or any type of Tuscan wine is a must while making pasta or pizza. Besides starters and main dishes, you'll also learn how to make gelato and authentic Tiramisu! The dishes are delicious and you'll have a lot of fun, we promise! Let's dive into our list.
1. Tuscany Pizza and Gelato Cooking Class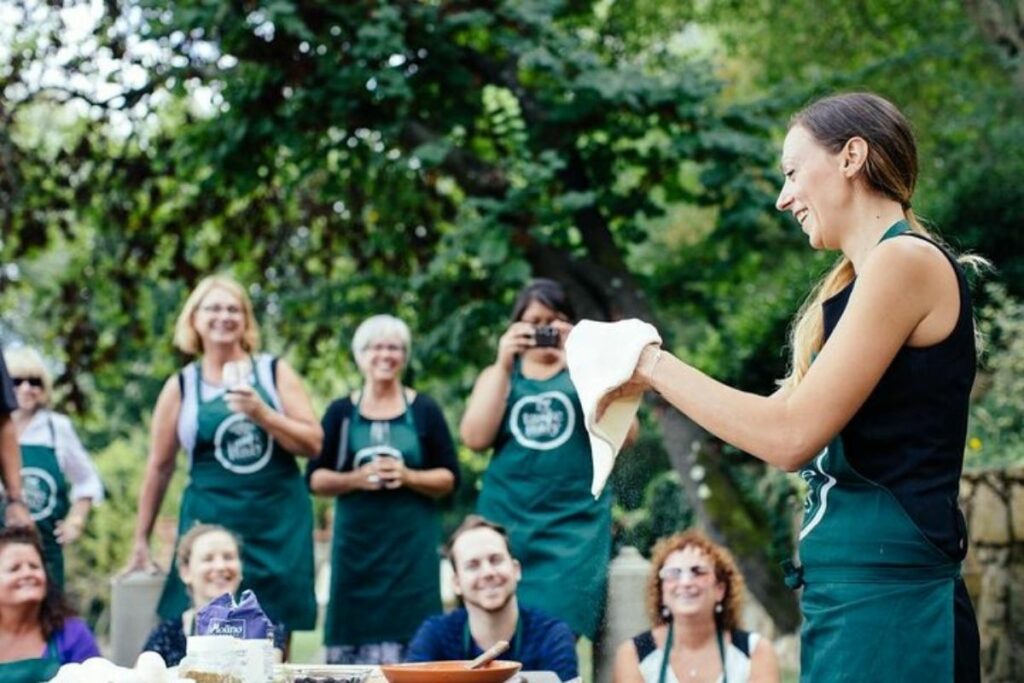 This is probably the number one Tuscan cooking class and dinner in Florence. The Pizza and Gelato Cooking Class in Tuscan Farmhouse from Florence has a high number of five-star reviews. If you're staying in a hostel or hotel in Florence, then you should check it out. What do they offer? As the title says, you'll be learning how to make pizza and gelato on the same day. It is basically a 5-hour course and it's only available in English.
You'll learn tips and tricks on how to create your own pizza and gelato. For example, the sample menu consists of starters, main, and dessert. These are Focaccia, Neapolitan Pizza, and handmade gelato. At the same time, they offer a 3-course meal with wine or beer. Since you'll be staying at the beautiful Tuscan estate, the wine and pizza are a perfect dinner choice.
But that's not all. Transport is offered from central Florence on both ways. When you're done, you'll receive a cooking diploma which you can use to impress your friends and family when you're back in your hometown/country. If you check the reviews, there are over 2,000 people praising this class and giving them 5 stars. You cannot miss it!
2. Pastamania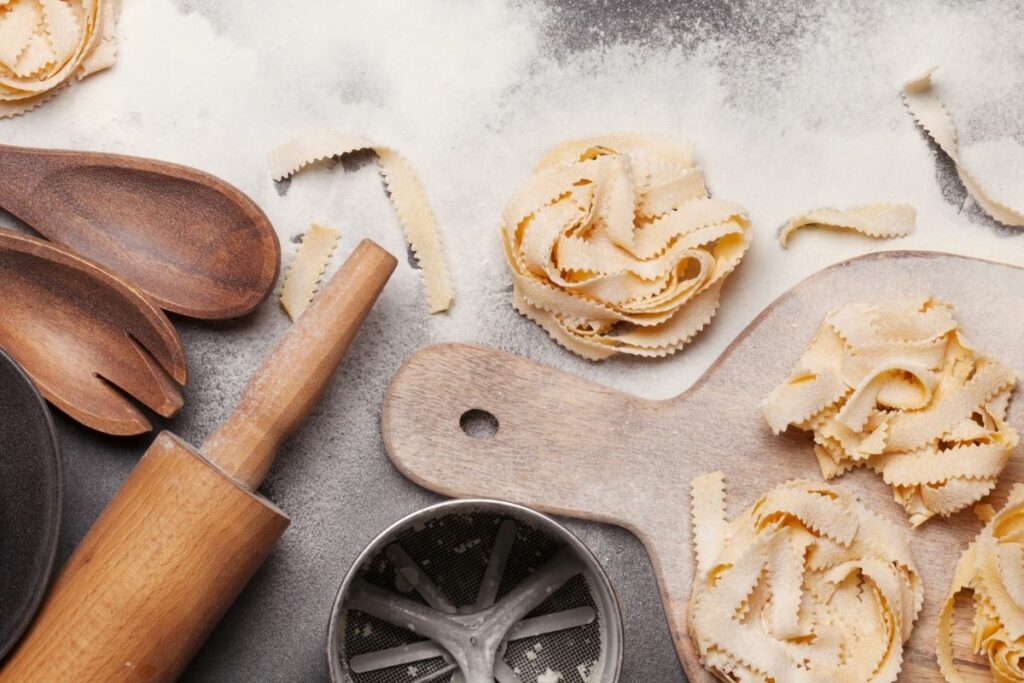 Are you interested in making past? Well, Pastamania is one of the best cooking classes in Florence and you need to check it out. This one is a bit shorter than the previous course, but you'll learn how to make your own pasta and create delicious meals. The course teaches you how to make Ravioli and Tagliatelle in different shapes. This class takes place in the center of Florence.
Once the pasta is cooked, you'll be taught how to prepare it with 3 different sauces. Pastamania cooking class provides you with organic Tuscan wine which was made in their own wine cellar. The cellar is called "Dalle Nostre Mani". The courses are strictly in English and you'll receive the instructions by email as well so you can prepare this at home too. At the end of the course, everyone will be eating the pasta they made accompanied by wine.
Pastamania location: Piazza del Carmine, 4, Piazza del Carmine, 4, 50124 Firenze
3. Florence Private Home-Cooking Class with Food and Wine Tasting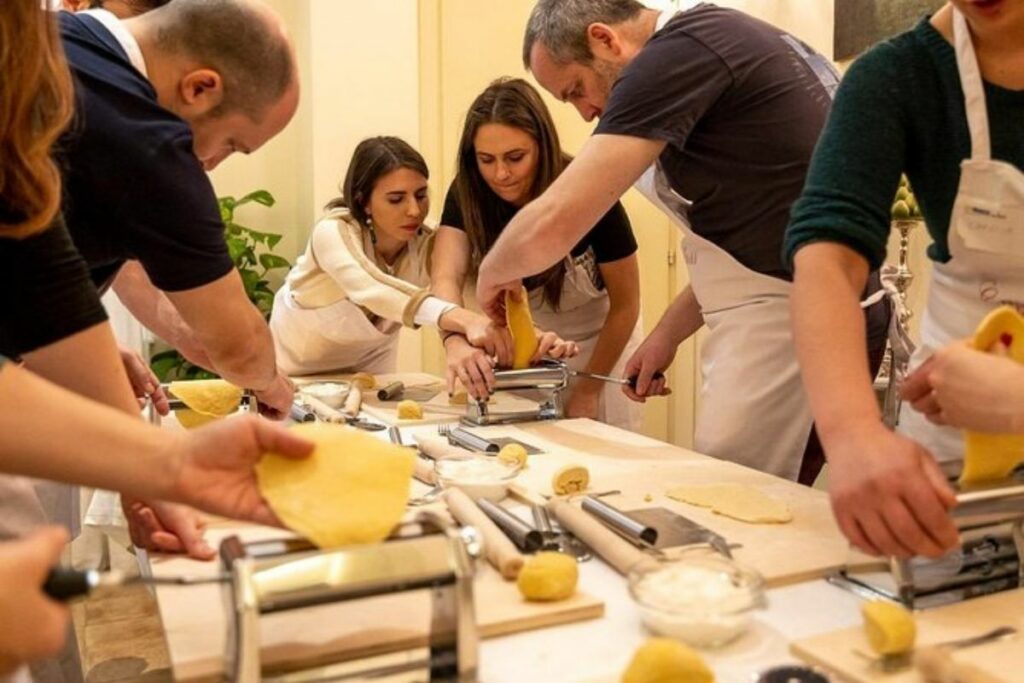 Continuing our list of cooking classes in Florence Italy with this one at a private home. The classes are held by Cesarine who are passionate Italian cooks. You'll feel like you're a part of Florence and fully experience this culinary culture. The classes also take place in the home of the cesarina and these dishes will be typical Florentine dishes.
For example, a sample menu consists of a seasonal starter; Gnudi, Pici, Pappardelle, or Potato Tortelli; then the dessert is either Cantucci, Castagnaccio, or Tiramisu. I mean learning how to make traditional Tiramisu is worth everything! At the end of the cooking class, or after you have prepared the 3-course dinner, you can enjoy eating the dishes. You'll be served with a glass of wine.
The great thing about this class is that if you have allergies, you can notify them in time and they will cater the class around your allergies. Besides having the dishes and drinking wine, you can also taste authentic coffee and as a gift, you'll receive a cesarina cooking apron and a shopping bag. The cooking classes are offered in English and Italian as well.
4. Wanna Be Italiano Cooking Class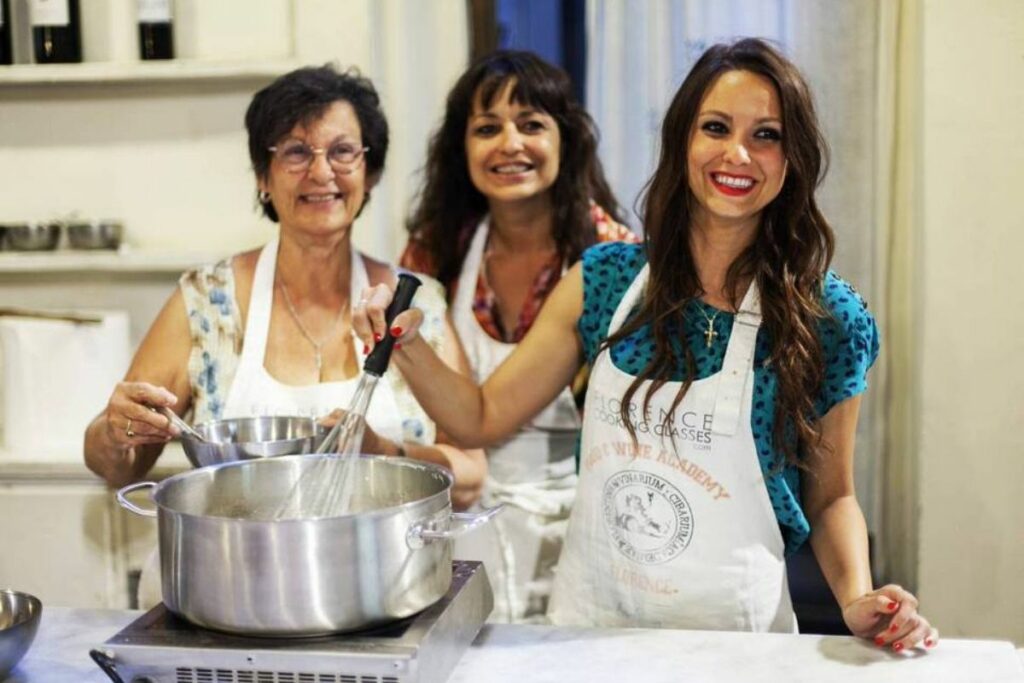 If you're looking for the best one-day cooking class in Florence Italy, the Wanna be Italiano cooking class is the one for you. You'll have to be quick as they tend to sell out rather quickly. It's very popular among the cooking classes and rated 5 stars with over 750 reviews. Alright, so what do you get?
Well, the classes are only in English and they tend to last about 5 hours. Since you're in Florence, of course, you'll be cooking Florentine dishes. First of all, you'll be picking up ingredients from Central Market with the chefs for your delicious dishes. They will teach you how to make Bruschetta as a starter, homemade pasta as main, and Tiramisu as dessert. The pasta can be either Tagliatelle or ravioli with two different sauces.
They do mention that the menu can be a bit different depending on the ingredients found at the local market. After you have finished creating the dishes, you get to sit down and eat them together along with Chianti wine. These classes are usually catered for small groups of around 25 people. In the end, Wanna be Italiano class will create a diploma for you and hand you a recipe booklet. It's truly a steal!
5. Fresh Handmade Pasta from North to South
Are you looking for cheap cooking classes in Florence Italy? Well, here's one for you. The Fresh handmade pasta from North to South in Florence costs you around €50/per person. The duration of the class is 3 hours and it is actually available in languages like English, French, Spanish, German and Italian. You'll be learning three typical pasta courses along with desserts. A sample menu will consist of Ravioli with vegetable filling, Fettuccini alla Norma as well as Gnocchi with tomato sauce.
The dessert is Panna Cotta. Once you are done cooking the dishes you get Chianti wine at the end to taste. At the end of the class, you can take the recipes at home and recreate them yourself. The reviews are great so far. Although there are only 14 on Cookly, they are all 5 stars and praise this class. Their schedule is easy to follow too, it starts on Tuesday, Thursday and Saturday from 10.45 am.
Cooking class location: Via Camillo Cavour, 178/R – 180/R, 50129 Firenze
6. Market Tour and Tuscan Cooking Class at MaMa Florence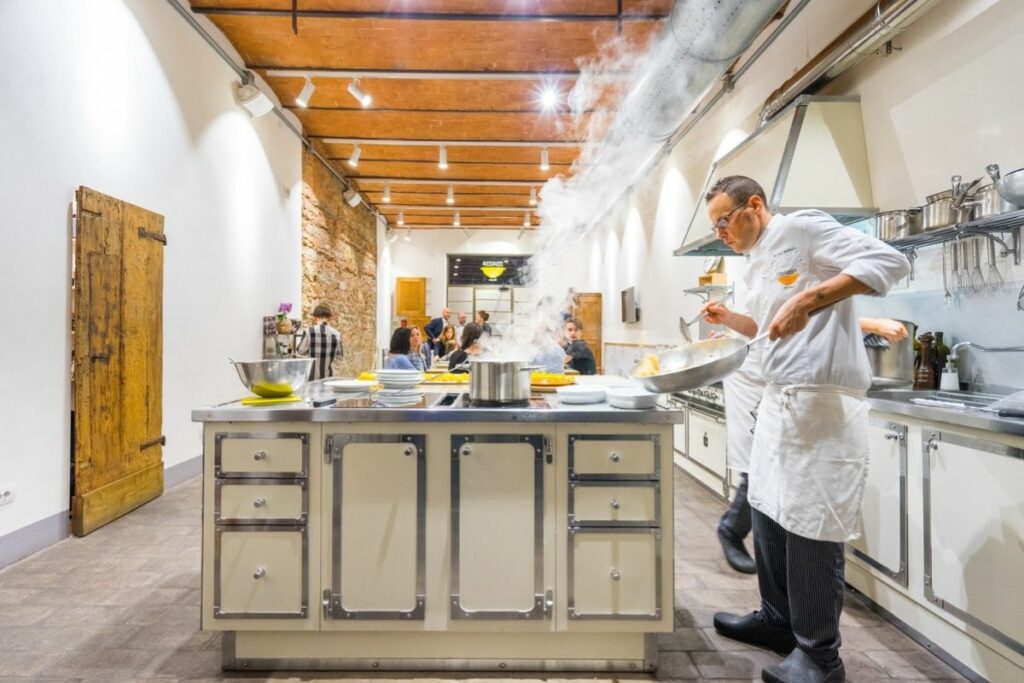 If you check Google, this is one of the top cooking classes in Florence Italy that will come up on the list. The Mama Florence cooking classes are famous and they will teach you a number of things to prepare. We have chosen this specific one which is called Florence Market Walk & Traditional Tuscan Cooking Class. The duration is 4 hours available in English or Italian.
You'll have professional chefs teaching you how to create delicious meals. First of all, you'll be guided to the market to choose the best ingredients. The market is in the historic center of Florence. These are seasonal products, fresh meats, cheeses, and so on. Once you have gathered these ingredients, then you'll start to learn how to prepare them. A sample menu can consist of deep-fried zucchini flowers and sage leaves, pan-fried white cabbage, and cantuccini cookies.
These will depend on the ingredients found. While you are preparing the dishes, you'll be served Prosecco during your break, as well as Italian wine during your meal which you get to consume after you're done with cooking. The recipes are printed out and handed to you after the class. It's a wonderful experience and Mama Florence has many other classes, so make sure to check them out!
7. Pizza Cooking Class at San Gimignano Winery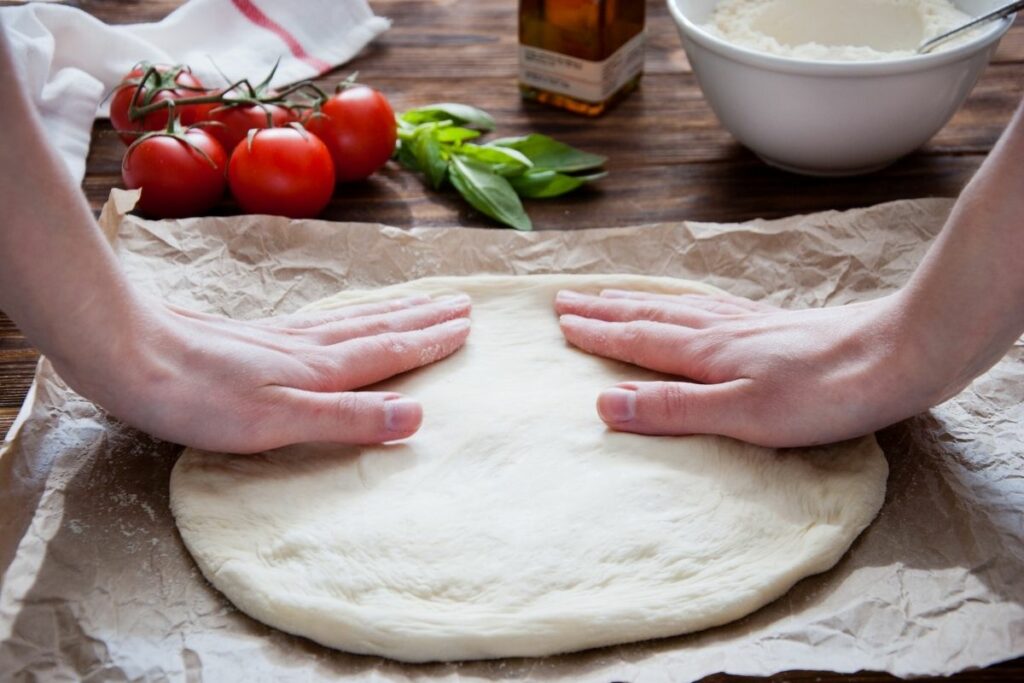 We're continuing our list of cooking classes in Florence Tuscany with one in San Gimignano Winery. You have seen plenty of classes that teach you how to prepare pasta, however, creating an authentic pizza is also a must. You will travel to the winery in San Gimignano where you'll be learning how to make pizza. The staff offers to take you on a short tour of the property. They teach you the secrets of making the perfect dough and coming up with a pizza to your own taste.
There are so many ways of preparing the dough and adding the toppings, you just have to cater it towards your taste. At the winery, you get to enjoy the pizza you have cooked as well as other local products. The cooking class includes transportation from Florence to the winery itself, as well as returning to Florence. Tasting wine and pairing wine with different foods. You'll learn the tips for making delicious pizza. Lastly, you'll have lunch and dinner with the pizzas you created.
8. Bologna & Tuscany: 7 Day lost flavors cooking tour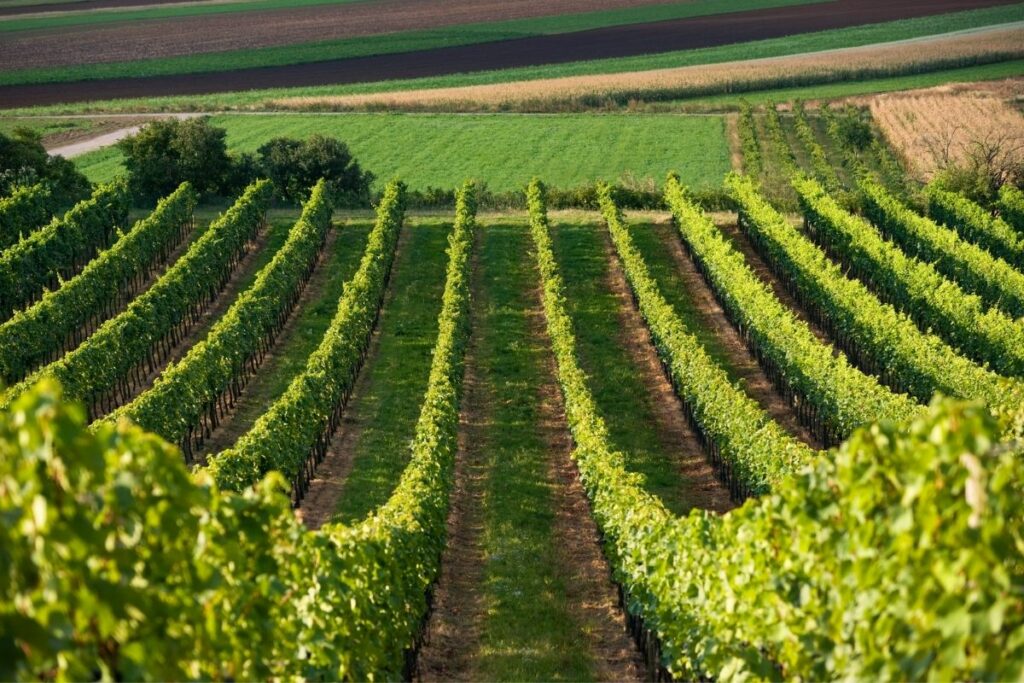 We had to include an amazing experience, aka one of the best cooking classes in Florence Italy. Bologna & Tuscany 7 day lost flavors cooking tour is a must to try out! It is the most expensive cooking class or should I say tour out of all of these on the list, however, it's definitely worth the price.
It is quite a detailed description of what you'll be doing, however, just to simplify it, let's see what is included in these 7 days. First of all, you'll have 3 nights booked in Bologna in a private hotel or apartment. Also in Bologna, there are going to be 4 cooking classes and 2 market visits. Full meals are provided throughout your stay. Still in Bologna, you'll get a tour of the city center.
Secondly, for the next three days you'll be spending at Mount Fumaiala. All of the tours, transfers, tickets, and lunches/dinners are covered in this price. You'll be able to taste delicious wine from this region. Some more cooking classes in-between from English speaking chefs. At the end, you'll receive your cooking apron. For someone who wants a full Italian experience of cooking classes and wine tasting, this is the ultimate tour!
9. Florence Montalcino Private cooking Class and Wine Tasting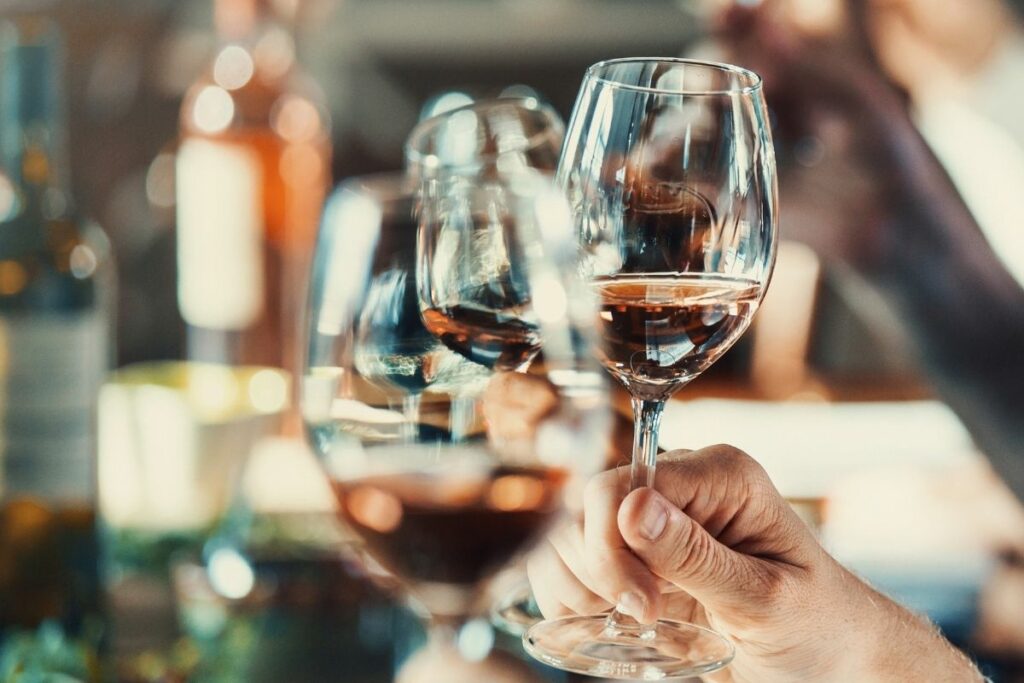 We are coming to the end and here's another best one day cooking class in Florence Italy. This one is also likely to sell out quickly, so you better book it while you still can. The Montalcino private cooking class and wine tasting in Florence is a great experience. The class takes place next to a winery, in the medieval town of Montalcino. You'll be learning how to make local Italian dishes as well as taste their wine, specific to the Tuscany region.
It's a 4-course menu which includes making pasta and some desserts. After you have prepared them, you'll sit down and enjoy the dinner. Besides cooking, they will also show you around the vineyards and historic wine cellars. Some of the wines you can taste are Brunello di Montalcino DOCG, Rosso di Montalcino DOC or Iuli'o IGP Toscana. The courses will take place in English.
10. Handmade Pasta and Dessert Cooking Class with Dinner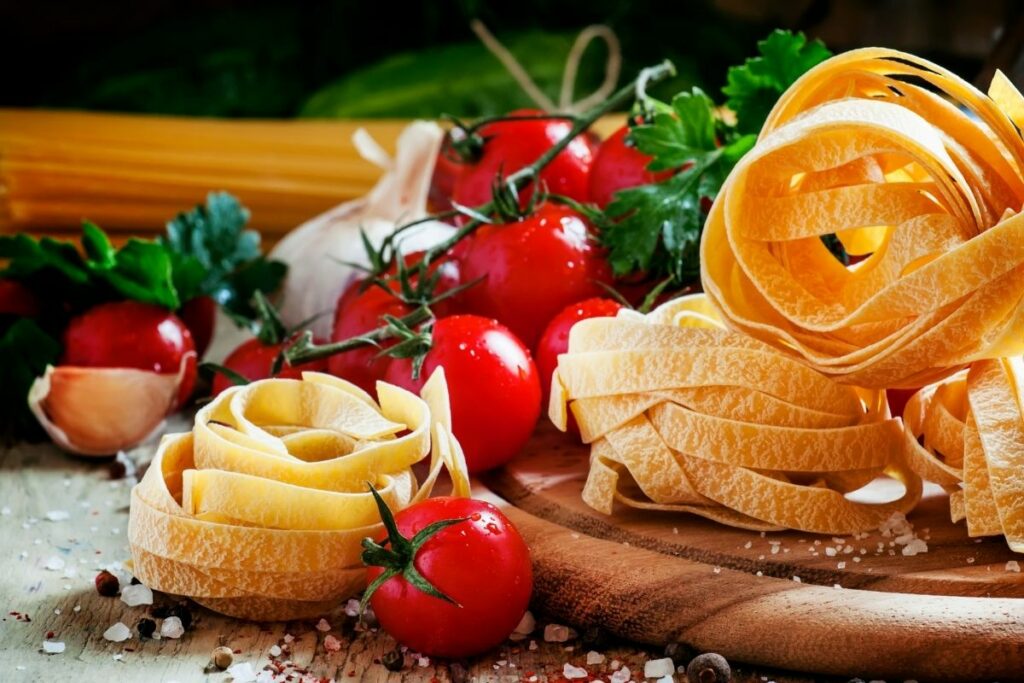 We have kept the best cooking classes in Florence the last on our list. This one in Florence is all about handmade pasta and dessert cooking. This course is also very popular and likely to sell out as the price is amazing. The duration is a little over 3 hours and you can book it in English, Italian, Spanish, and German.
What's the point of this class and why is it different than the rest of the pasta classes? Well, maybe it is not that different. The chef does speak in multiple languages so more nationalities can take place. You'll learn how to prepare high-quality pasta by using a rolling pin and pasta machine. These will be classic recipes and methods.
The course includes 3 types of pasta with 3 different sauces and one typical Italian dessert. Furthermore, after you have cooked the delicious pasta, you get to enjoy your dinner with the rest of the class as well as taste Tuscan wine. You're guaranteed to have a great time in this class.
Cooking classes in Florence Italy
Now that you have gone through our list of cheap cooking classes in Florence Italy among the others with slightly higher prices, you can decide for yourself which one is worth both your time and money. Learning how to make pasta and pizza should be a lot of fun and you get to take home the recipes and even aprons! Another reason why cooking classes are fun is due to the people you meet and all the delicious wine you taste. We hope you will love them as much as we do!
Pin it: 10 Best Cooking Classes in Florence Italy