10 Best Hotels in Trastevere Rome
Trastevere is a beautiful neighborhood in Rome filled with small cobbled streets, and colorful houses that enhance the sunshine when you're walking down on them. It is also known to be a safe neighborhood and it's close to many of the popular attractions in Rome. You'll find a number of restaurants, bars, and hotels in Trastevere Rome.
There are many things to do in Trastevere, for example, just simply walking around the neighborhood and taking in its beauty. You also must eat in the restaurant in Trastevere, there are many of them! Or if you're looking for parties, pubs, or cafes, you cannot beat Rome's nightlife. When you're staying at the hotels in Rome Trastevere, you will not only be close to the Vatican city but also the River Tiber and all of the main landscapes across the river.
10 Best Hotels in Trastevere Rome – Where to Stay in Trastevere Rome
So for this reason, we gathered a list of the best hotels in Trastevere to stay at. Whether it's a 5-star, 4-star, or 3-star hotel you're looking for, this charming little neighborhood has it all. Besides experiencing the beauty of the neighborhood, you'll also experience Italian hospitality, Italian cuisine, and drinks at these hotels. Let's get into it and find you the best Trastevere Rome hotels to stay at. If you're looking to travel around from you, and you need a car rental in Rome, make sure you check out our article!
1. Villa Agrippina Gran Meliá – The Leading Hotels of the World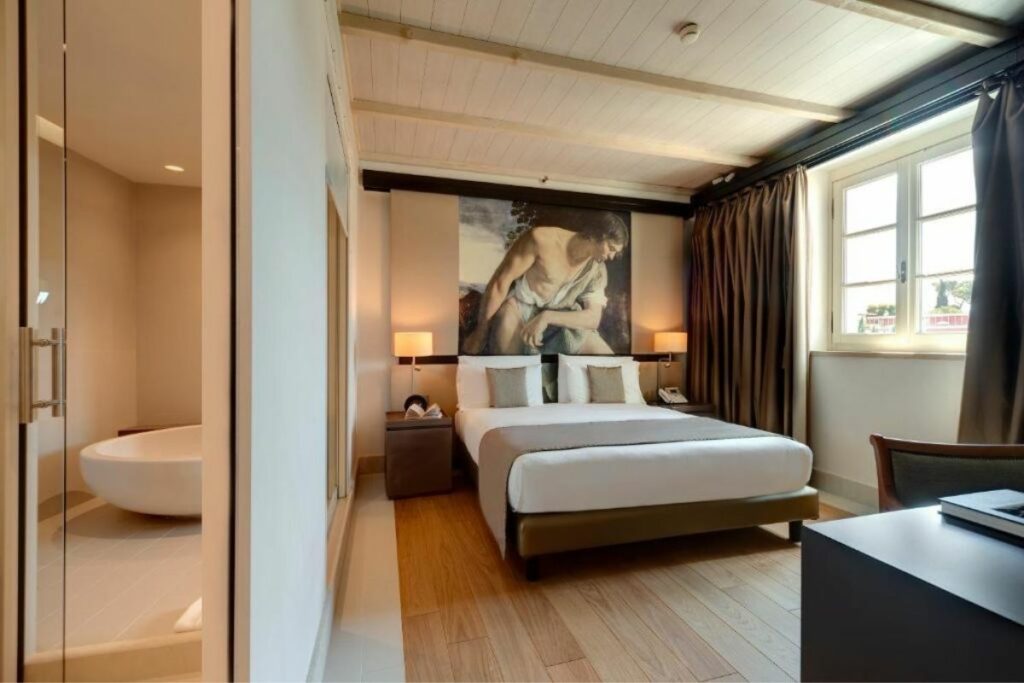 Starting off our list of best hotels in Trastevere Rome, visit the 5-star hotel Villa Agrippina Gran Meliá. With views of the Vatican, this hotel has stunning rooms and luxurious interior design. The modern furniture is paired with classic works of art. And the bathrooms are next level, with free toiletries. Villa Agrippina is set on a hill on the banks of the river Tiber.
Its location is amazing, at just 15 minutes walk from Piazza Navona, one of the most famous squares in Rome. Here, you can book yourself cooking classes at the Jazz Cafe Roma! Besides its amazing location, the hotel features a wellness center with an outdoor vitality pool, sauna, Turkish baths, and loungers. You can book yourself facials, massages, and other treatments. Don't forget to check out the hydromassage pool!
As far as meals, Gran Melia Rome serves a buffet breakfast which also includes cold dishes. In case you get hungry, try out the hotel's restaurant where they offer classic Italian dishes as well as international cuisine and local wines. But if you're looking for something else, there are plenty of amazing restaurants in Trastevere! You don't have to wonder where to stay in Trastevere Rome as the Villa Agrippina Gran Meliá is a superb option!
2. Donna Camilla Savelli – VRetreats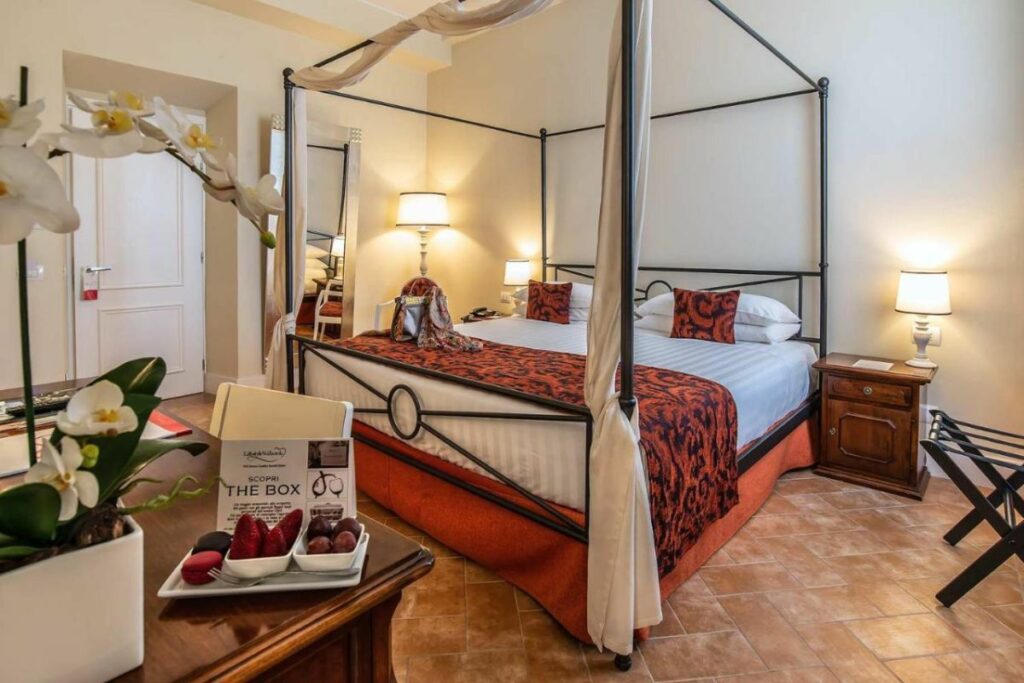 Donna Camilla Savelli – VRetreats is one of the 4-star Trastevere hotels with a rating of 8.7 on Booking.com. Its location is even more perfect than the previous hotel's as it is right next to Piazza Navona and the property has views of the Eternal City from its terraces. The building was designed by Baroque architect Borromini. It used to be a monastery back in the day.
Today it offers accommodation for guests in a modern and elegant setting, while still keeping its original facade. For example, as the building is from the 17th century, the wooden beams on the ceilings and stuccoes are still kept in their original form. The rooms are quite modern but with antique furniture. It's no wonder that guests rate it highly among the many Trastevere Rome hotels.
There's a buffet breakfast available in the morning and guests can enjoy it in the garden during the summer months. There is a restaurant on-site too where you'll be served Roman dishes. Besides the Piazza, you're also the nearest to the Church of Santa Maria in Trastevere and the Vatican is only 10 minutes away from the building.
Donna Camilla Savelli – VRetreats location: Via Garibaldi, 27, 00153 Roma
3. Loly Boutique Hotel Roma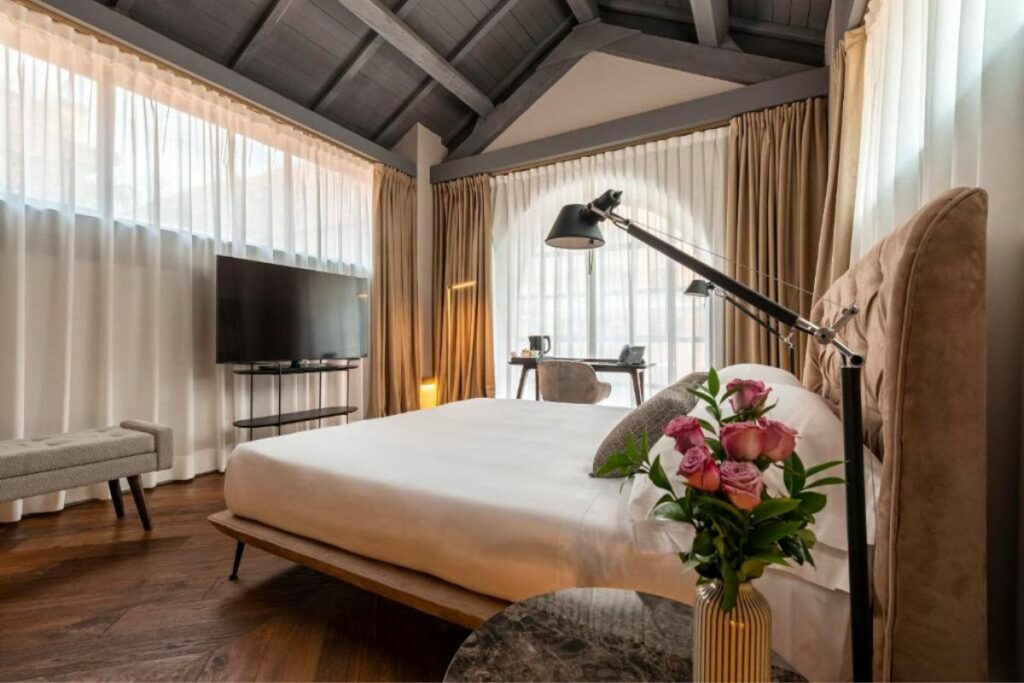 There are probably over 50 hotels, guest houses, and b&bs in Trastevere. We're gathering the best of the hotels in Trastevere Rome to make your life easier and be able to choose better. Loly Boutique Hotel Roma is located just a few minutes away from the famous Piazza di Santa Maria. It is a luxury hotel with concierge services, luggage storage, and an overall amazing outlook of the hotel.
The aesthetics of the hotel are stunning. The rooms are not too overcrowded, they are made function and guests can find a desk, kettle, mini bar, safety deposit, and a gorgeous private bathroom. Let's not forget that it has a whole wardrobe which allows you to store your clothes in case you're staying here for a longer period. Loly Boutique Hotel Roma offers continental breakfast for its guests. But if you're still wondering where to stay in Trastevere Rome, just keep on reading!
Loly Boutique Hotel Roma location: Via Emilio Morosini, 17, 00153 Roma
4. Hotel La Rovere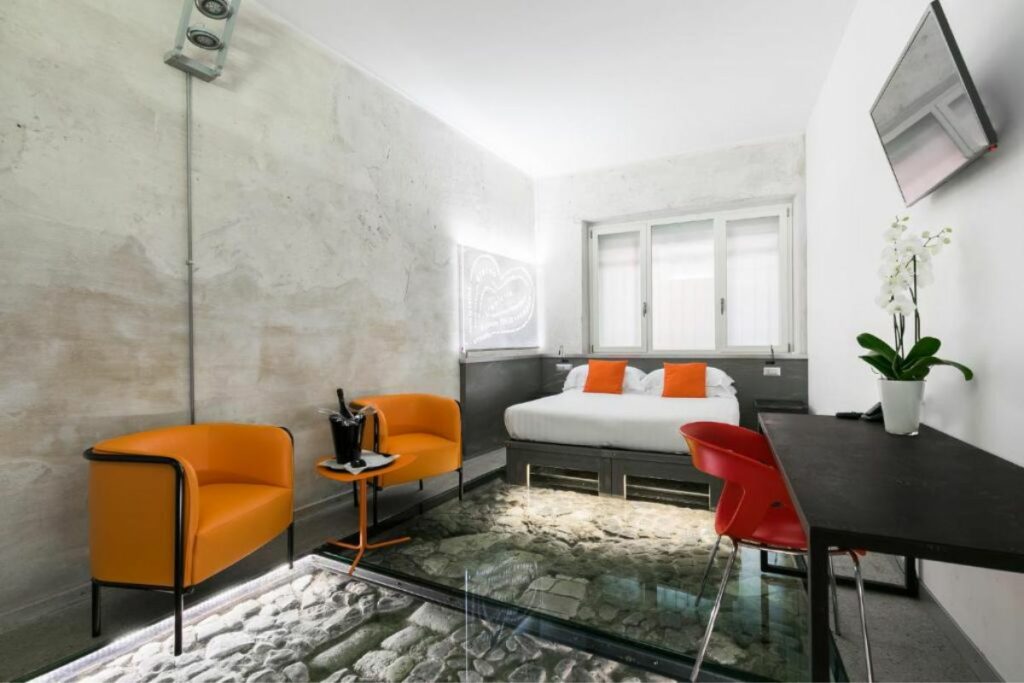 Hotel La Rovere is one of the Trastevere hotels right next to the River Tiber. It is also situated about 700 yards from St. Peter's Square on a wonderful little street. It is a 4-star hotel with a modern interior design. The halls are huge and spacious, while the rooms have different color accents. Some of the rooms have city views that you do not want to miss out on! Inside the rooms also feature a tea and coffee maker, electric kettle, and TV and they are even soundproof.
Continental breakfast is included in the price when you book the rooms. You'll be served continental breakfast including pastries, cereals, and hot or cold drinks. On request, the hotel can offer tickets for walking tours, cooking classes, bike tours, and so on. Hotel Rovere doesn't have a restaurant, however, you can find nearby cafes and restaurants to enjoy delicious Italian meals. What we do love about the hotels in Rome Trastevere is the fact that they are so close to the beautiful parts of Rome.
For example, the Trevi fountain is only 26 minute's walk from the hotel. Not only do you get to cross the River Tiber, Piazza Navona, and Basilica di Sant'Agostino, but you'll also be close to the Trevi fountain. Mind you, it gets busy so you might want to wake up early to watch it in its full glory! In the meantime, visit other beautiful fountains in Rome!
Hotel La Rovere location: Vicolo di Sant'Onofrio, 4 – 5, 00165 Roma
5. Hotel Santa Maria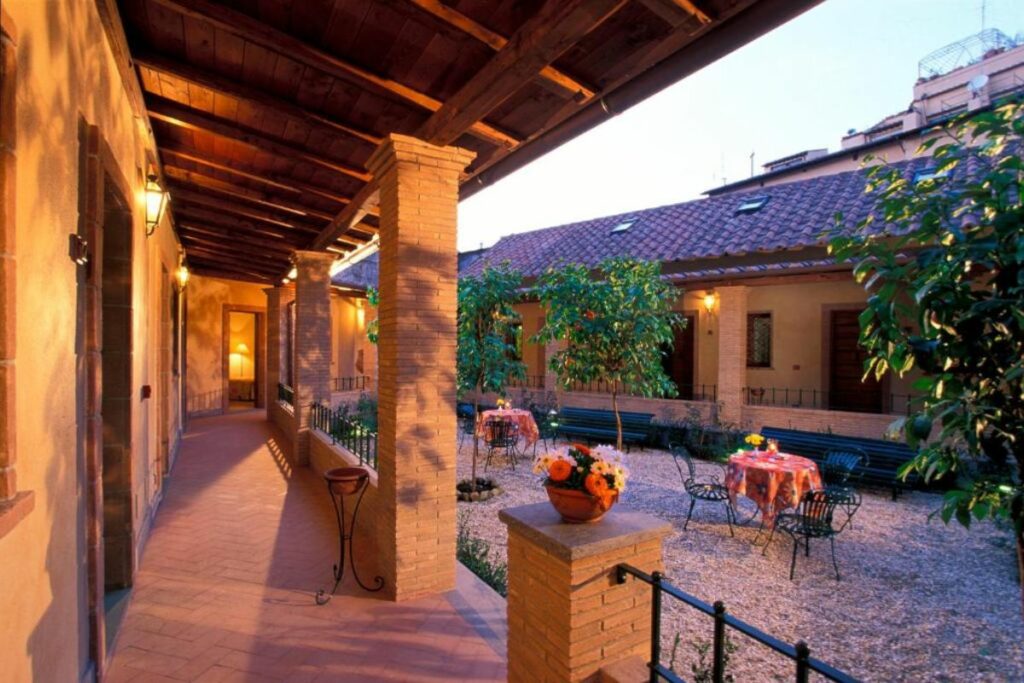 Hotel Santa Maria is among the best hotels in Trastevere Rome thanks to its charming location and gardens. It is on the bank of the Tiber River and it's close to Rome's historic center. The building is set in a 16th-century convent, which was made into a hotel and now welcomes guests in its rooms. All of the rooms have an outlook of the gardens, orange trees, flowers, and stunning Mediterranean greenery.
The rooms are very cute and chic, they have more of an antique design and furnishing. But that shouldn't fool you, as there's still LCD TV, wi-fi, and private bathrooms inside. The floors are terracotta and its furniture is wooden which gives it a vintage look and feel. Each morning you'll be served with delicious breakfast that you can consume on the terrace.
Although there is no restaurant, the Santa Maria hotel has a bar with a selection of regional wines. To experience an authentic Italian dinner, head out on the beautiful streets of Trastevere and discover the best restaurants there. Guests can also rent out bikes from the hotel's reception. These Trastevere Rome hotels have everything you need!
Hotel Santa Maria location: Vicolo del Piede, 2, 00153 Roma
6. Horti 14 Borgo Trastevere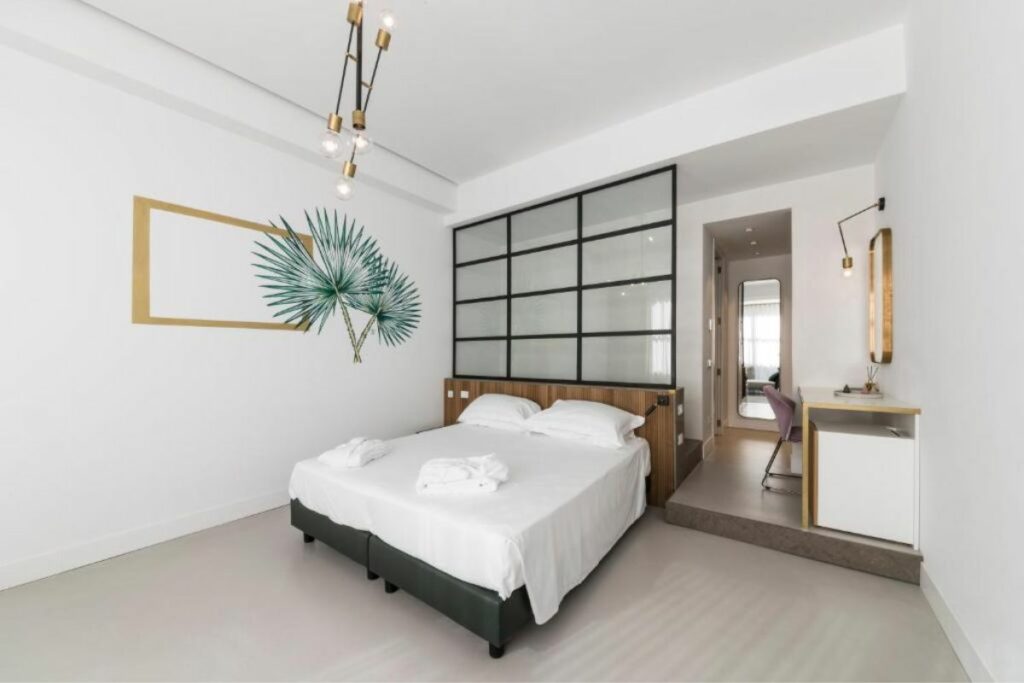 I love the interiors of Horti 14 Borgo Trastevere, however, that's not the only reason why it's on our list of hotels in Rome Trastevere. This hotel is only a few minutes' walk from the river and it's next to the Botanical Garden of Rome. Although it is in Trastevere still, it's more on the outskirts of the neighborhood, therefore, you'll have to walk about 10 minutes to get to the center.
Horti 14 Borgo is a 4-star property with immaculate rooms, a lounge, and gardens. It is very modern, but at the same time, it feels like home as the colors are warm and the decoration is welcoming. Guests rate is 9.1 on Booking.com. Breakfast is included in the price of the room, however, there isn't a restaurant on site. Choose from superior rooms with garden views, available both for double or twin occupancies.
The rest of the amenities include sun umbrellas, loungers, and beach chairs, no pool. You can have breakfast in the room, order fruits, champagne, or even a special diet menu. In case you're wondering where to eat, there's an Italian restaurant called Osteria con Cucina. But you'll not be short of restaurants in this area! And lastly, the nearest attractions are the Hortus Simplicium or the Garden of Aroma.
Horti 14 Borgo Trastevere location: Via di S. Francesco di Sales, 14, 00165 Roma
7. Hotel Trastevere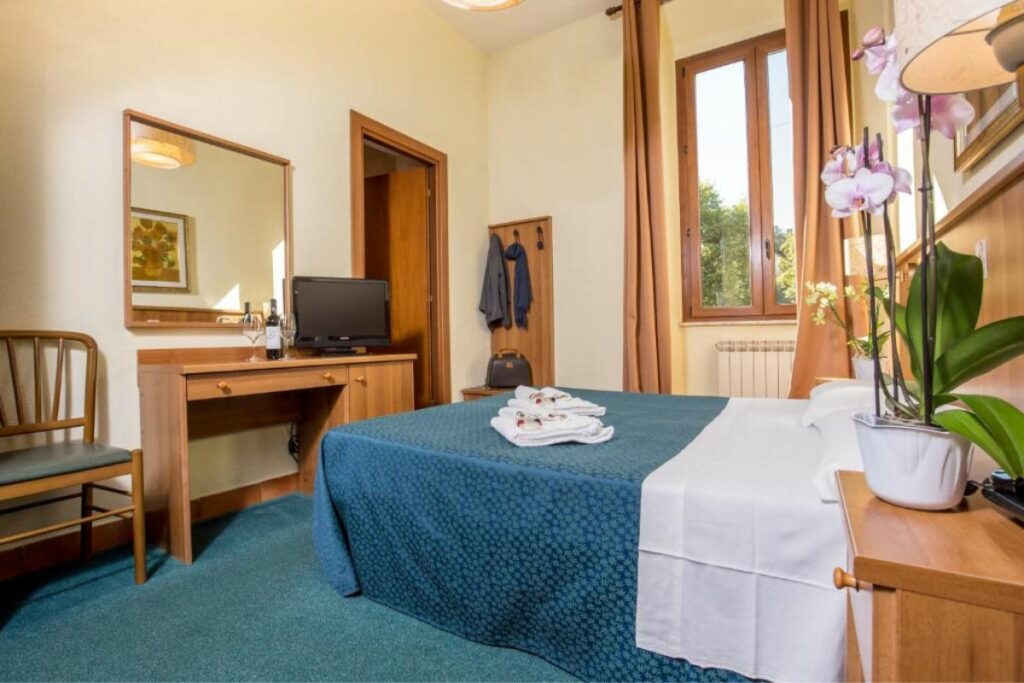 Hotel Trastevere is one of the 3 star Trastevere hotels set between the Basilica di Santa Maria and Piazza di Cosimato. The building itself is from the early 20th century, you can see a lot of wooden accents. Not just the floor, but the windows, headboards, and furniture. It is a very vintage-looking hotel and the rooms are decorated in more of a vintage style as well.
Did you think about where to stay in Trastevere Rome which is a bit more traditional? Hotel Trastevere is the perfect fit for you. Furthermore, a few of the rooms have a view over the St Cosimato church which is on the piazza. Breakfast is available at the hotel in the morning for an extra charge. It does not have a restaurant, however, it is in Trastevere, therefore you already know the streets are full of bars and restaurants.
Hotel Trastevere location: Via Luciano Manara, 24a, 00153 Roma
8. Grand Hotel Gianicolo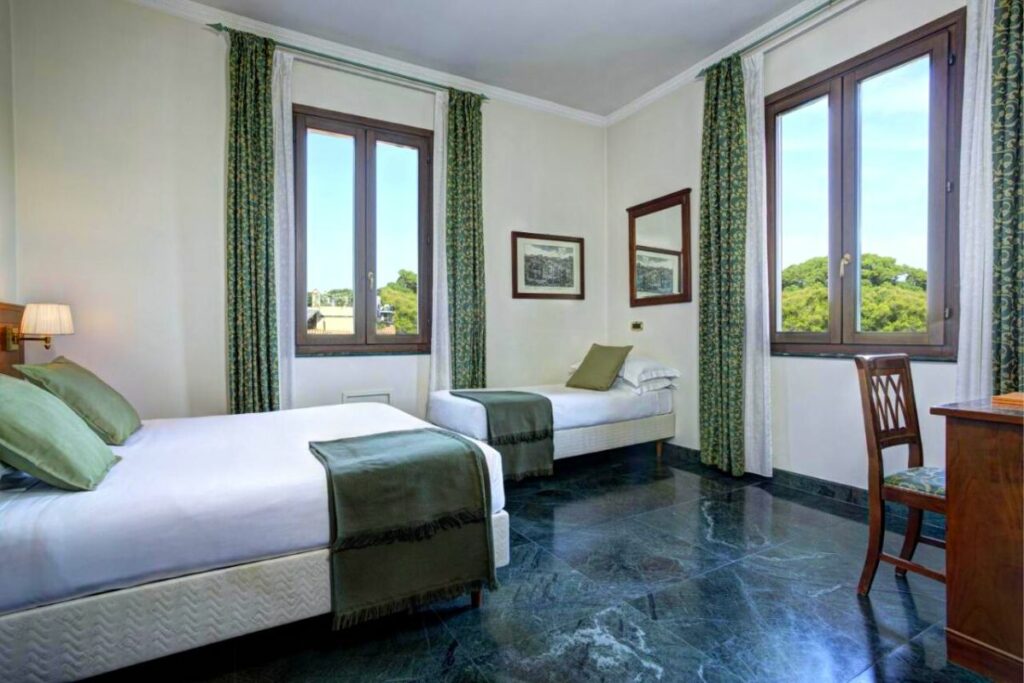 The next of the most beautiful hotels in Trastevere Rome is the Grand Hotel Gianicolo. It has a great location, from its roof terrace you'll have stunning views of the Vatican and St. Peter's Cathedral. As the name suggests, it is in the Gianicolo quarter, on the west side of Trastevere. The hotel features a pool, 2 gardens, and air-conditioned rooms with satellite TV.
Its rooms are elegantly furnished, with subtle colors of green and marble details. Some rooms have a spa bath, while all of them come with a minibar and soft slippers. Grand Hotel Gianicolo served American breakfast and tea or coffee can be served at the bar. Guests can also enjoy delicious meals at the restaurant set in an orangery courtyard. They serve traditional Italian cuisine and a selection of local wines as well as international ones.
The only main facility the hotel has is the outdoor pool with bar service. Guests can enjoy the hot summer sun on the loungers. As far as attractions, the Vatican Museum and Roman Forum are about 1,3 miles away. Piazza Navona is across the river just a mile away from the restaurant. For transportation, Grand Hotel Gianicolo is nearest to the Roma San Pietro Train Station.
Grand Hotel Gianicolo location: V.le delle Mura Gianicolensi, 107, 00152 Roma
9. Residenza San Calisto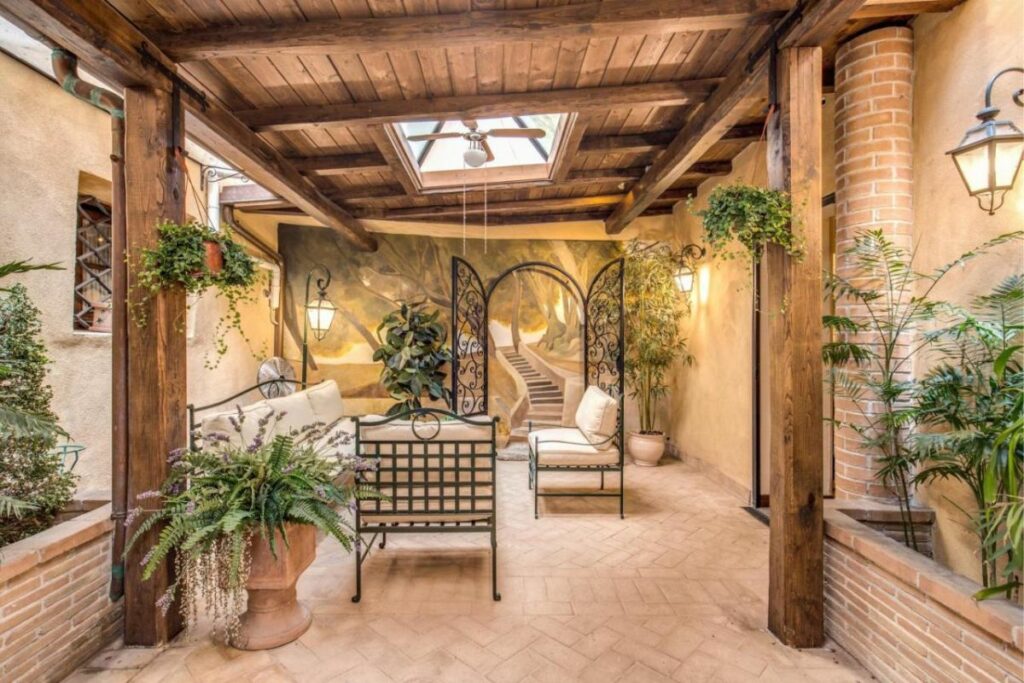 Residenza San Calisto is one of the Trastevere hotels located in the heart of Rome in a stunning historical building. The building has been renovated and turned into a hotel to welcome guests from all over the world. It has both rooms and apartments. For example, you can choose from double, triple, and quadruple rooms as well as deluxe studio and one-bedroom apartments. All of the rooms feature simple decor with modern amenities.
You'll notice in the rooms they are fitted with wooden furniture as well as wood-beamed ceilings. This is what gives the property a historical feel to it, besides the stone walls and floors. Residenza San Calisto mentions on their website that breakfast is available at the next-door Caffee San Calisto. You'll get one hot and one cold drink, plus a brioche and toast. Don't worry about where to eat, there's a restaurant on every street serving traditional Italian cuisine.
Residenza San Calisto location: Via dell'Arco di S. Calisto, 19, 00153 Roma
10. Sonder at Isola Tiberina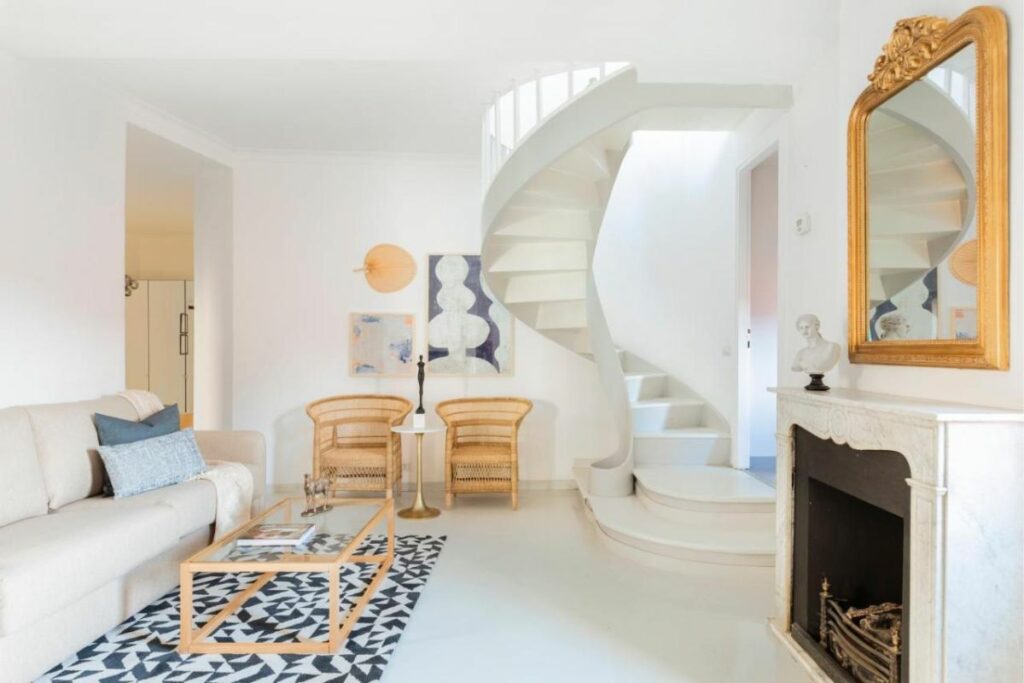 The last of the hotels in Trastevere Rome we want to mention is the Sonder at Isola Tiberina. This hotel is situated near the Synagogue of Rome, the Roman Forum, and Piazza Venezia. It is also right next to the RiverTiber's curve and it has amazing views everywhere you walk. It's just an overall beautiful part of the Trastevere neighborhood.
The hotel is very elegant although it is a 3-star aparthotel. You can book a two-bedroom suite which fits 6 people in total. Its rooms all have a well-equipped kitchen with a dining area, private bathrooms, dishwasher, microwave, and fridge, as well as a kettle and coffee machine. Although you have the possibility to make food for yourself, you'll still find a lot of local restaurants in the area.
For example, Ristorante Pizzeria Vincenzo alla Lungaretta, or Hostaria Dar Buttero. Other attractions nearby are the Piazza di Santa Maria in Trastevere and Belvedere Tarpeo. Sonder at Isola Tiberina hotel Trastevere Rome Italy is a great place to book for families and friends. Guests rate it at 8.5 on Booking.com.
Sonder at Isola Tiberina location: Via della Gensola, 53, 00153 Roma
Conclusion – Trastevere Rome hotels – Hotel Trastevere Rome Italy
I hope you have found at least one hotel Trastevere Rome Italy on this list to book. It's a mix of fancy and affordable hotels, perfect for any type of budget. All of them are great, but it will depend on you how close you wish to be to certain attractions in Rome. In case it's the Vatican City you're curious about then Villa Agrippina and Donna Camilla are great choices. If you're looking for great places to stay around the Vatican, check out St Peter Manor! You will love Trastevere as you discover it has one of the best views in Rome! Make sure you also check out the best pizza places in Rome!
Pin it: 10 Best Hotels in Trastevere Rome