10 Best Hotels to Stay in Bologna
Are you planning to visit the Emilia Romagna region? Then you cannot miss out on visiting Bologna. This whole region is just stunning. But even more than that, Bologna is considered the capital of food. What's better than Italian pasta and a glass of wine on a night out in the center of Bologna? In case that's what you wish to do, then you must know the best Bologna hotels to say at.
10 Best Hotels to Stay in Bologna
There are a lot of things to do in Bologna, even in one day, however, to fully experience the city, we suggest visiting for more than one day. That is the reason why we prepared this article on hotels in Bologna Italy, so you get the best experience during your stay. We've found luxury hotels, Bologna hotels near railways station and some budget-friendly ones too. Let's not waste any more time and get into our list of best hotels in Bologna!
1. Grand Hotel Majestic gia' Baglioni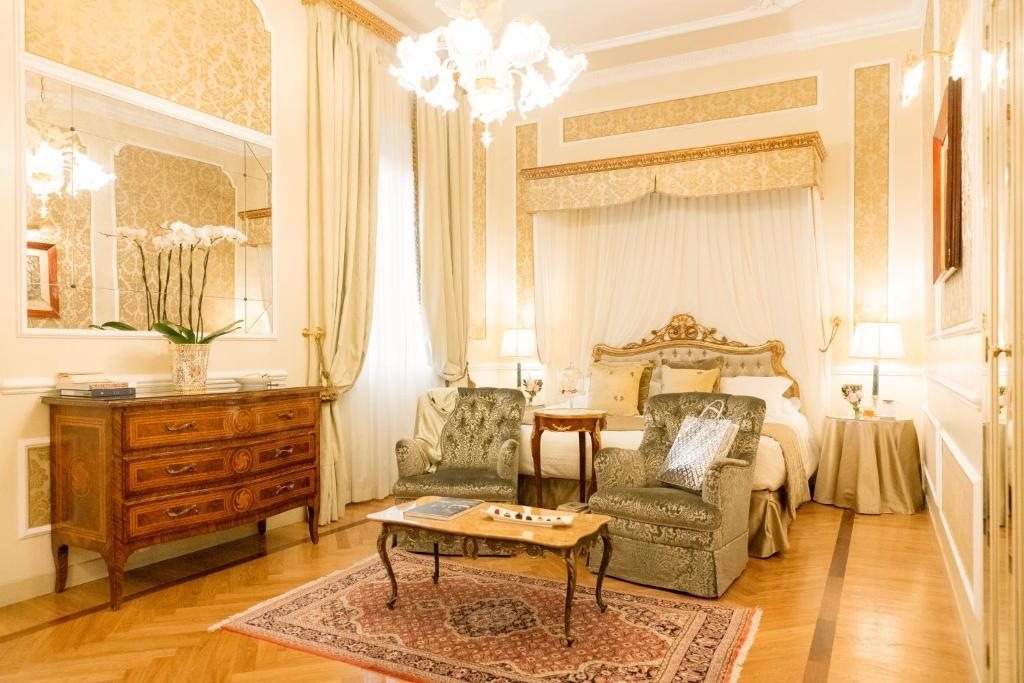 First off, we're starting our list of hotels in Bologna Italy with Grand Hotel Majestic gia' Baglioni. This is a beautifully decorated hotel in an 18th-century palace. Inside you'll find antique furnishing while the decor is still elegant. Besides the furniture, there are also frescoes to admire. The bathrooms are very spacious and luxurious.
It's the perfect accommodation as it is in the city center, a few minutes away from Piazza Maggiore. Other attractions nearby are the Two Tours and the Palazzo Fava. The train station is 15 minutes away so in case you wish to do some trips from Bologna you can easily do that too.
The hotel features a spa and wellness center where you can enjoy massages. It also has a gym, steam room, hammam, and sauna. There's an on-site restaurant called Ristorante I Caracci which serves regional cuisine. For coffee, desserts, and alcohol you have Cafe Marinetti. But the best part, there's a wine cellar called Enoteca Morandi with over 300 Italian and foreign wine labels. This hotel has it all!
Grand Hotel Majestic gia' Baglioni location: Via dell'Indipendenza, 8, 40121 Bologna
2. PHI HOTEL BOLOGNA "Al Cappello Rosso"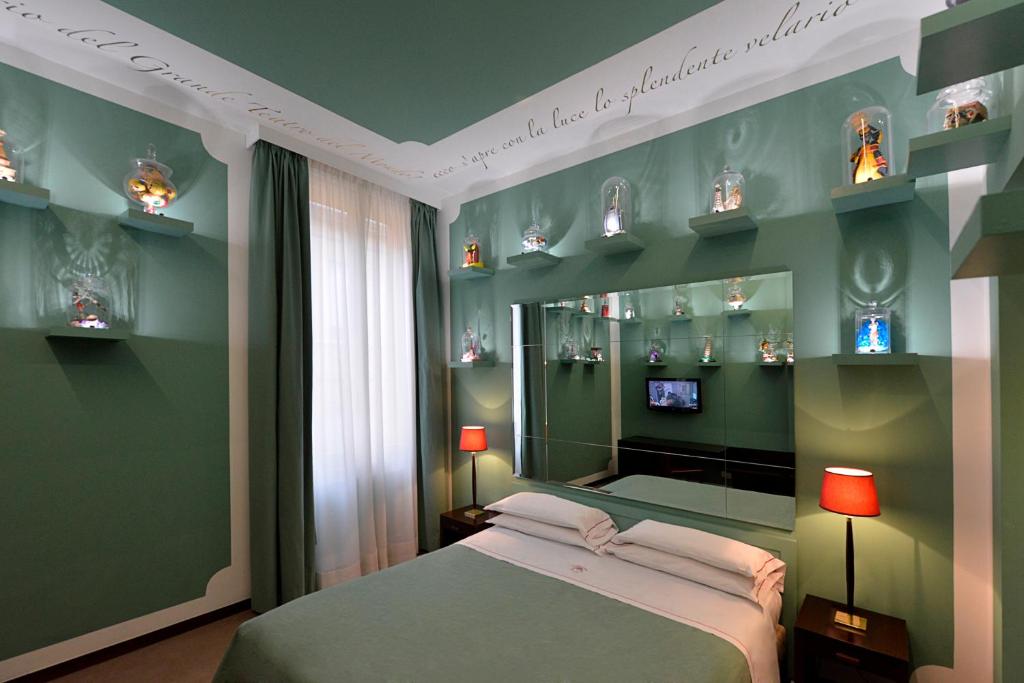 Fancy staying at a boutique hotel? Phi Hotel Bologna "Al Cappello Rosso" will fulfill that desire. The hotel is among the oldest boutique hotels in Bologna, dating back to 1375. It is in the heart of the historic center. It's not just the building that's fascinating, but also the fact that it holds 600 years of hospitality. Understandably, the hotel has been renovated since and now it has modern facilities to make your stay more enjoyable.
The rooms are simply furnished. They all have a pop of color, either green, red or blue. Inside the rooms, the bathrooms are very spacious, some with a large bathtub. The rooms also have a kettle, tea and coffee, minibar, and air conditioning. Breakfast is served in the morning, with a selection of sweet and savory meals with gluten-free and organic options.
Thankfully, a restaurant is available on-site so you don't have to be far away to try out some local food. The Osteria del Cappello restaurant serves local and classic Italian dishes. As you are in the city center, you're close to all of the major attractions. Some of the closest ones are the Palazzo Comunale, San Petronio Basilica, and the Piazza del Nettuno.
PHI HOTEL BOLOGNA "Al Cappello Rosso" location: Via de' Fusari, 9, 40123 Bologna
3. Art Hotel Commercianti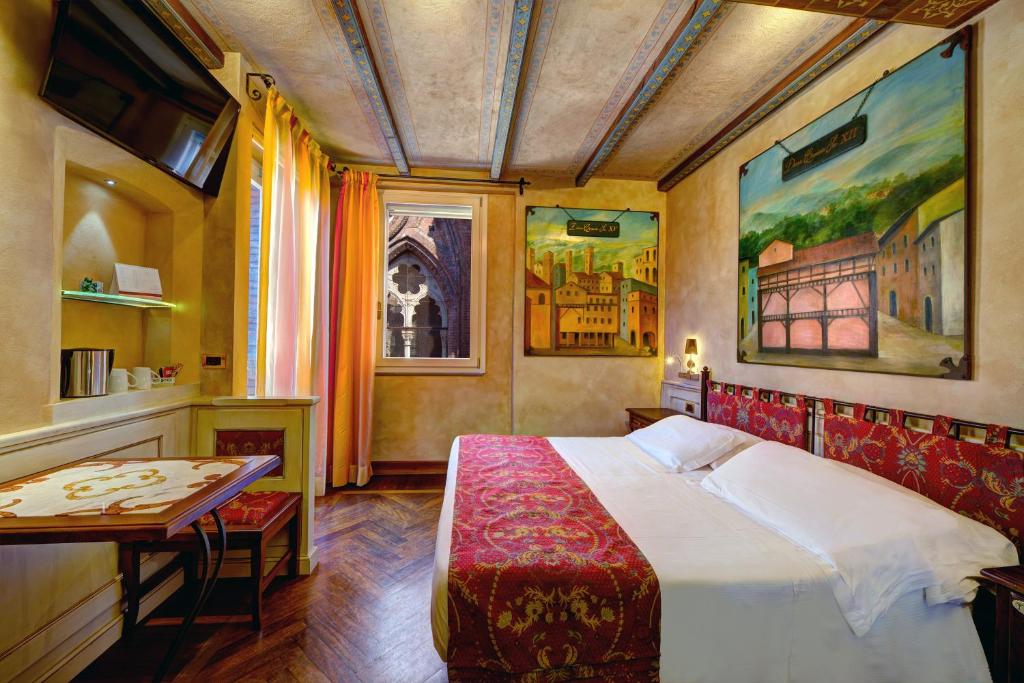 Are you looking for a 4-star hotel in the center of Bologna? Art Hotel Commercianti is one of the best hotels in Bologna Italy for couples or anyone traveling in two. The reason why it's so special is the fact that San Petronio Basilica is right next to the hotel and you get to look at the stunning architecture while enjoying breakfast or a cup of coffee.
Besides the amazing views from the terrace, Art Hotel Commercianti has some gorgeous interior designs. It's as if you're traveling back in time, staying in rooms filled with paintings and gothic decor. You'll notice vaulted ceilings, wooden beams, elegant balconies as well as gothic stained glass windows.
Although there's no restaurant on-site, breakfast can be served in the room, you can order drinks at the bar. Some of the facilities at the hotel include cooking classes outside of the hotel for an additional charge or walking tours. You can also purchase Opera tickets at the hotel's reception. With an 8.9 star rating, the hotel is very much loved by customers.
Art Hotel Commercianti location: Via de' Pignattari, 11, 40124 Bologna
4. Royal Hotel Carlton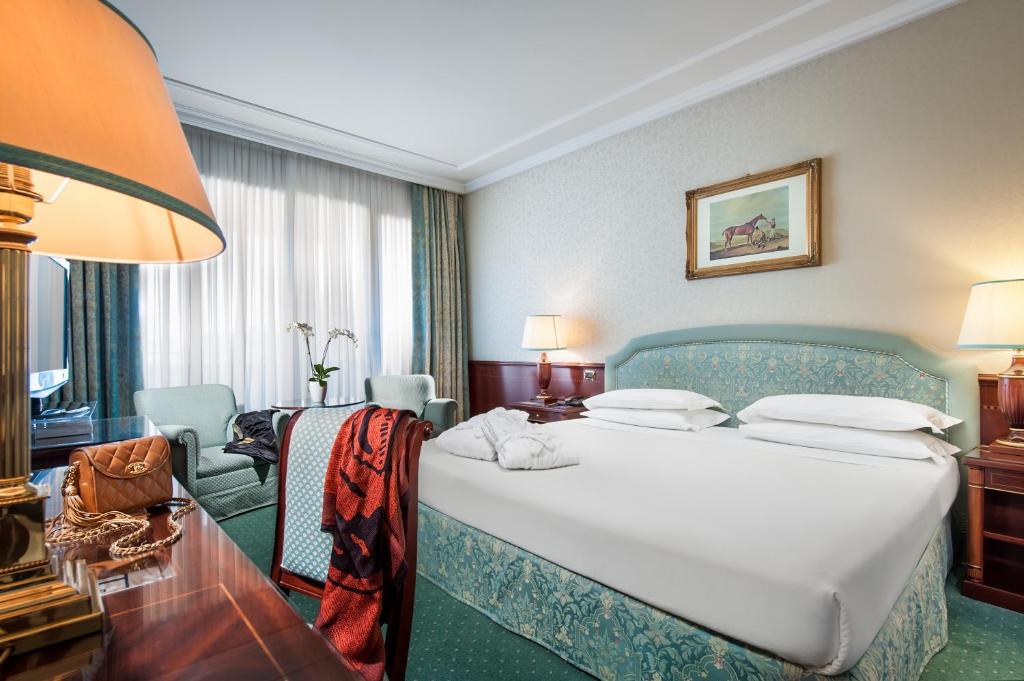 Royal Hotel Carlton is one of the Bologna hotels near the railway station. This property is beautiful both from the inside and out. Inside the rooms, you have elegant decor, a comfortable bed, and a desk in case you need to get some work done. The bathrooms are spacious and made of marble. Some of the rooms also have a hydromassage in the bathroom.
Breakfast is served on a daily basis and you can choose from Italian pastries and cakes or cold meats, cheese, and fruit. If you're wishing to enjoy lunch and dinner too, the hotel's restaurant serves regional and international specialties. In case you do not want to dine at the hotel's restaurant, there are plenty of options near the property.
Royal Carlton has a spa that features a sauna, Turkish baths, and wellness treatments. You can book yourself a massage and there's even a gym inside the hotel. Lastly, the closest attractions are the Parco La Montagnola, but the Piazza Maggiore is also not too far away. After all, since you're next to the train station, it's easy to get around the city.
Royal Hotel Carlton location: Via Montebello, 8, 40121 Bologna
5. Hotel Corona d'Oro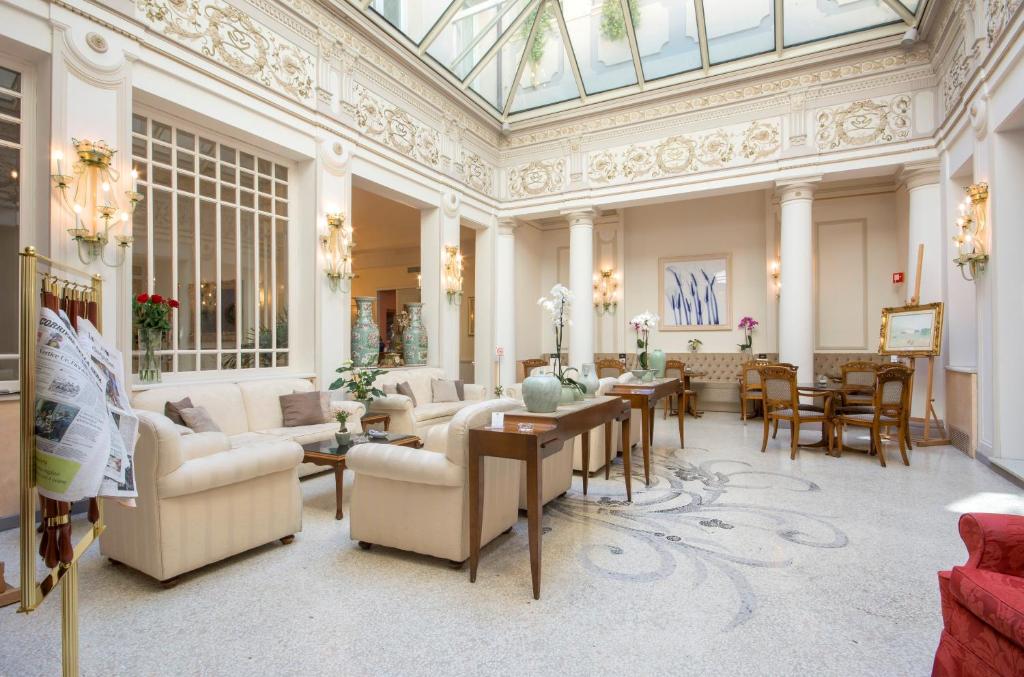 Back to the city center hotels in Bologna Italy, Hotel Corona d'Oro is another beautiful one to consider staying at. It is not too far away from the Towers and it's the perfect location to go sightseeing. Their rooms are quite large and the decorations are subtle, simple, and classic. They include a minibar, free wifi, and TV. Some of them even overlook the Towers.
Breakfast is available in the morning and the hotel also has its own restaurant. In case you want to go sightseeing the hotel staff can help with booking tour reservations and Opera tickets. Moreover, you can use the bikes at the hotel for free and just tour the city. Hotel Corona d'Oro is right next to the Piazza Maggiore along with the Bologna Towers and Palazzo del Podestà.
Hotel Corona d'Oro location: Via Guglielmo Oberdan, 12, 40126 Bologna
6. Aemilia Hotel Bologna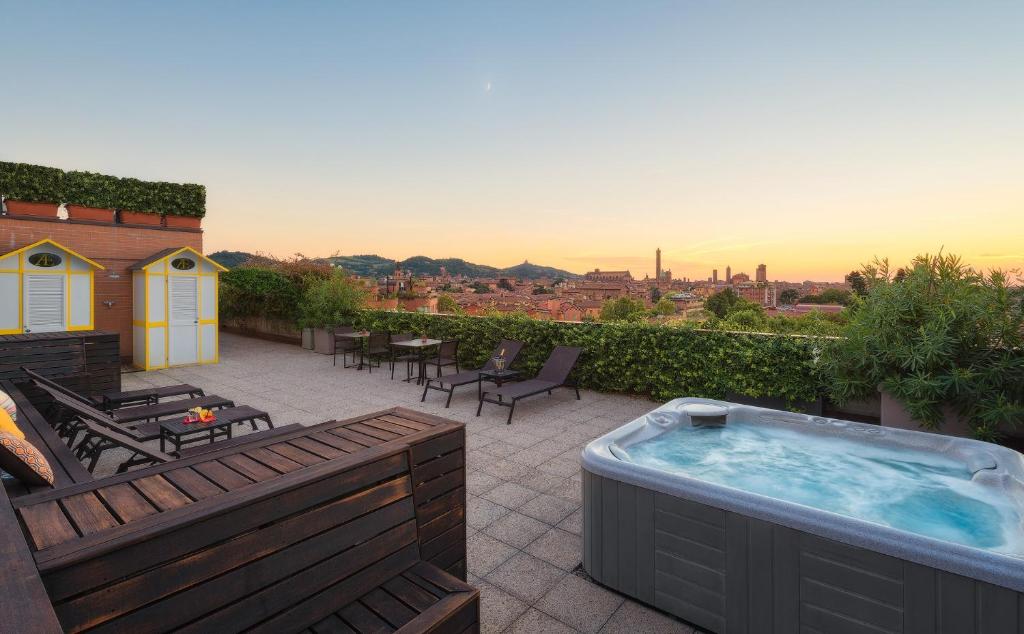 Aemilia Hotel Bologna is a 4-star hotel with a rating of 9/10. This hotel is only 15 minutes walk from Bologna's city center and the Towers. Unlike the rest of the hotels on this list, Aemilia Hotel has modern rooms. They include free wifi, an LCD TV with international channels, and some stunning bathrooms.
We also have to mention that the hotel has a jacuzzi on the rooftop where you get to see the city in its full beauty. Just enjoy a glass of red wine while you chat with your friends. Some other facilities include a fitness center, business center, and meeting rooms. The whole aesthetic of the hotel is exquisite.
In the morning enjoy a lovely buffet breakfast. Aemilia Hotel Bologna's Gurmé restaurant will serve local specialties as well as Italian favorites. You'll be closest to Piazza La Veneta which you must check out! La Macchina del Tempo is over a mile away. Check out some local restaurants as well such as Ristorante Greco Delogo.
Aemilia Hotel Bologna location: Via Zaccherini Alvisi, 16, 40138 Bologna
7. NH Bologna De La Gare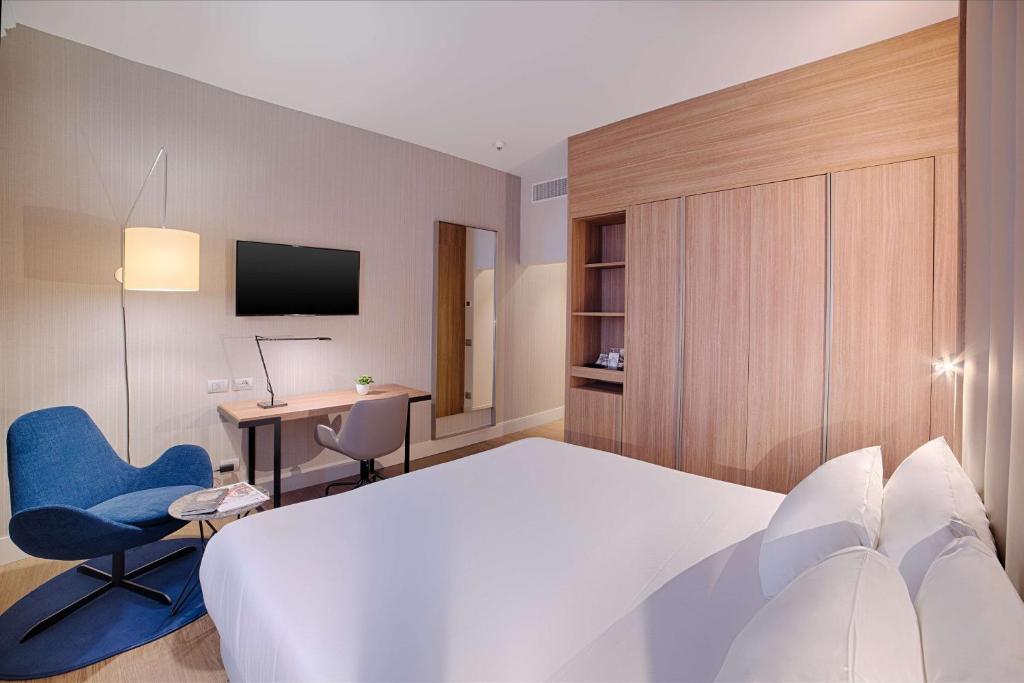 As the name suggests, NH Bologna De La Gare is right next to the Bologna Central Train Station. It's also located in the shopping district of Bologna if that's something that interests you when you're visiting the city. The rooms inside are decorated in a classic or modern way. Everything looks very clean and tidy. The beds are comfortable, there's an armchair to sit on where you can read and a desk to work at.
At NH Bologna De La Gare the restaurant in the morning serves delicious breakfast. It's called Amarcord Restaurant and it is also open daily for lunch and dinner. You'll find some Emilia-Romagna specialties as well as a vegetarian menu and children's food. It doesn't have a pool or a fitness center, but due to its location, it's perfect for business meetings or if you're just staying in the city for one or two days.
You'll be next to the gardens of Parco della Montagnola, a perfect place to have your morning walks after breakfast. The hotel is only 10 minutes away from the Bologna Cathedral and about 2 miles away from the Fiera di Bologna exhibition center. Guests gave the hotel the highest rate due to its location and cleanliness.
NH Bologna De La Gare location: Piazza XX Settembre, 2, 40121 Bologna
8. Hotel Cavour
Hotel Cavour is a mix between elegant, modern furniture and classic decor. It's one of the best hotels in Bologna Italy located in the historical center. I am very impressed with this hotel especially since it is a 3-star hotel yet it got 8.8 reviews from guests on Booking.com. Furthermore, the hotel received a 9.8 rating just for the location, meaning it's the perfect location for visiting the city. Hotel Cavour serves a buffet breakfast in the morning which includes hot drinks as well as pastries.
You can either enjoy them in the dining room or during summer on the terrace. At the same time, you're having breakfast, you get to enjoy the views of the Towers. The hotel does not have a restaurant on-site, however, there are a few in the area. For example, two local ones are Franco Rossi and Osteria delle Donzelle. Besides the Towers, Piazza Maggiore is also just 5 minutes away. Guest especially love walking around the neighborhood. The Cattedrale Metropolitana di San Pietro is not far away from the hotel. This is the one with the tall bell tower you might have seen in the photos.
Hotel Cavour location: Via Goito, 4, 40126 Bologna
9. AC Hotel Bologna by Marriott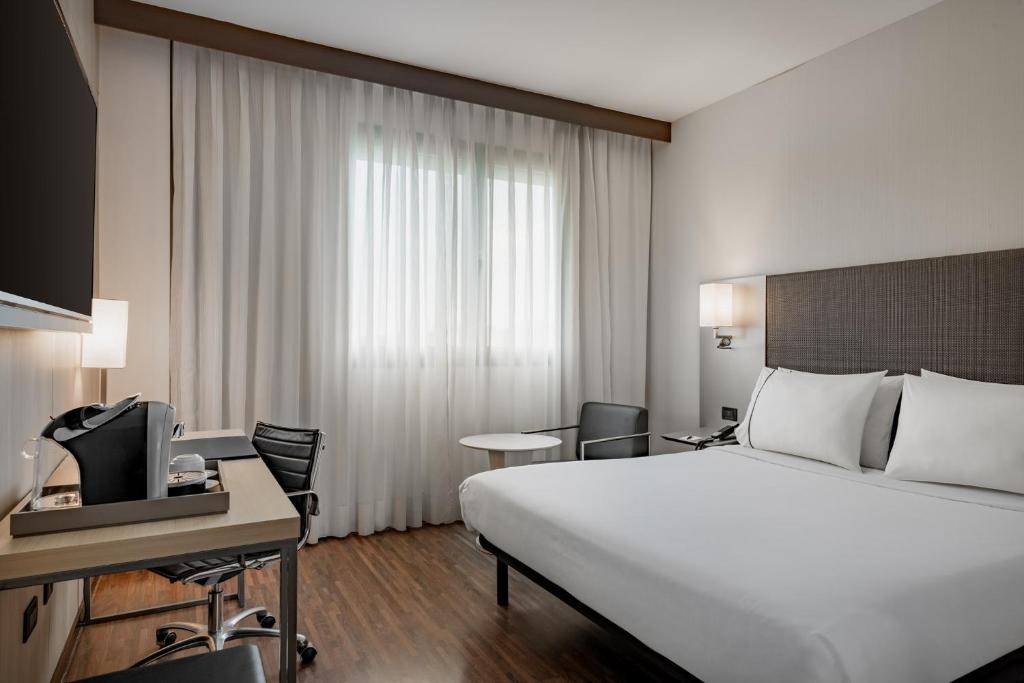 AC Hotel Bologna by Marriott is another one of the best hotels in Bologna Italy that are also near the Central Train Station. It is also a 15-minute walk from the Fiera di Bologna convention center. If you're familiar with AC Hotels then you'll know they are beautifully furnished. This one is not different from the rest.
The rooms are spacious and offer modern decor. Inside the rooms, you'll have a TV with more than 20 channels, a bathroom with a bath, and a hairdryer. AC Hotel Bologna offers a buffet breakfast at the hotel's lounge. The hotel also has a restaurant on-site where you can enjoy some food and drinks.
If you still want to keep up with your fitness goals, enjoy AC Hotel's fitness center. Book a massage to relax even more! This hotel is perfect for business meetings or keeping conferences. The conference rooms are large and hold a lot of people, so it's perfect for any occasion.
AC Hotel Bologna by Marriott location: Via Sebastiano Serlio, 28, 40128 Bologna
10. Hotel Internazionale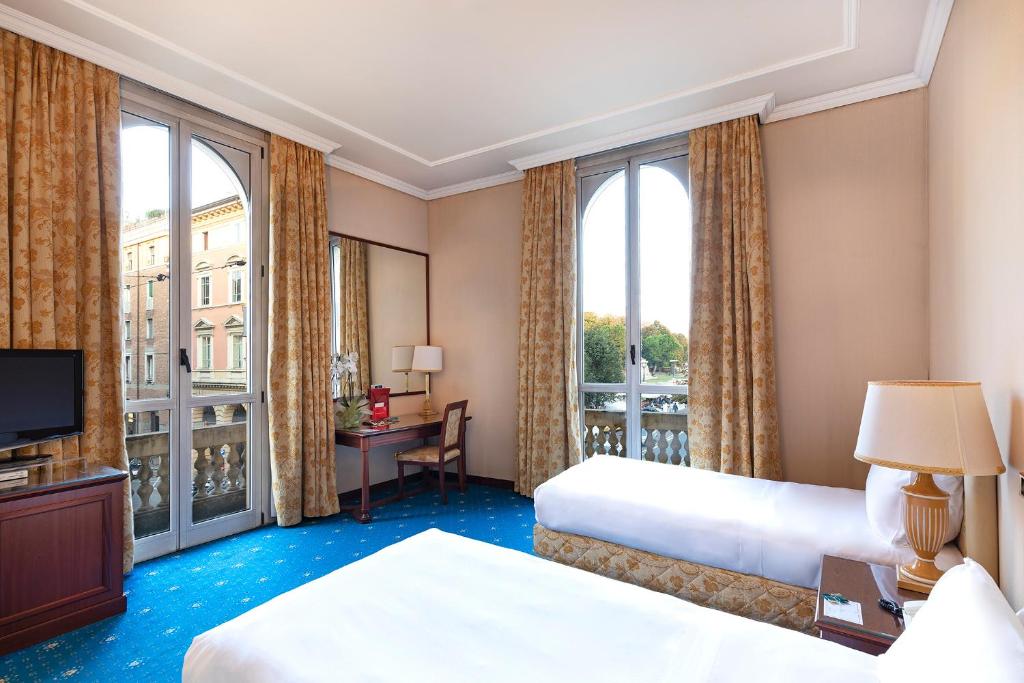 Hotel Internazionale is the perfect hotel which is situated between the historic center as well as the Bologna Central Station. This is a typical Italian hotel, with gorgeous furnishing and decoration. They all have private bathrooms equipped with hairdryers and toiletry sets. You also have access to the Royal Hotel Carlton fitness center.
As the hotel is very close, you can use the spa too for an extra charge. Enjoy the buffet breakfast in the morning in the hotel's dining room. The bar is available for drinks and snacks. Piazza Maggiore is just a few minutes away from the hotel and there are buses taking you to the Bologna Airport in case you're just passing by.
As far as activities, you can play golf on a golf course which is about 3 km away. There's a terrace outside the hotel where you can enjoy breakfast and drinks. For restaurant options, there's Trattoria Bolognese or cafes such as Onda Marina. Plenty of options to choose from!
Hotel Internazionale location: Via dell'Indipendenza, 60, 40121 Bologna
Best Hotels in Bologna – Conclusion
That's the end of our Bologna hotels list. We have included some of the finest hotels in Bologna Italy so you enjoy your stay to the fullest. Whether you're visiting the city, staying overnight, or doing a tour of the Emilia Romagna region, Bologna is a great place. Enjoy the local food, discover the historical center and taste some Italian wine!
Pin it: 10 Best Hotels to Stay in Bologna