10 Best Day Trips from Venice
No doubt that Venice, Italy is on everyone's bucket list. Moreover, it is also among the world's most uniques places to visit. That said, there are charming less-known places to visit on a day trip from Venice. For instance, the enchanting Murano and Burano islands are a must-see! Secondly, there are pretty cities nearby like Padua. Thirdly the Prosecco region is the perfect stop for those who want to enjoy a glass of good wine. There are a lot of possibilities for those who want to take a day trip from Venice by train. Tourists can take a day trip from Venice to Verona and Lake Garda. Now you might be a bit confused: which are then the best day trips from Venice according to the travelers?
10 best day trips from Venice Italy
Being a tourist in Venice can sometimes be overwhelming. This is a consequence of the crowd and the mass of tourists that invades the city almost every day of the year. So why don't you take a day trip to one of the interesting locations close by? In the following list, you will surely find the best spot according to your taste.
1. Padua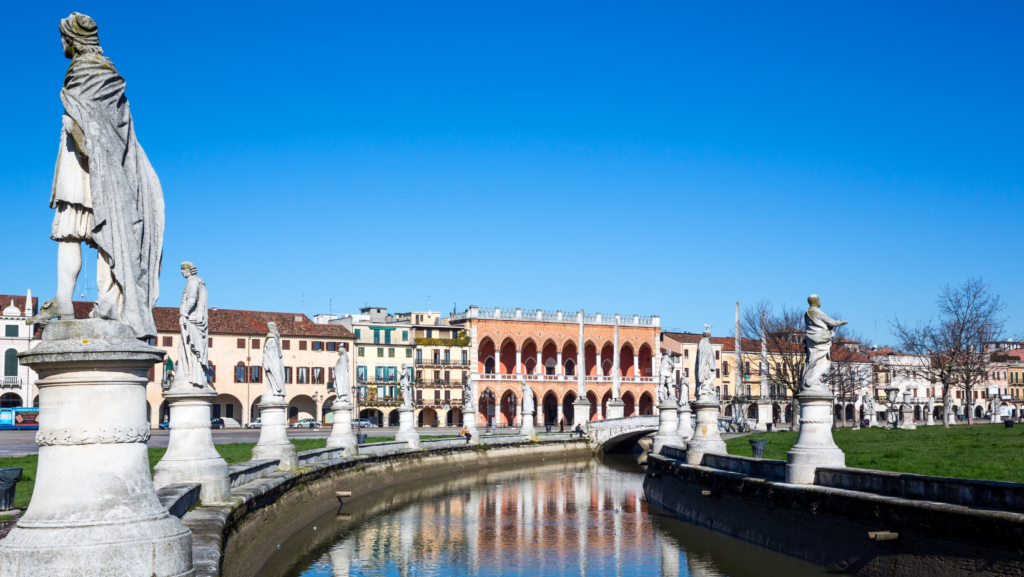 Among day trips from Venice by train this is the fastest and easiest one. If you are tired and don't want to spend time planning a trip, this is the right location for you. First of all, only half an hour with the local cheap train and you will get to Padua city.
Secondly, Padua has a lot of nice things to see that you can cover in one day. Visit Prato della Valle (the biggest square in Italy), the Basilica of Saint Giustina, stroll around the old Jewish quarter and see Piazza dei Signori and the clock tower.
2. Pordenone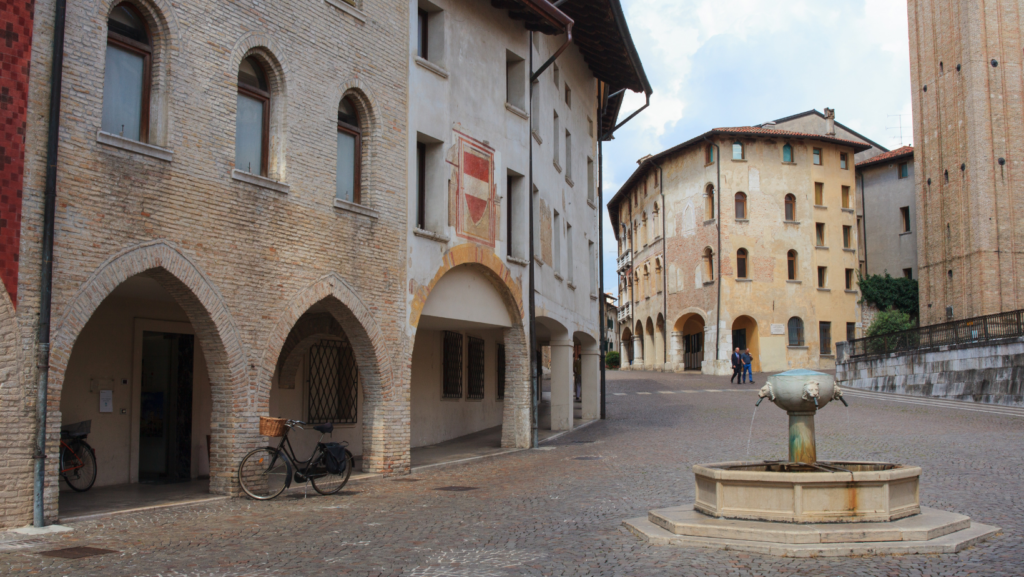 Pordenone is one of the most evocative cities of Friuli Venezia Giulia region. Visiting Pordenone will plunge you into a truly characteristic medieval historic city center. Moreover, you can visit it in half a day! The Town Hall is the most important tourist attraction.
Very close to the Town Hall you will find the dome with its beautiful frescos. Travelers love to walk in this city center.  In fact, the arcades of Pordenone are the longest in Italy, after those of Bologna, and host shops, historic cafes, and even the Civic Museum.
3. Vicenza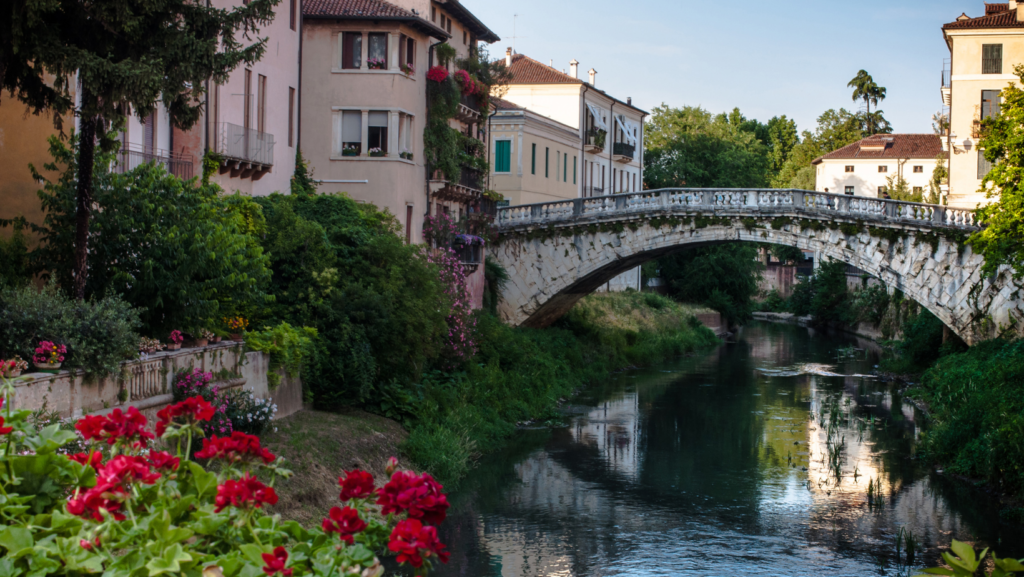 Vicenza is one of the most beautiful and elegant cities in the Veneto region. Consider half a day to see the historic center. However, If you want to see the surroundings with the charming Venetian villas, then consider a full day.
Corso Palladio is full of palaces with beautiful facades designed when the nobility of Vicenza competed with Venice in exhibiting its wealth. Piazza dei Signori is a must-see! Here you should drink a spritz as the locals do! Don't miss the Olimpic theatre. It is the oldest covered masonry theater in the world!
4. Murano, Torcello and Burano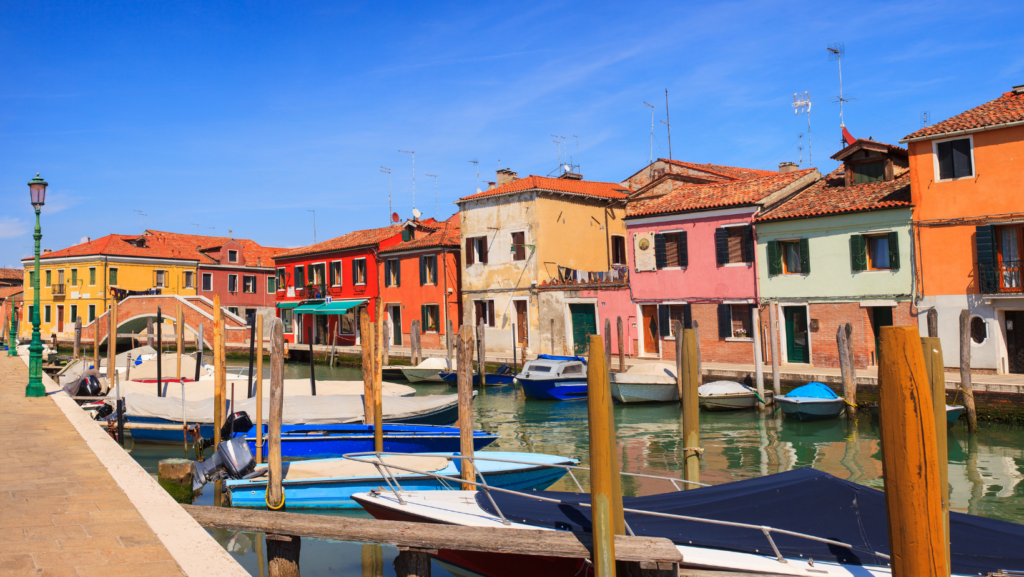 What can't be missed during a holiday in Venice are its three beautiful islands. If you like boat trips this is surely one of the best day trips from Venice! Murano, located in the north of Venice, has been the center of Venice's famous glass industry since 1291. Glassblowers still make amazing pieces of Murano glass today. Here you can buy pretty souvenirs.
Further north, Burano island is characterized by quiet canals. Beautiful brightly painted fishermen's houses can be seen everywhere. This is the best place to take fantastic pictures! The nearby island of Torcello was founded in 452 and is considered the first populated island of the Venetian lagoon.
---
More day trips from Venice, Italy
---
5. Venice Lido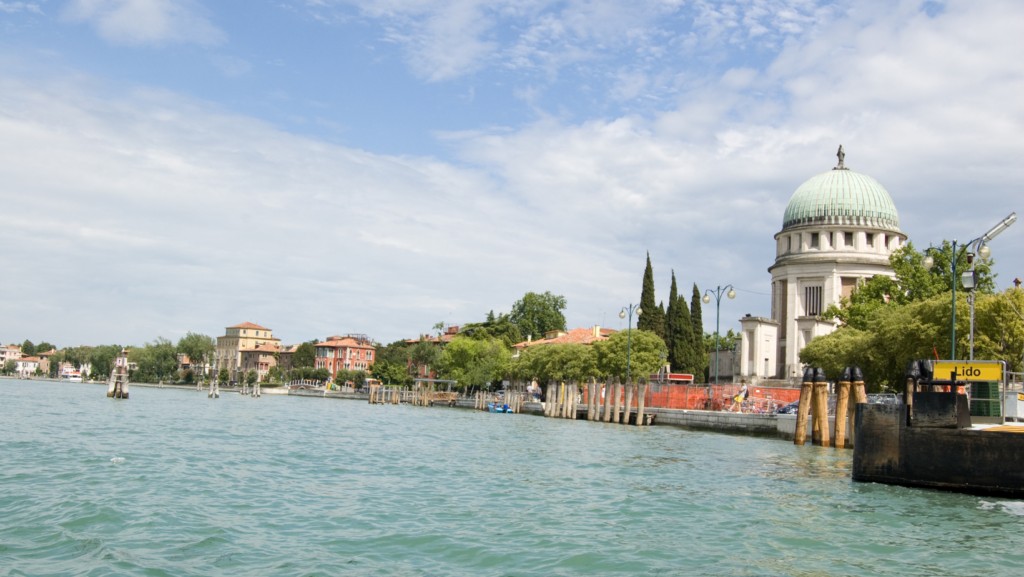 If you have had enough of visiting churches, and canals and you need to find more tranquillity, Lido is the place for you. There is a ferry that links Venice to Lido island. In about an hour you will be lying on a beach while eating a tasty Italian gelato!
Moreover, Lido is also called the cinema island because every year it hosts the famous Venetian film festival. Therefore, if you visit the island in September you can also do celebrity spotting!
6. Verona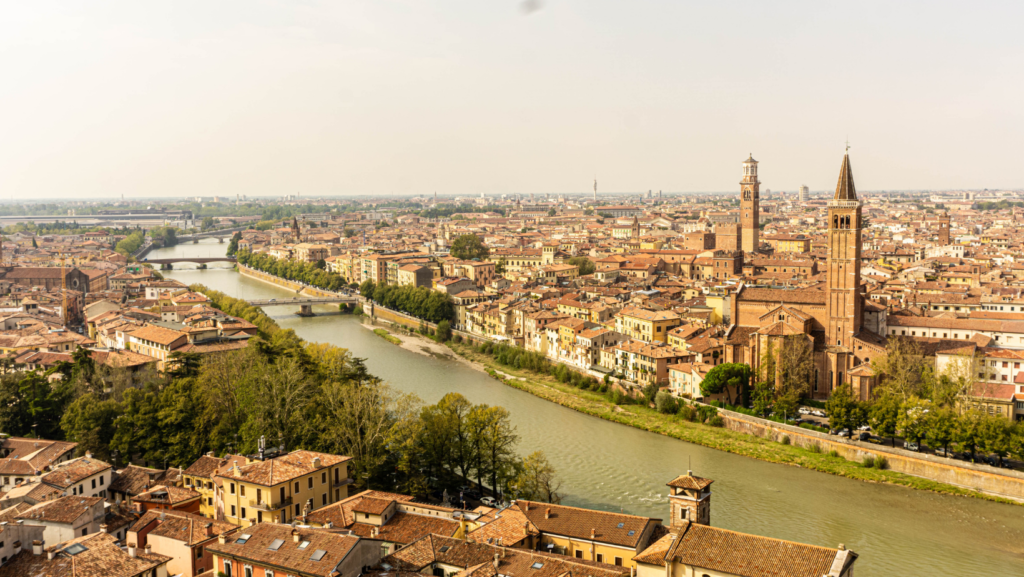 "O Romeo, Romeo! Why are you, Romeo?" How many times have you heard these words and imagined the scene between the two lovers? If your time schedule is not tight, a day trip from Venice to Verona and Lake Garda is a perfect choice. Moreover, Verona is the city of lovers. On Piazza Bra there are fabulous architectural works and historic buildings, such as the famous Arena di Verona, the Palazzo della Gran Guardia and Palazzo Barbieri (the Town Hall).
Furthermore, this is always a good place to enjoy the nightlife. The stunning Piazza dei Signori: also known as Piazza Dante is surrounded by many buildings connected by splendid arches. You cannot visit Verona in one day without stopping by the balcony in Juliet's house! The courtyard is covered with padlocks and graffiti hung by lovers.
7. Sirmione – Lake Garda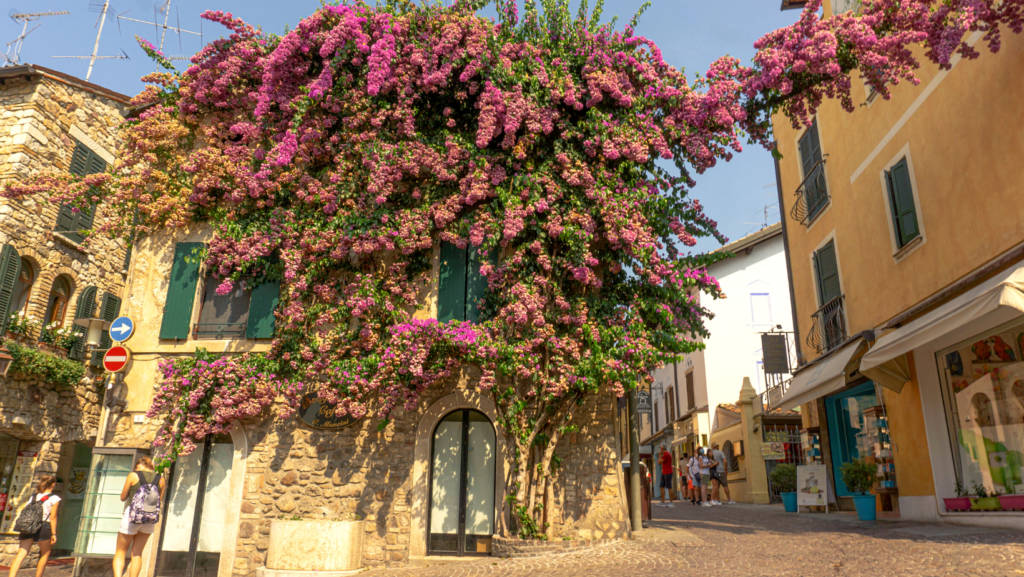 The day trip from Venice to Verona and Lake Garda continues up to the major Italian lake. The Scaligero Castle of Sirmione dates back to 1250 and is one of the best-preserved castles in Italy. It is worth a visit! Sirmione is a popular tourist destination because of all the leisure activities that the town city offers.
Nevertheless, you can enjoy both social life and relaxing moments at the beach. You can discover the peninsula of Sirmione, stop by for a great lunch, find the beaches on the south shore of Lake Garda, as well as enjoy some romantic walks in the blooming town.
8. Peschiera del Garda – Lake Garda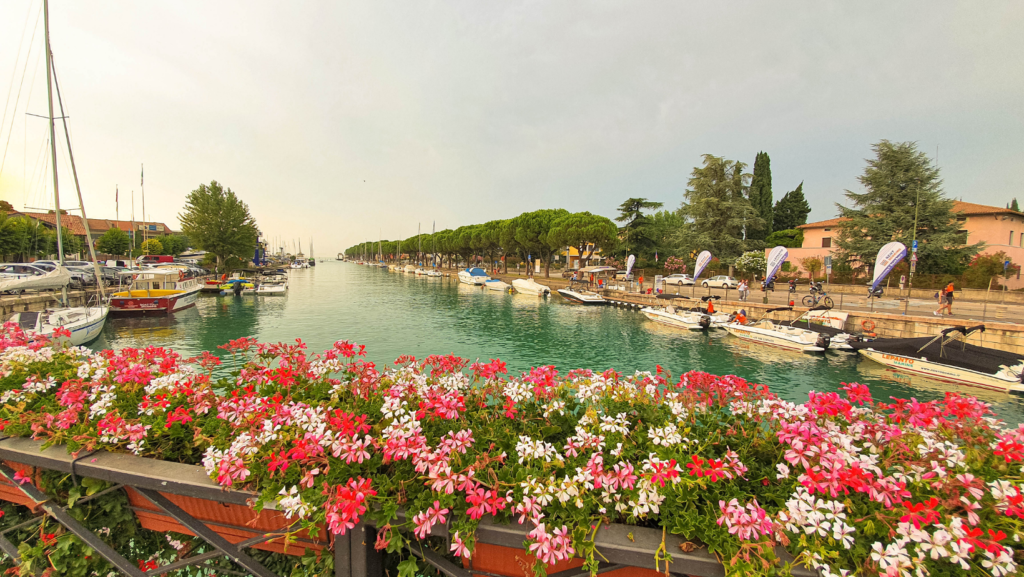 Peschiera del Garda is one of the most famous locations on Lake Garda. There are many historical things to see, but there are also many natural and leisure attractions. In the 6th century, it was a military stronghold.
The first thing to see in Peschiera del Garda is the whole fortress that encloses the historic center. If you then cross Porta Brescia, you can see the bastion front defended by the water moat called Fossa Reale. Finally, you can admire the breathtaking landscapes on the lakefront.
9. Mantua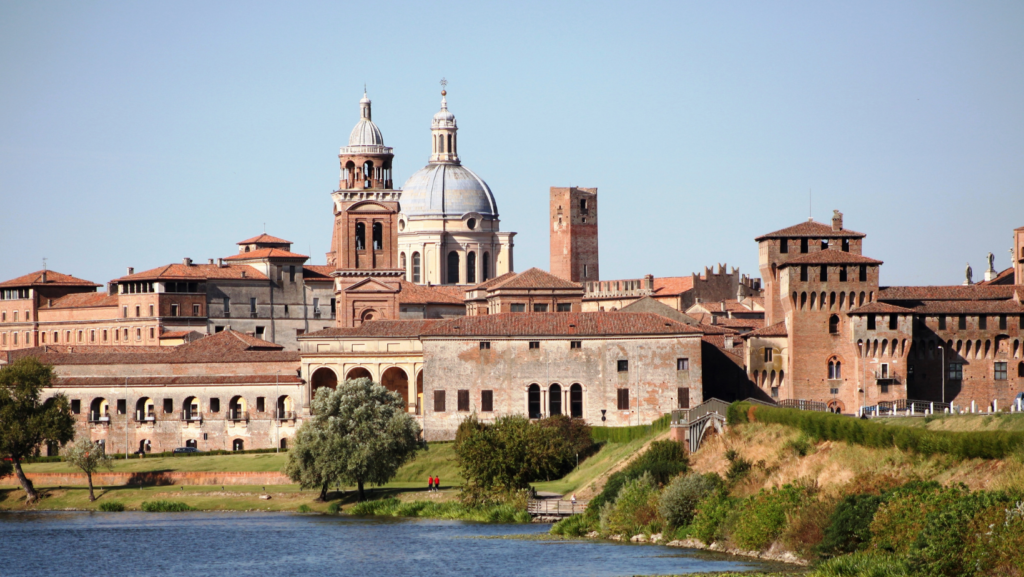 Is located on the border between Veneto and Emilia-Romagna and is a short distance from Lake Garda. Among the day trips from Venice, this is the further one. To save time it is recommended to rent a car. The city is known as the sleeping beauty because it hasn't changed its appearance. It's a perfect destination for a day of relaxation, fun, and culture!
We suggest you try the "sbrisolona" cake, a very crumbly dessert made with chopped almonds. Admire the square with the astronomical clock tower and the Rotonda di San Lorenzo, a Romanesque church with a circular plan. A few steps from the square stands the church of Sant'Andrea. Renaissance masterpiece: an unmissable destination for anyone visiting the city.
10. Prosecco Region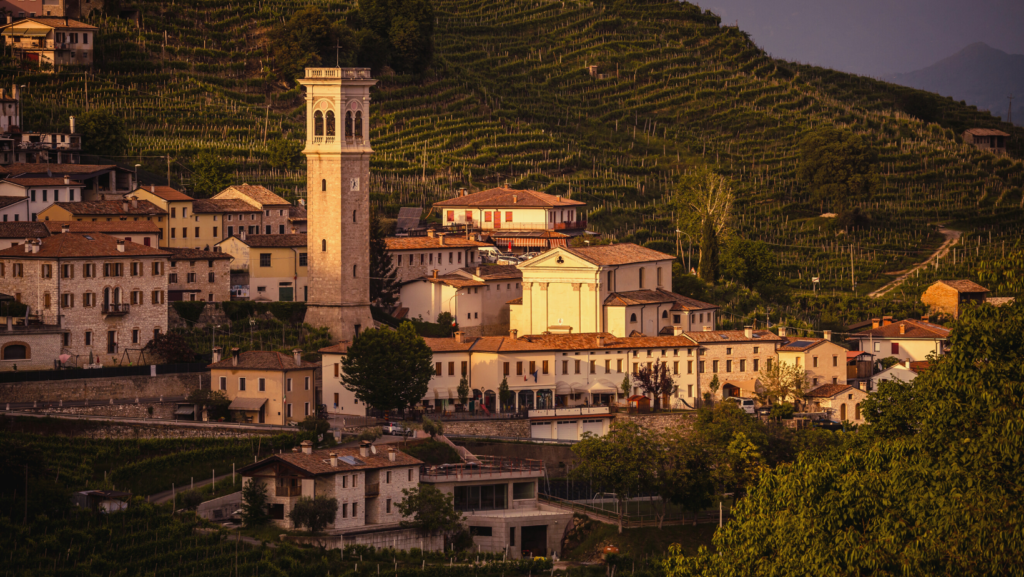 Wine lovers, here you can find your paradise! Stroll through the charming medieval streets of Asolo and Bassano del Grappa. Visit Villa Barbaro, designed by the famous Renaissance architect Palladio. Savor Venetian cuisine at a local restaurant and toast your trip with a glass of sparkling prosecco during a vineyard tasting.
Wrapping up 10 best day trips from Venice
A day trip from Venice to Verona and Lake Garda will drive you from romantic streets and fun nightlife to the enchanting and calm shores of the lake. Cinephiles may choose a day trip to Lido island and enjoy sunbathing on the beach. History and art lovers might find it difficult to choose between Vicenza, Padua, and Pordenone.
Photographers will definitely go for Murano and Burano islands for their perfectly instagrammable spots! Wine lovers won't hesitate to pick the Prosecco region as their favorite day trip from Venice. Now it's up to you! Choose the best day trip from Venice and enjoy your Italian holiday to the fullest! Also, make sure you've checked out our post for accommodation in Venice, and the best restaurants in the city!
Pin it: 10 day trips from Venice, Italy