15 Best Italian Appetizers
If you've been looking for the best Italian appetizers, you couldn't have picked a better site than Italy Best! In Italy, Aperitivo time is saint and sacred. And there are plenty of options for easy Italian appetizers, cold Italian appetizers, those that are great for just a few people, and those who are great for crowds. You'll get some traditional Italian appetizer ideas here, along with some guides on how to make them, or where to get them. Also, we've added some liked articles for recipes to plenty of those that you'll find below. All of these articles are from one of our websites. And now, let's see what to serve to enjoy a real Italian Aperitivo!
15 Best Italian Appetizers
When we speak about Italian appetizers, we can speak both about food and drink. In this article, we're concentrating only on food, however, we have a list of the best Italian cocktails where you can find plenty of Aperitivo cocktails! Since we're talking here about food, you'll get ideas for Italian sausage appetizers, and Italian bread appetizers beyond many others.
We will give you more than 15 ideas for an Italian appetizer platter, just pay attention to every sentence! When it comes to Italian food appetizers, there's no way you couldn't list at least 100 variations. Also, beyond appetizers, we have articles for the best Italian regional dishes, the best Italian pasta dishes, traditional Roman dishes, Italian desserts, and much more!
1. Cold Meat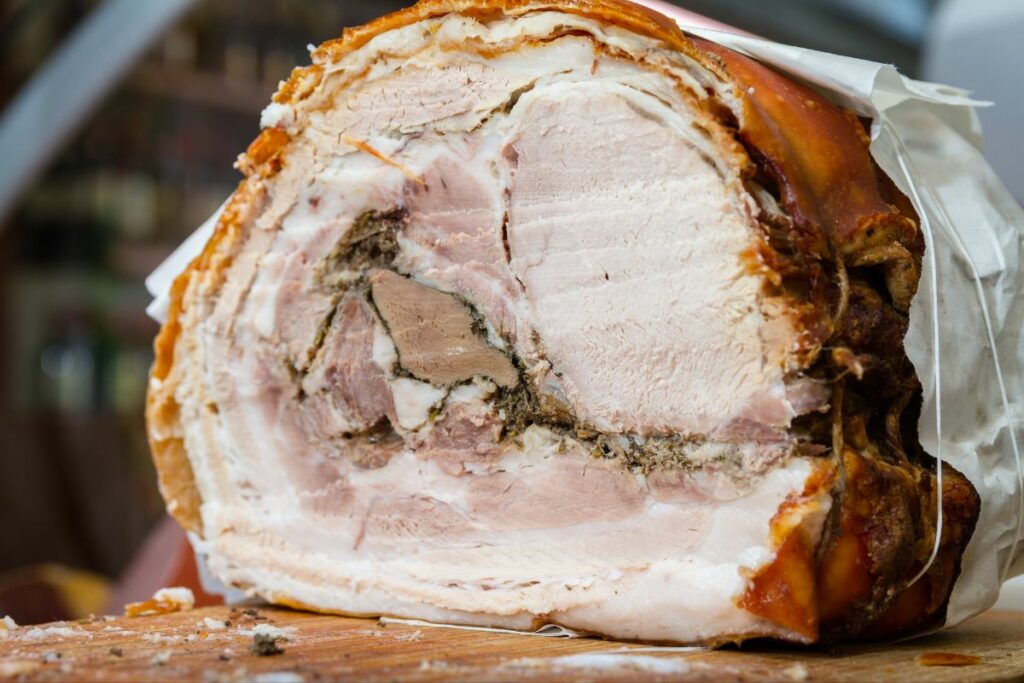 There's no better pick for the best Italian appetizers list than cold cuts. Italy has plenty of different delicious salami and cold cuts. Many of them can be found in other countries too, though it's always better to buy them in Italy. Salami and cold cuts are classic Italian appetizers that never miss an Italian table.
But which are the best Italian food appetizers when it comes to cold meat? First, one that's the easiest to find in shops is the Prosciutto di Parma or Prosciutto Crudo. You can find different types of Italian salami, as well as Coppa and Pancetta too. These last two are especially great if you're in Italy, and you're passing Piacenza. Another great favorite is definitely the Porchetta. This pork cold cut is the most amazing, and it's the best getting it from Tuscany.
2. Pizzette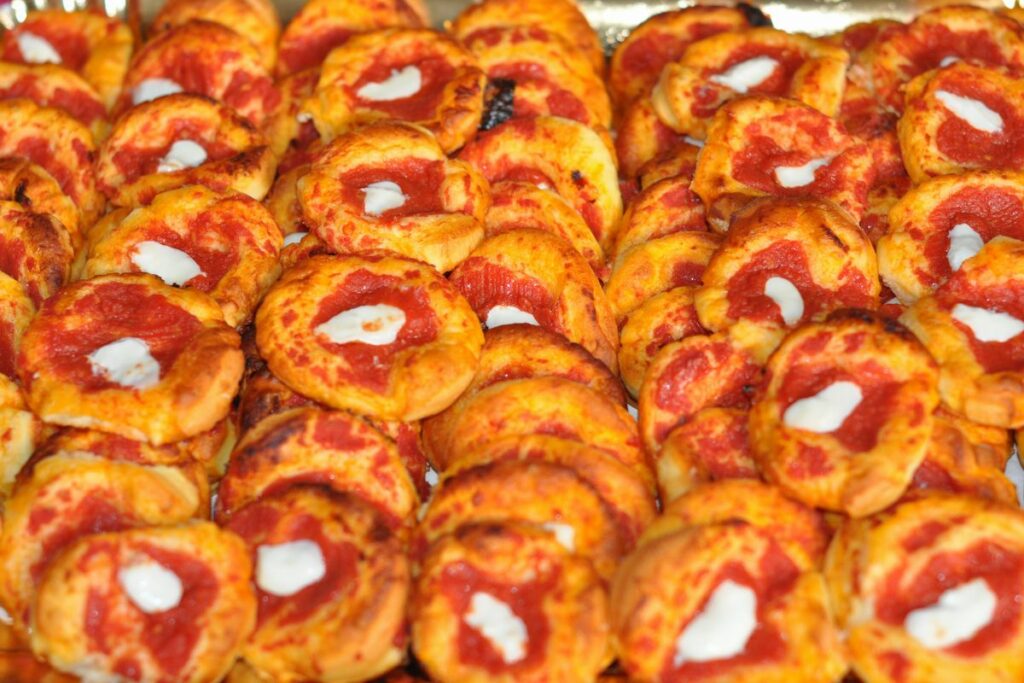 Pizzette is the best Italian appetizer for those who love pizza. This one isn't really matching the cold Italian appetizers, but it's easy to warm them up before serving if it's needed. Pizzette are basically mini pizzas you can easily make at home. A good idea for those who are looking for an idea for Italian bread appetizer.
You can use normal pizza dough and with a large glass, you can make the mini pizza forms. As for normal pizza, you can get creative with Pizzette too. It can be a simple Margherita pizza, but you can check for different ideas for Italian pizza and remake the ones you like. Of course, with mini pizza, you'll be a bit more limited with ingredients but think like Gulliver in Lilliput.
3. Focaccia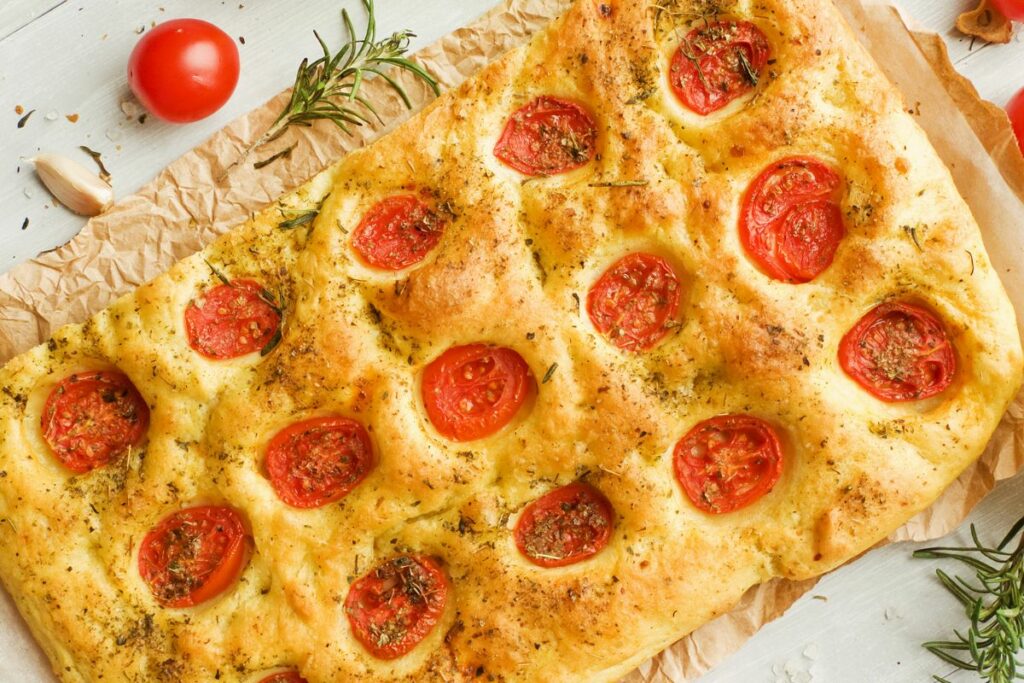 Focaccia is one of the best Italian bread appetizers that is very easy to make at home too! One of the best Italian appetizers that's originating in the Liguria region, so if you're in the area, make sure you try the original Ligurian focaccia! Now if you're looking for traditional Italian appetizer ideas, make sure to check out the different variations on how you can make focaccia!
You can make simple focaccia without any topping. This then comes cut into small pieces and served on an Italian appetizer platter. Then, you can go beyond the simple recipe and use as topping tomatoes, or you can make it with ham and cheese too, different vegetables, mushrooms, potatoes, or anything similar. There are plenty of options for focaccia toppings.
4. Fried Mozzarella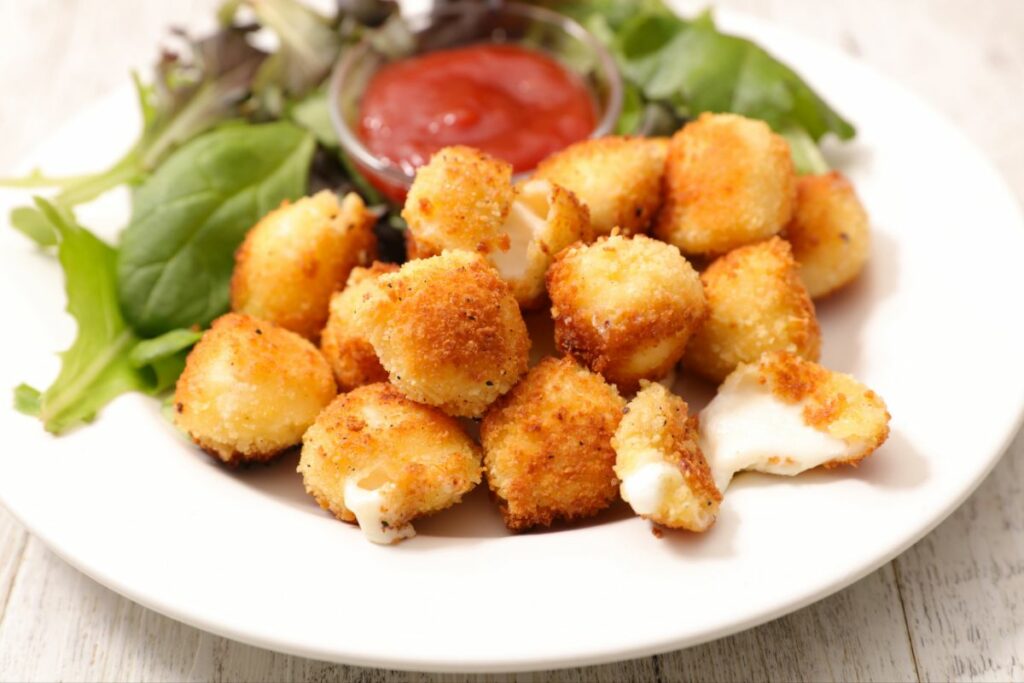 If you ask which are my favorite easy Italian appetizers, and overall my favorite appetizer bites, the answer is always fried mozzarella bites! This is one of the classic Italian appetizers you could see mostly in northern Italy, in fancier bars. But it's definitely one fried cheese that you definitely would love, and everyone who tries it! Mozzarella bites are more than easy to do!
And they are just so delicious! All you need is to get the fresh small mozzarella balls, and you'll need eggs, breadcrumbs, and flour. You can spice the breadcrumbs after tasting as you wish, as well as the beaten eggs. You get the mozzarella balls out of their water, you dry them, roll them in flour, dip them in the eggs, and roll them in breadcrumbs, then fry them in oil. The dip and breadcrumbs roll might need to be done 2 times so you can make sure the melting cheese won't sneak out.
5. Bruschetta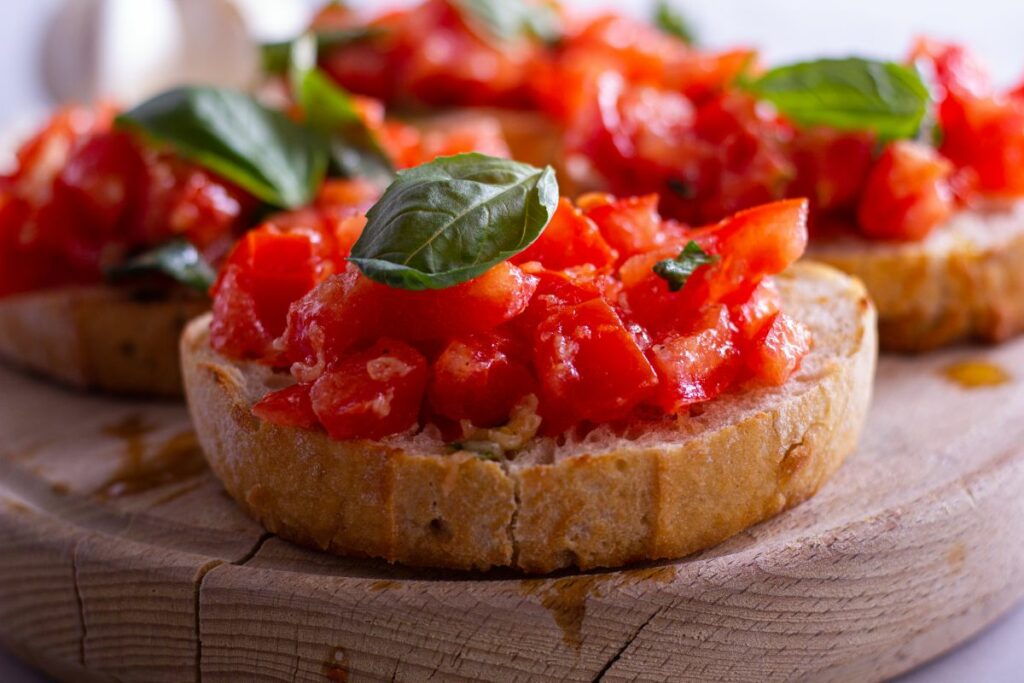 There's no better option for a traditional Italian appetizer than Bruschetta! This is one of the best cold Italian appetizers that's easy to make, and there are plenty of variations for it! In fact, we've got an article with 10 bruschetta recipes you can get ideas from! Bruschettas are small slices of bread (baguette style is the best especially if you're expecting guests).
This bread is toasted, and it's topped with different toppings. If you're looking for healthy Italian appetizers, you can serve bruschetta with tomatoes, or pesto. You can serve it with different creams and vegetables as well. All in all, bruschetta can be really diversified, it's delicious, healthy, and well, a big favorite in Italy!
6. Cheese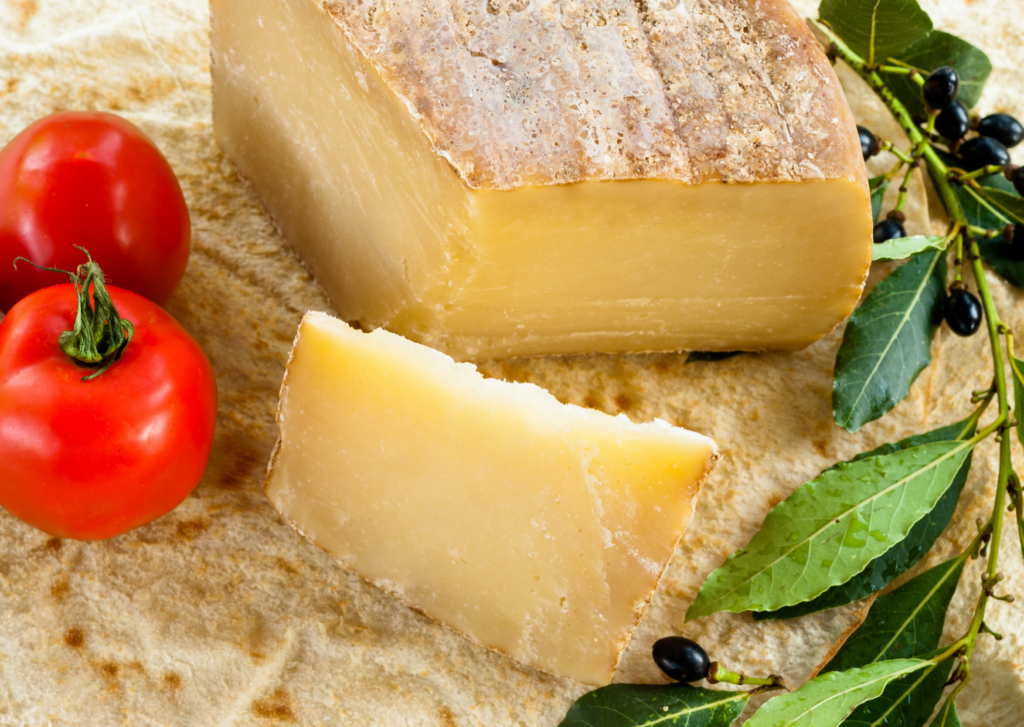 Cheese can not miss from plates of Italian food appetizers! Cheese is basic, especially if you can get good types of Italian cheese! Italian cheese is one of the best Italian appetizers. It's great on side of cold cuts and some Italian bread appetizers, and well, on side of anything really. The best is always to get some Italian hard cheese.
You can pick some Pecorino Romano, Parmigiano, or Grana Padano. Alternatively, you can get some soft cheese or Gorgonzola, or small mozzarella balls even. The best is always to have a cheese plate with small amounts of different types of cheese. That makes it possible for everyone to pick what they like. But of course, this depends on individuals how you serve it.
7. Green Olives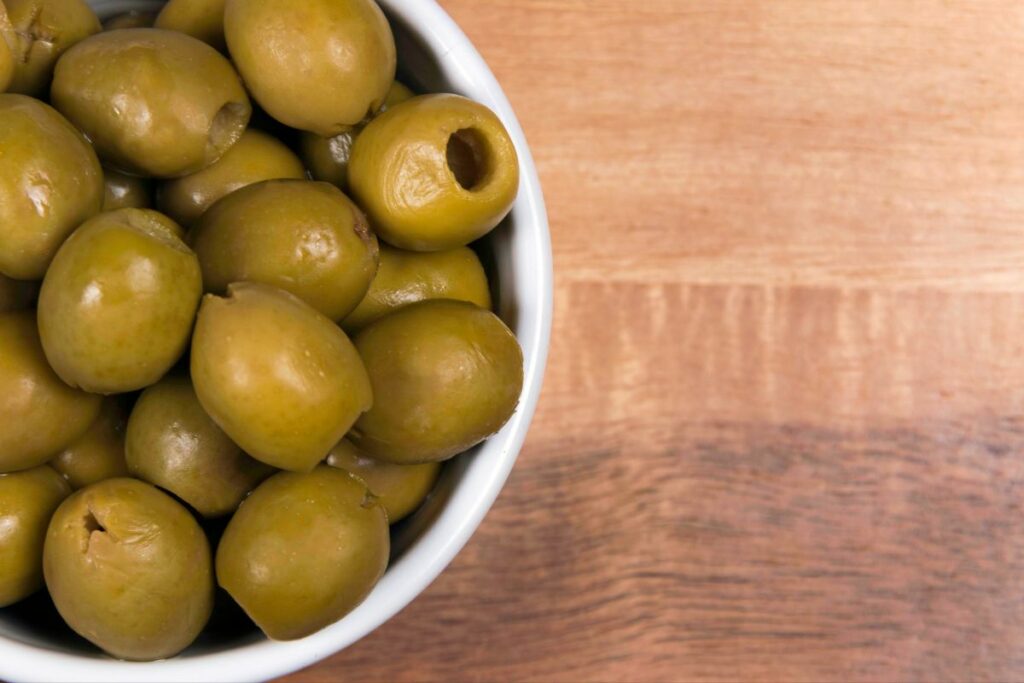 Right, so when it comes to a traditional Italian appetizer, olive= can't miss, like, ever! This is one of the basics, green olives are from north to south traditional, classic Italian appetizers. Delicious, healthy, and simple, and you don't have to spend time preparing it.
When you're making an Italian appetizer platter, olives are not just great for their taste, but they are also perfect for decoration. However, we really do suggest against the dark olives If you go for the green olives are always the ones that are great for appetizers, and overall, they have better taste.
8. Sausage in Puff Pastry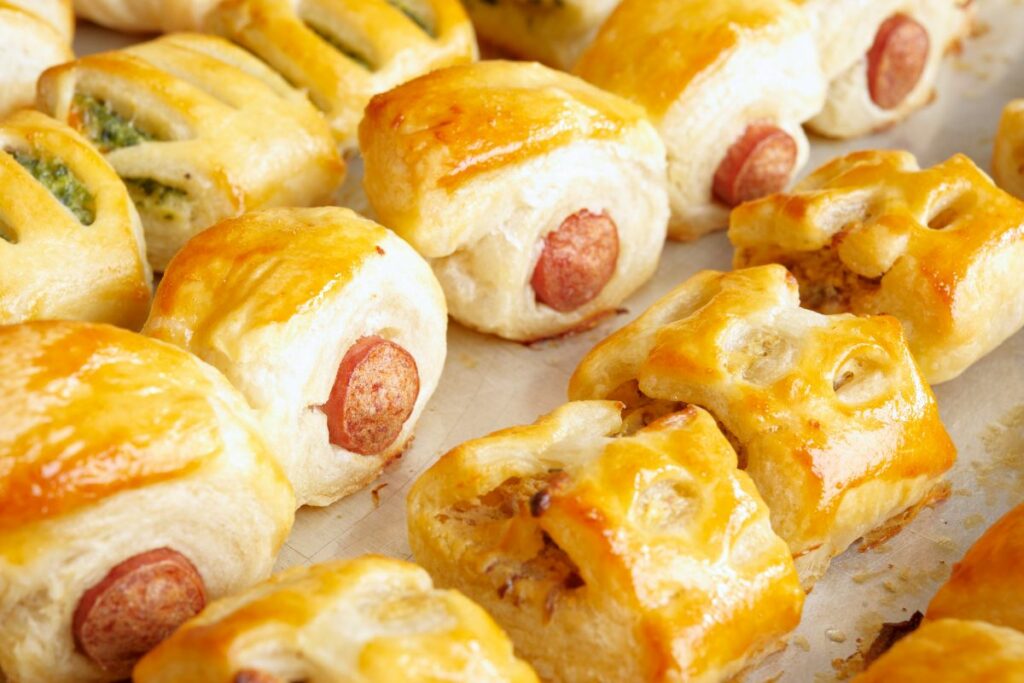 When we say Italian sausage appetizers, we right away think of the sausage with puff pastry. This is definitely one of the best Italian appetizers that are really easy to prepare, and it's also quick. You can serve it hot or cold, it will be delicious! When it comes to Italian appetizer ideas, the sausage in puff pastry is always one of the first homemade appetizers we think of in Italy.
For all the reasons I just mentioned above! You just need puff pastry, sausage or wrestle, an egg, salt, and optionally cheese. If you like cheese, you can put sliced cheese on the puff pastry before adding the sausage, then roll up, wash the top with egg yolk, sprinkle with salt, and cut big slices. You then put it in the oven and make it for about 20 minutes (in the pre-heated oven). That's easy.
9. Torta Salata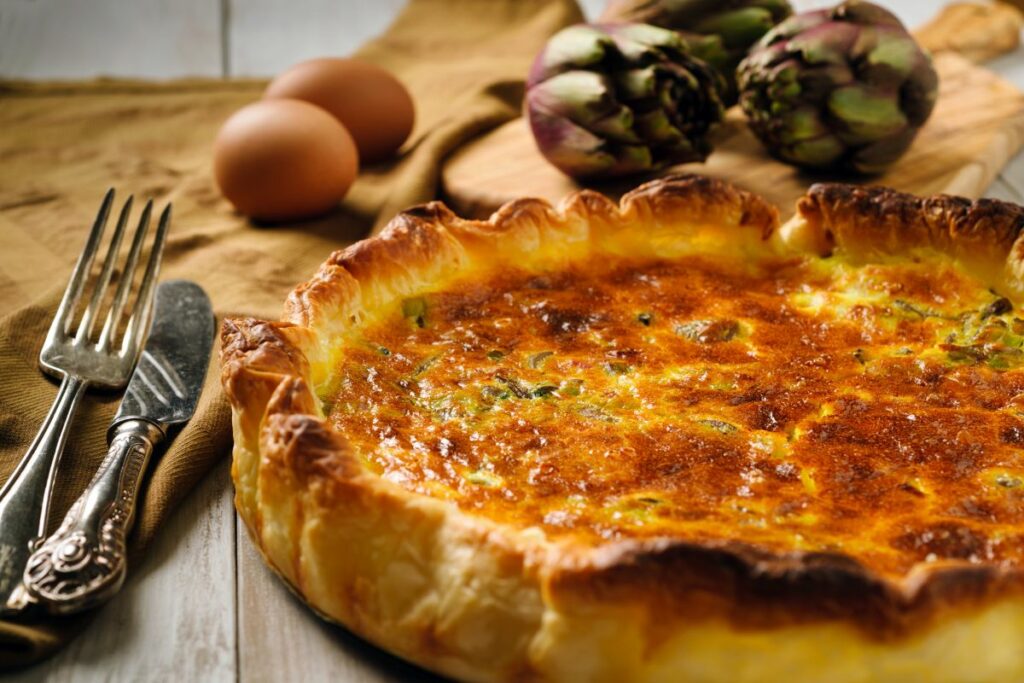 One of the most amazing easy Italian appetizers is the Torta Salata. Just as with many other hot or cold Italian appetizers on this list, Torta Salata has also plenty of variations. When you're looking for healthy Italian appetizers, Torta Salata is not the lowest in calories, but it is definitely healthy.
You need for a Torta Salata a circle of puff pastry and a form for it. Then, you need eggs, and the filling is really diverse. You can make it with ham and cheese, zucchini, and different vegetables, and you pour eggs on it. Then, you can do more traditional Torta Salata with spinach, raw ham, or other types of ingredients we've covered in our list of Torta Salata recipes!
10. Frittata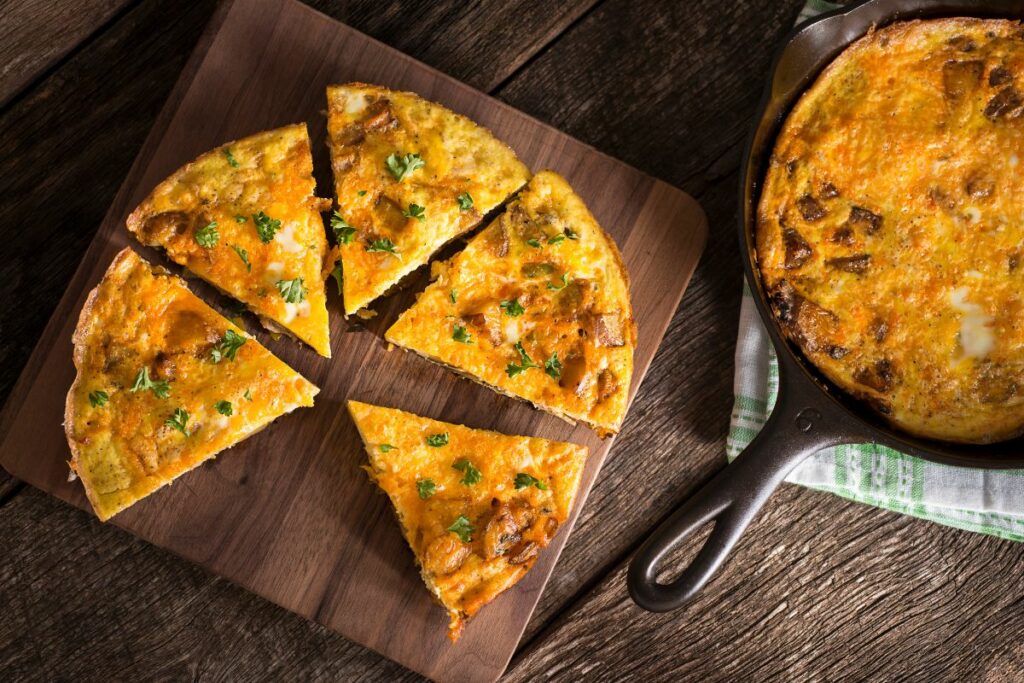 Frittata is great for breakfast, and lunch, but also as an option for an Italian appetizer platter. When it comes to Italian food appetizers, the frittata is great, since it's thick and it's easy to slice it in tiny slices and serve it like that. In fact, the frittata is one of the classic Italian appetizers you could quickly make. This is a really easy and quick dish, with plenty of variations.
You can make a simple frittata, or make it with spinach, tomatoes, peppers, ham, cheese, or anything you'd like. Speaking of which, we've got a list of the best frittata recipes too! Frittata when it's served as an appetizer, it should be either just a little bit warm, or already cold. It also helps with slicing it if you leave it to somewhat cool down.
11. Ham and Cheese Puff Pastry Rolls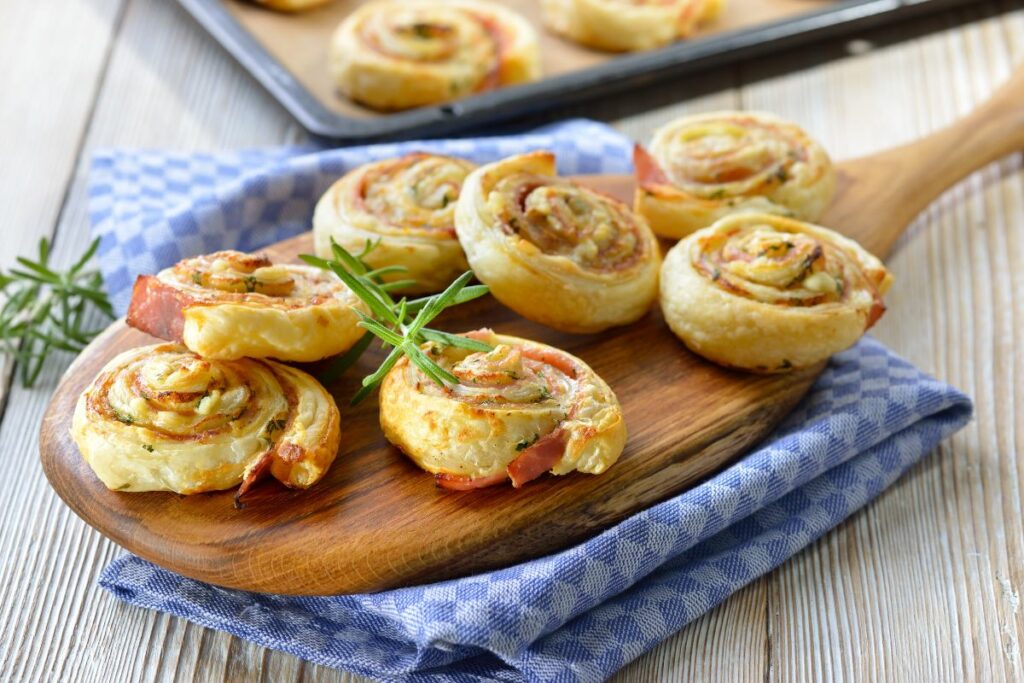 In Italian, these puff pastry rolls are called Girelle di Sfoglia. This is a very common appetizer, especially when you're expecting guests at home. If you ask me, this is one of the easiest, best Italian appetizers you could possibly make of puss pastry. It's a great option for those looking for an Italian bread appetizer too! When it comes to Italian bread appetizers, you've got simple bread options, different crackers, and everything you can make off puff pastry!
Maybe the Girelle di Sfoglia isn't one of the classic Italian appetizers, but it's definitely very popular especially up north in Italy! It's also really easy to make it, and you can make different filling variations. My favorite is definitely with ham and cheese, for which you only need the puff pastry, cooked ham, and cheese like mozzarella, but you can also sprinkle Parmigiano on it too. once the roll is done, you wash it with egg yolk, slice it, and cook it. We've got a list of Girelle di Sfoglia too to check out!
12. Fiori di Zucca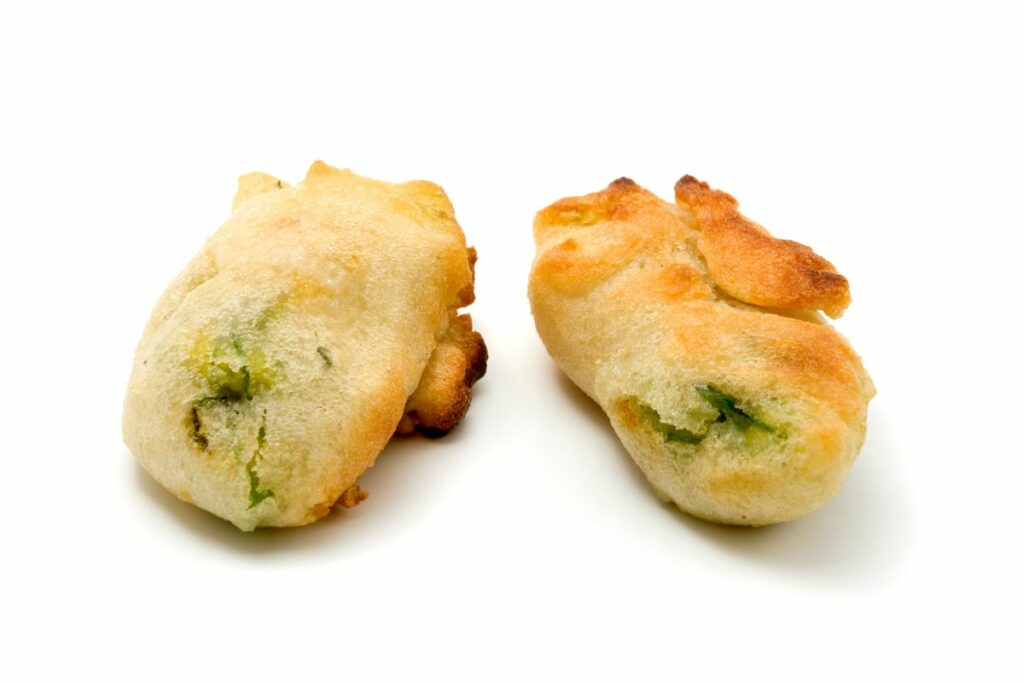 Fiori di Zucca is a famous Italian appetizer in Rome especially! When you're looking for healthy Italian food appetizers, this is a simple, and well, kind of healthy option. Fiori di Zucca is a zucchini flower that Romans prepare in a really unique way.
Basically, they use the blossoms of zucchini, which are stuffed with mozzarella cheese and anchovies. Then, it has to be battered and deep-fried. You can find it in Rome Fiori di Zucca between June and September, but if you have the possibility to make it at home, it's unmissable!
13. Vegetable crudités
Right, so the Vegetable crudités is one of the healthy Italian appetizers you could serve. When it comes to the best Italian appetizers, this option is not playing in my game, since I'm not at all friend with vegetables, especially raw ones. However, fortunately, not everyone is like me, so this might be an option for stuffing that appetizer platter!
For those who were looking for cold Italian appetizers, there's non that would be easier than this. Vegetable crudités usually consist of vegetables that can be cut into pieces, they are good to eat them while they are raw, and they don't melt, get dried, or have a lot of liquid. You can think of zucchini, cucumber, carrots, but many other things you could fit in little bowls. Of course, the simple tomato + basil + olive oil and salt is a great option for small bowl servings!
14. Canary Melon with Prosciutto Crudo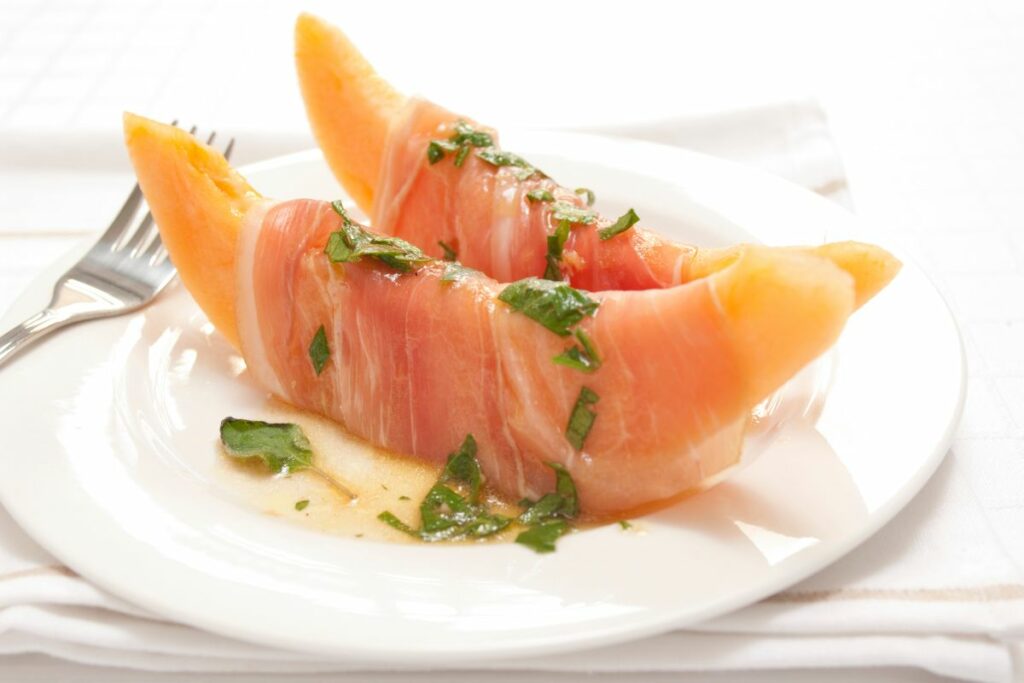 When you want to find easy Italian appetizers, the melon with raw ham is one of the best picks. This is a really popular appetizer especially south, in Rome. A perfect Italian appetizer platter can be created with slices of melons wrapped in ham. For some of you, this combination might sound weird, and believe me, I understand!
When in Rome I first looked for Italian appetizer ideas, and I found this one, but I wasn't really into it. Then, after a few years, I convinced myself to try melons with ham, and I realized it's amazing! Honestly, it surprised me how delicious this appetizer is. So, if you're looking for something simple yet really interesting, try the melons with Italian raw ham (Prosciutto di Parma for example).
15. Caprese Salad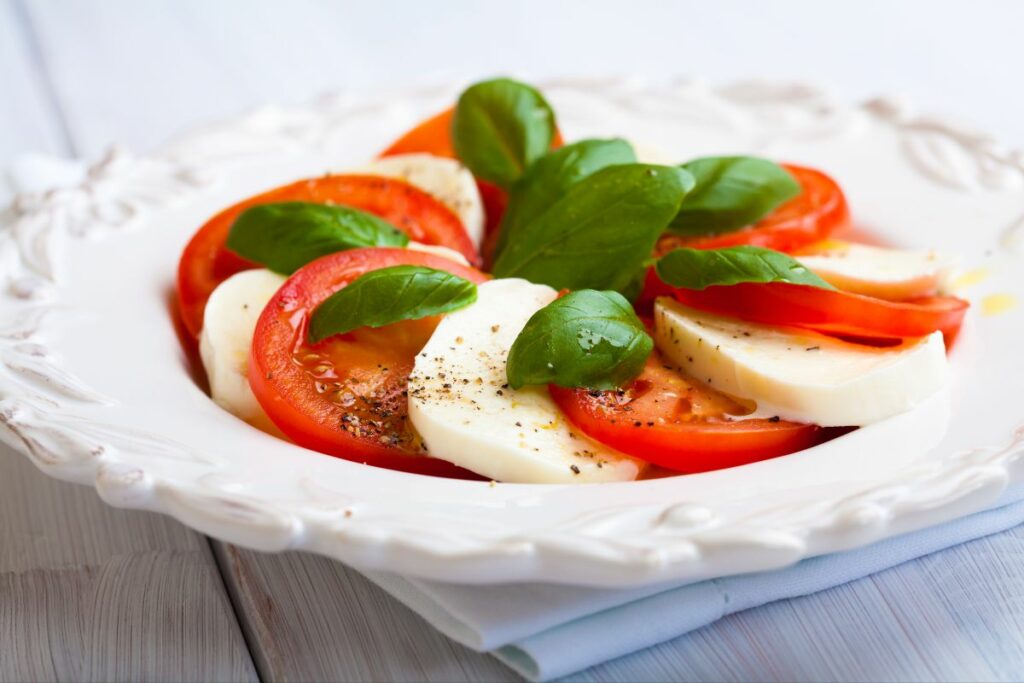 Caprese salad is definitely one of the best Italian appetizers. I personally make it for myself for lunch, but I have served Caprese salad as cold Italian appetizers many times. You can always pick a bigger plate, slice the tomatoes and mozzarella, and make a big Caprese salad for more people. While you can also make it for 1 person, or 2, or only the family.
Caprese Salad is one of the classic Italian appetizers you can serve before lunch. To serve it before dinner it might be too much for some, but this, of course, depends on how and what you want to serve it. Caprese is really easy to make, and you only need a few ingredients. You just need tomatoes, fresh mozzarella cheese, fresh basil, olive oil, and salt. Some prefer adding pepper too, but that's up to you!
Wrapping up the 15 best Italian appetizers
Now that we've been through all the Italian appetizers we could categorize as traditional, we hope you're ready for your Italian Aperitivo! We've covered Italian sasauge apeptizers, Italian bread appetizers, and many other options. Make sure you browse our website for even more ideas, and also Europe Dishes for the best recipes! Closing our Italian food appetizers list, we just want to say: Buon Apetito!
Pin it: Best Italian Appetizers