10 Best Beaches in Emilia Romagna
The beaches that you find in Italy are often called perfect paradises. Those travelers who have already discovered the reason behind this tag are happily experiencing unforgettable beach experiences in Italy for years. Italy's beaches offer exciting views, deep clean water, and clear sand, as well as quality facilities during everyone's holiday stay. In this article, you will be presented with 10 of the best beaches of Emilia Romagna, a beautiful region in Italy.
Discover the beaches of Emilia Romagna, Italy
The best cities, villages along with their fascinating beaches can be found in the Emilia Romagna region. The Emilia Romagna region is well known for its medieval feelings around the cities and the best cuisine in Italy. It is also known for the long and sandy coastline that meets a various range of landscape types.
The natural reserves, the lagoons, canals, pine forests, and dunes make your beach seek trip to become an amazing discovery. No matter what are you looking for, you will indeed find what suits you best in our 10 best beaches in Emilia Romagna's list.
1. Riccione beach, Riccione
We are starting our 10 best beaches in Emilia Romagna with Riccione beach. This beach is the perfect destination for a top leisure experience, surrounded by golden sands, and benefitting from the best beach facilities during your trip. It is a place ofter sought by those in the look for fun, party, and outdoor experience thanks to all the night activities organized directly on the beach.
The beach is very clean, and every tourist can benefit from a great service, as the staff is always helpful and friendly. This beach has facilities such as sunbeds, umbrellas, a beach bar, and a restaurant.
2. Bassona beach, Ravenna – A naturism beach in Emilia Romagna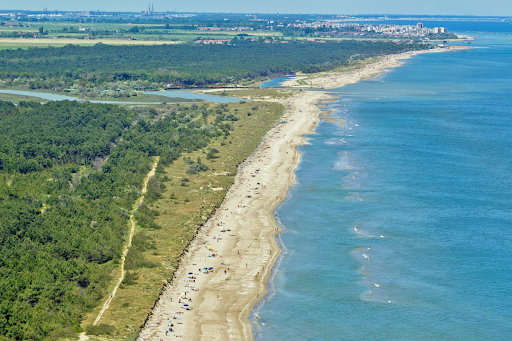 The Bassona beach in Emilia Romagna is the perfect choice for naturism lovers searching for total immersion in nature. Furthermore, the privacy of Bassona beach and the fact that there are no restrictions make it the best choice for those who want to enjoy nudism. The access to the beach is made from the shore through the pine forest. There are toilets placed nearby the campsite and the lifeguard towers available for everyone.
Also, what makes this Bassona beach in Emilia Romagna amazing is the natural surrounding that allows you to take a walk into pine and mixed forest or along the coast as well.
3. Singita Miracle beach, Fregene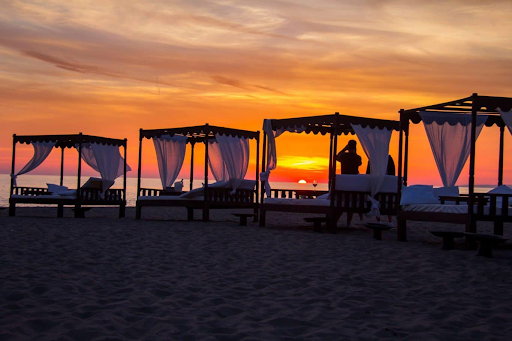 The Singita Miracle beach in Fregene emanates a happy atmosphere for every traveler who reaches it. The hospitality met by the beach's staff is at a top level. The facilities you have to make your stay enjoyable, and the astonishing sunsets in the evening make it the best destination for a couple's retreat. Also, you can put your blanket on the clear sand and lose the notion of time as the sunset makes its appearance.
Lots of lovers are deciding to hold their most special events on the Singita Miracle beach, of all the features that make it an unforgettable event full of meaningful memories. Furthermore, Singita Miracle beach can definitely be categorized as one of the best beaches in Emilia Romagna.
4. Gatteo a Mare beach, Gatteo a Mare – One of the best beaches in Emilia Romagna for families with children

Spending your summer holiday in Gatteo a Mare seems to be the best choice if you are in search of fun. Gatteo a Mare is considered the best tourist village in the world. The entertainment is always present on the beach.
Furthermore, there are activities for adults and as well for children, music sessions, and evening programs prepared for all the visitors. Everyone can swim peacefully in the sea thanks to the ridge of the offshore rocks. The beach also offers a bunch of outdoor activities and sports such as cycling, beach volleyball, motorboats rides, and fishing. Still, Gatteo a Mare beach is suitable for singles, couples, and also families thanks to its length.
5. Pinarella beach, Cervia

The Pinarella beach is one of the best beaches in Emilia Romagna thanks to the family entertainment it provides. The beach is surrounded by maritime pines, has a length of two kilometers, and the sand you will find has a light color and it's very smooth. Moreover, tourists can experience the bathing establishments and the entertainment events organized by the Romagna area.
Also, this beach is definitely the best choice for families with small children. It has a gentle entrance into the sea and a slow growth of the water level. The beach became a good destination thanks to the free entrance and the good location it has. It is situated between Vis San Martino and Via Venezia Giulia.
6. Lido di Savio beach, Ravenna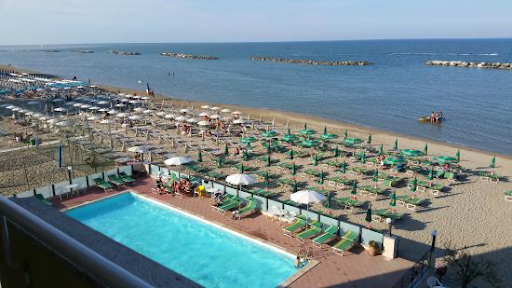 Right between the Savio river and the pine forest of Cervia you can find Lido di Savio. Lido di Savio is one of the best beaches near Ravenna. Mostly, it is known for having the highest hospitality, comfort, and facilities thanks to the seaside resorts' experience. If you decide to spend your holidays in Lido di Savio beach, you'll be welcomed by a clean sea and a smooth-sandy beach.
You will also enjoy a multitude of activities, such as beach tennis and volleyball, and the entertainment sessions offered by the resort. Moreover, it is one of the most chosen destinations by families with little ones. Everyone chooses the shallow waters, programs for children, play areas, and even babysitting facilities.
7. Lido Adriano beach, Lido Adriano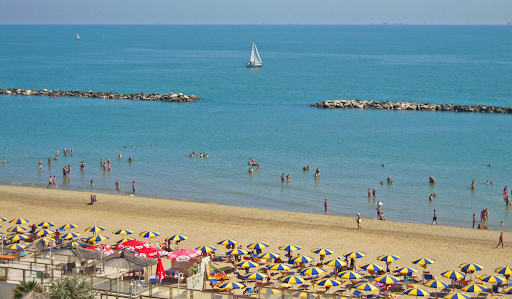 As an easily accessible beach, Lido Adriano is located very close to the road. Those who arrive here have the possibility to park directly on the beach. Of course, the first thing you will get to notice here is the crystal turquoise water and the smooth sand which makes the entrance in the water very easy.
Also, the whole beach is suitable for all kinds of travelers. You will enjoy Lido Adriano either if you are a solo traveler, couple, senior, a big family, and a happy pet owner. Moreover, you will benefit from a full list of facilities. The beach has beach clubs, umbrellas, tanning beds, restaurants, showers, and toilets. Those who want to experience some activities can also play beach volleyball, have a jet ski, or catamarans sessions.
8. Lido di Spina beach, Ferrara – One of the best beaches in Emilia Romagna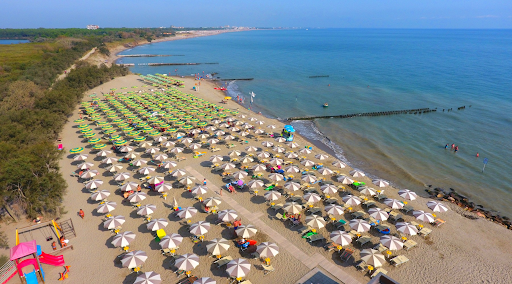 This beach is called Lido di Spina and is a wide one. It's situated in Ferrara. It is the perfect place to chill during your holiday and also have some nightlife sessions as well. Also, it is quite searched by families as well, for all the services it provides. The light-colored sand welcomes you to the private beach of the camping village. There, you have umbrellas, deckchairs, and sunbeds at your disposal. Moreover, you will benefit from hot showers as well as from top-quality restaurant and bar experiences.
Tip: always search sometime before your holiday, as the beach is always searched by tourists and you might miss a wonderful experience if you don't book your place in advance.
9. Rivabella beach, Rimini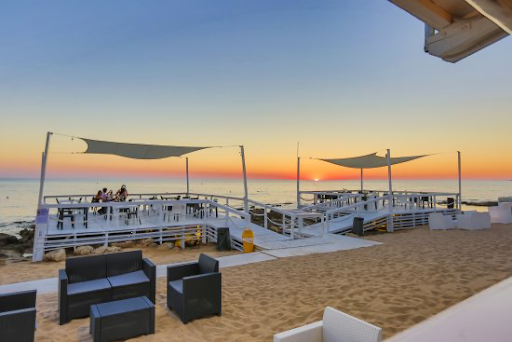 This beach is called Ravenna and is situated only 2 km from the old town of Rimini and it's the best escape from the crowded areas. Ravenna is an amazing place to discover, one of the most beautiful coastal towns in Italy.
It has an amazing infrastructure and many entertainment programs that take place every day. You can benefit from a lot of facilities such as bathing establishments, restaurants, and bars. The beach day clubs and the calm water makes it one of the best beaches for families with children. Rivabella is one of the best beaches near Rimini.
10. Dog beach, Rimini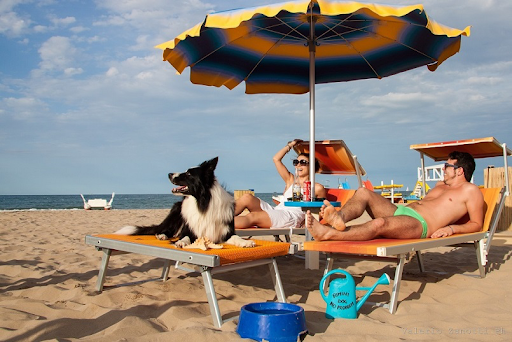 Finally, for all who want to take their furry friends with them on holiday, Rimini dog beach is the best choice. The dog beach in Rimini is the biggest and best equipped in all of Emilia Romagna region. It is allowing the dogs of the customers to take baths as well.
Even the umbrellas we're adapted to the necessity of shade for all those who come with their dogs. There are even catwalks, especially for their paws, and shower areas as well. Moreover, your furry friends will have mats, bowls, dog beds, and nebulizers at their disposal. During summer, they can benefit from free dog education training hosted by qualified instructors.
#Bonus – Rimini beach, Italy – Gay-friendly beach, Bagno 27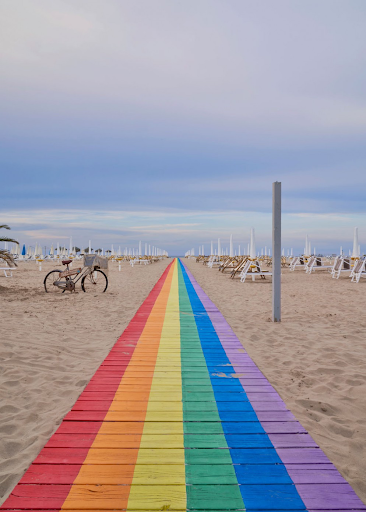 We end our 10 best beaches in Emilia Romagna with Bagno 27. Bagno 27 is a gay-friendly beach in Emilia Romagna where you can experience lots of activities. This bathing establishment has played a big role in the town's projects of social inclusion so far. Whether you come alone or with your beloved one, this charming historical and artistic town will be a good choice. It is gathered by luxury resorts, restaurants, and bars while the nightlife is at its fullest.
So, a summer break on the Bagno 27 Gay beach Rimini will definitely be the best choice for every LGBT+ traveler around Italy. The water is clean, the establishments offer sunbeds, umbrellas, and order services and the sand is smooth.
Wrapping up the 10 best beaches in Emilia Romana, Italy
As you may have noticed so far, Emilia Romagna has a lot to offer in a matter of beaches. It has tourist places, it has hidden beaches, and gems ready to be discovered. Moreover, the diversity of facilities and establishments makes Emilia Romagna one of the best-searched areas in a matter of beaches.
From singles to couples and dog lovers, can find a suitable place in one of Italy's most beautiful regions. We hope you will enjoy our selection of the 10 best beaches in Emilia Romagna. In conclusion, we believe that Emilia Romagna has some of the best summer holiday destinations in Italy.
Pin it: 10 best beaches in Emilia Romagna!