15 Best Restaurants in Florence Italy
There are many reasons to visit Florence, you must know that by now. But in case you don't, let me remind you. It's the birthplace of the Renaissance, Firenze is rich in culture, and art and it's a romantic place to be. If you have watched the movie From Scratch or read the book, then you can surely understand why people would fall in love with the city, but also in the city! While you're discovering the gems inside the city, you must also check out some of the restaurants in Florence Italy.
You might be searching for the best restaurants in Florence Italy on Tripadvisor and some of them don't look reassuring. We have selected different types of cuisine for all sorts of travelers. You'll find Michelin star restaurants Florence Italy, but also the best halal restaurant Florence Italy.
15 Best Restaurants in Florence Italy – Best Places to Eat in Florence Italy
When the weather is great, you might be looking for the best outdoor restaurants in Florence Italy. Don't worry, we've got you covered. On that note, the best rooftop restaurants in Florence Italy are also popular during the summer and the views are just spectacular. Whatever it is you're looking for, you'll find it on this list, so keep on reading!
1. Ventuno Bistrot
We are starting our list with one of the fantastic Michelin star restaurants Florence, the Ventuno Bistrot. This restaurant is made up of 3 chefs who pretty much deal with everything themselves. The location is not so central, but easy to get there. The chef welcomes guests, takes their orders, and even helps them choose and cook and serve delicious meals. Ventuno Bistrot chefs are creative and innovative which reflects in the menu.
The starters include the classic beef tartare, which is very popular among Italian restaurants. Then in the first and classics section, Ventuno serves Tagliolino with cacciucco, cuttlefish, caviar, and lemon. Furthermore, if you love seafood you must try out the Squid, water spinach, hummus, and yogurt combination. Finally, Ventuno Bistrot serves 5 or 7-course dishes selected by the chef for a set price. Don't forget to choose your wine wisely!
Ventuno Bistrot location: Via de 'Vespucci, 21 in the Indian bridge area, 50145 Florence
2. Angel Roofbar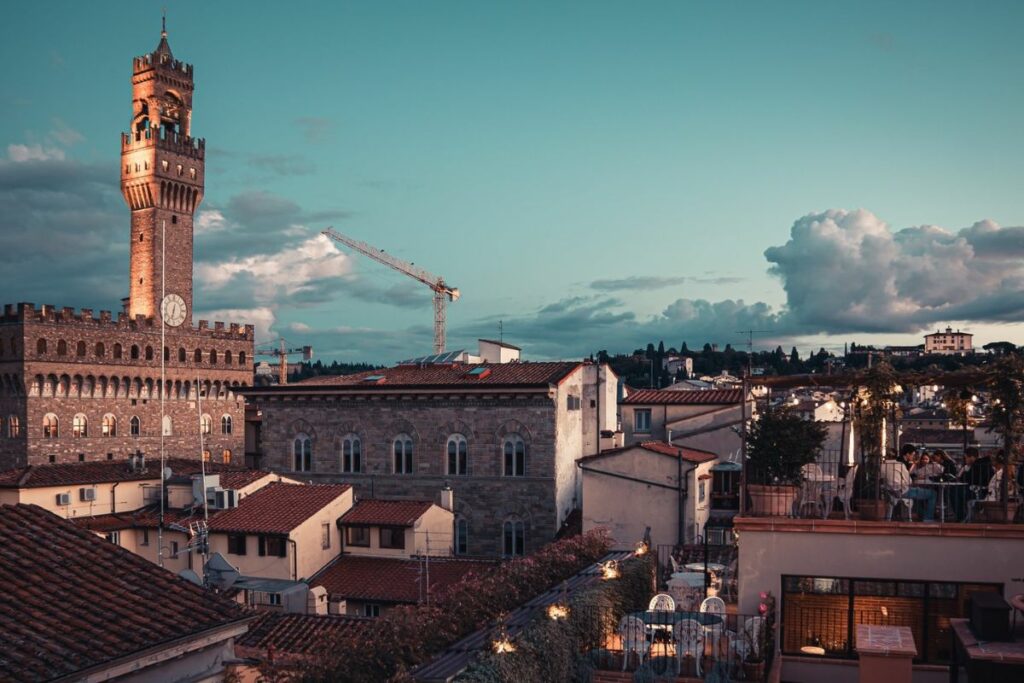 The Angel rooftop bar has an iconic and scenic location, between the Piazza della Signoria and Piazza della Repubblica. It sits on the 4-star hotel Calimala and is considered to be one of the best rooftop restaurants in Florence Italy. It offers a 360-degree view of the stunning Florence. At Angel Roofbar one can find a restaurant, two indoor and outdoor bars, as well as a plunge pool and a beautiful floral garden patio. There are two different menus at the location, one if an aperitif menu, and the other is the dinner menu.
In case you are just going there for a few drinks, the Aperitivo menu is perfect as it includes some tasty cocktails, and also delicious finger food. But those who wish to enjoy a delicious Italian dinner should browse the dinner menu. You can find everything from Caprese, fish tartare, steak, spaghetti with seafood, and of course some famous desserts. Angel Roofbar & Dining can be rented out for private events such as weddings, birthdays or meetings.
Angel Roofbar & Dining location: Via Calimala, 2, 50123 Firenze
3. Panorama Restaurant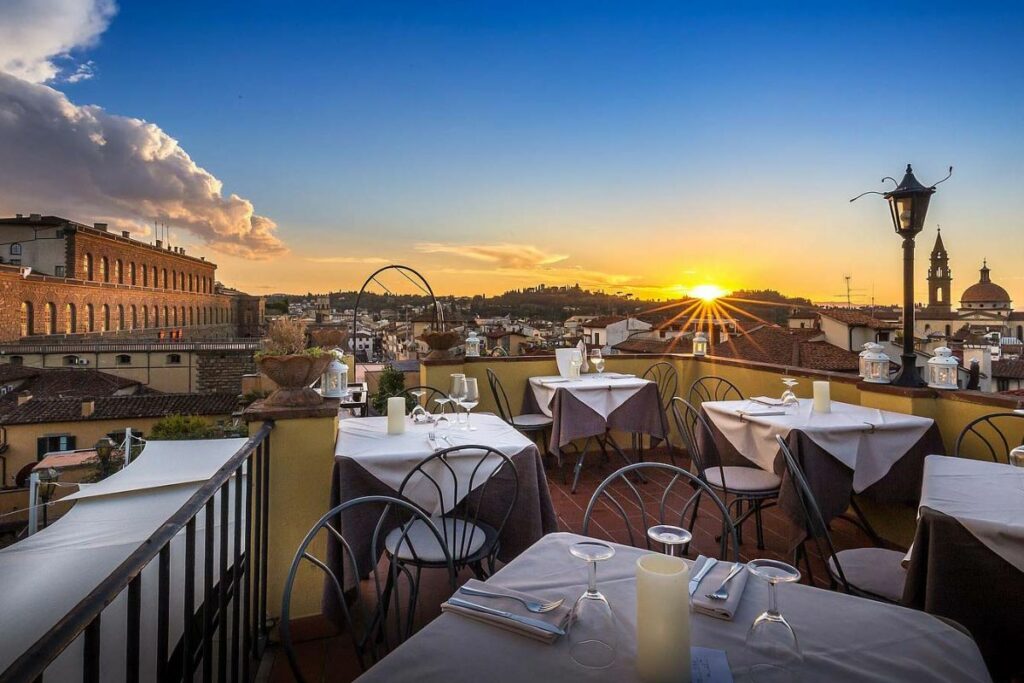 Continuing our list of Florence Italy restaurants with a view, the Panorama restaurant speaks for itself as it offers stunning views across the magical city. Besides the views, people come here for delicious dishes made by the chef, either for a romantic dinner or even for business meetings, or to enjoy an aperitif with friends. There are two levels of the restaurant, one is the Boboli Terrace, and the other is the Florence Terrace.
For instance, the Boboli Terrace is the one that has views of the Boboli Garden, Palazzo Pitti, and Forte Belvedere. Meanwhile, the Florence Terrace shows a different side of the city, but breathtaking still. The tartare starters cannot miss from any menu, but each restaurant brings its own twist to these dishes. From the menu, one can order a variety of seafood dishes, as well as different meat dishes such as bacon with red potato and cabbage. And you must try their delicious ricotta and pistachio dessert!
Panorama Restuarant location: Via de' Guicciardini, 13, 50125 Firenze FI, Italy
4. Enoteca Pinchiorri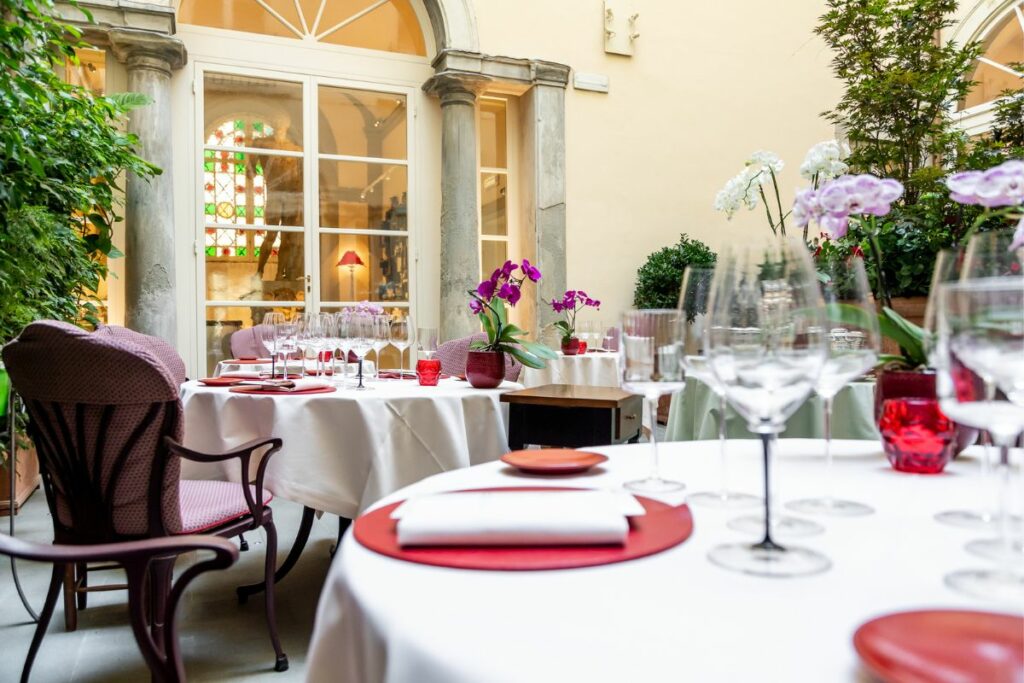 We had to include Enoteca Pinchiorri on our Michelin star restaurants Florence list due to its beautiful location and presentation of dishes. They offer a balance between past, present, and future, bringing the best ingredients together and creating innovative dishes. Michelin-star restaurants are truly a product of passion as only someone who loves cooking can come up with such creative ways of serving meals.
The restaurant is located in the Santa Croce neighborhood and it is inspired by Tuscan tradition. It has 3 stars, which is very difficult to maintain! The menu entails different dishes put together by the chef and offered as a 7 -8 course menu. In case you wish to choose from the menu separately, you can do so. Enoteca Pinchiorri also prides itself with an extensive list of wines.
Enoteca Pinchiorri location: Via Ghibellina, 87, 50122 Firenze
5. Golden View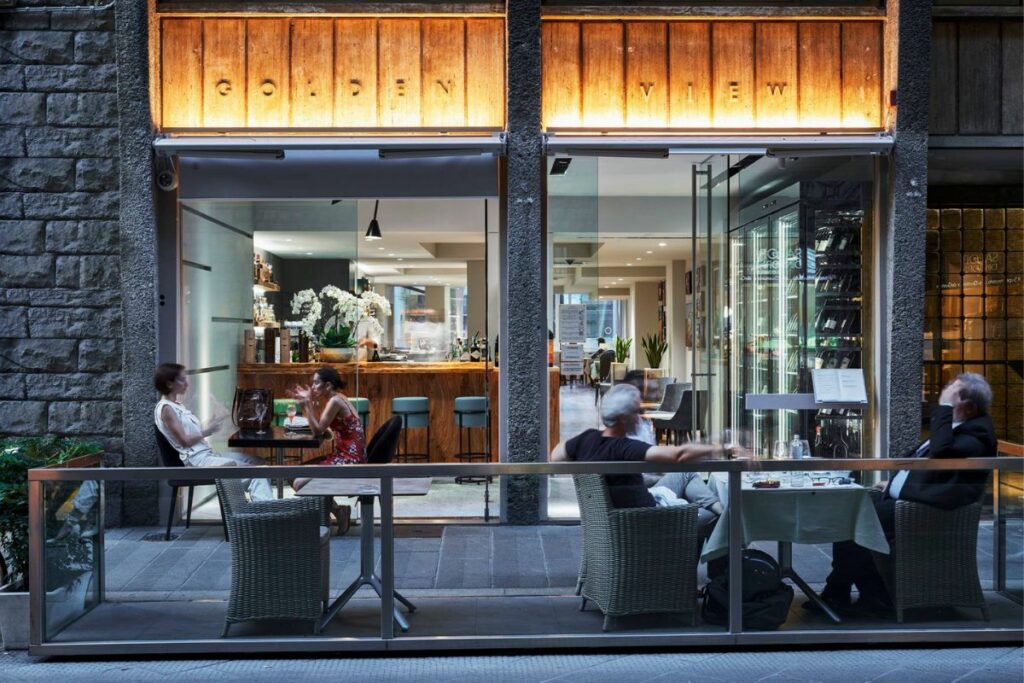 Golden View has to be one of my favorite Florence Italy restaurants with a view. The whole atmosphere and vibes are just immaculate, the interior design is really stunning and the food is delicious. The reason why Golden View is so loved and popular is due to the stunning views of the Arno river and the Ponte Vecchio. As the sun reflects on the river, the golden lights come out to play and are reflected in the restaurant as well.
The owner is Tommaso Grasso who is passionate about food and brings different flavors to his restaurant. Its menu is filled with amazing seafood, Florentine steak, Tuscan lamb, or real Fassana. At the same time, one can consume Casentino ham and the best artisan cheeses. But the best part is yet to be discovered. There is a stunning cellar dating from the 15th century and it holds about 8000 wine bottles.
Golden View location: Via de' Bardi, 58/r, 50125 Firenze
6. Se-Sto on Arno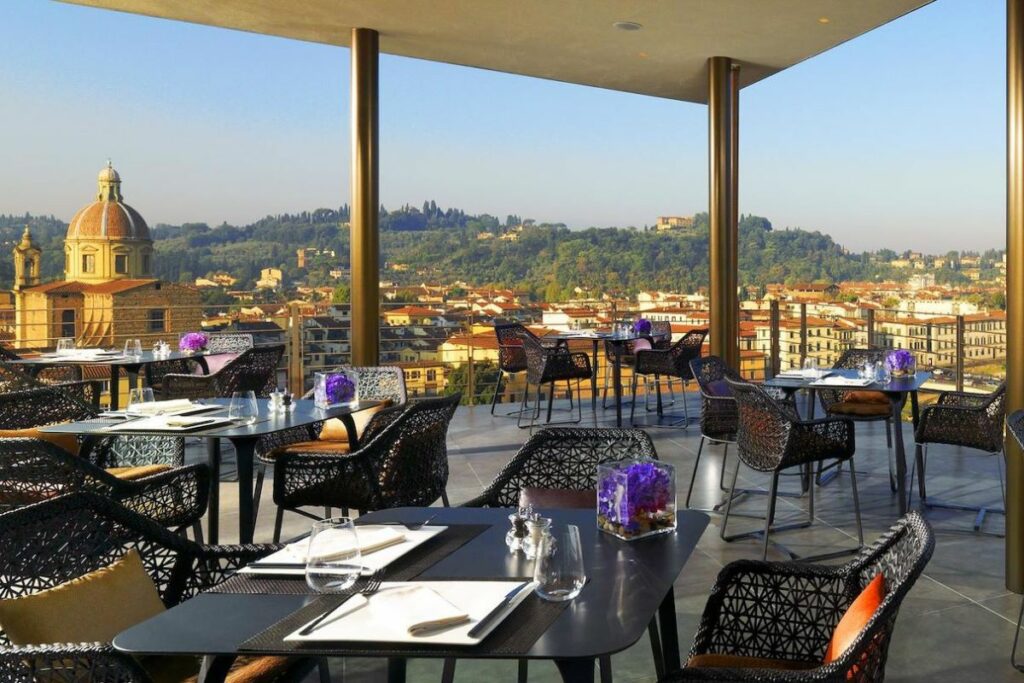 Se-Sto on Arno is one of the best rooftop restaurants in Florence Italy that you could visit. The interior design is immaculate, with large glass windows overlooking the whole of Florence. It is on the sixth floor and you can see all the churches, bell towers, the Ponte Vecchio as well as picturesque Tuscan hills. Not only do they serve cocktails, wine, and spirits, but also delicious meals. There are 4 different menus to choose from which are the bar and snack menu, lunch and dinner menu as well as a wine list.
Lunches are very light and served only from 12.30 pm to 3 pm. They offer vegetarian options as well. Dinner is only served from 7 pm to 10.30 pm so it's always best to reserve ahead. It includes veal, roasted foie gras escalope, risotto with porcini mushrooms, or several seafood dishes. As far as wines go, you can find anything from Chardonnay, Pinot Nero, Pinot Grigio, or Sauvignon. So if you're only looking to admire the views next to a glass of wine, Se-Sto on Arno can offer just that.
Se-Sto on Arno location: Piazza Ognissanti, 3, 50123 Firenze
7. Trattoria Giovanni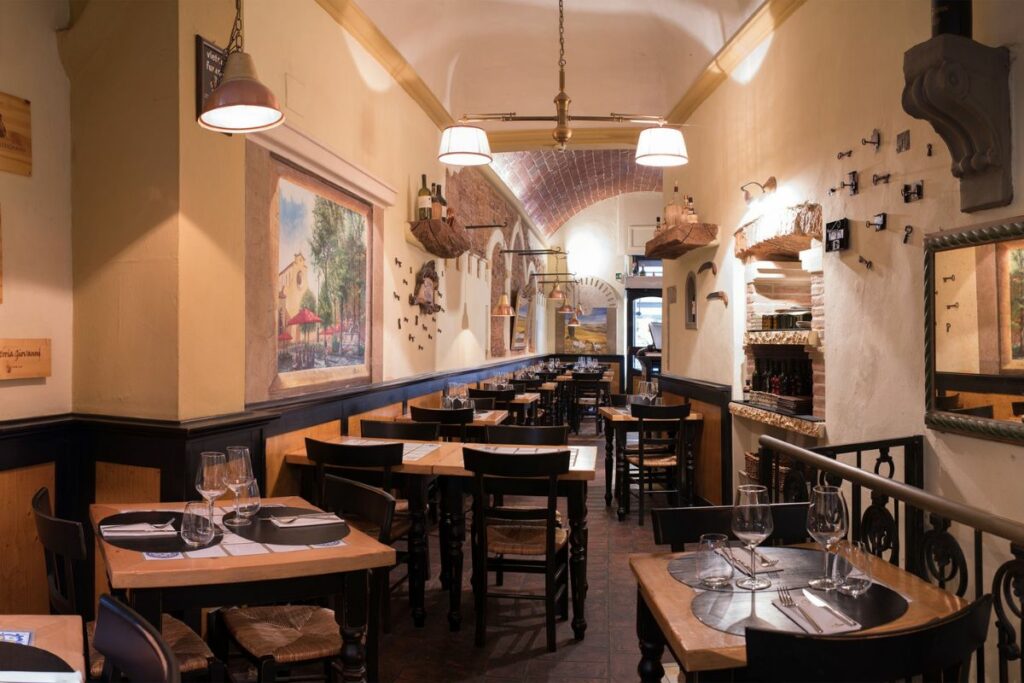 You must have seen movies of Italy and people visiting real trattorias and having the best dishes ever. Well, Trattoria Giovanni is the place you want to visit for an authentic Italian experience. The restaurant has a rustic Tuscan style, with bricks, wooden furnishing, and the spirit of the lovely Italians. Location wise it is in an ideal place, not too far away from Ponte Vecchio which is why we think it's among the best restaurants in Florence Italy.
The menu is made up of all things delicious. The appetizers have the Giovanni special, which is made of sausage and stracchino. Choose from different forms of pasta like ravioli with ricotta, or tagliatelle with porcini mushrooms as well as tagliolini with black truffle. You can also order traditional Florentine steak at Giovanni's. And the famous tiramisu dessert shouldn't be missed out on either!
Trattoria Giovanni location: Via Sant'Agostino, 38 Rosso, 50124 Firenze
8. Angiolino – Ai 13 Arrosti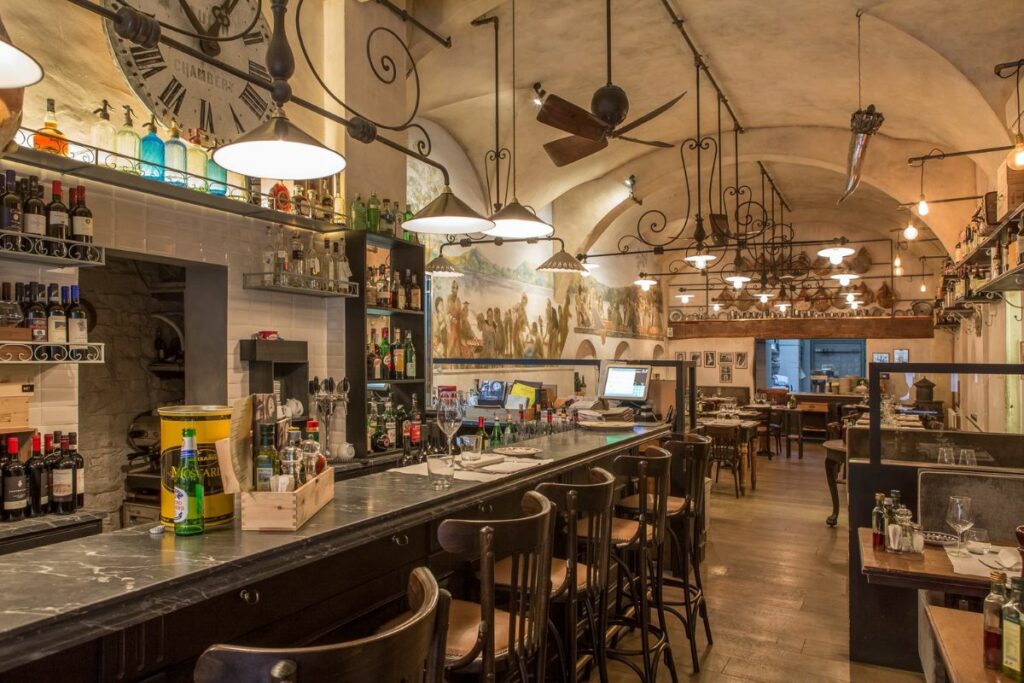 Along the Arno river, one can visit the best pasta restaurant Florence Italy, Angiolino. The menu is filled with typical florentine dishes and made for tourists who wish to discover the flavors of Florence. Furthermore, the restaurant offers a wide selection of different Tuscan wines that accompany the dishes. Angiolino also hosts private events and dinners, it's a great location to celebrate birthdays, and achievements or even for family dinners.
Some of the most famous dishes include cured meats with Florentine-style croutons. The guitar spaghetti with artichokes carbonara. Furthermore, they serve prawns or different sorts of beef. The Cappellacci with wild boar ragout is a delicacy and paired with the right type of wine will bring out the best taste.
Angiolino location: Via Santo Spirito, 36 R, 50125 Firenze
9. Osteria Antica Casa Torre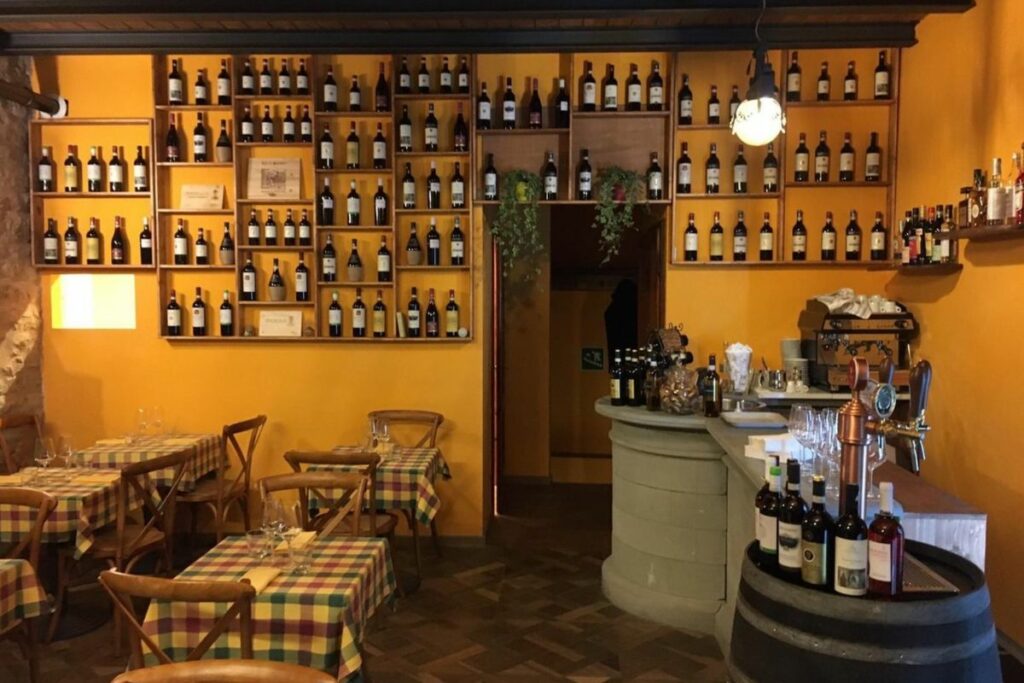 Osteria Antica Casa Torre is situated about 5-10 minutes walking distance from the Ponte Vecchio and is a beautiful cafe with outdoor seating, traditional meals as well as seafood dishes. It's the best pasta restaurant Florence Italy as they prepare homemade pasta. They focus on the freshness and quality of the ingredients, which makes the dishes taste divine.
The menu consists of some of the usual dishes, however, the best feature of these Italian restaurants is that most of them have their own twist to dishes. There are no two similar menus in any of the trattorias. The fresh homemade pasta dishes include spaghetti alla carbonara, tagliolini with boar sauce, stuffed ravioli with truffle sauce, or homemade gnudi with ricotta and spinach. Osteria Antica Casa Torre also serves a variety of meat dishes and special fish dishes like prawns, clams, or seafood risotto.
Osteria Antica Casa Torre location: Piazza Di San Pier Maggiore 7, R, 50122 Firenze
10. Fattoria Rossi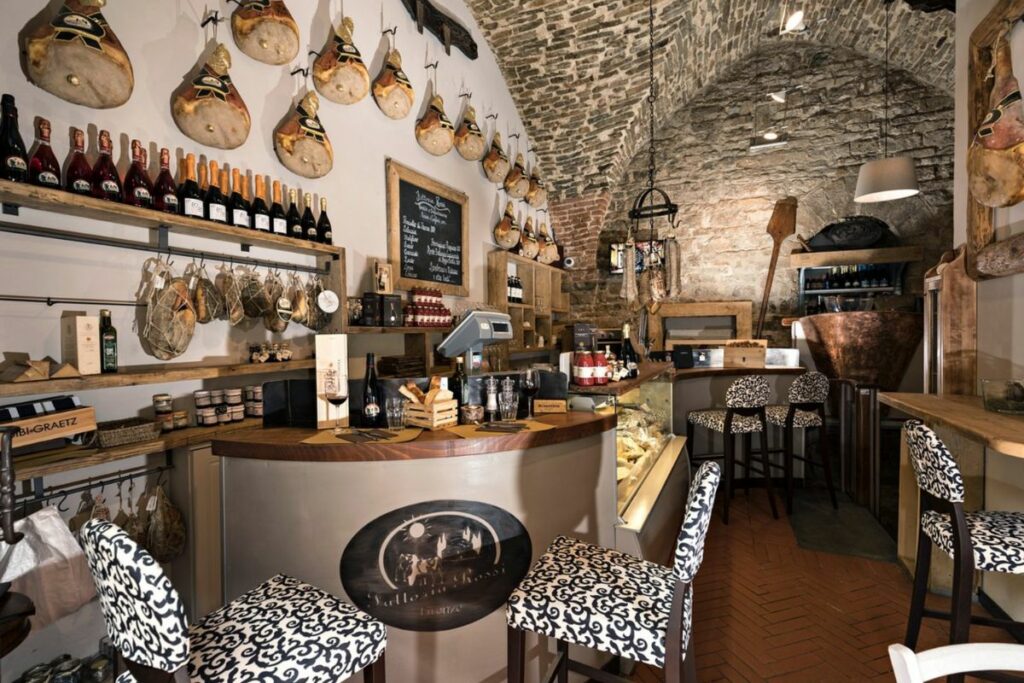 As you walk into Frattoria Rossi you can sense that it's an old restaurant by the feel of the place. It was founded in 1868 and they have been serving traditional Italian food ever since. It's a shop where you can serve authentic Italian delicacies which they produce such as Parmigiano Reggiano, cold cuts, wines, jams, balsamic vinegar and so much more. If you're looking for the best outdoor restaurants in Florence Italy, this is the place to go.
You can book a table and try out the delicious meals right there, or browse the website and buy online. Whether it's 20 months old parmesan cheese, cured meat, ham, or even wine, you'll find everything here. For instance, among the wine products, one can purchase Lambrusco Rosato or Lambrusco Rosso dei Rossi which is a DOC red dry sparkling wine. Furthermore, if you wish to surprise someone in Florence with such delicacies, check out their gift box with lots of goodies inside.
Frattoria Rossi location: Piazza dei Davanzati, 3/r, 50123 Firenze
11. Santarosa Bistrot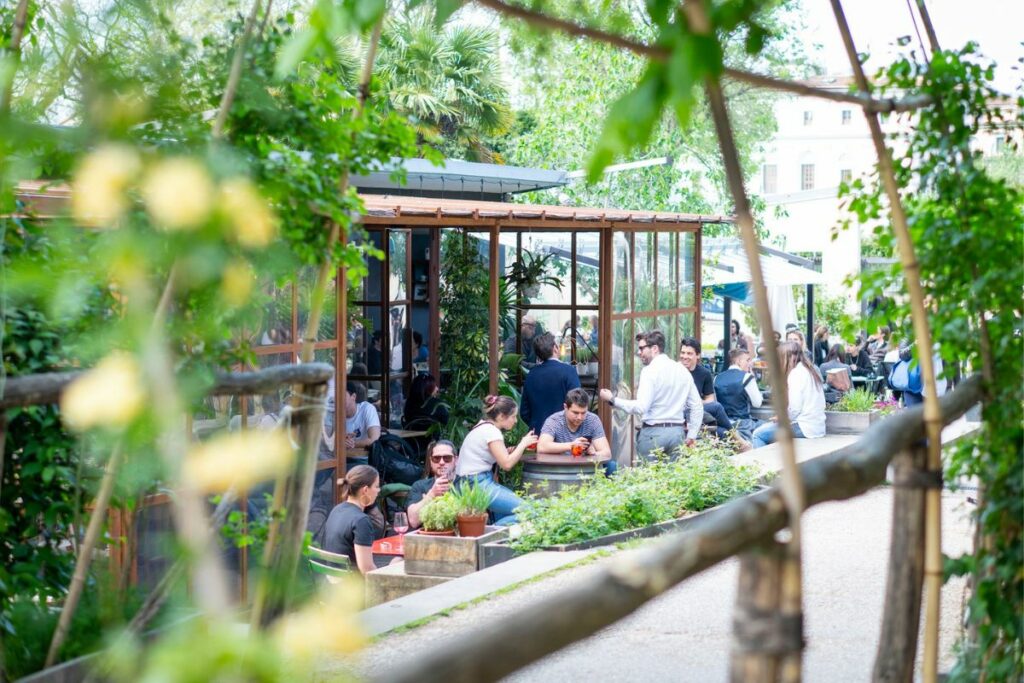 Next up among the best outdoor restaurants in Florence Italy is the Santarosa Bistrot. It is right next to the Arno river and the atmosphere is very relaxed. This is the perfect spot if you don't like being indoors when having drinks. The patio with seating is great for meeting friends and family. The chef is inspired by his Neapolitan roots and other cuisines over the world. It's a combination of bold and elegant flavors and the menu changes with the seasons.
On the menu, one can find Tapas, for example, Crostone with salmon and guacamole, or a classic club sandwich. From the cocktails list, Santarosa offers Venetian spritz, Anemone which is made up of vodka and other syrups. Furthermore, the wine list is also amazing as they have wines from Lombardia, Emilia Romagna, and even French and German wines.
Santarosa Bistrot location: Lungarno di Santa Rosa, 50142 Firenze
12. Indian Palace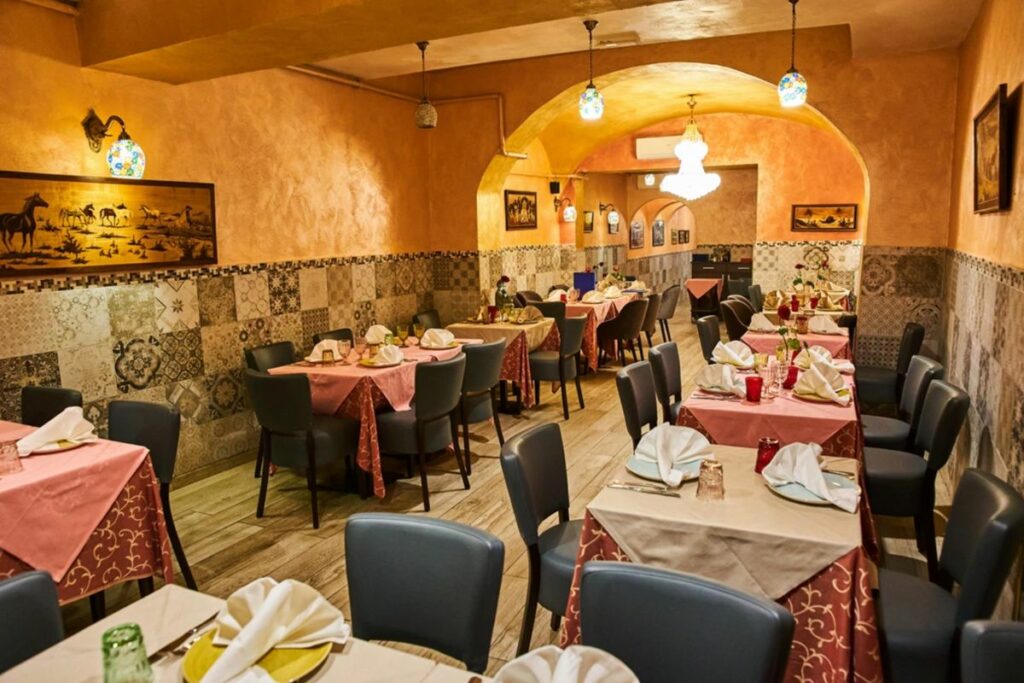 Let's move away from Italian food as Florence isn't just about that. And with thousands of travelers visiting the romantic city, not everyone wishes to eat Italian food. Indian Palace is a halal restaurant Florence Italy and one of the best-rated places for Indian food. They serve authentic north and south Indian dishes. Besides serving dishes in the restaurant, they also do catering and host private events for up to 130 people.
If you are familiar with Italian restaurants, you must know what there is on the menu. But if you're not familiar then you're in for a treat. The best thing about Indian dishes is how versatile they are, fish, veggie, and meat dishes all taste good. They serve dishes like Chicken tandoori or fish dishes like Tandoori king prawns. Make sure to check the spiciness level as Indian dishes tend to be very spicy! Let's see the rest of the best restaurants in Florence Italy.
Indian Palace location: Via Guelfa, 96R, 50129 Firenze
13. Sultan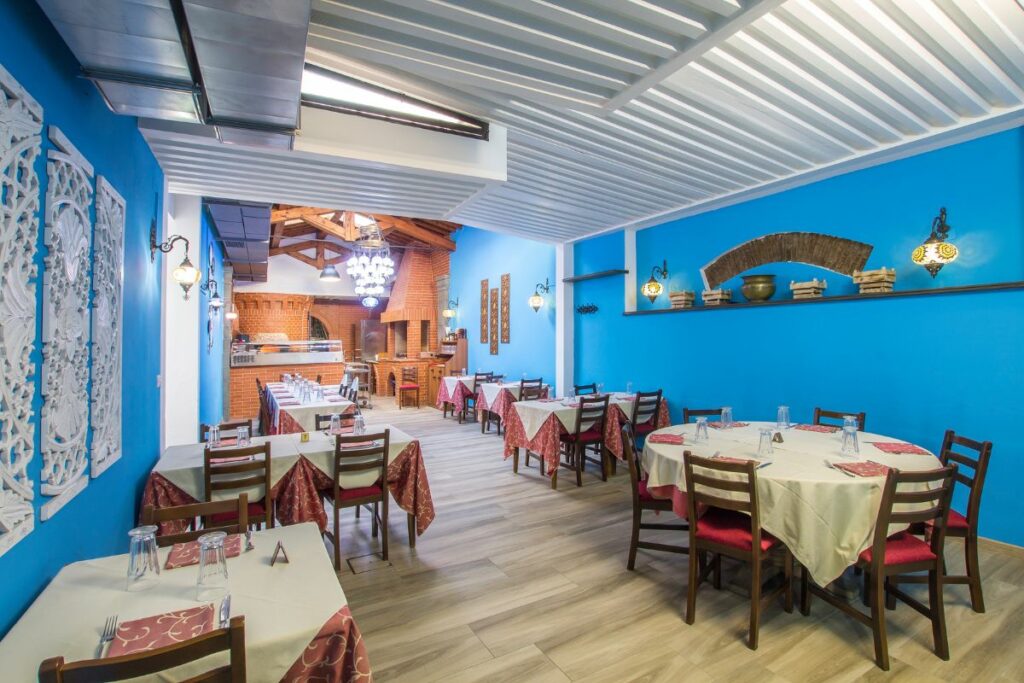 Another amazing halal restaurant Florence Italy is the Sultan Turkish restaurant. It is highly rated and people love coming here to try out Turkish dishes just like they are made in Istanbul. It's great to have such variety so any traveler feels like there's something for them and they don't have to rent out an apartment and make their own food.
The menu consists of delicious meals like lamb ribs or skewers, and appetizers like baked cheese with veggies. The side dishes consist of a delicious lentil soup or some salad. Have you heard about Turkish pizza? Yes, Sultan has delicious Turkish pizza with toppings like minced meat, peppers, tomato, and paprika. Moreover, it also serves traditional Ottoman grill & kebab!
Sultan location: Via Santa Reparata, 17/R, 50129 Firenze
14. Ruth's Kosher Restaurant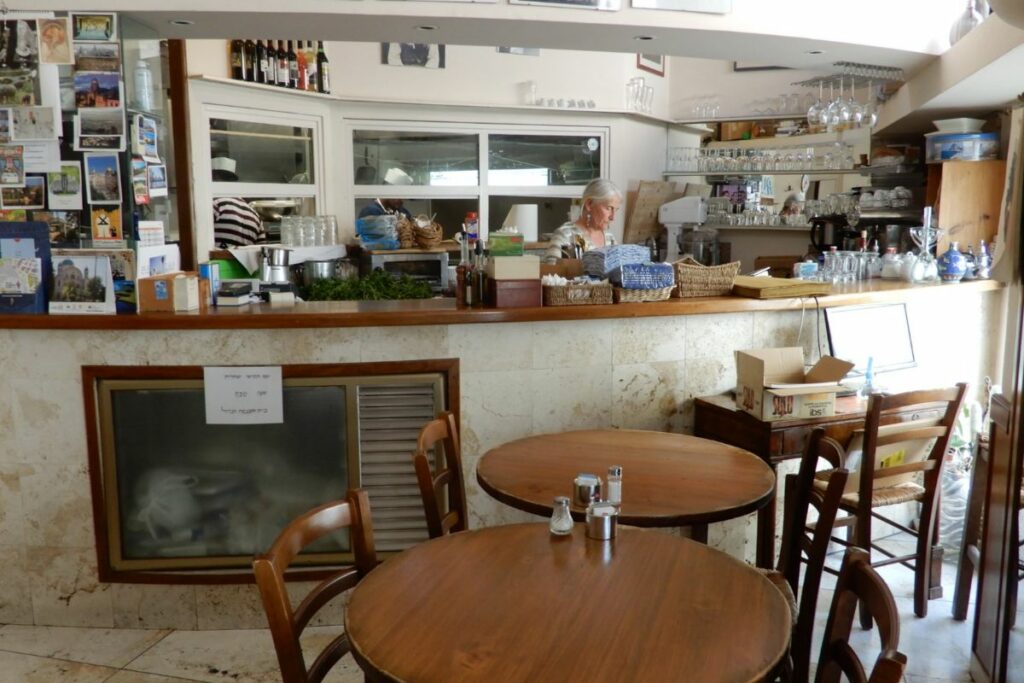 The last two restaurants we wish to mention are kosher restaurants in Florence Italy. This is a Jewish restaurant that offers takeaway, buffets, bar-mitzva, weddings as well as parties. The menu consists of vegetarian (halavi) dishes and a great variety of kosher wines. By looking at the menu, the dishes are very simple but regardless delicious and it's loved by travelers and locals.
One can find pasta dishes like pasta in tomato sauce, pasta of the day, or even soup of the day. This of course will depend on what the restaurant wishes to serve on that day. You can also order pizza but only cheese pizza is available. From the second course, Ruth's Kosher restaurant serves falafel, couscous, fresh salmon, and other dishes made by the restaurant. They also serve delicious desserts!
Ruth's Kosher Restaurant location: accanto alla sinagoga di Firenze, Via Luigi Carlo Farini, 2a, 50121 Firenze
15. Ba Ghetto
The last of the kosher restaurants in Florence Italy is Ba'Ghetto which is a middle eastern and Judeo-Roman traditional restaurant. They are also in Rome, Venice, and Milan, not just Florence. the restaurant serves authentic and genuine traditional Jewish-Roman dishes as well as Middle Eastern cuisine. Furthermore, the menu is designed in accordance with Jewish food rules.
In the Florence menu, one can find meals like Jewish or Roman style artichoke, mixed kosher cold cuts, or hummus dip. The first courses consist of different types of pasta dishes. From the main courses, you can order lamb, veal, chicken schnitzel, or even fish. There are also grilled dishes like steak, beef, or a delicious kebab. You will have an amazing time here and enjoy a great meal!
Ba'Ghetto location: Via Luigi Carlo Farini, 5r, 50121 Firenze
Conclusion – Top 10 Restaurants in Florence Italy
The top 10 restaurants in Florence Italy you might look for that serve authentic Italian dishes are on this list. For anyone that doesn't wish to eat Italian, the kosher restaurants in Florence Italy are also very popular and searched for by travelers. Florence is a vibrant city known for its delicious cuisine, it's a must-visit! Don't miss out on our online Italian cooking course either, if you love Italian dishes, and you'd love to learn how to make them!
Pin it: Best Restaurants in Florence Italy