10 Most Famous Roman Dishes
When it comes to Roman cuisine, there are endless possibilities and delicious dishes to savor! Trying out the most famous Roman dishes is really something you need to do when you visit Rome. One of the questions you ask yourself before traveling to the Eternal City is "What to eat in Rome for dinner?". Not only, though. Knowing what to eat for breakfast in Rome is just as important to me. Roman food has something attractive to it. You just know deep down that anything Rome food you'll try will be amazing. From savory treats to creamy cornetti, the city has everything to offer your palate – and more.
10 Best local dishes in Rome Italy – Roman Cuisine
That's why I've decided to put together this little guide to the most authentic Roman dishes and Roman food treats. Whether you're more of a healthy person or love to indulge in creamy Roman pasta dishes, you're sure to find something you love.
Rome food is more on the carb side, one can't deny it. The most famous Roman dishes are not tonnarelli Cacio e Pepe, carbonara, and amatriciana for no reason! If you want to discover the best Roman food – whether classic Roman pasta dishes or Roman meat dishes – stick around. I'm about to make you salivate big time! Oh, and if you're already in Rome, learn to cook Italian dishes, make sure you book a pizza-making class for the best food experience!
1. Tonnarelli Cacio e Pepe – Famous Roman Dishes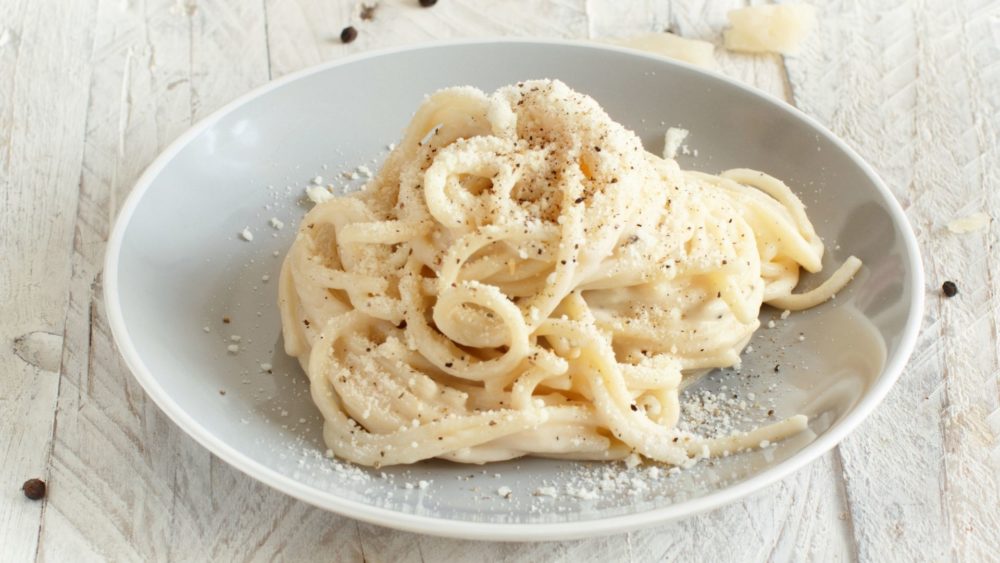 As far as Roman food goes, I've always known that authentic Roman dishes are very much about pasta, carbs, and cream. And when I moved to the city and found out that Rome food really was about what I thought, I felt comfort and wellness.
Among the most famous Roman pasta dishes, the Cacio e Pepe Roman dishes are one of the great answers to what to eat in Rome. I don't think there's one restaurant that does not offer popular Roman dishes with pecorino romano cheese and pepper. What time to eat dinner in Rome doesn't really matter when it comes to Cacio e Pepe.
You just want to eat it all the time, and you'd be right. I've been to restaurants with many vegetarian friends, and since they could not eat Roman meat dishes, they would often choose classic Roman pasta dishes like Cacio e Pepe. Try it, and you're sure to fall in love. It's so complete, delicious, and authentic that you don't even miss the meat.
2. Pasta alla Carbonara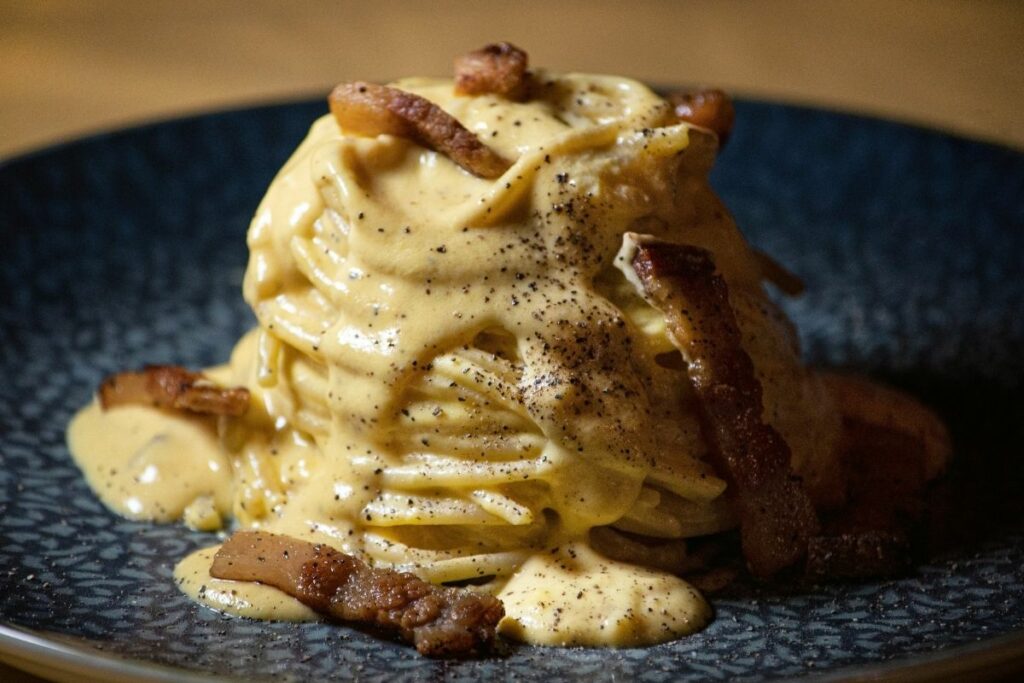 Another one of the very authentic Roman dishes is pasta alla carbonara. Roman pasta dishes often include cream and cheese, but don't you dare cook classic Roman pasta dishes like carbonara with cream!
Italians are very precise when it comes to their classic Roman pasta dishes. Every step in the recipes needs to be followed thoroughly if you want to succeed when you cook Roman dishes. It's all about the al dente, the technicity, and the rule-abiding attitude. This favorite of Roman meat dishes is a must-try when you go to a restaurant in the center.
3. Carciofi Alla Romana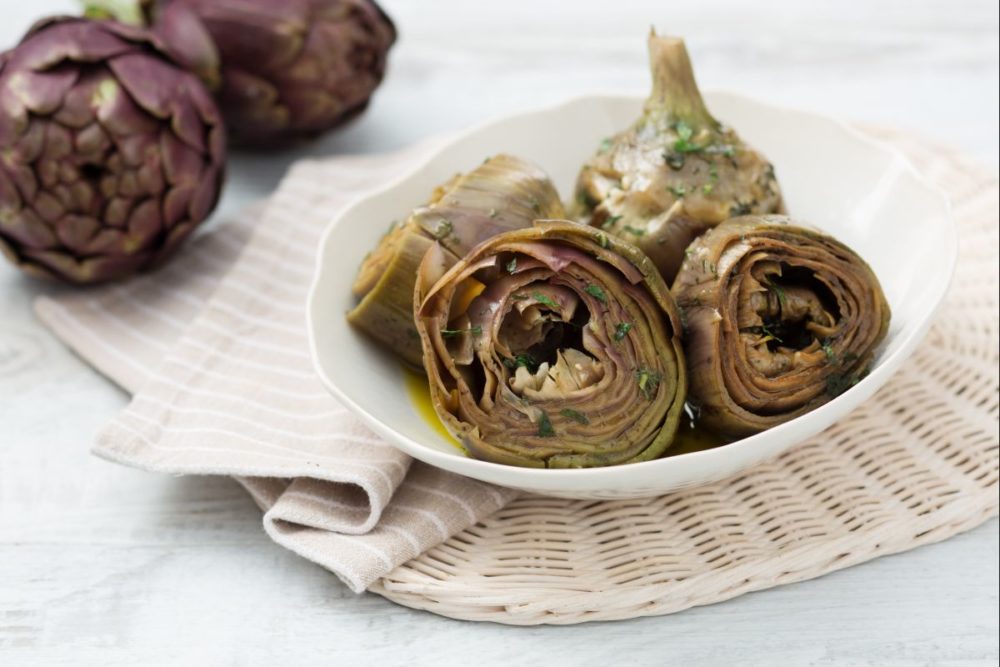 When it comes to Roman food and unique Roman cuisine, knowing what to eat in Rome, you can be a bit lost once you've tried the Cacio e Pepe and carbonara. There's much more to Rome food, fortunately than Cacio e Pepe Roman dishes. One favorite of the city is the artichoke.
Usually, among the famous Roman dishes with carciofi (artichokes), you'll have two options: Roman-style (stewed) or Jewish-style (deep-fried). Both ways are popular Roman dishes that don't care about what time to eat dinner in Rome. Actually, carciofi alla giudea is one of my own Roman food favorites, and I urge you to try it when you visit the city.
4. Amatriciana – Famous Roman Dishes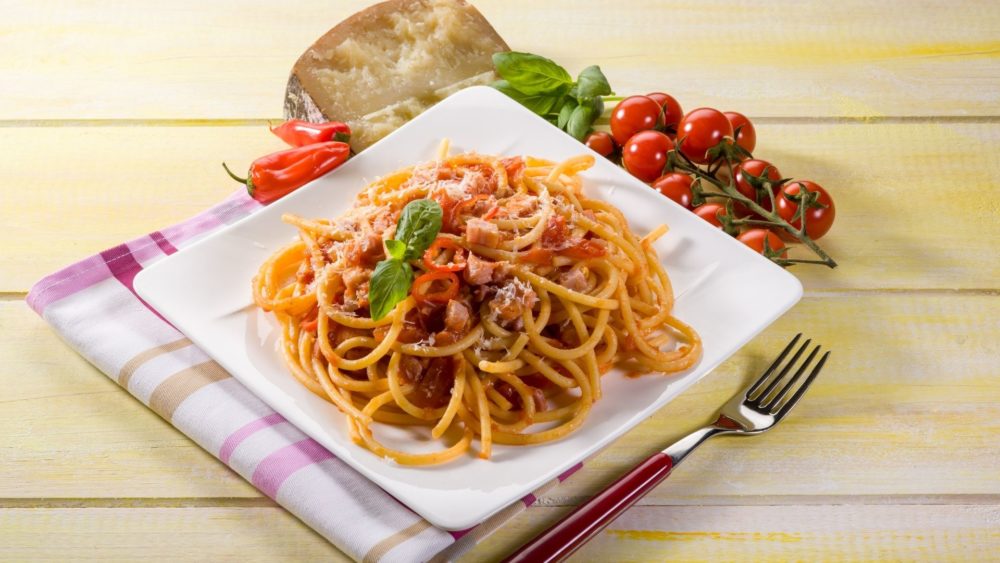 What to eat in Rome for dinner? If you've already tried the first three options for the best food in Rome, then amatriciana is next. That's one of the top Roman food recipes you will ever try in the city.
This mix of the best Roma food products will make you fall in love with pasta and meat again. Amatriciana is one of the Roman food recipes that is usually cooked with bucatini pasta and guanciale, a salt-cured version of the pork jowl. Add to it dried chiles and black pepper, and you've got there one of the simplest and best Roman dishes. What to eat for breakfast in Rome after dinner with amatriciana? Not much, my love.
5. Trapizzino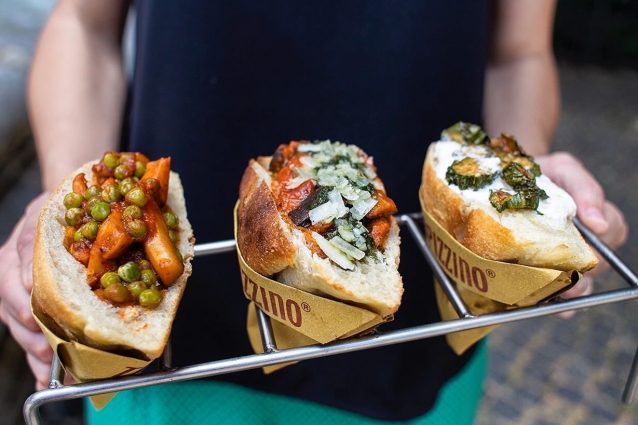 Trapizzino is one of the most famous Roman dishes, and when you're wondering what to eat in Rome on a night out in Trastevere, you'll be happy that this Roman food exists. What time to eat dinner in Rome? The timelines are blurred with that snack slash dinner delish.
If you don't know what to eat in Rome and would like to avoid pasta and pizza because, for some reason, you've had too much of those popular Roman dishes, trapizzino is your solution. It's not a very old dish, unlike the Cacio e Pepe Roman dishes. Invented in 2009, the trapizzino is a mix between the pizza and the calzone, made into triangular shapes and filled with the Roman classics.
Inside this street food favorite of Roman food, you'll find classic dishes like chicken cacciatore, meatballs, or melanzane alla parmigiana (aubergines parmigiana). The trapizzino has gathered so much fame that there are now street food stores in Milan and New York as well.
6. Pecorino Romano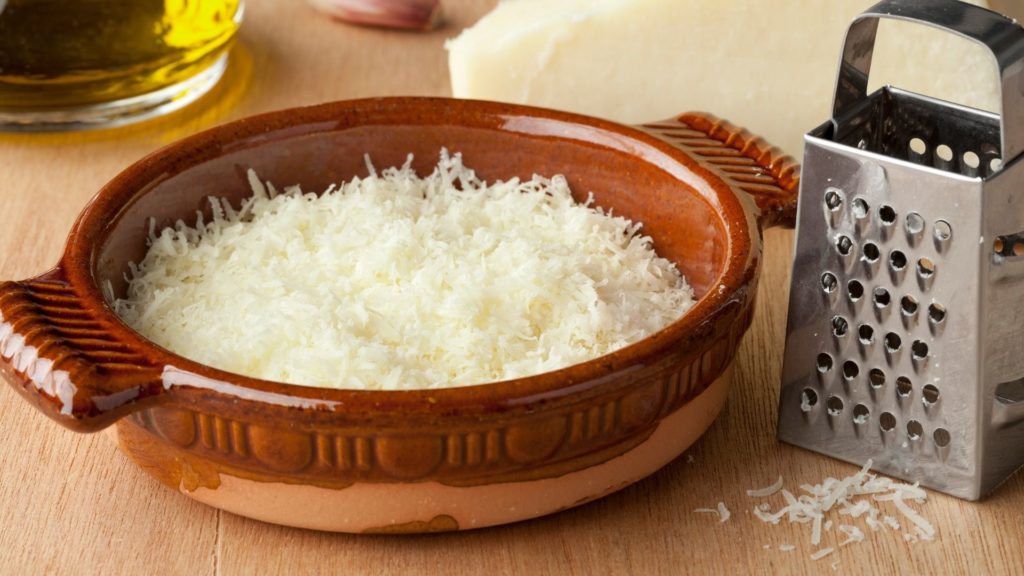 Among the top Roman food, you cannot leave out the pecorino romano. The best Roma food products often include pasta, pizza, or cheese. The pecorino romano is used in many Roman food recipes like the cacio e Pepe pasta dishes, for instance.
I personally feel like it makes the best food in Rome. The pecorino romano resembles Parmigiano slightly, and I love its slightly tangy, creamy taste. If you get a chance to try this cheese, you'll taste all of Italy on your palate. This is enough to make a trip to Rome even more brilliant and enjoyable.
7. Supplì – Famous Roman Dishes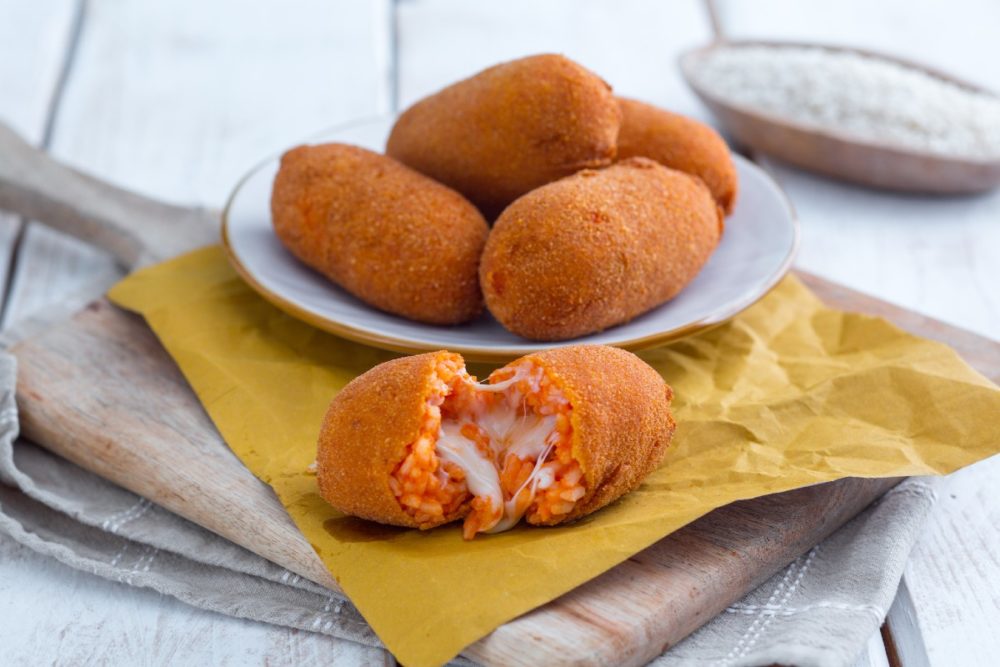 Roman cuisine wouldn't be as perfect as it is without this delicious little rice ball. One of the most famous Roman dishes is the supply – that's one of the Rome food classics that doesn't follow rules when it comes to what time to eat dinner in Rome. These little balls of Roman food are made of rice, and in their most classic version, tomato, and mozzarella.
Have you noticed how you can find what to eat in Rome pretty easily when you're a street food lover? The cacio e Pepe Roman dishes are some of the tastiest dishes in the world. One cannot possibly deny that. However, when you're just walking around the city, looking for the cutest street art in Trastevere and hidden statues, biting into a delicious suppli is enough to make your day.
8. Maritozzo – Famous Rome Food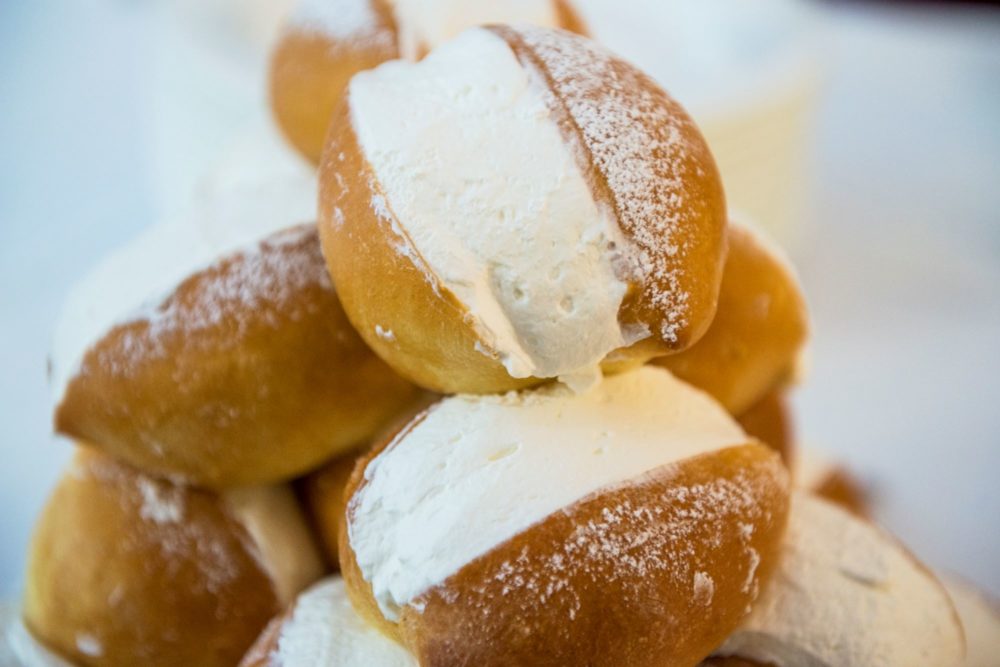 Exist the classic Roman pasta dishes and other Roman meat dishes. We're not anymore on what to eat in Rome for dinner. It's not all about savory, after all – sometimes, you also wonder what to eat for breakfast in Rome when you don't want a cornetto.
One of the most authentic Roman dishes is the maritozzo. It's a typical breakfast favorite in Rome, and it's traditionally made around Easter. I don't know if you've noticed that many pastries are made following religious holidays in Italy. Well, the maritozzo is so popular among Roman dishes that it's now available in many Roman bakeries.
This mix between a bun and a brioche is filled with the creamiest whipped cream you could ever find. It's a mess to eat, and one of the most delicious breakfast treats you'll taste in your life. Trust me. Just trust me – I know what I'm talking about.
9. Saltimbocca
What to eat in Rome for dinner when you want something a bit different from the famous Roman dishes based on pasta? A delish plate of saltimbocca. This Roman food favorite will definitely make you forget what to eat for breakfast in Rome.
The meaning of this Roman food name is literally 'jump in the mouth'. It reminds you that the saltimbocca is so delicious that it will jump in your mouth, and it couldn't bear a more beautiful name. This dish is basically built from veal escalopes that are wrapped in prosciutto, sage, and lemon.
Be sure to have some bread on the table, because you will want to mop up the juice. It's just one of those famous Roman dishes that remind you that grandmas' cuisine is still alive somewhere in the world.
10. Pizza Al Taglio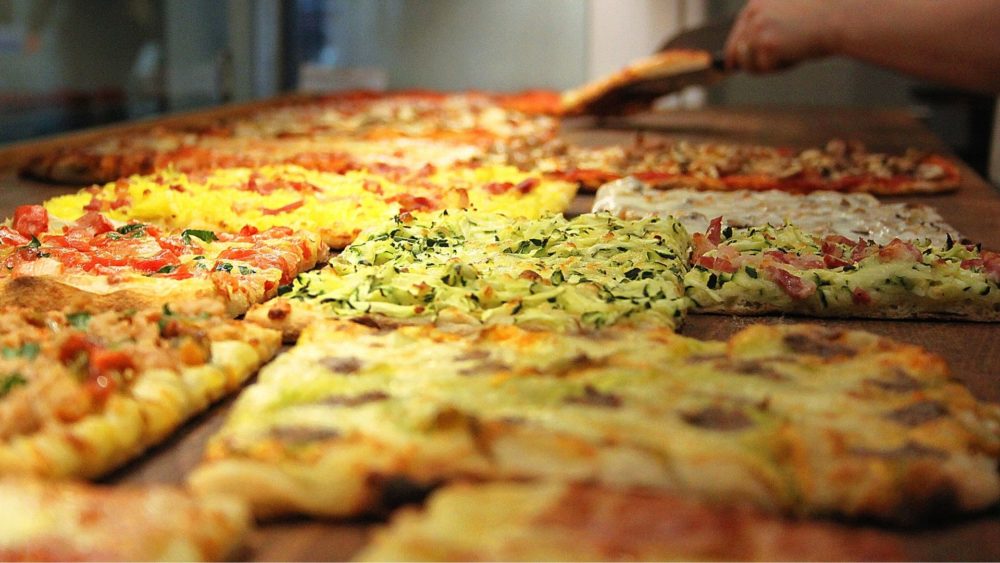 This list of the best food in Rome would definitely not be full without the famous pizza al taglio. The main difference between the pizza Napoletana and the top Roman food pizza is the dough. While the former is chewy and thick, the pizza Romana al taglio is much flatter and crispier.
It's really a matter of taste to know whether the Roman food recipes for pizza are something you prefer over Napoletana. To be fair, I still haven't made up my mind. For sure though, the pizza al taglio is top Roman food.
You try it, and you just want to add more and more on top (and end up not being able to eat everything). With toppings like anchovies, Fiori di Zucca, or a simple Margherita, the pizza al taglio is one of the best Roma food products.
Wrapping Up 10 Most Famous Roman Dishes
So there you have the most famous Roman dishes, and hopefully options for the best food in Rome that you will love. I love discovering new Roman food recipes, whether for breakfast or dinner. When I first arrived in Italy, I did not know that top Roman food would be much more than carbonara and pizza. I did not even know that pizza al taglio was a thing.
Spending some time looking up the best Roma food products will certainly open up your mind. It opens up the mind to doors of traditional cuisine and family, home feelings. And that's precisely what I love about Roman food. So why not try some of those favorites in the city? However, if you're going to Naples soon, then I can only recommend some of the best Neapolitan dishes!
Italian version: Piatti tipici Romani
PIN IT: 10 Most Famous Roman Dishes – Roman Cuisine