10 Best Local Dishes to Try in Sicily
Have you ever wondered how it would be to travel to Palermo, Messina? Or anywhere else in Sicily? Then you should prepare yourself with a list of dishes you need to try out! Sicilian food is just like in other regions of Italy, different and delicious. So if you are a pasta lover, this island filled with authentic and traditional dishes is for you. Whether you want to wine and dine in a restaurant or explore some delicious street food, the choice is yours.
The Sicilian food culture is influenced by Italian, Greek, Spanish, French, and Arab kitchen. What a big variety of flavors to choose from! Get ready to learn about the variety of pasta this country has. How rich tomato sauce, garlic, and olive oil are a staple in this culture, moreover the best cheese and wine to go with your dish.
10 Best Dishes: Sicilian Food
If you are an Italian cuisine lover, then you will love our 10 best Sicilian dish selections, including street food in Palermo Sicily, which is rich in taste and color.  Below you can find a great mixture of dishes for both meat-free and seafood lovers. The most amazing part: the majority of the dishes have more options within the filling for the pasta. Plenty of selections to choose from.
We even sneaked in a few sweet treats for those who love to try out new desserts, yet explore some Sicilian traditions. Prepare your taste buds to be amazed by these traditional Sicilian food recommendations which can be found not only in restaurants but on the streets too!
1. Pesce spada alla Siciliana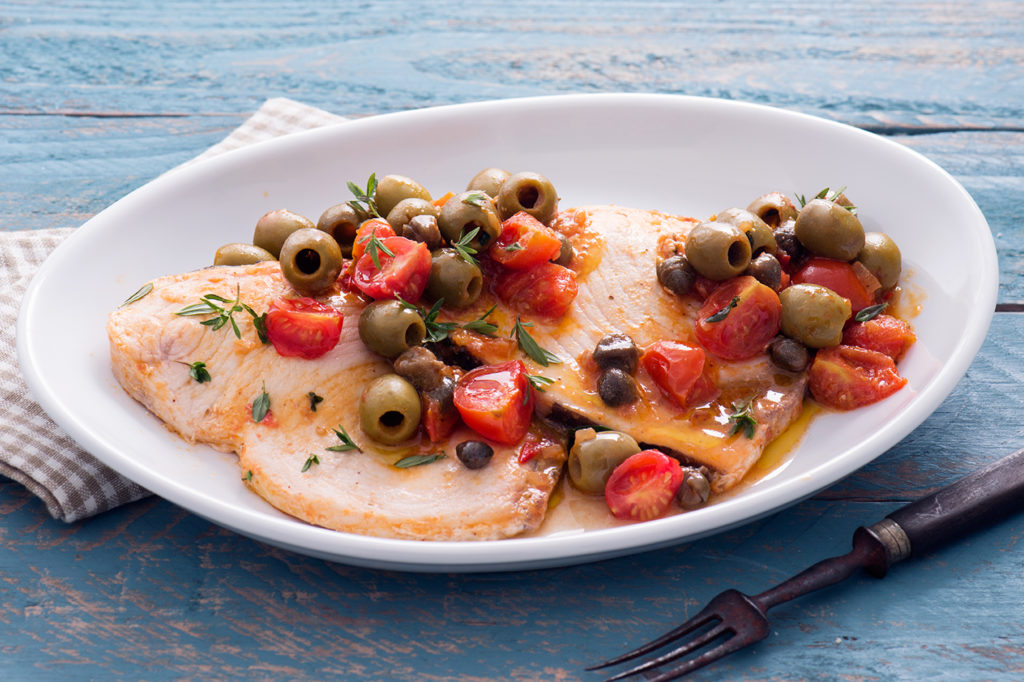 Pesce Spada alla Siciliana is a typical food in Sicily. The dish consists of a swordfish fillet topped with a sauce made out of olives, tomatoes, and capers. All the ingredients, such as the ones mentioned before, are garlic, celery, vinegar, pine nuts, and olive oil are all sauteed together, except the swordfish.
This traditional dish is definitely a go-to if you want to try out something authentic. It is easy to find at any local restaurant around Sicily. If you love swordfish, you will definitely enjoy other types of Pesce Spada too: al Forno, al salmoriglio, or alla Palermitina. You will notice that different regions of Italy have other ways of preparing this seafood.
2. Pasta 'ncasciata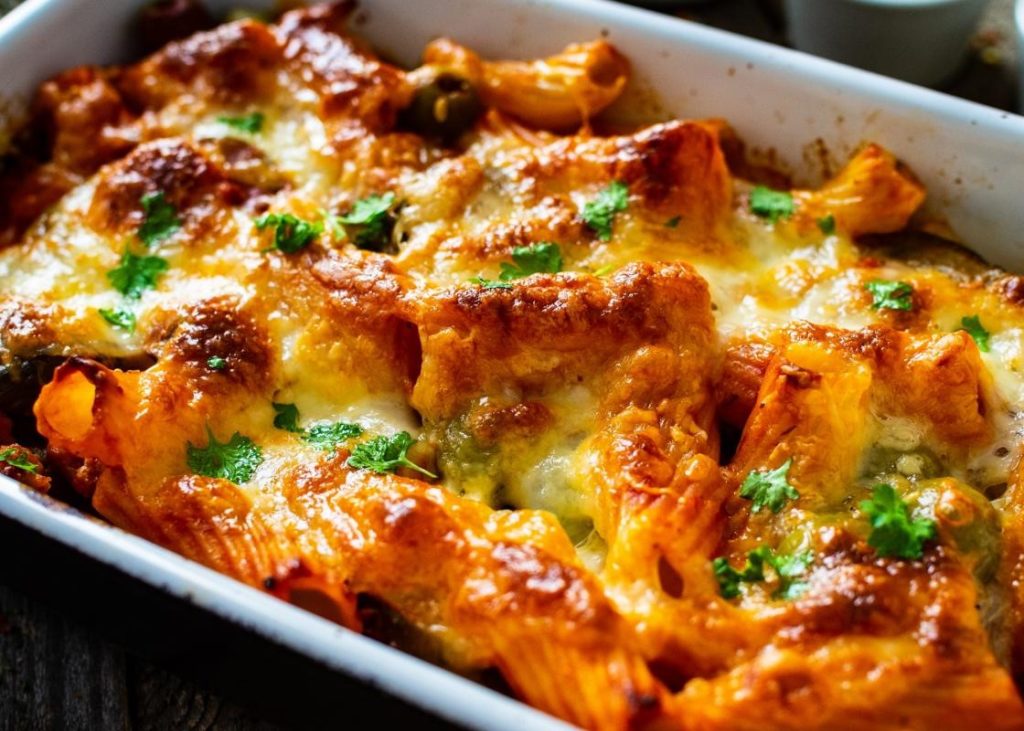 This pasta dish originates from Sicily, the city of Messina which can be prepared with either penne or rigatoni. If you cross pasta, eggplant and caciovallo, you will pasta n'casciata. The name "'ncasciata" is a Sicilian word that may translate to either "cheese" or "pan." (There is some disagreement among Sicilians, although both translations make sense since the pasta is cooked with cheese and baked in a pan).
The cooked and strained pasta is mixed with rich tomato sauce, and cubes of fried eggplant. As for the cheese, mozzarella or caciocavallo is used with some added bechamel sauce (sauce made out of flour, milk, and butter; also known as White Sauce). The Sicilian food is placed in a springform cake tin and sprinkled on top with a generous amount of breadcrumbs before being baked to perfection. For wine lovers, we recommend pairing this dish with a glass of red wine, for example, Nero d'Avola, Frappato.
3. Caponata di Carciofi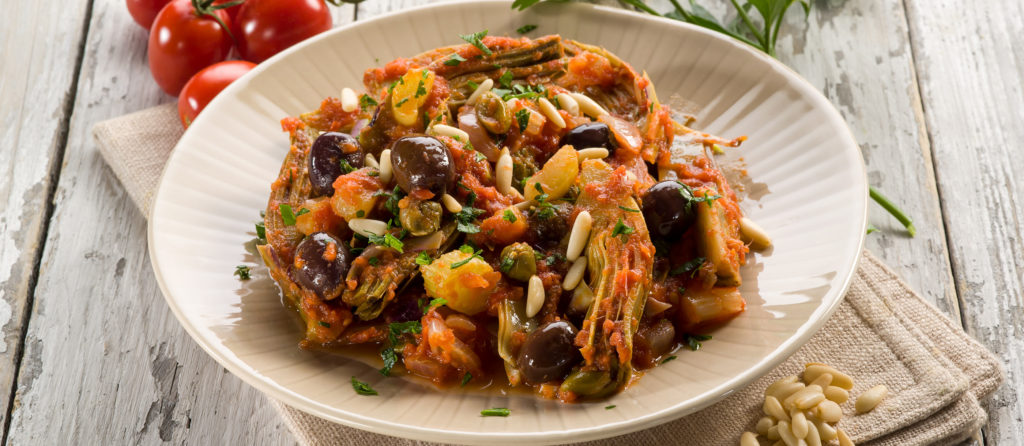 The Caponata di Carciofi is a typical food in Sicily consisting of a vegetable dish, in which the key ingredient is artichoke. Due to this reason, it is a popular dish prepared in spring. Other ingredients include onions, lemon, celery, capers, olive oil, red wine vinegar, and tomato sauce. Some people put raisins and pine nuts on this list, although these two are a 'kick' to the traditional caponata.
The flavor of the caponata should be sweet and sour. The trick to adjusting the balance of this lies in the red wine vinegar. Served at room temperature Caponata di Carciofi either as an appetizer or side. Although some Sicilians recommend letting it rest in the fridge overnight and serving it the next day. An amazing and colorful vegetarian dish, just like spring!
4. Cuccidati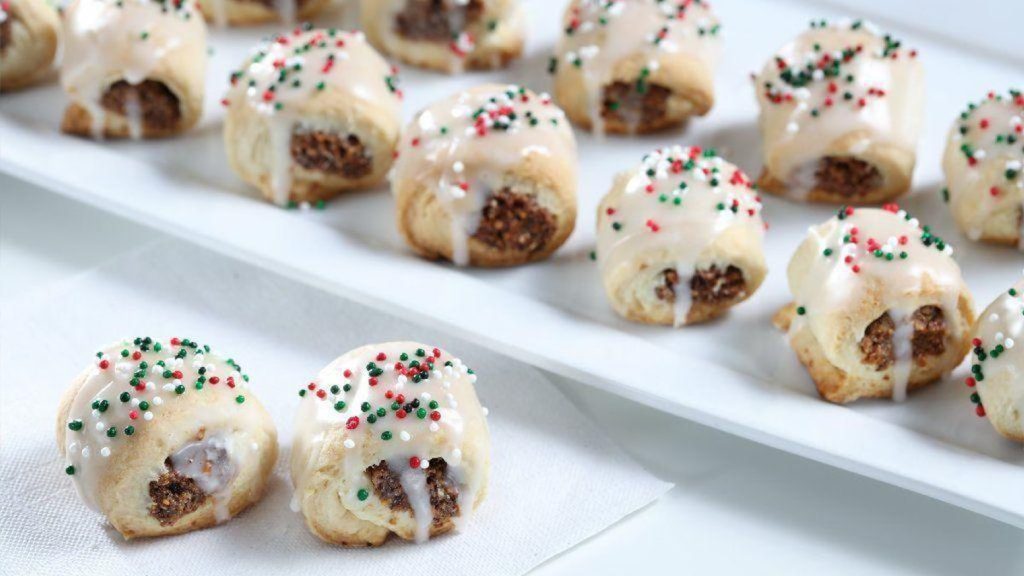 As a quick break from all the cheesy and savory pasta dishes, Cuccidati is the perfect Sicilian cookie that originated during the Muslim Rule of Sicily. This is a rich, yet flaky and delicious dessert stuffed with figs, raisins, dates, honey, chocolate, walnuts, and selected spices. The complexity and difficulty of this Sicilian treat lie in its filling. The robust flavor of walnuts and almonds is not easy to be mixed with the sweetness of figs and dates.
Cuccidati brings back the childhood memories of the festive period for Sicilians: a staple sweet treat, which is made in the Sicilian food culture the weekend before Christmas. Sometimes it is made in the shape of a wreath, ribbon, or candy cane. Cuccidati is similar to the English mince pie, which is a staple during the Christmas holidays. Festive period or not, we definitely recommend a Cuccidati whilst you explore Sicily.
5. Involtini di pesce spada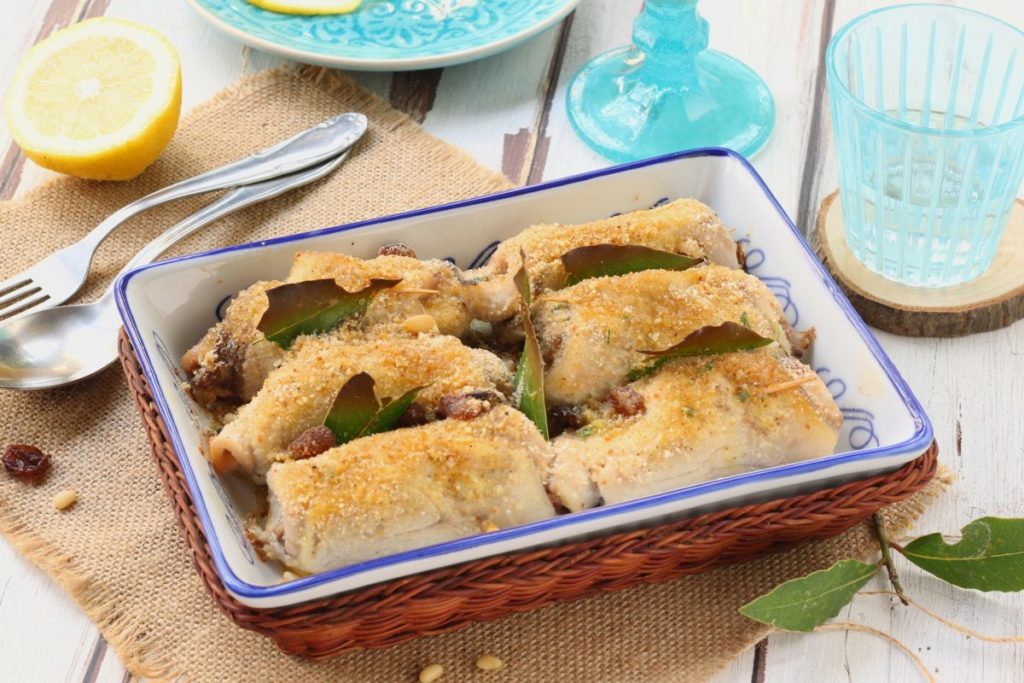 Another dish involves pesce spada, but in different shapes and sizes. This is a traditional Sicilian food consisting of baked swordfish rolls. Yes, you read that right! Rolls…not sushi, but we promise that it is just as delicious! Involtini di pesce spada consists of swordfish fillets stuffed with various flavored breadcrumbs such as lemon zest, garlic, fresh herbs, or pine nuts (occasionally even raisins or cheese). Plenty of flavors for every taste (another reason why best food is in Sicily: endless options to choose from).
These swordfish rolls can be prepared either by grilling or pan-frying. When fried to perfection, it is served and paired with a squeeze of lemon juice and olive oil-based salmoriglio sauce. This sauce is typically accompanied by seafood, especially swordfish. It contains olive oil, lemon juice, garlic, and herbs.
6. Spaghetti al Nero di Seppia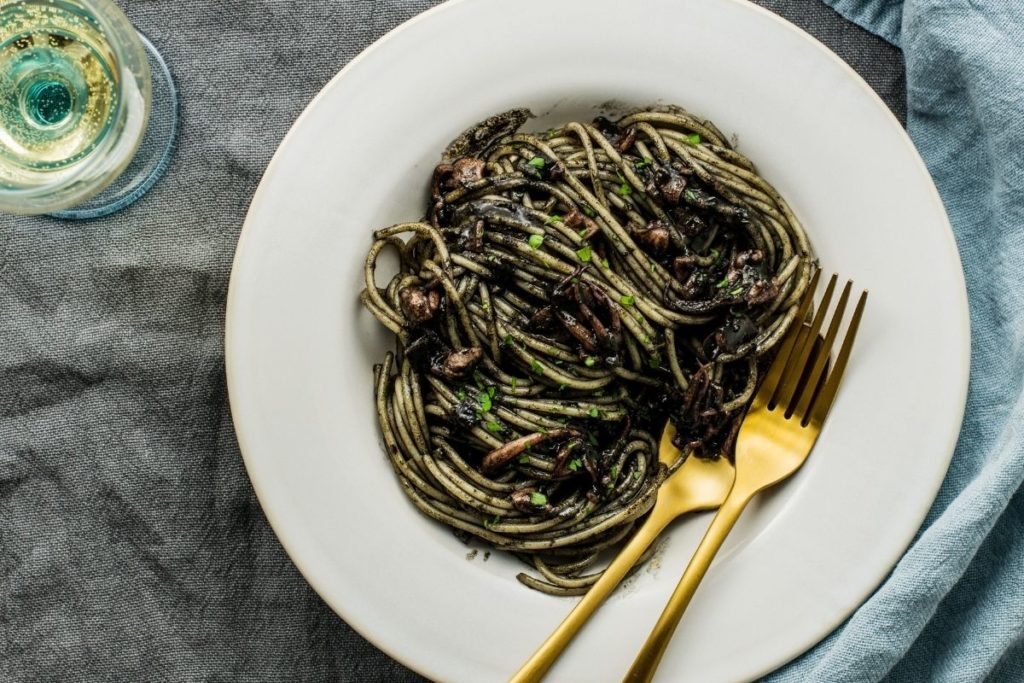 This traditional Sicilian food is associated with both Sicily and the northern Veneto region. It is distinctive of its dark pasta due to the cuttlefish sauce, which is made out of composed cuttlefish slices fried with garlic and olive oil. If you haven't tried cuttlefish yet, it has a rich, briny taste with a dash of sea saltiness. In addition to these ingredients, we can name white wine, cuttlefish ink, and occasionally tomatoes too.
Although spaghetti is the traditional way of preparing this dish, other pasta varieties are often used, such as linguine or bigoli. I would recommend giving it a try, even if the sound of cuttlefish and its ink doesn't sound that tasty. Spaghetti al nero di seppie is both an elegant, yet rustic dish. Therefore it is perfect as a party dish or a more romantic, intimate dinner for two.
7. Arancini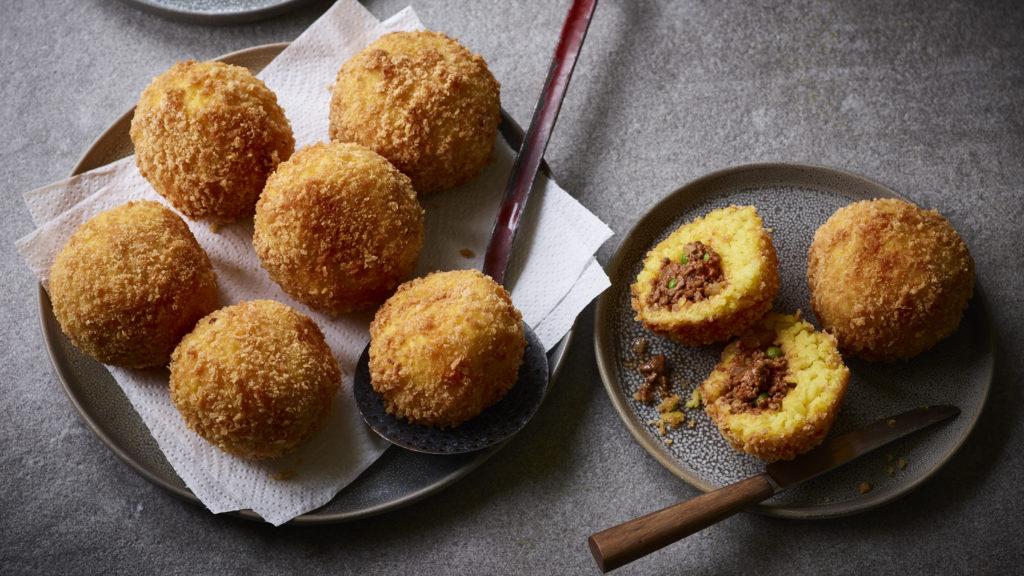 The Arancini are big, golden rice balls filled with a savory combination of ingredients in the center originating from Southern Italy. There is a festival called 'Festival of Saint Lucia', taking place on December 13th in Palermo. During this time the city fills up with hundreds of stands and frying kiosks that sell arancini. For this holiday many even make this rice ball in a sweet version, covered with sugar and cacao. The name of this Sicilian street food is derived from the Italian word for orange, 'arancia', referring to the similarities in visual appearance and color, so arancini mean small oranges.
The fillings of arancini often include meat sauce with peas, dried prosciutto, and cheeses such as mozzarella and pecorino. This golden rice ball is a definite staple of the Sicilian food culture, so don't miss out on it if you have the chance! The traditional arancino comes in two main variants. The first one is perfectly round shaped, filled with a ragu sauce of meat, mozzarella, and peas. The second is called al burro ("with butter") and has a longer, pear-like shape and it is filled with diced mozzarella, prosciutto, and grated cheese.
8. Brioche con gelato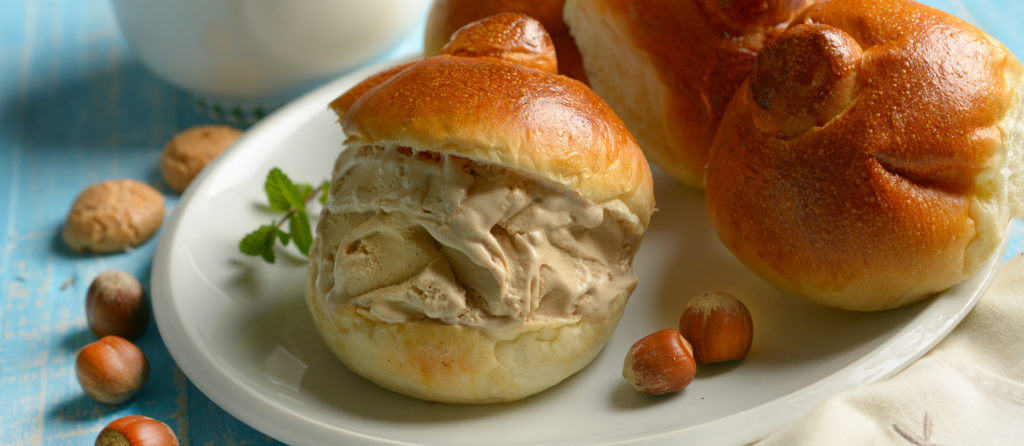 The Brioche con gelato is a traditional Sicilian street food originating from Sicily. This sweet treat consists of a soft, buttery brioche stuffed with gelato. As a finish, they often sprinkle chopped nuts and powdered sugar for extra flavor.
Now don't think of the usual gelato flavors with this brioche. Bourbon vanilla, cream with lemon zest, caramelized fig cream, and plenty of variations on the Italian chocolate theme, such as dark, chili, sour cherry; cherry and cinnamon, and Matcha tea and pumpkin, just to name a few from the daring, not everyday flavors. Fun fact: did you know this street food in Palermo Sicily is a popular breakfast during the hot summer mornings?
9. Spaghetti ai Ricci di Mare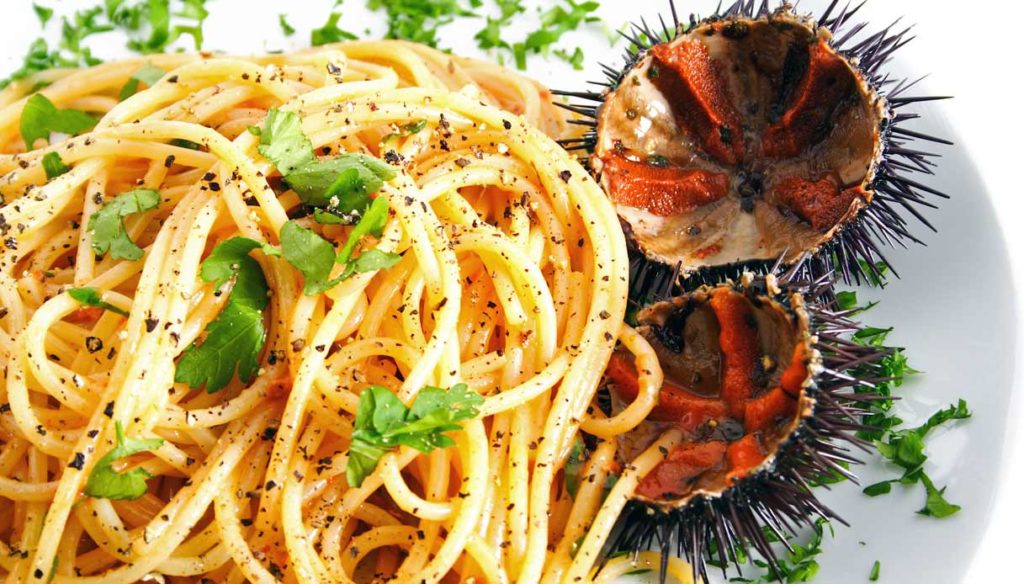 One of the best food in Sicily is Spaghetti ai Ricci di mare due to its simplicity. Although it is popular in Sardinia and Puglia too. This Sicilian food consists of spaghetti and sea urchins right from the bottom of the sea. This will quickly become your favorite Sicilian dish thanks to its textures and rich flavors. Other ingredients of this pasta dish are olive oil, garlic, salt, parsley, and lemon wedges as garnish.
In case you never tasted sea urchins, do not worry! The small shell will easily open in your hands. It is not hard to get to the orange-colored fruit from the inside. If this caught your attention, then note that sea urchin season is between January and March, therefore this dish is extremely popular between these months.
10. Cannelloni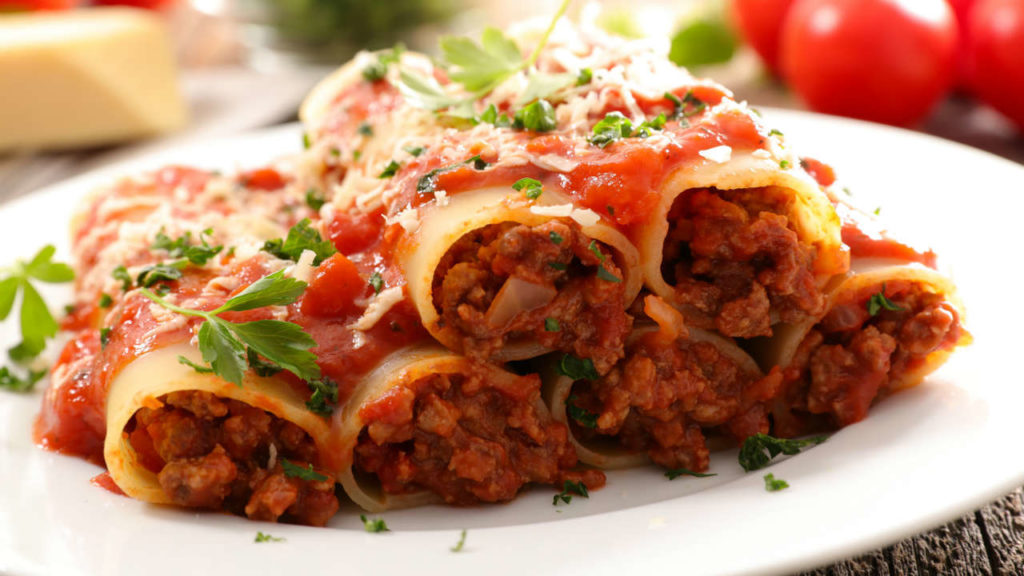 Cannelloni was first created in Sicily, specifically in the Palermo and Messina regions. The name of this pasta comes from the Latin word for 'reeds'. This evolved into the Italian word cannello or "tube." Cannelloni can be considered one of many street food in Italy Sicily: it was made as a special treat for Carnivale celebrations as a symbol of fertility. Since quickly it became popular amongst bakers, it became a staple dish all year round not only in Sicily but Italy too.
The purpose of this 'tube' is to be filled with your favorite ingredients, then baked in the oven. A vegetarian example would be spinach and ricotta, but there is a beef version (cannelloni di carne) or chicken, spinach, and ricotta cannelloni (just to name a few of the most commonly prepared dishes). Good news to gluten-intolerant people or for those who prefer whole-wheat cannelloni: you can find your version of this pasta and health stores.
10 Best Dishes: Sicilian Food Edition
So there you have 10 of the best food in Sicily. As you can see, Sicilian food can be both rustic, and traditional, but daring and elegant. Endless options of the typical food in Sicily to fit everyone's taste buds whether you would like to opt for a traditional pasta meal or dare to dive into the world of cuttlefish and exquisite gelato flavors. Or who knows, you might find new delicious cheese and wine pairing!
Sicily might not be an enormous island, but it is definitely rich and big in herbs, seasonings, colors, tastes, and variations for both tourists and Sicilians. Whether your destination is Palermo, Catania, or Messina, dare to dive into the best food in Sicily. Explore these dishes, and all the pasta, and cheese possibilities, and don't forget to enjoy a glass of good wine whilst at it!
If you want to explore more of Italy, have a look at our articles on Puglia food, Neapolitan dishes, and Italian pastries.
Italian version: Migliori piatti tipici Siciliani
Pin It: 10 Best Sicilian Dishes To Try – Sicilian Food