Looking for the best food in Naples? Here are our foodie tips for an indulgent feast while visiting Naples and the Campania region! You will find the most traditional homemade recipes, some delicious desserts, and typical street food. All extremely appetizing! Follow the taste and let yourself be tempted by the most popular Neapolitan dishes to try. Are you asking what to eat in Naples, Italy? Here is our list of the top 10. If you'd like to know more about the best pizza in the country, don't miss out on these amazing types of pizza in Italy!
10 most popular Neopolitan dishes to try
Naples is famous for so many reasons, and we love visiting it so much! However, when it comes to food, heading to Naples starts with preparation. We're preparing our stomachs to take in as much as possible from all that deliciousness that the capital city of Campania offers!
There are plenty of Neopolitan dishes to try from pizza to calzone, different pasta dishes, Neopolitan pastries, and other interesting delicacies! Also, if you're already visiting the city, don't miss our articles on the best restaurants in Naples, but also the best things to do, and the best places to stay in Naples!
1. Pizza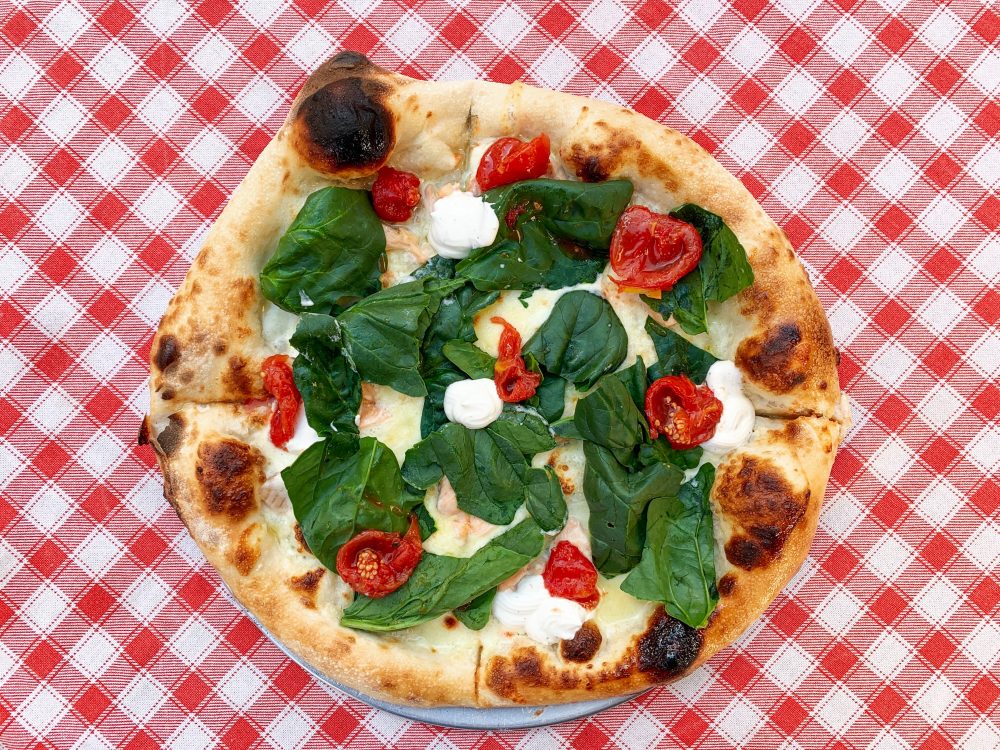 The list of regional delicacies is very long, but undoubtedly the first place is for his majesty the Neapolitan pizza. This is by far the best food in Naples, and the recipe is extremely simple. The three essential ingredients are an excellent dough, some local tomatoes, fresh mozzarella, a few basil leaves, and a drizzle of olive oil.
Just 60-90 seconds in the wood oven, and you will taste the quintessence of Neapolitan food. This is by far the best dish in Naples you will ever try! Recommendation: Sorbillo Lievito Madre, Concettina Ai Tre Santi and Pizzeria Da Attilio. These restaurants serve the traditional Neapolitan pizzas along with some creative options, but what makes them special is the dough.
2. Ragù Napoletano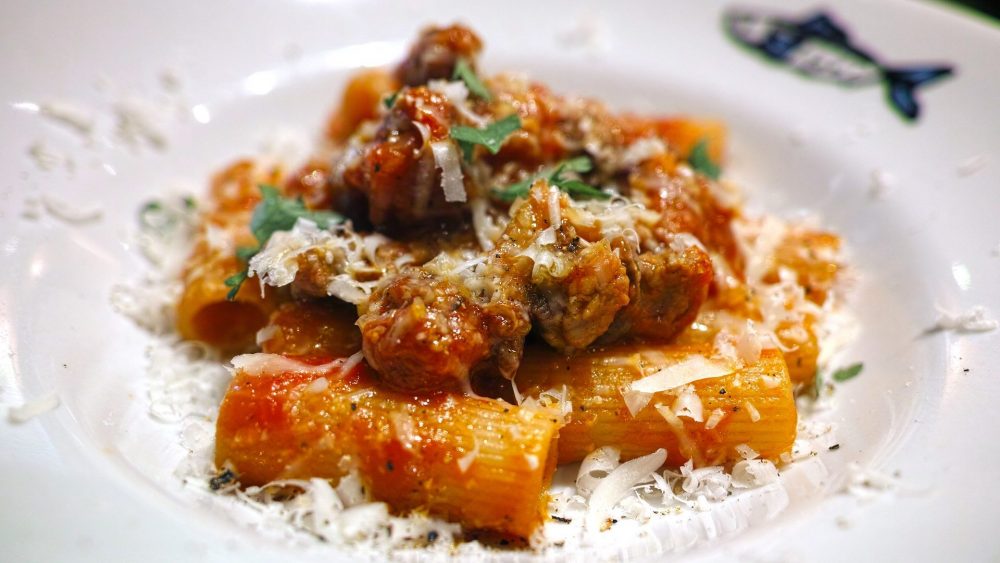 Sunday lunch in Naples and Campania has only one name, the Ragù! It is a traditional recipe based on tomato sauce, beef and pork cuts, chopped onion, and the irreplaceable drizzle of olive oil. But to prepare it, the first fundamental ingredient is patience: let the sauce pippiare, or simmer gently for hours. When you taste the Neapolitan ragù, have the cozzetto di pane, or the end of the loaf, ready to dip in this tasty sauce!
There is a nice restaurant in Naples that offers its customers only two dishes: Ragù and Genovese, by far the most popular Neapolitan dishes. It's called Tandem. After dipping your slice of bread in their Ragù, you will lick your whiskers just like a cat! But now let's discover Genovese, one of the most popular Neapolitan dishes.
3. Genovese
Another recipe of the Campania tradition, typical of Sunday lunch, is the Genovese. Yet this recipe is unknown to the Ligurian capital and is instead 100% Neapolitan! It is a kind of white ragout prepared with a cascade of onions and enriched with a large piece of beef.
During the long cooking over low heat, the onions turn into a very sweet purée, while the meat flakes on the outside, mixing with the onions and creating a dark and very tasty sauce to season the pasta. One of the most delicious dishes from the Campania region of Italy! Not trying it is a shame…
4. Pasta, fagioli e cozze
Pasta e fagioli is one of the most popular Neapolitan dishes, the first course with a unique flavor, which has its roots in the peasant tradition. In its winter version, pasta with beans is enriched with pork rinds. But we suggest you try the summer version, that is pasta, fagioli e cozze! Mussels give the dish an intense flavor.
The perfect spot to taste this traditional dish is in one of the so-called Chalets, typical kiosks located near the harbors. You can sit at the outdoor table and savor this delicacy while sipping a glass of local wine right in front of the sea. Not to be missed: Chalet Laura and Chalet Annamaria in Castellammare di Stabia (province of Naples).
Pasta and beans are one of the best dishes from the Campania region of Italy, and it makes everyone happy, thanks to its timeless flavor. If you taste it, you can't do without it anymore.
5. Casatiello
One of the Neapolitan delicacies par excellence? The Casatiello! With a dough similar to bread but enriched with salami, goat cheese, and a generous sprinkling of pepper, this savory pie is the star of the Easter menu. Its typical donut shape is decorated with an egg wreath. Caged on top of the cake, children usually compete for those eggs!
Casatiello, and its variations such as savory babà and the Panino napoletano, or Neapolitan sandwich, are among the most popular Neapolitan dishes. Extraordinarily appetizing, they are unmissable on Neapolitan tables!
6. Parmigiana di melanzane
You are sad? Try Parmigiana! It seems that the flavors and aromas of this typical Neapolitan dish are a powerful antidepressant, putting anyone in a good mood at the first taste!
Parmigiana di melanzane is undeniably one of the most popular Neapolitan dishes. This traditional recipe is absolutely fabulous! Few ingredients for a succulent dish that is a symbol of Neapolitan cuisine: tomato sauce, sliced fried eggplant, a few basil leaves, grated Parmesan and mozzarella, of course … and then everything in the oven!
Don't miss trying it, because this is by far one of the best dishes from the Campania region of Italy.
7. Polipetti affogati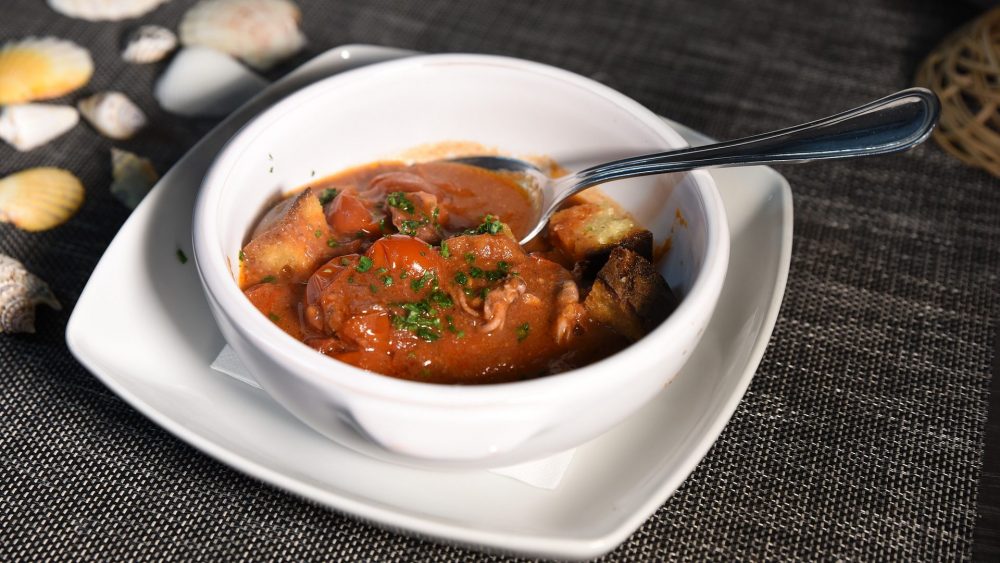 A long time ago, a group of fishermen in the Borgo Santa Lucia in Naples invented a dish that has become part of the tradition of Campania cuisine: the purpetielli affugati.
These little octopuses, which are literally drowned in tomato sauce, are one of the simplest and most popular Neapolitan dishes. Try them with toasted bread. Mamma mia, you will lick your fingers!
8. Sfogliatella
The Sfogliatella (in Neapolitan: 'a sfugliatèlla) is a typical Campania dessert with a soft filling of citrus-scented custard mixed with ricotta, in two variants: a crunchy puff pastry, or a delicious shortcrust pastry.
Therefore, when you enter the pastry shop Pasquale Pintauro, the king of the sfogliatella in Naples, you will have to specify whether you want to taste a riccia (literally curly) or a frolla (shortcrust). Enjoy one of the most popular Neapolitan dishes!
9. Babà al rum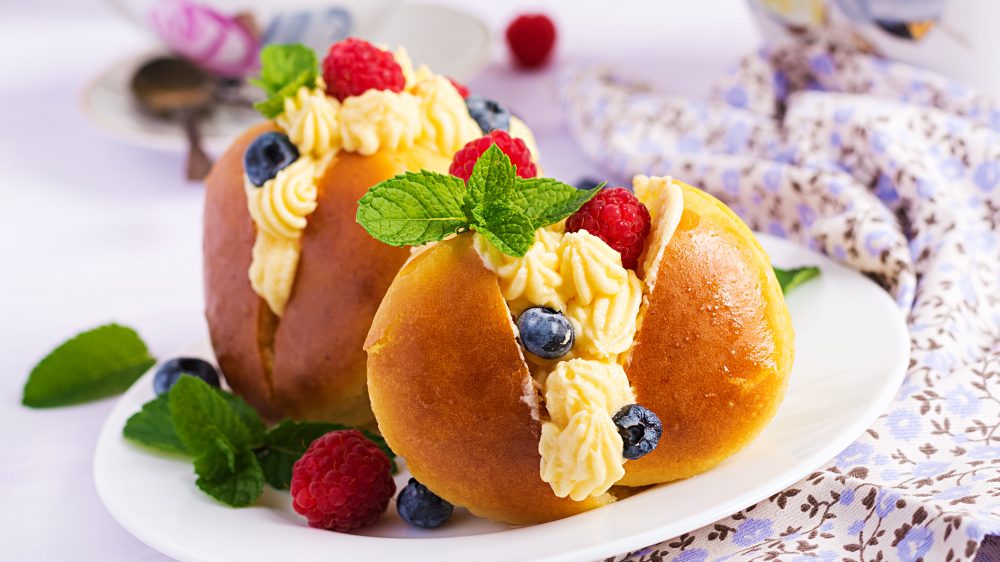 A sponge cake soaked in a rum-flavored syrup and brushed with apricot jam for a glossy, sticky finish. One of the most delicious foods in Naples. See also our Neopolitan pastries list if you want to learn more!
Oddly enough, Babà's origins are linked to a Polish prince residing in France who had the idea of soaking a dry Kugelhopf in rum. In the 19th century, this recipe arrived in Naples, where the rum Babà soon became one of the most popular Neapolitan delicacies ever. Try one at Leopoldo, in Naples.
10. Pastiera
A delicious Neapolitan cake made from shortcrust pastry and stuffed with cooked wheat, eggs, ricotta and flavored with orange blossom water, usually enjoyed at Easter. What is that? Well, the famous Pastiera, of course! By far one of the most popular Neapolitan dishes.
Did you know that the strips that decorate the top of this cake must be seven? Like most of the Neapolitan dishes, the origins of the Pastiera go back to the Greek Neapolis. According to the legend, the Pastiera was born as an offering to the Siren Parthenope. The seven stripes represent the four Cardini and the three Decumani of the ancient Neapolis, that is, of the current historic center of Naples.
To savor the best Pastiera, go to Gambrinus, one of the oldest and most beautiful cafés in Naples. There, you can enjoy many other dishes from the Campania region of Italy, of course!
Last but not least, street food in Naples
We cannot close the gallery of the most popular Neapolitan dishes, without mentioning street food in Naples! In Campania, the tradition of street food dates back to Roman thermopolia! Nowadays, you can taste the typical fried foods, such as the delicious Crocchè di Patate (mashed fried potatoes stuffed with mozzarella), or small Rice Balls and Frittatine di Pasta (pasta medallions mixed with béchamel, stuffed with a delicious mix of ham and peas and then deep-fried).
But also Pastacresciute (fried bread dough balls) or Scurilli (fried zucchini flowers in batter) served in the typical Cuoppo (a Kraft paper cone rolled by hand to contain these delicacies), or just a slice of pizza. Go to Via dei Tribunali, Port'Alba or Via Pignasecca, in the historic center of Naples, and try the best Neapolitan street food. But, don't forget to try Taralli 'nzogna e pepe (crackers made with lard, black pepper, and toasted almonds). Street food in Naples is a must!
The most popular Neapolitan dishes don't end here…
Neapolitan cuisine is truly rich in many other delicious recipes and will never fail to surprise you if you decide to explore it. Soffritto, Gnocchi alla Sorrentina, Spaghetti allo Scoglio, Salsiccia e Friarelli, buffalo mozzarella, Struffoli … and many other Neapolitan dishes are just waiting for you. If you love Italian food, you might enjoy the most succulent pastries in Italy. Well, we just have to wish you now … Buon appetito!
PIN IT: The Most Popular Neapolitan Dishes