10 Best Fine Dining Restaurants in Rome
We are diving into the world of fine dining. Why should everyone try it at least one time? Well, it is an amazing experience. One doesn't visit these types of restaurants because they are hungry, they must be visited because of the atmosphere, the luxury they offer and of course, the delicious meals. We will talk about the best fine dining restaurants in Rome Italy that you must try out.
It is without a question that these Michelin star restaurants in Rome are worth your while. The chefs use top-quality ingredients. That is the key to providing guests with exquisite courses that taste out of this world. It also comes down to each chef's creativity and how they manage to keep those Michelin stars.
10 best fine dining restaurants in Rome Italy- Michelin Star Restaurants in Rome
In case you didn't know, restaurants can only earn stars by offering outstanding service, and serving quality dishes for a longer period of time. It is also very difficult to keep the stars. The best Michelin restaurants in Rome have also been working extremely hard to earn the star and also to keep it. Thanks to customers coming from all over the world and trying out the chef's meals, these restaurants in Rome are still thriving.
But besides dressing up and enjoying a 7-course meal, we have to mention the decor and some of the views. For example, a few of the best luxury restaurants in Rome have magnificent views. Have you thought about dining in front of the Colosseum? Well, now you can! But not just. Dine at the restaurants that offer a panoramic view of the Eternal City, you will not be disappointed!
1. La Pergola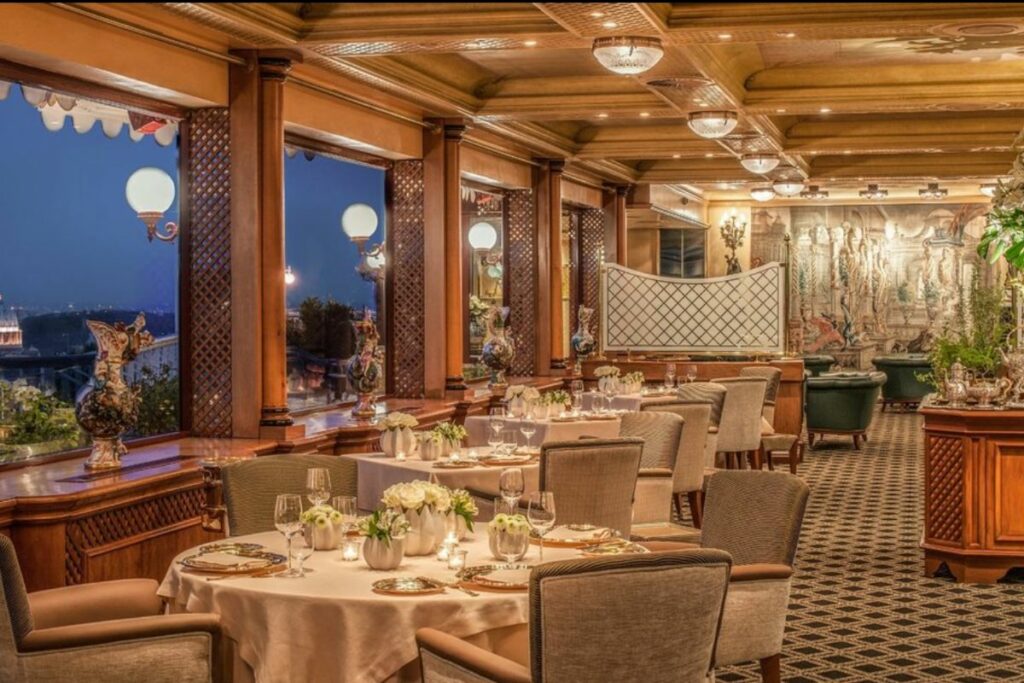 One of the first Michelin star restaurants in Rome you have to visit is La Pergola. This restaurant is praised by many and for a good reason. It is located inside the Waldorf Astoria Hotel, which is a 5-star hotel. Not only does it have a stunning panorama of the Eternal City, but the food is also exquisite. The main chef at La Pergola is Heinz Beck, who was born in Germany and is a three-Michelin-starred chef.
Thanks to his creativity, the restaurant boasts of the best gourmet meals that are unique and traditional. Here you can taste authentic flavors of both Italian and Mediterranean traditions. Depending on when you visit Rome and the restaurant, there are a few menus to look at. It's among the best fine dining restaurant in Rome Italy due to the variety of meals served. Translating the meals probably doesn't serve them justice, but here are a few of them. Firstly, the "Fatty duck liver with peaches and verbena" starter.
Then one of the first courses is "Tortellini stuffed with eggplant with sumac sauce and red prawns". Lastly, for the second course try the "Lamb with myrtle sauce and Polignano carrots". And while you are enjoying these delicious Michelin star meals, you must also ask the sommelier, Marco Reitano, for the best wines to go with your courses. He won several awards and created the best wine lists for La Pergola!
2. Glass Hostaria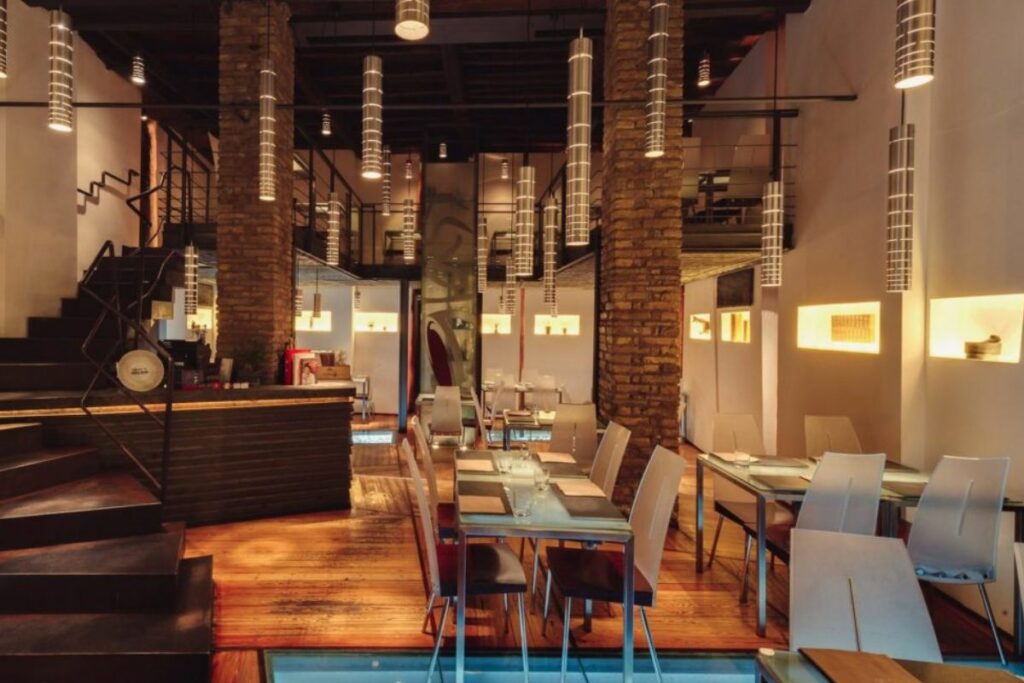 It's difficult to choose from the best luxury restaurants in Rome, there are many of them and all have great reviews. The wisest choice would be to look at the menu before deciding where to go, this way you are not disappointed. But in case you love to try out Michelin star restaurants in Rome, just follow our list! The next one we are talking about is Glass Hostaria. It's led by Chef Cristina Bowerman who is also a Michelin star chef.
The restaurant is situated in the Trastevere neighborhood. You can find many amazing Trastevere hotels here so it's only natural to also visit Glass Hostaria while you're residing in one of them. Glass Hostaria features a contemporary and essential design. It's quite beautiful, lights are hanging from the ceiling, everything is a bit dark and elegant. The way they describe the cuisine is "light cuisine, which recalls the best Italian tradition". If you check out any of the pictures of the meals, you'll be drawn to them immediately.
Chef Cristina is innovative and creates these gourmet meals out of passion, with in-depth research and using all of those years of experience while traveling the world. You can choose from a selection of courses, there are usually 8 courses for one table. This is available both with meat and without. If you do not wish to have so many courses, simply choose from the A la carte dishes which are as delicious as the rest.
3. Imàgo
Following our list of best restaurants in Rome Michelin star, Imàgo is a part of the Hassler Roma hotel. The hotel is located in a beautiful neighborhood, very close to the Villa Borghese and it's a 5-star luxury hotel, therefore, it's only natural that the restaurant is luxurious too. Just like the first restaurant, Imàgo also boasts magnificent views over the Eternal City. It's on the 6th floor and it's a panoramic restaurant, so you get the best views all over Rome.
You'll be greeted with soft music and walking on marble floors, the furniture is antique wooden, with romantic dimmed lights and a stunning Roman skyline. What exactly can you see from here? Well, the restaurant itself is at the top of the Spanish Steps. Then when you look out, on your right the Santa Maria Maggiore, San Giovanni in Laterano, the church of Sant'Andrea delle Frattee, and many other famous sights and monuments. In other words, you have to experience this in person!
It's typical for the best fine dining restaurants in Rome Italy to have 6-7 courses meals. After all, the courses are small and here you can experience the best culinary tastes. There's a 6-course tasting menu that offers the best dishes from a particular season. On the other hand, if someone just wishes to taste other meals, they can just order from A la carte. Ask the sommelier which is the best wine to go with your dish. There's a selection of red wines and white wines, but also roses!
4. Enoteca La Torre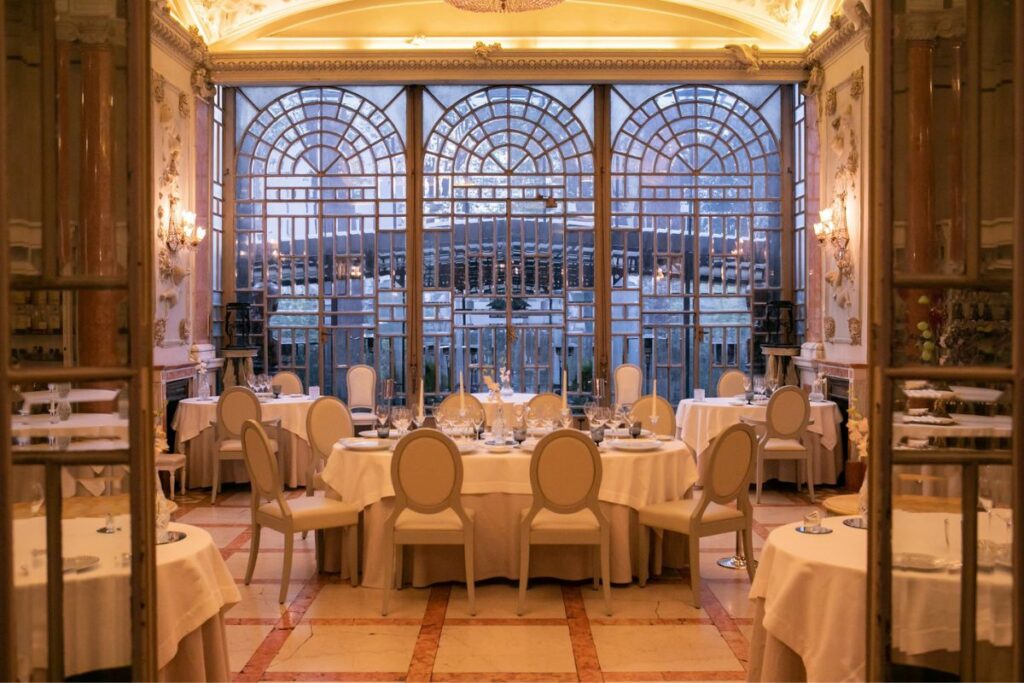 Enoteca La Torre is among the best luxury restaurants in Rome with a Michelin star. Location-wise, it's next to the River Tiber and in the Della Vittoria neighborhood. The stunning Giardini di Piazza Mazzini is nearby as well. It received its Michelin star in 2010, hence why it's one of the best fine dining restaurants in Rome Italy. Enoteca La Torre stands by 'research and refinement'.
They not only serve exquisite dishes, but the attention to their customers is also excellent. The whole team is focused on excellence and professionalism and offers you the best experience when you visit the restaurant. Enoteca La Torre has the youngest starred chef in Rome, which is Domenico Stile. With this, he already won hearts! Besides the chef, another important part of the restaurant is Rudy Travagli, who used to be a sommelier and work in the fine dining restaurant field both in Italian and English.
If you look at the photos on their website, the menu is colorful and creative. Domenico chose the dishes based on his experience in working with the best international chefs such as Massimo Bottura, Enrico Crippa, Grant Achatz, and Nino di Costanzo. Customers can choose from 5-course tasting dishes, 7-course dishes or if you just want a light meal, there's one with two dishes and a dessert. There's something for everyone. The cellar holds over 150 labels proposed by the amazing Rudy Travagli.
5. Pipero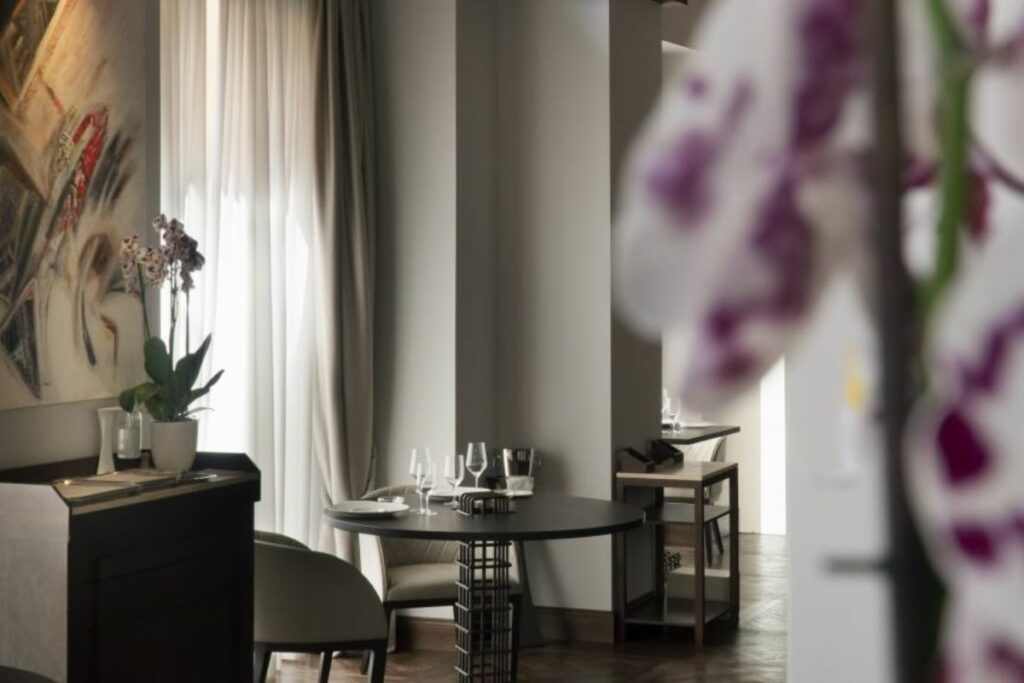 Pipero is defined by 'style, elegance, energy', that's what you feel when you enter one of the best luxury restaurants in Rome. Its location is great, about 5 minutes away from Piazza Navona, and 6 minutes away from the Ponte Giuseppe Mazzini bridge. The interior design is quite simple yet elegant. The room is well-lit.
From the main hall, you get to see the Chiesa Nuova, which is a stunning church. Besides the downstairs room with the beautiful lights, Pipero has an intimate room on the mezzanine floor which is ideal for special occasions or private events. One cool thing about the restaurant is that they collaborate with art galleries. You'll see various paintings throughout the restaurant as part of an exhibition.
The tasting menu is made up of 7 courses and it's created by Chef Ciro Scamardella. It's typical for fine dining restaurants to have seasonal menus. After all, each vegetable and fruit has its season, and that's when they taste the best. Other menus include A la carte and a great list of wines to go along your delicious meals.
6. All'Oro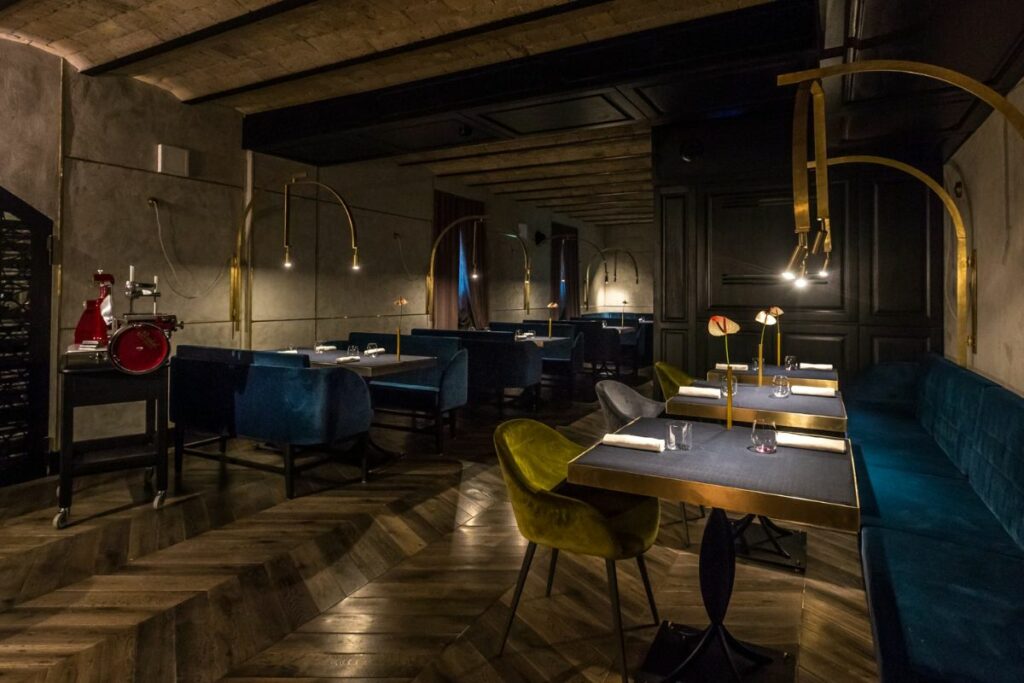 All'Oro is a passion project of Riccardo and Ramona. Riccardo Di Giacinto is a Michelin star chef whose restaurants opened All'Oro in 2007. The restaurant is in the Parioli district and received its first Michelin star just three years after opening. Today it's a prestigious place and one of the best Michelin restaurants in Rome. A lot has changed as far as the space and outlook of the place, however, their passion for cuisine and delivering excellent service hasn't.
As someone who appreciates photography and creativity, the way Riccardo and his wife Ramona showcase the delicious meals is truly amazing. You can tell how much love and dedication go into each dish. Guests can choose from a number of different dishes from the A la carte menu, or try out the tasting menu. All'Oro is still among the best fine dining restaurants in Rome Italy and has a high rating from guests all over the world.
7. Aroma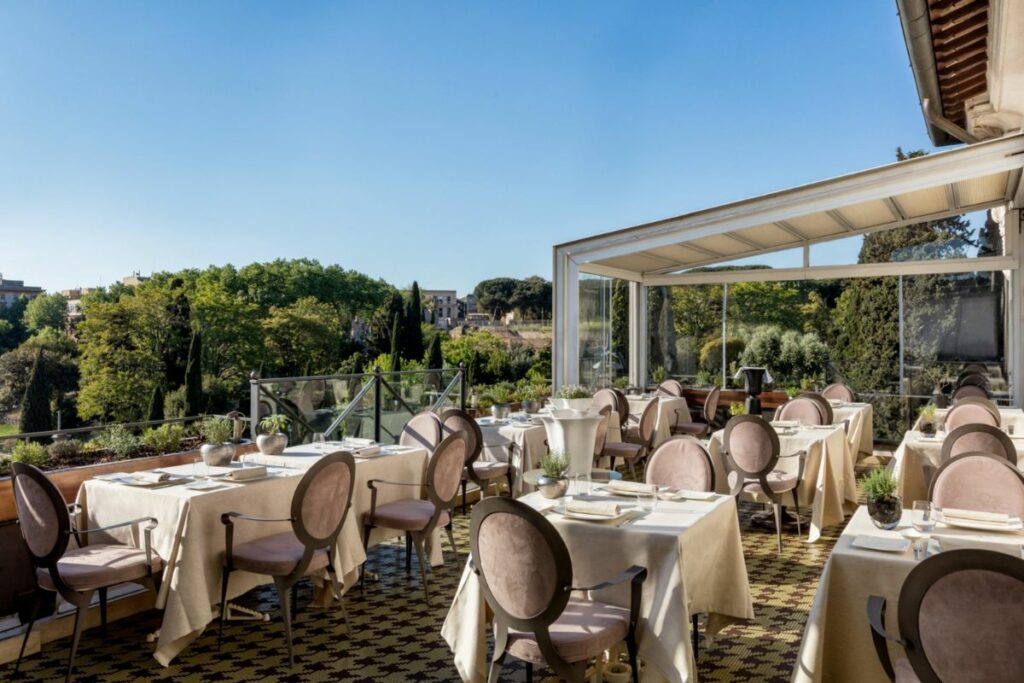 There are many Michelin star restaurants in Rome, and a well known with the most beautiful views is Aroma. Do you wish to dine in front of the Colosseum? At Aroma you can! The restaurant is situated at the top of the Palazzo Manfredi and it overlooks the magnificent Colosseum. The chef is Giuseppe Di Iorio whose cuisine is delicious and it's a whole experience to dine at Aroma because of him.
While you're choosing the best meals from the menu, the sommelier will help you choose your wine from over 600 labels. The wine cellar is exquisite, filled with whites, reds, and champagnes, so you celebrate every occasion. The tasting menu has a variety of meals. Choose from the different types of courses or from the main menu.
In case you love the location and the elegant outlook of the restaurant, you can even book venues here. Aroma can be booked for special moments, such as weddings, gala dinners, engagement parties, or even birthday parties. What a beautiful way to celebrate, in this great atmosphere overlooking such a splendid monument!
8. Acquolina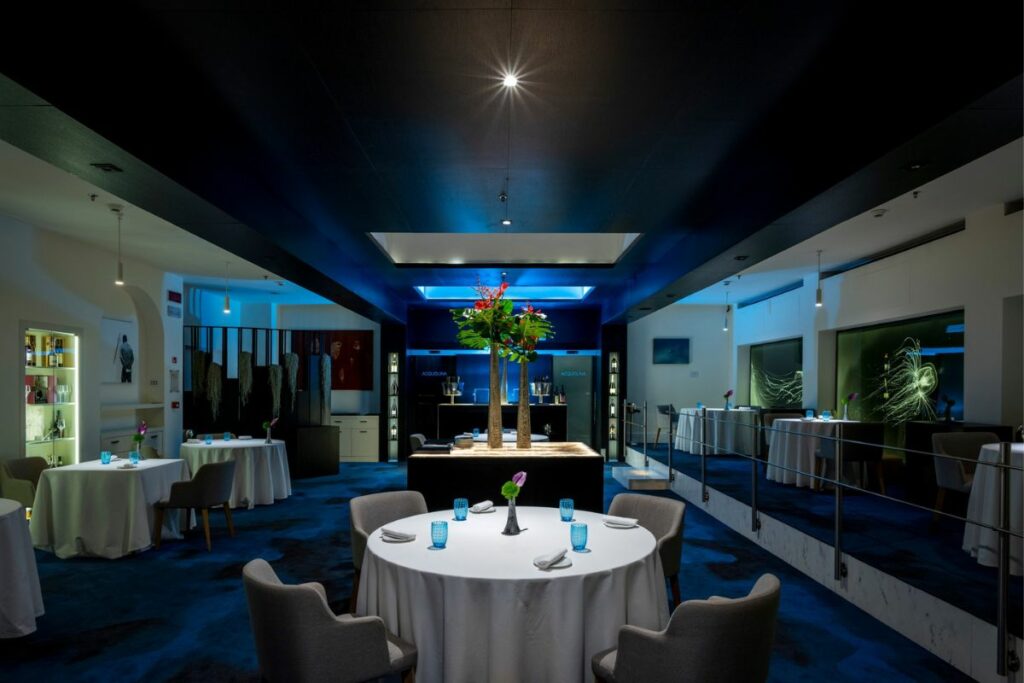 We're not done with the best Michelin restaurants in Rome. Acquolina received one star in 2009 and ever since it's been at the top of the best restaurants. It is located close to the Basilica di Santa Maria and also very close to the Villa Medici. Its decor is modern and elegant, with contemporary art. The executive chef is Daniele Lippi who makes sure the guests taste the best food in Rome.
The menu is not too large, it's really easy to choose from the food. Red prawn, squid, duck liver, sea snail, and scampi, choose from an extensive list of delicious meals prepared by the amazing chef and his team. The sommelier can help you choose the right wine for your meal. And the atmosphere is great at Acquolina, you'll be surrounded by an elegant room with waiters at your service.
9. Il Tino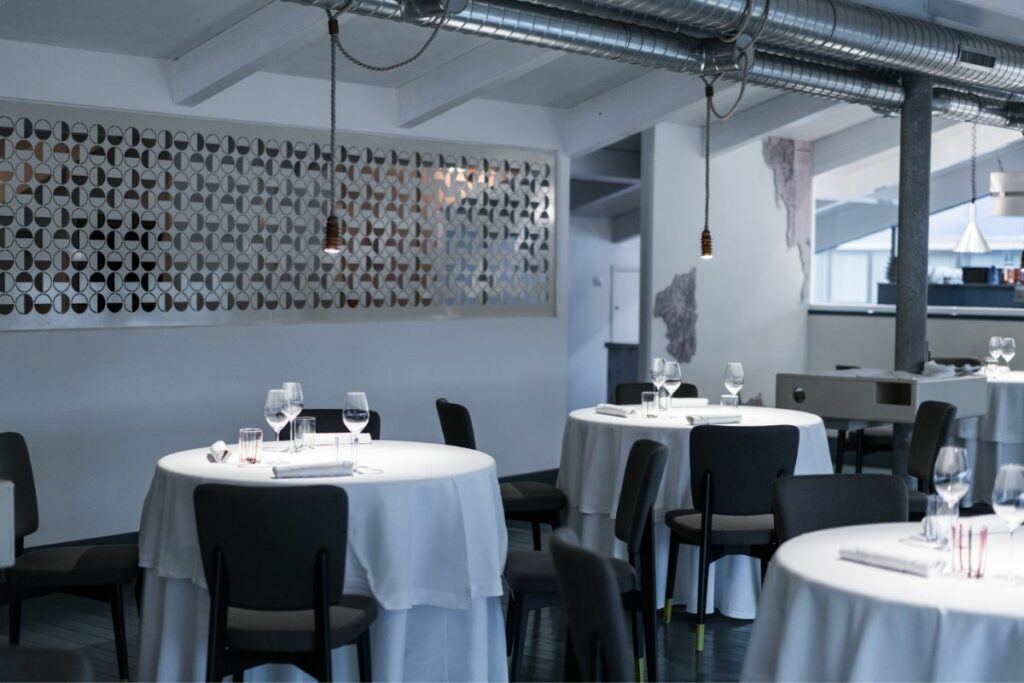 Il Tino is another one of the amazing Michelin star restaurants in Rome led by chef Daniele Usai. The restaurant received its first Michelin in 2015 and "it is today one of the landmarks of the signature cuisine of the Lazio coast". What can you find here? Well, if you love seafood Il Tino is the place for you! It mostly focuses on the presentation of seafood.
Daniele uses high-quality raw materials with flair, while he enhances the local flavors and adds a hint of personal touch. He loves to explore contemporary and refined tastes. Unlike the rest of the best fine dining restaurants in Rome Italy, this one is a little bit further away from the Eternal City. Via car, you can reach it in 40 minutes and it is a must-visit. Besides having a Michelin star, it is also highly rated among guests from all over the world.
10. Almatò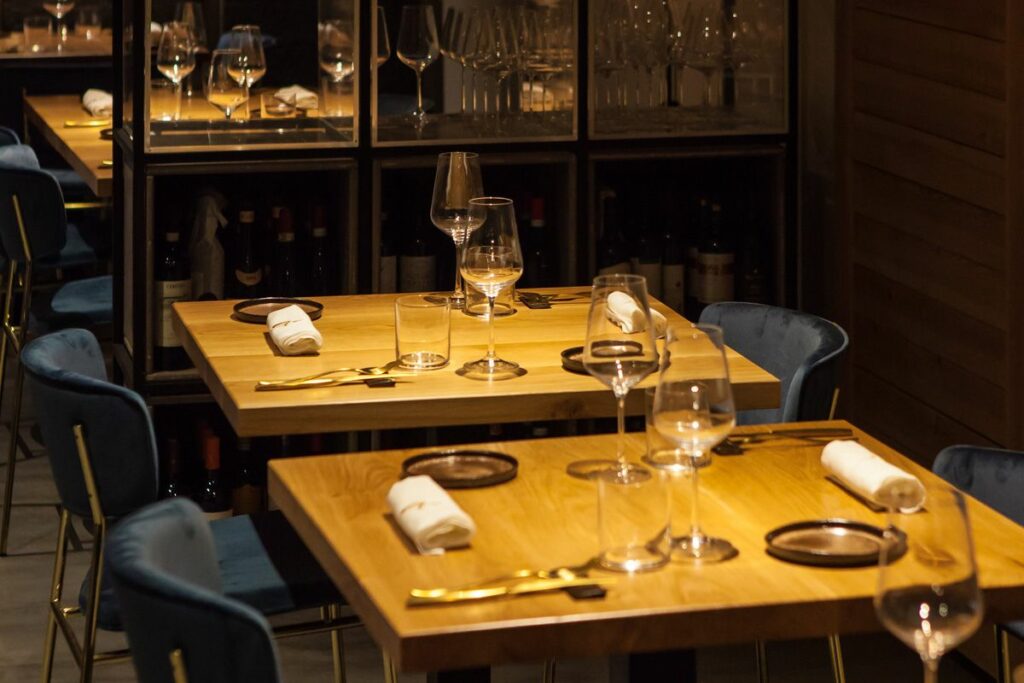 And finally, we have arrived at the last of the best restaurants in Rome Michelin star. Almatò is located in the Della Vittoria neighborhood and it has a great location. Piazza dei Prati degli Strozzi is just down the street. It boasts 4.7 stars on Google and it specializes in honing the traditional tastes of Italian cuisine. It was founded in 1992 by chef Tommaso Venuti who has also worked at the La Pergola.
Along with his partners, Manfredi Custureri, Alberto Martelli, and the sommelier Riccardo Robbio, they created this amazing atmosphere and beautiful restaurant to welcome guests who are visiting Rome or are already from Rome and take them on a culinary experience. There's a five-course and seven-course tasting menu that you must try out! Alternatively, the A la carte menu also has a wide selection of meals and tasty wines to choose from!
Conclusion – Best Restaurants in Rome Michelin Star – Best Luxury Restaurants in Rome
We have discussed the best fine dining restaurants in Rome Italy. You can choose which one suits your taste more. Some of them offer seafood while others a variety of different meat dishes and also vegetarian ones. Whichever restaurant you choose you are in for a treat. The best restaurants in Rome Michelin star are here to amaze you with their exquisite decor, delicious courses, and breathtaking views!
Pin it: Michelin Star Restaurants in Rome