10 Best Restaurants in Venice Italy
Which are the best restaurants in Venice Italy? There aren't many cities in the world as spectacular as Venice. A city built on water in the early Middle Ages, that still stands, and shines. Imagine yourself discovering magnificent Italian buildings from the comfort of a gondola. Seeing a completely different world that has so much art, history, and elegance. Exploring the streets of the city from the water, or walking is a beautiful experience. The city of lagoons offers plenty of things to see, plenty of places to stay, and even more places to eat. We made it our mission to discover and bring you the top restaurants in Venice Italy. We created our guide for the best places to eat in Venice based on other travelers' experiences combined with our own. Two of our writers, Eleonora and Helga either lived in Venice or traveled multiple times there. They will bring their personal experiences into this article about the best places to eat in Venice Italy!
10 Best Restaurants in Venice Italy
Before we get into the best restaurants in Venice Italy, let's see a few things you should know about the city. First, there are two airports in/near Venice, both international ones. One, that's the biggest, and loser to the old city is the Marco Polo Airport, the other one is the Treviso Airport. You can also reach Venice by train from Rome, Florence, Bologna, or Milan, to mention just the biggest cities. We've covered luxury hotels in Venice, hostels, overall the best hotels, things to do in Venice, and even day trips from Venice on our website. If you are visiting, make sure you check these articles.
And to get back to where to eat in Venice, we'll share a few highlights you should know about Venetian food and traditions. Some of the traditional dishes in Venice are as follows: If you're looking for seafood and fish, try Sarde in Saor – made of sardines, Baccala Mantecato – an antipasto made with cod, and Risotto al Nero di Seppia – made with squid ink. This last one you can find with pasta too. For pasta dishes, go for Bigoli in Salsa, and if you like chicken, then try the Fegato alla Veneziana – chicken liver.
The region of Veneto, where Venice is located too, is the birthplace of the Italian Aperitivo basically. They invented the Spritz here, and the Aperol too. Spritz is an Italian cocktail that you might have already enjoyed, such as Aperol, Campari, or Hugo Spritz. In Venice at Aperitivo time (from 5 to 8ish) you should go and drink traditional Venetian spritz where they also make Cicchetti. Cicchetti are tiny sandwiches made with baguette slices, and they've got a million options. Each is absolutely delicious!
Recommended: car rentals through Discovercars.com, and accommodation bookings through Booking.com.
1. La Zucca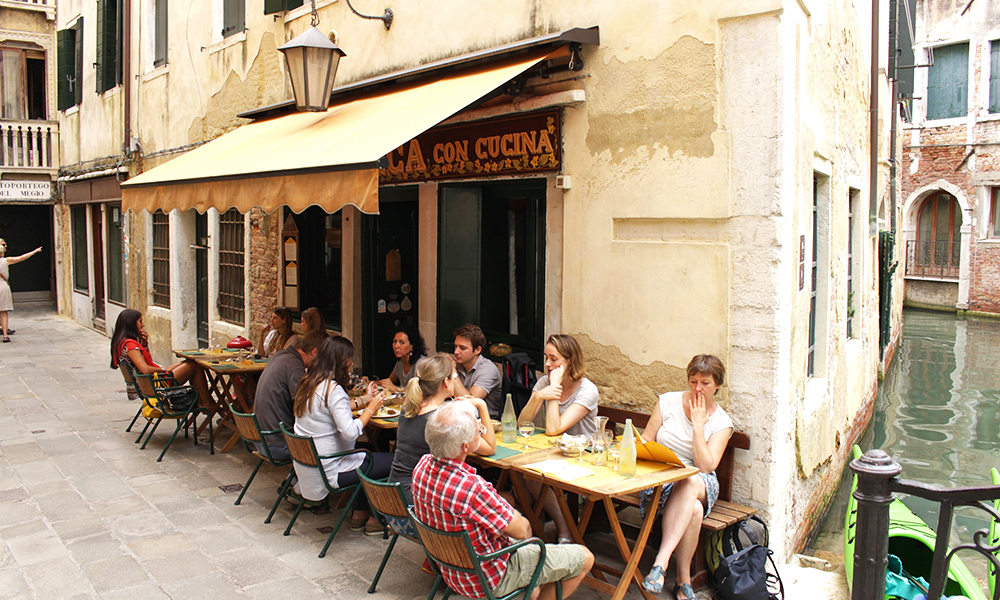 La Zucca means the pumpkin. This is a peaceful restaurant away from the crowd, that's also preferred by locals. La Zucca is on the list of the best restaurant in Venice Italy because it's affordable, yet it offers delicious food and a menu that (in the traditional Italian way) changes every day. This allowed the restaurant to offer fresh, seasonal dishes at a great price and the best quality.
Pasta dishes are good and delicious choices in this restaurant! Our suggestion is the Beef cheek stew, Champignons stuffed with pecorino cheese. Also, taste the pumpkin flan and you will feel like you've been walking on clouds! Leave some space for dessert. They offer local specialties and Venetian food, and it's a place that's truly reflecting everyday Venetian life.
Address: S. Croce, 1762, 30135 Venice, Italy
2. Local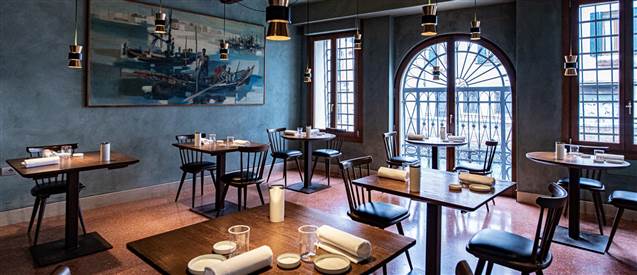 LOCAL was opened in 2015 by siblings Benedetta and Luca Fullin. They offer new Venetian Cuisine, with a menu full of creativity, and continuous research. The head chef is Salvatore Sodano whose passion for cooking and local fresh food makes this place even more irresistible. He collaborates with local fishermen, farmers, and artisans to get the best ingredients. Hospitality in the house is led by Maitre Sommelier Manuel Trevisan who is dedicated to making guests feel at home with an attentive and friendly service.
The stories behind the dishes are rooted in tradition and projected into the future. See the risotto with gò, a recipe invented on the island of Burano in the 16th Century. They also offer a 7 and a 9-course menu, featuring the best ingredients from the lagoon, the sea, and the land, but also exotic flavors, just like it used to happen in Venetian cuisine during the Serenissima time. 
The airy and bright restaurant overlooks a beautiful canal in the area of Castello, a short walk away from the Biennale of Art and from St Mark's Square. The interiors have been crafted by local artisans, from the terrazzo floor with 3500 glass murrinas in it, to the tables, chairs, and the beautiful wine cellar handmade by Remo Pasquini. Guests can see the chefs at work in the open kitchen. Local has been awarded a Michelin star in 2022, 2 hats in the Espresso Guide, and 2 forks in the Gambero Rosso.
Address: Salizzada dei Greci, 3303, 30122 Venice, Italy
3. L'Alcova Restaurant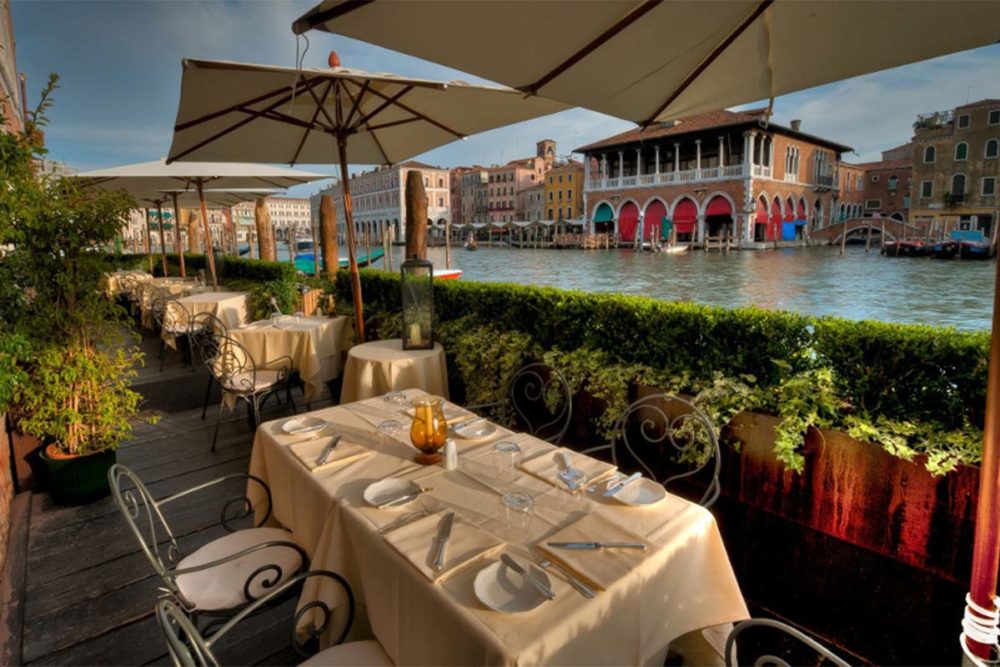 Among the best dining restaurants in Venice Italy, we have to name l'Alcova Restaurant at the 5-star hotel, Ca'Sagredo. The hotel, along with the restaurant is set in a traditional elegant Venetian palazzo on the Canal Grande (Grand Canal). This actually makes it very special, as the restaurant l'Alcova offers beautiful views over the most famous canal of Venice.
We suggest you book a table, don't just show up, since it's a 5* hotel, they might not have availability at specific hours. While enjoying the view, you can try some delicious appetizers, first and second courses, desserts, and a curated selection of wines. The chef, Reno Marchiori, received several prestigious recognitions for his work, and passion.
You can enjoy traditional Venetian cuisine, or Italian classics, accompanied by a select wine list with labels from various Italian wine regions. The beautiful interiors look out onto the glorious waterfront and the Rialto Market right opposite. The magical location has inspired Chef's approach: fresh products from land and sea, prepared with talent and creativity.
Address: Campo Santa Sofia, 4198/99, 30121, Venice, Italy
4. Osteria Anice Stellato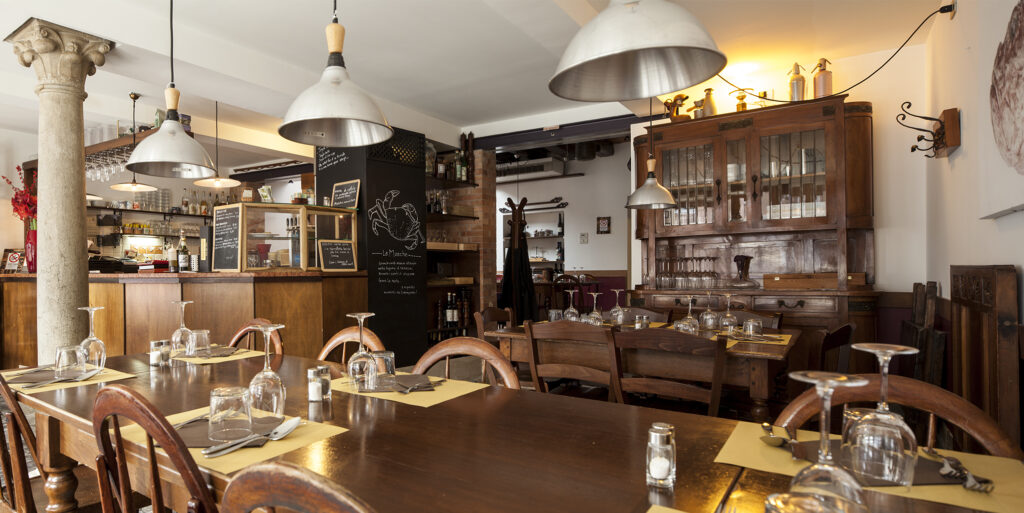 Osteria Anice Stellato is definitely one of the top restaurants in Venice Italy! This is a very cozy, Venetian osteria. The Osteria is a type of Italian restaurant that's always less elegant and feels more like home. However, this shouldn't mislead you, because while it might be cozy, at an osteria most of the times find much better food. And sometimes, much more expensive ones too than in a restaurant that serves low-quality food for tourists.
They have come to great Primi and Secondi both from the ground and sea. Osteria Anice Stellato is not really a touristy place, which also means that you get to eat real local food, high quality, and delicious dishes from the sea. They also have affordable prices too, as the first courses are usually around 18 euros (these are the pasta dishes), and the second courses (meat) are around 25 euros. It's a place where they mix local cuisine with a modern look. Your meal won't just be amazing, but it will look amazing too!
Osteria Anice Stellato Address: Fondamenta de la Sensa, 3272, 30121, Venice Italy
5. Ristorante Riviera Venice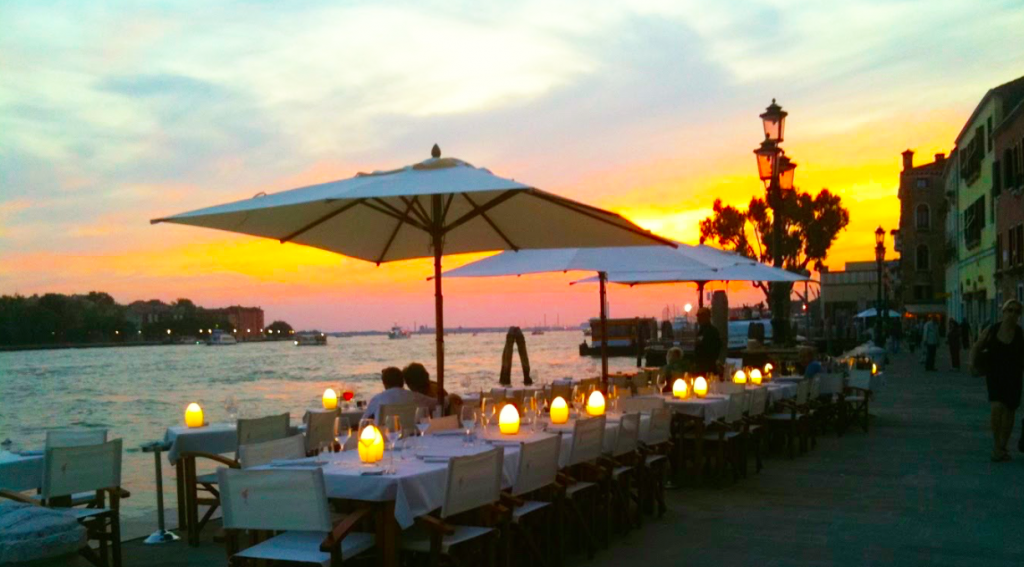 If you are looking for the best restaurants in Venice Italy which are great for a romantic lunch or dinner, then Ristorante Riviera in Venice is the one to go for! The restaurant is located in the neighborhood of Dorsoduro, on the outskirt of Venice. A beautiful place to watch the sunset and see the sea too. Riviera restaurant's motto is "Eating is an extreme act of love".
Cocktails and pasta dishes will not disappoint you, but overall their real Venetian cuisine is something spectacular. The restaurant offers seasonal dishes as well, finding the best quality fresh products for them. They make everything in-house from the bread to the pasta, dishes, and all desserts. An unmissable place for the best occasion.
Address: Fondamenta Zattere Al Ponte Lungo, 1473, 30123 Venice, Italy
6. Antiche Carampane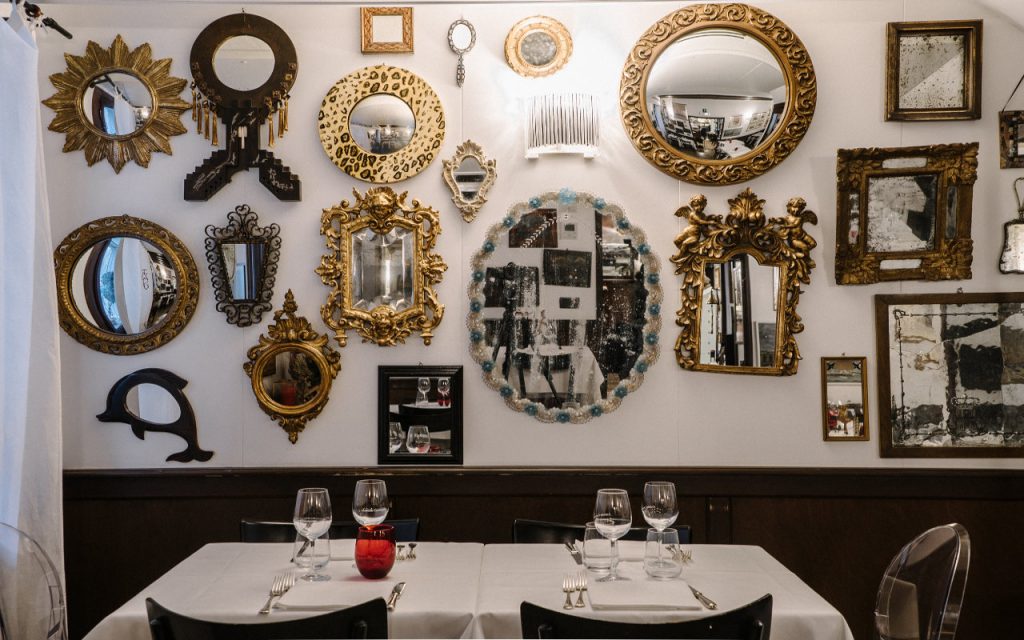 Antiche Carampane is one of the best restaurant in Venice Italy, famous for Venetian cuisine refined by their taste. The restaurant was bought and opened by Giovanni Battista Bortulozzi, who convinced his siblings to get and open their restaurant in 1983. It's located in the Rialto area, which is very central, and it makes it perfect for Venetians and travelers too.
When they first opened the restaurant, Antiche Carampane became quickly popular. Piera, one of the siblings took over the restaurant in 1999 and was joined by her son Francesco in 2004. They added their own style and taste to the restaurant and the menu, which makes the place even more unique. They also go to the Rialto market every morning to buy fresh ingredients.
They go to Rialto market every morning, to buy the best fresh ingredients. At Antiche Carampane fish is always fresh and the atmosphere is magical. In addition, you might spot some celebrities among the guests of this lovely traditional restaurant. Therefore, advance booking is highly recommended!
Address: Rio Terà de le Carampane, 1911, 30125 Venice Italy
7. Ristorante alle Corone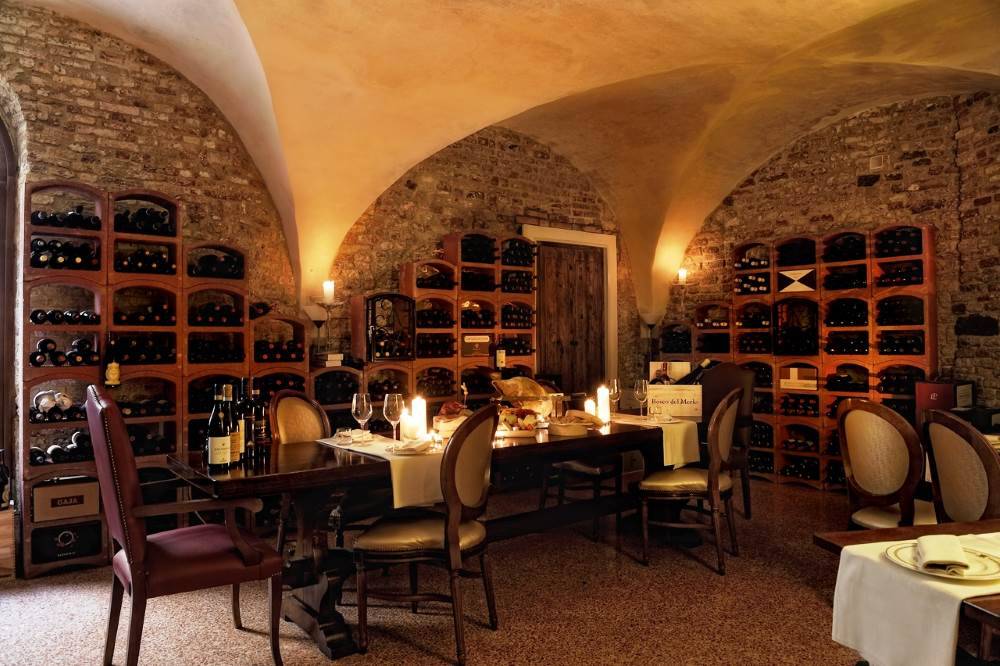 Some of the top restaurant in Venice Italy specialize in fish in Venice, and Ristorante Alle Corone is similar. This is an elegant restaurant, with higher prices, but it's a place not to miss if you're one who appreciates gastronomical fantasies. This place is set in one of the best hotels in Venice, Hotel ai Reali. A place where you'll feel like a royal.
Speaking of elegance, Alle Corone also has a dress code, so you can only enter in elegant informal, no shorts, sleeveless shirts, and flip flops. Also, reservations are highly recommended here, as it's a very popular place to go. You can experience at Alle Corone the authentic flavors of genuine products, prepared and served by Chef Mauro Cautiello and his team. They offer typical specialties of Venetian cuisine, with an emphasis on seasonal ingredients, and local wines.
At Alle Corone they have a monthly tasting menu of 8 or 6 courses, ranging around 120 euros, with wine pairing for each meal that has an extra cost. If you're into fine dining, and you're looking for one of the best places for this in Venice, we do recommend Alle Corone. It might be harder for those who don't eat fish because many items on the menu are made with some kind of seafood.
Address: Hotel Ai Reali, Calle Seconda de la Fava, 5527, 30122 Venice, Italy
8. Osteria all'Arco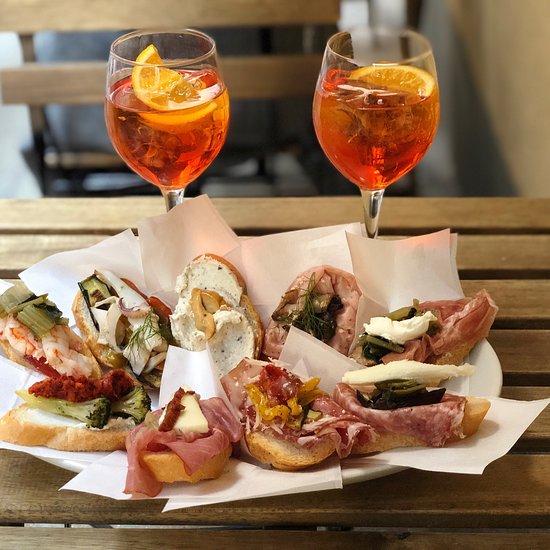 One of the best restaurants in Venice Italy when it comes to the traditional Venetian Aperitivo especially, it's Osteria all'Arco. This gem is close to Rialto Bridge, a tiny restaurant where you'll probably see people even standing with the glass of drink in one hand, and the food in the other one. It's actually not a restaurant though. Places like Osteria all'Arco are called Bacaro, and these are small Venetian bars that offer cicchetti as an aperitif.
Chicchetti are extremely good here, so that's why we recommended Aperitivo time. These are traditional snacks to eat at Aperitivo in Venice. Baguette-size bread slices with different mindblowing and delicious toppings. Tiny sandwiches basically, with the best ingredients and matching tastes. Now, since it's a truly Venetian place, it is also always packed with locals. So if you're looking for the local experience, head to Osteria all'Arco at 6 pm and get your Spritz and Chicchetti for Aperitivo.
Address: Calle Arco, 436, 30125 Venice, Italy
9. Osteria Enoteca ai Artisti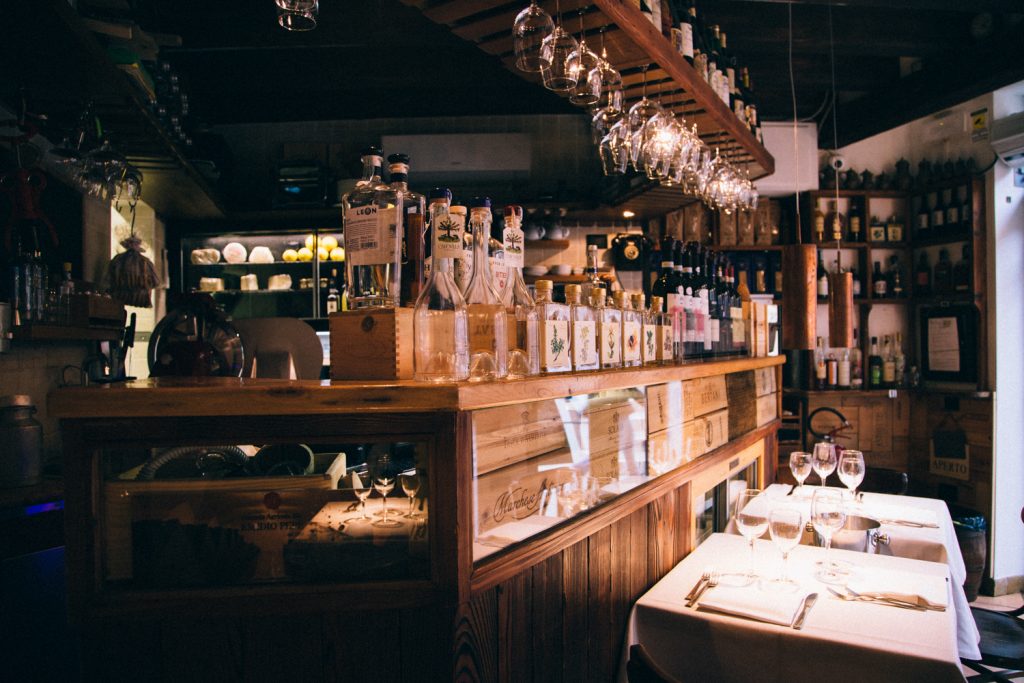 We can't pick the best restaurant in Venice Italy, but we can pick 10 of the top ones, like Osteria Enoteca ai Artisti. An exquisite little restaurant that's also budget-friendly. They don't have many options on their menu, but what they do have is excellent, as well as the service. As you've seen with many other restaurants on this list, Osteria Enoteca ai Artisti also gets the most ingredients from the market.
During the warm season, they have an outdoor seating area, so you can enjoy a delicious lunch while admiring the beauty of Venice. This is a family business run by Vincenzo and Francesca, who are working hard to maintain the restaurant's excellence throughout time, and the lovely atmosphere in a place with a long story.
Address: Fondamenta della toletta 1169 abc, 30123 Venice, Italy
10. Locanda Cipriani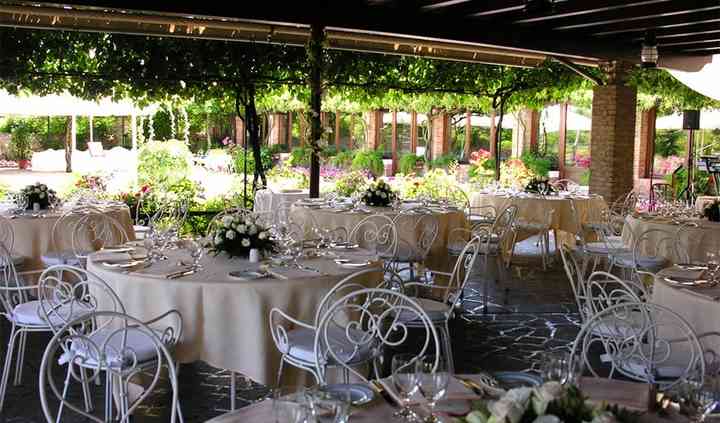 Among the places to eat in Venice, one of the top restaurants in Venice Italy is Locanta Cipriani. This restaurant is located on Torcello Island. There is a ferry connecting Venice to Burano, Murano, and Torcello. If you plan to take a day trip to the islands, do not forget to stop by this good Locanda.
Hemingway and Queen Elizabeth II used to like this restaurant very much. That is no surprise since the food is exceptional. If you visit the island in spring or summer you can enjoy the sunny day and have lunch in the cozy garden. They also have rooms, so if you decide you enjoy a little bit longer romantic night on the island you can size this opportunity.
Address: Piazza Santa Fosca, 29, 30142 Torcello, Italy
Where to eat in Venice Italy FAQ
What to eat in Venice Italy?
There are some must eat food in Venice Italy, and some local dishes you can't miss:
1. Cicchetti – Appetizer tiny sandwiches
2. Sarde in Saor – an appetizer based on fried sardines
3. Baccala Mantecato – a Venetian appetizer made with dried cod.
4. Risotto al Nero di Seppia – Squid ink risotto
5. Fegato alla Veneziana – Chicken liver prepared in a special Venetian way with caramellized onion and Polenta
Where do locals eat in Venice Italy?
From the best restaurants in Venice that we listed, La Zucca, Antiche Carampane, Osteria all'Arco are mostly places where do the locals eat in Venice Italy.
Which are the best area to eat in Venice?
Around Rialto Bridge look for the hidden restaurants frequented by locals, on Canal Grande, you find some great fine dining places, but usually speaking, look always for places where you see the most locals or most reviews by locals.
10 best restaurants in Venice, Italy
Wrapping up the best restaurants in Venice Italy, we spoke about some great places for lunch, romantic dinners, Aperitivo, and also fine dining. We hope you'll enjoy your meal whichever place you choose, and have a great time in Venice! Don't forget to check out all our linked articles for things to do in Venice, where to stay, and so! If you're traveling to other places around Italy, we cover not only the best hotels in each city, and the things to do, but also the best restaurants in Italy, city by city, and town by town. Go browse Italy Best for the best tips for Italy.
Italian version: migliori ristoranti a Venezia
PIN IT: The 10 Best Restaurants in Venice, Italy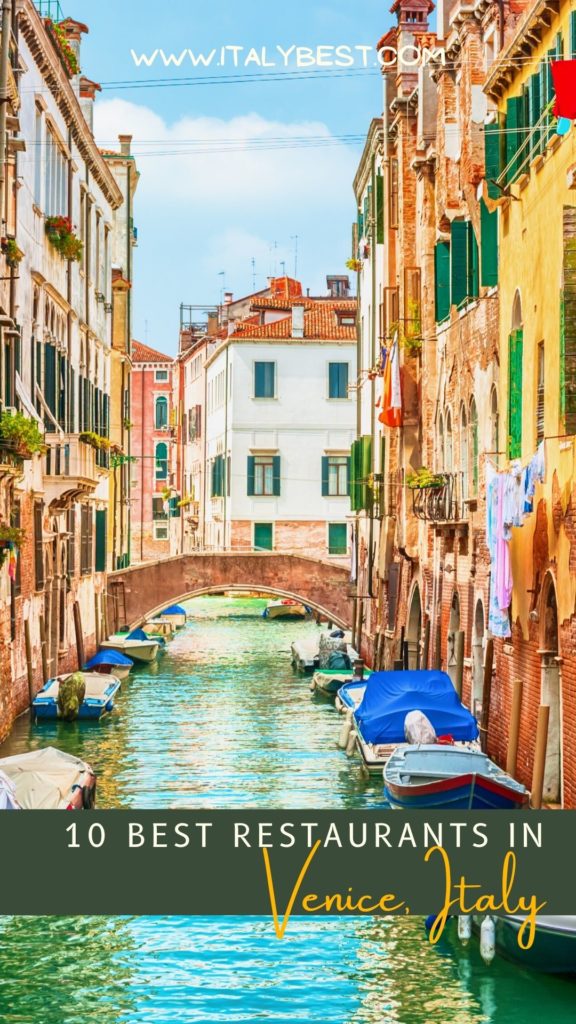 Original article by Eleonora Rossi – Complete update by Helga Dosa, and content upgrade in 2023 by the Editorial Team
This article contains affiliate links. This means, that if you click through to our affiliate partners' websites, and make a purchase, we will earn a commission from their commissions. This doesn't affect you, or the price of the product/service at all!