Verona is in the beautiful region of Veneto and it should be on your list of places to visit. The architecture will take you back through time when this beautiful city was just an ancient Roman landmark. Today, those buildings are still preserved, such as the Verona Arena. So if you're convinced now, let's talk about the Verona hotels. In this list, we have gathered the best hotels in Verona Italy.
15 Best Places to Stay in Verona Italy
Visiting Italy should be a whole experience, everything from food to accommodation and architecture. That's why you'll see a few 'hotel 3 stelle Verona', which are highly rated by customers, as well as the best 4-star hotels. If you're wondering where to stay in Verona Italy, this list should surely help you. Choose either the city-centered places or the ones with business centers, you will not be disappointed. Let's get into our list of best places to stay in Verona Italy. If you're in the city, you should also know which are the best restaurants in Verona!
1. NH Collection Palazzo Verona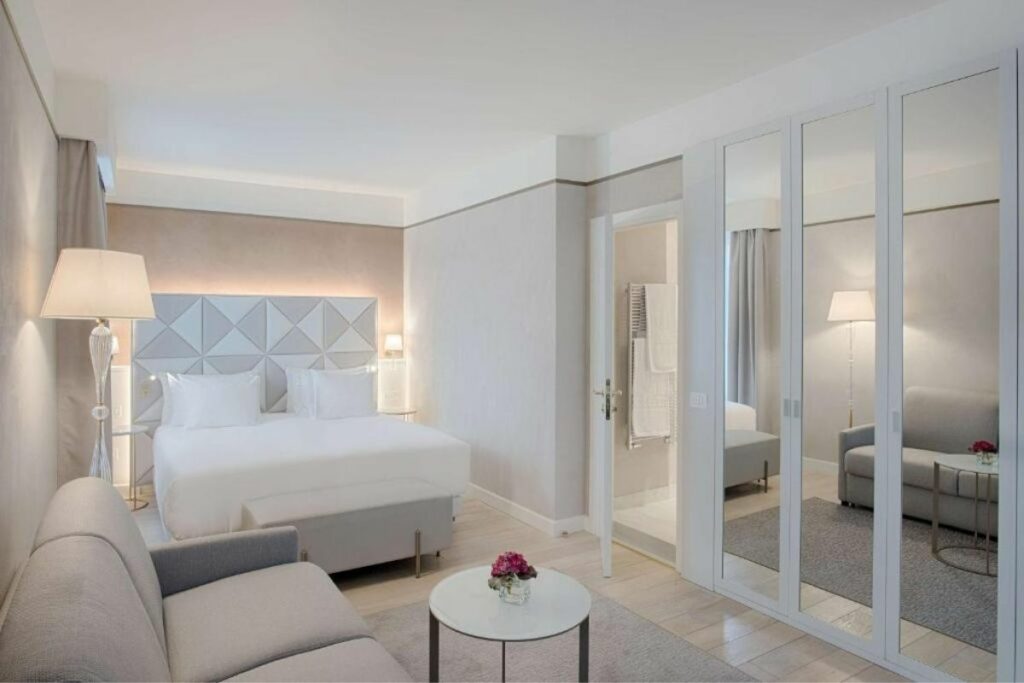 Situated in the historical center, one of the most beautiful Italy Verona hotels is the NH Collection Palazzo Verona. The aesthetic of this hotel is stunning. It has classical decor with pastel-colored walls as well as gorgeous wooden floors. This is also one of the great Hotels near Verona Arena as it's literally just 5 minutes walk away from it.
The rooms all have a marble bathroom with a hairdryer and toiletry set. They also feature a spa bath or separate living room, depending on which room you have booked. Don't forget to have a delicious buffet breakfast until 10 am. The hotel serves croissants, Italian cakes, and cappuccino. You can also have lunch and dinner at their restaurant.
Ready to go sightseeing? NH Collection Palazzo Verona is near Juliet's House and a few minutes walk away from Castelvecchio Castle and Art Gallery. The hotel organizes walking tours, bike tours, and live music for an additional charge. There are plenty of options to do and reasons to visit Verona.
Hotel NH Collection Palazzo Verona location: Via Adua, 6, 37121 Verona 
2. Crowne Plaza Verona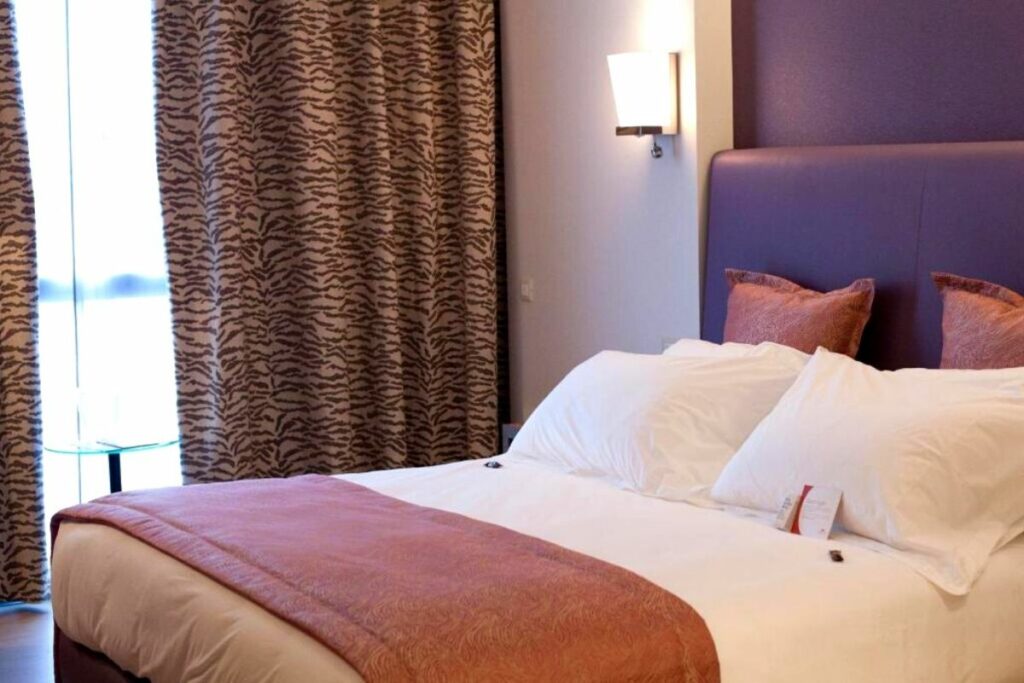 Do you wish to be a bit further away from the center? Visit Hotel Crowne Plaza Verona. It's a great hotel situated in Borgo Roma, one of the exhibition center districts. This hotel is perfect for conferences and meetings. Inside you'll find a fitness center with a relaxation area as well as a swimming pool and sauna.
The rooms are modern, with an air conditioner, tea/coffee maker, and TV. In the morning you get to enjoy breakfast at the Plaza Restaurant. They serve modern recipes using local products. Hotel Crowne Plaza Verona has a bar called Bellini's Bar which also serves sandwiches and light snacks. But if you wish to have a few drinks, they can help with this too.
This is one of the 4-star Verona hotels which have a rating of 8.5 stars. It's only 10-minute walk from Verona Fiere. If you wish to go to the city center, they can arrange a bus for you from the hotel. In the center, you can visit the Piazza delle Erbe, which is one of the busiest piazzas in the city. It's a great choice overall!
Hotel Crowne Plaza Verona location: Via Belgio, 16, 37135 Verona
3. Montresor Hotel Palace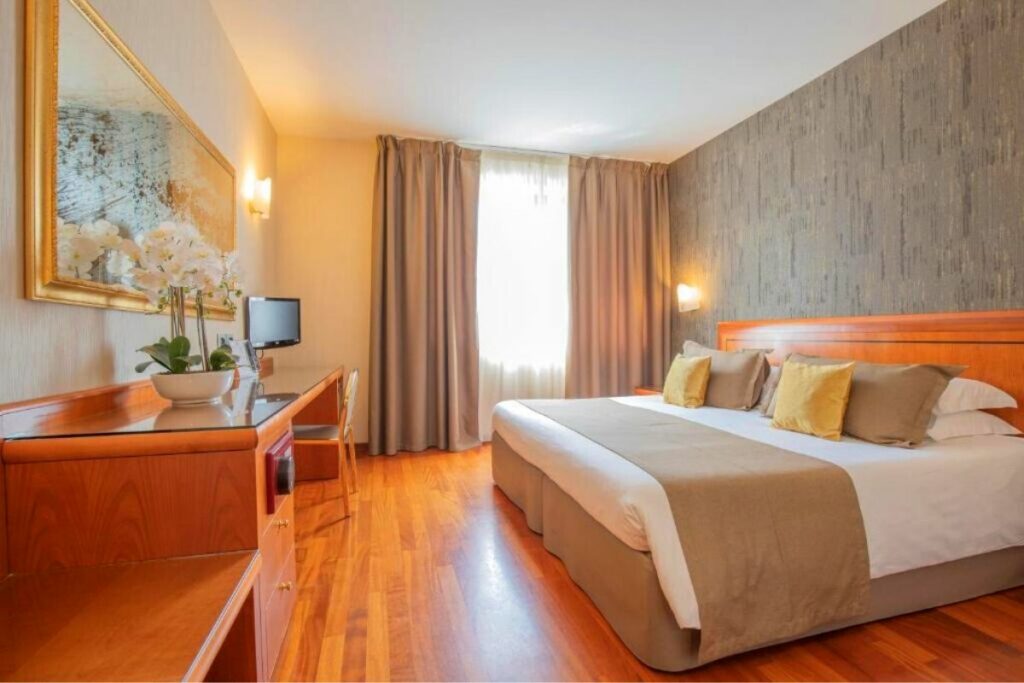 Look for the best boutique hotel Verona? Well, the Montresor Hotel Palace is one. It is located in the Borgo Nuovo neighborhood. It's a luxurious boutique hotel with modern decor. The rooms are elegantly designed and very spacious. They all feature a big bed, minibar, Wifi, and beautiful bathroom. In some of the bathrooms, there's even a hydromassage bath!
If you love Italian-style breakfast, then this hotel's buffet breakfast will amaze you. They serve everything from croissants to fresh fruit and scrambled eggs. Hotels in Verona Italy all have amazing facilities, just like the Montresor Hotel Palace. AT the hotel's Lounge Bar you can enjoy some drinks with your friends. It also has its own restaurant in case you don't feel like roaming around the city for food.
Montresor Hotel Palace location: Via Luigi Galvani, 19, 37138 Verona
4. Hotel Milano & SPA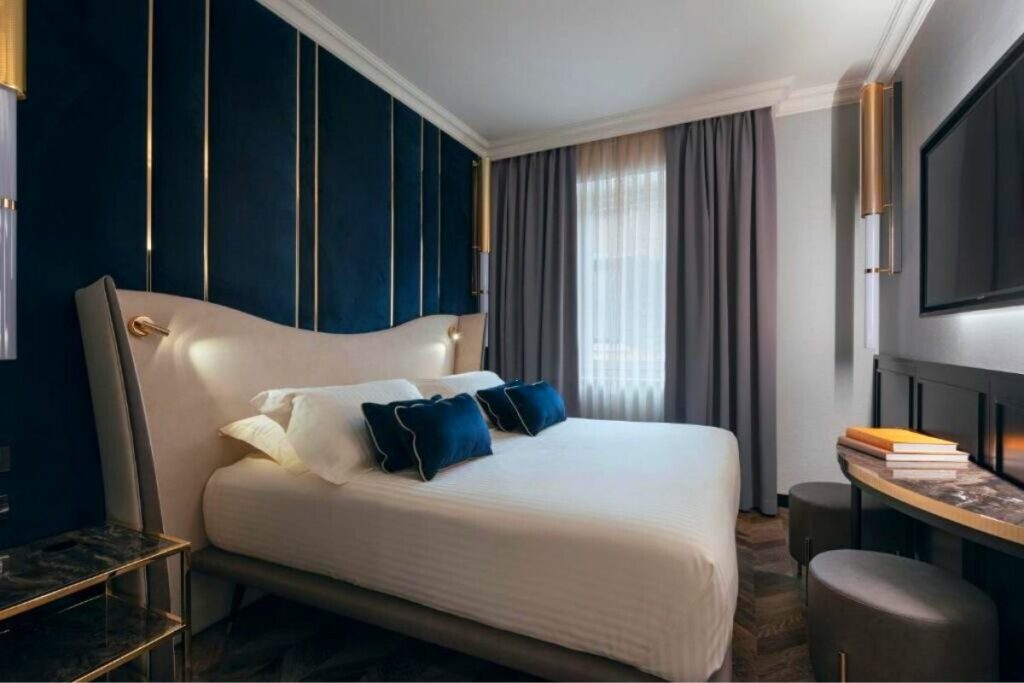 Looking for another hotel near the Verona Arena? Hotel 3 Stelle Verona such as the Hotel Milano & Spa in Verona is perfect. This is quite literally next to the Verona Arena, you even have a lovely view of it when you're on the rooftop. It's a 3-star hotel with 9.2 ratings and guests love it! You have access to a spa and wellness center as well as a hot tub/jacuzzi.
The rooms are elegantly furnished and the hotel allows you to book a steam bath, sauna, or relaxation area. When you get on the sun terrace where the hot tub is placed, you'll see the panoramic views of the Arena. Enjoy your breakfast in the morning with fresh pastries.
Although the hotel has a restaurant on-site, you can still ask the lovely staff which are the best local restaurants to try the best pasta. They can help with car and bike rental too. Visit the Verona Cathedral which is only 10 minutes away. Understandably guests rate this hotel highly due to its location and how easy it is to access the main attractions.
Hotel Milano & SPA location: Via Tre Marchetti, 11, 37121 Verona
5. Hotel San Pietro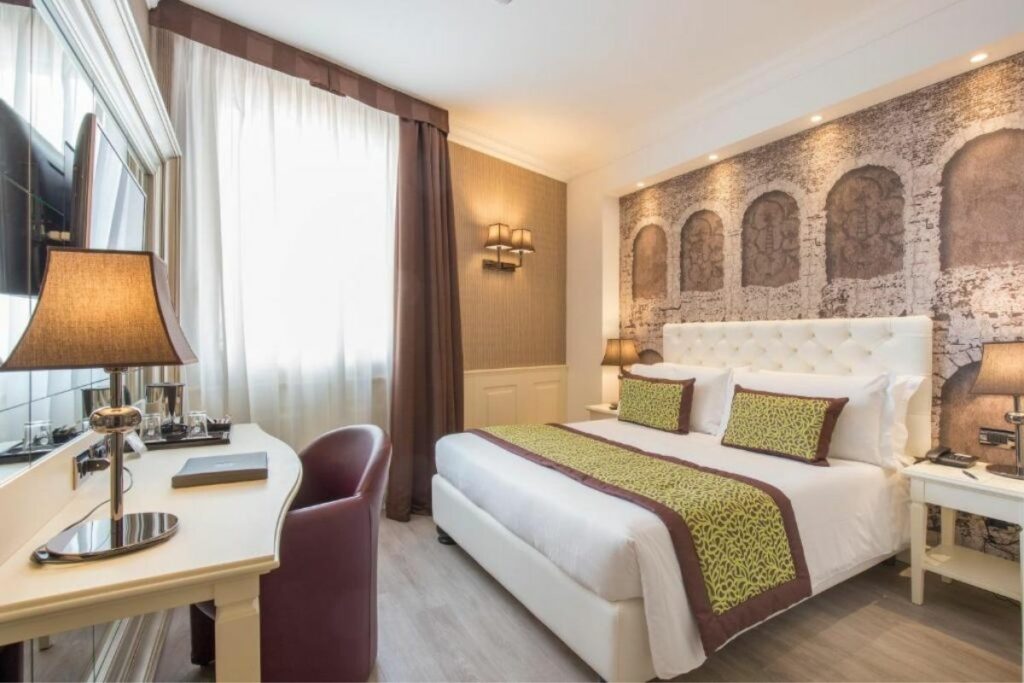 Check out the second-best boutique hotel Verona the Hotel San Pietro. Although the name is the same as for the castle, Piazzale Castel S. Pietro is actually 20 minutes drive away. But something closer than the castle is the Veronafiere convention center. Besides this, you can easily cycle to the city center or take advantage of the shuttle service. Otherwise, you can rent a car in Verona!
The rooms are very modern and elegant. They all feature a comfortable bed, desk, chair, and plenty of lights. You can book yourself massages to relax even more. Lastly, enjoy the delicious breakfast provided by the hotel in the morning. Hotel San Pietro doesn't have a restaurant, however, if you ask the receptionist they will be more than happy to help you find one. Let's carry on with our list of Verona hotels.
Hotel San Pietro location: Via Santa Teresa, 1, 37135 Verona
6. Hotel Giulietta e Romeo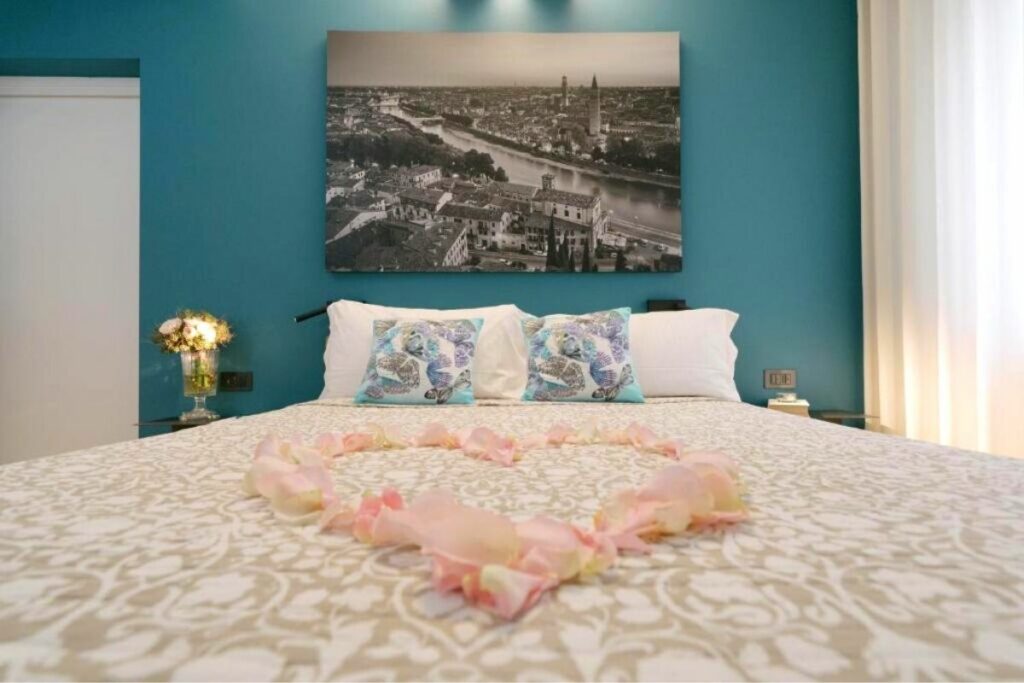 Are you looking for a romantic getaway? Choose this hotel 3 stele Verona, the Hotel Giulietta e Romeo. It's a cute hotel with a romantic atmosphere, perfect for couples. In fact, couples rate it over 9 stars, from nearly 2000 reviews. As far as location, it received 9.9-star reviews.
Giulietta e Romeo is one of the hotels near Verona Arena, just 50 yards away from the hotel. It is also only 200 yards from the Piazza Bra square. this is the largest square in Verona! Each of the rooms is equipped with a hairdryer, a bathroom with a shower, and a bidet in most units.
The hotel offers breakfast in the morning and breakfast in the room. If you just want to be cozy with a loved one, order some room service. Considering you are so close to the Piazza Bea you'll have plenty of restaurant options. The closest ones are Trattoria Tre Marchetti or Trattoria Caprese offering Neapolitan dishes.
Hotel Giulietta e Romeo location: Vicolo Tre Marchetti, 3, 37121 Verona
7. Hotel Aurora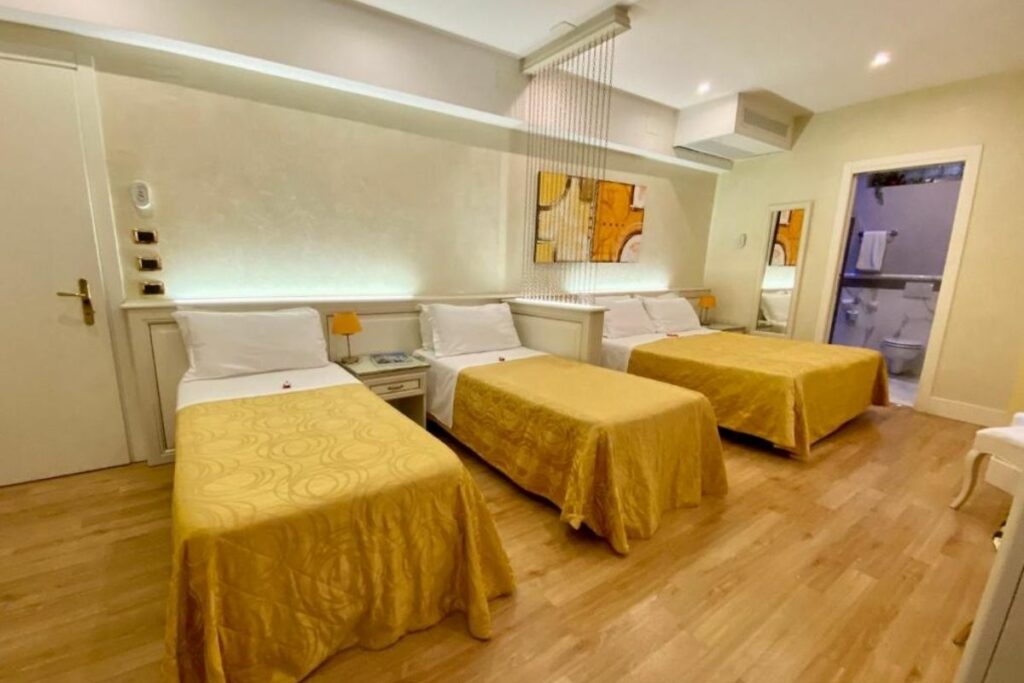 One of the top-rated hotels in Verona Italy is Hotel Aurora. Although it is 3 stars it has 9.0 stars on Booking.com. The location is excellent as it is in the historical center. The hotel overlooks the Piazza Erbe, you get to wake up to beautiful views each morning. Inside the rooms the furnishing is classical, they all come with a desk and a private bathroom.
If you wish to have a delicious Italian breakfast while enjoying the city views, you can do that on the terrace. While you're there, you can book bike and walking tours for an additional charge. The Verona Cathedral is only 8 minutes away. Other attractions nearby are the Verona Arena, Ponte Pietra, and Castelvecchio Bridge.
Hotel Aurora location: Piazzetta XIV Novembre, 2, 37121 Verona
8. Hotel Corte Realdi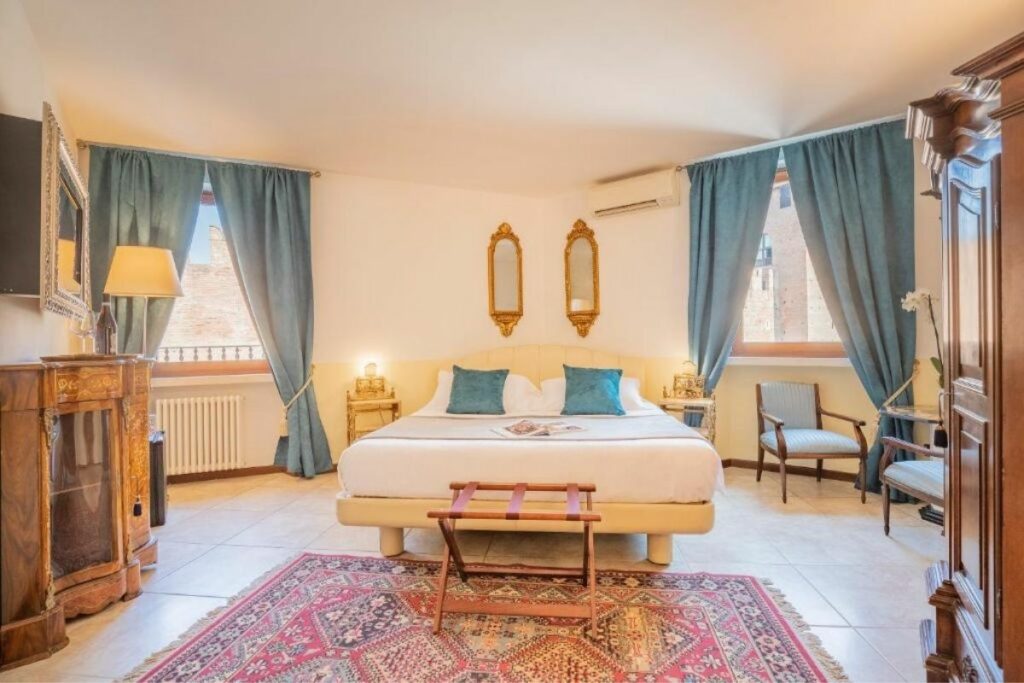 Looking for another amazing hotel with high reviews? Hotel Corte Realdi is the perfect one with the perfect views. It's located in the historic center of Verona and is a stunning building. The green window shades give so much personality to it! Hotel Corte Realdi overlooks Piazza delle Erbe square and it's also a few steps away from Via Mazzini. Not to mention it's also close to the Verona Arena. It's a bargain to get this accommodation!
The rooms are very spacious, you can book plenty of rooms that fit anywhere from 3 to 5 people. You can choose between two-bedroom apartments with a terrace and a city view. Or a one-bedroom family apartment with a balcony. The apartments all have a fully equipped kitchens. Furthermore, there's a restaurant on-site! Or just simply stroll through the Piazza Bra to find local restaurants.
Hotel Corte Realdi location: 35 Via Roma Primo Piano, Verona Historical Centre, 37121 Verona
9. Hotel Accademia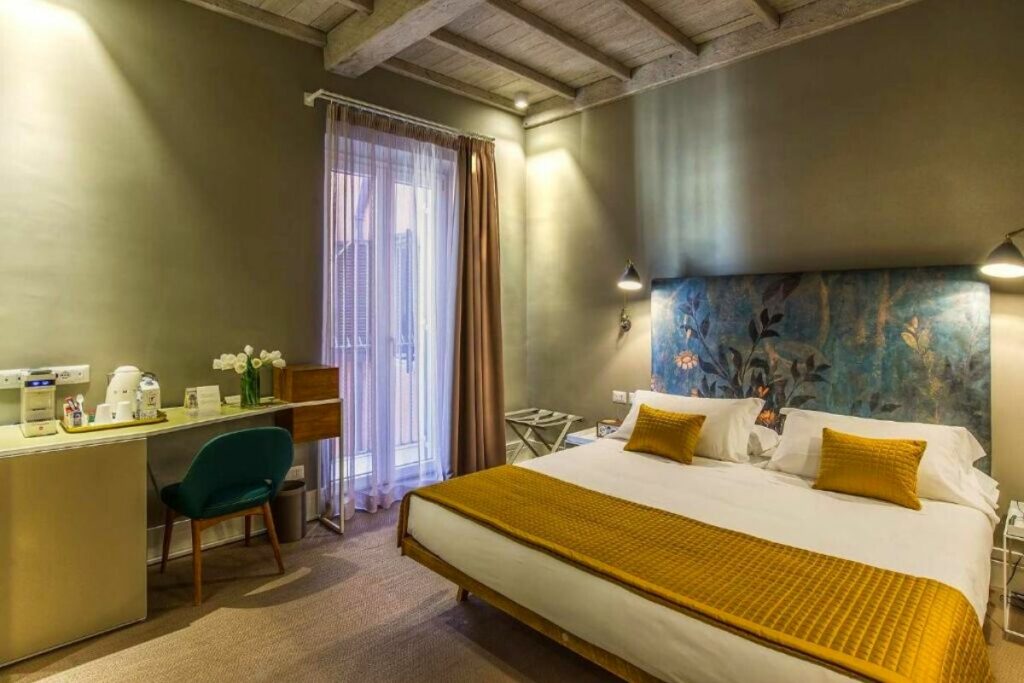 Another one of the hotels near Verona Arena is the Hotel Accademia. The location is perfect as it's just a few minutes away from the Verona Arena. You cannot miss this hotel, it's set in a historic building "once acquired by the world-renowned tenor Giovanni Zenatello. Furthermore, thanks to Giovanni the Verona Arena received the status of the world's greatest opera venue in 1913. And you'll be accommodated almost next to it!
Inside the hotel, the rooms are all spacious. Some even have a small living room, a desk area, and bathrooms with showers. If you wish to have some delicious breakfast Hotel Accademia serves it every morning, it includes both sweet and savory options. Although the hotel doesn't have its own restaurant, you can ask the staff for local restaurants. Moreover, you can also book city tours, and tickets for the museums, theatres, and opera with the help of the staff!
Hotel Accademia location: Via Scala, 12, 37121 Verona
10. Boutique Hotel Touring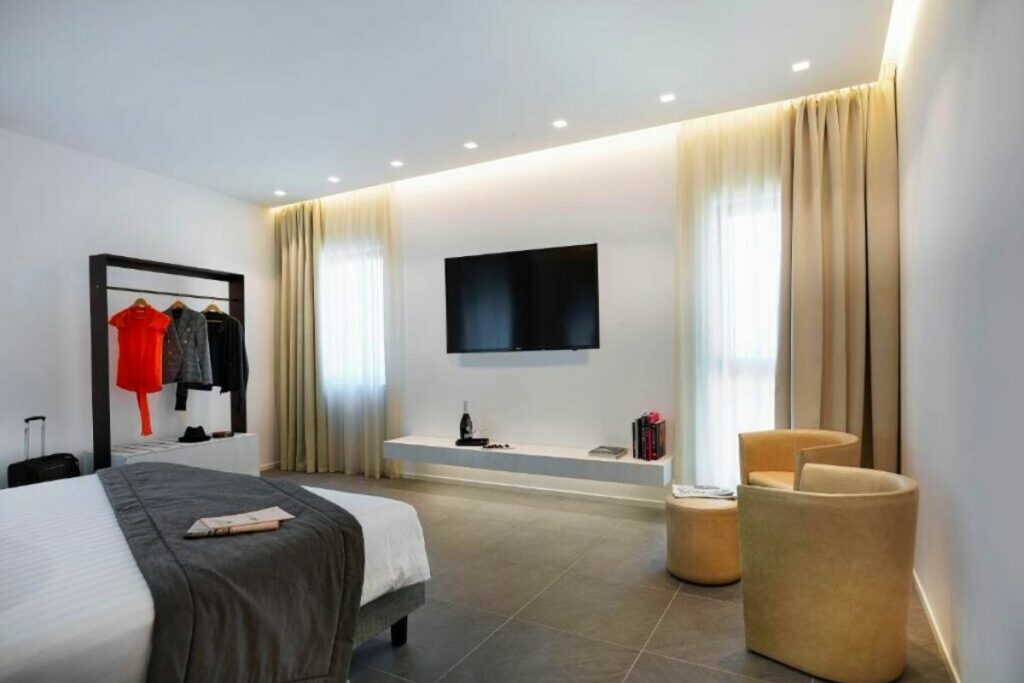 From the hotel 3 stelle Verona options, we have chosen Boutique Hotel Touring. The hotel is only a few minutes away from the famous Piazza delle Erbe. It's located in an old building but the rooms inside are very modern and elegant. They all feature air conditioning, a TV, a kettle, a bidet, free toiletries a desk. Furthermore, the rooms have a fitted wardrobe and private bathrooms. Each morning Boutique Hotel Touring serves a continental buffet breakfast.
There is no restaurant at the hotel, however, since you're close to the center there will be plenty of options to eat local food. Some of the near ones are Osteria del Bugiardo or La Prosciutteria Verona. The best boutique hotel Verna can also be booked for conference meetings as it has business facilities. Guests rate the hotel 9.1 stars and choose this mainly for the location, but also the value for money.
Boutique Hotel Touring location: Via Quintino Sella, 5, 37121 Verona
11. Hotel Giberti & Spa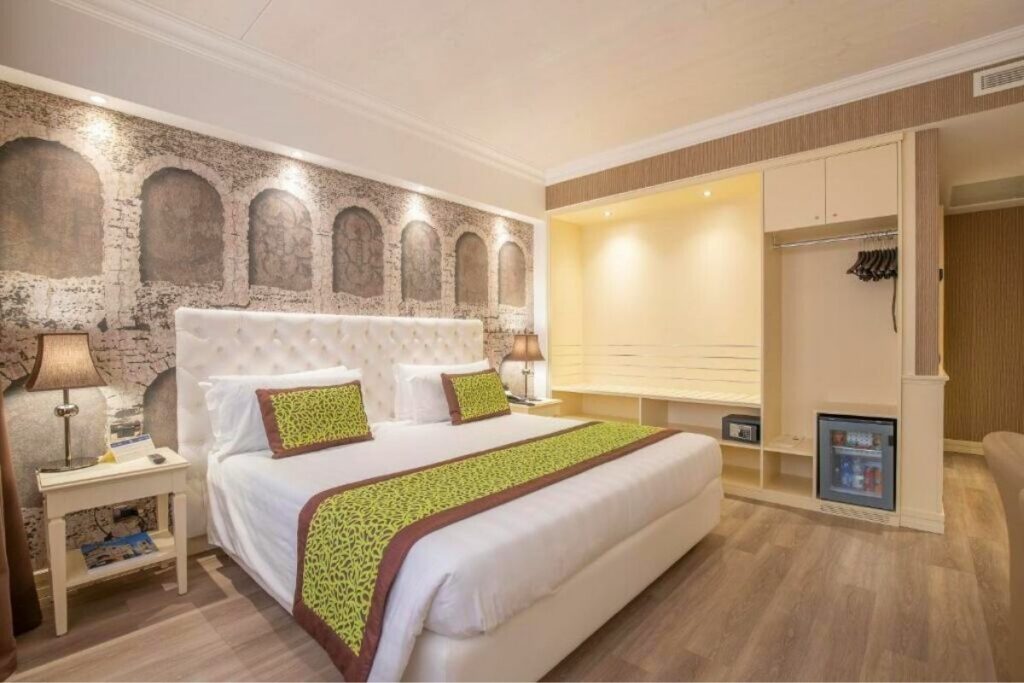 Hotel Giberti & Spa is one of the Italy Verona hotels with 9-star ratings. No wonder it has such a high rating as it has the best location. It's placed between Verona Arena and Porta Nuova Station. It has a lot of rooms so you can book it for your whole family too! There's an outdoor terrace for the quests to enjoy. The spa and wellness center is at your service for an additional charge. On the other hand, the fitness center is free to use.
Inside hotel Giberti the rooms are beautifully furnished and designed. You can choose from a deluxe double, single triple, and even junior suite. Furthermore, they offer buffet-style breakfast in the morning. The hotel doesn't have a restaurant, but Quel Che Vuoi is the closest one to enjoy a lovely meal. Walk around in the neighborhood, you'll be extra close to the Castelvecchio Bridge which is a fortified bridge in Verona.
Hotel Giberti & Spa location: Via Gian Matteo Giberti, 7, 37122 Verona
12. Hotel Indigo Verona – Grand Hotel Des Arts, an IHG Hotel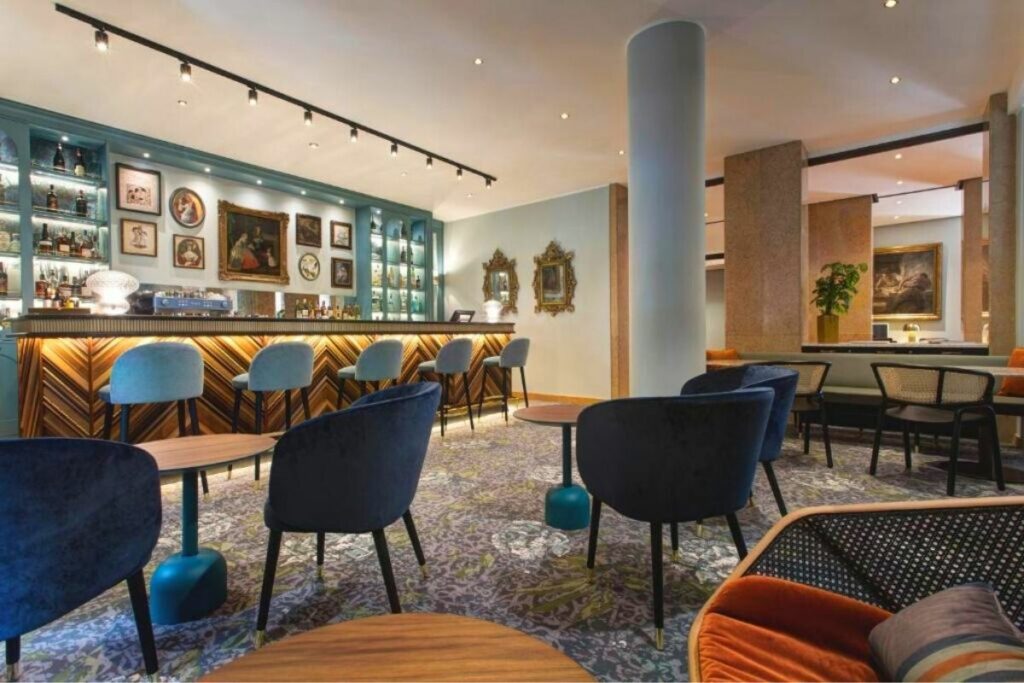 Next on our list of hotels in Verona Italy is the Hotel Indigo Verona. This is one of the IHG grand hotels. It is located between the Verona Arena as well as the town's train station. It's a stunning hotel both from the inside and outside. For example, the inside of the hotel is modern and stylish. The rooms have elegant decor yet antique furniture and contemporary paintings. Grand Hotel Indigo Verona has an Art Noveau style.
Enjoy breakfast inside the hotel. There's a large and spacious lobby inside where guests can take free refreshments like tea, coffee, and sweets. Besides offering great accommodation, the hotel is also perfect for conference meetings. It has 3 meeting rooms and can hold up to 150 people. For restaurant options, check out the Ostinati Verona or the Locanda degli Scaligeri.
Hotel Indigo Verona – Grand Hotel Des Arts, an IHG Hotel location: Corso Porta Nuova, 105, 37122 Verona
13. Ark Hotel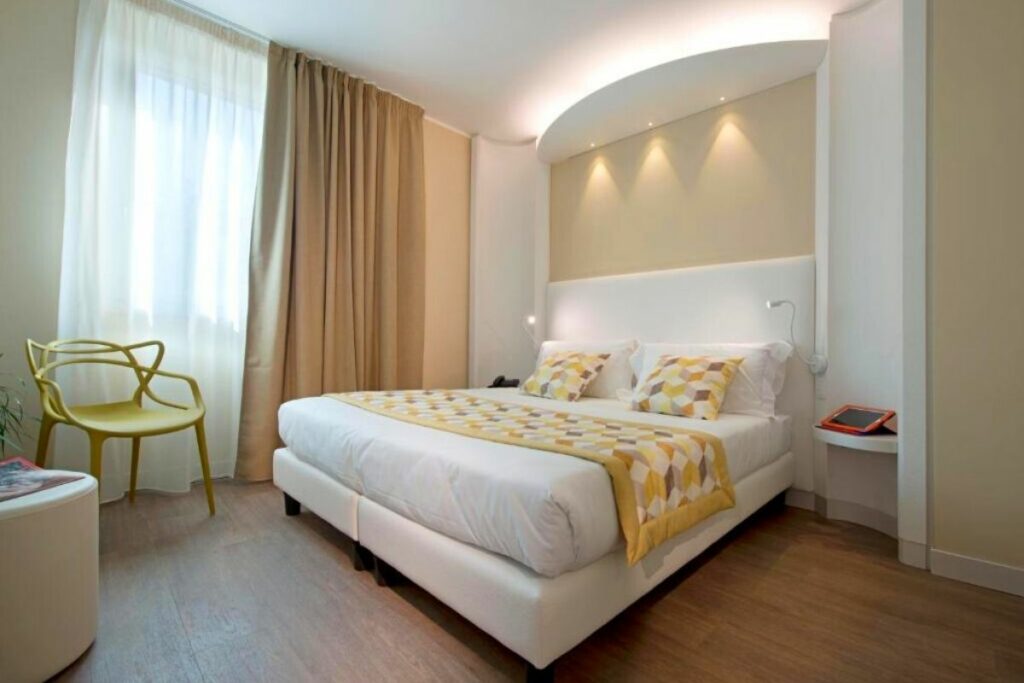 We are almost at the end of our list of hotels in Verona Italy. Ark Hotel is a beautiful 4-star hotel that you must visit. It's situated in the Porta Nuova district. If you're wondering where that is, the hotel is about a mile away from the Verona Arena and Piazza Bra, which makes it very close to the center. The hotel offers a buffet breakfast on a daily basis.
There's a 24-hour front desk service that can help with selecting the right restaurant for your lunch and dinner. There's also a smaller fitness center on-site. Some of the attractions nearby are the Castelvecchio Museum, the bridge, Verona Teatro Filarmonico, and the San Zeno Basilica. The hotel received 8.6 stars on booking.com and guests praise it due to the friendly staff. At the same time, the comfort level is also high at Ark Hotel.
Ark Hotel location: Viale L. dal Cero, 1, 37138 Verona
14. FD Luxury Rooms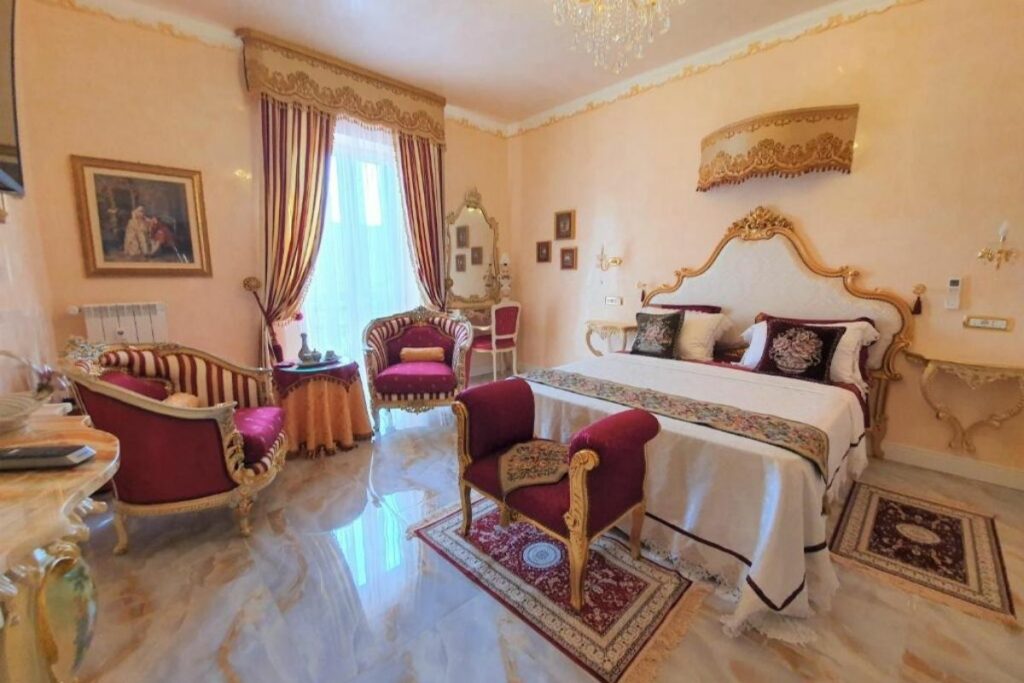 The FD luxury rooms might just be your next favorite place from the list of Verona hotels. This B&B has a 9.6-star rating on Booking.com and guests especially rate the facilities, comfort, and staff. FD Luxury Rooms are situated only a few minutes away from the Piazza Bra and Verona Arena. All of the units feature air conditioning, a fully equipped kitchen, a seating area, a private bathroom, a bidet, and a hairdryer. there's also a fridge, oven, and stovetop.
At the same time, the property has a restaurant and terrace where you can enjoy meals throughout the day. If you wish to go sightseeing there's a bicycle rental service available at the property. As it is so central, you'll be close to Castelvecchio Museum and Piazza delle Erbe. If you love architecture, we also suggest visiting the neoclassical-style placed name Palazzo Barbieri.
FD Luxury Rooms location: Via Tezone, 6, 37122 Verona
15. Residenza Borsari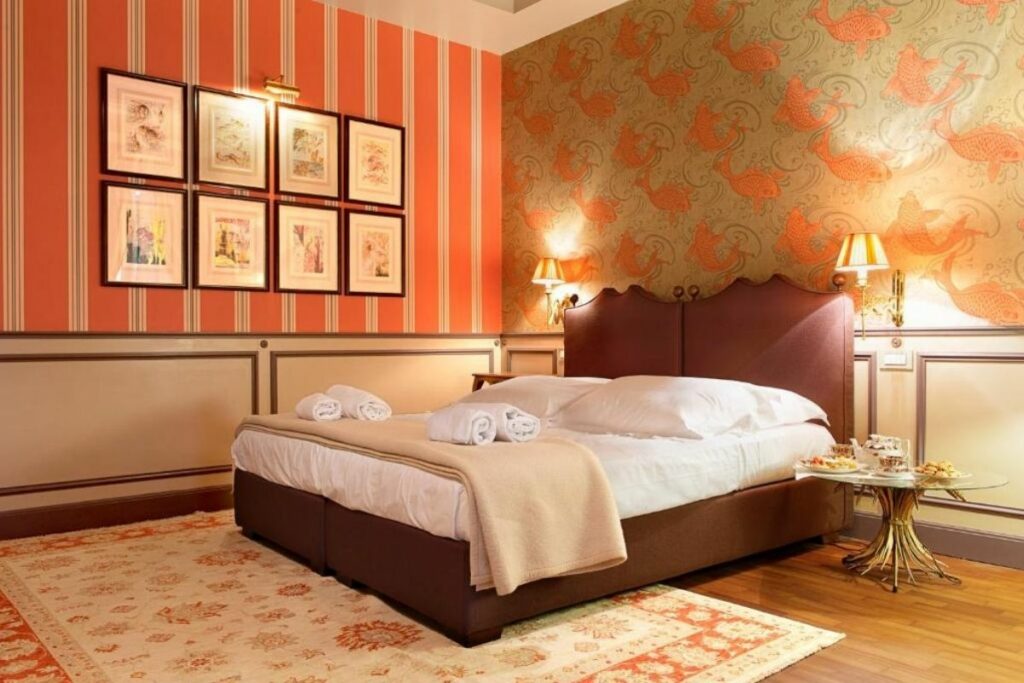 Lastly, we have the Residenza Borsari which is one of the best places to stay in Verona Italy. This is also located within the city center and it's only 5 minutes away from Verona Arena. The rooms are comfortable and Residenza Borsari offers a buffet breakfast. If you love historic buildings, you'll love this property. The rooms feature a balcony and private bathroom.
Breakfast is served in Italian style and during summers you get to enjoy the tea on the terrace. Guests rate the property 9.2 stars on Booking.com. Some of the closest attractions you must see are the Church of St. Eufemia, Torre dei Lamberti, Via Mazzini, or the Santi Apostoli Church. As far as restaurants, check out the Pompiere or Quattro Cuochi.
Residenza Borsari location: Corso Porta Borsari, 33, 37126 Verona
Hotels in Verona Italy – Conclusion
It is unquestionable that you must visit Verona. It is the home of Romeo and Juliet as well as a UNESCO world heritage site. The Veneto region is beautiful overall, so it's only natural that you visit Verona.
Pin it: 15 Best Hotels in Verona Italy