Are you planning a trip to Italy? Maybe you plan to visit several regions and you want to get the best out of your time here. Lucky you! As a fellow traveler that found her home in sunny Italy, I'm happy to give you some inspiration. If you read this blog, you may know that after years of living in Italy, here at ItalyBest our goal is to share as much information with you as we can regarding culture, history, travel, cuisine, brands, and so on. The list truly seems neverending, as Italy is such a colorful country to live in and it never fails to amaze me. Each day is about discovering a new spot, a new taste, something that I am always so excited to share with you. But, let's see what's cooking here. In today's article, I collected the best restaurants in Italy.
I selected 20 restaurants in 20 different Italian cities and I hope you are just as excited about this, as I am. Please note, that the list below is sorted alphabetically. Also, I think it is needless to say that there are so many more fascinating restaurants that have a well-deserved spot on this list. But one thing is sure: each of these restaurants will amaze you and offer a memorable experience you will never forget.
However, if you are interested in more in-depth lists for specific cities such as Rome, Milan, and Florence – just to mention some of the most popular travel destinations, you can find a bunch of recommendations for restaurants both in the heart of these cities and off the beaten path undiscovered by tourists. Browsing our blog, you can also find similar collections of the best Italian desserts and wines, or regional specialties such as the best Neopolitan dishes, cheeses, or cold cuts. You can also learn about delicious Italian olive oil, bread, and pastries. But now, without further ado, let's dive deep into the world-famous Italian gastronomy and find out what are the best Italy restaurants you should head to for the best local dishes to try!
20 best restaurants in Italy
Now, let's look into the ranking factors I considered to build the list of the best restaurants Italy welcomes travelers with. The very first aspect was to make sure that whichever restaurant you visit, you can enjoy regional dishes. When traveling, it is essential to taste authentic local food. From the mindblowing Neapolitan dishes in Naples, the roman food of the Eternal City, the cold cuts and cheese of Emilia Romagna, or a simple bite in focaccia in the Liguria region can make your travel to Italy a time to remember.
On this list, you will find both small, charming restaurants hidden away in tiny alleys and Michelin star restaurants Italy has to offer. There will be options for every budget, but one thing is sure: no matter the restaurant, you can be sure that you will be greeted by a fantastic staff and served delicious meals made from fresh and high-quality Italian ingredients.
1. Ristorante Biancofiore – Bari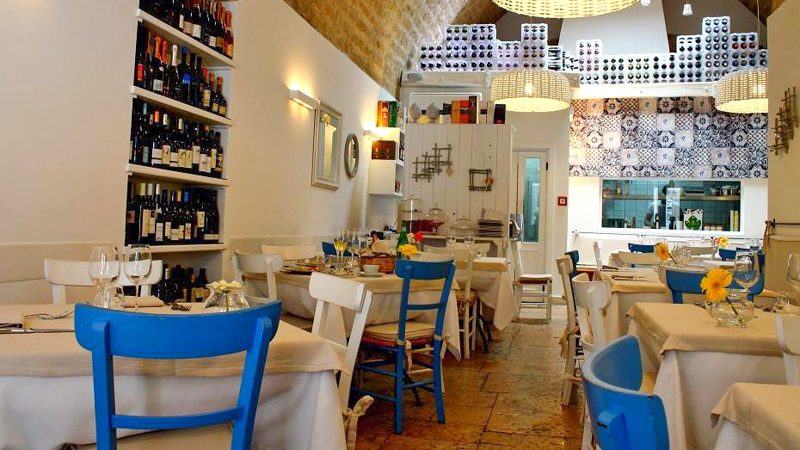 As you will see later in this article, there are many Michelin star restaurants Italy welcomes its visitors with. The very first restaurant on this list is Ristorante Biancofiore which you will find right at the gate of the historic center of Bari. And when I say at the gate, I mean that the restaurant is located at one of the old gates that lead to the historic center of the town. The atmosphere here is magical. Once you step inside Biancofiore, amidst old stone walls you will be able to admire the beauty of Bari and experience all the charm of this unique location. 
Dining here is also a memorable experience. The service is excellent, the staff is extremely welcoming and the food… Oh, the food! In Biancofiore you can try traditional Apulian seafood dishes prepared from the freshest and highest quality ingredients. Not to mention the focaccia, which is one of the simplest, yet best foods in the Puglia region. The restaurant only uses organic zero-kilometer ingredients and they source them locally. But now, let's see what else is on this list and what are the best restaurants Italy has got to amaze you with!
Ristorante Biancofiore location: Corso Vittorio Emanuele II, 13, 70122 Bari BA, Italy
2. Trattoria di Via Serra – Bologna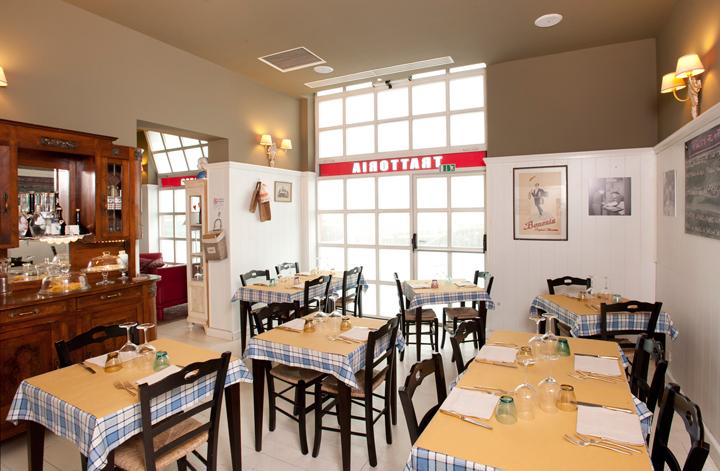 If you're looking for the best restaurants Italy has got for you, you will surely like  Trattoria di Via Serra in Bologna. The owners have caused quite a stir in Bologna and many travelers are visiting them. It's also one of the Michelin restaurants Bologna, they are on the top of the list of the Michelin Guide Italian. You will find this restaurant in the Bolognina Neighborhood. It's just on the outside of the main city center.
They serve regional cuisine, using organic food. The raw materials used in their dishes are top quality and only get from small producers in the area, instead of giant suppliers. At the same time, the owners, Tomasso and Flavio like to visit wineries, farmers, breeders, cheesemakers, and so on to get the best products from them which they later serve to the guests.
Trattoria di Via Serra is a popular restaurant and it only has 35 seats. This place has three separate rooms and very modest decor. The food served is delicious and you'll taste traditional dishes with a twist. For antipasti, try a selection of the best food in the Emilia Romagna region, such as cold cuts. You will surely be amazed. You'll find tortellini, broth, spaghetti bolognese, and many other amazing dishes that you must try. Also, don't forget to sprinkle some Parmigiano Reggiano cheese on your pasta, as without exaggeration, this is the star of the Emilia-Romagna cuisine. If you're unsure where to dine, visit Trattoria di Via Serra!
Trattoria di Via Serra location: Via Luigi Serra, 9b, 40129 Bologna BO, Italy
3. Savory – Cagliari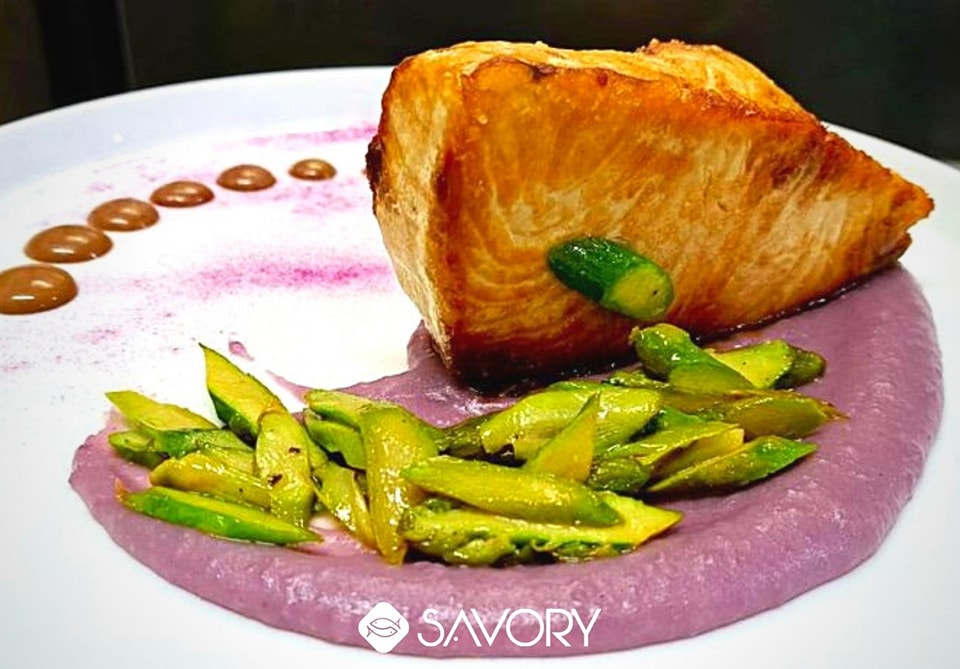 When it comes to the best restaurants in Italy, Savory, this beautiful restaurant in Cagliari definitely stands out. Savory specializes in Mediterranean cuisine and serves amazing dishes that are made of fresh and high-quality ingredients. The restaurant is run by the duo chef Luciano and Mery, both passionate about Italian gastronomy. Each dish reflects their love for cooking and their care for customers.
The excellent service comes with attention to the need of each guest. In case you have a food intolerance, do not hesitate to communicate this to the staff, as they are ready to serve you special dishes for all dietary needs. This is just one reason among the many that make Savory a great destination for bigger groups or families with children.
In Savory, you can try some delicious antipasti, all delicious and rich in taste. Their mains are also worth your attention, especially the fish and the seafood which is locally sourced. If you ask us, try the tuna steak, grilled octopus, or lobster, as these are one of the stars on the menu. But in case you prefer something else to seafood, there are lots of other options, as well.
Savory location: Via Sassari, 86, 09123 Cagliari CA, Italy
4. Da Tonino – Capri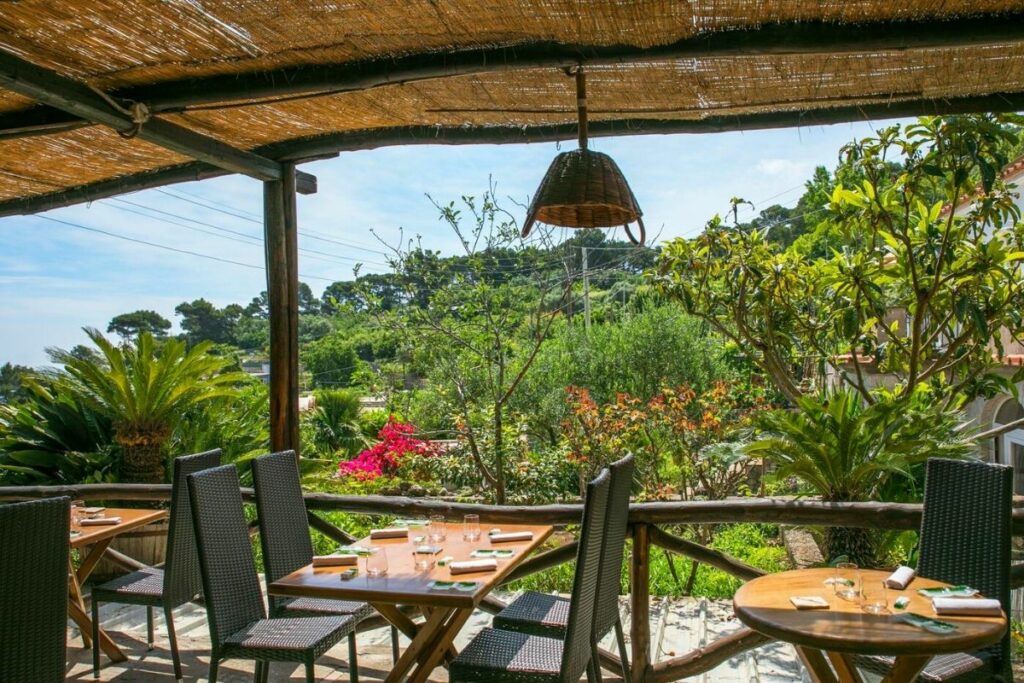 Next on this Italy restaurant list is Da Tonino, one of the best restaurants in Capri. According to their website, Da Tonino was opened in 1993 by "old school chef" Antonino Aprea. His vision was to create dishes from ''earth'' products like rabbits and quail. After 30 years of service and serving delicious meals, the restaurant is now in the hand of his children.
Da Tonino is still one of the most amazing, if not the best restaurant in Italy, and the family business is flourishing. I'm sure you're wondering what are the famous dishes by Da Tonino chefs. Firstly, it isn't easy to find the menu online. They do not have it on the website, so you really just have to look through the photos on Tripadvisor. Thankfully, I was able to find some photos that seem to have the most popular dishes. For example, the Caprese ravioli; Sea bass, zucchini alla scapece, and mozzarella; Tortelli with cheese and pepper, mussels, and lime.
Secondly, if you are unsure whether to choose this restaurant or not, they appeared in the Michelin guide in 2021. This is what the guide states: "Allow a good half-hour to get to this small restaurant with a simple ambiance and an airy terrace which is perfect in the heat of summer. The cuisine has its roots in local traditions – its first courses are particularly good. There's also an excellent wine selection."
Da Tonino address: Via Dentecale, 14, 80073 Capri 
5. Il Gambero Pazzo – Catania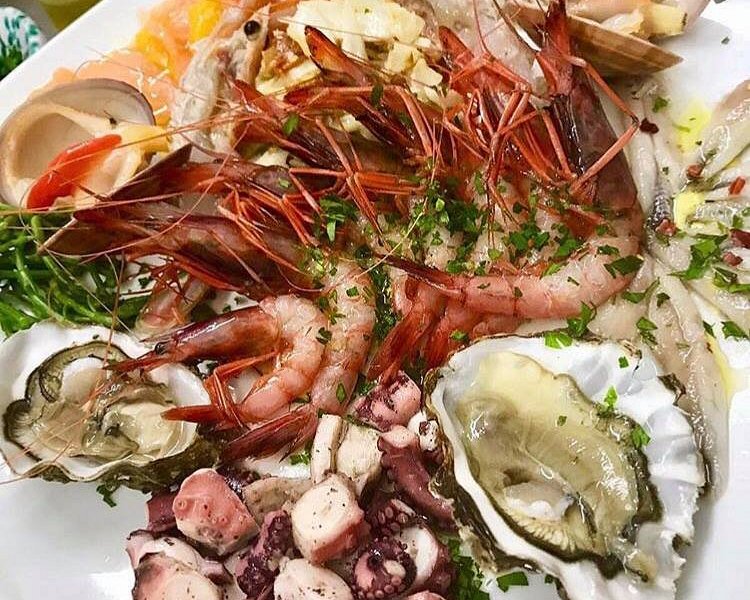 In case you are exploring Catania and you are looking for a traditional seafood restaurant, Il Gambero Pazzo is your place to go. This place has everything you can ask for from a Sicilian restaurant. It welcomes you with a rustic setting and a relaxed atmosphere, and an extensive menu you can choose from. Nothing proves better how great the food here is than the thousands of satisfied reviews from guests. Their seafood platter is a big favorite, but if you ask us, you should not miss out on their seafood pasta or risotto.
Also, for those that are more into pizza, Il Gambero Pazzo is a great place, also. They serve some delicious oven-baked traditional Italian pizza that is hard to find anywhere else. As the place gets crowdy, make sure to book a table to ensure that you can spend an unforgettable dinner enjoying authentic Sicilian food after a long day of exploring the beauties of the region.
Il Gambero Pazzo location: Via Vela, 1, 95100 Catania CT, Italy
6. Zimino – Genoa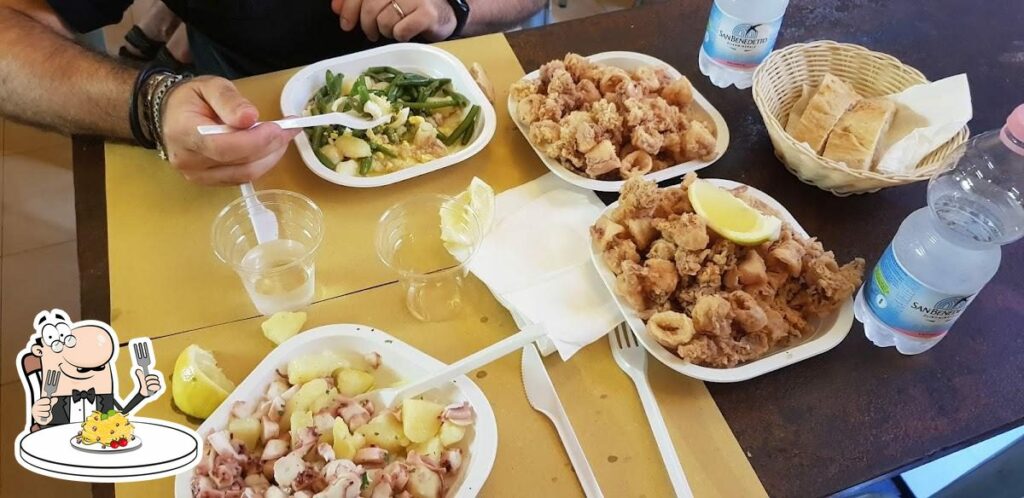 When it comes to the top Italy restaurants, Zimino has earned a well-deserved spot on this list as well. With its simple, yet hearty dishes, Zimino is definitely one of the best restaurants in Italy. Especially if you are looking for traditional meals. This charming little place is located in the heart of Genoa, hidden away in a beautiful alley in the historical center. If you want to experience authentic Italian cuisine while the city vibrates around you, you will instantly fall in love with this place. 
Just like the surrounding area, the restaurant is also always filled with life. When you get here you will quickly notice that there are many local customers, which is the best proof that you are at the right place. From fried seafood to pasta, you can find here everything. But my recommendation is to try something you have never tried before. Order a ragu, a soup or a pasto lasagne. Their authentic, traditional Italian meals are the bests, so make sure to get out of your comfort zone and try something new!
Zimino location: Vico delle Scuole Pie, 4, 16123 Genova GE, Italy
7. L'ancora della Tortuga – Cinque Terre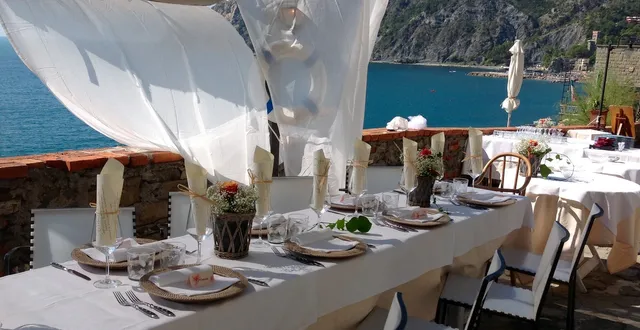 The next one on the list is one of the best restaurants Italy welcomes you with, L'Ancora della Tortuga. This is a cave restaurant that you can find in Cinque Terre. That's right, you'll be dining inside a cliff that overlooks the sea. How beautiful is that? L'Ancora della Tortuga is a restaurant that opened its doors in 2007, run by Silvia and Giovanni Battista. It's in the beautiful province of La Spezia.
Taste the most delicious Ligurian cuisine at L'Ancora della Tortuga. This place is one of the most breathtaking Michelin star restaurants Italy has, so you can trust that you'll be in for a treat. You'll find a variety of meat and fish dishes. From the fish specialties choose between 'noodles with anchovies', 'basil risotto with prawns', or 'toasted pine nuts'. They source the fish from the local village market and caught fresh each day.
Then you have the tasty meat specialties that you will not find anywhere else on the island. Try out the 'suckling pig with apples' or the 'Chianti reduction with spinach sautéed in butter'. Alternatively, they also serve 'duck breast with orange'. Of course, L'Ancora della Tortuga serves the best desserts and you can try out some regional wines and prosecco. It's one of the best Monterosso Italy restaurants for a reason. Make sure you also check what are the best things to do in Cinque Terre!
L'Ancora della Tortuga location: Salita dei Cappuccini, 4, 19016 Monterosso al mare SP
8. Trattoria Giovanni – Florence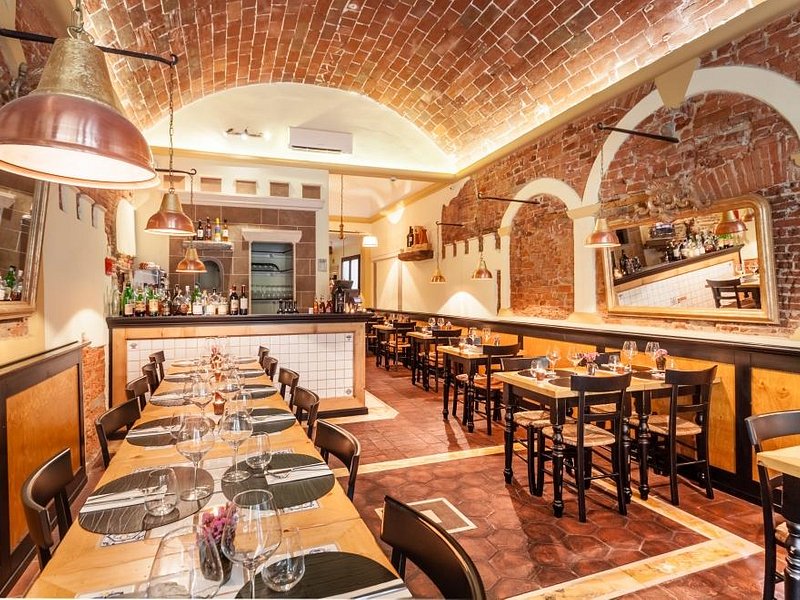 You must have seen movies of Italy and people visiting real trattorias and having the best dishes ever. That's no different in Florence! Well, the next Italy restaurant, Trattoria Giovanni is the place you want to visit for an authentic Italian experience. The restaurant has a rustic Tuscan style, with bricks, wooden furnishing, and the spirit of the lovely Italians. It is located in an ideal location, not too far away from Ponte Vecchio, which is why I think it's among the best restaurants in Florence Italy.
The menu includes so many delicious things it is challenging to choose which one to try. The appetizers have the Giovanni special, which is a dish of sausage and stracchino. Choose from different forms of pasta like ravioli with ricotta, or tagliatelle with porcini mushrooms as well as tagliolini with black truffle. You can also order traditional Florentine steak at Giovanni's. Oh, and before I forget, do not miss out on the famous tiramisu dessert either! Don't miss our recommendations for rooftop bars, and cooking classes in Florence either!
Trattoria Giovanni location: Via Sant'Agostino, 38 Rosso, 50124 Firenze
9. Trattoria La Pesa Dal 1902 – Milan
If you find yourself in Milan looking for a great North Italy restaurant Trattoria La Pesa Dal 1902 is the place to go for. There are many Michelin star restaurants Italy welcomes you with, but this restaurant is on another level. It is located close to the city center, and it is a well-known and highly respected trattoria in the city. 
What makes this place outstanding is that they specialize in traditional Milanese dishes and also serve the bests of Lombard cuisine. Looking at their menu, among the traditional dishes you will find sauteed veal kidney served with mashed potatoes or one of the most famous Milanese dishes, the L'Oss Büs, which is a veal ossobucco with saffron risotto. You can also order home sweets such as lemon sorbet or pesa tiramisu to end the night.
Trattoria La Pesa Dal 1902 location: Via Giovanni Fantoni, 26, 20148 Milano MI, Italy
10. Sorbillo – Naples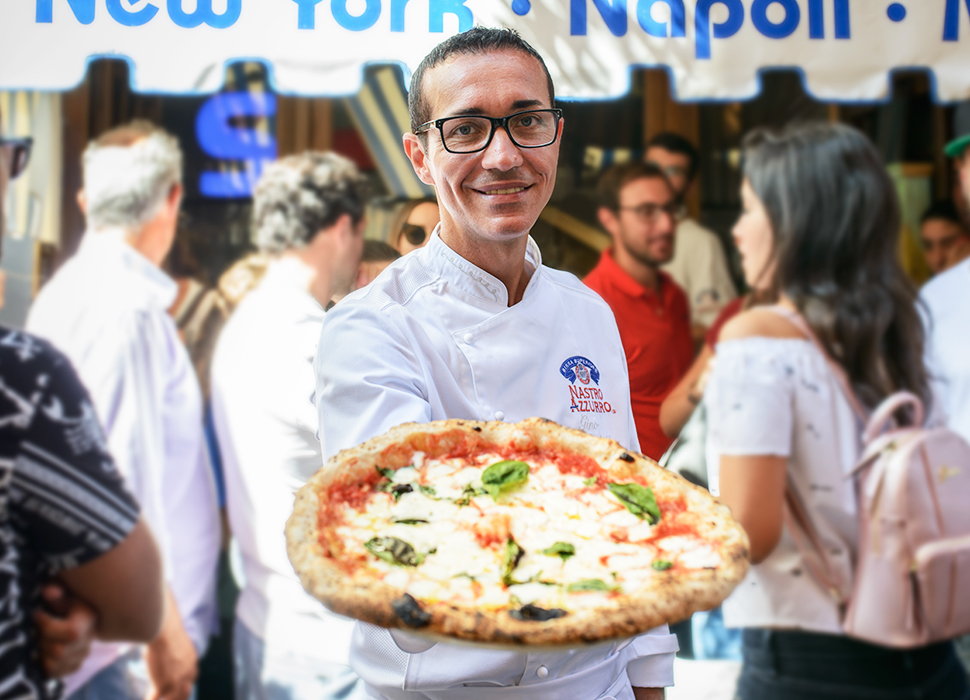 When choosing the best restaurants in Italy, there are many aspects that one needs to consider. But one thing is sure, a Michelin star is quite the proof that Sorbillo has a well-deserved spot on this list. This charming restaurant is located in the historical center of Naples. Before you step into this place, keep in mind, that even the very first taste of Neapolitan pizzas made here will instantly take you to heaven.  
The Sorbillo family is one of the oldest pizza makers in Naples. The family's son, Gino Sorbillo grew up in the family pizzeria and learned all the tricks and secrets of making a true Neapolitan pizza. Also, the Sorbillos gave birth to 21 children, and believe it or not, they all became highly reputable pizza makers.
Without any exaggeration, they took pizza making to the next level and it is not a surprise that they earned their place among the best Italian gastronomic names. So if you are after an authentic,  delicious Neapolitan pizza, Sorbillo might be the best restaurant in Italy you can step into.
Sorbillo location: Via Dei Tribunali, 32, 80138, Naples Italy
11. Trattoria Rigoletto – Parma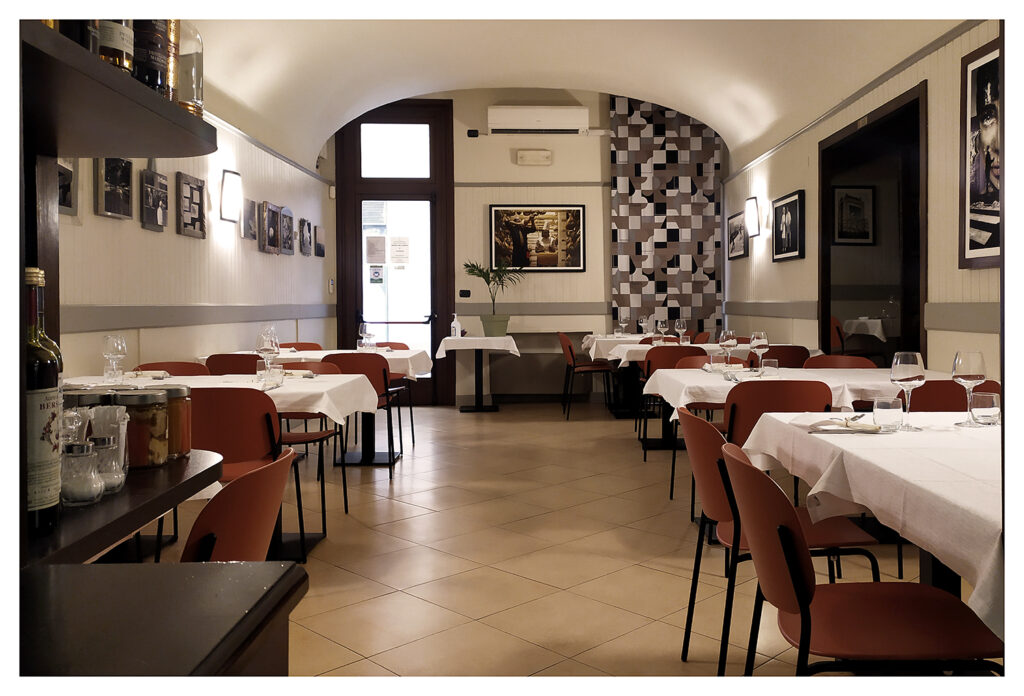 Looking at the best restaurants Italy has to offer, Trattoria Rigoletto in the town of Parma is a real gem. The restaurant is located on a quiet side street right in the heart of Parma, close to the vibrant life, yet, it is intimate enough to offer you a wonderful dining experience.
When you step into this family-owned restaurant, you will immediately feel the passion and love put into the place, which is both true for the atmosphere and the dishes. The service is faultless, and the food is so delicious that you might want to come back for more the next day. The menu has all the mouthwatering options of the region.
I recommend you try the world-famous ham and other cold cuts and cheese types that are authentic to the Emilia-Romagna region. As for the main dish, I recommend you the Tortelli d'erbetta. Do not forget about dessert either, as these are also worth your attention. In Trattoria Rigoletto you will feel like dining in the home of an Italian family, so make sure to arrive hungry and ready to enjoy some good wine with the heavenly meals!
Trattoria Rigoletto location: Borgo Amadio Ronchini, 4, 43121 Parma PR, Italy
12. Antiche Mura – Polignano a Mare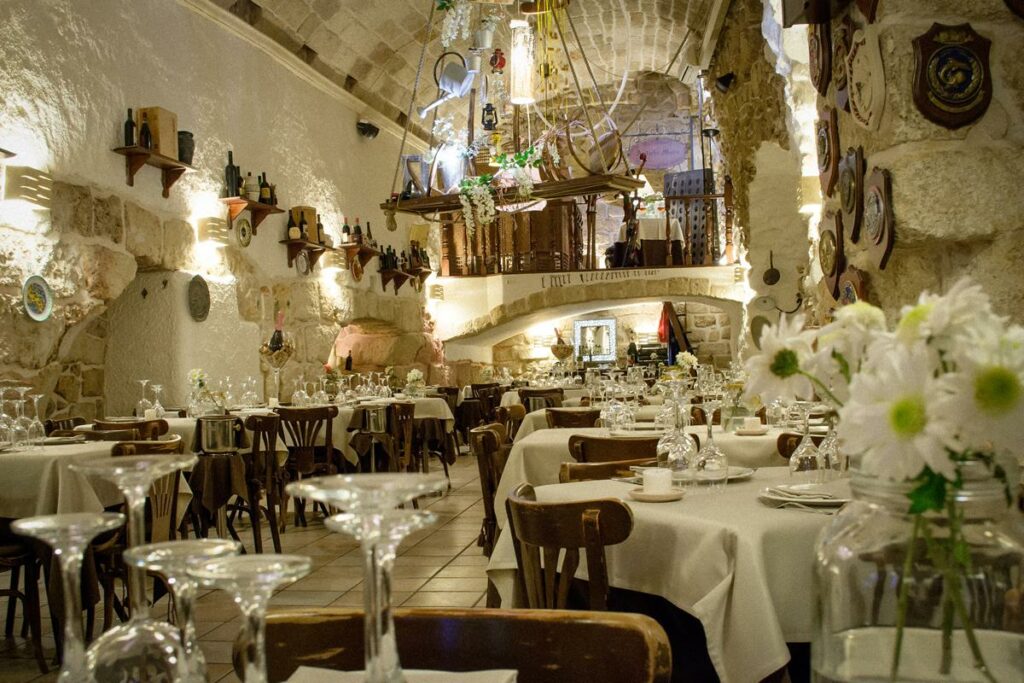 The next Italy restaurant we are going to take a close look at is Antiche Mura. What makes this small charming place stand out from all Italy restaurants is that it is located where the very first stones of Neapolis were placed in the far Middle Ages. Antiche Mura is history itself and this is reflected perfectly through all the dishes they serve here.
They use locally sourced ingredients to create the traditional dishes of Apulian cuisine. By combining simplicity and refinements, the dishes served at Antiche Mura offer a true, authentic gastronomical experience that is one of its kind. If you love Mediterranean cuisine and seafood, you won't be let down.
In case you need some help deciding what to order, I recommend you the truffle-stuffed pasta, which is excellent. Also, if you visit this restaurant with a larger group or family, try the seafood platter as a starter. The fish and seafood served in Antiche Mura are fresh and delicious, so you won't regret trying some specialties for sure.
Antiche Mura location: Via Roma 11, 70044 Polignano a Mare Italy
13. Sikulo – Umori & Sapori – Palermo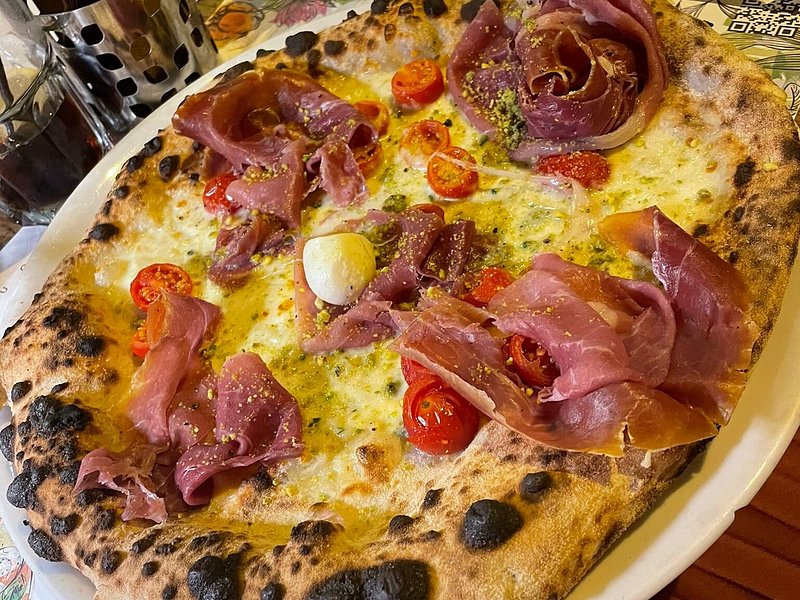 When in Palermo, Sikulo is the perfect place to experience Sicilian cuisine. This restaurant has an extensive selection of delicious foods on the menu, so no matter whether you travel alone, as a couple, or as part of a large group, everyone will be able to find something they like for sure. Sikulo combines tradition with innovation, genuine Italian flavors with original taste, but with a taste that will surprise you.
Their recipes are inherited in the family, they approach them with creativity and curiosity for something innovative. The exciting combination of flavors and ingredients makes Sikulo an outstanding Italian restaurant that is worth a visit. Or even more. It is traditional and unexpected at the same time.
From freshly baked breakfast to delicious lunch and dinner options, this place has got everything. If I need to recommend something, I would advise you to try the homemade ravioli with truffle. But in case you're ready for a more hearty meal, go with the slow-cooked pork knuckle served with rosemary potatoes. Mouthwatering, right?
Sikulo – Umori & Sapori location: Piazza Diodoro Siculo 2, 90141, Palermo, Sicily Italy
14. La Taverna del Leone – Positano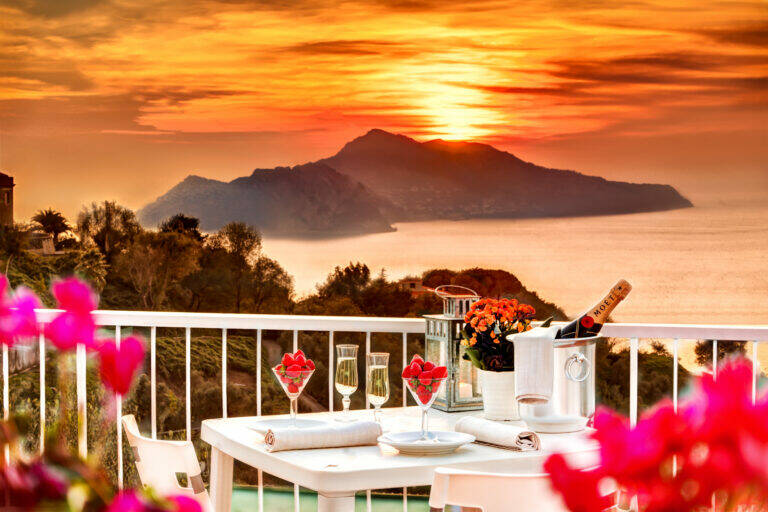 Looking for one of the best restaurants in Italy that appeared in a Michelin guide? Here's one great option from Positano. La Taverna del Leone is one of the few Positano restaurants that received great points within the Michelin guide. The hotel is just a few kilometers outside of Positano. Both locals and tourists love this place. The menu includes only local dishes and all of their ingredients are fresh.
In the words of the restaurant, they "offer the best of traditional Mediterranean cuisine". On their website, you can have a quick look at some of the options on the menu. For example, grilled octopus with potato and black garlic velouté. From the main selection choose the fish fillet 'scottata' with mixed vegetables. You should also try out their delicious desserts, like the almond nougat parfait. Everything looks and tastes amazing, I am sure of that! Don't miss our list of the best restaurants in Positano!
La Taverna del Leone location: Via Laurito, 43, 84017 Positano SA, Italy
15. La Pergola – Rome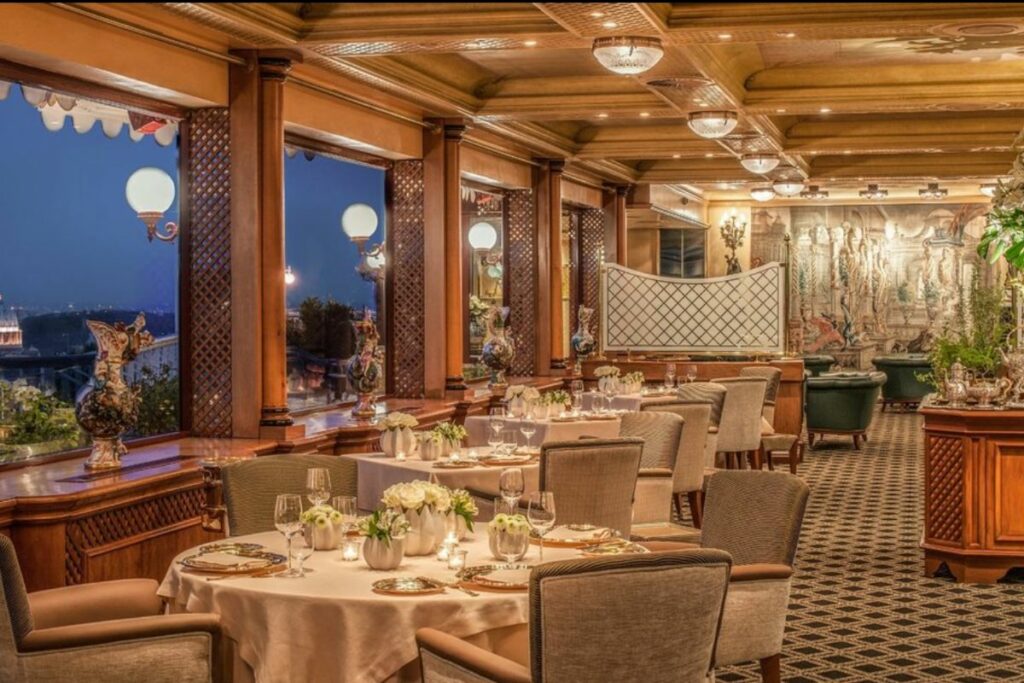 Next on the best restaurants Italy list is La Pergola in Rome. This place is not only one of the best Michelin star restaurants Italy welcomes travelers with, but also one of the first Michelin star restaurants in Rome. So if you're in Rome, you have to visit La Pergola. This restaurant is praised by many and for a good reason. It is located inside the Waldorf Astoria Hotel, a 5-star hotel. Not only does it have a stunning panorama of the Eternal City, but the food is also exquisite. The main chef at La Pergola is Heinz Beck, who was born in Germany and is a three-Michelin-starred chef.
Thanks to his creativity, the restaurant boasts the best gourmet meals that are unique and traditional. Here you can taste authentic flavors of both Italian and Mediterranean traditions. Depending on when you visit Rome and the restaurant, there are a few menus to look at. It's among the best fine dining restaurant in Rome Italy due to the variety of meals served. Translating the meals probably doesn't serve them justice, but here are a few of them. Firstly, the "Fatty duck liver with peaches and verbena" starter.
Then one of the first courses is "Tortellini stuffed with eggplant with sumac sauce and red prawns". Lastly, for the second course try the "Lamb with myrtle sauce and Polignano carrots". And while you are enjoying these delicious Michelin-star meals, you must also ask the sommelier, Marco Reitano, for the best wines to go with your courses. He won several awards and created the best wine lists for La Pergola! Make sure you also check our Michelin star restaurants in Rome, the best pizza places, and overall the best restaurants, cafes, and rooftop bars too! We also cover restaurants in different areas, like the Trevi Fountain, Trastevere, and Piazza Navona!
La Pergola location: Via Alberto Cadlolo, 101, 00136 Roma RM, Italy
16. Trattoria dei Mori – Sorrento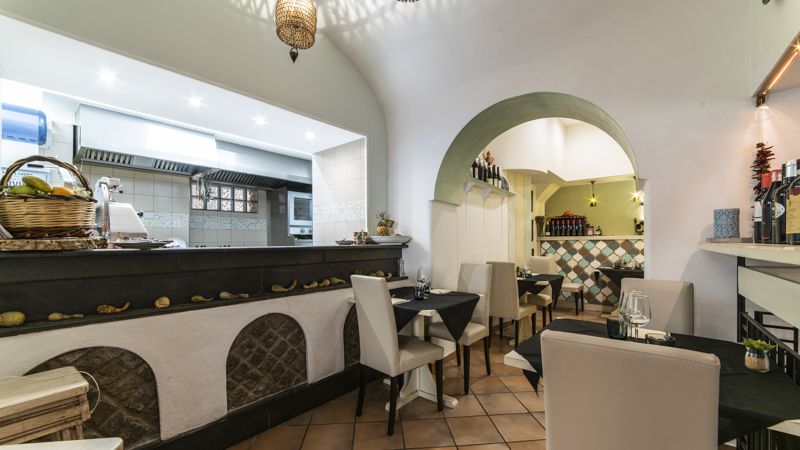 Now, let's continue our Italy restaurant collection with Trattoria dei Mori, a beautiful restaurant in Sorrento. If you are into seafood, you will love the extensive selection of high-quality, fresh seafood options. When you arrive, first you will notice the mouthwatering scent of true Southern Italian dishes that you just simply cannot say no to. The restaurant features a terrace, where you can enjoy grilled seafood and the best wines of the region. 
In case you are not a seafood fan, no need to worry. The menu has lots of amazing dishes that you can try. If you ask us, try the beef fillet with porcini mushrooms served with creamy buffalo cheese. Or you can try traditional homemade pasta, which I have to tell you, is heaven on earth. Not to mention their dessert list, which you should definitely check out, as well.
This place gives an impeccable experience. Both the food, the drink selection, the service, and the atmosphere give the vibe of that unforgettable Italian summer, especially if you choose to enjoy a dinner on the terrace. Is Trattoria dei Mori the best restaurant in Italy? Go and see for yourself! You won't regret it!
Trattoria dei Mori location: Via S. Nicola, 20, 80067 Sorrento NA, Italy
17. Malvasia – Taormina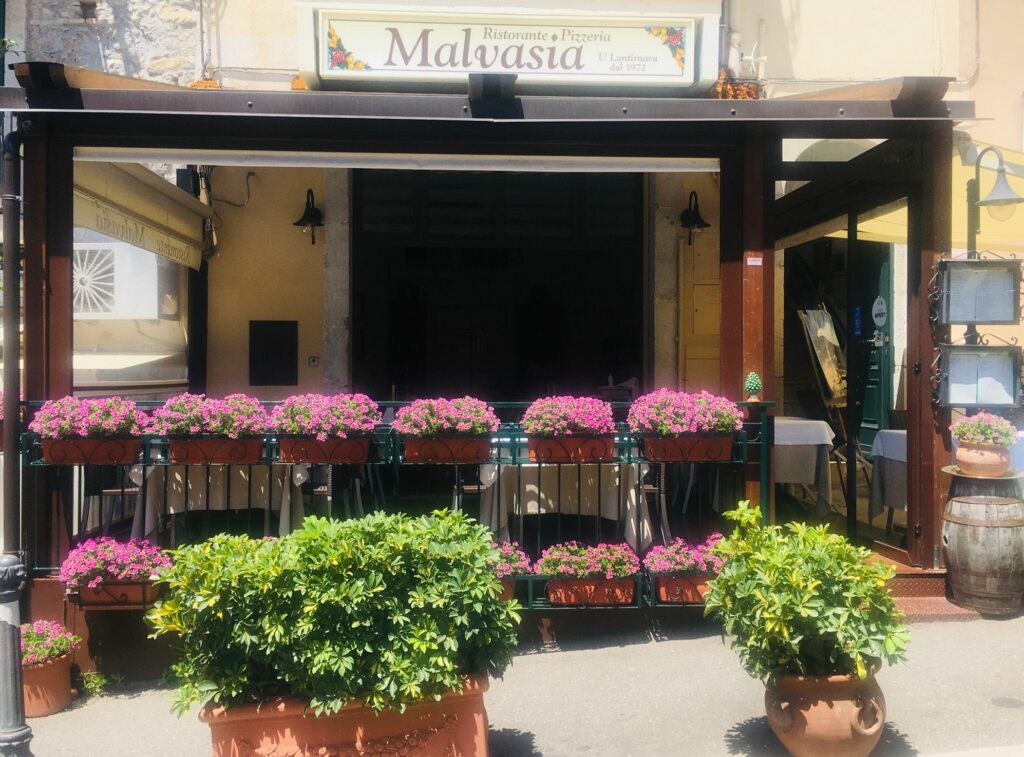 This list of the best restaurants in Italy would not be complete without taking a look at the Sicilian part of the country as well. Among the numerous Sicily, Italy restaurants, I picked a true gem in Taormina, called Malvasia. At the first sight, this restaurant reflects the charm of Sicily, not to mention the inviting scent of mouthwatering Sicilian dishes. 
When you step into this restaurant, get ready for a memorable dinner and a true Sicilian culinary experience. The staff is extremely friendly and kind, creating a delightful, relaxed atmosphere where you can have a taste of Sicily both culture and gastronomy-wise. The food is fantastic, made from fresh ingredients. Make sure to try a fish or a seafood risotto, if you are into seafood. You will be happy with your choice for sure!
Malvasia location: Via Apollo Arcageta 8, 98039, Taormina, Sicily Italy
18. La Ferramenta del Gusto Emiliano – Turin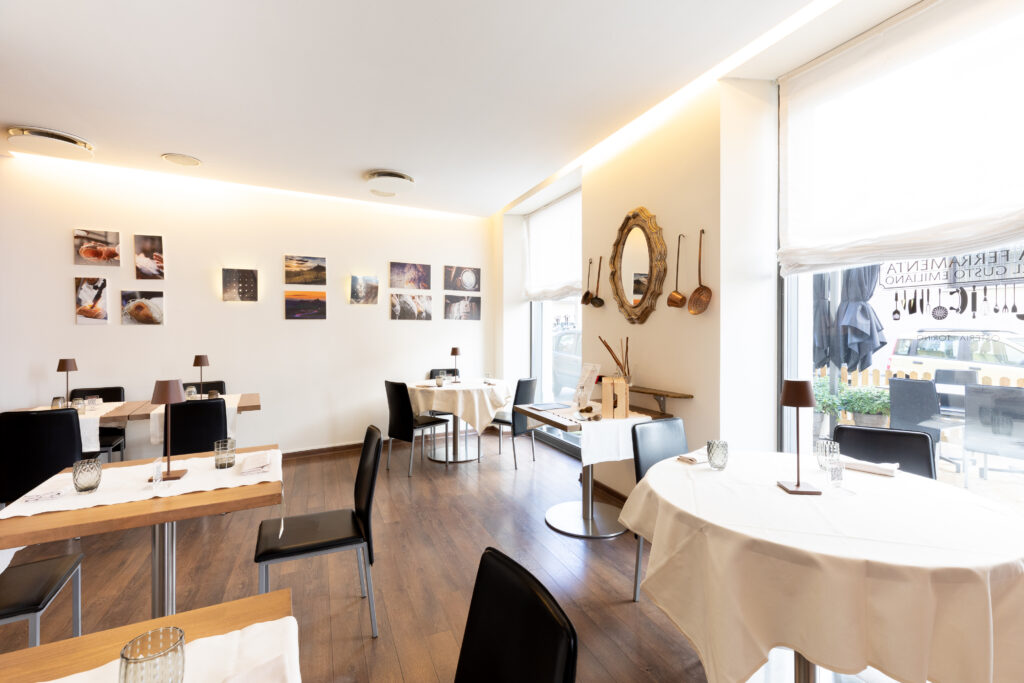 For the next North Italy restaurant I chose a family-operated place called La Ferramenta del Gusto Emiliano in Turin. There are many lavish, elegant restaurants in Turin, but this Italy restaurant stands out with its simplicity, quality, and passion for creating mouthwatering Italian dishes. Each meal prepared here reflects the historical, cultural, and gastronomical excellence of the Emilian lands. 
But why is this place so special? Well, it is not only the passion they put into the food they serve here but also the ingredients. All ingredients used in the restaurant have gone through research that lasted several years. And the same is true for each new ingredient the family decides to bring to the table. These ingredients come from Parma, Reggio, and Modena, each famous for their rich gastronomical culture and tradition.
When you look at the menu, you might find it hard to decide. But here's an advice for you. Try the fresh pasta that is made from old recipes in an artisan workshop in Reggio Emilia. Not to mention the fantastic cured meat that comes from the Canossa hills. The good news is that if you want to taste authentic Italian food made from fresh, high-quality ingredients in La Ferramenta del Gusto Emiliano, you don't need to rob a bank. Each meal is quite affordable, so no matter the budget, you can enjoy a memorable lunch or dinner here.
La Ferramenta del Gusto Emiliano location: Via Giuseppe Giacosa 10/A bis, 10125 Turin Italy
19. Osteria la Zucca – Venice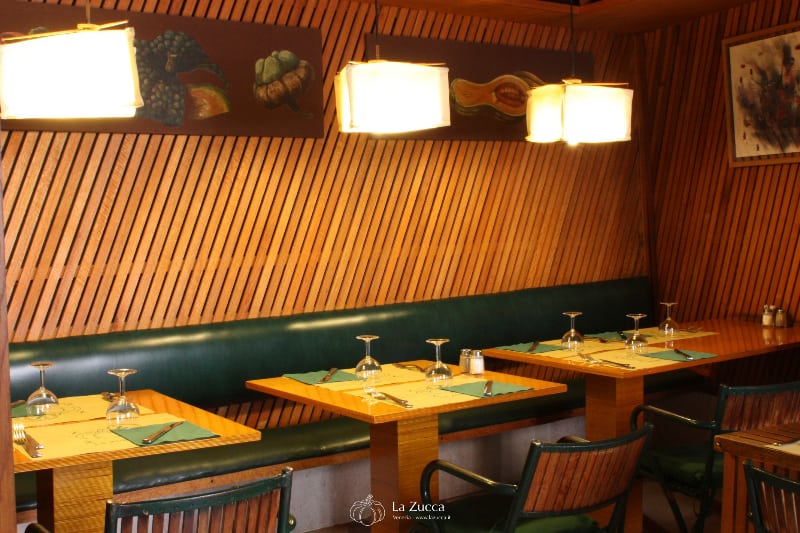 If you are looking for a North Italy restaurant that is worth your time, make sure to visit the next place I am going to tell you about is Venice. Osteria La Zucca, "the pumpkin", is the first choice for those wishing to escape the Venice crowd. You will fall in love with the warm atmosphere. This is a popular restaurant in Venice also for locals. However, this restaurant can offer you more than you expect. Above all, simple and fresh food.
The menu changes every day and prices are affordable. Pasta dishes are a good and tasty choice. My suggestion: taste the pumpkin flan and you will be walking on clouds! Leave some space for dessert. They are all excellent and this is why La Zucca is definitely one of the best restaurants Italy offers! Make sure you check out the best restaurants in Venice!
Osteria La Zucca location: S. Croce, 1762, 30135 Venezia VE
20. Ristorante il Desco – Verona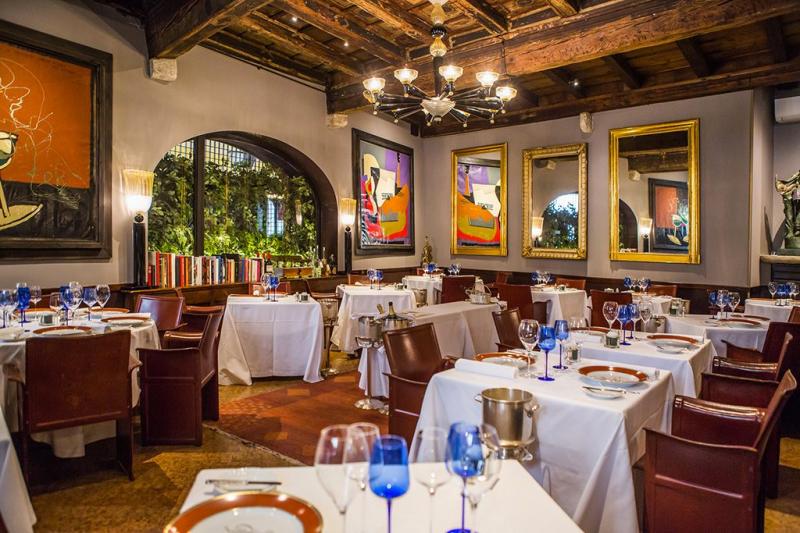 Are you interested in one of the best restaurants in Italy? How about some fine dining in Verona? Verona has quite a few, however, I would recommend Ristorante Il Desco. When you taste the food here, you might say that it is the best restaurant in Italy. The founder is Elia Rizzo who opened the restaurant in 1981. They wanted to raise more awareness of Venetian gastronomic traditions. They did so well, that Il Desco won a Michelin star in 1985. Matteo Rizzo, the son of Elia has returned to help his father bring the best dishes to the table for new guests.
As they would say "The dishes are the best ambassadors of Il Desco's philosophy". Everyone can guess that the dishes are exquisite. It is a fine-dining restaurant, therefore do not expect to go there and get a full plate of pasta. Fine dining restaurants are for the purpose of experiencing new dishes in a way you've never had before. It allows you to taste multiple ones within one sitting as they are small.
You can choose either a 3 or 5-course menu. Il Desco menu offers Dark Salmon, cream of capers and coffee powder, Fried scampi with an aromatic salad with raspberry vinegar, or Risotto with peat, tomato, and onion. There is also another menu called "Generations" which is available for the whole table and you can consume it at lunch or dinner. Make sure you check our list of restaurants in Venice!
Ristorante Il Desco location: Via Dietro San Sebastiano, 5/7, 37121 Verona
Wrapping up the best restaurants in Italy
And, here we are, at the end of our collection of the best restaurants in Italy. I truly hope that scrolling through this list gave you some ideas and inspiration on where to go for a memorable food experience when traveling to Italy. If you are just half as passionate about Italian cuisine as I am, I'm sure you agree that all across Italy restaurants offer a genuine experience that makes your time here truly special and memorable. For more recommendations, do not hesitate to browse our blog and learn about Italian brands, travel destinations, accommodations, gastronomy, and other experiences!
Pin it: best restaurants in Italy