5 Best Options for Italy Travel Insurance
Do I need travel insurance for Italy? Most of you arrived at this article asking this question. We are going to discuss below a little about the travel insurance Italy trips need. Wherever you travel, you should always buy travel insurance for Italy, as well as for any other country. Unexpected things can happen at any time, and it's always better to be safe than be panicking, right? You'll see below some of the best companies for travel health insurance Italy, so you can make sure there's nothing to worry about during your travels. We'll be starting with the Italy travel insurance that's our personal favorite, and we've been using it many times, for many years, and then, you'll see some other options that are highly recommended by many frequent travelers.
5 Best options for travel insurance in Italy
Before we dig into our travel insurance Italy topic, we'd like to make sure if you didn't yet decide where to travel in Italy, to check our list for summer destinations, the regions of Italy, Tuscan towns, islands, and the most beautiful gems of this beautiful country! Now speaking of travel insurance for Italy, you should make sure to pick a company that is easy to handle, easy to contact, and of course, it doesn't cost a fortune.
When you buy travel insurance for Italy, you should check what health and travel situations are covered, and how much coverage these companies have in a specific country. Now, as I said, you shouldn't even consider a no when you ask if do you need travel insurance for Italy, because traveling without insurance can always cause only headaches, nothing else. But about how much is travel insurance to Italy, that's a different story, and we're going to highlight this information at each of the companies we've listed below!
1. Safetywing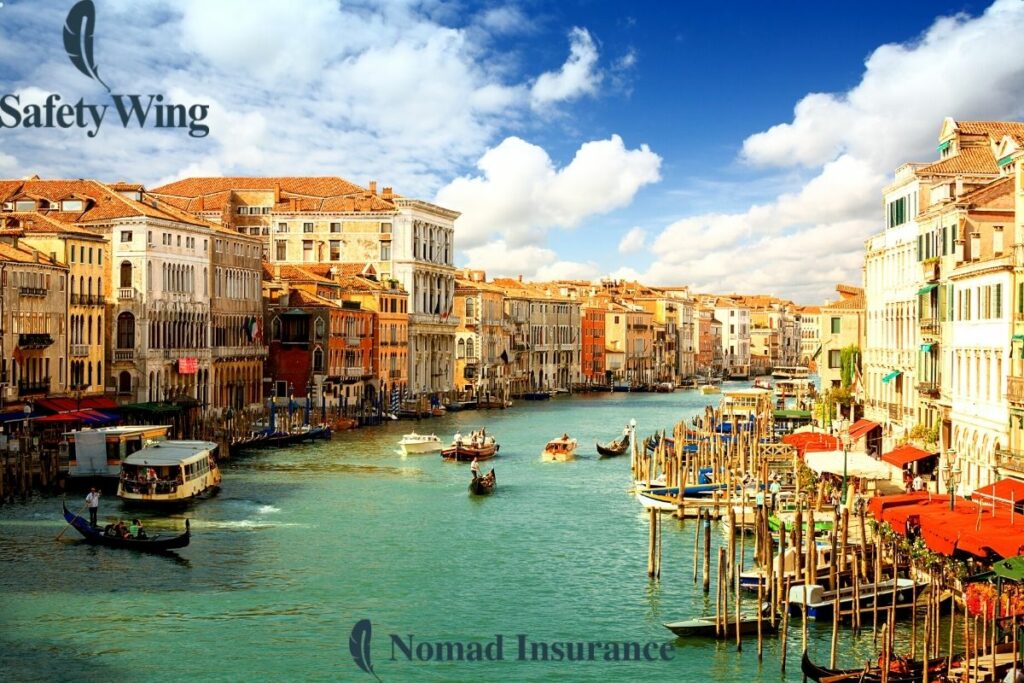 Safetywing has been around for a while now, and we've been using this insurance company since 2018. If you're in need of travel insurance Italy, we really do recommend checking out them, because of the many benefits of this particular company. First of all, Safetywing is really affordable. We calculated the prices based on 5 days to travel to Italy, and that's costing $7.50. I'd say that's pretty much affordable, no?
If you're going away for a month, that's around $42, where both travel and health emergencies are covered. With the Safety Wing insurance, you are covered for travel issues, such as baggage loss, travel delay, natural disaster, political evacuation, emergency medical evacuation, and many different things. For health, you are covered for accidents, hospital, ambulance, urgent charges, emergency dental, physical therapy, and chiropractic care.
Before getting your Safety Wing insurance, you can dig into their website where they explain what's covered and how much really detailed, yet really simple, so it's easy to understand and navigate. When you asked if do I need travel insurance for Italy, the answer is yes. Many of the above things can happen at any time, and it's best to know that you're taken care of! For an Italy travel insurance and not only Italy, at Safety Wing, but you also have an easy-to-use platform to get insurances, handle them, and cancel them. It's our number one favorite!
2. World Nomads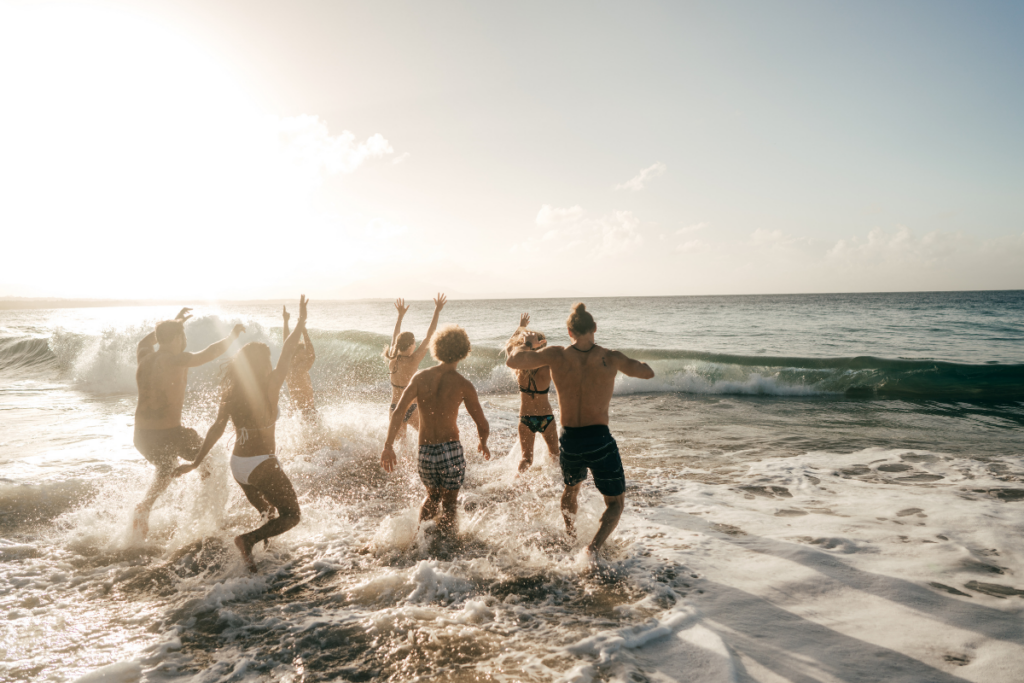 If you're a forever wanderer, and you need to buy travel insurance for Italy, World Nomads is another company that's really popular, especially in the circles of young adults. World Nomads has great travel insurance for Italy and speaking usually as well, but it's also a bit pricy. We've checked just as with Safety Wing what quote we get if we calculate for a US-based 30 years old to travel to Italy for 5 days, and the price was $54.99, which seems pricy compared to the previous option.
World Nomads is travel insurance designed by travelers, and it covers you and your family 24/7 emergency assistance, more than 200 adventure activities, and the basic essentials for a safe trip. We must point out, however, that compared to other insurances on the list, World Nomads is really good for those who travel for outdoor activities. Be it the coast, or the mountain, you can enjoy your trip and know that your activities are covered.
3. Travel Guard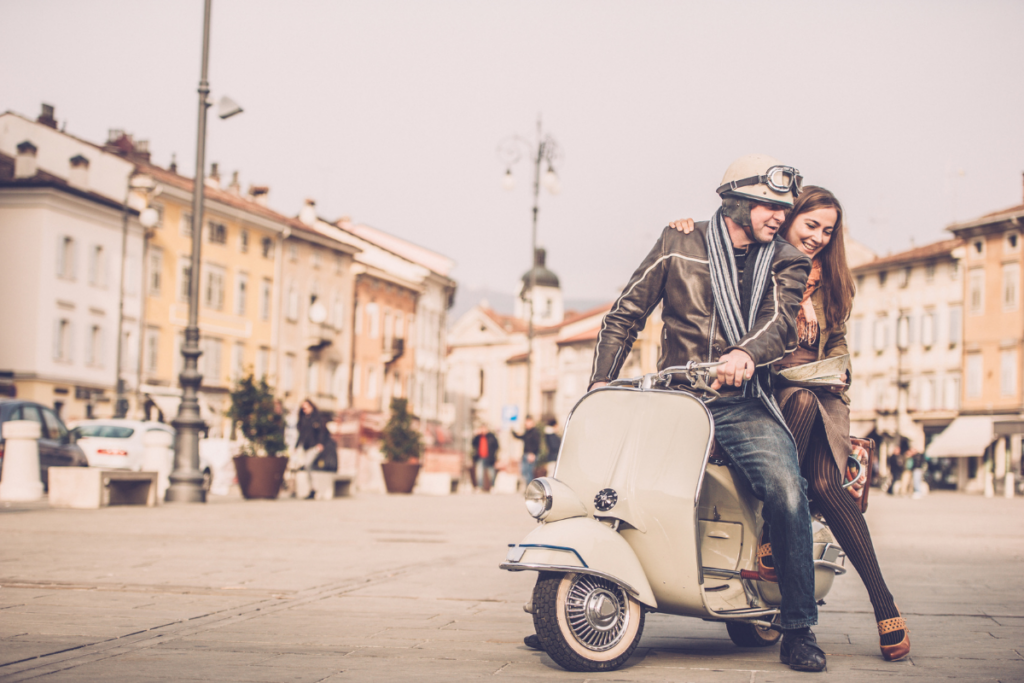 If you're looking for travel insurance Italy, Travel Guard is another great option. They cover many destinations around the world, and they are good to check out for travel health insurance Italy too, though they are a bit pricy. We've got a quote using the same details as all other companies on this list. So, it's a 30-year-old US resident set for 5 days, and the quote was $78.85, the lowest.
Travel Guard offers an expansive package indeed, but Safety Wing is still a cheaper option. At Travel Guard you've got Deluxe Plan which is their best travel insurance plan and it has extensive coverage, global travel assistance, and access to 24-7 emergency travel assistance service. They have also a Preferred Plan, an Essential Plan (the price we mentioned above), and loads of other options. Travel Guard is a good option if you need specific coverage, outdoor activities, etc, but it's best to compare their plans with the other sources here!
4. AXA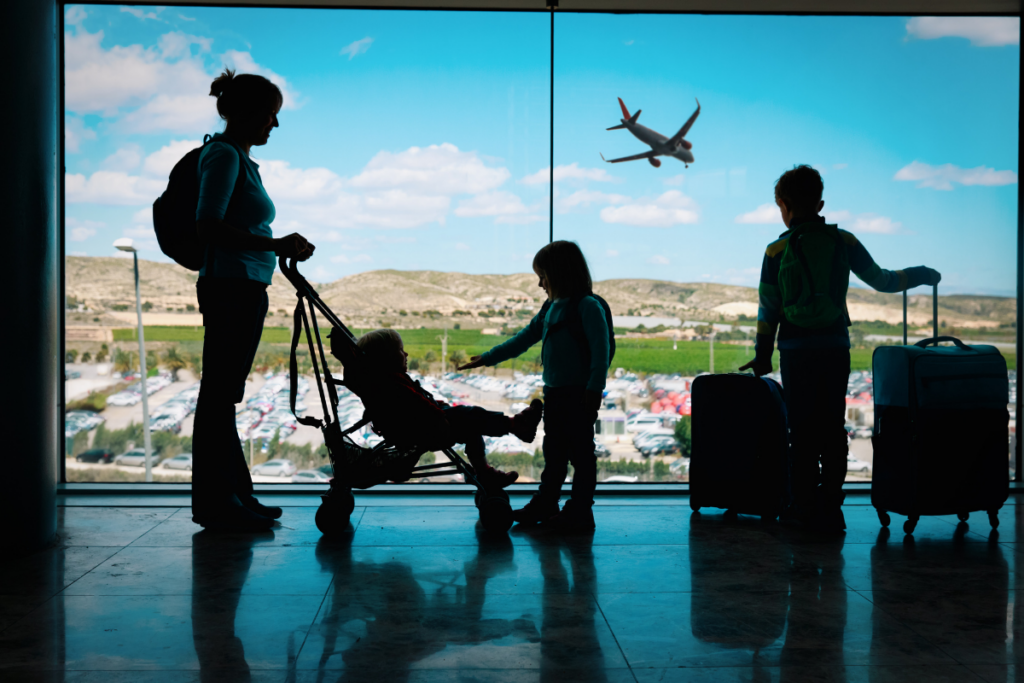 AXA is one of the most popular travel insurances in Europe, speaking mostly for European travelers, this is one of the most known companies. If you're looking for Italy travel insurance and you're not happy with those suggested above, you can always pick a European favorite, which we also check for a 30-year-old US citizen, for 5 days, travel insurance for Italy costs about $9.
Do you need travel insurance for Italy? And you're also looking for budget options? Then apart from Safety Wing, AXA could work well. If you travel less than 90 days in the same country you can get their single trip insurance. This is the best option they offer for emergencies and mishaps covered for you and your family.
AXA also has different plans to choose from depending on what are your needs. They've got insurances for frequent travelers, travel medical insurances, annual travel, family travel, ski travel, and much more. Compared to Safety Wing, AXA's travel insurance doesn't cover so many health emergencies as Safety Wing though.
5. Insure my trip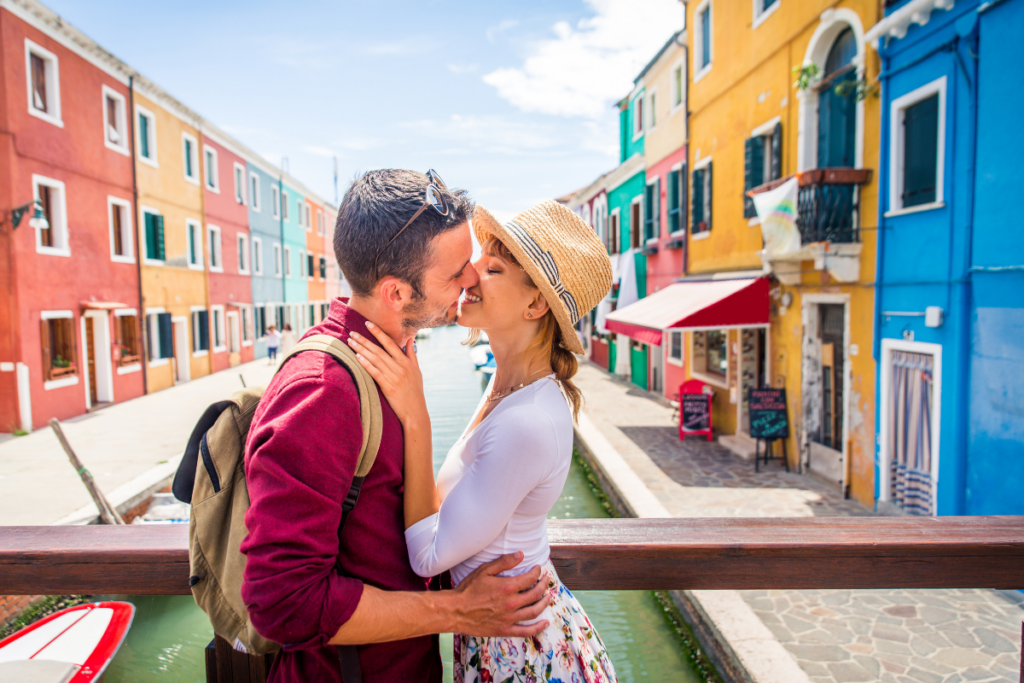 Another travel insurance Italy option is actually a platform where you can compare different insurance offers, but this one has its downside too. So, Insure My Trip will answer you with multiple options for how much is travel insurance to Italy. We've requested a quote for the usual, 5 days, a 30-year-old US resident, and we've got three quotes ranging between $7 and $188.
If you're looking for travel health insurance Italy, and the above 4 didn't convince you (which I doubt), you can always go on Insure My Trip, and get quotes there. The downside I have mentioned is, that they don't list all the existing travel insurances out there, and we actually didn't see any of the above 4 companies, while they are definitely the best.
In each case, Insure My Trip is a great platform to use, and you can have some options for travel insurance that the other companies don't offer, so you definitely should check this one out too! Important is to pick the best fitting plan and find travel insurance that you can trust, and that fits your budget as well. But again, please, do your research based on your needs for insurance, and do not ever leave on a trip without being insured!
Wrapping up our suggestions for travel insurance Italy
We hope you've found your perfect Italy travel insurance and you're ready now to travel safely to Italy! Remember to buy travel insurance for Italy, but any other country too, to make sure you're safe, and always protected. We hope you understood now the importance of travel insurance, and you've got the answer if you've been wondering: do I need travel insurance for Italy? We've listed some of the best companies for travel health insurance Italy, so now it's time to get on that plane, and experience the Italian Dolce Vita!
Pin it: Travel insurance Italy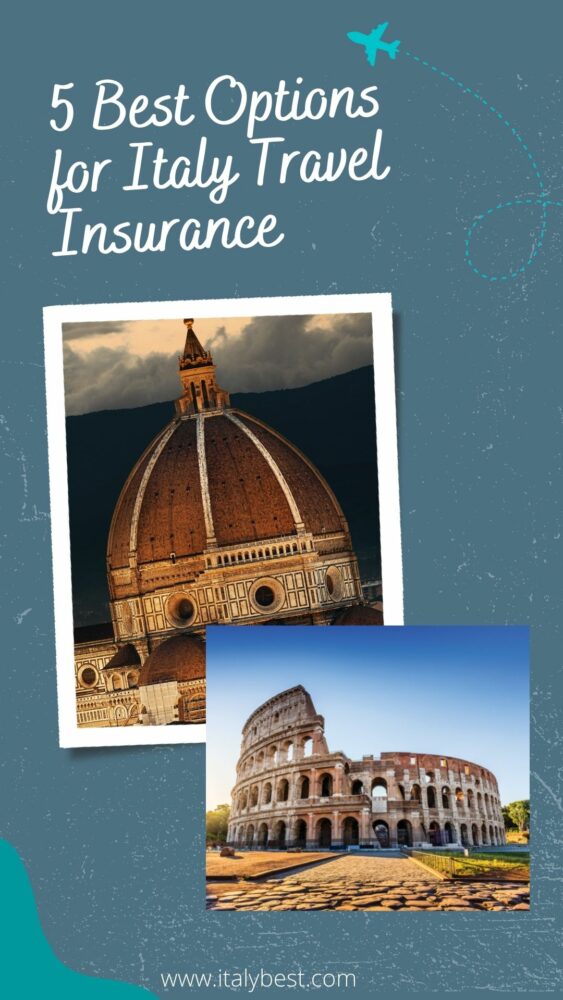 Disclosure: This article contains affiliate links. This means we're going to earn a commission in case you purchase. This has absolutely no impact on you. It's a way we can earn income to our website, which has no impact on our readers. What we write is based on our own research and experience.