10 Best Restaurants in Cinque Terre
You must have heard the name Cinque Terre many times before. It's one of the most stunning villages in Italy, thanks to the colorful little houses built on the hillside. The 5 villages are definitely a wonder for the eyes. That's not the only reason why people visit Cinque Terre. The locals are kind and welcoming and you'll most definitely want to try out the best restaurants in Cinque Terre.
Did you know that the Cinque Terre is the birthplace of pesto? While you're visiting some of the Vernazza restaurants or the restaurants in Monterosso Italy, you must try out the best Ligurian dishes. Some of them include pasta with pesto. Pesto is made with freshly picked basil leaves and olive oil bashed into pine nuts as well as pecorino cheese, and parmesan. It's simply delicious.
10 Best Restaurants in Cinque Terre Italy
Pesto is not the only reason why you should visit the Cinque Terre restaurants. Some of them have beautiful views, like the Monterosso Italy restaurants, while others have been passed down for generations, like the restaurants in Manarola. Ideally, it's worth visiting all of the 5 villages and soaking up the beauty. But if you can make it to just a few, it's still fine! Cinque Terre is among the best towns to visit.
The villages are so easy to reach by train, and since they are so close to each other you can even walk from one village to the other. For example, Manarola is only a 20-minute walk from Riomaggiore. Stay at one of the most beautiful hotels in Cinque Terre and discover its best restaurants in Riomaggiore, Vernazza, Manarola, or Monterosso.
1. Miky – Monterosso Italy Restaurants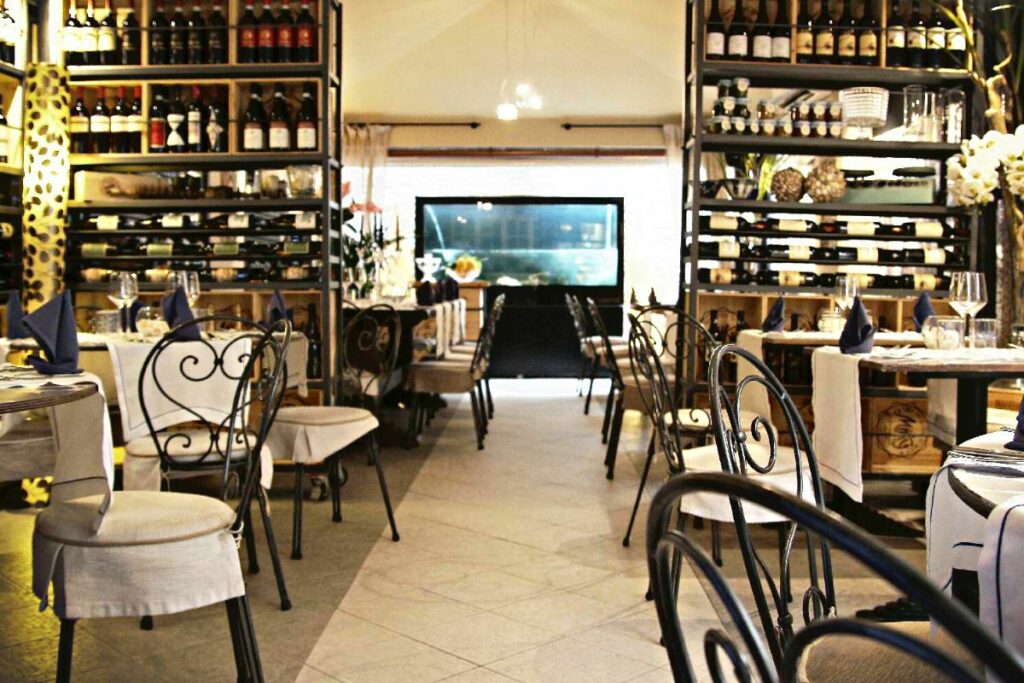 We're starting our list of best restaurants in Cinque Terre Italy with the first of the restaurants in Monterosso Italy. It's a top-rated place to visit when you're in Monterosso. The owner, Miky, has had this restaurant since 1980. Their vision was to own a place where guests would discover traditional flavors of Cinque Terre.
Miky is one of the Cinque Terre Michelin restaurants, as it was visited by inspectors in 1990 and their restaurant was so good it appeared on the Michelin guide. But, Miky is also on the Michelin guide in 2022. They are committed to using the best and freshest ingredients on the island.
So what is on Miky's menu? Well, it's one of the most popular restaurants in Monterosso Italy for its selection of seafood dishes. Whether you wish to have spaghetti with clams, prawns, or any other dish, Miky will serve the most delicious meal. Furthermore, you can also try their best wines as the restaurant holds around 250 labels.
Miky location: Via Fegina, 104, 19016 Monterosso al Mare SP
2. L'Ancora della Tortuga – Monterosso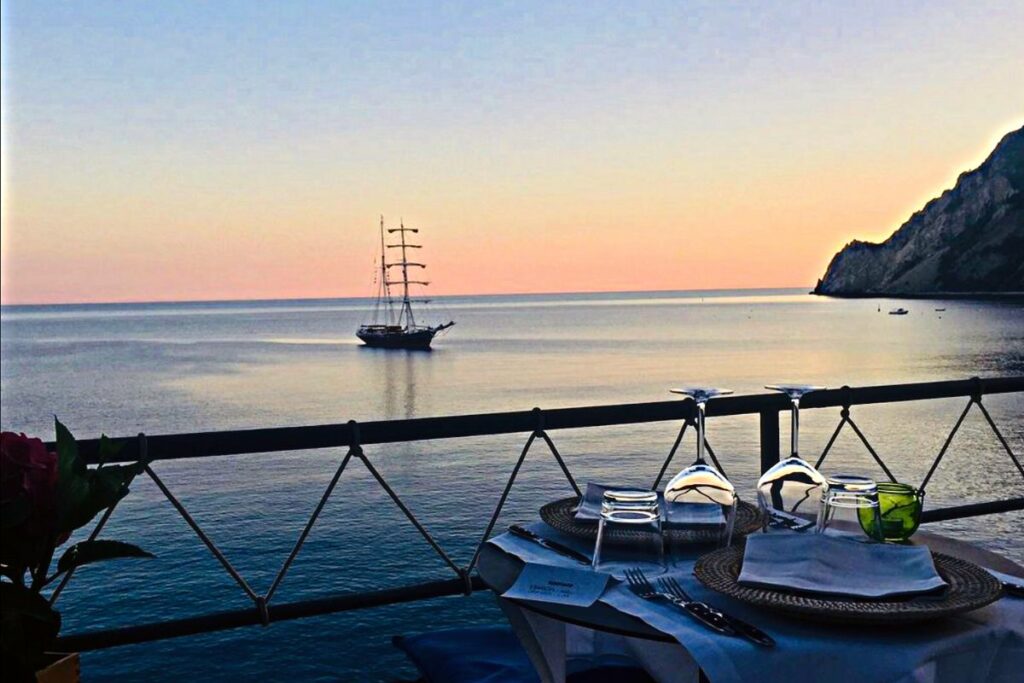 The next one on our list is a Cinque Terre Italy cave restaurant. That's right, you'll be dining inside a cliff that overlooks the sea. How beautiful is that? L'Ancora della Tortuga is a restaurant that was opened in 2007 by Silvia and Giovanni Battista. It's in the beautiful province of La Spezia.
Taste the most delicious Ligurian cuisine at L'Ancora della Tortuga. They are also one of the Cinque Terre Michelin restaurants, so you can trust that you'll be in for a treat. You'll find a variety of meat and fish dishes. From the fish specialties choose between 'noodles with anchovies', 'basil risotto with prawns', or 'toasted pine nuts'. The fish is bought from the local village market and caught fresh each day.
Then you have the tasty meat specialties that you will not find anywhere else on the island. Try out the 'suckling pig with apples' or the 'Chianti reduction with spinach sautéed in butter'. Alternatively, they also serve 'duck breast with orange'. Of course, L'Ancora della Tortuga serves the best desserts and you can try out some regional wines and prosecco. It's one of the best Monterosso Italy restaurants for a reason.
L'Ancora della Tortuga location: Salita dei Cappuccini, 4, 19016 Monterosso al mare SP
3. La Cantina di Miky – Monterosso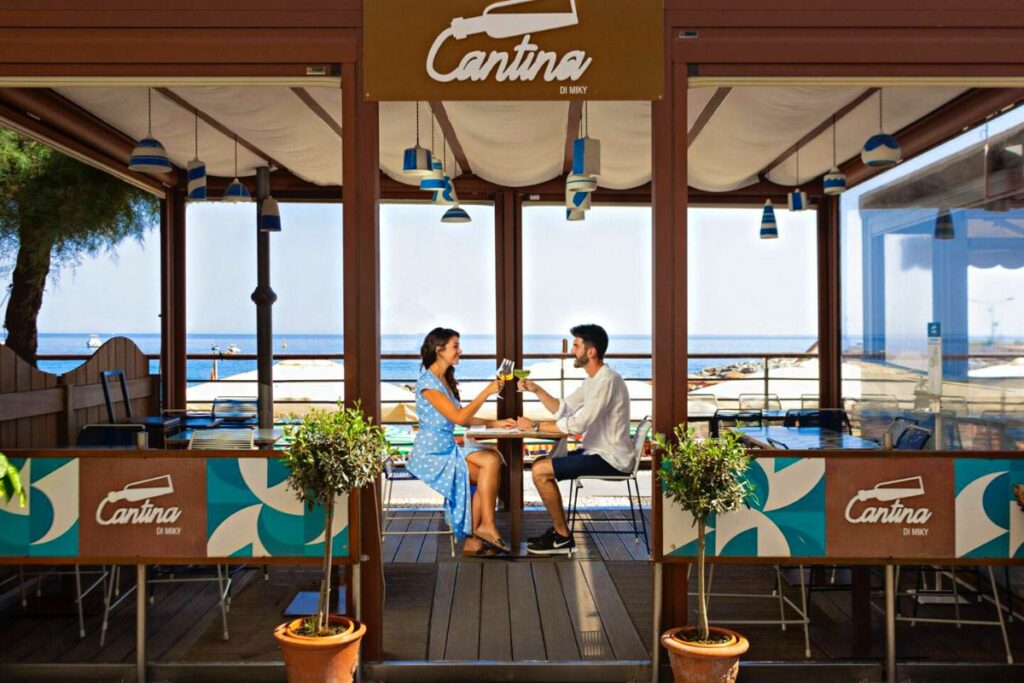 La Cantina di Miky is not to be mistaken for Miky. Although they are related, the services they offer are different then from the rest of the Cinque Terre Restaurants. La Cantina di Miky is managed by the Defina family from the Miky Restaurant. What that means is that they are a bit more youthful and personal. Miky is more of a formal restaurant with fine dining-style dishes.
At La Cantina di Miky you can choose from a range of lunch, dinner, aperitifs, and even tapas. The style of the place is modern and has a great atmosphere. It is also a spacious restaurant with plenty of seats for groups of families and friends. You'll be enjoying delicious seafood dishes and have a stunning view of the sea as well. It's just one of the exquisite Monterosso Italy restaurants.
What can you find on the menu? For starters, the dish called Guazzetto for two is a type of fish stew that is made from local fish and shellfish broth. It also includes pieces of mixed line-caught fish, mollusks, and crustaceans. Or choose from homemade green ravioli filled with pink shrimp. La Cantina di Miky also mentioned that their menu changes a lot. Be sure to check out their Facebook page for updated food options.
La Cantina di Miky location: Via Fegina, 90, 19016 Monterosso al Mare SP
4. Trattoria dal Billy – Manarola Restaurants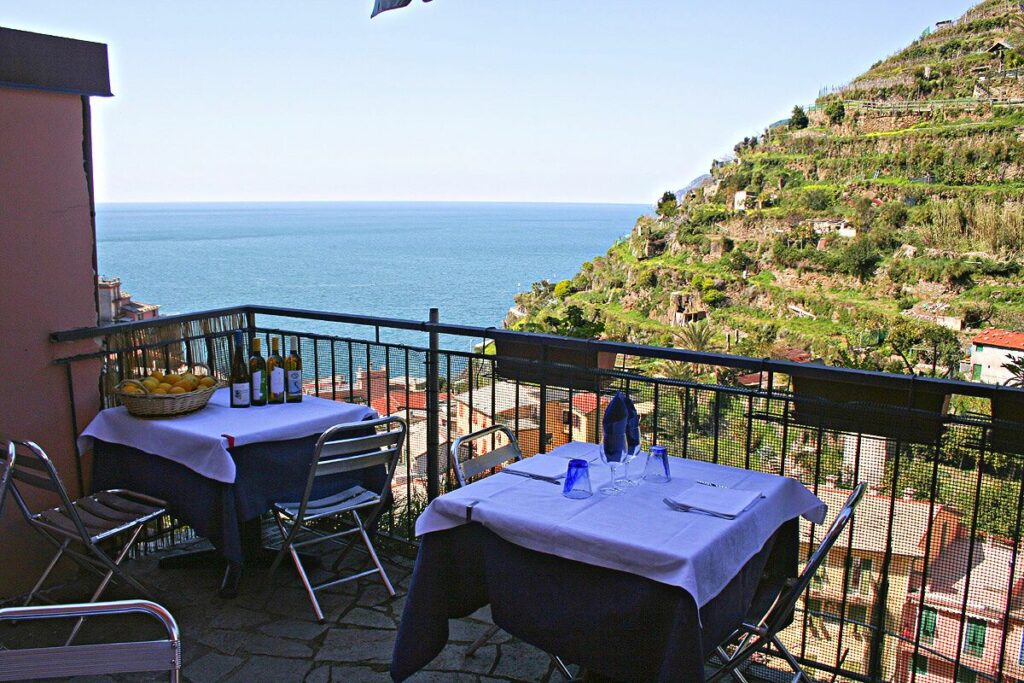 Moving on to Manarola restaurants, visit Trattoria dal Billy if you're in the area. The reason why this place is magical is due to its long history of fishermen. This restaurant has been taken over by three generations of fishermen so far. Their chef will serve appetizing dishes.
Trattoria dal Billy will offer you the most delicious aperitifs, serve freshly caught fish and they even have their own produce from the garden. You can also taste fresh pasta and homemade desserts. Choose from anchovies salad, mixed fish starters, Tagliolini alla Billy or Fritto Misto.
If you've got a bit of sweet tooth after trying out some seafood, enjoy a La torta Caprese or an 'I Semifreddi'. We left out an important part, the views! Although the restaurant itself is not too big, if you're lucky enough to get a table or two on the terrace, the view over the village and the sea is mesmerizing! Let's check out other restaurants in Manarola.
Trattoria dal Billy location: Via A, Rollandi, 122, 19017 Manarola SP
5. Da Artistide – Manarola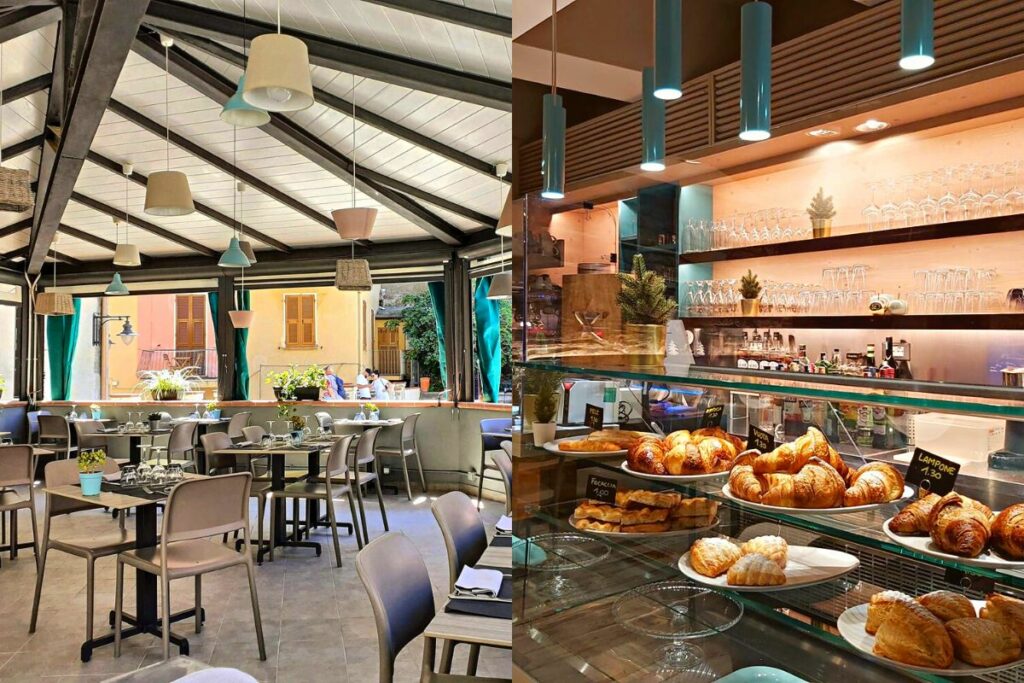 Da Artisitide is another one of the restaurants in Manarola that you need to try out. It is the best in the village. This isn't your regular restaurant, but they will serve you traditional Italian cuisine. Artistide is a cafe and it is near the Parco Nazionale Cinque Terre.
Customers praise their prawns, sea bass, and spaghetti carbonara. In addition, you can also taste delicious chocolate croissants and strawberry panna cotta. Artistide is for anyone who wants to have a heart breakfast or lunch. Try out their local coffee, fresh juices, or wine. The best part? The prices are affordable too! Let's move on with our Cinque Terre restaurants.
Da Artistide location: Via Antonio Discovolo, 290, 19017 Manarola SP
6. Nessun Dorma – Manarola Restaurants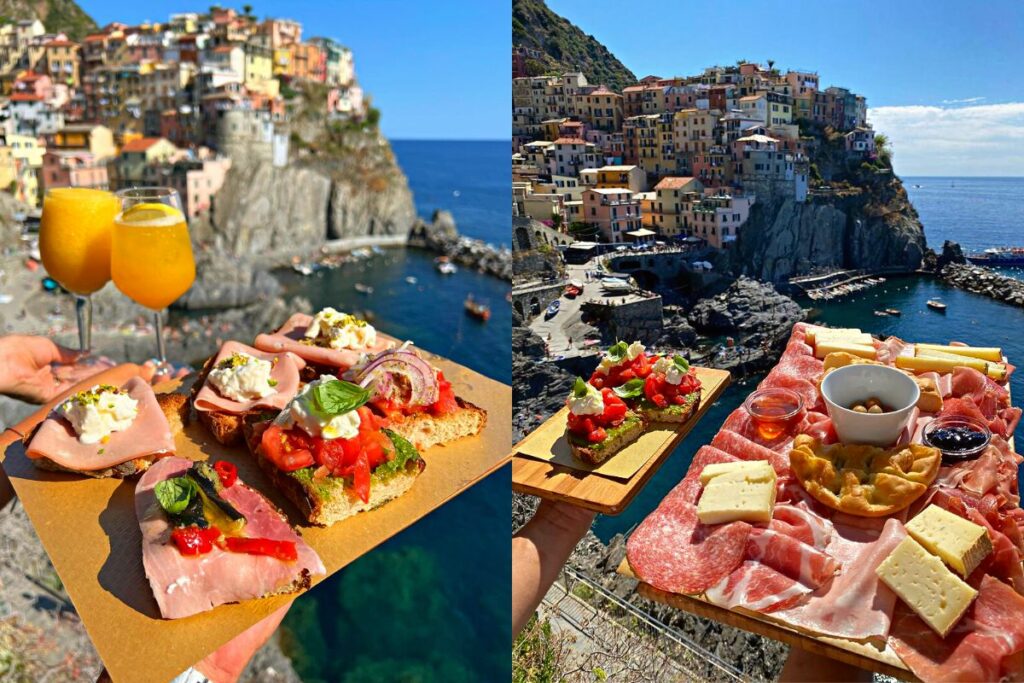 We're now moving on to the last restaurants in Manarola that you need to check. Could Nessun Dorma be among the best restaurants in Cinque Terre? Well, we certainly believe so. The reasons are simple. First of all, the location. They have stunning views over the small houses of Manarola.
According to Nessun Dorma, they 'combine all the traditional flavors' and use fresh local produce. Some of these are bread, tomatoes, and fresh fruits. Whether you're eating Bruschetta, meat and cheese platters, or salads, everything will taste magnificent at Nessun Dorma.
Their specialty is probably cold platters. That's what you will see most on their Facebook page among the images. And these platters look absolutely appetizing. Besides that, Nessun Dorma also has its own wine store and you can taste the best wines while enjoying some Italian cheese and prosciutto.
Nessun Dorma location: Punta Bonfiglio, 19017, Manarola 
7. Ristorante Belforte – Vernazza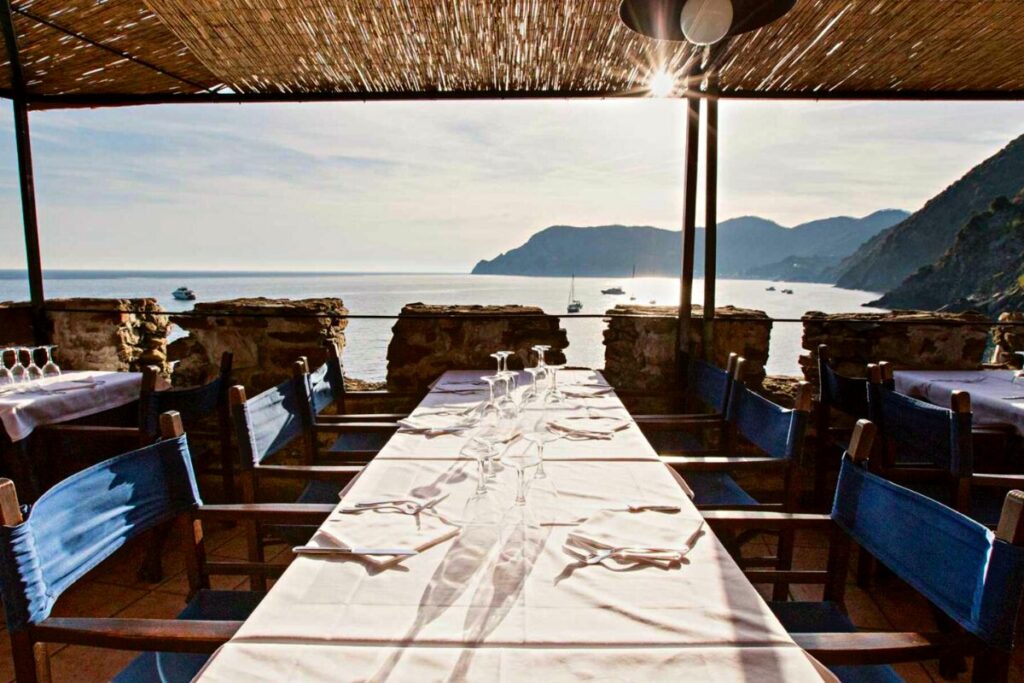 We're looking at the Vernazza restaurants now and the first one is Belforte. This too has a long history as its been functioning for 50 years now. Belforte is another Cinque Terre Italy care restaurant. The small terraces are built on the cliff and overlooking the sea. The views themselves are stunning, but the food is even better!
It's one of the best restaurants in Vernazza Italy as it has always been managed by the local families, so you know they care about the location and its guests. It is most famous for its Ligurian recipes. Looking at the menu, there's a wide selection of appetizers, fresh pasta, meat, and fish dishes as well as sweets.
Belforte recommends that you try the 'lobster tagliatelle' or from the second course the 'grilled seafood octopus'. From the first dishes, the restaurant also serves the classic 'spaghetti with clams'. This is probably a favorite of many traveling to Italy. Let's not forget the sweets like Tiramisu or Panna cotta. Belforte is a must-try when you're in Vernazza!
Ristorante Belforte location: Viale Alesssndro Guidoni, 19018 Vernazza SP
8. Ristorante La Torre – Vernazza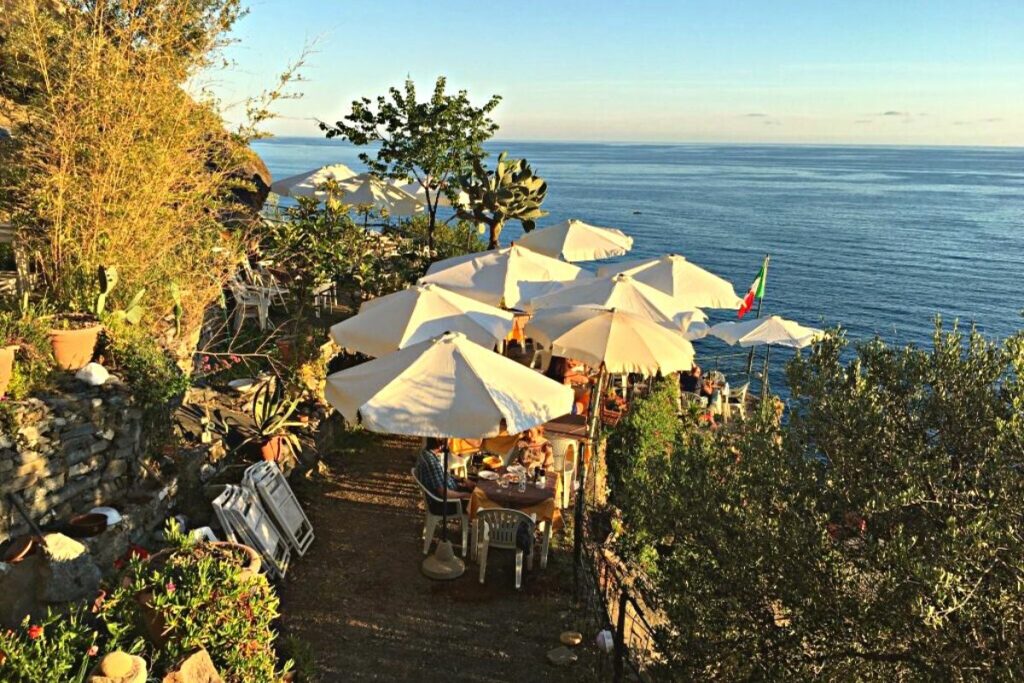 Are you looking for the best restaurants in Cinque Terre Italy with stunning views? That's exactly what La Torre will offer you. And with the views, you'll be served some of the best seafood dishes. According to many reviews online, the spaghetti with clams is tasty, as well as the prawns and anchovy. So what does one of the best restaurants in Vernazza Italy offer?
In case you're looking for desserts, they sell delicious lemon pie or souffles. In the meantime, choose from a wide selection of white wine, prosecco, or beer. La Torre doesn't have their own website, so if you really want to know how good is the restaurant, the reviews should speak for themselves. It's one of the Vernazza restaurants with over 4-star ratings. You can take seating both inside and outside!
Ristorante La Torre Location: Loc. Preteccia, 1, 19018 Vernazza SP
9. Rio Bistrot – Riomaggiore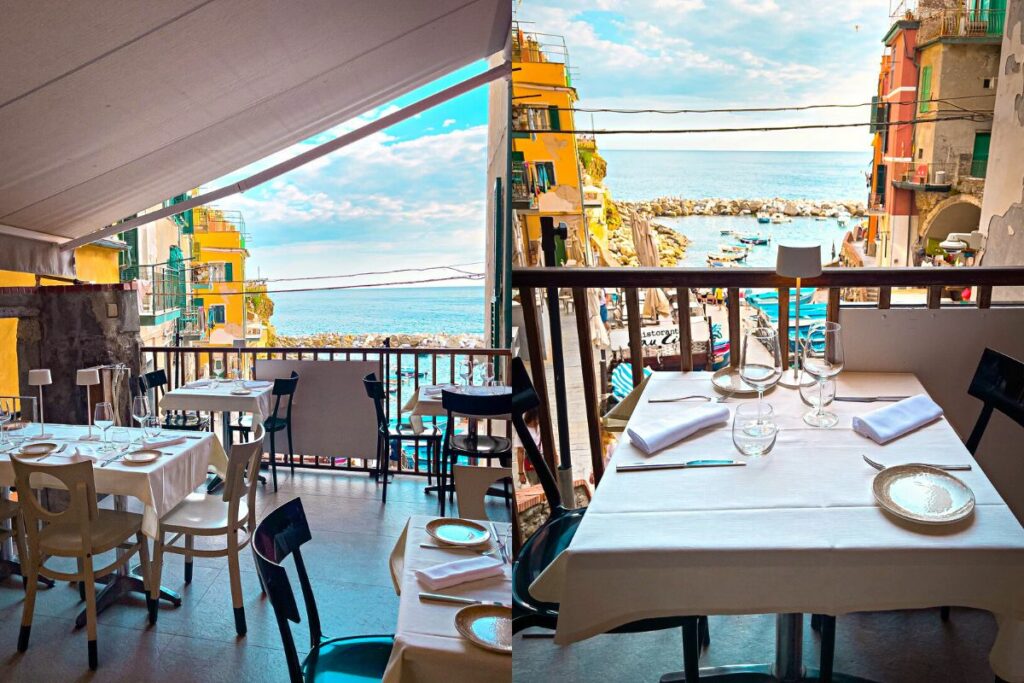 Rio Bistrot is the last of the Cinque Terre Michelin restaurants on our list. Besides this important award and mention, Rio Bistrot was at the top of the traveler's choice on Tripadvisor in 2021. To this day it's still in the top 10 Riomaggiore restaurants that people visit and love.
The decoration at Rio Bistrot is quite modern but they kept the traditional style of the village as well. Some of the dishes are presented in a fine dining style, while others are rich in seafood and come in big serving sizes. You can taste Mediterranean, Italian, Ligurian and European dishes here.
Some of these dishes are the 'calamaro spadellato', or 'gran crudo di mare' and to treat yourself, try the 'creamy coconut with hazelnut crumble'. As we mentioned, Rio Bistrot keeps the traditions, which can be seen in their delicious homemade tagliatelle! And they are right, the restaurant does have some postcard views!
Rio Bistrot location: via San Giacomo 46, 19017 Riomaggiore
10. Fuori Rotta – Riomaggiore Restaurants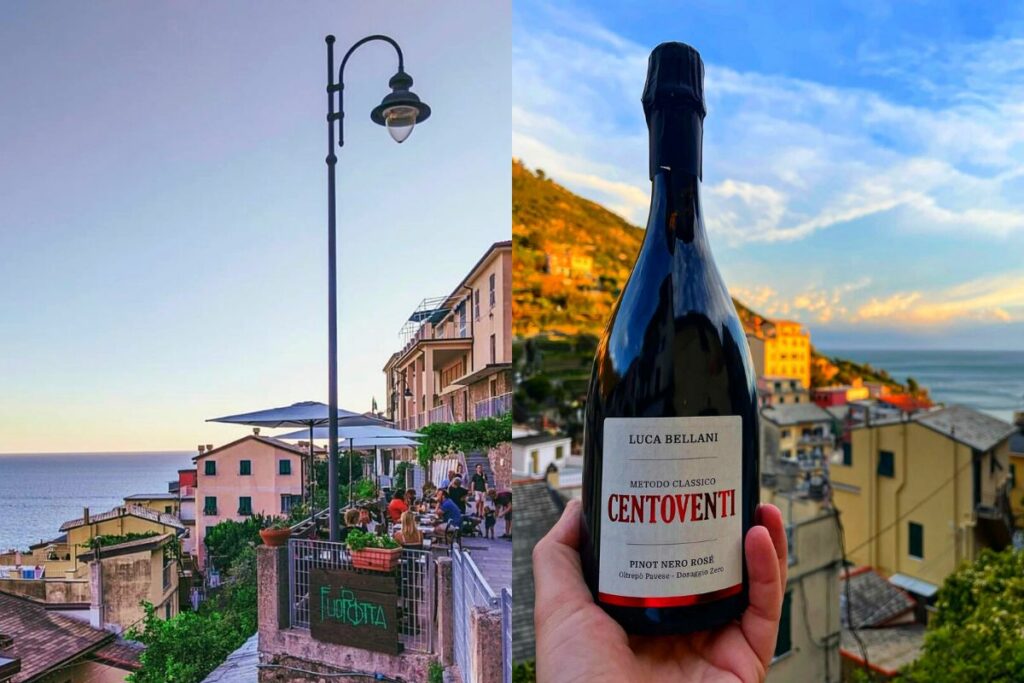 You have a lot of options to choose from on our list of best restaurants in Cinque Terre. The last one of the Riomaggiore restaurants in the Fuori Rotta. Once again boasting spectacular views, Furoi Rotta serves eye-catching and delicious meals.
Fuori Rotta serves 'typically Ligurian flavors' in the beautiful village of Riomaggiore. The restaurant sits on top of a hill and you get to see the sea from the terrace. The menu does change bi-monthly, so you will always find dishes made from seasonal and fresh produce.
Among the appetizers choose from oysters or octopus salad. The first course includes fettuccine, pesto, calamri, or "ravioloto". Then from the second course, try out their sweet and sour fish, liver, and vegetables or the "Cima di Galletto". Don't forget the delicious Tiramisu or Cocoa tart from the many. Pair a seafood dish with delicious white wine and you'll be set for the night.
Fuori Rotta location: Via Telemaco Signorini, 48, 19017 Riomaggiore
Restaurants in Cinque Terre – Vernazza Restaurants – Cinque Terre Michelin Restaurants
We have reached the end of our list of best restaurants in Vernazza Italy, Riomaggiore, Monterosso, and Manarola. It's without a question that these 5 villages have become famous for their charming little houses in the hills and delicious food in their restaurants. Whether you are there for a day or a few days, you are guaranteed to have the best time. Relax, and enjoy the views and the food in the restaurants in Monterosso Italy as well as the rest of the villages.
Pin it: Best Restaurants in Cinque Terre