15 Best Restaurants in Capri
Visit Capri should be on your bucket list if it isn't already. There are so many things to do here, such as visiting the Faraglioni and Blue Grotto, shopping, visiting Parco Astarita, or trying some local dishes from the best Capri restaurant. Trying out the local food is a must, the Isle of Capri restaurants are serving the best seafood, Mediterranean or Neapolitan dishes.
15 Best Restaurants in Capri
In case you're already in Capri and staying at one of the hotels but you don't really like the restaurant there, try one of these on the list of Capri Italy restaurants. It is really difficult to choose from the restaurants on Isle of Capri. Most of them have stunning views and even more delicious food. While others are a bit hidden and popular to celebrities. We hope you have found one that's perfect for your needs.
1. Ristorante Bagni Tiberio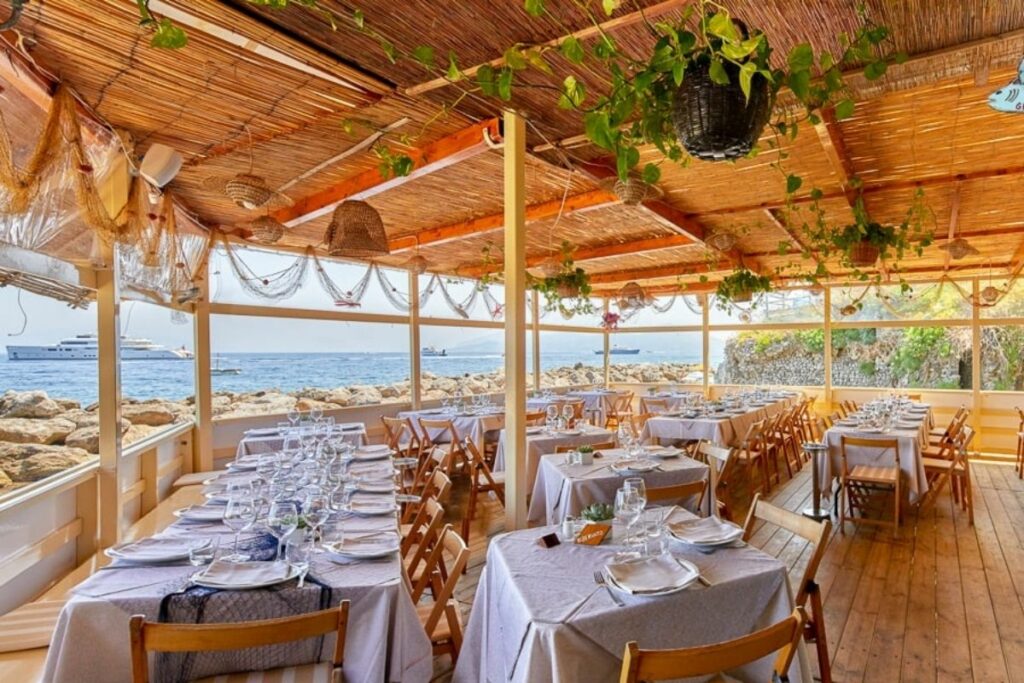 We're starting our list of Isle of Capri restaurants with Bagni Tiberio. Although the story starts with Emperor Tiberius who built his Palazzo a Mare where the restaurant is, it doesn't continue with him. In fact, it was Giuseppe e Lucia De Martino who established a small restaurant at the beginning of the 1900s. The same family is in charge of this hotel today as well!
Bagni Tiberio not only has stunning views over the ocean but delicious seafood dishes. Their most famous dishes are the 'spaghetti with vongole' or the 'spaghetti alla Nerano'. Their menu is versatile and you can enjoy the authentic dishes while watching the sea and sipping on wine! You'll find them on the Tiberio beach, so when you're done with your food, just dip yourself into the ocean!
Ristorante Bagni Tiberio address: Via Palazzo a Mare, 41, 80073 Capri
2. Aurora Mia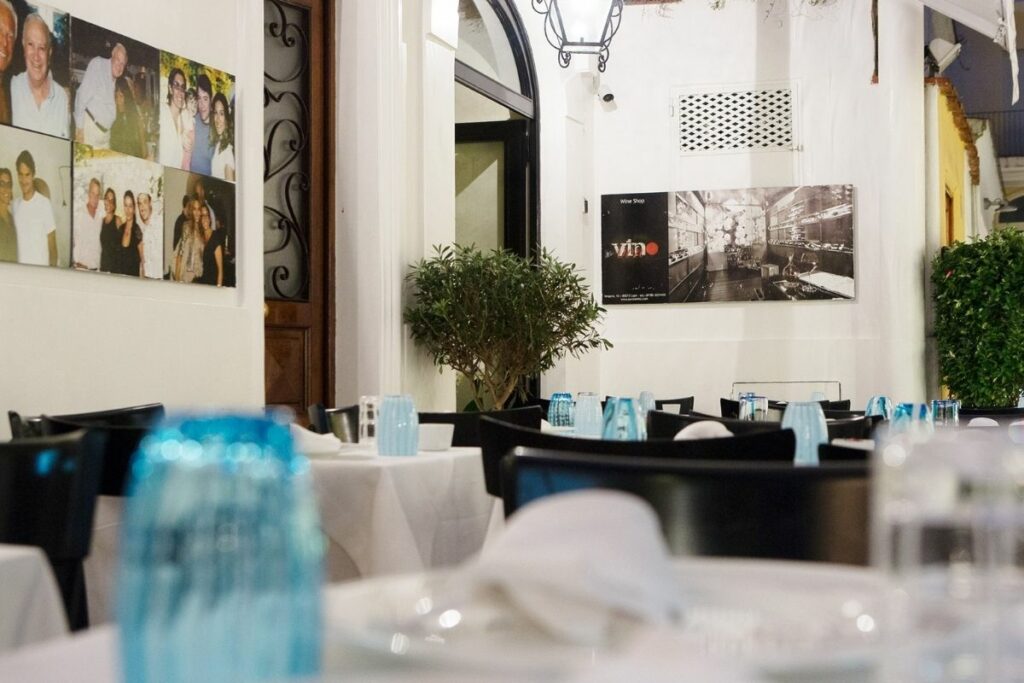 This restaurant seems to be the place where celebrities show up, so naturally, it caught our attention. Aurora Mia, a Capri Italian restaurant located not far away from Capri Tiberio Palace. They are the oldest restaurant in Capri, with over 120 years of passion and experience in gastronomy. Today, thanks to Mia D'Alessio, it's flourishing with all sorts of guests.
Thanks to their amazing Chef Franco Aversa, Aurora creates authentic dishes that only Capri ingredients can offer. Some of the dishes on the menu are, Capellini with salted butter and caviar, fish fillet in potato crus with spinach soute or breaded shrimp with almonds. At Aurora, you'll find pizza, seafood, Mediterranean, and Neapolitan dishes, and customers seem to love all of them. Booking a table here might be a bit tough, so you better plan ahead!
Aurora Mia address: Via Fuorlovado, 18 CAPRI
3. Ristorante da Gemma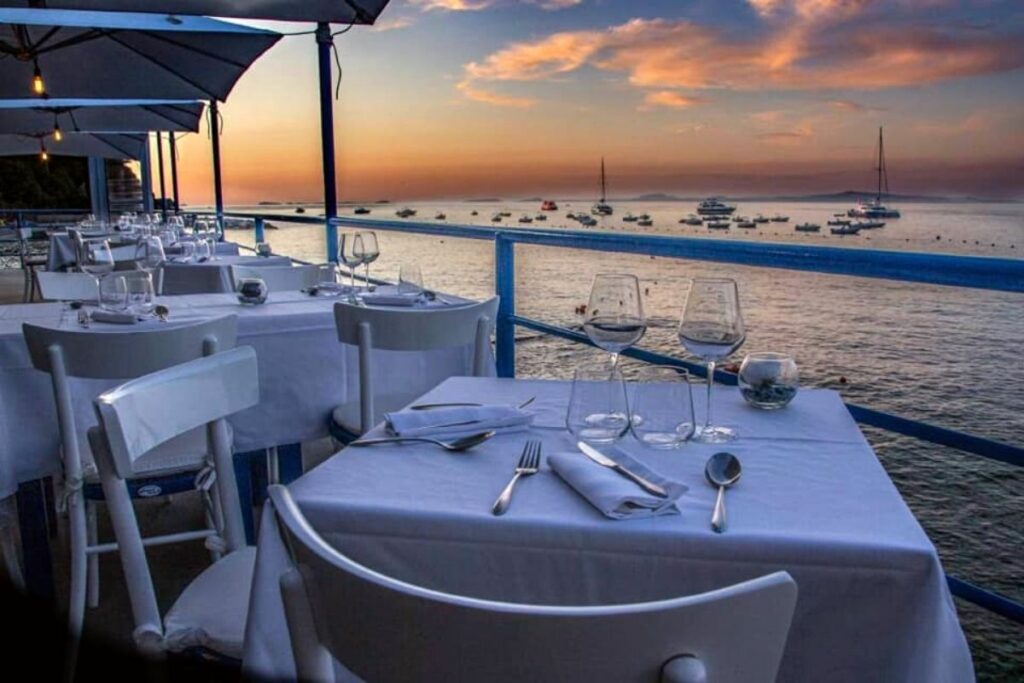 Fancy having a dinner facing the Gulf of Naples? You can have that at one of the Capri Italy restaurants Da Gemma. They've been around for 80 years, however, the restaurant itself moved to its present location in 2017. Just by looking at the dishes, you can tell they put a lot of effort into both presentation and quality. Their menu offers seafood specialties, as well as homemade pasta.
What are a few examples? Well, Da Gemma says that the parmigiana is a must-try when you're there. They have a traditional one with aubergines but also one with bluefish, yellow tomatoes, and basil pesto. Alternatively, you can taste the delicious gnocchi with mussels, and roasted cherry tomatoes with cheese and pepper. In case you're not feeling too brave, just have a traditional grilled fish with vegetables and citronette with mustard. You can pair that with a classic tiramisu dessert.
Ristorante da Gemma address: Via Cristoforo Colombo, 7, 80076 Capri
4. Da Tonino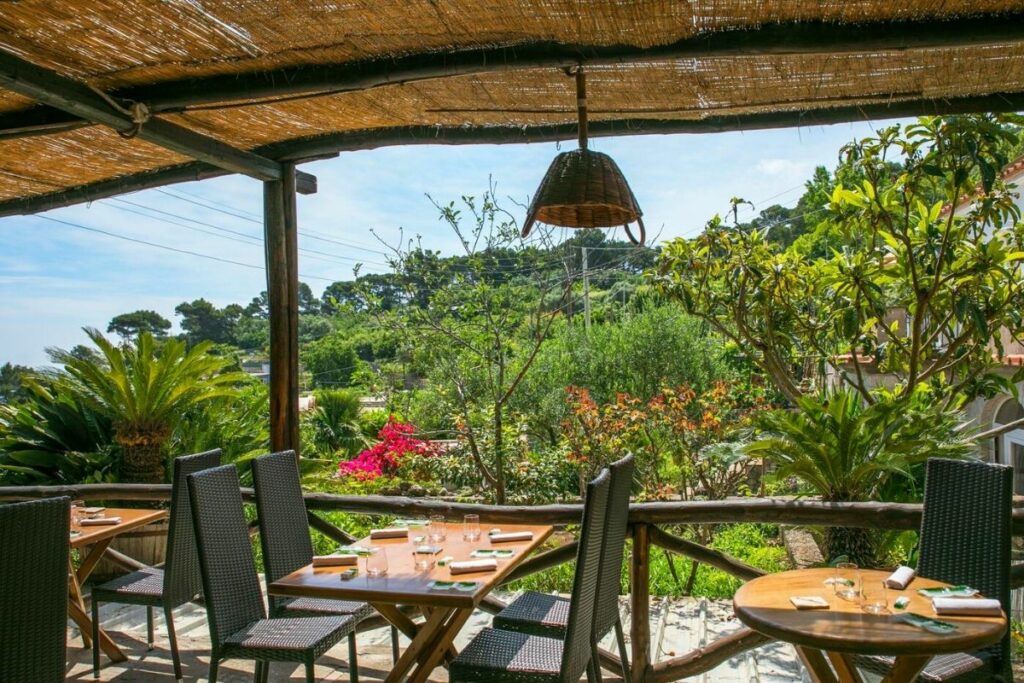 According to their website, Da Tonino was opened in 1993 by "old school chef" Antonino Aprea. His vision was to create dishes from ''earth'' products like rabbits and quail. After 30 years of service and serving delicious meals, the restaurant is now in the hand of his children. Da Tonino is still one of the best restaurants in Capri Italy and the family business is flourishing. I'm sure you're wondering what are the famous dishes by Da Tonino chefs.
Firstly, it's quite difficult to find the menu online. They do not have it on the website, so you really just have to look through the photos on Tripadvisor. Thankfully, I was able to find some photos that seem to have the most popular dishes. For example, the Caprese ravioli; Sea bass, zucchini alla scapece and mozzarella; Tortelli with cheese and pepper, mussels, and lime.
Secondly, if you are unsure whether to choose this restaurant or not, they appeared in the Michelin guide in 2021. This is what the guide states: "Allow a good half-hour to get to this small restaurant with a simple ambiance and an airy terrace which is perfect in the heat of summer. The cuisine has its roots in local traditions – its first courses are particularly good. There's also an excellent wine selection."
Da Tonino address: Via Dentecale, 14, 80073 Capri 
5. Ristorante Panorama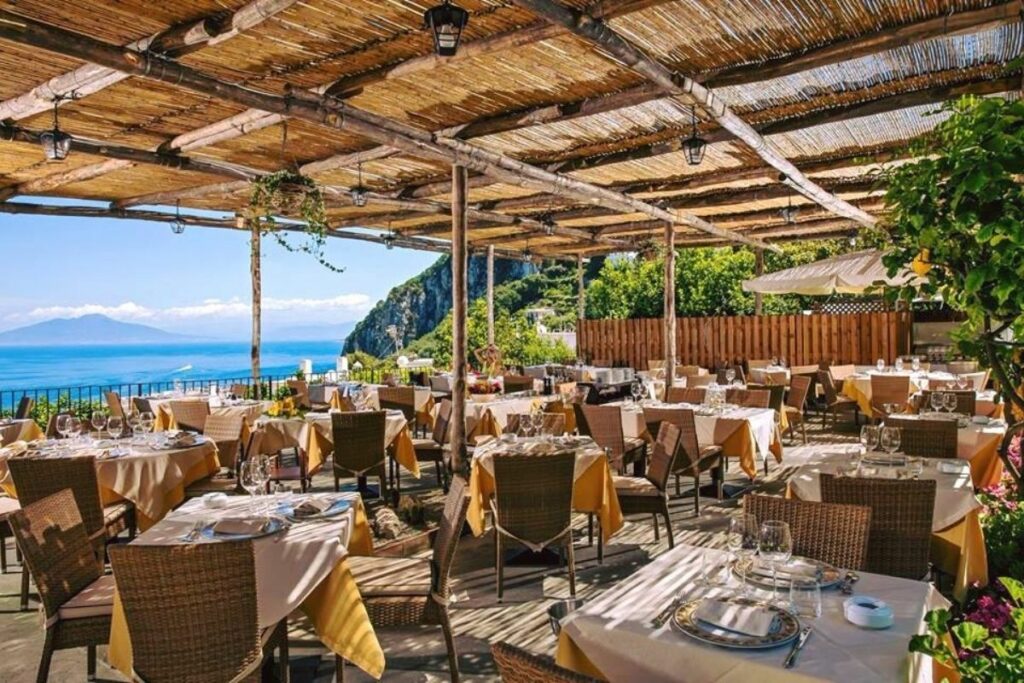 The views from some of the Isle of Capri restaurants are mesmerizing. Ristorante Panorama is one of those restaurants with stunning views while enjoying the best food. It is unquestionably an elegant place to dine, the terrace overlooks the Bay of Naples as well as the center of Capri town. I had a look at the prices and was surprised to see it's not overpriced (but that's just my own personal opinion).
For example, a pizza costs between 10 -15 euros. It does not, however, say how large it is, but looking at the pictures it is a decent size. Panorama offers "classic island dishes updated with a creative flair". They make fresh pasta on a daily basis and the most popular dishes are prepared from locally caught fish and seafood. Some of thee are the 'Deep fried squid, shrimp and anchovies' or 'Grilled calamari'.
Ristorante Panorama address: Traversa Lo Palazzo, 2, 80076 Capri
6. Ristorante Il Geranio
Ristorante Il Geranio is one of the Capri restaurants with the best views. You'll have an unforgettable experience, not just because of the dishes but because the aesthetic and design of the restaurant are luxurious. They serve Mediterranean cuisine and always use fresh ingredients. Besides dining or having lunch as Il Geranio, you can also book it for events such as marriage, parties, or private events.
I've had a look at the menu to see what type of dishes they offer. There's a good amount of seafood and fish on the list as well as pasta. If you love seafood then the Octopus with guacamole and mixed salad sounds appetizing. You'll find several dishes with different types of meat. Don't forget to check the dessert list too!
Ristorante Il Geranio address: Via Matteotti, 8, 80073 Capri
7. Ristorante Pulalli
Visit Ristorante Pullali for a romantic dinner or evening drinks with friends. Their rooftop offers a spectacular view of the Piazzetta and the Clock Tower in the background. On another side, you can even see the sea! The owner of the restaurant is Alessandro Arbace and he made sure you have everything you need when you visit the restaurant.
There's an extensive range of wines, with over 150 labels to choose from. They serve Neapolitan dishes. One of the best dishes to taste according to guests who have already been there is the stuffed zucchini flowers, eggplant, and montanarine meatballs. Another dish suggested is the citrus salmon tartare. Pullali is famous for making homemade desserts, so do not miss out on those either!
Ristorante Pulalli address:  Piazza Umberto I, 4, 80073 Capri 
8. Le Grottelle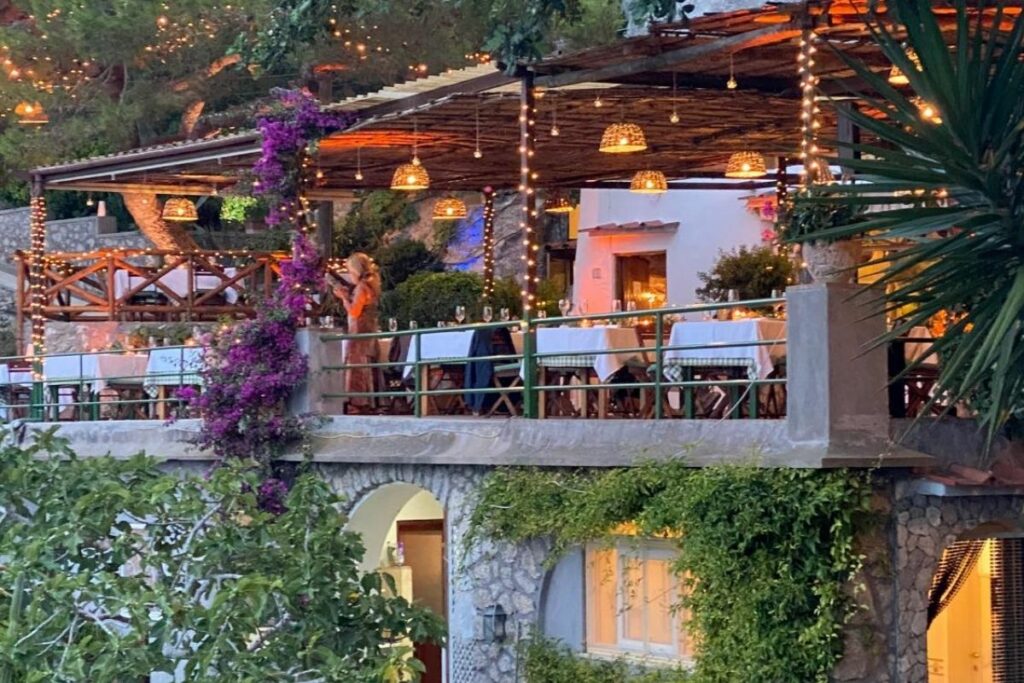 When you look up Le Grottelle online, you might not think it's worth to choose from the many restaurants on Capri Italy. I'm here to tell you it is worth it. Although they don't have any photos that do justice to the restaurant, it is a beautiful one with even more breathtaking views. The restaurant is carved into the rock and it has a cooling atmosphere. You'll be enjoying the view of Punta Campanella. Le Grottelle serves Neapolitan dishes and guests speak highly of them.
I couldn't find the menu online to look at the dishes, however, there are plenty of photos to see what they serve. On the Facebook page, I noticed that Le Grottelle organizes events for different occasions. The venues look amazing with the sea in the background. The food they serve is mixed, but mostly seafood dishes. And as far as I've seen, there are some delicious looking desserts too that you must try. It is certainly a dreamy place to have as a wedding or engagement dinner.
Le Grottelle address: Via Arco Naturale, 3, 80073 Capr
9. Terrazza Brunella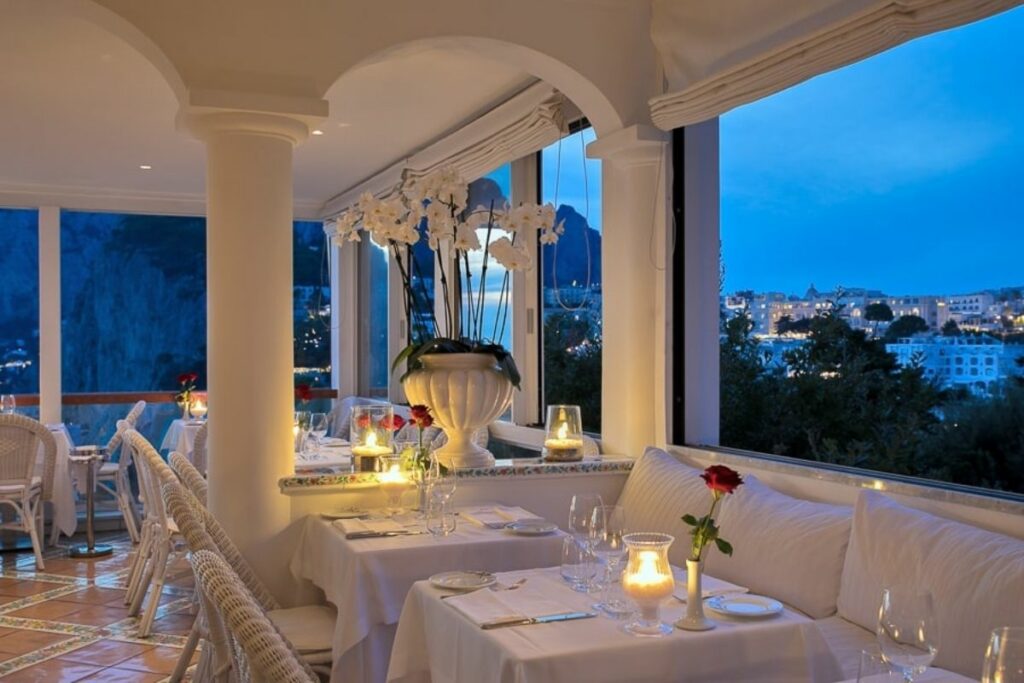 You must have noticed a pattern here with the Capri Italy restaurants having breathtaking views. Capri is so picturesque that it makes sense for accommodations and restaurants to have their spot where the view is the best, that way it attracts more tourists. At Terrazza Brunella, you'll have views of the Marina Piccola and the boats from far away. The restaurant serves traditional cuisine and they created a luxurious atmosphere with the table setting.
It's not just the views that make Terrazza Brunella exceptional, but also the food and the way they serve their dishes. Looking at the menu, there's a wide selection of pasta and seafood. There's a category for starters which includes 'red tuna fillet tartare with durum wheat biscuit and fresh puttanesca sauce'. That was a mouthful but it sounds really good. Among the main courses, you'll find dishes like 'salt codfish fillet with local sweet cherry tomatoes, local black olives, and capers in sea salt'.
Terrazza Brunella address: Via Tragara, 24, 80073 Capri 
10. Pescheria Le Botteghe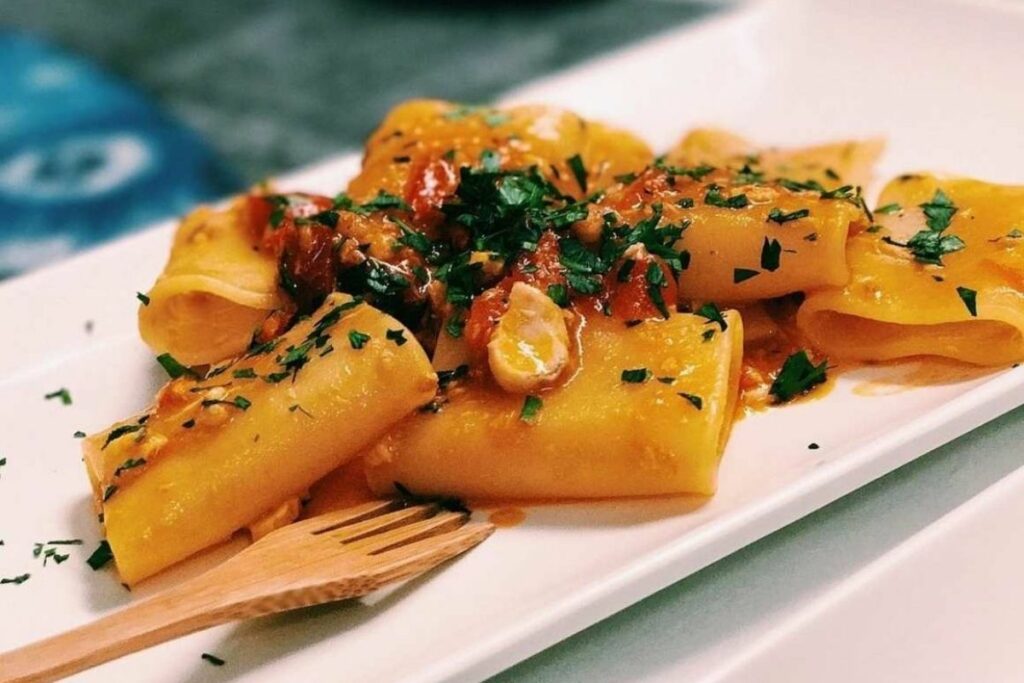 Pescheria Le Botteghe isn't one of the regular restaurants on Isle of Capri. It's a restaurant and also a fish shop in one. You get to buy and taste fish, oysters, tuna burgers, and more. As the owners explain the business, they have always been selling freshly caught fish to the locals as well as tourists. They thought about turning this passion into a restaurant serving Mediterranean cuisine.
The dishes speak for themselves. Besides looking appetizing they are extremely tasty and even a few celebrities visited the place. I saw on their Facebook page that Dakota Fanning visited Pescheria Le Botthege. The restaurant serves delicious pasta dishes with fish, you get to taste raw fish as well in the finest form. While you're having the dinner of your life, pair the food with some white wine of their selection!
Pescheria Le Botteghe address: Via le Botteghe, 19, 80076 Capri
11. Lo Sfizio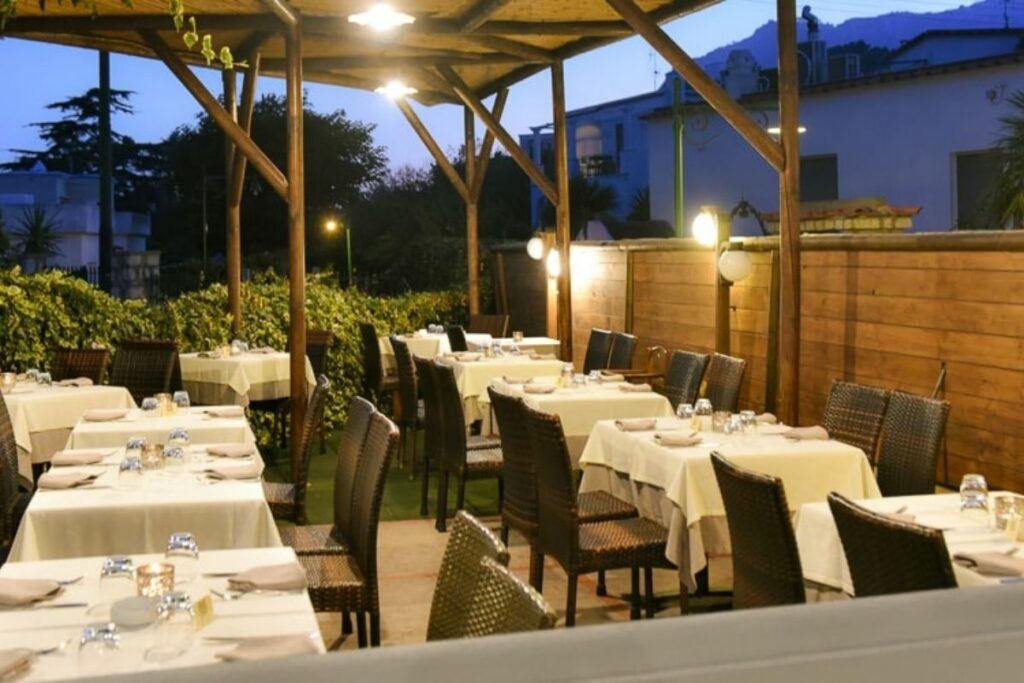 Lo Sfizio is a Capri restaurant that came up a lot while gathering this list. It seems to be an all-time favorite of guests as they rave about the quality and tastiness of the dishes. According to their website, the recipes are age-old island recipes and they serve delicious pasta, meat, and fish dishes. There's an inside area to dine in, however, their garden is very cozy with beautiful table settings.
Lo Sfizio mentions that their first courses are usually pasta dishes. For example 'spiral shaped Gemelli with clam, courgette and swordfish sauce'. Their second courses can include fresh fish but also their famous grilled chicken. The restaurant has also thought of vegetarians as they have a famous dish 'aubergine parmigiana. Lastly, the pizzas are cooked in a wood-burning oven and can be consumed at lunch or dinner.
Lo Sfizio address: Via Tiberio, 7/e, 80073 Capri 
12. Gennaro Amitrano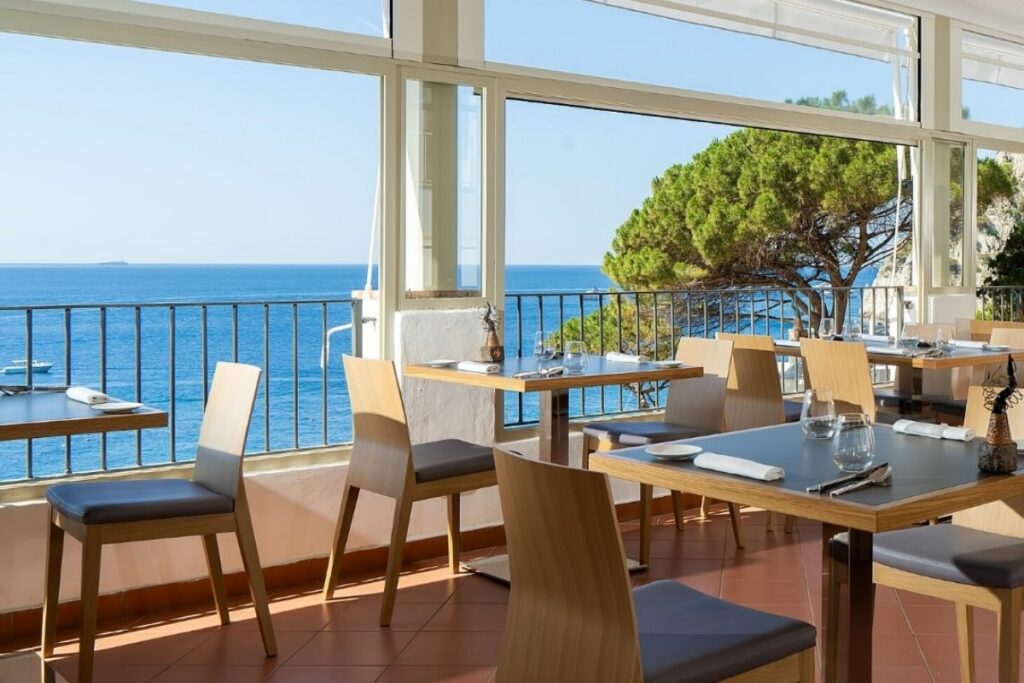 The Gennaro Amitrano Capri Italian restaurant is in the heart of Capri. It is the perfect place to enjoy your lunches and dinners in hot summers. The view is picturesque, the dining tables are elegantly set with glasses and the space just looks welcoming overall. Chef Amitrano worked along with other famous chefs from whom he had learned the art of cooking irresistible Italian dishes.
The most famous dishes are the Cocco pasta or the Carnaroli rice from Tenuta Castello. The chef even selects special oil to use with the dishes. The presentation is one you would see in fine dining restaurants, it is a piece of art. As with a few restaurants on the list, a menu would be helpful to see as this way anyone who wants to visit Capri cannot look at it before going there. Thankfully there are hundreds of photos on Tripadvisor.
Gennaro Amitrano address: Via Marina Piccola, 120, 80073 Capri
13. Ristorante Pizzeria Verginiello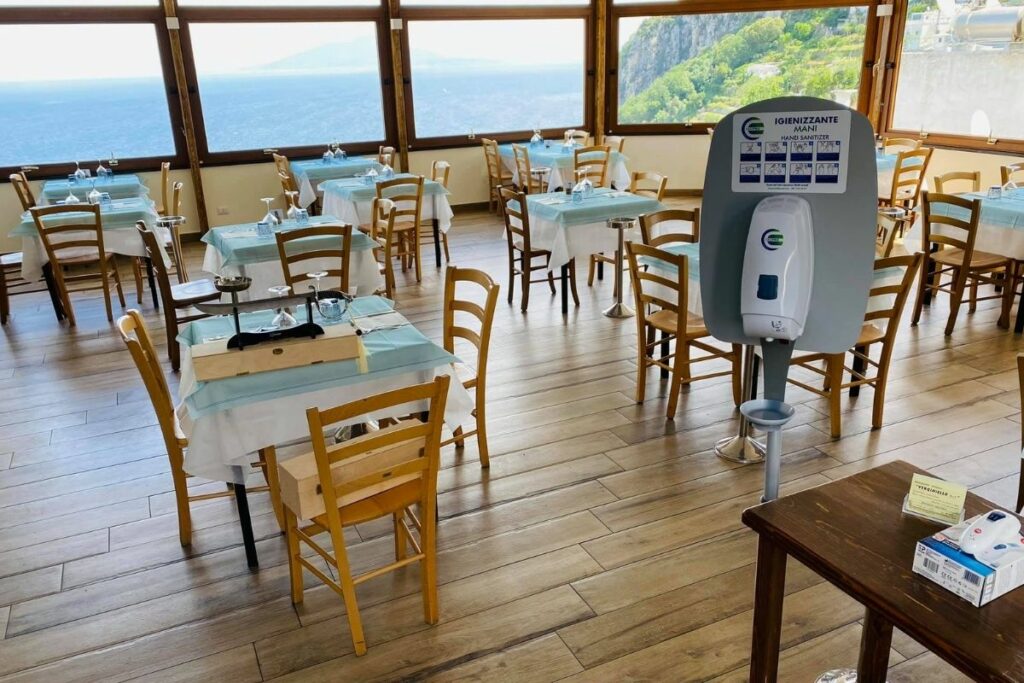 We are almost at the end of our list of Capri restaurants. Verginiello is located in a perfect spot, with views over the sea. They serve the Mediterranean, and Neapolitan dishes as well as pizza. There are over 3,000 reviews of the restaurant online and most of the guests rate it 4 stars. From what I could see online, Verginiello hosts events as well, such as New Year. It is a beautiful spot to rent for celebrating another year.
There are plenty of seafood dishes. For example, they serve 'potato ravioli with mussels', or the mussels are served with pasta too and a creamy sauce. If you are craving pizza they have authentic Italian pizzas four cheese or Margherita. Verginiello's tiramisu seems to be a winner as well, many guests recommend it.
Ristorante Pizzeria Verginiello address: Via Lo Palazzo, 25, 80073 Capri
14. Casa Orlandi Ristorante e Pizzeria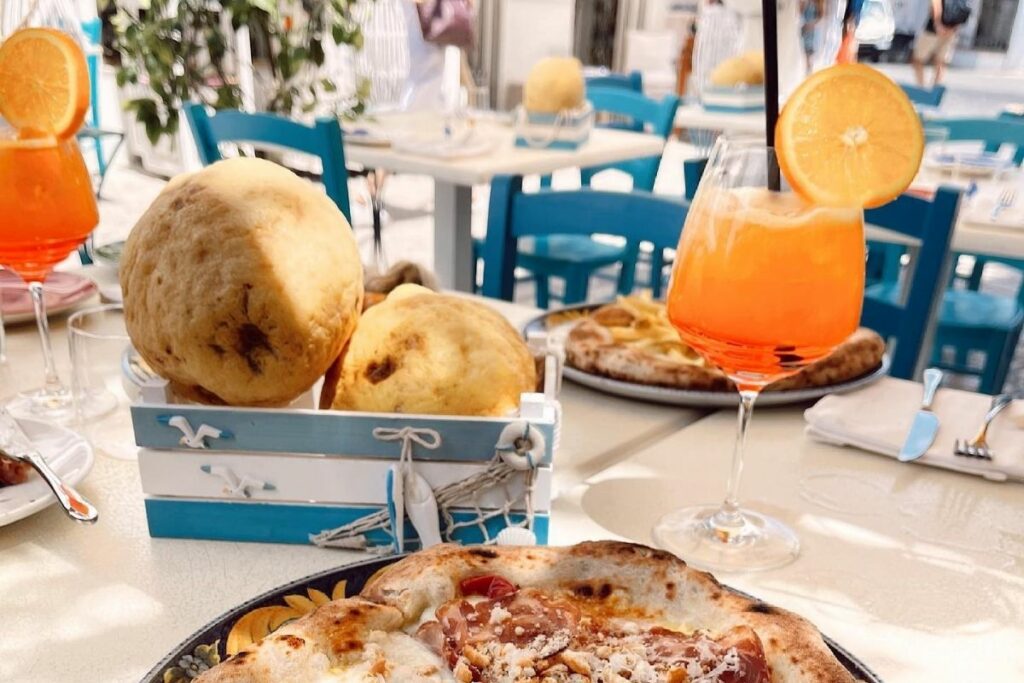 Casa Orlandi is a restaurant and pizzeria in one. They serve Mediterranean dishes and a large selection of cocktails to go with your delicious food. What I love about this restaurant is the theme. It's a nautical theme, everything is white and blue with little ships as decor. The lemons are not missing from the tables either. They are rated as the 18th best restaurant on isle of Capri.
The food looks delicious and the presentation is impressive too. They do not seem to be having a lot of photos or descriptions of the food. Whoever goes there probably did their research and went based on the previous reviews. The pizza is made in a wood-burning oven and you paired with a cocktail such as in the photo goes well on a sunny summer day.
Casa Orlandi Ristorante e Pizzeria address:  Via Giuseppe Orlandi, 38/40, 80071 Anacapri NA
15. Da Paolino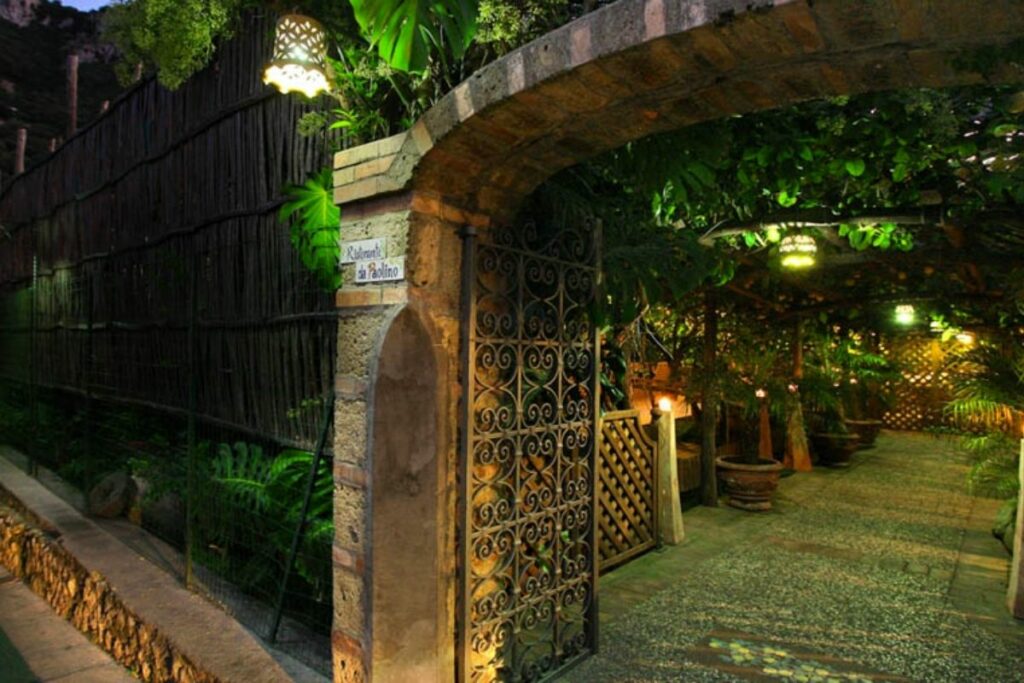 capri restaurant
We are at the last Capri restaurant, Da Paolino. They have the cutest little garden and the tabletops are with the typical Italian lemon designs. It's a beautiful place to have dinner with friends and family. Thankfully, they do have a menu! From the menu, you have some raw fish starters such as 'ricciola tartara' or 'octopus salad'. If you prefer pasta dishes then there are around 15 different ones. 'Spaghetti Paolino' is the restaurant's specialty, or 'spaghetti with clams' is another famous one.
In case you're looking for something refreshing, the salads are a perfect option. Da Paolino has wines from the different regions of Italy. Some of them are Abruzzo, Friuli Venezia Giulia the land of the Pinot Grigio or Lombardi, Tuscany, and so on. The restaurant is not too far away from Tiberio beach and the Cala Grande.
Da Paolino address: Via Palazzo a Mare, 11, 80076 Capri
Restaurants on Capri – Conclusion
I am still struggling to name my favorite Capri restaurant. Out of all this list, I love the ones that have the best views and pizza. But while you are dipping your foot in the clear blue water, a restaurant is preparing the best dishes for you. Some of them are even next to the beach so you don't even have to go far away. Let us know which of the Capri restaurants was your favorite!
Pin it: 15 Best Restaurants in Capri