Eatalian Cooks – Cooking Classes in Rome Italy
You're looking for the best cooking classes in Rome Italy? What if we say we personally are holding Rome cooking classes? Indeed, Eatalian Cooks was co-founded by the founder of this website, Italy Best. This is one of the newest cooking class Rome offers, but it's also the most unique! And we're not saying that because it's ours, we're saying it because you won't find a pizza class or a pasta class in the heart of Rome apart from ours! Let us share with you all the details about Eatalian Cooks, and what we offer with this experience! At the end of this article, you'll understand why you should be rolling in into an authentic cooking class when you're visiting the beautiful city of Rome!
Eatalian Cooks – Best Rome Cooking Classes in the heart of the city
Italian food is something that's known and loved everywhere around the world. No matter what country you're in, there's no way you would love some of the amazing, delicious, traditional Italian dishes. When it comes to travel experiences, if you're visiting the Eternal City, a cooking class Rome offers is a must. Not only because you can learn how to make Italian pasta at home, or how Italians make pizza, but also because food experiences while traveling are some of the best things you could ever do!
When it comes to the best Rome cooking class, Eatalian Cooks is of the top choices for many reasons. We're not the only ones saying this, since if you look us up on Tripadvisor, you'll see that all our guests agree with this! We offer cooking classes Rome in the most beautiful locations, which are a double-win for all of you. You don't only get to cook, but you can enjoy a great dish with stunning views, wine, and nice people!
Why choose Eatalian Cooks – Cooking class Rome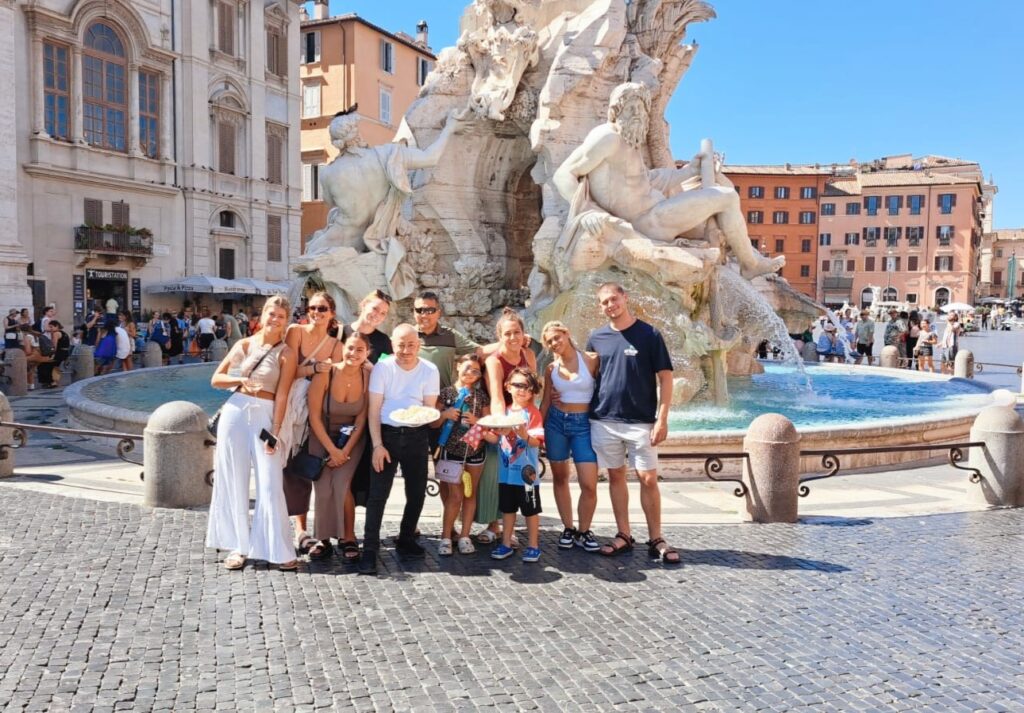 We are not yet at the location sharing, but the above picture is already a hint about our location. When it comes to Rome cooking classes, it's really important not only to make cooking classes in Rome Italy authentic, but also to make it easily accessible, and offer something that others don't offer. So what does Eatalian Cooks offer?
We hold our cooking classes in Rome of the best restaurants in the heart of the city. Our chefs are trained, and fun, and communicate excellently in English, so they can tell you all the ins and outs, tips, and tricks. They are with you along the way, to prepare the best meal. Moreover, at the restaurants, you can enjoy bruschetta as an appetizer, and you can order wine, beer, soda, coffee, and limoncello as well while you're enjoying the Italian dish you prepared yourself!
We do help in the process, as our pizzaiolo would bake the pizza for you, and our cooks in the restaurant would cook the pasta, add the sauce, and the waiters would serve it. So this isn't the type of cooking class where you'll be tired at the end. This is the type of cooking class where you can sit, enjoy views, have nice chats, and relax in the historic center of the city with a glass of wine, while you learn, and you're being served too.
Pizza Class in Rome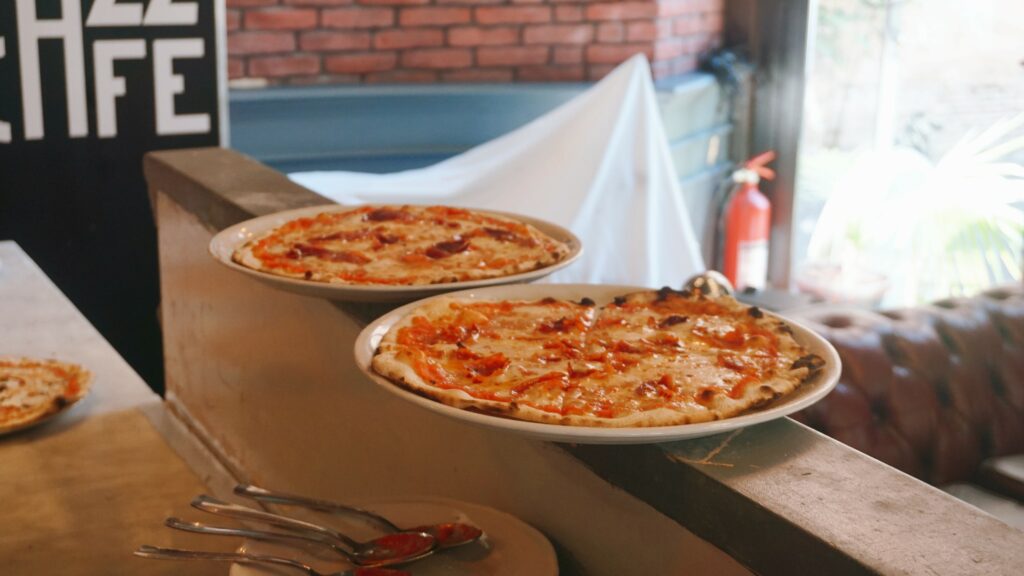 Our pizza cooking class in Rome was the first of the Eatalian Cooks cooking classes we launched in July 2022. Our first location was Jazz Cafe Roma, but we moved this over to Osteria Pasquino, which is a really authentic and traditional restaurant just off the amazing Piazza Navona. We'll share more about Piazza Navona too at the pasta class.
When it comes to pizza cooking class Rome, our guests love our classes, because of the location, and also because of the experience offered. This is why we're ranked on Tripadvisor too as one of the best Rome cooking class. Now, pizza cooking classes Rome work in a specific way. Since the dough needs to rest for 24-48 hours (depending on which type of pizza is being made) the dough is prepared by you, with the guidance of the chef, then you'll be using dough that already rested for the specified amount of time.
Then, the chef will help you roll out the dough, and top it with the homemade pizza sauce that is pre-made, but we are always sending you the recipe for it after the class. You then can pick your own toppings depending on what type of pizza you're making. You'll be taught also how to put the toppings on the pizza to make it authentically Italian. Once your pizza is ready, the pizzaiolo will bake it, and you'll be seated with an appetizer and the drink of your choice. As soon as the pizza comes out of the oven, that's served to you.
Pasta Class in Rome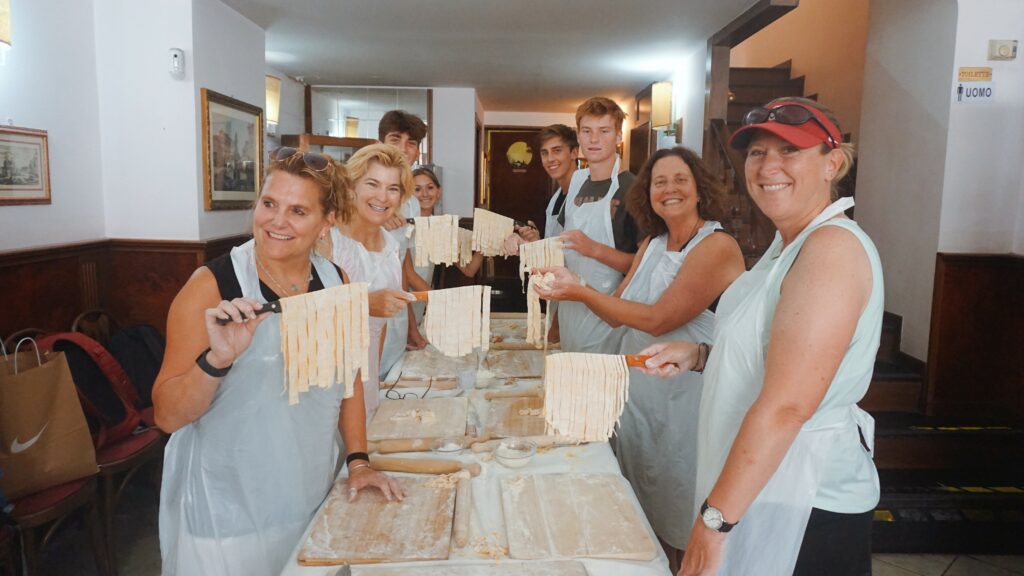 Now let's see what our pasta cooking class in Rome Italy can offer you! First of all, if we need to pick which class has the best location, it's definitely our pasta class! As we're mentioned about Rome cooking classes, the location is very important, since you're travelers, who want to make it easy for themselves to reach specific places and activities, right?
Our pasta cooking class in Rome is held at Ristorante Tucci, which is located basically in the middle of Piazza Navona. Now, Piazza Navona is one of the most famous, and most visited squares in Rome. The piazza is absolutely beautiful, and it's been our favorite place in Rome for years before these cooking classes came to life, and we partnered up with these restaurants to create this activity.
In the pasta class, you'll get to make the pasta dough with the guidance of the chef, which after will explain the different sizes of cutting them, and how are these called. You'll be making fettuccine or tagliatelle, which after a few fun tricks will be given to the kitchen of the restaurant. Each of you can pick your own sauce to make it a pasta Carbonara, with Pesto, or Pasta all'Pomodoro as well. Sauces are not prepared in the class because that way it would be impossible to pick between sauces.
Once you're done with the class, you'll be seated at the outside tables of the restaurant, which will offer you an exquisite view over Piazza Navona and one of the most beautiful fountains in Rome, Fontana dei Quattro Fiumi. You can then order the drink of your choice, and be served an appetizer, and as soon as your pasta is ready, the waiters will bring it to you. Once our cooking classes are completed, you'll also get a certification our team will bring to you.
Cooking Class Locations
We already spoke a little about our cooking class Rome locations. One of the most important factors for our cooking classes in Rome Italy are the location. We teamed up to run together this cooking class Rome Italy experience with local restaurant owners to provide the most amazing Italian food experience to our guests. With this in mind, both of our cooking classes are in a really central area, that you'd be passing while you're exploring Rome regardless if you've rolled in a cooking class or not.
So if you're anyway passing by, why would you add a great experience to your Rome trip? Our pizza location as we've mentioned is Osteria Pasquino on Piazza Pasquino 1, which is really convenient for two reasons. First, because it's just off Piazza Navona, literally 1 minute walk from the piazza. Also, Piazza Pasquino leads to one of the most beautiful streets of Rome, Via del Governo Vecchio which MUST BE SEEN!
The pasta class on the other hand is even better since this is held at Ristorante Tucci, on Piazza Navona 94. The view, the vibes, and the experience of this piazza are unmissable in Rome, and instead of just sitting down randomly to eat somewhere, it's always better to pick an experience on Piazza Navona, so you can enjoy it even more, and make your visit more memorable!
Wrapping up one of the best cooking class Rome offers
So, what are you waiting for? Book our Rome cooking classes with Eatalian Cooks, and have an amazing add-on to your Rome trip, learning to cook Italian, and enjoying lunch with beautiful views. We can't wait to see you all at one of the best Rome cooking class, our pasta class in Piazza Navona, or at our pizza cooking classes Rome in Osteria Pasquino! Before you leave, make sure you check our articles for great restaurants in Rome, cafes, rooftop bars, and more!
Pin it: Eatalian Cooks – Cooking Class Rome