The Amalfi Coast is famous for a lot of reasons! According to Google, over 5 million people visit the coast each year, and it's no wonder why since it is indeed gorgeous. The Amalfi Coast is picturesque and beautiful and Positano is the most popular town on it. While accommodations in Positano are already amazing, there are plenty of beautiful Positano restaurants you could fall in love with, even before trying the local dishes. We're here to make sure that you find at least one Positano restaurant where you can enjoy a delicious Italian meal.
So why else would you visit Positano then? Besides the fact that it's a wonderful place for pictures, the place is famous for its characteristic shops, luxury boutique hotels as well as its nightlife. Here you'll find cute little stores where you can purchase Italian clothing. But we're not here to talk about clothing. We're here to talk about the best Positano restaurants.
10 Best Restaurants in Positano Italy – Positano Restaurants
In our list of best restaurants in Positano Italy, we have included the top ones for you to try. These are all popular, so you might need to book a table before you go there. Besides all of the great things to do in Positano, eating Italian food is a joy. These chefs know what they are doing, you will not leave disappointed and the scenery will also mesmerize you. Let's get into our list of Positano Italy restaurants. Before you dig deep into the amazing Positano restaurants, make sure you check also the best places to stay in this beautiful cliffside town!
1. Maestro's – Villa Treville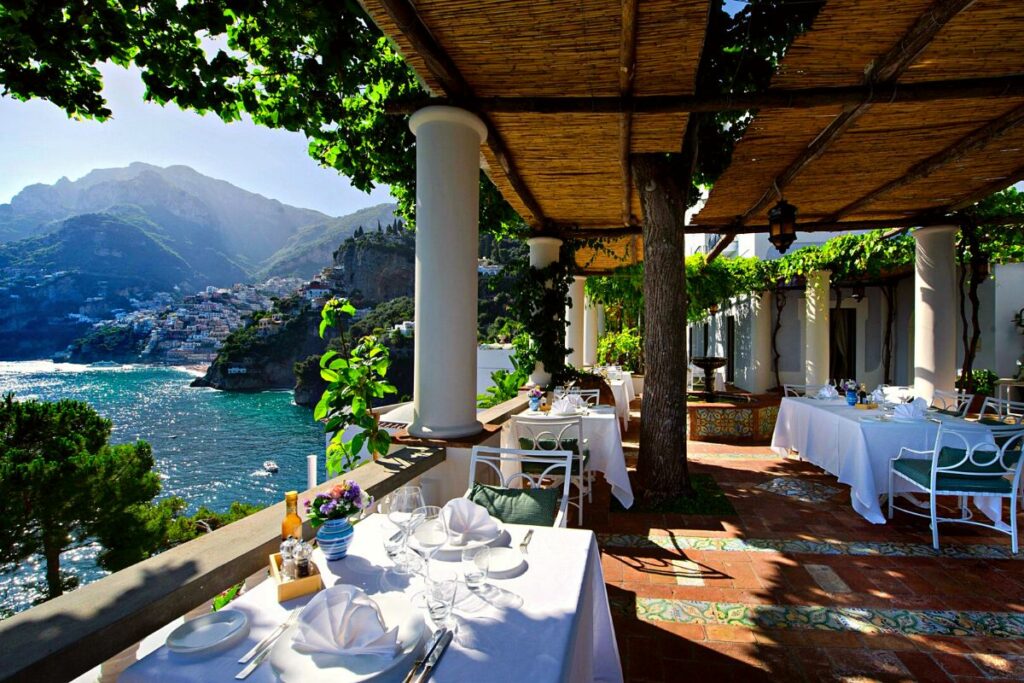 If you're looking for the best food with the best view, this is one of the top Positano restaurants you need to visit. It will probably not even show up in the most rated Positano Italy restaurants on Tripadvisor, however, you'll just have to trust us. Maestro's restaurant is set in the gorgeous Villa Treville. This is a 5-star luxury villa on the Amalfi Coast, with views of the gorgeous Positano.
The restaurant has such a romantic vibe to it, it's elegant and luxurious and you cannot beat the views! Besides the views, the food is also delightful. Their Molteni kitchen offers a selection of vegetarian, seafood, meat, and pasta dishes while respecting the seasons. Maestro's chefs use fresh local produce, the fish is always caught daily, the eggs come from their own chickens and the best selection of wines from local vineyards.
The restaurant itself is on a large terracotta tiled and vine-covered terrace. Panoramic views of Positano will mesmerize you and if the weather is not too promising, there's always a separate room to go inside and dine there. The menu offers a wide variety of aperitifs, main courses with seafood and pasta as well as delicious desserts.
2. Adamo ed Eva by Eden Roc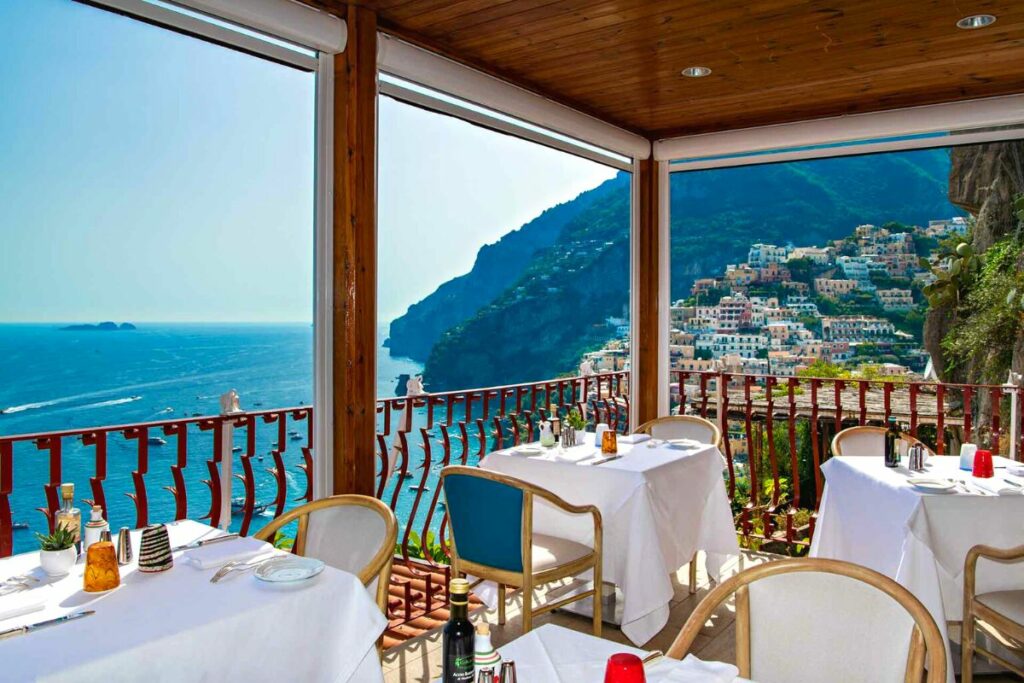 The next Positano Restaurant we want to bring to your attention is the stunning Adamo ed Eva Positano. This restaurant is part of the Eden Roc 4-star hotel and it's considered one of the best restaurants in Positano. The views from here are absolutely amazing, you will not only enjoy delicious meals but enjoy them overlooking the sea.
Adamo & Eva restaurants serve authentic Mediterranean cuisine. What we love about them is that the menu is on their website. It does not have prices, however, you can check if there are any meals you like before you even get there. Choose from a selection of Appetizers, Pasta & Soups, Fish, Meat, and Desserts. From the pasta menu, they serve "Seafood, squids, red prawns, raw oysters, cherry tomatoes" or "Clams, extra virgin olive oil".
As far as fish choose from fried squids, prawns, scampi, and many more. Besides eating delicious Mediterranean meals, you have to try out the wines they offer. The Wine bar is always open from 17.00 and you can book yourself a wine tasting to try out local and non-local wines. Lastly, you must visit the Sky Bar. Although it is part of Eden Roc and not the restaurant, you cannot miss out on these views at the top of the hotel.
3. Il Tridente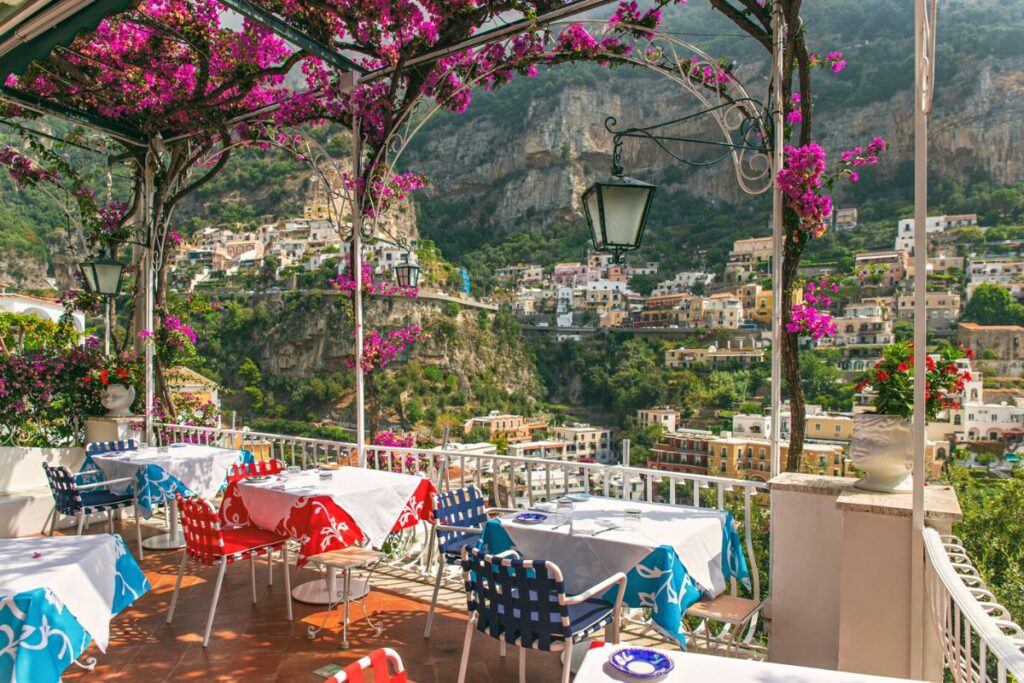 Il Tridente is a little bit different than the previous two Positano restaurants. It is located right in the city center, but it is pretty high so you still get spectacular views. Il Tridente is also a cocktail bar, therefore you get the best of both worlds. Moreover, the restaurant was "awarded amongst the 10 best rooftops in Italy by The Rooftop Guide in 2021 and in 2022".
The restaurant offers food all day long. Breakfast, lunch, and dinner that is traditional Neapolitan. If you wish to have some drinks, head over to the Cocktail Bar and have some snacks with the best Italian cocktails. The menu offers a selection of vegetarian, vegan, and gluten-free options alongside your regular Neapolitan dishes.
Just to give you an idea, the starters can include Neapolitan Antipasto with air-dried salted beef. There's a selection of delicious salads and sandwiches. From the pasta dishes, you have the Gnocchi "all Sorrentina" or the traditional spaghetti with clams. And if you're craving seafood, just enjoy the catch of the day along with grilled vegetables. Book a table today at one of the best Positano Italy restaurants, Il Tridente.
4. Chez Black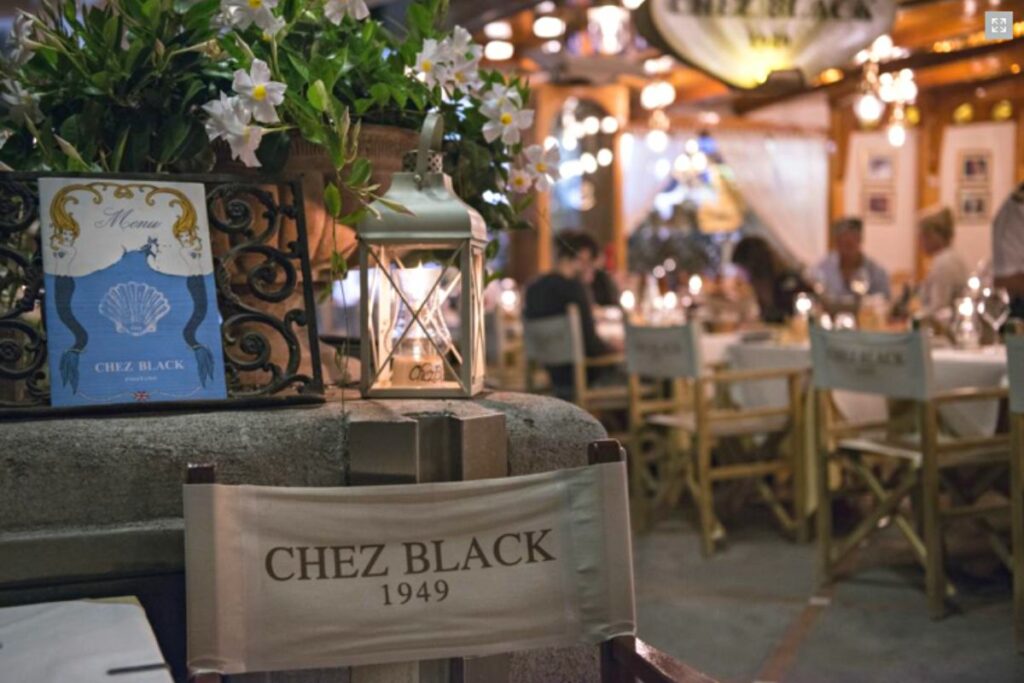 Are you looking for one of the seafood Positano restaurants Italy? Chez Black is an all-time favorite one for the guests. It is in the city center and located on the famous promenade called Via del Brigantino. Chez Black holds a number of events such as dinners, weddings, food & drink events, meetings, and so on. All you have to do is book it on time and you'll have the best night of your life.
So what type of dishes do they serve? Well, the chefs create authentic Mediterranean dishes. For example, sea urchins, fish soup, Paccheri pasta with Positanese sauce, different types of meat, and the best traditional Italian desserts. Furthermore, try out some of their best Italian wines. You will not be disappointed in Chez Black.
5. La Tagliata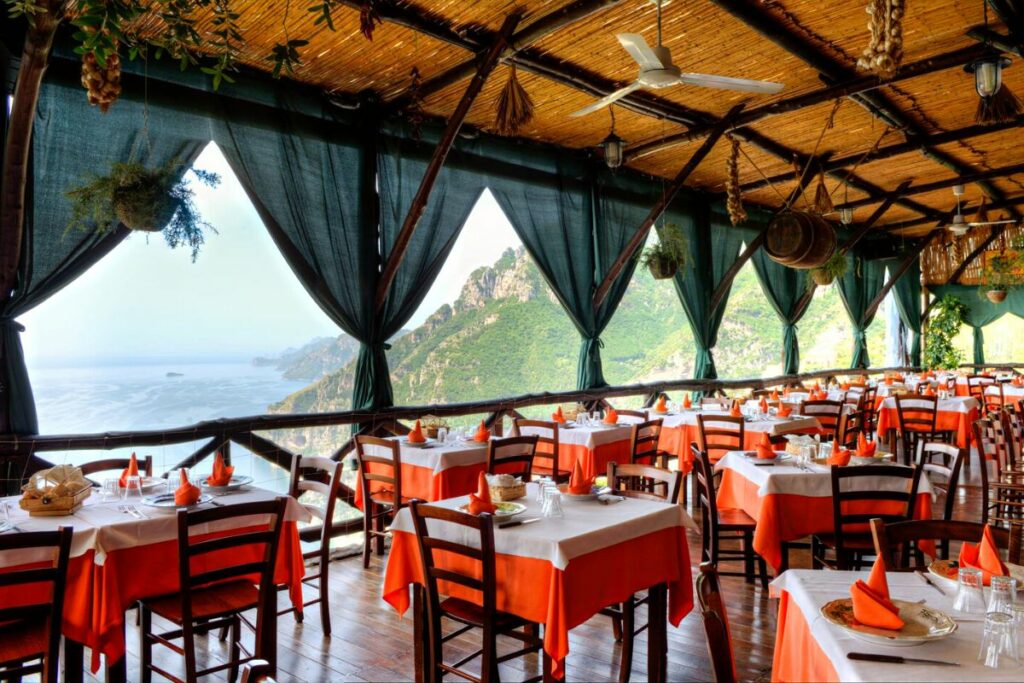 La Tagliata is not your usual Positano restaurant. It consists of three terraces that are filled with their own house-grown vegetable that is used in the kitchen to prepare the delicious dishes. The first terrace is called Punta Belvedere and it is usually used for private gatherings. Guests are welcomed with drinks and enjoy the panoramic views of Positano. The second terrace can be reached by elevator or a stunning pathway and it is called L'Ulivella / Bougainville.
These two terraces have amazing views of Positano and you can either dine there or even reserve them for private events. Then we have the third terrace with the name of A Cas e Luigg c'a fatic. It has both indoor and outdoor space to dine in as well as a bar. At the same time, here you'll get to see vineyards and the organic vegetable grown by the restaurant. That's not all, from this terrace, a wine cellar named La Cantina opens up and allows guests to try out vines.
It's really the perfect place to either enjoy your dinners or even book weddings and other private events. La Tagliata was founded by Don Luigi, who is a generous host and amazing chef. The handmade pasta is made by the wife of Don Luigi and their son Vincenzo works with her in the kitchen. It is a big family business and you're guaranteed to have an unforgettable experience in the best restaurants in Positano Italy.
6. La Sponda Restaurant (of Le Sirenuse)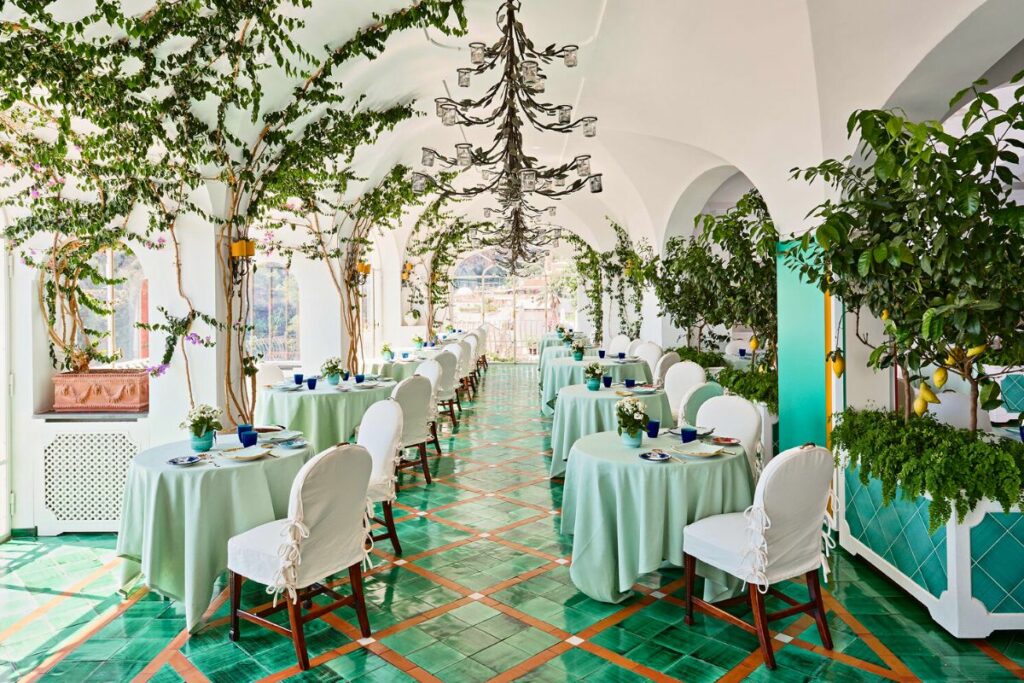 La Sponda is part of the Le Sirenuse which is a beautiful 5-star hotel. And they have one of the most luxurious and stunning-looking Positano restaurants. Whoever comes to dine here, will be a part of an unforgettable experience. The restaurant has a great vibe, amazing location and decor, and even more delicious meals. The chef, Gennaro Ruso will make sure your tummy is full and satisfied by the end of your meal.
They serve authentic Italian dishes prepared with fresh ingredients that are carefully selected by the chef. The menu doesn't seem to be available on the website, however, on their Facebook page, the restaurant showcases delicious-looking meals. Whether that's pasta, seafood or desserts, it doesn't matter. Everything is picturesque here, the decor, the meals, and the views. La Sponda also says there are many engagement parties and it's one of the top Positano restaurants Italy for proposals.
7. Ristorante Casa Mele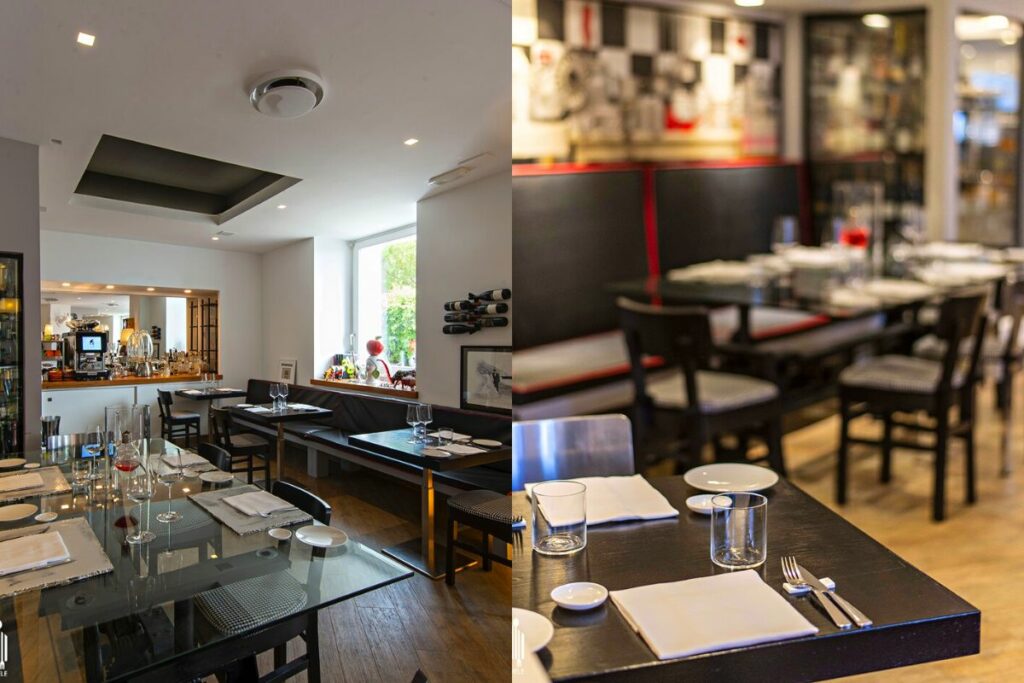 If you're looking for a new experience in Positano, Casa Mele is one of the Positano restaurants you should check out. It is located near the La Scogliera Positano which is a beautiful beach overviewing the small houses of Positano. Casa Mele is special as it is the home of Chef Raffaelle Mandara. It is a very modern restaurant serving special dishes.
Chef Raffaele makes everyone feel welcomed and has been passionate about food and serving people since he was three. At Ristorante Casa Mele you can also book cooking classes and learn how to cook like an Italian! When it comes to the dishes, they are served just as you would see them in a fine dining restaurant.
Choose from a selection of starters like Shrimp tartare with juice and buffalo cannoli with raspberries. Or the delicious Risotto with yellow cherry tomatoes. So this is one of the unusual Positano restaurants Italy, as you will try new foods, served in new ways, and enjoy a culinary experience. Try out their best wines after a delicious dinner.
8. Lo Guarracino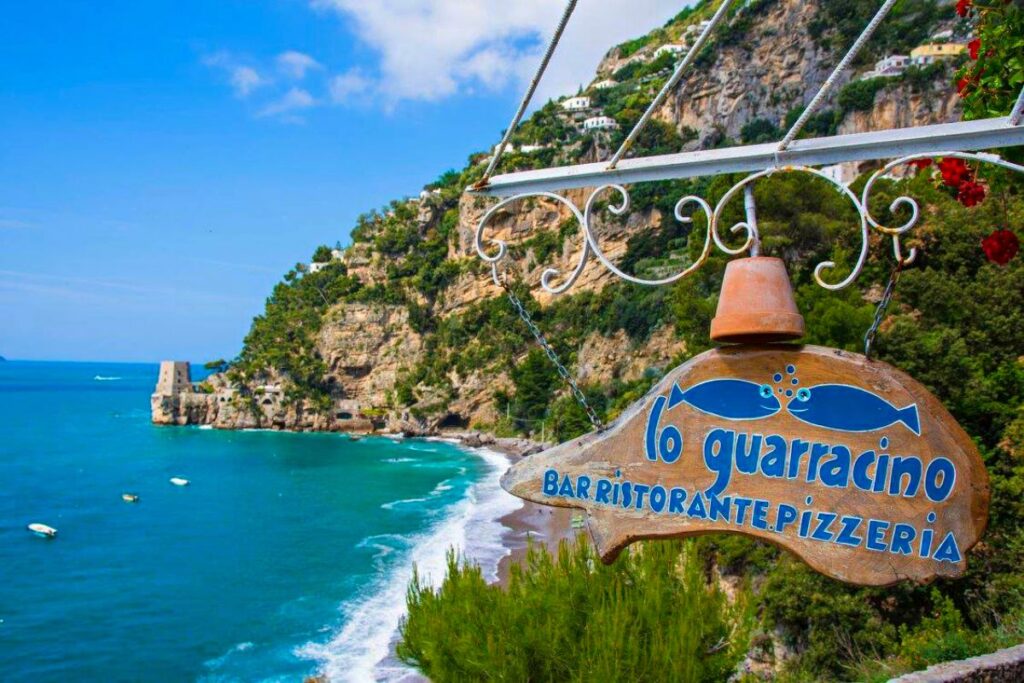 Lo Guarracino is the perfect Positano restaurant for any occasion, whether that's weddings, engagement parties, or private events. It is located near Fornillo Beach and the views are breathtaking. What's even more impressive is the food they serve. Lo Guarracino is damselfish so it's only natural that they serve a variety of seafood at the restaurant. It was built in 1980 and since then it's still thriving and is one of the best restaurants in Positano.
You'll taste authentic Mediterranean specialties here. From the starters, the restaurant offers Foccacia bread with cherry tomatoes and fresh basil or a variety of grilled vegetables. If you love the fish, try out their best dishes made with lobster, clams, shrimp, and much more. The Risotto with clams mussels shrimps and squids is a classic. Besides seafood, Lo Garracino also serves delicious pizza! Let's not forget about their selection of red and white wine as well as other liquors.
9. La Taverna del Leone
Looking for one of the Positano Italy restaurants that appeared in a Michelin guide? La Taverna del Leone is one of the few Positano restaurants that received great points within the Michelin guide. The hotel is just a few kilometers outside of Positano. It is loved equally by locals and tourists. The menu is only made up of local dishes and all of their ingredients are fresh.
With the words of the restaurant, they "offer the best of traditional Mediterranean cuisine". On their website, you can have a quick look at some of the options on the menu. For example, grilled octopus with potato and black garlic velouté. From the main selection choose the fish fillet 'scottata' with mixed vegetables. You should also try out their delicious desserts, like the almond nougat parfait. Everything looks and tastes amazing, we are sure of that!
10. Ristorante Mirage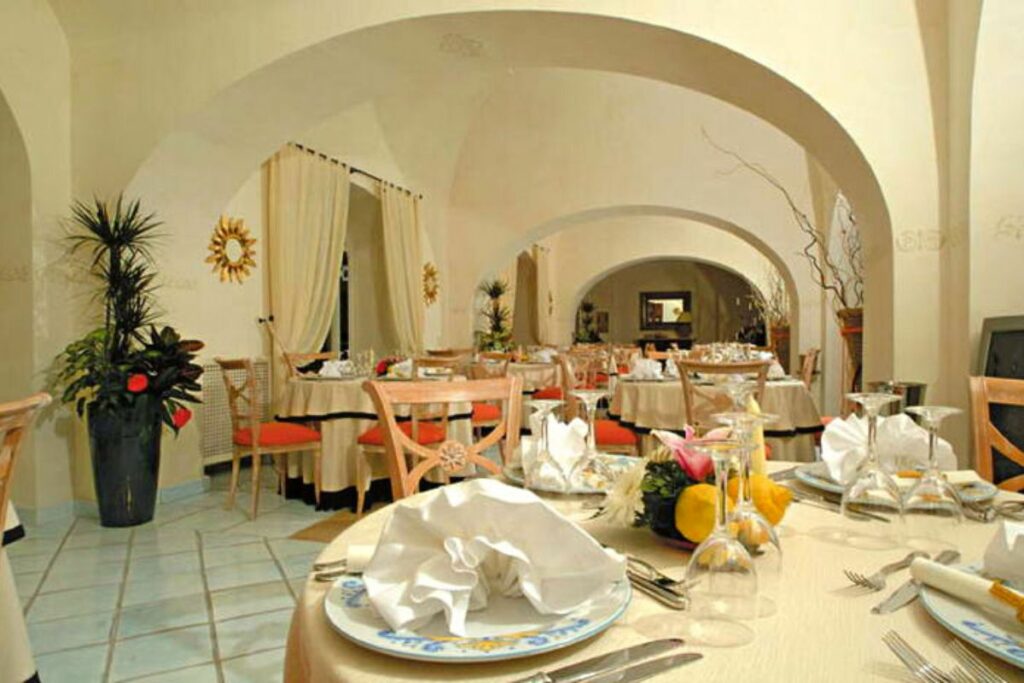 The last on our list of best restaurants in Positano is the Ristorante Mirage. Enjoying Italian dishes with views is just a must. The Mirage restaurant is actually a part of the hotel Posa Posa and it's on the 4th floor. You can have breakfast, lunch, and dinner here. Their cuisine consists of local dishes from Positano and Naples.
After having a look at the menu as well as pictures from Tripadvisor, the selection is great. This Positano restaurant offers both gluten-free and vegetarian dishes. For example, Spaghetti alla Nerano is one you must try. Choose from a selection of seafood dishes such as Scialatielli ai frutti di mare. Let's not forget the delicious Tiramisu the Mirage has to offer!
The reviews of this restaurant are mostly over 8.5 and 9. The price is reasonable and guests really enjoy the views from here. Some said the octopus appetizer is worth trying out. Others suggested the tuna tartare. In case you're already staying at the Hotel Posa Posa then you're lucky to dine at the Mirage whenever you wish to!
Best Restaurants in Positano Italy – Positano Restaurants – Wrap up
There you have the 10 best Positano restaurants Italy. If you want to see the beautiful Positano from higher up, most of the Positano restaurants will have a spectacular view. Of course, you're mainly going for the food, however, it is so much more enjoyable with views over the sea and its typical little houses. Explore Positano's nightlife after you've had your dinner and go back the next day for a delicious breakfast or lunch!
Pin it: 10 Best Restaurants in Positano Italy – Positano Restaurants