15 Best Italian Food Brands
When it comes to our food consumption or specific diet, it's crucial to eat quality foods. From the oil, down to the carbs, or healthy fats, we consume on a daily basis. And if we want to speak of quality foods, Italy is one such country to mention, in just about any category. In this list, we have presented the best Italian food brands on the market. Everything from cheese, pasta, olive oil, chocolate to gelato and cookies. Even the Italian frozen food brands are a healthier option when you are on the go.
It's no surprise that Italians have specific rules when it comes to their food. The way you make coffee in Italy is significantly different than the way you would make it in the UK for example. The two coffees can be the same in both countries yet they will taste differently. Therefore, even if you purchase the top Italian food brands, you should still pay attention to how to prepare them so they are as close as possible to the way Italians would make them.
15 Best Italian Food Brands – Famous Italian Food Brands
It's very difficult to choose which Italian food brand names to mention. We narrowed it down to only 15 that you can get in any Italian food shop. Furthermore, most of them can also be found abroad or in big supermarkets. If you love pasta, then you should choose the right pasta brand for your dishes. In the same way you should be choosing which olive oil goes best with that specific pasta dish you have selected. Not everyone wants to pay so much attention to details, however, when you do, the culinary experience will be unmatched. Are you excited to learn more about Italy food? Keep on reading!
1. Parmigiano Reggiano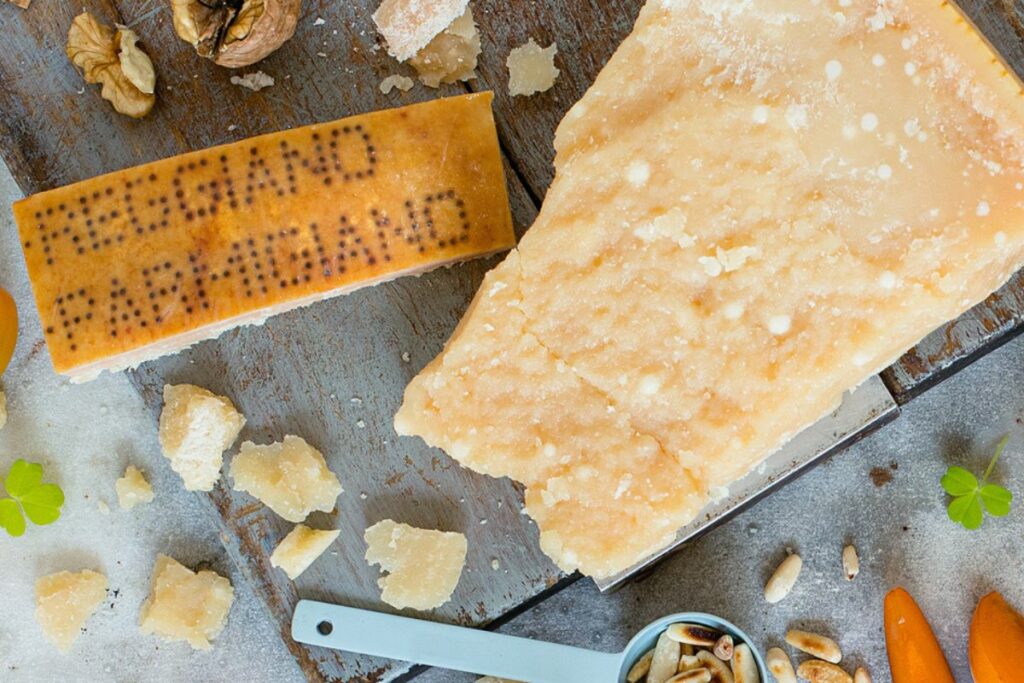 When it comes to food, if there's one thing you have to bring back from your travels to Italy it's cheese. Especially Parmigiano-Reggiano cheese. Why is it so good? Well, it is usually aged longer than any other cheese, bringing out that rich flavor and granular texture. The Parmigiano Reggiano brand creates the best one among the Italian food brands. Their history goes back to the Middle Ages, to Benedictine and Cistercian monks. They wanted to find cheese that would last long and so produced the first ones from the Salsomaggiore salt mines and milk of cows. This is where those large wheels of cheese come from.
Only in the 15th century in Emilia region did the lords contribute to producing even more of the cheese. Some of the wheel sizes went up to 18kg each. That is a lot of cheese! In case you want to buy the real Parmigiano Reggiano, you can do so by visiting the Italian food shop that sells them. They have stores in Bologna, Parma, Modena or Mantova. But in case you just wish to taste it while you are in Italy, you can even book a guided tour and see how the Parmigiano Reggiano is made. You can taste it, smell it and learn the difference between the cheeses. It's a true experience!
2. Grana Padano
Grana Padano might be mistaken for Parmigiano Reggiano, however, they are quite different. First of all, the Grana Padano cheese comes from the Po river Valley, in the Emilia-Romagna region. One of the main differences is that Parmigiano Reggiano is matured for 12 months and is much more complex than Grana Padano. Hence why the latter is used in cooking while Parmigiano is grated on top of dishes. Grana Padano is one of the bestselling PDO cheeses in the world. It was discovered in 1000 AD and in the 14th century loved by princes and dukes who would bring the cheese to the Renaissance banquets. These were the best of Italy's cheeses.
One of the top Italian food brands that create delicious Grana Padano cheese is Esselunga. This brand is actually an Italian retail store chain, however, they have their own products. It is DOP certified and it's been rated as the best Grana Padano for its composition, appearance, and flavor. Anyone who loves Italy food has to go into one of the stores and purchase the products. Although you might find this cheese type in other countries from different brands, the true flavors will be the ones produced directly in Italy.
3. Parma Crown – Ham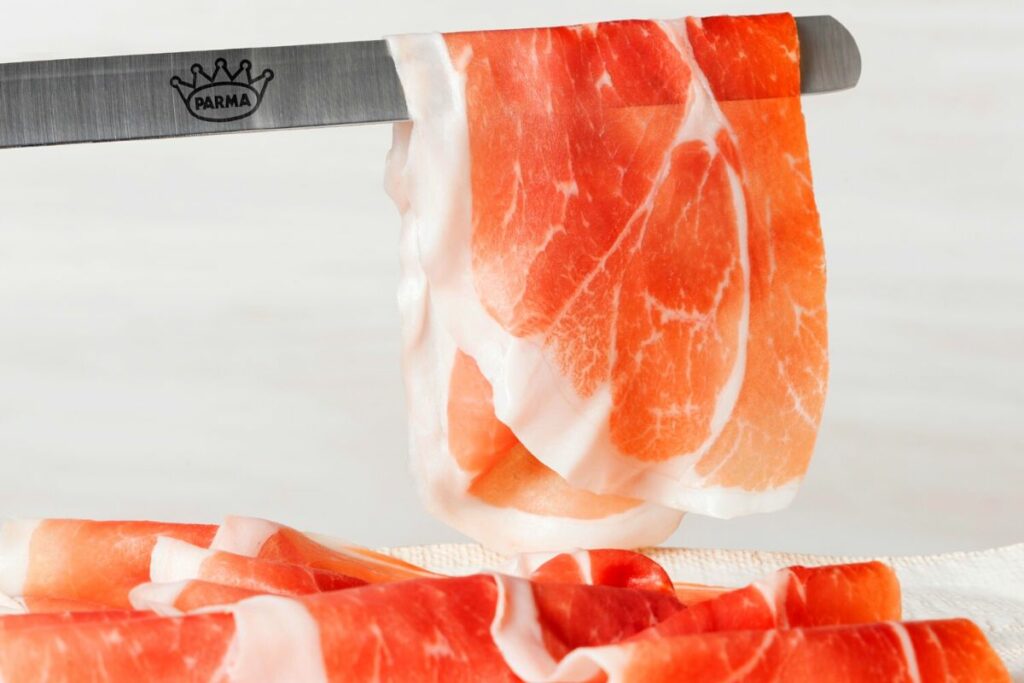 Prosciutto is a world-famous ham from Italy and many companies produce it. What you must know is that the best Italian food brands producing it are Parma Crown. Prosciutto di Parma is the number one brand to look for when you're purchasing the product. Curing the ham has been discovered over 1000 years ago. And the brand only uses bred pigs, sea salt, air, and time. That's right. The ham is seasoned with the right amount of salt, left in the cold for 100 days and it's ready.
Emilia Romagna is famous for many foods and beautiful sights, so it's no wonder that the delicious prosciutto di Parma is also from this region. Whenever you are in an Italian food shop, you should only look for Parma Crown. It received the PDO status, which means Protected Designation of Origin. Furthermore, the reason for this status is due to the traditional method that the ham is created with and its specific for this region. You will love Parma Crown's prosciutto di Parma!
4. Illy – Coffee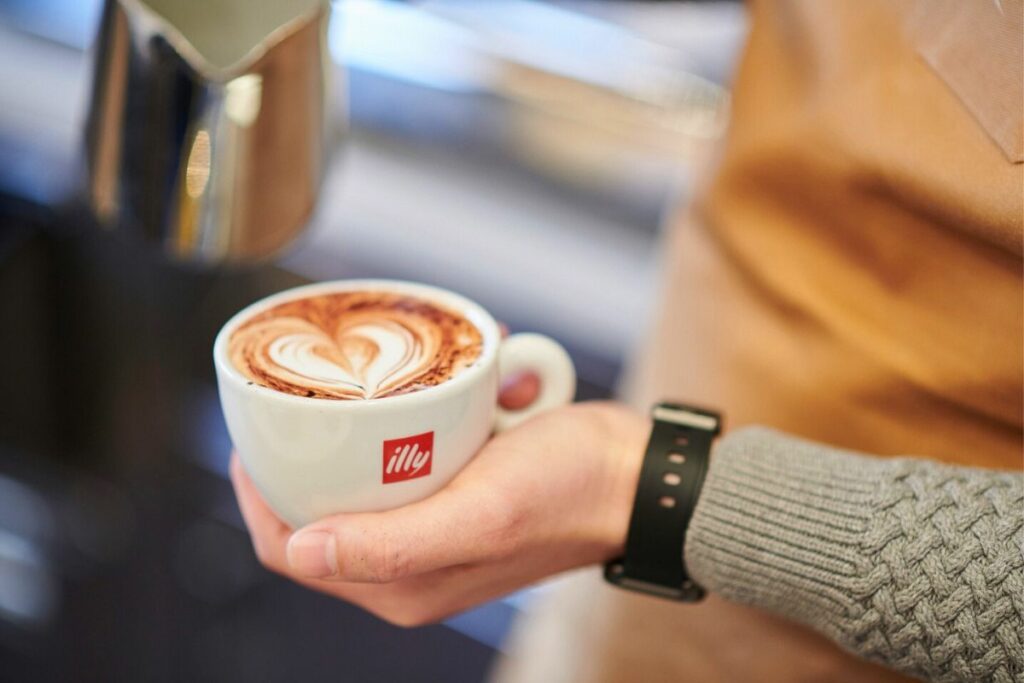 Illy coffee needs no introduction. They are always on a mission to offer the best coffee in the world. The brand uses 100% Arabica beans' blends, which gives its delicate flavor and the reason why the sweetness is so refined. Illy was founded by Francesco Illy in 1933, therefore, they have plenty of history and experience to deliver the best coffee to you. It's a pleasure to consume delicious coffee in the morning. Their core values are to offer excellence. This is why Illy also has coffee machines and it's one of the top Italian food brands.
You can find all sorts of products from Illy. Espresso capsules, coffee beans, ground coffee, filter coffee, pods, cold brew, instant coffee, and so on. According to Illy's shop, the best-selling products are the Arabica Selection whole beans from Colombia, and Etiopia, then the K-cup pods from Colombia, or the whole beans from Guatemala. For a classic, choose the ground espresso Classico coffee that's a medium roast. It has a lingering sweetness and notes of caramel, orange blossom, and jasmine. Illy coffee is a must-buy from the Italian food shop.
5. Bialetti – Coffee and Moka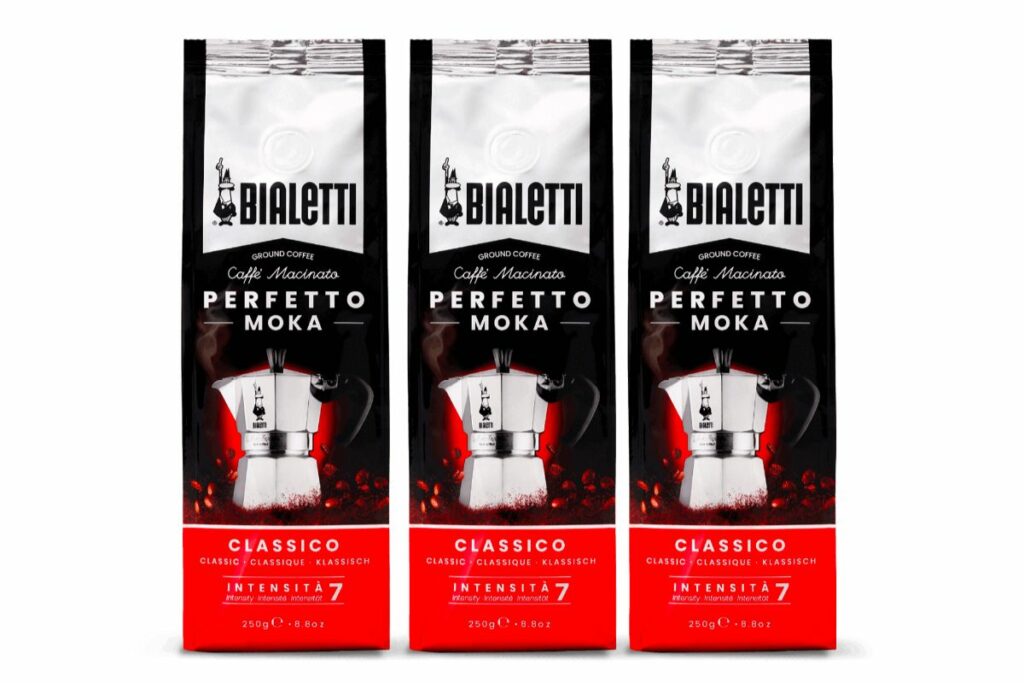 Bialetti isn't only famous for its delicious coffee, but also for being the first ever to invent the stovetop brewing method called Moka Express. The brand was founded in 1919 and it's still among the top Italian food brands. Thanks to 100 years of experience, the way Bialetti roast their coffee is one of a kind. All of their blends are known for their quality, taste, and attention to detail, meaning the way they roast the beans.
It's no surprise that coffee brands now offer multiple different products as there are hundreds of companies coming out with coffee machines. At Bialetti, you can purchase capsules, ground, and coffee beans as well as Nespresso compatible capsules. From the ground coffee collection, one of the best sellers is the Perfetto Moka Cioccolato. This is specifically created for the Moka pot. It's a medium roast with hints of cocoa. Simply delicious!
6. Barilla – Pasta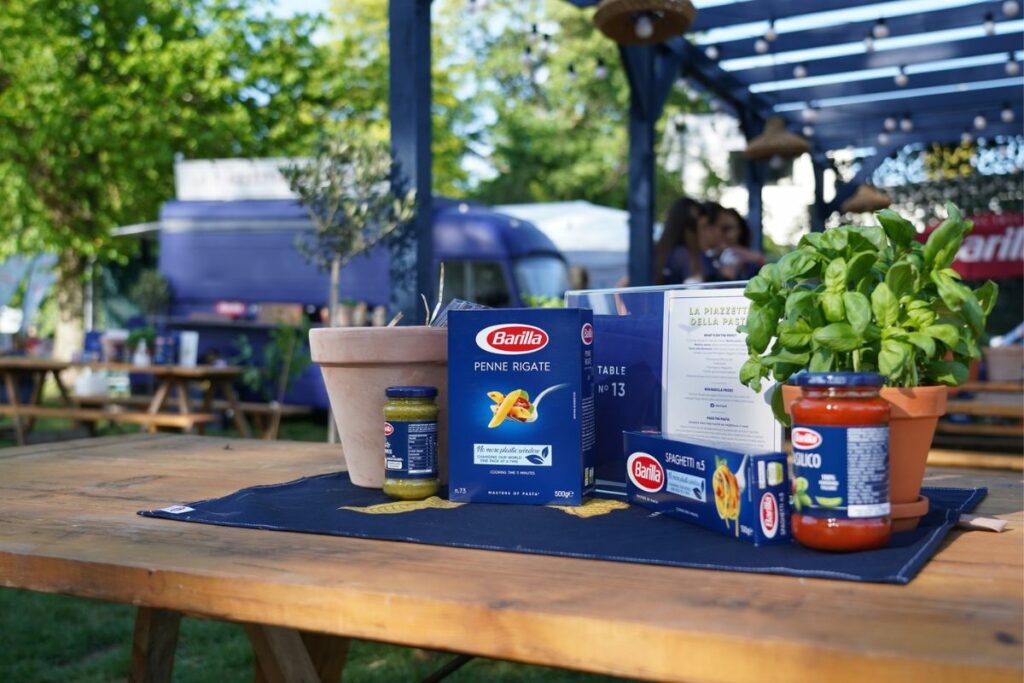 When it comes to Italy, of course, we have to talk about Pasta! And from the many famous Italian food brands, Barilla is one that stands out. Barilla is an old brand founded in 1877 in Ponte Taro by Pietro Barilla. He opened a bread and pasta shop in Parma and the rest is history. Today three brothers Guido, Luca, and Paolo, are continuing the work their great grandfather started. Barilla pasta is known for its great quality, taste, and texture. It is also an affordable pasta, making it easy to implement in your everyday meals.
There are three pasta shapes to differentiate at Barilla: long, short, and filled pasta. The long is perfect for your classic bolognese, pasta made with light sauces or if you get the thicker strands then robust sauces will go better. Next up is the short one, which is perfect for any baked dishes and salads. It's easy to bake and cook, and light enough to go with salads too. Lastly, the filled pasta is called the Tortellini Formaggi. According to tradition, Tortelli three cheese were made for soup pasta. But because of the tasty filling, they are perfect for creamy sauces too. As you can see, Barilla has every type of pasta you would need. Get it from any Italian food shop.
7. Pasta la Molisana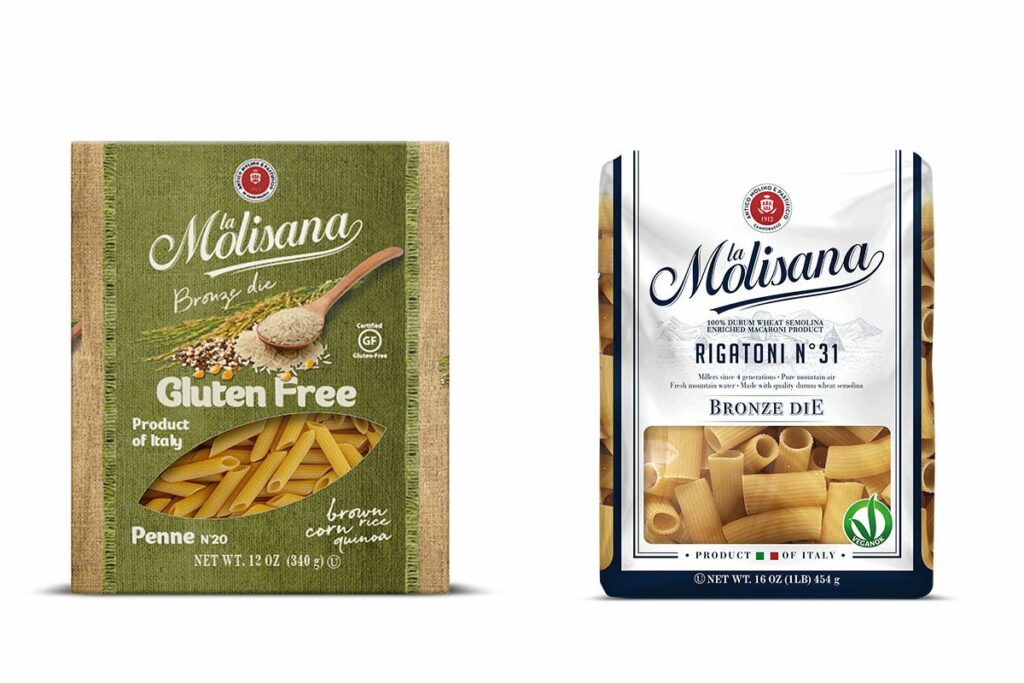 Pasta la Molisana is one of the Italian food brand names many are familiar with. They have over 100 years old experience in making delicious pasta. The brand was founded in 1912 by the Carlone family, back then they only had an artisanal workshop. But the Carlone family had a brighter future for La Molisana than just a workshop. They became a leader in the field of durum wheat pasta production. Did you know that La Molisana was a sponsor for FIDAL athletes in the Olympic games in 1992?
Thankfully, La Molisana pays attention to its customers and there are a number of different pasta you can purchase. They have classic, whole wheat, organic, and even gluten-free. After all, you should enjoy a delicious meal even if you cannot eat gluten. For example, the whole wheat pasta will have black packaging. I really love their packaging, it shows how much they pay attention to detail. Choose from spaghetti, penne rigate, fusilli or farfalle rigate. Moreover, La Molisana has a line of BIO pasta including fettuccine, spaghetti, penne rigate, fusilli and lumache rigate. Simply delicious!
8. Bertolli – Olive Oil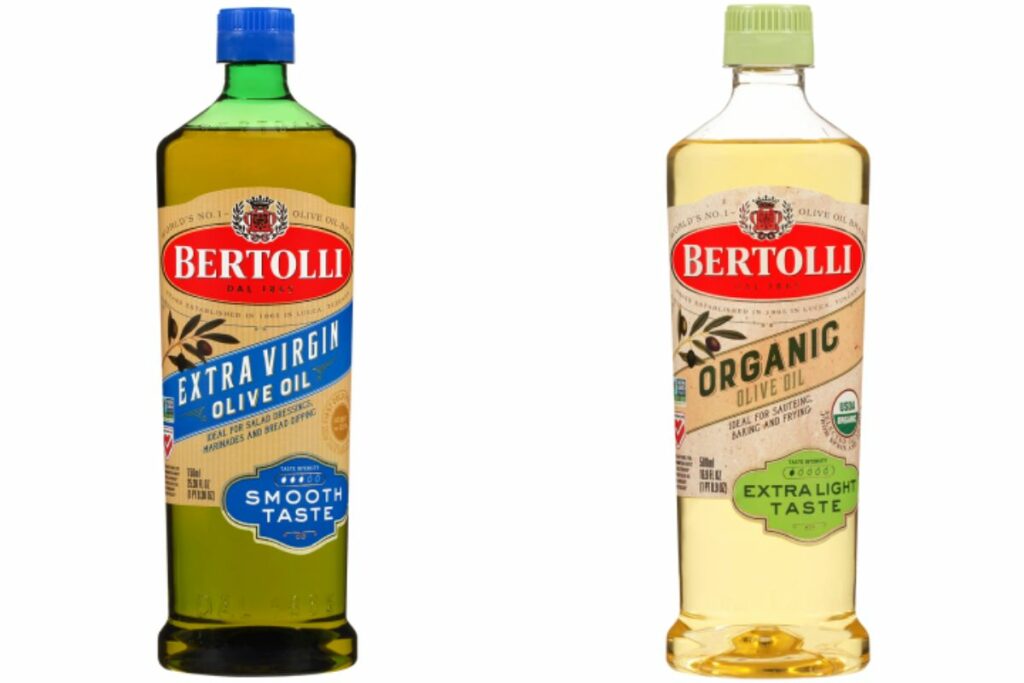 One thing you need when you are making pasta is good quality olive oil. Bertolli is among the famous Italian food brands that produce olive oil. Their story starts in 1865 in Tuscany. Francesco Bertolli and his wife owned a small grocery store and sold regional wines, cheeses, olives, and olive oil. But how did they become one of the best Italian food brands in the world selling olive oil? Well, Americans at that time, in 1875 were missing quality oil from Italy and so they asked Francesco Bertolli to ship them oils abroad. In just a few years the children take over the business and start to export to Australia, South America, and Africa. So everyone can enjoy a taste of Tuscany!
Bertolli oil is really great when it comes to cooking, baking, making salads, and much more. Furthermore, Bertolli also produces sauces with authentic Italian flavor. These can be found worldwide, therefore you will not have to compromise on lower-quality food wherever you are in the world. Choose from the extra virgin olive oil with a smooth or bold taste. Moreover, Bertolli has extra virgin olive oil with a rich taste as well. According to them, this oil is perfect for salads, pasta, marinades, soups, and sauces, but even for delicious dips. It's cold-pressed and has a "full-bodied fruity flavor".
9. Baci – Chocolate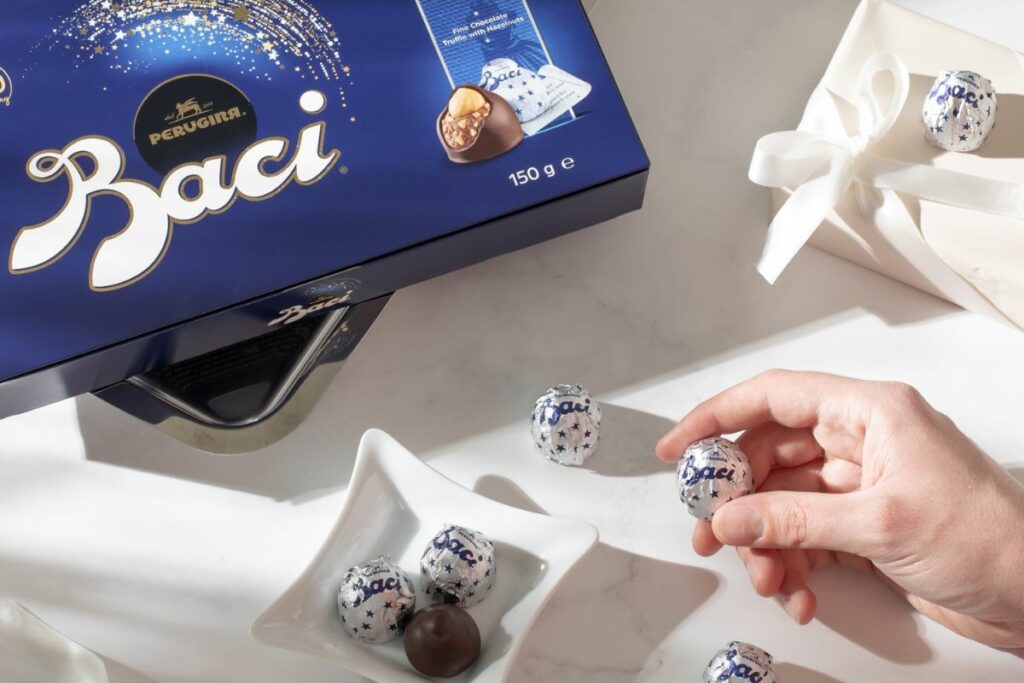 Whenever you are in an Italian food shop, you must pick up Baci chocolate. The brand was founded in 1922 by Luisa Spagnoli who was experimenting with chocolate by adding a whole hazelnut in the middle and covering it with chocolate. She called it the "Cazzotto" as it resembled a punch. But of course, they couldn't just go to the store and ask women to give them a "punch of chocolate", therefore Luisa decided to call the chocolate Baci. It had silver-colored wrapping with blue writing. It's a beautiful story of the famous Italy food, Baci.
The chocolate brand went through a lot of changes throughout the decades, however, its quality remained the same. And they didn't take out the whole hazelnut from the chocolate! Today you can purchase a variety of Baci products. The original dark Baci is still available, the same way Luisa made it. Therefore her story lives within the chocolate. There's a soft inner chocolate mix with hazelnut grains and cocoa, plus the whole hazelnut and these together are covered by the famous dark chocolate Luisa®. Baci is one of the Italian food brands everyone needs to try, not just because it's delicious, but due to the amazing story behind it.
10. Nutella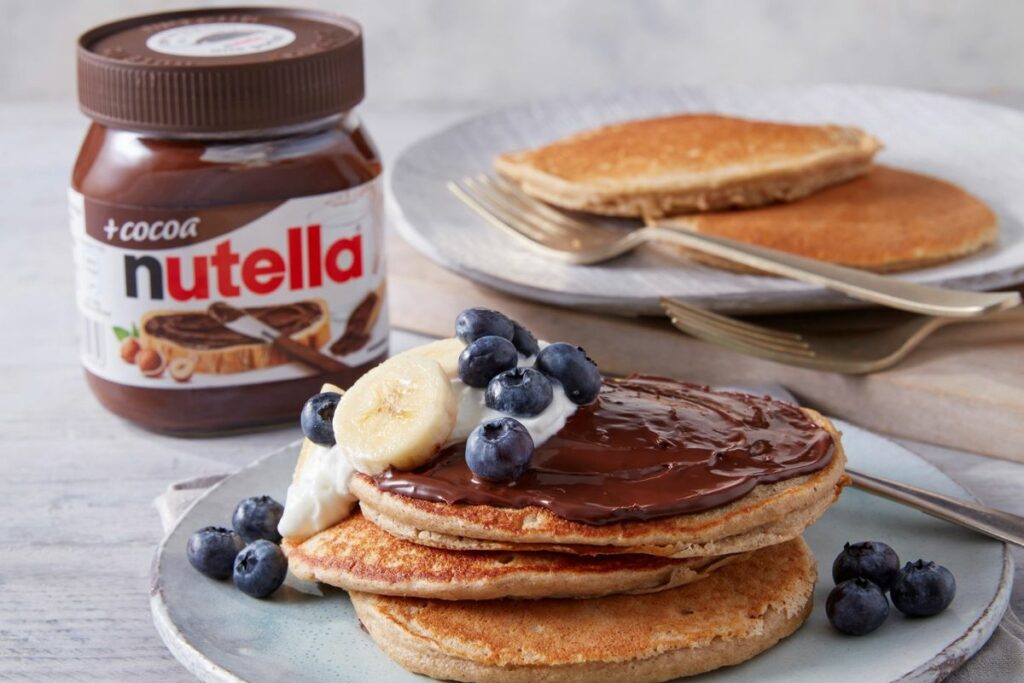 Everyone knows that Nutella is one of the famous Italian food brands that have been around for decades and still loved worldwide. But probably few know of its history. Did you know that the very first chocolate spread was made in 1946? That's right. After World War II it was rare to get your hands on cocoa and Ferrero was the one who turned chocolate into a hazelnut paste. It was called the Giandujot and you could buy it in the form of a loaf. Then came the SuperCrema in 1951 which was already in a jar and easily spread on bread. Only in 1964 was the name Nutella born by Ferrero and the first jar sent out to the world.
When I was a child Nutella was famous in Germany and Austria, my relatives would bring us jars. That isn't surprising as in 1965 Nutella was first launched in Germany, then one year later in France. Year by year Nutella reached other countries and made many children and adults happy. Today you can buy it anywhere in the world. It's used not just on bread but on pancakes, as filling in cakes or toppings. Furthermore, there are various delicious sweets made with Nutella that you must try out!
11. Gelato D'Italia – Ice Cream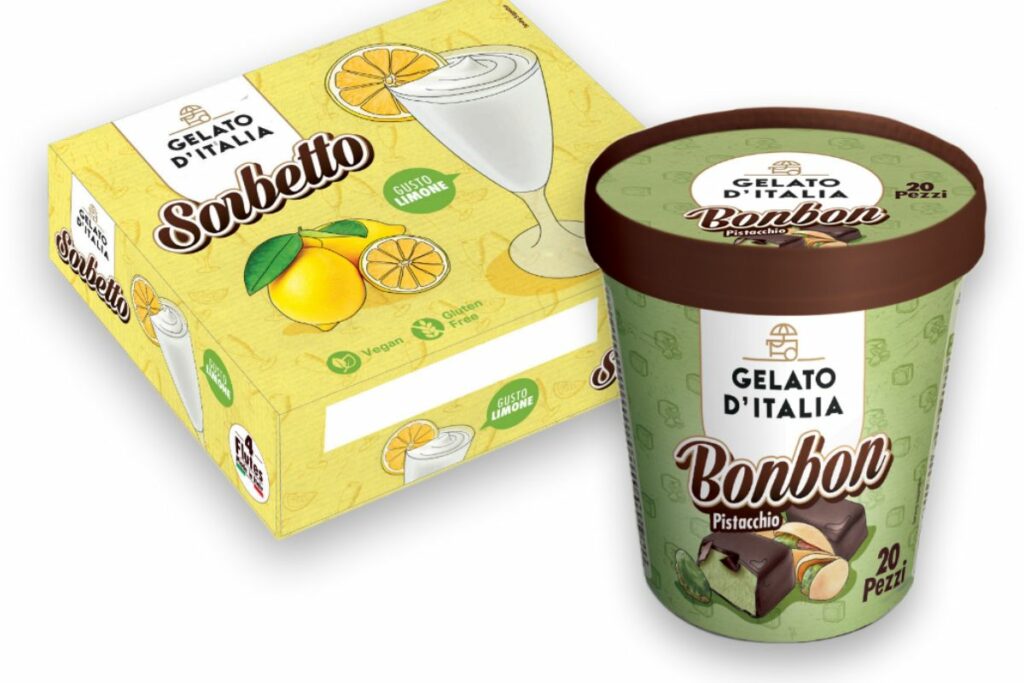 Gelato is a very much loved dessert in Italy, so it's only fair we mention it among the Italian frozen food brands. It all started with Gogliardo Olivi who opened an artisanal ice cream parlor in Emilia in 1930. Later in the 70s, Fabrizio Olivi expands production and they start to manufacture ice cream for other big companies. Today Gelato D'Italia has been in the business for over 90 years and what was once a family business is not an enterprise. They are among the best Italian food brand names.
From the Gelato D'Italia you'll find everything from popsicles, cones, ice cream sandwiches, and even cakes. Furthermore, the company actually has 4 different brands under the same ownership. First is the Indianin ice cream which has been in Italy since the 70s. Then the Gelato d'Italia has amazing taste and flavor, just like the Gelato in Italy. Gelato da Sogno was born in 1962 and can be purchased from supermarkets. Last but not least, for anyone who is vegan, the brand produces ice cream under the name Joy Veg. It's amazing that they have so many choices for everyone!
12. Mulino Bianco – Cookies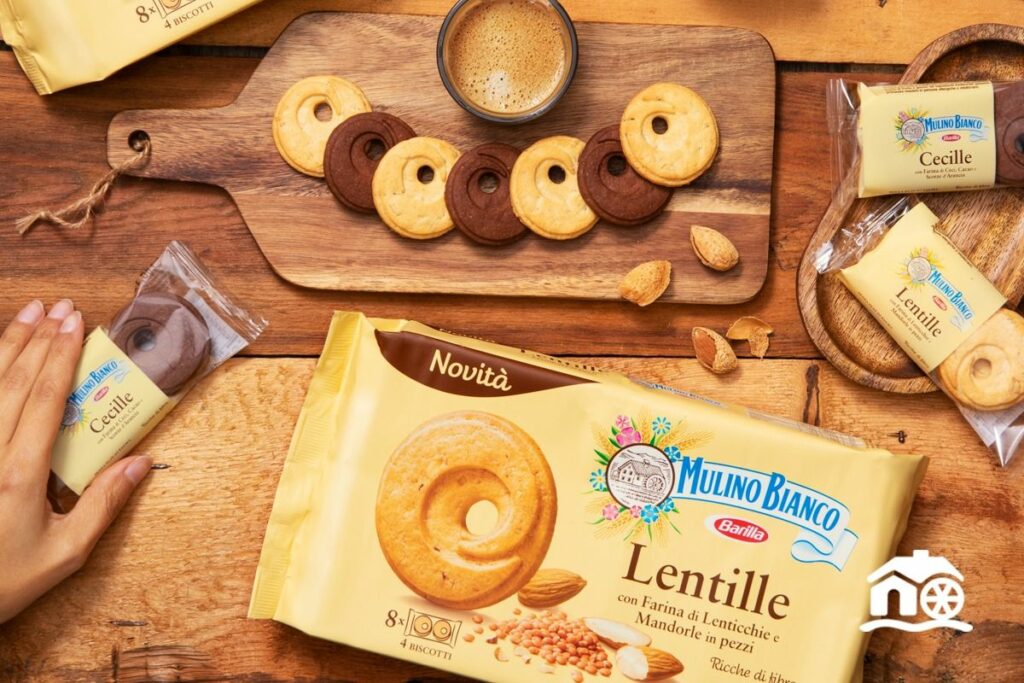 I don't know about you, but I really love biscuits. Especially if I dip into some hot milk or tea. Mulino Bianco biscuits are a must-try when you are in Italy and they are considered one of the best Italian food brands too. Almost everything on this list was founded in Emilia Romagna, including Mulino Bianco. The brand has been around since 1975 and the name means "White Mill". The very first biscuits were Tarallucci, Molinetti, Pale, Campagnole and Galletti. These names were given to the biscuits based on the shapes they had.
Mulino Bianco's first 5 biscuits are still available to purchase today, but the brand expanded drastically since the 70s. You can find all sorts of shapes and flavors. For example, for anyone that loves pistachios, they created a biscuit filled with soft pistachio cream that's called Baiocchi. The same biscuit is available with chocolate filling. Other famous ones worth mentioning are Nascondini, Ritornelli, and Rigoli, or their gluten-free range. It's amazing that these Italian food brands pay so much attention to gluten-free options, everyone should enjoy the delicious biscuits!
13. Leonardi – Balsamic Vinegar
Leonardi's history takes us back to the 19th century when it started producing balsamic vinegar. They were using their own materials and had 10 hectares of vineyards of white and red grapes. In case you didn't know, balsamic vinegar is usually produced in small quantities as it's specific only to a few regions, such as Modena and Reggio Emilia. The process of making balsamic vinegar is a long one and Leonardi has plenty of experience which is why we included it on our list of famous Italian food brands. You can use it for many types of Italy food.
What can you make with balsamic vinegar? Leonardi shows recipes on the website and one of them is simple vanilla ice cream and strawberries with balsamic vinegar on top. Of course, you would have to purchase the thick and sweet one. Furthermore, it goes well with fish like prawns or salmon. Another recipe found is the rice wafers with balsamic mayonnaise, ham crumble, and vinegar pearls. Go for the Il Goccio range which has a number of different products made to season your meals.
14. Rio Mare – Canned Tuna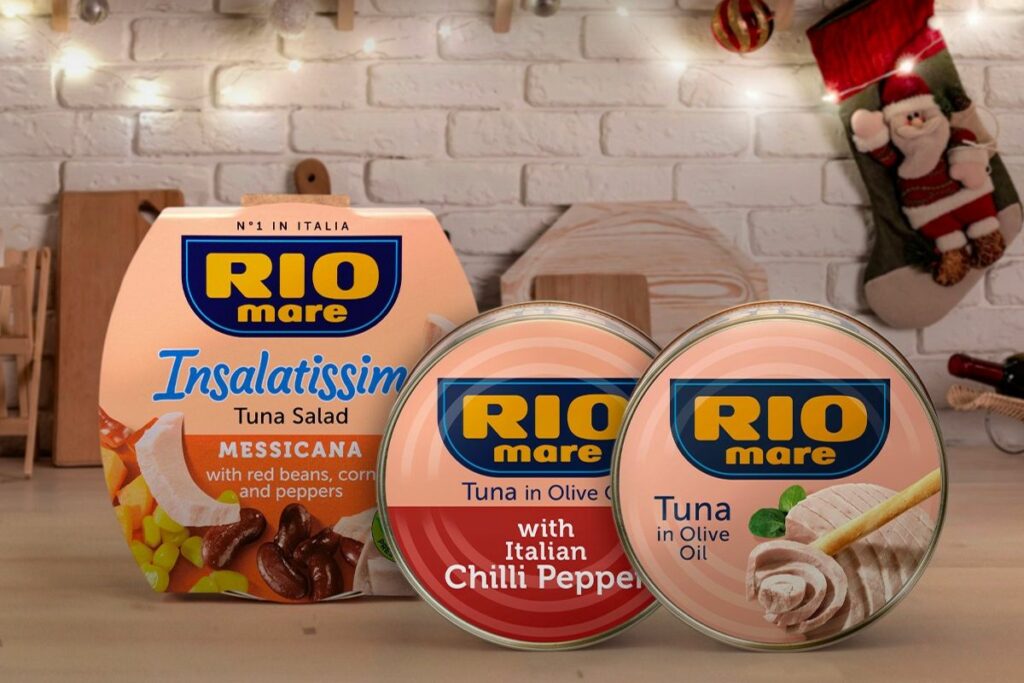 Rio Mare is another one of the Italian food brand names you must have heard of. It's undoubtedly the best tuna you can find in a can and the company has great value to respect the balance of the marine ecosystem. Rio Mare only works with vessels that are certified and safe. The company offers many types of canned tuna. For example, tuna in olive oil is tasty on its own but also great in salads.
The flavored tuna can be either with olive oil with Italian chili or lemon and black pepper. Rio Mare suggests that these two are a great way to top up your pizza. The no-drain tuna has less water so it's a simple and light food that is nutritious. Fish is a great addition to adding more protein into your diet. So if you love salads, Rio Mare also has a product specifically created for salads that is called Insalatissime. It has fresh vegetables and it's delicious with some pasta. Grab it any Italian food shop or even abroad in any supermarket.
15. Buitoni – Frozen Pasta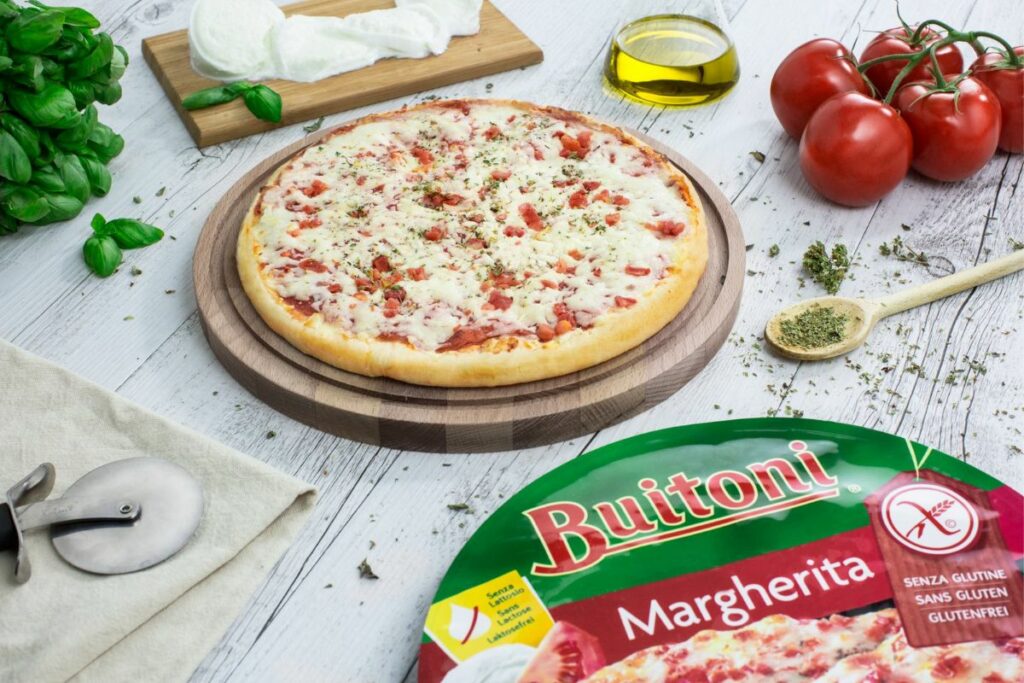 We have to mention Buitoni among the Italian frozen food brands on this list. This is another old one as the brand was founded in 1827 in Tuscany by Giovanni Battista Buitoni and his wife. They started a pasta business in San Sepolcro and since the business was growing shortly, they started expanding even more. When Giovanni died, his son took over and managed to get the production up to 100 tons per day! Why is their pasta amazing? It is a high-gluten pasta that launched for the first time in 1884. As it is a nutritious pasta, it shortly became famous abroad too.
Besides the pasta, Buitoni has a number of frozen foods. For example, frozen pizza, frozen small pizza called Piccolinis, or ravioli with different flavors. You can also find different flavors of Tortellini which can be frozen and you make them with a drizzle of olive oil. These are convenient when you do not have a lot of time to prepare a full dinner. If you like beef, then try out the beef ravioli. Buitoni also has it in family size and it's ready in 5 minutes!
Italian Food Brand Names
Now that we have reached the end of our best Italian food brands list, you can get a good idea of which brands are on the top. Yes, there are many famous Italian food brands out there that you need to try. If you're ever in an Italian food shop, make sure to pick up some quality olive oil, pasta, and sweets. You must also try out the best Gelato, whether that's from a store or on the street. Let us know which food brands are your favorite from the list!
Pin it: Top Italian Food Brands