If you've been looking for the best places to live in Italy, you arrived at the right place! We at Italy Best are based in Italy, and I personally have been living here for years now. If you're looking for the best places to live in Italy as an American, or if you are young and you want a place with new opportunities, if you want to retire in Italy, or you want to find the most beautiful, calm place to move with your family, you'll find them below! Some of you might have arrived here because you're trying to find information about the 'Calabria Italy pay to move' program. You'll also find some tips below about the region of Calabria!
15 Best places to live in Italy
Choosing the best places to live in Italy was based on different factors. First of all, possibilities to live and work. Then, we considered safety, language barriers, traditions, and the fact that not each side of the country is as welcoming as the other sides.
You'll see living cost ranges, and highlights about what makes each of the below places in Italy great. Also, we're going to speak a little bit about the Calabria Italy pay to move program in the Calabria section! For those who are moving to Italy because they just simply love the country, and for those who work remotely, freelance, or are entrepreneurs, this list will especially be useful!
1. Milan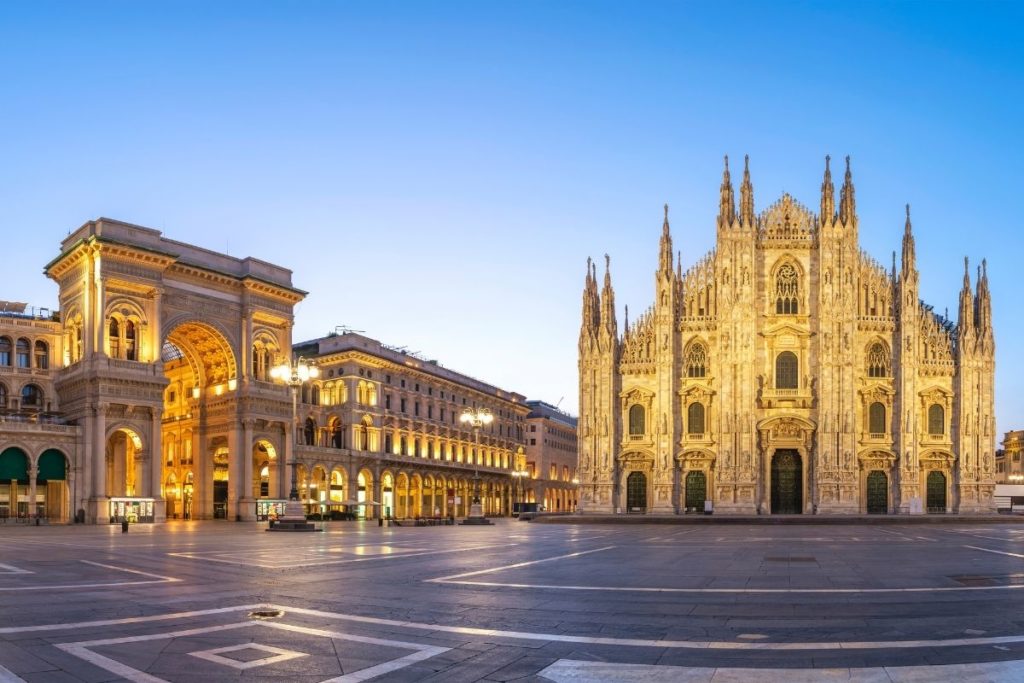 If we must pick the best place to live in Italy, we'd absolutely pick Milan. Being young adults, we obviously vote for the fastest-developing city that's packed with possibilities in each and every field. It doesn't matter that you're into finances, fashion, arts, or freelancing, you're an influencer or model, blogger, or entrepreneur, Milan is where you'd want to live in Italy.
Hence Milan is the financial capital of Italy, packed with new businesses, developing at a speed that makes Milan unique, this is also one of the best places to live in Italy as an American. Well, as I said if you're a young adult and you're looking for opportunities. But, if you ask how much is to live in Italy when it comes to Milan, the prices are in the sky.
I live in a town 1 hour away from Milan, and I know that moving there would mean spending about 3x more than what I spend now. Especially when it comes to house rent. A 1 bedroom apartment with a living room and everything else, in a nicer area costs between €1000-€2000 (depending on how nice the area is). If you go out from the city, the same type of apartment would be €500.
However, Milan is amazing to live in for different events, possibilities to engage in the art, visit galleries, eat in the best restaurants, and go out to the most amazing bars. So if you're a social butterfly, who wants to have the possibility to live in a metropolis that has it all, Milan is the place! I personally am also moving up there soon!
2. Rome
There's to decide which are the best places to live in Italy if you've got business goals because Rome has its own possibilities too. If you're asking if is it expensive to live in Italy in a big city, you must know that Rome is absolutely cheaper than Milan! It might surprise you, given that actually Rome is the capital city, but it is true.
Rome has its beauties which each of us who visit it makes us fall in love. It is definitely beautiful to live in such a beautiful historic city, but it all depends on what are your goals. If you're looking for the best places to live in Italy as an American or coming from any other culture, in Rome you'll find friends and connections easily.
During the past 7 years, I've met many Americans, Chinese, Australians, Brits, Germans, and people from many other nationalities who moved and live in Rome. Many of them work as self-employed, entrepreneurs, and bloggers, but many have quite great jobs, such as university professors. If you want to find an office job in Rome, I must warn you, that that is going to be really difficult, especially if you don't speak the language.
And especially if you're looking to work at an Italian company. There a re many possibilities for remote jobs in Rome, but it is not easy to catch one! As for the living costs, you'd still need to earn at least €1500 if you want to live well, and you're moving on your own.
3. Florence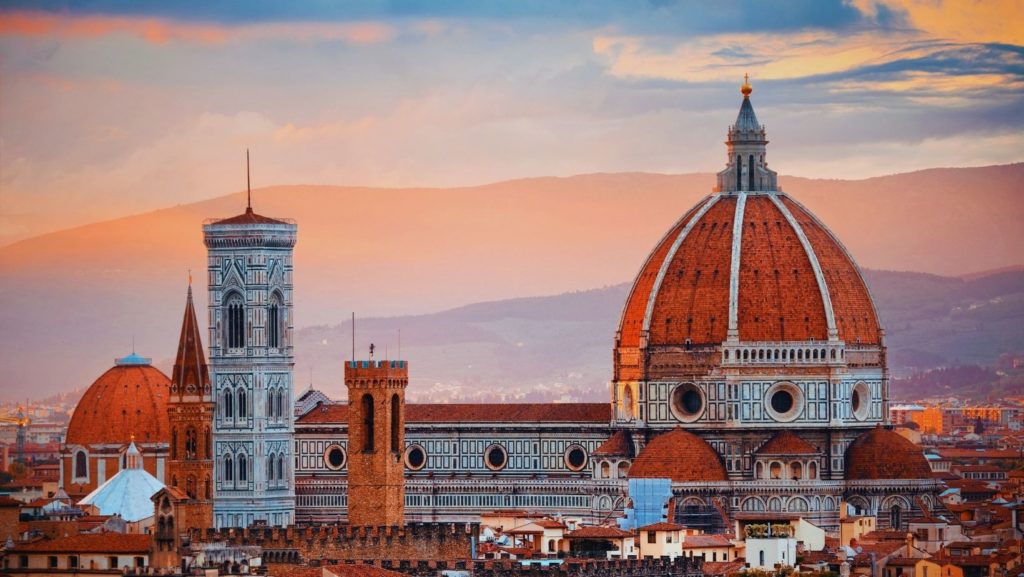 Florence is definitely one of the best places to live in Italy! If you're looking for the mid-way (and also literally) between Rome and Milan, then you should definitely pick Florence as your next home in Italy. If we want to name a mix between the cultural, historic Rome and the fast-developing, impulsive Milan, then it should be Florence we can pick.
A big city that's full of art, and beauty, but also many possibilities for work, and enjoy the Tuscan life. Florence is also one of the best places to live in Italy as an American because the language barrier isn't a significant issue in this city. Also, there are many American students as well in Florence, and many entrepreneurs and freelancers.
Florence is a beautiful city to live in, with the possibility to enjoy the Tuscan countryside over the weekends or take a quick road trip to the beaches of Tuscany. Also, Florence is much cheaper than Milan and somewhat cheaper than Rome, so if you're looking for a big city that's a bit more affordable, it's a good pick again! A one-bedroom apartment starts at around €650, but the nicer ones start at €750-€800.
4. Verona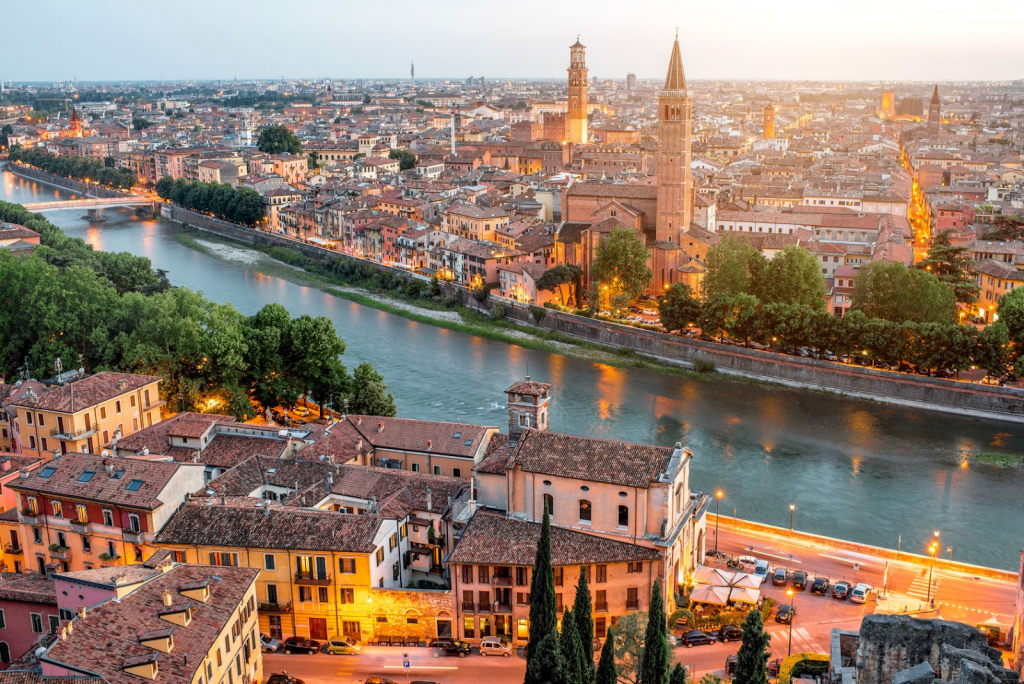 If you haven't yet seen the Letters to Juliet movie, and you're considering Verona for your new home-to-be, you better watch it right away! Verona is probably one of the best places to live in Italy as an American for many reasons. First of all, it's not as big as Milan, Rome, or Florence, yet it's big enough to feel like you are actually living in a big city.
The cost of living is definitely less than in the big cities, but it's still hitting a higher price. You could find a 1 bedroom apartment for €800-€1200. One of the main reasons I really love Verona is that it's really clean, beautiful, and peaceful. It's a great place for those moving on their own, also for families, and elders too.
Verona is located between Venice, and Milan, which makes it an amazing spot for those who love to travel and need to be near international airports too. Nearby are some amazing places to stay like Lake Garda, Trento, Bolzano, the famous Dolomites, and more. If living only 10 minutes away from Lake Garda, which is absolutely beautiful, and if I'd not have my career standing in the way, I'd definitely move in this area.
For those who love outdoor activities, this place to be your home absolutely amazing, since in the nearby mountains you've got plenty of places to go for Via Ferrata, cycling, rock climbing, trekking, or simply hiking. Moreover, all those sports you could do on the lake. Oh, and let's not forget the fact that there are plenty of wine regions around Verona.
5. Bologna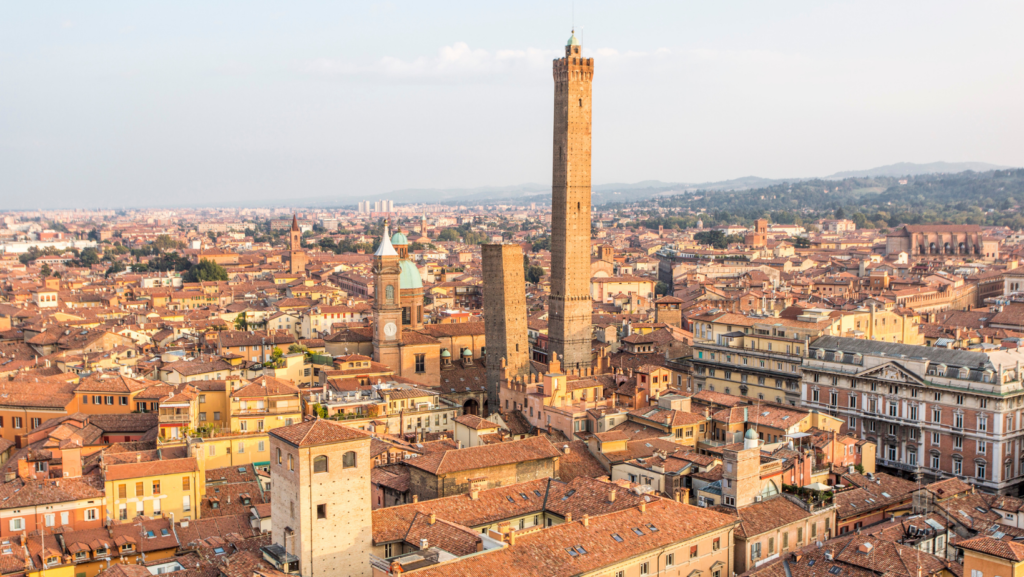 When it comes to the best place to live in Italy, it really all depends on what you'd prefer, what lifestyle, what possibilities, and what budget you have. Bologna is definitely one of the best places to live, especially for young adults. The city is trying to keep up with the development of other regional capitals, and there's so much to see.
Bologna is a really nice place, having its beautiful, peaceful sides, and those sides that are packed with youth, university students, and it's full of life. Now, since Bologna is the capital city of the Emilia Romagna region, it's the place where you want to go for the best ever food. You must know, that Bologna is considered the food capital of Italy.
So for those whose life revolves around delicious, high-quality food, and you're looking for a nice, historic city to live in, a university city actually, Bologna is a great pick. Prices and living costs are somewhat like Verona, so we can categorize it for living costs to be a mid-range city.
Bologna is also close to Venice and Florence. While I'm writing this article I'm actually on the train between Bologna and Florence. It's only one hour ride with the Frecciarossa (high-speed trains). It's really convenient place to stay if you want to easily travel both to the north and the south, and have the sea somewhat close too.
6. Siena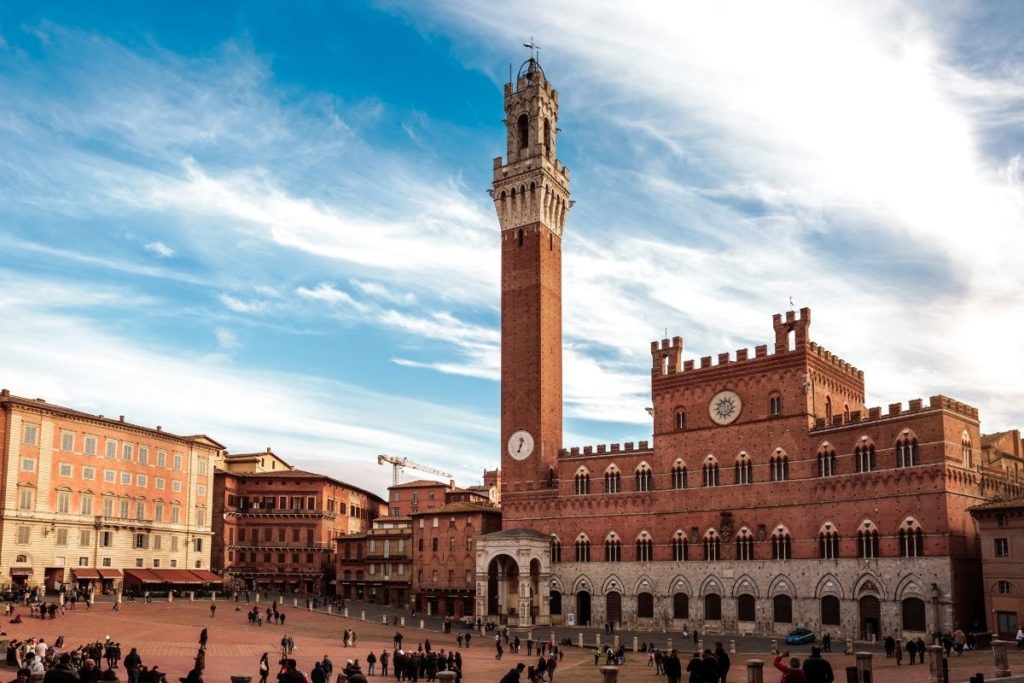 Siena is one of those beautiful Tuscan towns that are really popular with visitors, so it's pretty international normally. It's also one of the cheapest place to live in Italy, if you're looking for mid-size cities, with an amazing medieval and Renaissance vibe, traditions, amazing food, and wine. Lots of wine!
As you may know, Tuscany is one of the most famous regions in Italy for winemaking, and especially in the area surrounding Siena, this is true. You can find so many vineyards you won't be able to count them. So for those, who are dreaming of the Tuscan countryside, but still want a city instead of a village, Siena will be a great choice.
The beautiful hills around the town and the stunning villas on them are just magical. If you're not looking to rent, but to buy a property, close to a city, but not to an expensive city, I really recommend looking into Siena! When it comes to the costs, and how much is to live in Italy in Siena, for rentals, there are plenty of nice one-bedroom properties to rent for €600, but you could find 2-3-bedroom apartments for only €750.
7. Sorrento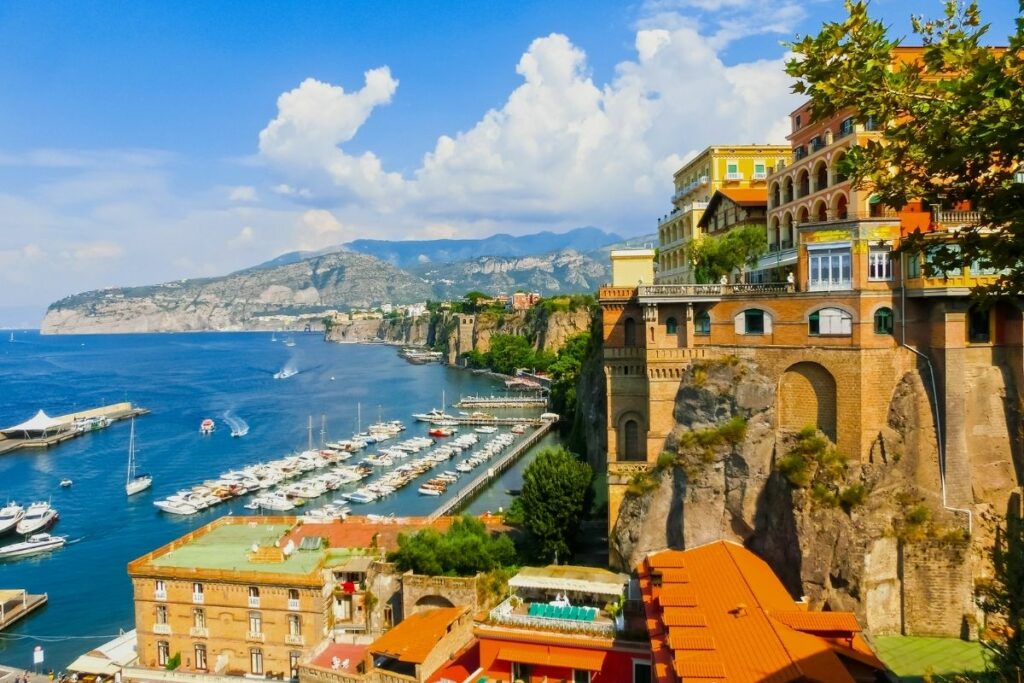 If I must pick a place by the sea, where I'd really, really love to live, that's definitely Sorrento! Even though the area isn't my favorite when it comes to the best beaches in Italy, Sorrento is an absolutely fabulous gem to move to (if you scroll down you'll also find my number one place by the sea)! However, if you're asking if is it expensive to live in Italy, in Sorrento specifically, the answer will definitely be Yes!
Apartments on Corso Italia, which is basically the main road of the town, start at €1500, and these are 1-bedroom apartments! If you move 60 minutes away, to Naples, it will be so cheap that this money would be enough to live happily for a whole month. However, I do not recommend moving to Naples as a foreigner! Maybe there are some who live there, but I personally wouldn't do it, even if I'm fluent in Italian and I live in the country for 2 years.
Sorrento however is the orange and lemon tree paradise, with the most beautiful sunset views over the Gulf of Sorrento and the Vesuvius volcano. The town is packed with visitors during the warm season, and it is a really beautiful, chic, and lovely place to live. Capri and the Amalfi Coast are 30 minutes away, and you've got the Ferry too if you don't want to drive to Naples. Plus, there's an international airport in Naples, so it's easy to travel.
8. Bari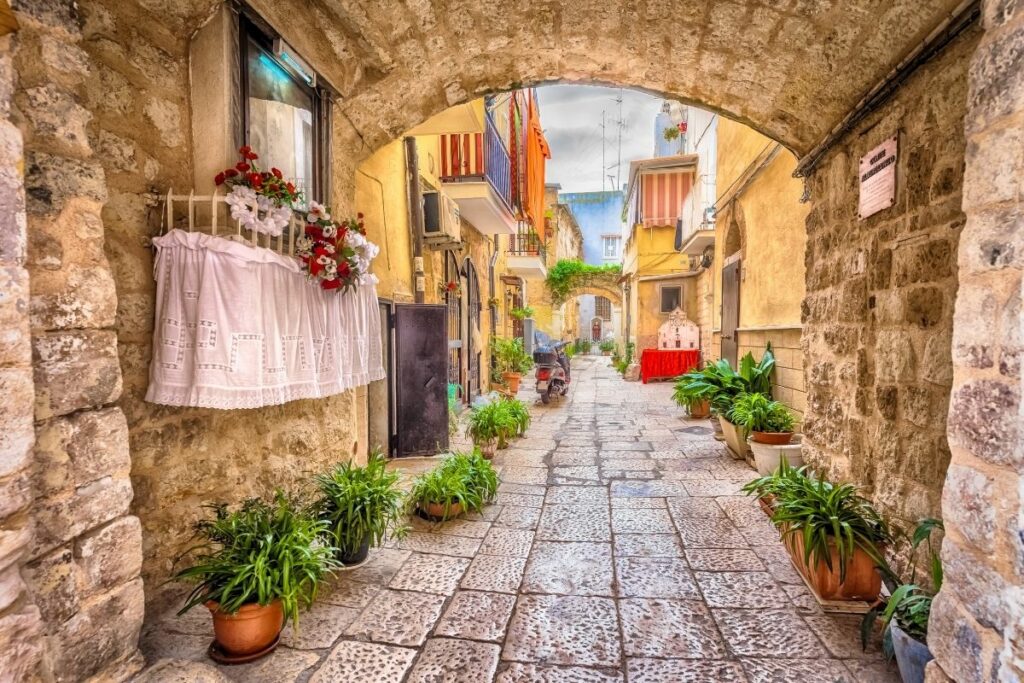 Crystal clear waters, charming southern Italian streets, sunshine, great Pugliese food, and also qualifies as the cheapest place to live in Italy when it comes to cities. It's not actually the cheapest though but it's one of them. Bari is the capital city of the beautiful region of Puglia. This is one of the most preferred locations for many Italians and it has also many international visitors who stay in Bari.
Bari is not an expensive place to live, and you can find really nice 1-bedroom apartments starting at €650. There are many places to visit around the city and kilometers of seashore with beautiful waters and stunning beaches. There are also possibilities for professionals from abroad to work in Bari, but for those who freelance, or want to start their own local business, Bari can be a great place!
The coastal city is fairly far from any of the top metropolitan cities in Italy, and even Naples is more than 250 km away. So if you seek a southern Italian life, far from big crowds and big cities, right on the coast, where you've got loads of beaches in Puglia to explore… Well, Bari is the place to go! This is a great area for those who want to move to Italy with family, but again, it all depends on your profession and how you want to sustain yourself while living in Italy.
9. Calabria region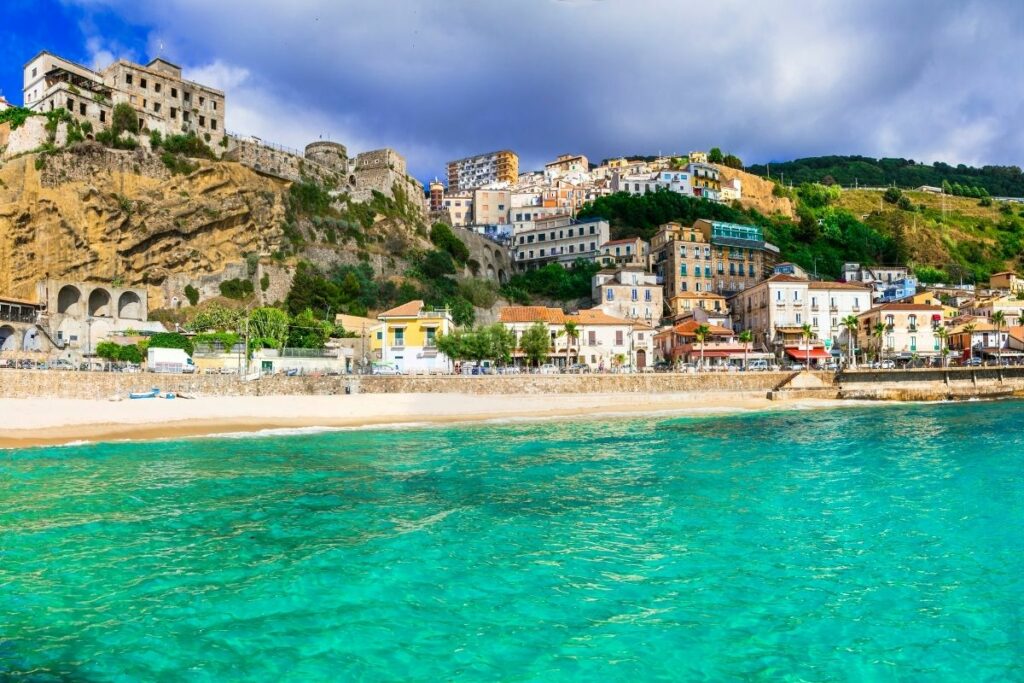 And here we are finally, at one of the best places to live in Italy, which many of you are searching for lately. We all heard about the 'Calabria Italy pay to move program, and I'm sure you want to know how to move to Italy and be paid, right? First, let's say a few things about the region, and then we'll share about this program too!
Calabria is the southern region of the Italian peninsula, while down south the next is the island of Sicily. Why we love this region is first of all for it's amazing beaches, and beautiful, untouched coastal towns. Calabria is one of the poorest regions in Italy, and this is also a reason why the pay to move program was launched. For those who want to open a local business here or freelance, or if you're an entrepreneur, Calabria will be a really cheap and also really beautiful place to move, if you can stand the heat in the summer.
The pay to move program in Calabria region started to fill up those villages which now start to get completely empty. Some of these are Albidona, Santa Severina, and Bova, among others. All beautiful historic towns, charming streets, and magical vibes. A dream for anyone who wants to move to Italy because you love this typical architecture too. Now, the program has limits, and there are requirements, such as being under the age of 40, but the region is paying you over €30.000 to move there. And if you can, why wouldn't you?
10. Montepulciano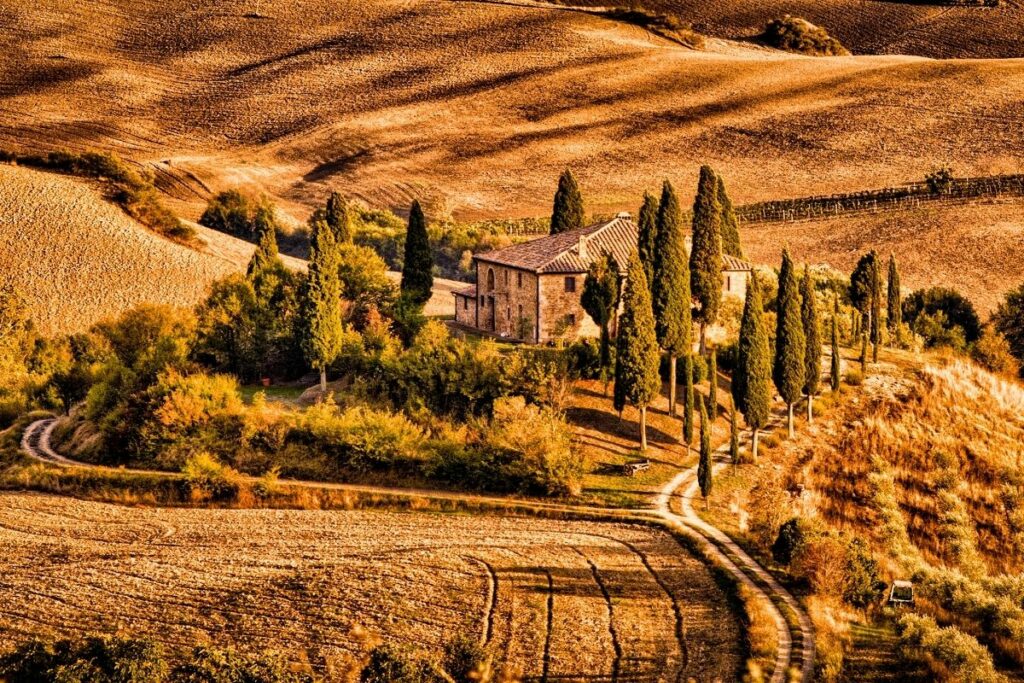 Now, for all of those who are dreaming about an Under the Tuscan Sun-like life in Italy, the hills and countryside of Tuscany are the dream place when it comes to living in Italy. If you're one of these individuals, and your biggest dream is to live in Tuscany, we should look into the places where to live. If you don't speak Italian, and you must connect with locals, you must pick places where tourism is on top.
Some of the best Italian towns to pick from are Volterra, and San Gimignano if you want to stay closer to Florence, but if you want to live on the most beautiful side of Tuscany, the area of Montepulciano and Chianti are the places for you! But how much is it to live in Italy in the countryside? And why could be this the cheapest place to live in Italy?
As a foreigner, if you want to move to the Tuscan countryside, it's not because you want to have an office job where you have to present yourself at 9 am in the morning. Here you move because you're working online, writing books, dreaming to have your own vineyard, olive grove, or cashmere home fabric. Maybe because you want to open an agriturismo or a b&b. So for all of these, you must be wanting to buy a house and not just rent one.
If so, the countryside houses in Tuscany, especially in the area of Montepulciano, the prices vary anywhere from €95.000 to €2.000.000. This all depends on what are your plans and what are your standards. There are actually very cute houses for only €100K, and there are beautiful villas for much more.
11. Costa Smeralda, Sardinia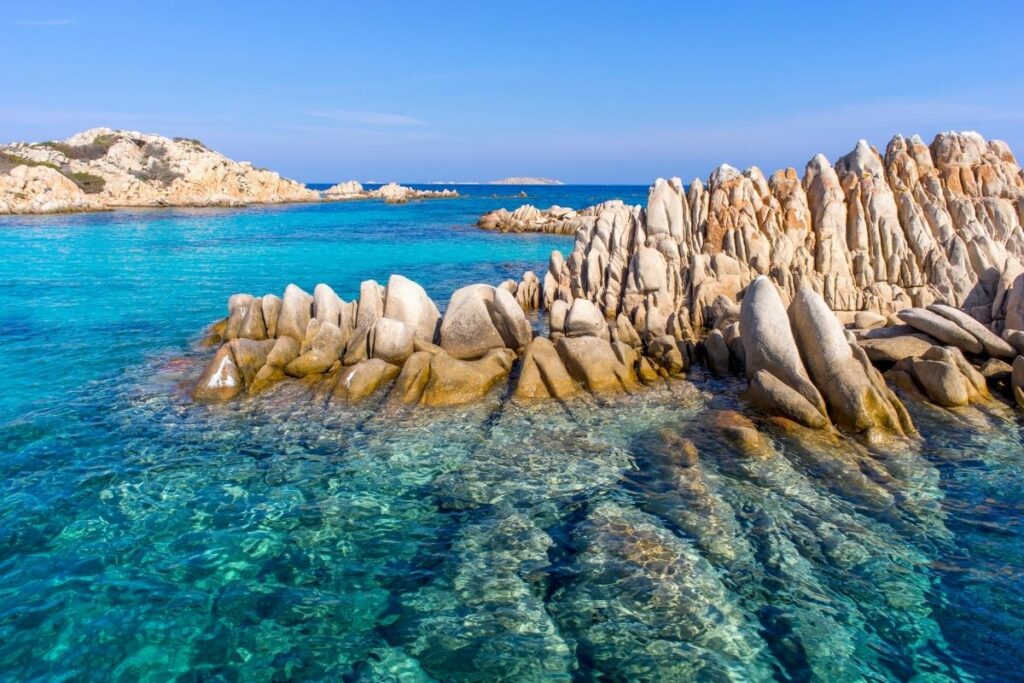 It's not the town or the city you should consider the Emerald Coast in Sardinia! Imagine living in a place where you have the most incredible beaches and seasides you're ever seen! Well, that's the Costa Smeralda on the beautiful island of Sardinia, which is one of the favorite summer destinations of many Italians, and not only!
Living in cities like Olbia or the fancy Porto Cervo doesn't come cheap, so it's not really the cheapest place to live in Italy, however, that beauty is worth the investment, of course, if you want to invest in living on an island. I must warn you though, that Sardinia is not ideal for those who are looking to find a job in a town, maximum if you're looking to work in the hotelier industry.
However, even then, there's no year-round tourism, since as I said, Sardinia is mostly a summer destination. So for whom is good to live in Sardinia? For those who seek to get away from the world, who enjoy peaceful places, surrounded by the sea, beaches, and hot summer days. In the winter, there's not so much to do in the area, so you really must consider it well before moving here! Ideal for entrepreneurs, and digital nomads who spend their day at their PC and seek the sun and seas after work.
12. Ravenna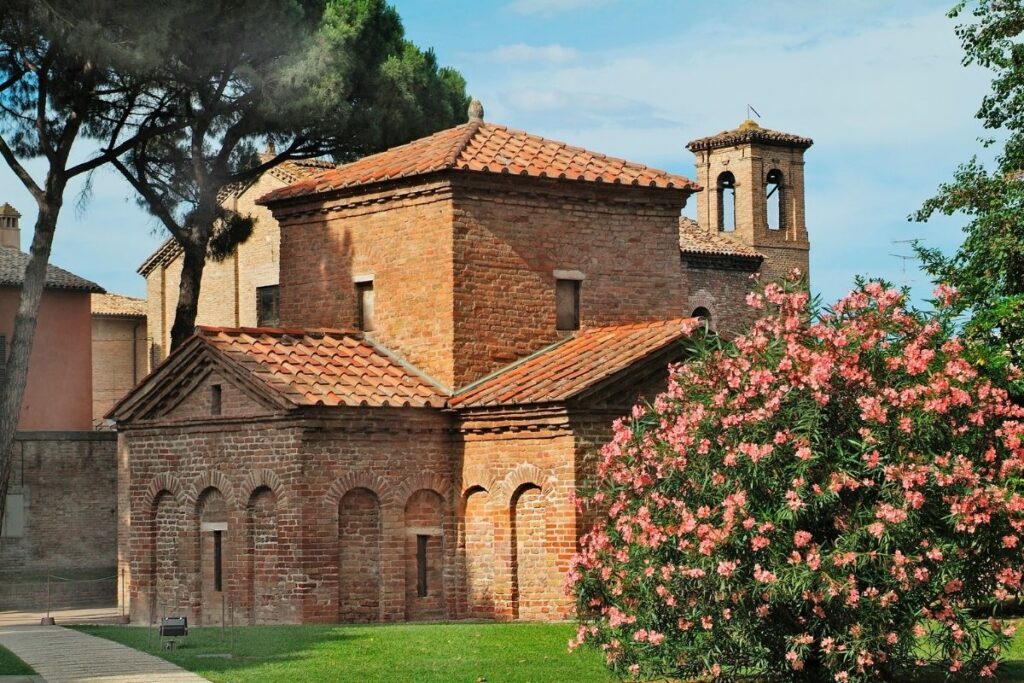 Just as with Bari, and other coastal towns, Ravenna is a beautiful coastal town to move to, and it also has quite significant tourism each year. Ravenna is in our favorite region, Emilia Romagna, just as Bologna, Parma, and Piacenza, which we've added to this list! The only thing that's different between Ravenna and these other cities though, is that Ravenna is on the seaside.
So if you want to live by the sea, in a fast-developing, foodie region, Ravenna is the place for you. Rimini is also really popular, but during the summer it's so packed with tourists, that I would suggest Rimini just for those who actually love to be a social butterfly, and they don't mind the busy summer months.
Ravenna on the other hand is much more peaceful, yet it offers the same possibilities and beaches as Rimini, and there's also plenty of history, architecture, and art to discover. And, if you need a place that's not far from cities with international airports, well, you've got Bologna and Venice about an hour away!
13. Parma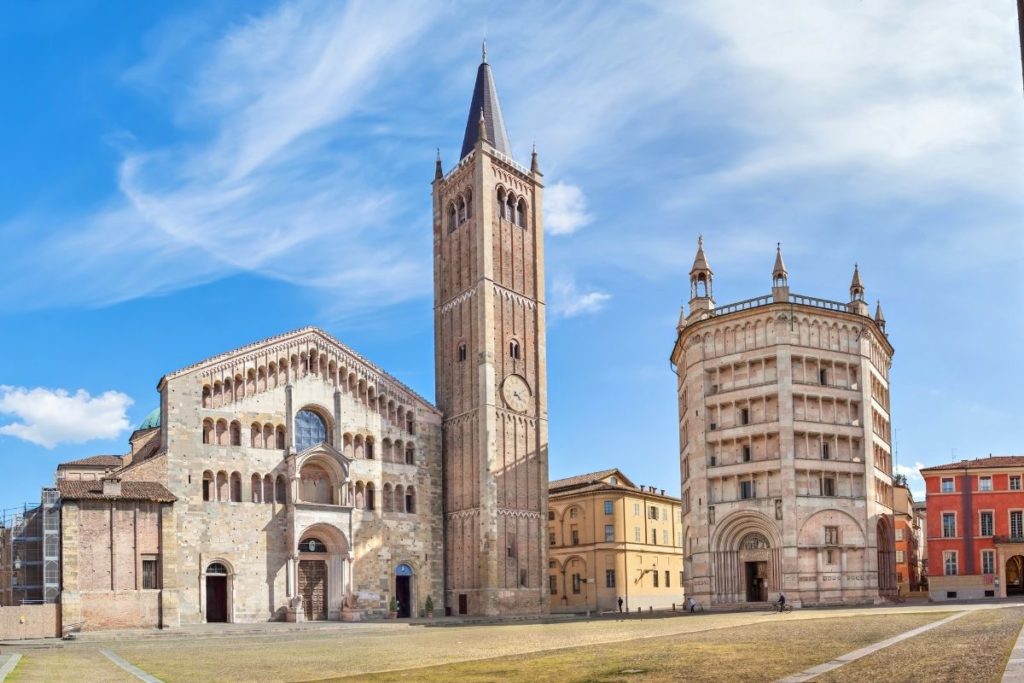 Parma is one of those towns which I personally considered moving to when I moved to Italy. In the end, I went with the cheaper neighbor, but if at that time financials wouldn't be such a strong factor, I would've definitely picked Parma! The heaven of food, the famous Parmigiano Reggiano, the Prosciutto do Parma, and many other delicious and worldwide famous food products and dishes.
For all foodies who are moving to Italy, after Bologna, and before Florence and Siena, I recommend in 2nd place to consider moving to Parma! The city is about 2 hours from Milan, and one hour from Bologna, so you've got two big cities, and 4 international airports in a 2-hour radius! Also, Parma is fast-developing and it's getting more and more international visitors, so it's a great pick for English speakers!
Now, how much is to live in Italy, in Parma? Usually speaking, you can find nice 1-bedroom apartments starting from €600. Living costs are definitely cheaper than in the big cities, and Parma is an elegant and beautiful town, where you've got the possibility to do many things. For social butterflies and art lovers wouldn't be a boring place to stay either!
14. Como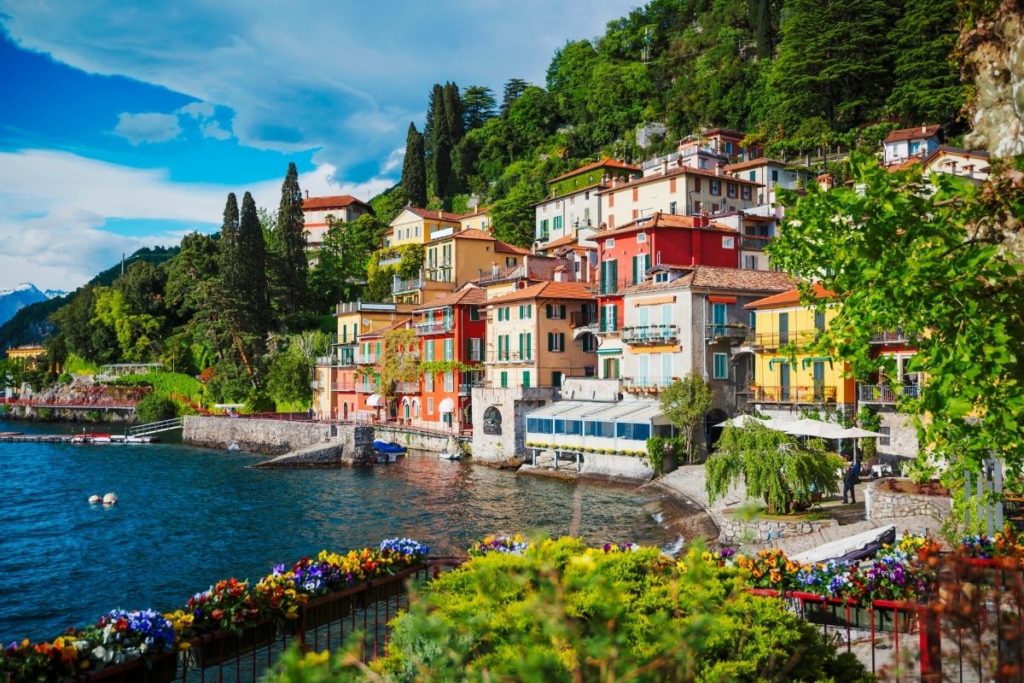 Lake Como is definitely one of the best places to live in Italy for those who can afford it! You might have already heard that many American celebrities have properties at Lake Como, but not only Americans. Some of the most famous Italian fashion designers as well have their residences by the lake. So, as you can imagine, Lake Como has become a sophisticated area for the elite.
This doesn't mean that you couldn't move there, or you couldn't find an affordable rental in one of the towns around the lake! Quite the opposite! If you're looking for the best places to live in Italy as an American for example, but basically anybody who's an English speaker, Lake Como is perfect! Many visitors come each year to the lake from all around the world, as well as I said, not only the Italian elite lives here!
In towns like Como, prices for rental properties are starting at €750, and I'm talking here again about a 1-bedroom apartment. So, indeed, it's not the cheapest, but it is beautiful, peaceful, and it's really close to Milan! Those who would want to move here but they need to go in the city more times, it's only about an hour drive to do so!
15. Piacenza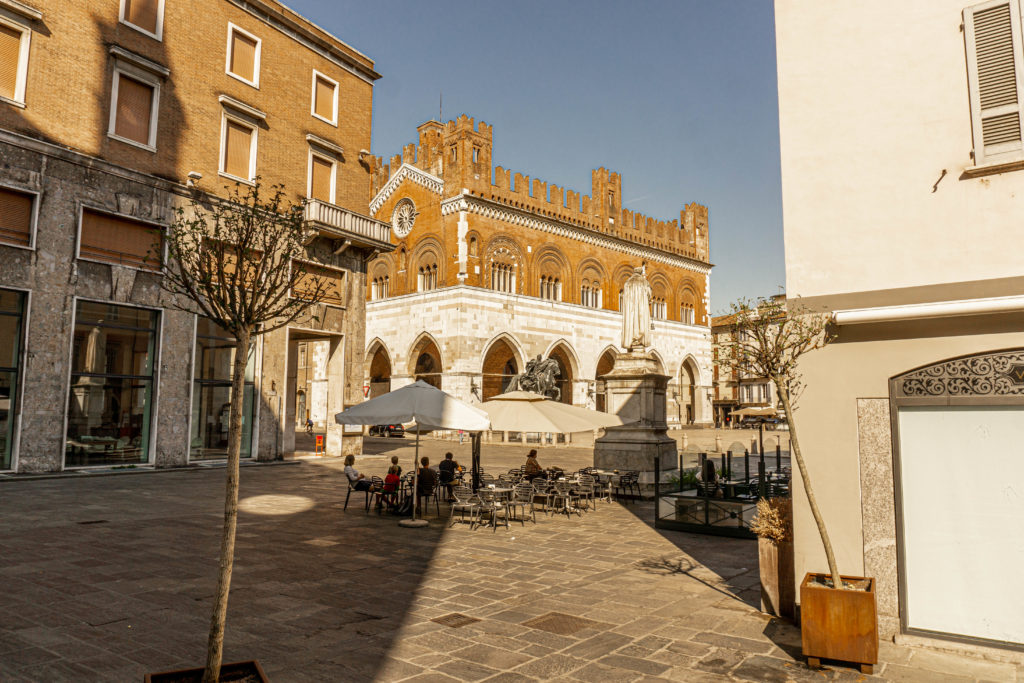 Now, at last, I left this beautiful little town just an hour away from Milan. Piacenza is one of the cheapest places to live in Italy if you want to be really close to Milan, and if you wish to stay in a historic town with strong traditions, and breathtaking sights just a few kilometers up to the pre-Apennines. Piacenza is in the region of Emilia Romagna, the food region that's also home to hundreds of Italian large companies, fabrics, and headquarters of some of the best food brands.
If you're looking for a peaceful, safe, and balanced place, which is bigger than a village, yet smaller and cheaper than a big city… If you're looking for a town where you'd find cultural events, and a place that's affordable, yet you can have access to all that you desire for comfort, Piacenza is your place.
I must warn you though, that indeed, people in Piacenza are just amazing, a language barrier may stand between you and them. Indeed younger generations speak English, many of them really do really well indeed, but there are many who don't speak the language at all.
Though this won't stop you from being able to initiate a life here. At the university in the city, there are many students from abroad, so it's not like the town would be super introverted. It's just more traditional, and peaceful than others because tourism didn't yet take over it. When it comes to Piacenza and how much is it to live in Italy, you can find a two-bedroom apartment easily (and I mean it!) at around €500.
It's a great place for those who are working on their own, but there might be possibilities for you in the area, depending on your profession. It's also great if you'd be working in Milan, but you want to go home to a quiet place, and you don't mind traveling 1 hour each way.
Wrapping up the 15 best places to live in Italy
There are many small towns and villages to move to in Italy, and many others can be the topic of the best places to live in Italy as an American, but we wanted to highlight the best of the country. Including in this is the Calabria Italy pay to move program, and overall the best places where you can consider moving to Italy. We also highlighted details on the question if is it expensive to live in Italy, so we hope you have your answers now! Make sure to check around our website, and explore the articles on the city or region you're planning to visit or move to!
Pin it: 15 Best places to live in Italy