10 Best Beaches in Puglia Italy
When it comes to Puglia beaches, the possibilities are almost unlimited! The best beaches in Puglia can adapt to all tastes! If you want to spend your holidays in wild locations, or in fully equipped establishments, Puglia has everything you need! This region has white and sandy beaches on the Ionian Sea, but also rocky ones on the Adriatic Sea. Puglia is a dream summer destination offering beautiful towns, great food, and beaches all along the coast of the region!
10 Best beaches in Puglia Italy – Puglia beaches
Some of Italy's most beautiful beaches are located in Puglia. Did you know that in Salento you can dive into two different seasons on the same day? You can go from sandy and shallow beaches to wild ones. The region of Puglia is quite wide, and it has a really really long coastline, so it's always smart to rent a car, and plan a trip where you're moving constantly, or you'll miss too many things! You can pick to spend a few days in Bari, then move along the coast to the south!
I'm telling you this because the most beautiful Puglia Italy beaches can be located even 300 km away from each other. If you want to explore more than a few places nearby, a car is definitely needed! But which are the best Puglia beaches no one should miss? In this list, you will find the 10 best beaches in Puglia!
1. Torre Lapillo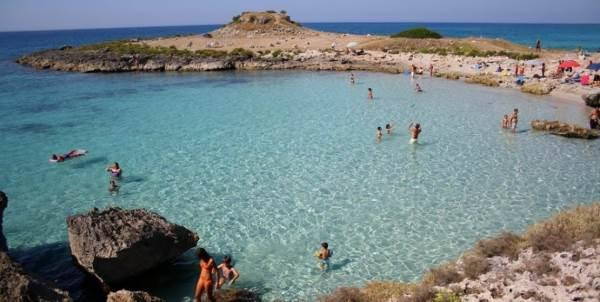 One of the best beaches in Puglia Italy is Torre Lapillo. This wonderful beach has white and soft sand and turquoise waters. Visitors can access this paradise through many different wooden walkways that connect the town to the sea.
This is the perfect place for those who want to relax without giving up their dream beaches. There are also equipped facilities such as Lido Pineta and Lido Canne. A Puglia Italy beach you must visit!
2. Sant'Andrea's Stacks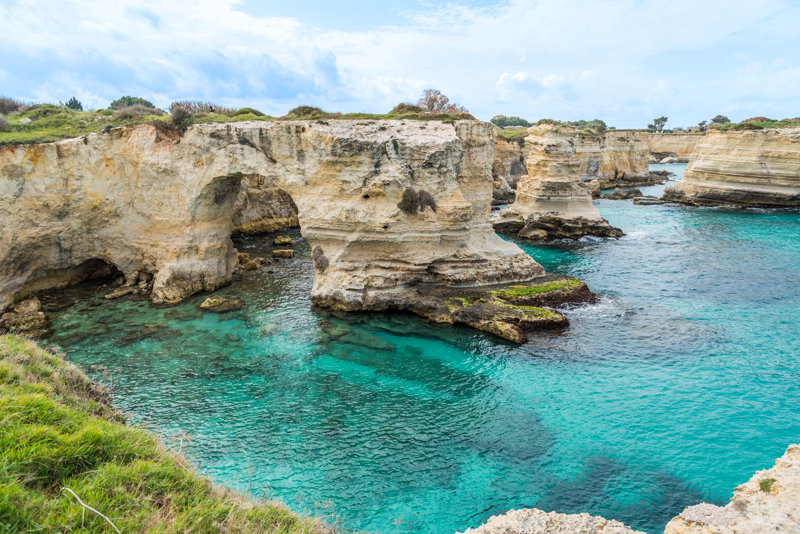 Sant' Andrea's Stacks are one of the most beautiful Puglia beaches we've ever seen! If you like wild and unspoiled beaches, a few kilometers from Otranto, you will find the perfect beach for you: Sant'Andrea is famous for its stacks that emerge from blue seawater, moreover, here it is also possible to dive. Arco degli Innamorati (lover's arch) is the most famous stack thanks to the amazing view, especially at sunset.
If it's windy, we don't recommend jumping into the water, as it can get pretty dangerous. However, if the weather is calm, you can easily jump, dive, and swim here. The water is crystal clear, the view is amazing, and as we've mentioned, you don't want to miss the sunset at the arco degli Innamorati!
3. Punta Prosciutto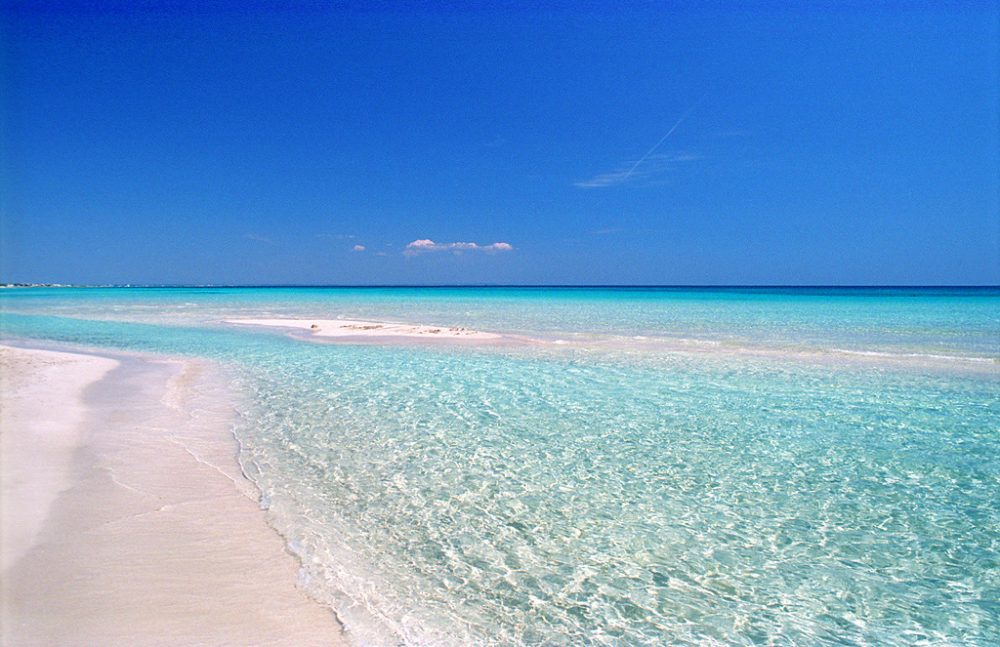 Punta Prosciutto beach Puglia is a long stretch of about 4 kilometers of soft white dunes with the blue water of the Ionian Sea. It is very simple to reach the beach, however, it is necessary to cross a thin strip of lush Mediterranean scrub.
Water is shallow and there is usually no wind, therefore the sea is calm and flat. These characteristics make it a perfect beach in Puglia for children. It is usually very crowded, so better to reach this paradise early to get a good spot!
4. Baia Verde – Green bay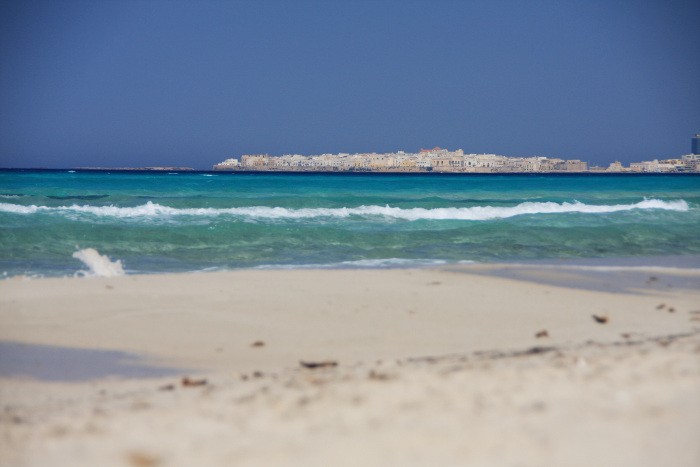 Another great pick for Puglia beaches, where we also spent a day last summer! A little less than 4 kilometers south of Gallipoli, tourists can find another of the most beautiful beaches in Puglia: Baia Verde (green bay). The sand is golden and the water is shallow and green.
There are bathing establishments in which it is also possible to dance from afternoon until dawn, in fact, Baia Verde is one of the favorite destinations for young people, and one of the best beaches in Puglia!
5. Torre dell'Orso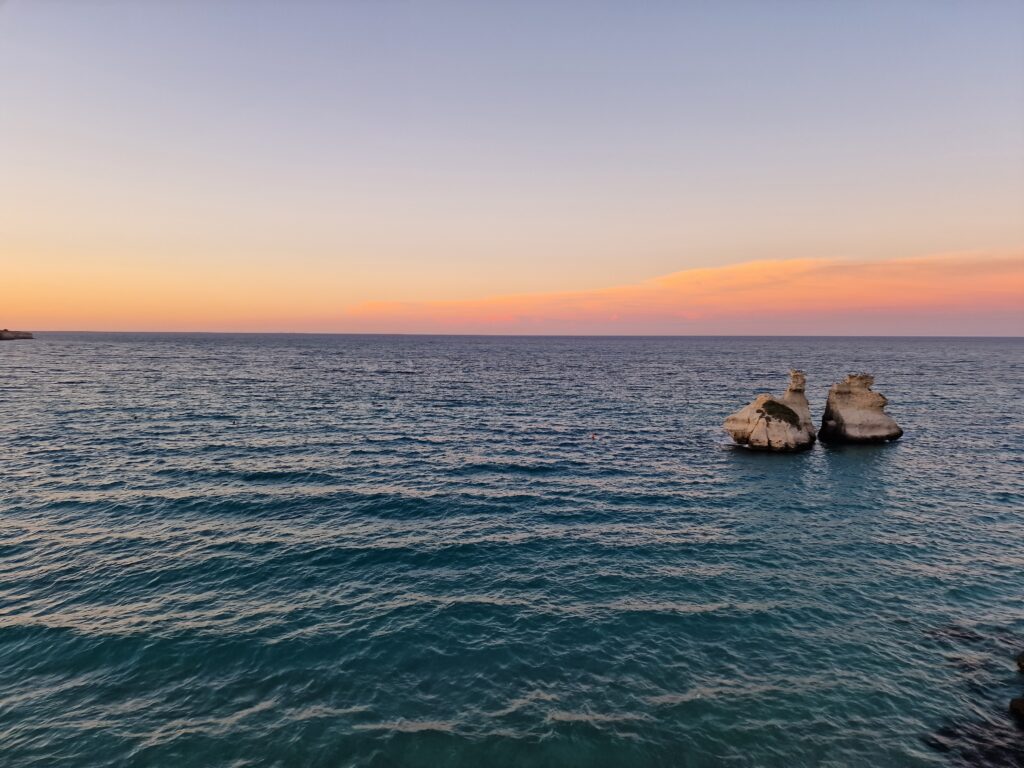 Torre dell'Orso (the bear's tower) is a marvelous location, also famous for its tourist sustainability. The most famous glimpse of this place is that of the two stacks, also known as the Two Sisters. The water is clear and crystalline, at sunset it's breathtaking! By the Torre dell'Orso there's a long sandy beach with beach clubs, restaurants, and everything you'd need for a great beach day.
A few kilometers from Torre dell'Orso, we recommend that you visit Roca Vecchia, where Grotta della Poesia is a real natural swimming pool. Torre dell'Orso is one of the best Puglia beaches, though to reach it, you definitely need a car, especially if you're not staying in the area! We drove down here 2 days in a row from Polignano a Mare, since we found this to be one of the best beaches in Puglia Italy. Worth 3 hours in the car!
6. Baia delle Zagare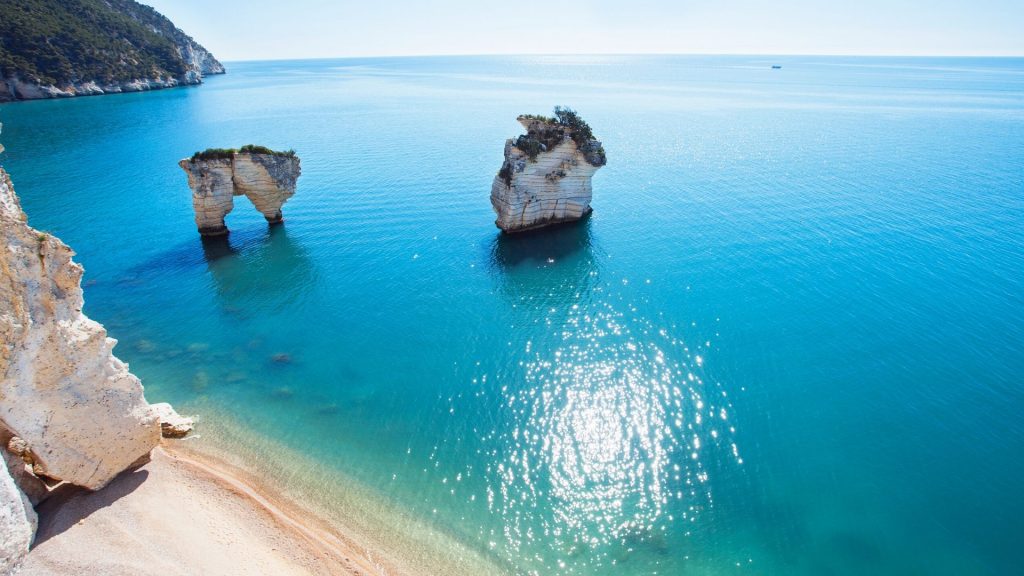 Another highlight for Puglia beaches, Baia delle Zagare is a hidden beach in Puglia featuring two imposing cliff stacks that overhang the crystalline sea. To reach it, it is better to leave the car at the Vignanotica bay car park. Baia delle Zagare is that Puglia Italy beach which many will be skipped by visitors because it's so out of the way.
There are a few ways to reach the symbolic bay of the Gargano: through the resort of the same name or through paths that start from the main road, in addition, it is also possible to reach the bay by boat. To reach this place, you need a car, as it's located about 150 km north of Bari.
7. Baia Vignanotica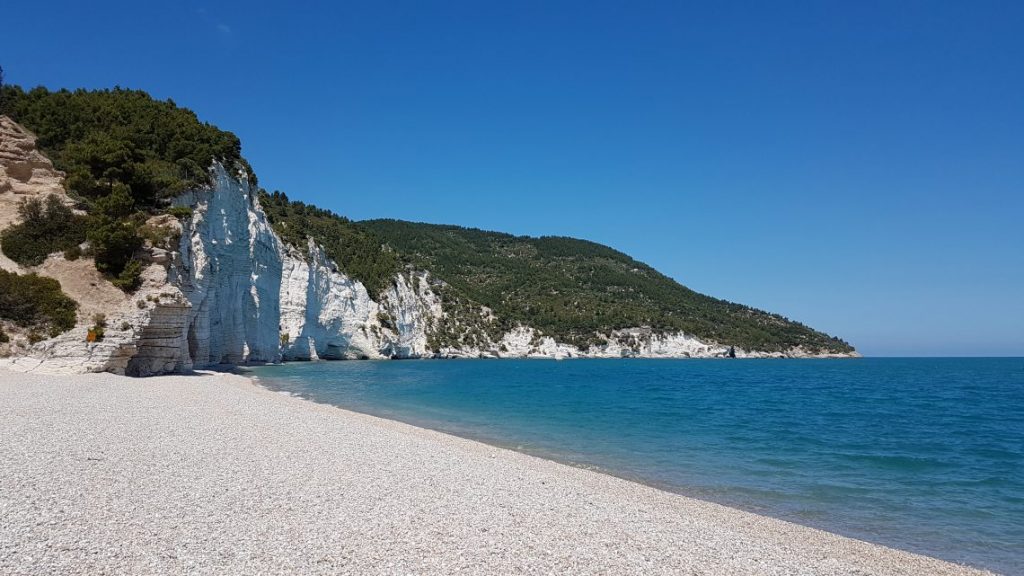 When it comes to the best beaches in Puglia, Baia Vignanotica is unmissable! Baia Vignanotica is spectacular as the Zagare, however, it needs a bit of effort to reach it. There is a path that passes through the Mediterranean scrub. It leads to the marvelous white beach that recalls the whiteness of the cliffs that frame it. It is a pebble beach of limestone origin.
8. Manaccora bay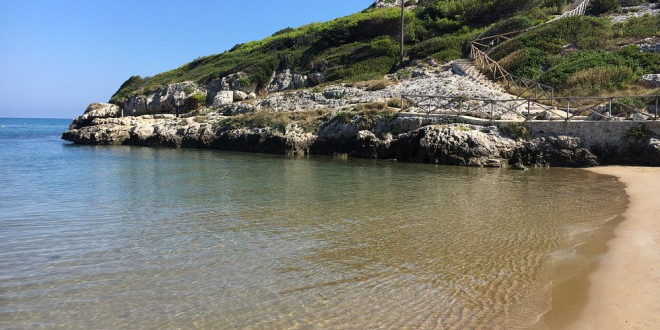 It has one of the most beautiful views of the coast of Peschici, near the Grottone di Manaccora, a majestic natural cavity about 90 meters long and inhabited during the Bronze Age. Here tourists can find both free beaches and establishments. The sand is golden sand and the beach gets very crowded during the peak season. Different somewhat, but it's still one of the best beaches in Puglia!
9. Cala Lama Monachile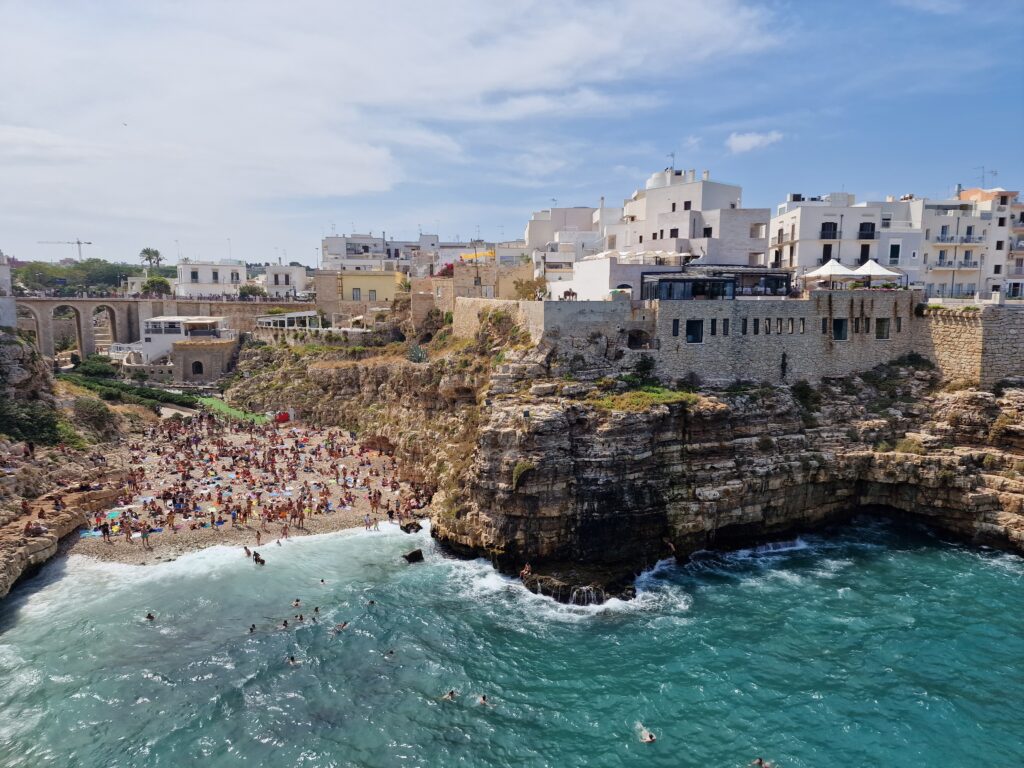 Cala Lama Monachile is for sure one of the most iconic Puglia beaches! When it comes to unique and beautiful beaches in Puglia, Cala Lama Monachile is one that everyone must see! It is located in Polignano a Mare city center.
Literally in the city center! It is a free small beach between two beautiful cliffs on which the historic center is built on basically. The sea is turquoise and clear, and there is also a Roman bridge behind the bay. As you can imagine, this place is usually really packed, but it's really worth visiting!
There are plenty of restaurants in the area, cliffs to jump off into the water, and you can even rent a paddleboard to enjoy the view of the town from the sea! In the evening, there's a DJ set at the beach bar nearby, the bay is lighted up, and from the cliffs as well as from the beach the views are exquisite! Definitely one of the best beaches in Puglia!
10. Pescoluse
Here's another highlight of incredible Puglia beaches! Also, known as the Maldives of Salento, Pescoluse beach is popular because of the colors of the landscape and the fine sand, in addition to the unique sunsets.
This peach is a paradise, moreover, it is perfect for children to play with the sand and swim in transparent waters. There are also equipped beaches where tourists can practice water sports, and relax, but can also party. A Puglia Italy beach that's perfect if you're looking to enjoy the summer to the fullest!
Wrapping up on the 10 best Beaches in Puglia Italy
Puglia has it all: from Caribbean-like beaches, clear waters, soft sand, pebble beaches, and stunning stacks! Tourists can find equipped beaches and enjoy all possible sports, but also relax in nature. Beyond the best Puglia beaches, there are plenty of great things to do in Puglia. Visiting different towns, doing sports, going to Matera in the Basilicata region, eating great Pugliese food, and enjoying the nightlife of Bari.
Italian version: Spiagge piu belle della Puglia
Pin it: 10 Best Beaches in Puglia Italy – Puglia beaches