10 Best Food in Puglia Italy
Puglia food is one of the best types of food in Italy – I said what I said. Having lived in Italy for about a year now, I know that Italian dishes are some of the best in the world. From food festivals in Puglia to some of the most famous dishes in Naples like the Pizza Napoletana, each region has its specialties. Fortunately for all who visit Italy, I've not yet come across one region that didn't offer mouthwatering dishes.
Today though, I want to share with you what to eat in Puglia. The first time I visited Puglia (another typo: Apulia), I ate my soul off. And I think it's a great idea to share with you some of the best specialty dishes in Puglia. That's how you will know that life – really – is worth living. No joke!
Puglia Food: 10 Best Dishes and Pastries in Puglia
Beyond day trips, towns, and beaches in Puglia, the food is something you can't ignore! You're about to discover some of the Puglia dishes that have set themselves as must-try dishes in Italy. Traditional food in Puglia has remained very colorful with history. Indeed, the region is very big on tradition, on cooking rules, and on using the freshest produce.
It's no wonder why Apulia food is famous all around the world. From the famous orecchiette patiently made by mothers to amazing street food like panzerotti, there's so much to discover, so much to taste, and so much to fall in love with…
1. Panzerotti – Street Food Puglia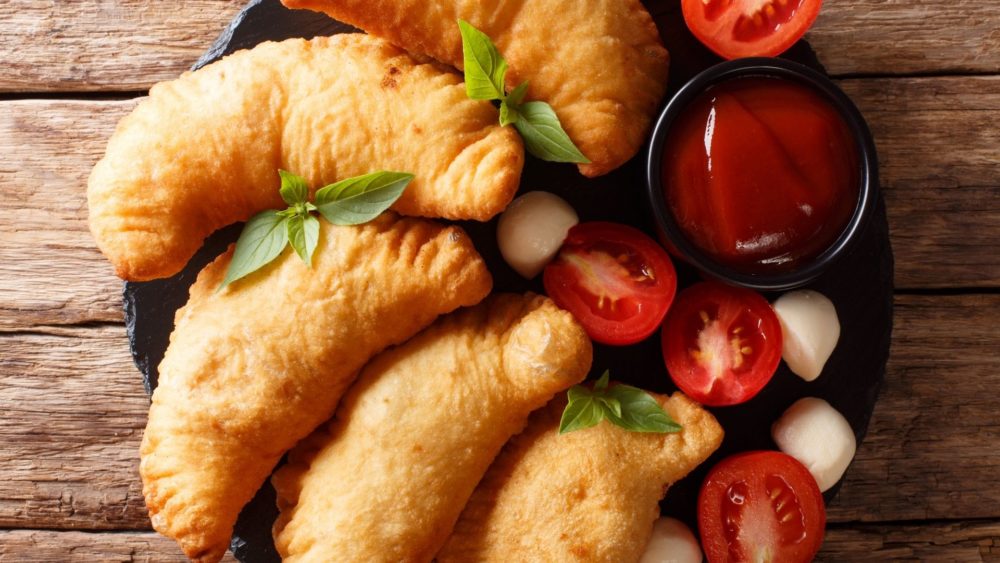 One of the best Puglia food specialties is the panzerotto. Panzerotti is small pockets of dough that Pugliesi fills with many different recipes. The most popular version of the panzerotto includes the famous mozzarella from Puglia and tomato. Easy, delicious, and deep-fried in happiness.
If you'd like to compare this Puglia food favorite to another Italian dish, I'd say it's a famous type of street food like arancini or supply in Rome are. However, the panzerotto is inevitably better – I should say I am biased. Whenever someone talks about melty mozzarella in a dish, I get crazy. Eat your panzerotto on its own or with an accompanying sauce, and you'll understand the meaning of "heaven on Earth".
2. Traditional Food in Puglia: Orecchiette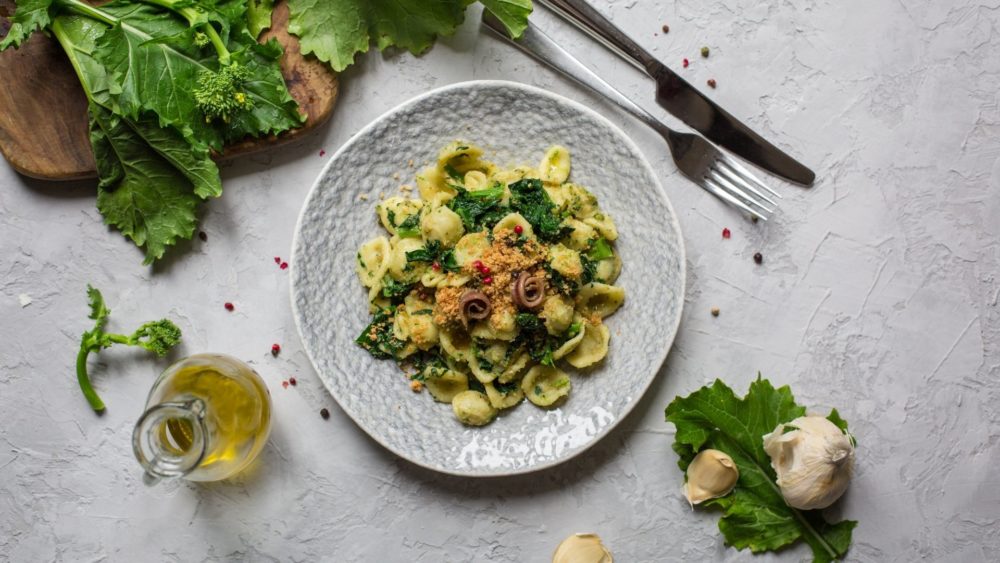 If you've been wondering what to eat in Puglia when you visit, one of the most famous Apulia food types is the orecchiette. I've seen firsthand women in Puglia prepare the orecchiette patiently for their families. It's an all-year-round pasta type that is easy, but long to make.
It does feel like the Puglia dishes take more time to prepare than most in Italy. However, it also shows just how the region is still much engraved in tradition. It feels vital in Apulia to not lose the Italian identity, and it's something very honorable.
Of course, the orecchiette tastes like this essential need for tradition. The most common way to enjoy this type of pasta is with broccoli rabe, pesto, or homemade tomato sauce.
3. Puglia Desserts: Pasticciotto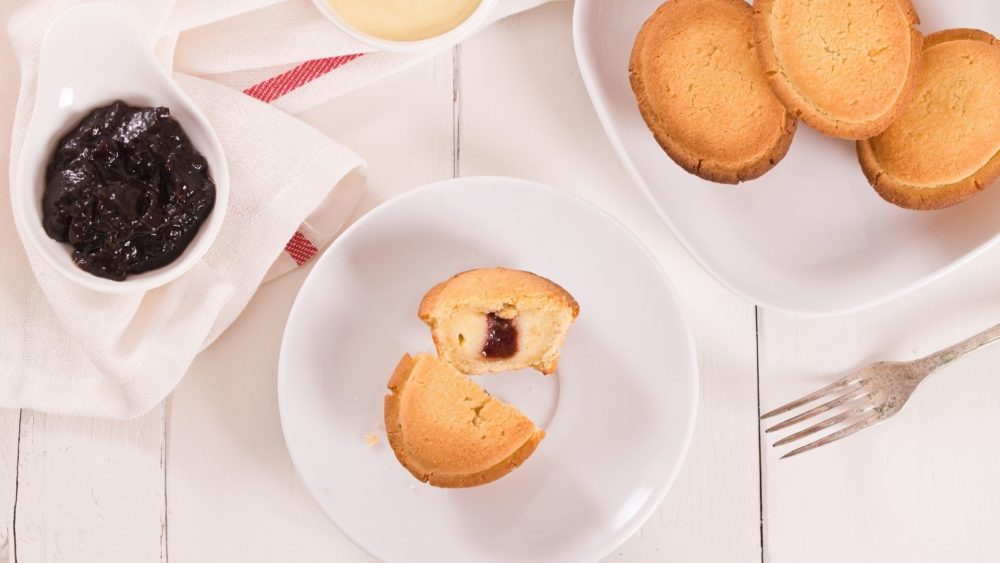 One of my very own Puglia food specialties is the pasticciotto. Of course – you didn't expect Puglia food to be all about savory, and no dessert, did you? The pasticciotto is a very heavy crust pastry filled with pastry cream and, at times, fruit or chocolate.
Fun fact: traditionally, the people from Puglia use lard to make the crust even more melty-melty in the mouth. The tradition, since the two centuries the pasticciotto exists, has been slightly lost. People now use butter for this Puglia favorite, but the cream – oh, the cream. You have never tasted cream that thick and that sticky on the palate.
The pasticciotti are a specialty that you can find all over Puglia, but they are that much more famous in Lecce. Indeed, the pasticciotto leccese is the must-try in the city.
► Read: 10 Most Famous Roman Dishes To Try in Italy
4. Apulia Food: Taralli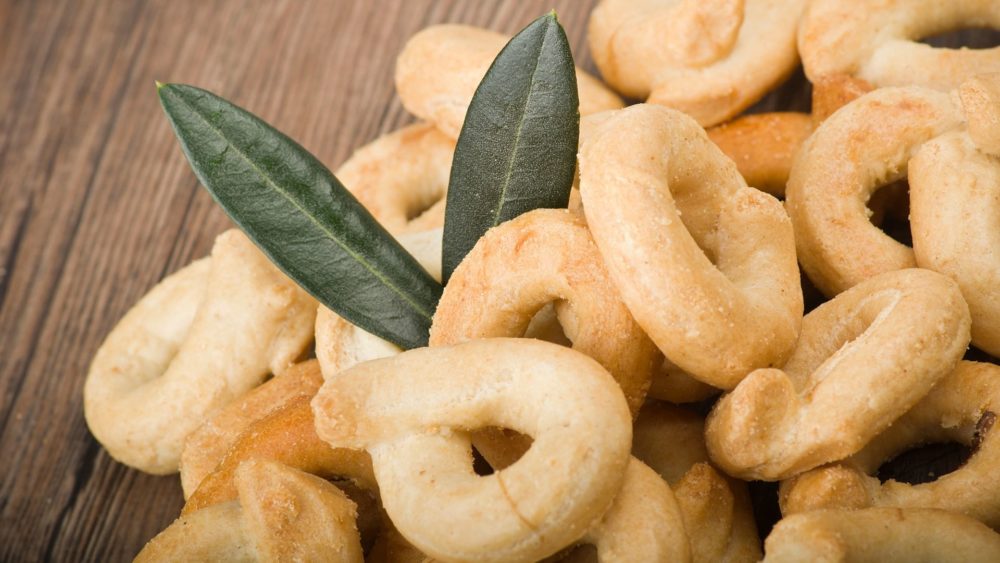 Taralli are one of my favorite Puglia food specialties. When you're visiting all the beautiful cities filled with traditional trulli houses, a snack always comes in handy. The easiest Apulia street food to take with me, I've found, is a pack of taralli. They're also available in foreign countries, in specialized shops. However, Apulia food tastes better… in Apulia.
The taralli are bread specialties, turned crispy like biscuits. If you want to eat them the traditional way, just add some tomatoes, olive oil, and oregano. That makes for the perfect Italian snack to enjoy at quite any time of the day – or night.
5. Traditional Food in Puglia: Bombette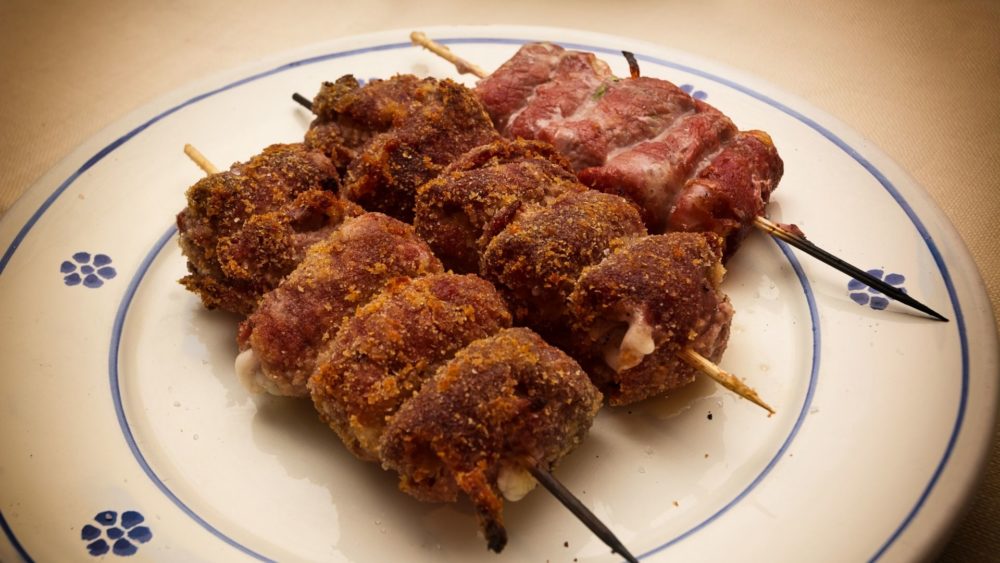 Bombette are one of the tastiest Apulia street food dishes. They're most famous under the name "Bombette di Alberobello". If you've never tried Apulia food in Apulia, just know one thing: it would be one of the greatest decisions of your life to actually visit Alberobello.
The city is one of the most famous and aesthetic cities in the whole of Puglia, with its white Trulli houses. You can eat bombette in food festivals in Puglia, and even in traditional restaurants. They are little pockets or rolls of seasoned meat and caciocavallo cheese (another specialty from Puglia) and barbecue roasted on skewers. That's one of the best foods among the best foods – no doubt, no second thought.
6. Puglia Desserts: Cartellate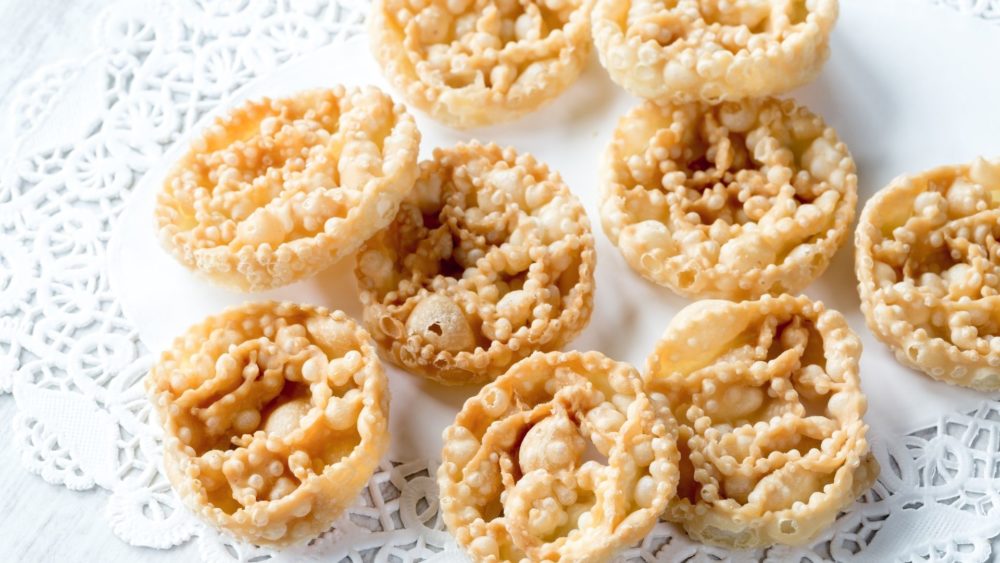 If you don't know what to eat in Puglia when it comes to Puglia desserts, I have the one for you. The cartellate is one of the most famous Puglia food specialties, and they're very much tainted with Arab influences.
Indeed, if you have ever eaten chebakia, a very famous Moroccan dessert, you will understand straight away just how they resemble each other. I, for one, am always interested in seeing how Apulia food has evolved through the centuries and its influences.
The cartellate is a typical dessert from the Gargano region. It is a fried dessert shaped like a rose and plunged into either honey or vincotto, a grape specialty. Cartellate used to be reserved for Christmas, so you can still find versions topped with almonds or hazelnuts.
► Read: 10 best pizza to try in Italy
7. Puglia Food Specialties: Burrata
What to eat in Puglia? Well, if you don't eat at least once the very famous burrata, you can consider that you have missed out on a lot.
I personally consider food to be the step required to understand the traditions and the culture of a country. That is why trying Apuglia food is so important to me. If I go to Naples, I will try the pizza Napoletana. If I go to  Rome, I will want to try the suppli.
The mozzarella and the burrata in Puglia boast another taste. The taste of something that you have never even come close to imagining. The creaminess, the feeling of being alive when you mix that milkiness with the freshness of tomatoes… Eating the mozzarella and the burrata with a sprinkle of olive oil-topped bread is unlike anything I had ever tried before. Just pure happiness.
8. Puglia Desserts: Pettole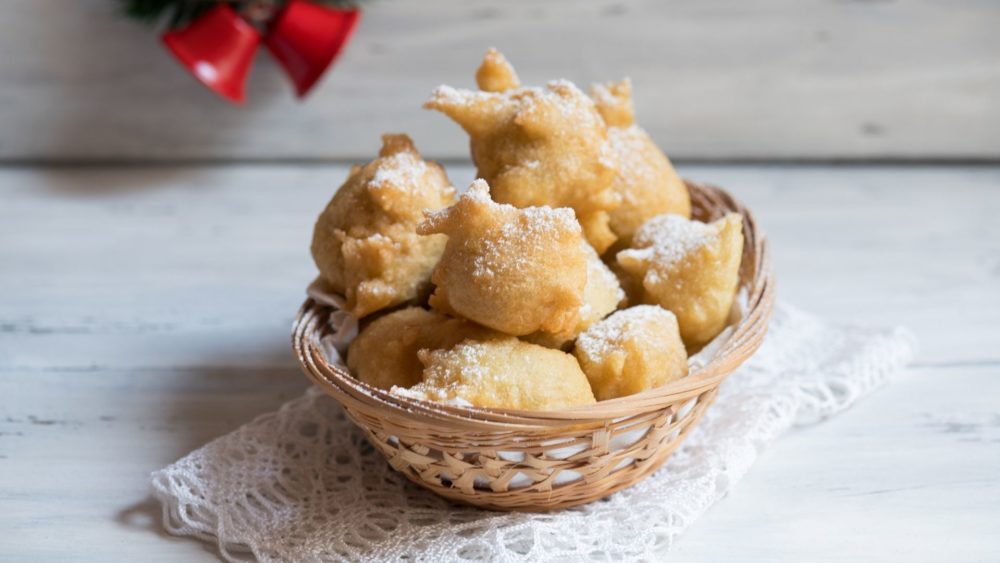 As far as Apulia food goes, there are some desserts that should not leave your list of must-tries. One of the most famous Puglia desserts is the pettole. Pettole are little balls of fried dough that you can eat either in their savory version or sweet with just some sugar sprinkled on top. 
However, if you want to try them in their version of street food Puglia, it's also possible. You will dive the pettole into a bowl of tomato sauce and cheese when the fried balls are out of the pan. All hot and melting with cheese, they're the perfect snacking friend.
9. Street Food Puglia: Tiella
If you happen to go to food festivals in Puglia, you will most probably come across the very famous tiella. I could not mention Apulia street food and leave out seafood. Since Puglia sits at the very end of Italy's heel, the seafood there is as fresh as it comes. The tiella is kind of the Italian version of the Spanish paella. 
However, since it's some of the most famous street food Puglia, it's usually made with specific traditional ingredients whose quality is only reachable in Puglia. Rice, mussels, octopus, potatoes… Many kinds of heart-warming fish ingredients make up the tiella.
In its street food version, the tiella is served in a bread pocket. This way of serving it slightly reminds me of the Trapizzino in Rome. Go around local restaurants in Puglia to try the tiella – it's simply otherworldly. If you get the chance to eat it at a local family's table, you'll enjoy it even more.
10. Traditional Food in Puglia: Altamura Bread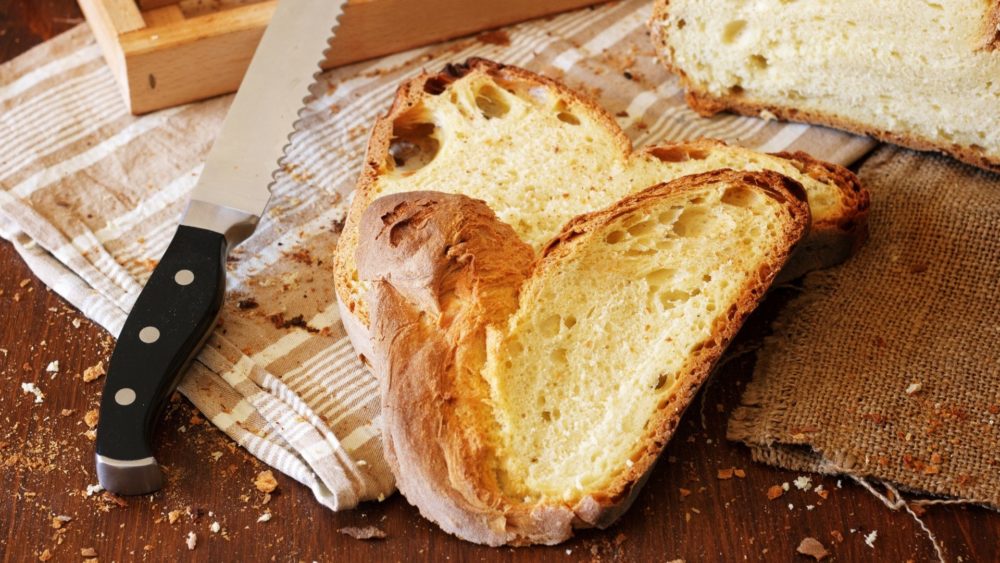 The most famous dishes can only combine with the best bread and sauces. One of the best breads in the world is called the Altamura bread – from the eponymous city it was born in.
Altamura bread has had a DOP status since 2003, which means this Puglia food specialty has a protected designation of origin. Not every city can make the Altamura bread. Thus, you are sure that when you go to Puglia, you will eat not only a piece of tradition but a piece of dense Italian History.
Apulia Food: 10 Best Dishes and Pastries to Try in Puglia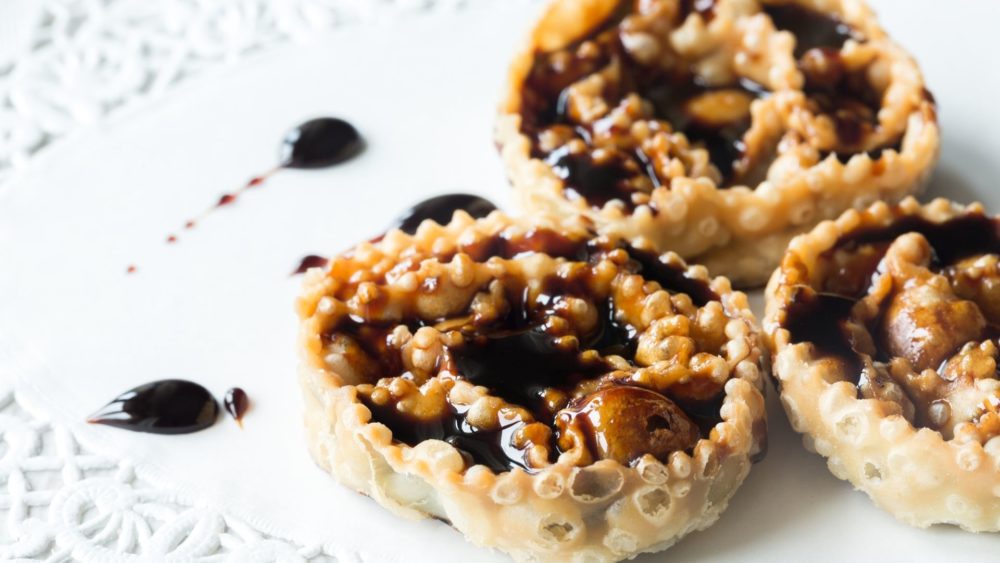 I don't think there is any one of the Puglia food specialties that I am not crazy about. Luckily enough, food festivals in Puglia offer not only the savory part of Italian cuisine but also some of the most delicious sweet Apulia street food dishes.
From the first time I ever stepped foot in the region, I fell in love with the tradition of Puglia's food. Most importantly, with the history that the people there stick to. However, there are so many other regions in Italy where both the food and the people are generous. Rome, Naples, Milan… Each has its own personality.
How about discovering some of the sweetest and most heartwarming Italian pastries? I'm sure you will find your new favorites there!
PIN IT: 10 Best Puglia Dishes To Try