15 Best Hotels to Stay in the Dolomites
How are you feeling about a dreamy mountain destination where everything is about exquisite views, relaxing accommodations, winter sports, hikes, and also UNESCO World Heritage Sites. All this should be topped with delicious food and the beautiful landscapes of northern Italy that you will never forget. In this article, you're going to find some of the best Dolomites hotels for a perfectly relaxing holiday. It doesn't matter if you're going during the summer or the winter, below you'll find the best Dolomites Italy hotels for a perfect stay. We added mostly luxury hotels Dolomites features since we wanted to focus first and foremost on a real relaxing holiday with the best services, and the most beautiful accommodations out there. Of course, some of these also qualify as the best ski hotels in Domolites. Let's get right into it.
15 Best Dolomites Hotels – Amazing Dolomites Italy Hotels
When it comes to the Italian Alps, the Dolomites are one of the most beautiful parts of northern Italy. We added some gorgeous Dolomites Hotels such as the Hotel Hubertus, which always takes our breath away, but overall, you'll see the best hotels Dolomites area has. When it comes to Dolomites Italy hotels, you can, of course, find more budget-friendly places, and actually, there are much more of those, than the high-end accommodations. Here, however, even if not all of the below places will be actually at stellar prices, they are high-end, beautiful hotels where you can feel like in a fairytale. If you're traveling during winter, and you're looking for winter sports, make sure to check all the great ski resorts in northern Italy!
1. Alpin Panorama Hotel Hubertus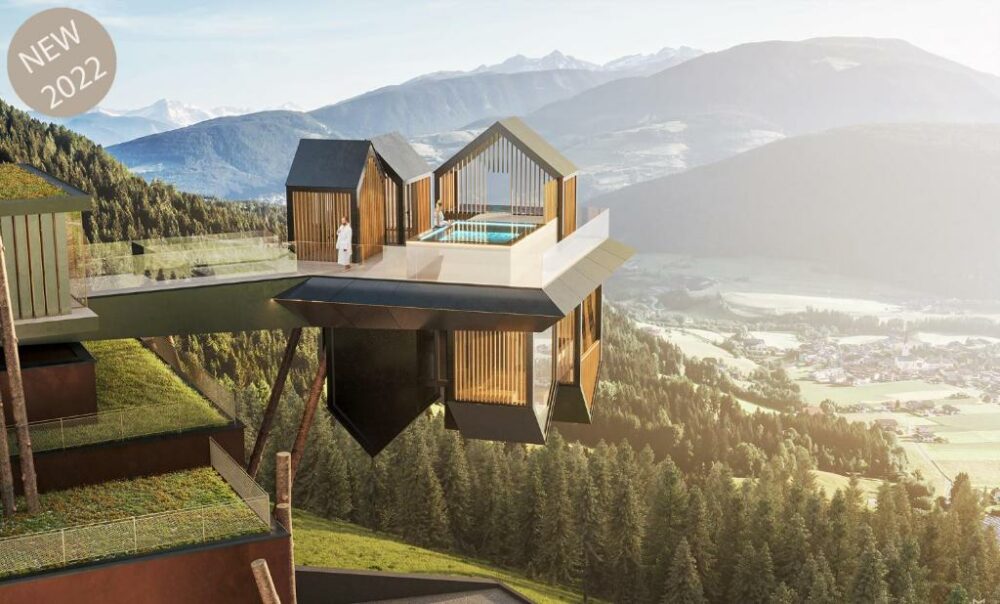 Probably the most outstanding Dolomites hotels, which also has a huge success on Social Media is Alpin Panorama Hotel Hubertus. When it comes to the best hotels Dolomites features, there's absolutely no question that we would pick this first. It's not easy to decide which are the best luxury hotels Dolomites features, but in this case, we believe there's no question.
Alpin Panorama Hotel Hubertus is set on a 5000 m² park with outdoor swimming pools, an infinity pool with the most incredible views, and the Alpenrych Spa. They provide a free shuttle to and from the Plan de Corones slopes if you're traveling during the skiing season. Hotel Hubertus has a large rooftop terrace from where you can admire any time of the day the breathtaking panoramic views over the beautiful Dolomites and the Vedrette di Ries mountains.
What makes this place even more special is the beautiful rooms they have, and the breakfast that includes homemade jams, organic food, fresh food, and dairy products straight from the farm. At Hotel Hubertus you'll get an outdoor hot tub, saunas with panoramic views, aromatherapy pools, massages, and beauty treatments too. Also, the location is perfect to start hikes, you can rent bikes, and many more fun options are available.
Hotel Hubertus address: Furkelstrasse 5, 39030 Valdaora, Italy
2. Relais & Chateaux Hotel Castel Fragsburg
Relais & Chateaux Hotel Castel Fragsburg is another amazing Dolomites hotel you must consider, especially if you've been searching for the best Dolomites hotel view. Castel Fragsburg offers stunning panoramic mountain views from the verandas and decks and it's set in the middle of the beautiful natural habitat of the Dolomites, on the sunny mountainside.
Castel Fragsburg was a former hunting castle that now features a luxurious atmosphere, a wellness center, and gourmet cuisine. Believe it or not, while it's one of the smallest hotels in the Alps, it also is one of the most exclusive places you could book. Castel Fragsburg features a large garden, a heated outdoor pool, and the spa we mentioned.
You can sign up for various treatments at Spa Castellum Natura, as well as for massage. You can enjoy the sauna, Turkish bath, and the beautiful panoramic lodge with a wooden hot tub which is fantastic. The restaurant as mentioned offers gourmet cuisine, and traditional Mediterranean cuisine with local products. A dream place for dreamers.
Castel Fragsburg address: Fragsburger Strasse 3, 39012 Merano, Italy 
3. Adler Spa Resort Dolomiti
Adler Spa Resort Dolomiti is another of the best hotels Dolomites features. With a really high ranking on booking platforms, beautiful views, and a nice location, we couldn't ignore this one! The hotel is set on a 9000 m² park, in the pedestrian area of Ostrisei, and it's only 100 meters from the Alpe di Siusi small cable car.
At Adler Dolomiti, you've got a wellness center that adds up with indoor and outdoor pools, saunas, and hot tubs. The rooms at this accommodation are really comfortable, spacious, and furnished with cute wooden furniture, featuring also carpeted or wooden floors. There is also breakfast at Adler Dolomiti in buffet style, while the restaurant serves Italian and South Tyrol cuisine in a cozy environment.
Adler Spa Resort Dolomiti address: Via Rezia 7, 39046 Ortisei, Italy
4. Miramonti Boutique Hotel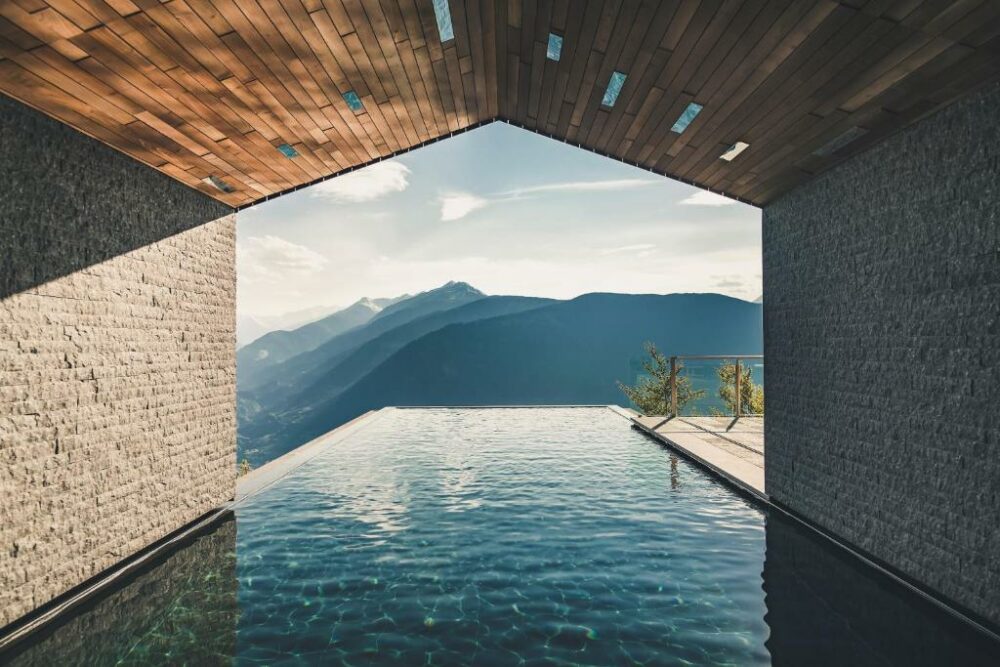 When it comes to beautiful views, infinity pools, and great Dolomites hotels, we must speak about Miramonti Boutique Hotel. If you're planning a trip to the Italian Dolomites, especially if you do so in the summer, this place will be at your please. Miramonti Boutique Hotel is set at an altitude of 1230 meters, offering views over Merano.
At Miramonti Boutique Hotel you'll get spa access with saunas, an infinity pool, steam baths in natural stone but also an outdoor hot tub. There are also treatments you can book here, while there's free parking, and the rooms are gorgeous too. You'll also have at Miramonti Boutique Hotel a generous breakfast buffet that includes organic and homemade food. At the 3 restaurants, there are both traditional and modern dishes to choose from.
Miramonti Boutique Hotel address: Via S. Caterina 14, 39010 Avelengo, Italy
5. Lindenhof Pure Luxury & Spa DolceVita Resort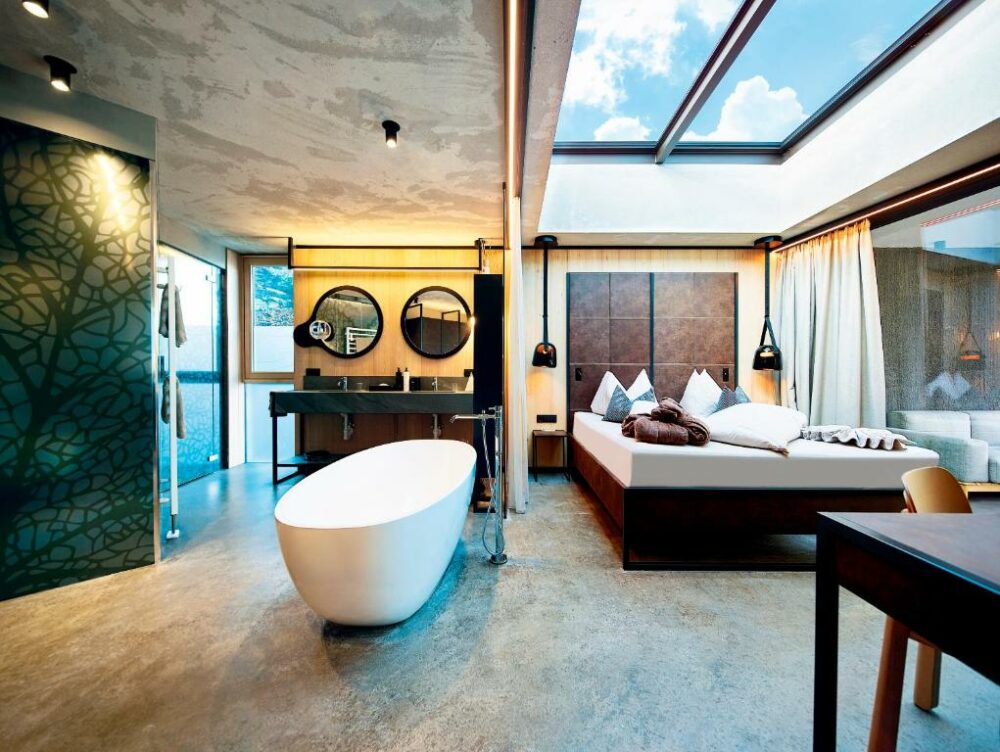 If you're looking for the best luxury hotels Dolomites features, you might want to check Lindenhof Pure Luxury & Spa DolceVita Resort! One of the highest-rated Dolomites hotels, the Lindenhof Resort is located in Naturno, and it offers free bikes, a shared lounge, as well as a bar. That's not all, of course, the hotel features a restaurant, water park, and outdoor pool too.
At Lindenhof Resort, you can also use the indoor pool, fitness center, evening entertainment, and also room service. The rooms feature a private bathroom with a hot tub, and they also have a really beautiful interior design. All the rooms at Lindenhof Resort have balconies, and some feature garden views too. There's a continental breakfast available, and also a hammam and children's playground.
Lindenhof Resort address: Via Chiesa 2, 39025 Naturno, Italy
6. Lefay Resort & SPA Dolomiti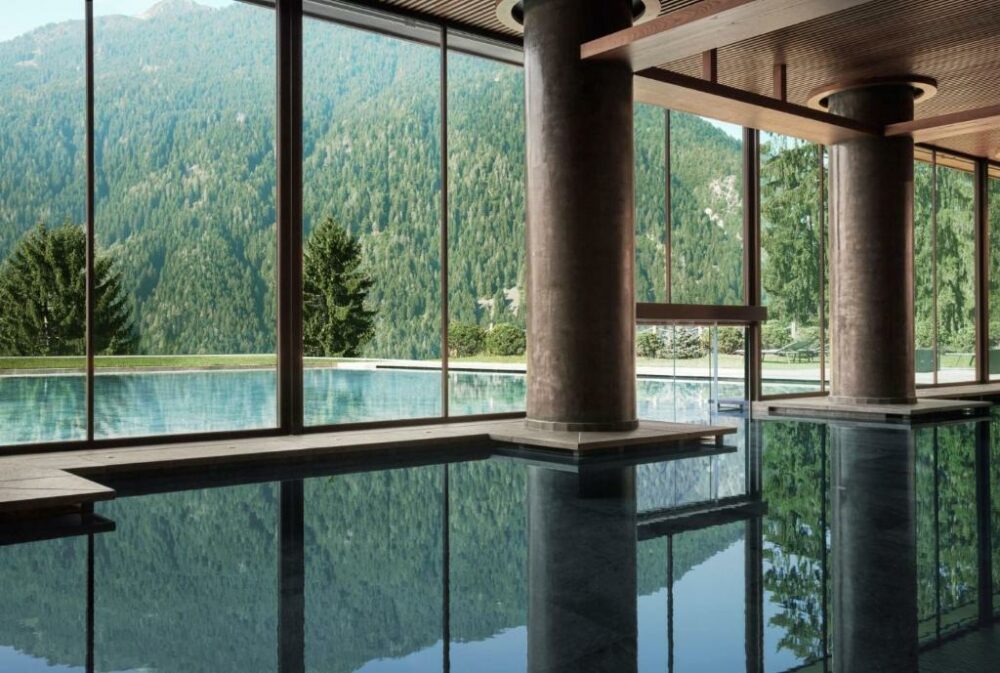 Lefay Resort & SPA Dolomiti is one of the most beautiful and also one of the best luxury hotels Dolomites features. When you are looking for Dolomites hotels, there are quite a few options to pick from some of the most gorgeous ones. Lefay Resort & SPA Dolomiti is located in Pinzolo, and it features a restaurant, outdoor and indoor swimming pools, as well as a fitness center.
Now, at Lefay Resort & SPA Dolomiti you can enjoy a buffet breakfast, a wellness area in the spa center they have, a hot tub, a sauna, and many more. The rooms are well-equipped and beautiful, and they've got of course private bathrooms. This is a popular skiing area, so if that's why you're visiting, you'll surely enjoy this place and the possibility of a great swim and relaxation after a long day on the slopes.
Lefay Resort & SPA Dolomiti address: Via Alpe di Grual, 38086 Pinzolo, Italy
7. Alpin Garden Luxury Maison – Adults Only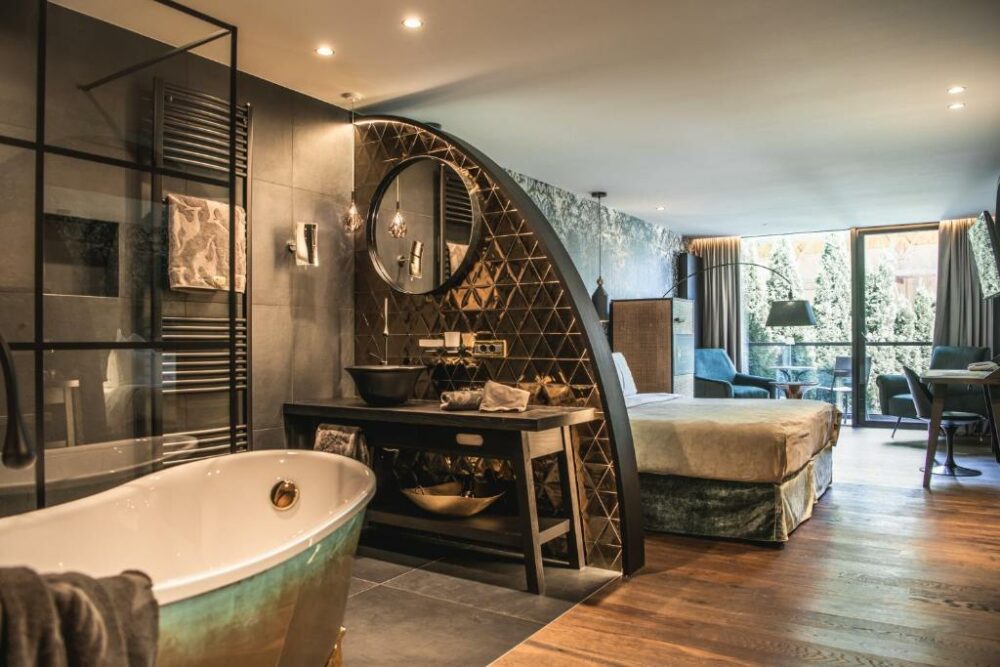 When it comes to adults-only Dolomites Italy hotels, you must keep an eye on Alpin Garden Luxury Maison – Adults Only! It's actually pointed out in their name that it's only for adults, so there's no way that wouldn't be clear for anyone. Alpin Garden Luxury Maison offers a wellness center with an indoor pool, bike rentals, and a free shuttle to Ortisei and the ski slopes.
The great Dolomites hotel view is highly appreciated by visitors, as its interior design is somewhat Egyptian style, with beautiful rooms, furniture, and decoration. At Alpin Garden Luxury Maison they offer a 2-level wellness center with hot tubs, 5 saunas, a Turkish bath, wellness rooms, massages, and beauty treatments. There's also a stunning panoramic mountain view, and also an outdoor pool.
Alpin Garden Luxury Maison address: Via J. Skasa 68, 39046 Ortisei, Italy
8. Forestis Dolomites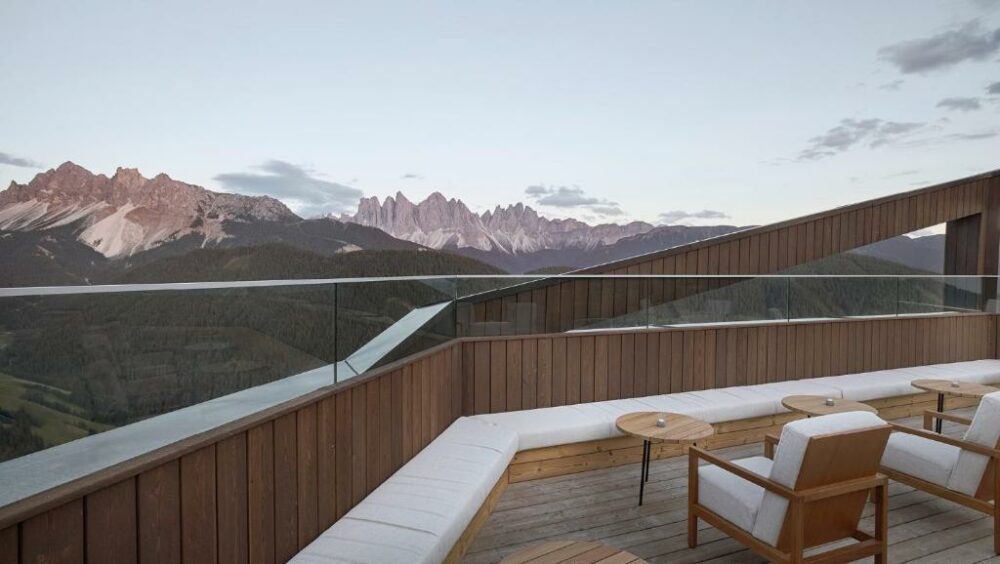 Now, the best views and one of the best Dolomites hotels is definitely Forestis Dolomites. The accommodation offers ski-to-door access and stunning panoramic views over the Dolomites. The suites at Forestis Dolomites have modern, wooden furnishing, and they all come with a comfortable lounge, furnished balcony, and private bathroom, and they are well-equipped.
Forestis Dolomites is a family-run hotel where you can relax in the outdoor hot tub, the bio herbal sauna, or the steam room too. Beyond the wellness center, they offer an on-site restaurant, a garden with hammocks available, and hand-crafted sun loungers. At breakfast, you've got fresh fruit and vegetable juices, organic cakes, and other delicious cold and warm breakfast options. At Forestis Dolomites they've got free ski storage too, they can arrange ski lessons, and the Plose slopes are just outside the accommodation.
Forestis Dolomites address: Plancois 292 – Palmschoß 292, 39042 Bressanone, Italy
9. Hotel Monika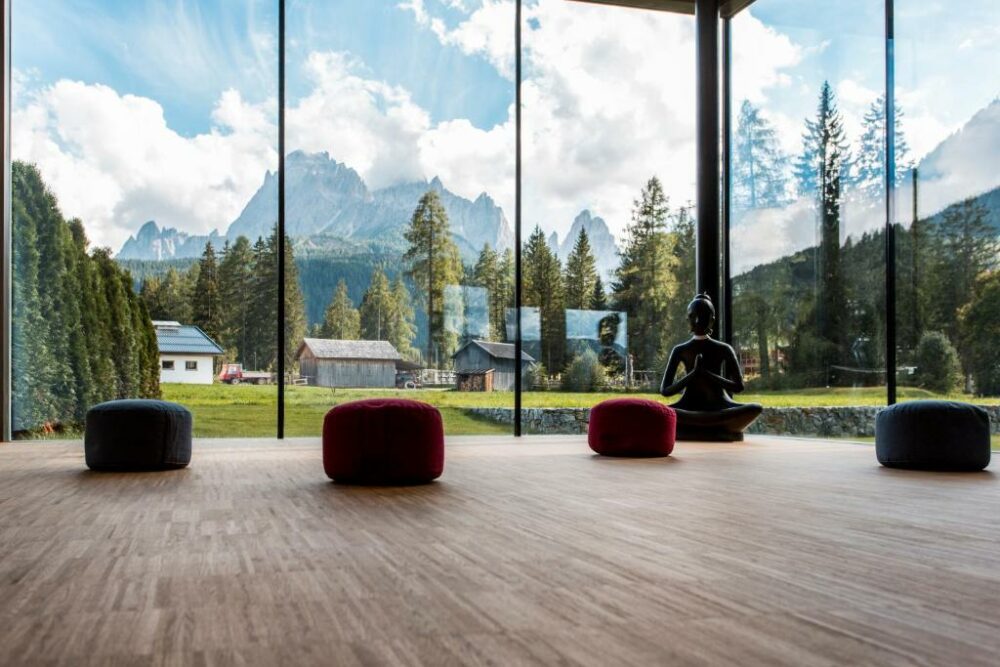 Hotel Monika is another great option in the Italian Dolomites. When you're searching for the best hotels Dolomites feature, you must know what are your plans, when are you traveling, and what activities are you looking for. Hotel Monika offers contemporary interior design, mountain views, a spa, and also a gourmet restaurant. They've got free parking too.
This is a 5-star hotel just near the Val Fiscalina hiking trail and cross-country ski tracks. Hotel Monika is about 200m away from Mount Elmo ski slopes, so it's ideal also for winter trips. They offer a spa that includes an indoor pool, underwater music, an outdoor hot tub, 2 Finnish saunas, a steam bath, and relaxation rooms too. Oh, and at Hotel Monika there's also an infinity pool, bio sauna, gym, beauty, and massage center.
At the restaurant of Hotel Monika, you'll also get local specialties and you can also choose from over 250 different wines. You'll also get a generous buffet breakfast, and you can also get the half-board option at this place which includes warm dishes and a cold buffet at lunch. They've got a really high rating as one of the best hotels in the Dolomites.
Hotel Monika address: Parkweg 2, 39030 Sesto, Italy
10. Weinegg Wellviva Resort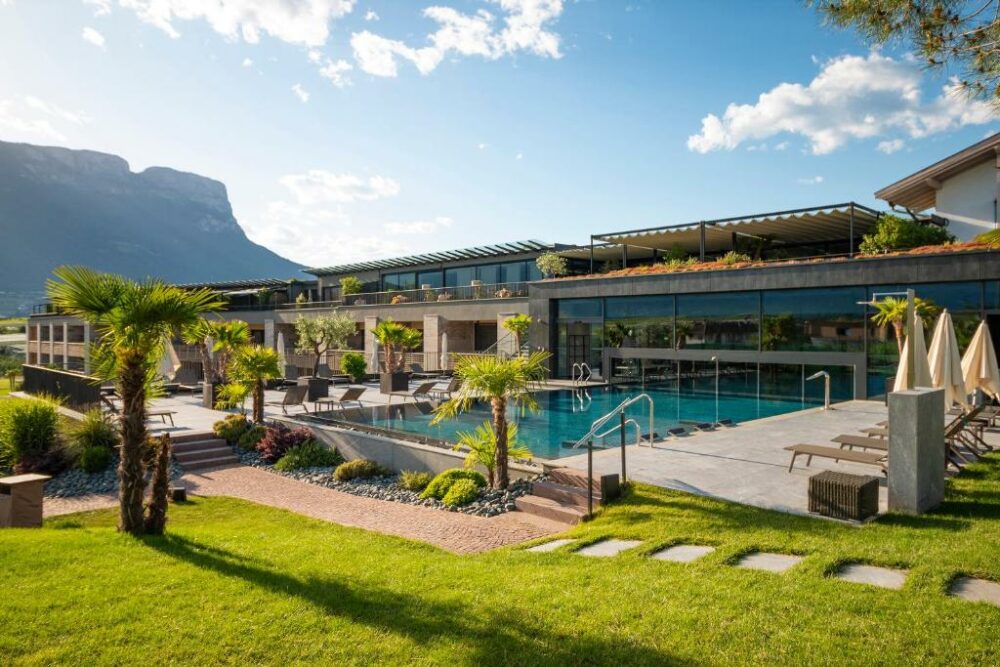 Another highlight of the best Dolomites hotel list is Weinegg Wellviva Resort. The accommodation features a luxury wellness center, an outdoor hot tub, 2 children's pools, and a 25-meter pool with a white sandy beach. Weinegg Wellviva Resort is a 5-star hotel that is surrounded by vineyards, set only 2 km away from the Strada del Vino.
At Weinegg Wellviva Resort features also a large sauna area, a 12-meter indoor pool, a well-equipped gym, waterbeds, refreshing drinks, and a free juice bar as well. The rooms at Weinegg Wellviva Resort feature the traditional Alpine-style furnishing, and you'll also get a welcome gift of a small bottle of sparkling wine and fresh fruits as well.
There's a rich breakfast buffet available which is open until midday, so if you want to sleep in late, you won't miss the breakfast still. Also, Weinegg Wellviva Resort has an on-site restaurant that offers gourmet dishes, and regional and Mediterranean cuisine, and also gluten-free options are available upon request. You can also enjoy drinks at the bar with beautiful views from the panoramic terrace.
Weinegg Wellviva Resort address: Via Lamm 22, 39057 Appiano sulla Strada del Vino, Italy 
11. ADLER Lodge RITTEN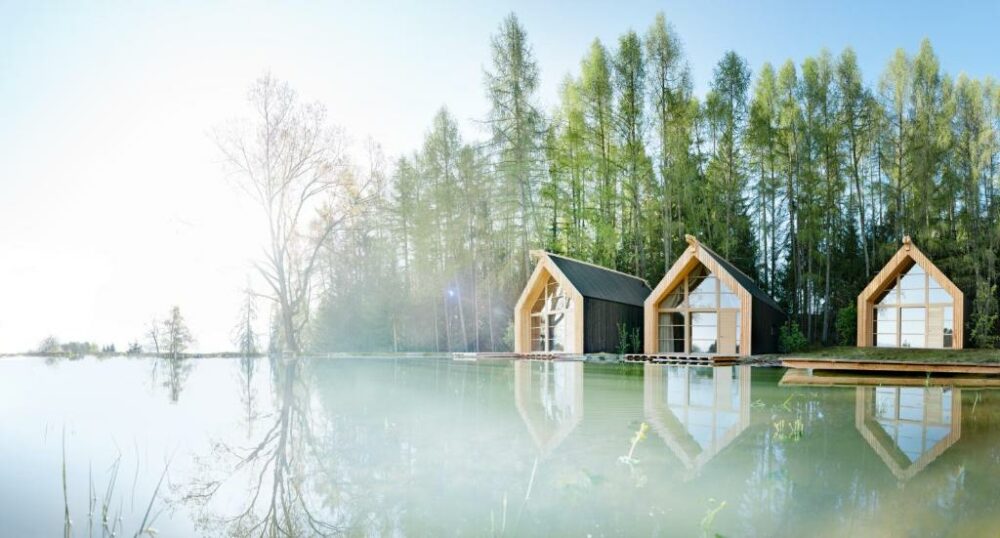 Let's step away from resorts and Dolomites hotels for a second, and let's talk about something just as beautiful when it comes to the Italian Dolomites. ADLER Lodge RITTEN is a beautiful complex of individual bungalows, which offer exceptional lake and mountain views, while they offer privacy and a close-to-nature option for those who seek that.
When we speak Dolomites hotel view, we can't talk only about traditional hotels. ADLER Lodge RITTEN features an on-site restaurant, outdoor swimming pool, fitness center, a bar, and stunning mountain views. Visitors can access the garden and the spa as well as the terrace. The units come fully equipped also with private bathrooms. They offer continental or buffet breakfast, as well as some outdoor activities. A perfect place for a perfect getaway!
ADLER Lodge RITTEN address: Lichtenstern 20, 39054 Soprabolzano, Italy 
12. Tenne Lodges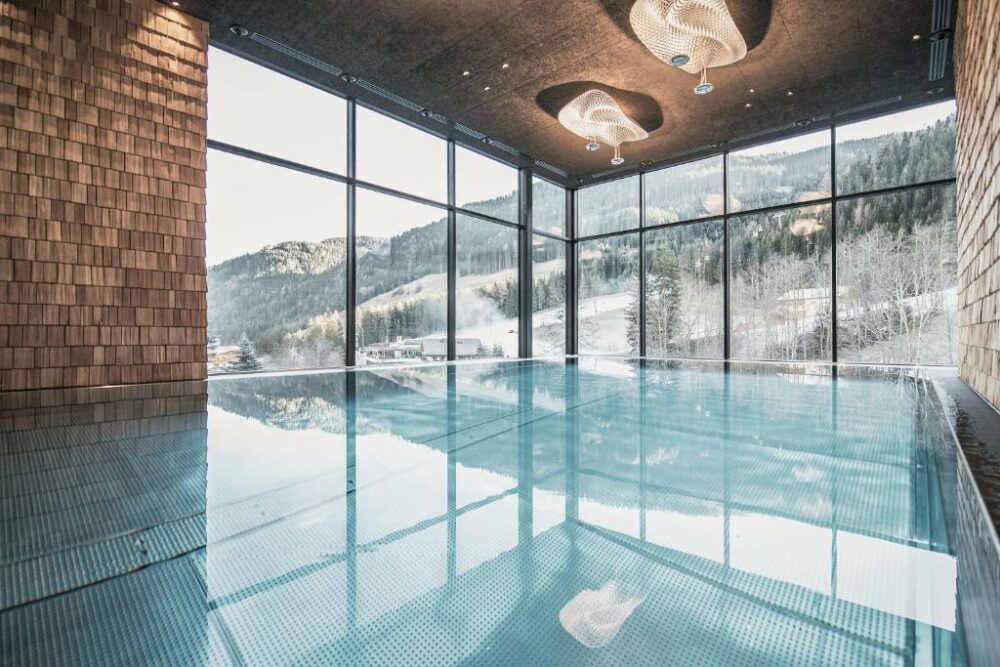 Tenne Lodges is another great option when it comes to Dolomites Italy hotels. One of the highest-rated, also best luxury hotels Dolomites could offer is Tenne Lodges, which features a restaurant on-site, it's pet-friendly, and also has an on-site bar. There's private parking, and rooms fitted with everything needed, from a flat-screen TV to a private bathroom.
Some of the rooms at Tenne Lodges feature a seating area, and they have a business center at the property too. There's an indoor pool available with beautiful views, and you can profit from the various activities in the area, such as skiing and cycling too. Speaking of cycling, Tenne Lodges offers free use of bicycles.
Tenne Lodges address: Parkweg 2, 39030 Sesto, Italy
13. Hotel Ansitz Plantitscherhof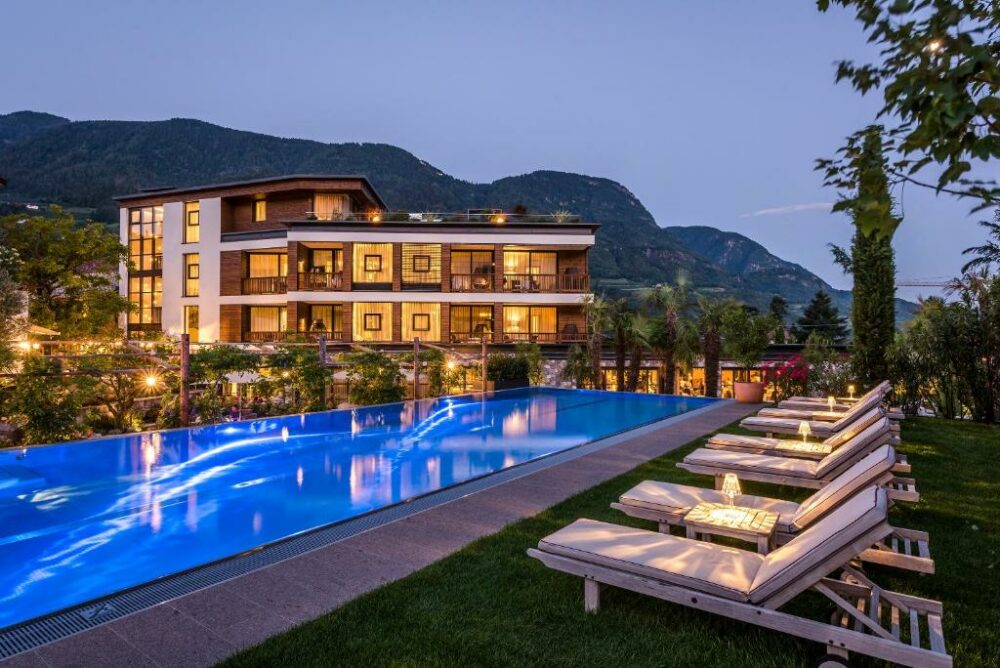 Hotel Ansitz Plantitscherhof is another great option to stay in the Italian Dolomites. It is actually one of the best hotels Dolomites features, with a rating of over 9. Hotel Ansitz Plantitscherhof offers panoramic mountain views, and it's only 15 minutes walk from the center of Merano. They offer gourmet cuisine at their on-site restaurant, and a varied buffet breakfast is served in the dining hall.
Hotel Ansitz Plantitscherhof offers an excellent wellness center, rooftop terrace, and hot tubs as well. They've got an indoor swimming pool, steam baths, and saunas too. You can book relaxing massages and beauty treatments in the spa, while there's also an outdoor pool available for summer travelers. On top of all that, the hotel organizes guided mountain walks, and Nordic walking tours, they've got bikes for free, and the Merano slopes are about 10 minute drive away.
Hotel Ansitz Plantitscherhof address: Dantestr. 56, 39012 Merano, Italy 
14. Solea Boutique & Spa Hotel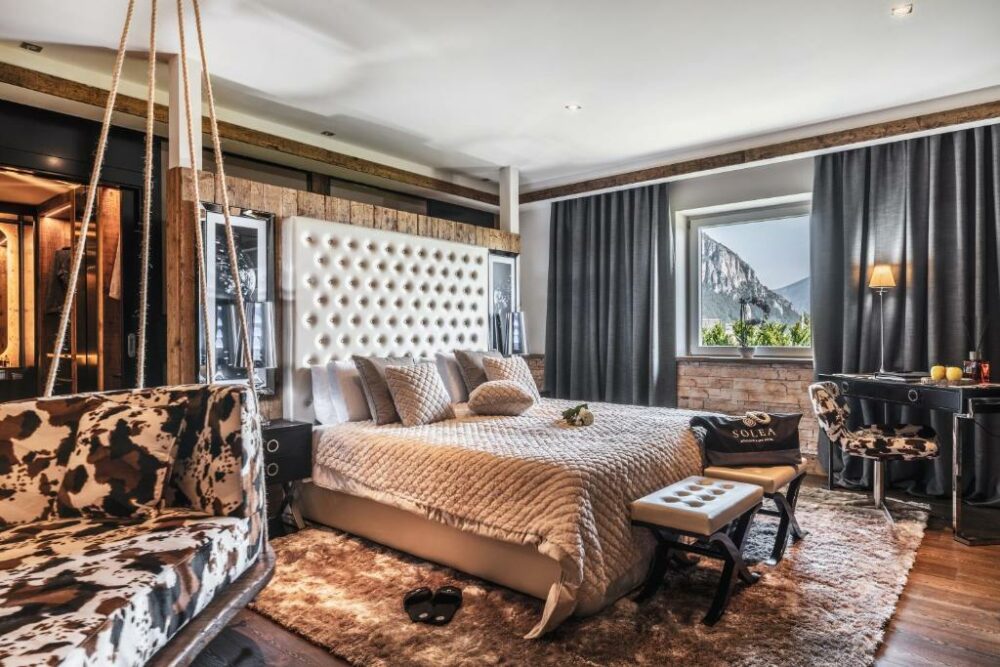 Another stunning option for DOlomites Italy hotels is definitely Solea Boutique & Spa Hotel. This beautiful accommodation is located in the Trentino region, in Fai dell Paganella in Adamello Brenat Natural Park. Solea Boutique & Spa Hotel offers a 1500 m² wellness center, with a sauna, Turkish bath, frigidarium, indoor and outdoor pools, and all this with a panoramic view over the mountains.
There are also spa vital treatments available by qualified staff and professionals. Rooms at Solea Boutique & Spa Hotel come with wooden floors, and a balcony, and are fully equipped. They are also beautifully furnished and decorated and come with a stylish courtesy set too. At the restaurant of Solea Boutique & Spa Hotel, you can get a rich breakfast buffet and typical local and national cuisine for lunch and dinner. They also organize Alpine tours, Nordic walking, and mountain bike.
Solea Boutique & Spa Hotel address: Via Cesare Battisti 15, 38010 Fai della Paganella, Italy
15. LUNARIS Wellness Resort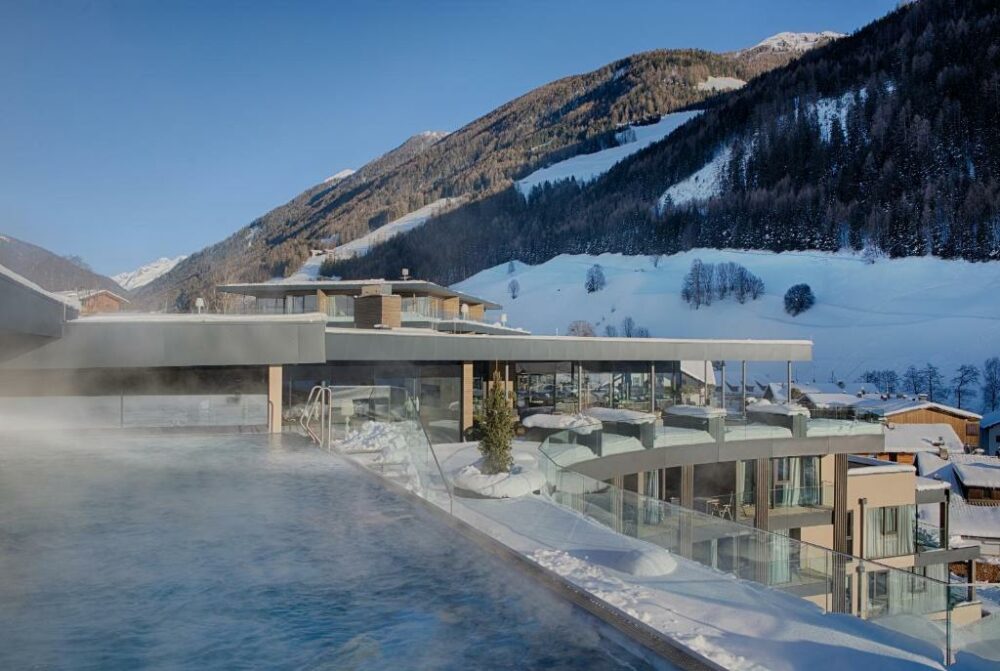 The last on our Dolomites Italy hotel list is LUNARIS Wellness Resort. I know many of you are looking for the best Dolomites hotel view, and LUNARIS Wellness Resort is one of these accommodation options. The accommodation is right near the Klausberg ski area, and they offer fully equipped rooms with mountain views.
Children have their own mini club, and indoor and outdoor playgrounds, while adults get the spa and wellness center, which includes 7 pools, 5 saunas, a gym, and a hot tub. At the restaurant, you can enjoy South Tyrolean dishes, and Mediterranean and international cuisine. This resort is ideal for active holidays, both in the summer and winter. You can do skiing, Nordic walking, cycling, trekking, cross-country skiing, and so.
LUNARIS Wellness Resort address: Hittlfeld 1, 39030 Cadipietra, Italy
Wrapping up the 15 best Dolomites hotels – Where to stay in the Dolomites?
Now that we've discussed all the beautiful Dolomites hotel options you could pick from if you're looking for really beautiful, relaxing, high-end places, we wish you a happy stay in the beautiful Italian Dolomites. With these best hotels Dolomites features, we wanted to make sure to pick all the greatest, best-rated places, as well as the best luxury hotels Dolomites features. The stunning Italian mountains are amazing for a great summer escape, or a relaxing winter escape, as well as for anyone who's looking for an active vacation either hiking, skiing, or other outdoor activities!
Pin it: 15 Best Dolomites Hotels