Not only exotic countries have beautiful beaches to explore. Especially if you're closer to Italy than Bali, you should definitely take a closer look at the Mediterranean area first. In the heart of the Mediterranean, you could find beaches you didn't imagine existed, explore the best beaches in Italy that will take your breath away! Some of these Italy beaches are well-known and visited by travelers around the world, however, some of them are still hidden beaches. We have gathered the ultimate list of the best Italian beaches, some of which are close to each other or even on the same island. thus making it easier for you to visit more at the same time.
20 Best Beaches in Italy – Italian Coast – Italy Beach
Have you dreamed of visiting a beach in Italy with a rocky coast and crystal-clear water? Now you can. The Italy coast is stunning, no matter where you go. Whether it's Sardinia, Sicily, or regions like Puglia, you're guaranteed to see the most breathtaking views. A few of these beaches are even on the UNESCO World Heritage Site, or they are considered National Parks in Italy, which makes them extra special and well-reserved. If you're looking for a specific Italian beach, you can also check our articles on beaches in the Emilia Romagna region, or beaches in Puglia, around Rome, Naples, the Amalfi Coast, or Sardinia among many others! Below you're going to see the top 20 in the whole country!
1. Cala Coticcio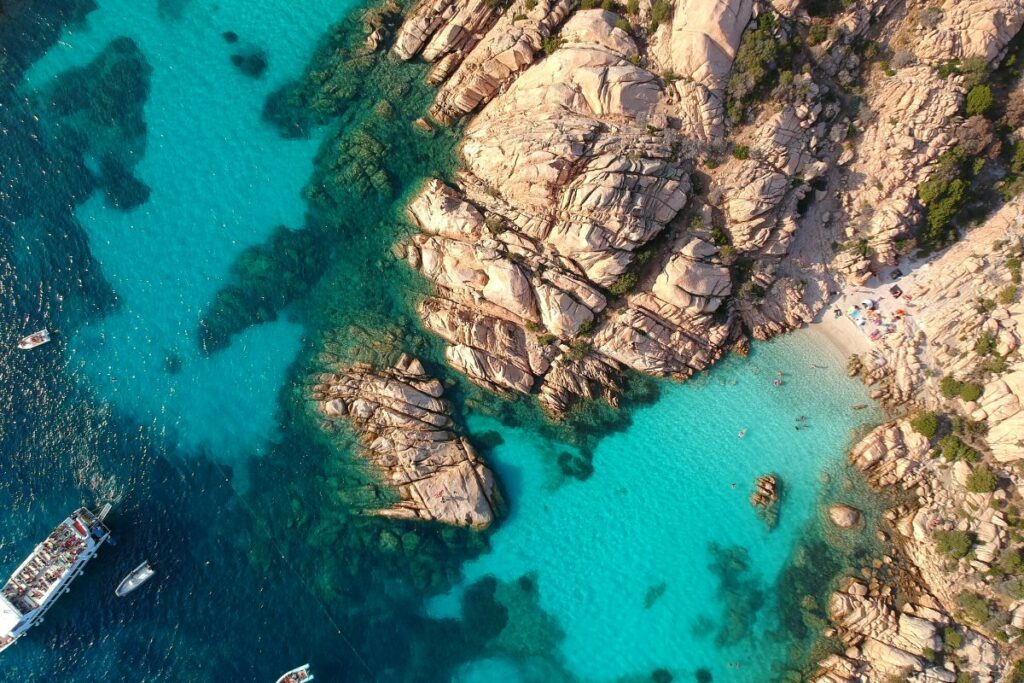 Sardinia is one of the most loved islands in Italy. Cala Coticcio is on the Maddalena archipelago which is a UNESCO world heritage site since 2006. The Maddalena archipelago is a group of islands between Corsica and Sardinia. Cala Coticcio is just one of the many best beaches in Italy that lie on Caprera Island. It is known for its rocky coast and shades of crystalline water.
Although it isn't easy to get to Cala Coticcio, you certainly shouldn't miss out on visiting this part of the Italy coast. Sardinia has three airports, 2 in the north and 1 in the south. The closest airport to Caprera Island is the Olbia Costa Smeralda Airport. From there La Maddalena is roughly 1,30 hours away by car. From Sardinia getting to La Maddalena is very easy by ferry and it's only a 15-minute ride.
Once you've got across the bridge on Caprera Island, you'll have to find parking on the side of the road and hike to Cala Coticcio. It will take roughly one hour to get there, but once you do, you'll be welcomed by breathtaking views. The water is crystal clear and electric blue, the rocky coast is picturesque and you can dive into the natural swimming pool Cala Coticcio has to offer.
2. Spiaggia i Due Mari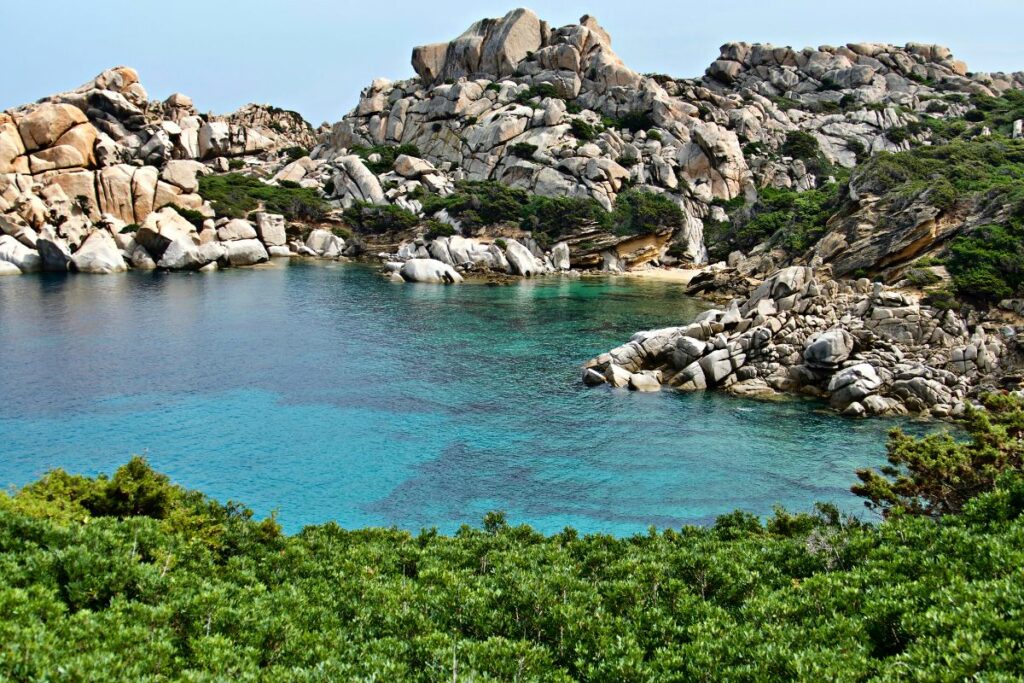 Spiaggia i Due Mari is located on the Caprera Island, just like Cala Coticcio Italy beach. Although the two beaches are similar as far as crystal clear water and rocky coast, they look completely different. On Due Mari the sea changes from emerald green to blue with shades of indigo and the beach has clear sand. So how do you get to one of the best Italian beaches?
The easiest way is again to arrive at the airport of Olbia Costa Smeralda Airport and then get to La Maddalena, then Caprera Island. Once you're on the island you can even take a bus or go by car and park there. Unlike Cala Coticcio, Spiaggia i Due Mari also has a bar where they serve drinks. You can simply bring your regular beach items and enjoy the day, or even drive around to other beaches. If you're traveling to Sardinia, also make sure to check the best hotels on the island!
3. Spiaggia Rosa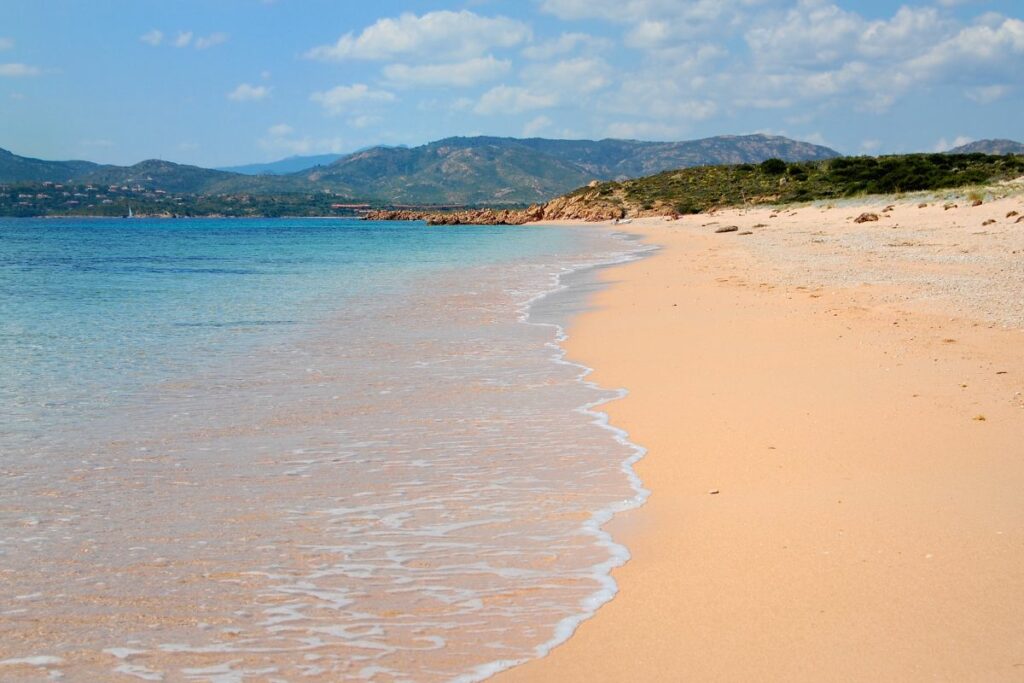 Did you know that Italy beaches can be pink? Yes, Spiaggia Rosa is a pink beach. This one is on Budelli island and your usual sand comes in beautiful shades of pink. It's really rare as only a few other beaches on the planet have pink sand. So if you want to see it, then go to this Italy coast that's a part of La Maddalena.
As beautiful as it is, over the years the pink sand has started to disappear and now visitors are not allowed to touch the sand. You can take photos of the beach, however, you wouldn't be able to lay on it. This is to preserve the fossils, crystals, corals and all that makes the sand pink. The way to get to the beach, or at least see it is if you book a tour on a boat. Its beautiful pink shades are the best in person as the camera doesn't always pick up the color.
4. Spiaggia Capo Coda Cavallo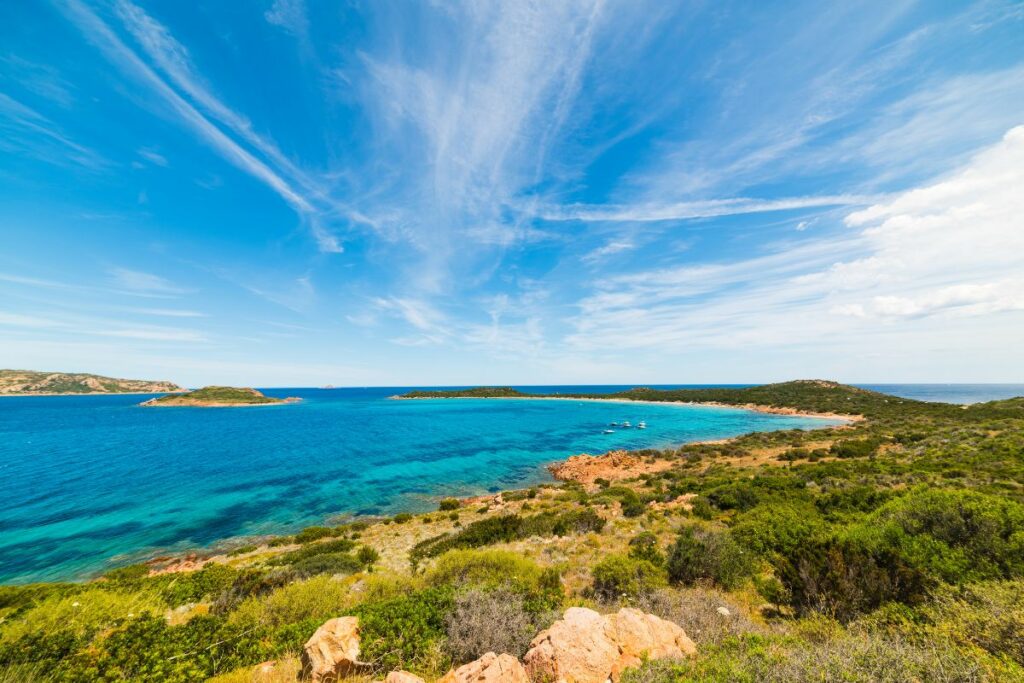 It's no secret that the best beaches in Italy are in Sardinia. Well, the Capo Coda Cavallo beach is one of the most stunning Italy beaches out there. Thankfully, it is easier to get to this beach and even by car. It is part of Sardinia and in case you arrive at the nearest airport, the Olbia Costa Smeralda one, you can easily rent a car for the day. It is, however, recommended that you arrive early during August as travelers are eager to see this beach.
We can understand why Capo Coda Cavallo is a stunning beach. It is situated between mountains and you also get to see the beautiful Isola Molara and Isola Tavolara. The sea is clear yet the water has the most gorgeous blue you've ever seen. It is pretty warm. Capo Coda Cavallo is a great place for families with children, you can rent out sunbeds and umbrellas. There's also a bar nearby to enjoy cold drinks.
5. Capriccioli Beach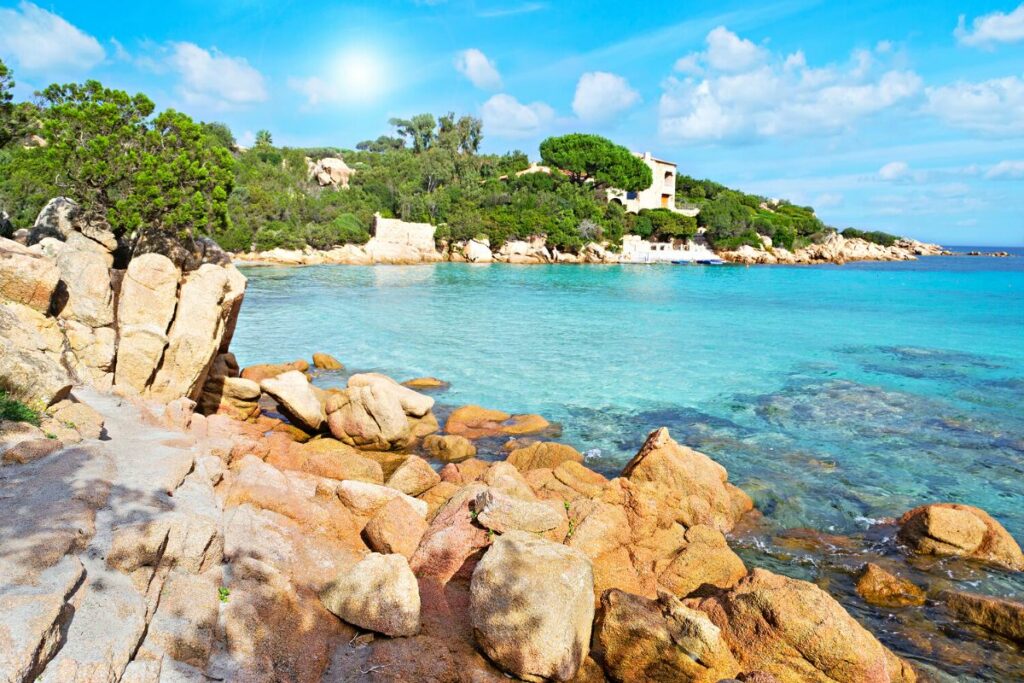 We're continuing our list of best Italian beaches with Sardinia. If you visit just one beach in Italy, that should be the gorgeous Sardegna. Capriccioli Beach is among the Costa Smeralda beaches. It has both east and west sides, so make sure to visit both! Thankfully it's pretty easy to get around the beach. There are hotels, parking, and restaurants/bars.
Capricciola Beach is also closest to Olbia Costa Smeralda airport, which is quite perfect because you can visit all of these beautiful beaches in Italy. The waters are very shallow and the tide is not too high so it's once again perfect for families. You don't have to be afraid of swimming, the water can get up to 26 degrees. The crystal clear water is a perfect substitute for your own personal swimming pool.
At Capriccioli Beach you can dive deep into the sea and experience the sea life. There's also a restaurant with a bathroom and a car park. Whether you're staying for a few hours or the whole day, this beach shouldn't be missed out! There are plenty of beautiful hotels in Sardinia in this area to stay at!
6. Chiaia di Luna, Ponza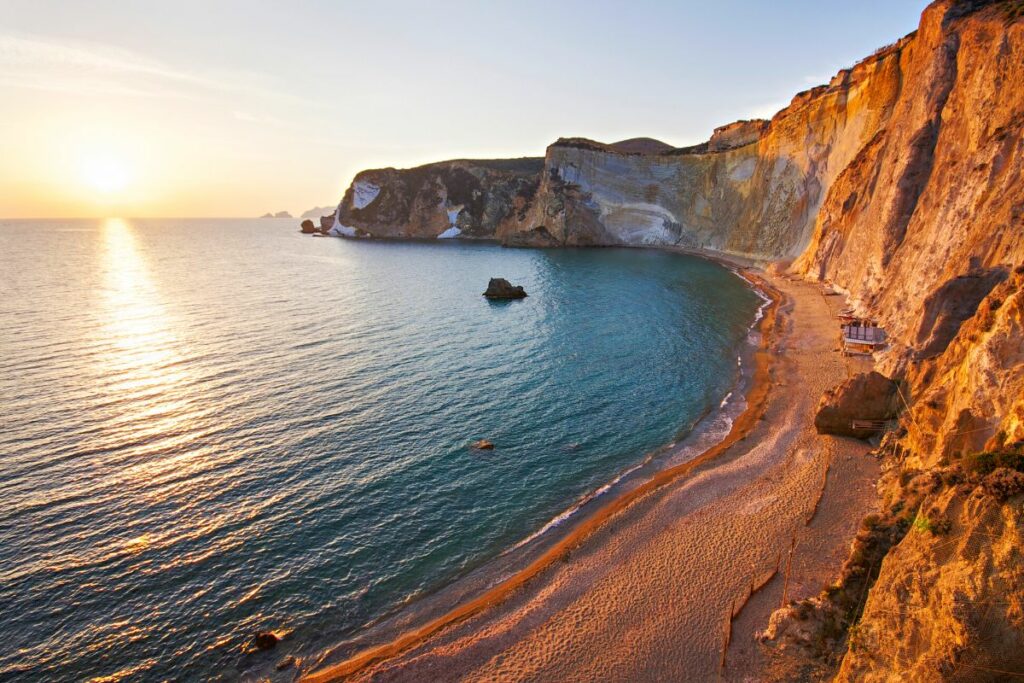 Now that we wrote about the best beaches in Italy on the Island of Sardinia, we can move on to Ponza. This one is the largest island in the Italian Pontine Islands archipelago. As far as the regions in Italy, it's a part of the famous Lazio region. Now that we have discussed where Ponza is, let's look at the beautiful Chiaia di Luna beach Italy. We do have to warn you, that the beach itself is now closed.
The cliffs are very steep and it's been deemed an unsafe Italy coast. You can either go near the beach on foot and watch it from further away. Or you can hire a boat and sail towards the cliffs. This beach is shaped like a half-crescent moon and the waters have multiple shades of blue. It's truly stunning and despite being closed to the public it's still worth checking it out during sunset.
7. La Pelosa, Stintino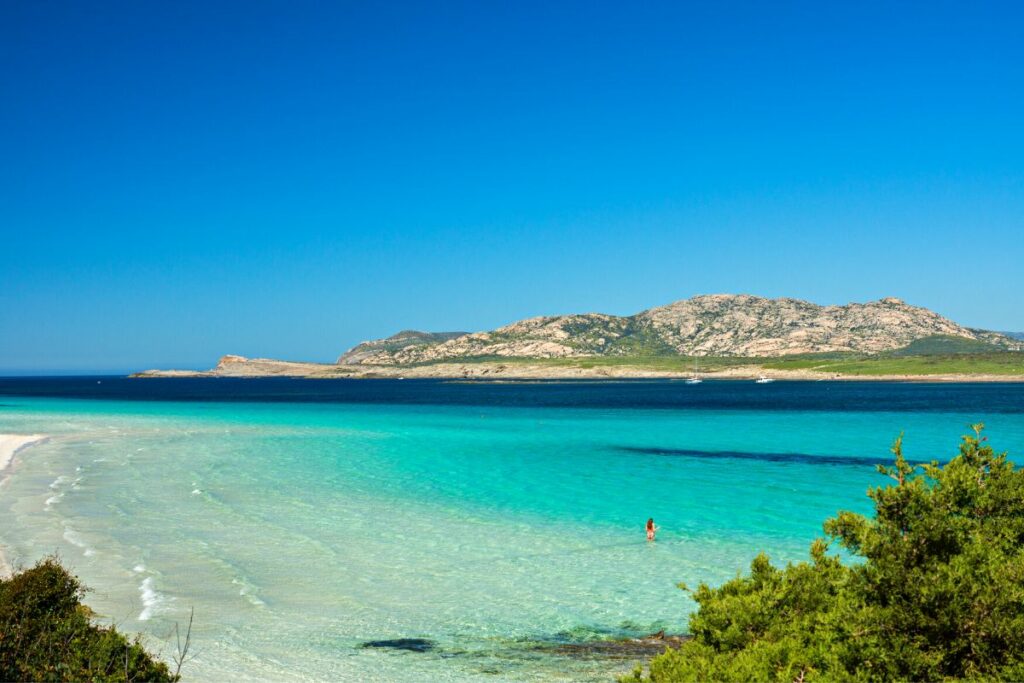 This list of the best beaches in Italy is full of breathtaking beaches with different types of sand and crystal clear waters. La Pelosa is just another one of them and it's mostly known for its white-sand beaches. It's also great for anyone who loves scuba diving or snorkeling as the water is super clean.
Unlike the rest of the beaches on the list, La Pelosa prides itself with a few nightclubs, beachside bars, and restaurants. You're in luck as the Alghero Airport is about an hour away from this beach. You can rent a car and drive up to the beach. Or if you don't have the option to rent a car, there's a bus every hour that takes you to La Pelosa.
Once you're at La Pelosa you can even book hotels in the area and enjoy a few days on this side of the island. The scenery doesn't just stop with the beautiful water and beach. You'll see the ruins of the Della Pelosa and Falcone Tower. La Pelosa Italy beach is perfect for couples that want to have fun and enjoy a romantic getaway.
8. Cala Rossa, Favignana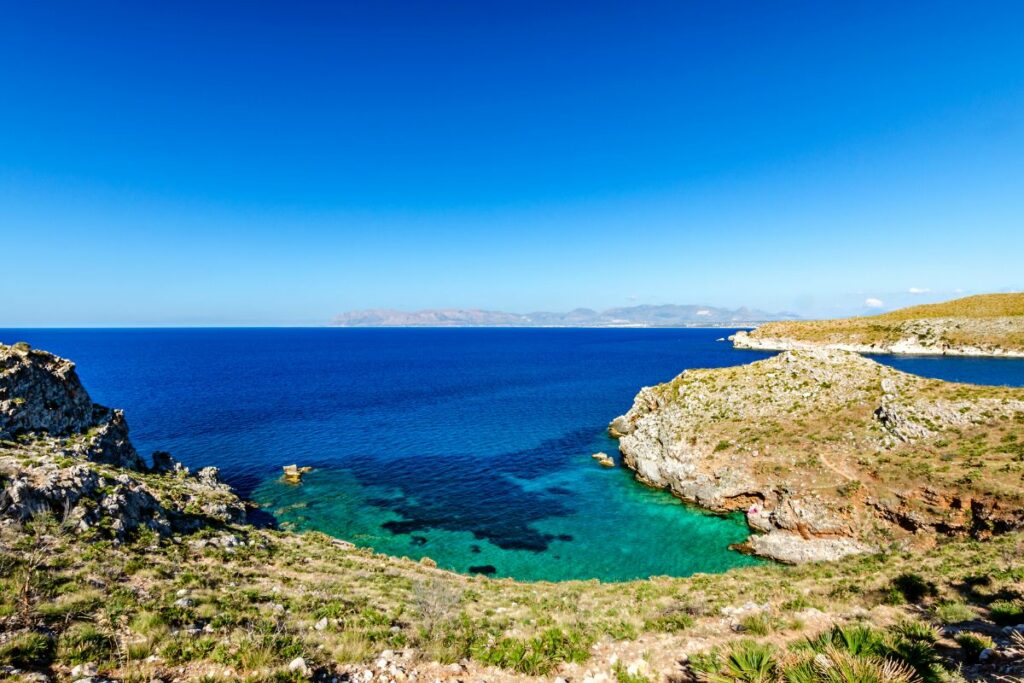 Next up we have Favignana island and on that the Cala Rossa beach Italy. Favignana is on the west coast of Sicily, between Trapani and Marsala. The international airport is in Trapani, so you'll be reaching Cala Rossa easily. This whole area is popular only thanks to the bay of Cala Rossa.
What does it mean? Firstly, Favignana is called Farfalla as well, aka the butterfly as it has its shape. Cala Rossa on the other hand means "Red Cove". It's full of rocks and the coastline becomes a distinctive sight thanks to this. It's easy to get here. ?Just fly to the Trapani airport and take the ferry to Favignana.
Once you have done so, there will be boats riding to Cala Rossa beach. It's definitely worth the visit. There are plenty of hotels in the area as well as restaurants. You can plan a whole day around this area and just explore it. It's certainly another one of the best beaches in Italy.
9. Spiaggia dei Conigli, Lampedusa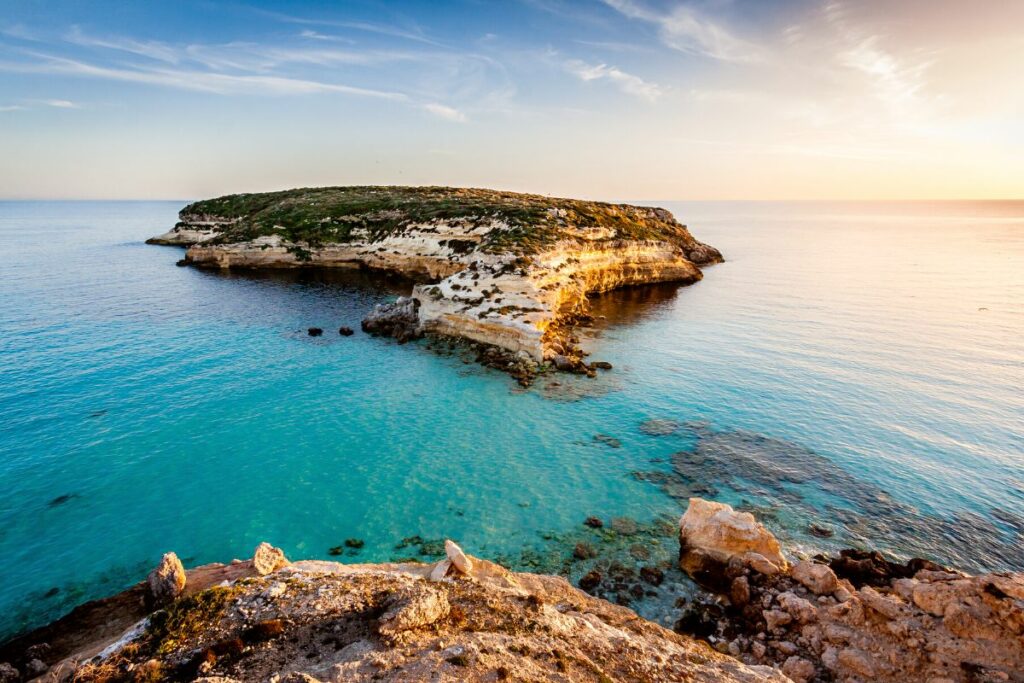 At this point, I am at a loss for words to describe this Italian beach. Spiaggia dei Conigli is located on the southern coast of the island of Lampedusa in Sicily. Once again, it's a beautiful sight to see regardless of the time of day. What's so special about this is that the name means "Rabbit Beach".
It was actually awarded one of the best Italian beaches and the most beautiful ones in the world thanks to its shallow and crystalline waters. The sand has a gorgeous golden color and it makes it perfect to get a tan. Wondering how to get here?
Thankfully Lampedusa has an airport and you can get any flight from Rome, Verona, or even Venice. You'll then have to cross the sea with a hydrofoil, which is faster than a ferry. Once you're on the right side of the island, just take a bus to the beach. Spiaggia dei Conigli doesn't have any restaurants, you'll have to come prepared with snacks and water. Besides that, enjoy this stunning Italian beach!
10. Marasusa, Tropea
Traveling to southern Italy, we're now in the town of Tropea. This is located on the east coast of Calabria. Tropea is very different from the rest of these beaches in Italy. Marasusa is the name of the beach and it has some magnificent views. Tropea's town center is believed to be Italy's most beautiful village. You'll find aristocratic palaces from the 1700s and 1800s.
The houses are built into a cliff which then connects to a beautiful beach with crystal clear water. One of the best beaches in Italy is Marasusa. This scenery will simply blow your mind. There's a beautiful church in Tropea called Santa Maria dell'Isola that you need to visit.
If you need to get to Calabria, you have three airport options. But at the same time, you can also reach it by car in case you're already in Italy traveling. You do not need to take the ferry as it's still on the mainland. For example, from Rome, it would take you about 7 hours to travel here by car. It's a bucket list beach in Italy! If you're in the town and you need accommodation, make sure you check our Tropea hotels list!
11. Riserva di Vendicari, Sicilia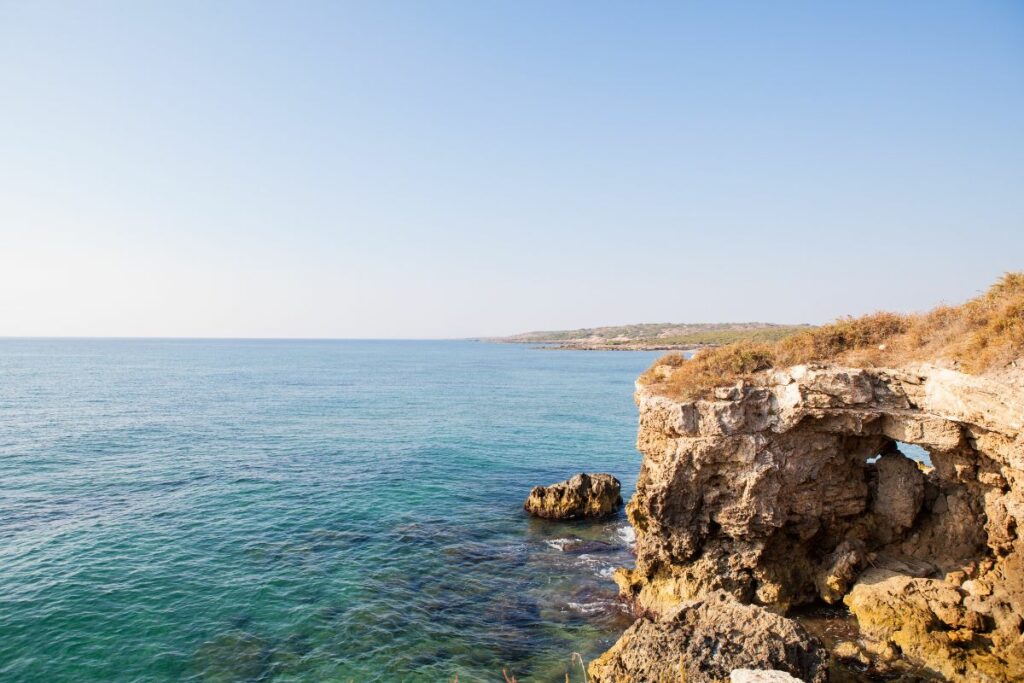 In Sicily, you should definitely visit the Vendicari Nature Reserve which is situated in the southeast. Riserva di Vendicari beach Italy is considered one of the most beautiful ones. Vendicari has saltwater lagoons, sand dunes, rocky Italian coast, and beaches. 
Besides the beautiful scenery of mother nature, at the Vendicari Nature Reserve, you can see flamingos, storks, and cormorants during autumn. It's like a little paradise. While you're here, visit the Tonnara monument and the Swabian Tower. The closest airport is the Catania one which is about 1.5 hours away. There are a few hotels in the area and plenty of parking
12. Bagni Regina Giovanna, Sorrento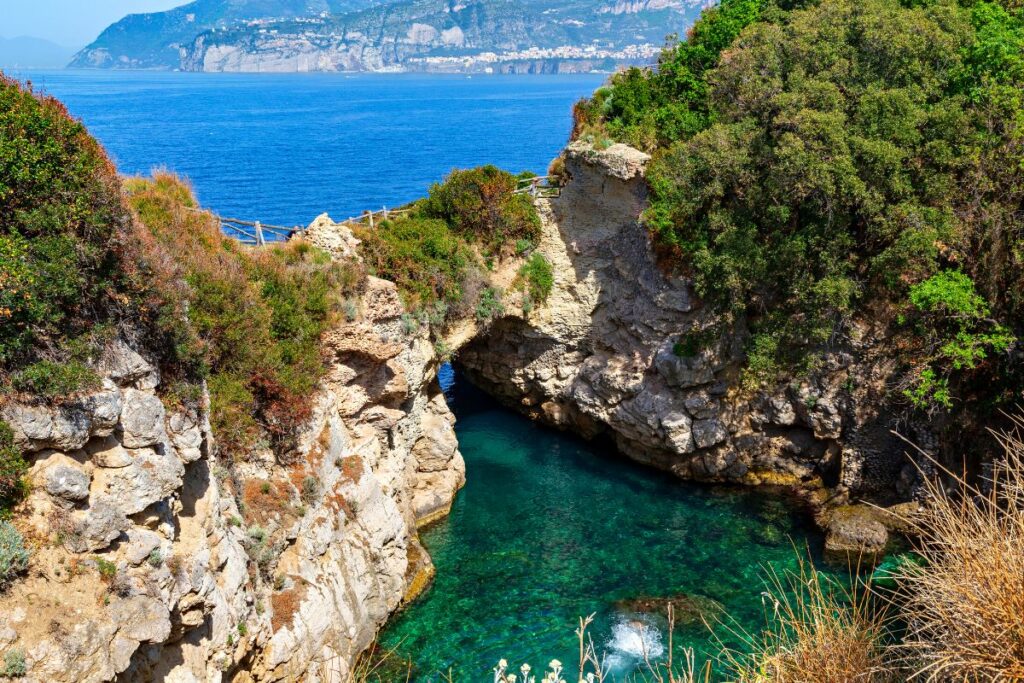 Sorrento is one of the most popular destinations in Italy. There are so many things to do in Sorrento, things to see and experience. It's a destination that is praised for its history, picturesque views, and culture. In Sorrento, you'll find the Italian beach called Bagni Regina Giovanna. It is both filled with history and natural beauty.
First of all, Bagni Regina Giovanna means the bath of Queen Giovanna. We are talking about Queen Giovanna d'Angio of the Kingdom of Naples. She loved this spot and used to visit it during the late 14th and early 15th centuries. But she visited this stunning beach with her lovers, at least that's what the legend says.
It's quite easy to reach Bagni. You'll want to get to Capo di Sorrento first and thanks to a footpath the beach is only 20 minutes away. There's also a staircase that will take you to the pool. It looks breathtaking just from the pictures. This beach in Italy is even more amazing in person! You can also stay in Sorrento, to reach easily all the nearby beautiful beaches and towns!
13. Cala Goloritzé, Sardegna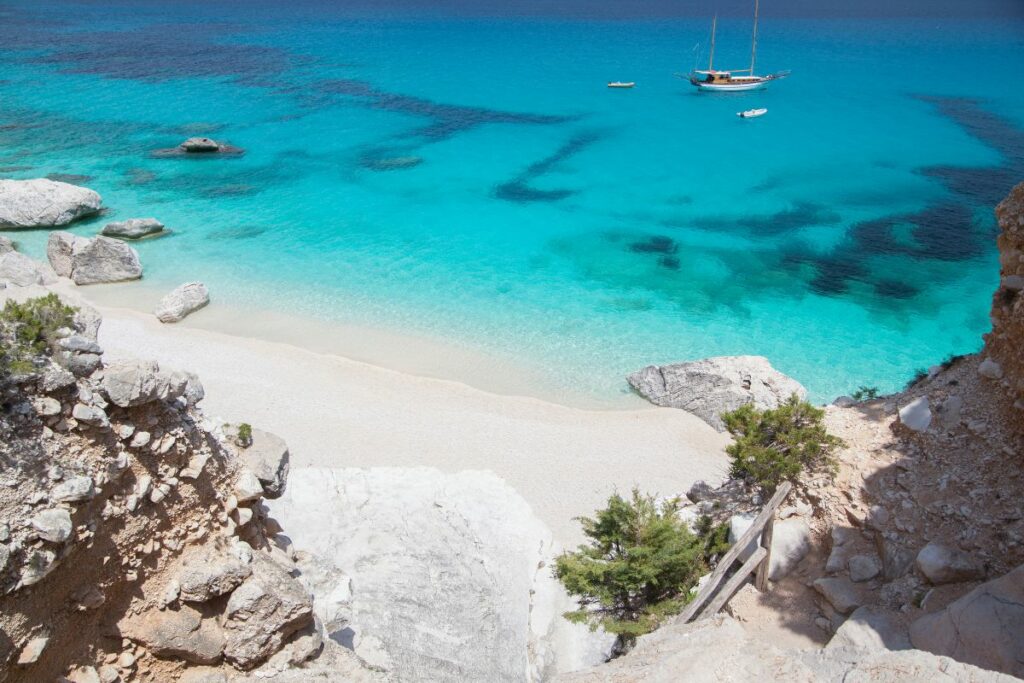 We're back in Sardegna and its best beaches in Italy. Cala Goloritzé is situated in the town of Baunei. The reason why this beach is so unique is thanks to a landslide in 1962 that created a high pinnacle of 143 meters. We said that many times, but this is another Italy beach you do not want to miss out on.
There are a few ways to get there. Firstly, if you wish to experience the scenery on a boat, then book a boat trip to Cala Goloritzé. You will not only see this beach but a few others as well. In case you wish to go by car and exclusively spend time at this beach then you just need to follow the signs from the town of Baunei.
You want to reach Bar Su Porcheddu where it's possible to park the car. Enjoy a few drinks and the weather before the hike. The hike is about an hour and a half, therefore it's not advisable to go in just flip-flops. Once you get to the beach, the view will mesmerize you. The water is many shades of blue and clear to see the rocks on the bottom. Check out the best luxury hotels in Sardinia for your stay!
14. Baia delle Zagare, Puglia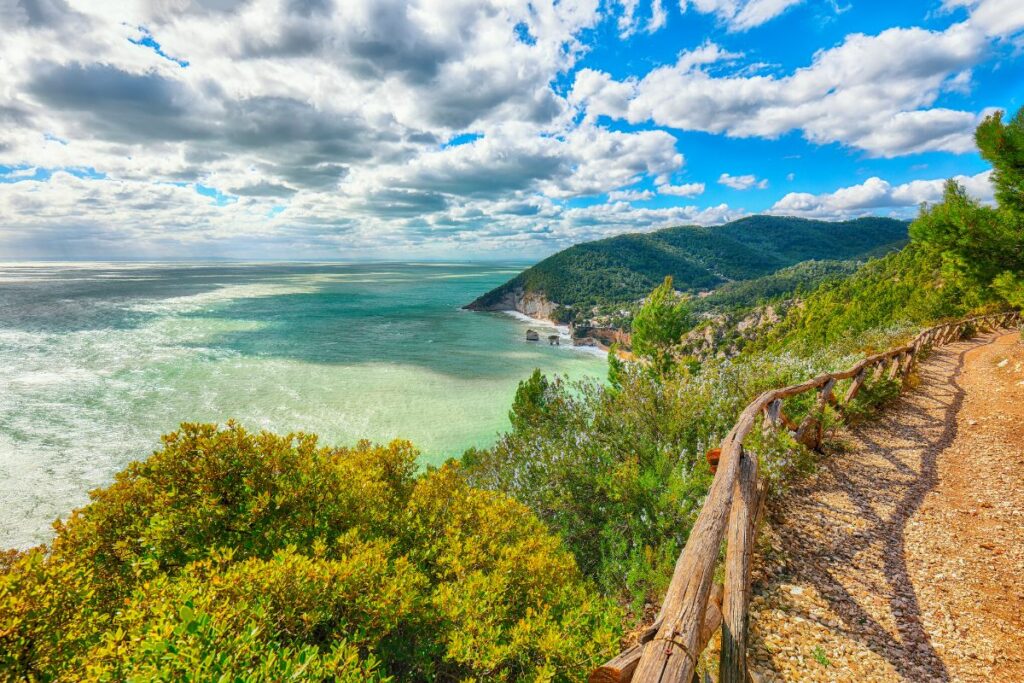 There are a few Italy beaches in Puglia you must visit. The first of them is the Baia delle Zagare. It's situated in the Province of Foggia. It's a beautiful beach that is surrounded by white cliffs and two limestone stacks that were sculpted by the wind. You'll see a white pebble beach with the most stunning blue waters. 
It's easy to get to the Bay of Zagare and there are a few hotels where you can even stay at. Vieste is the closest town to the bay. It's only about 40 minutes by car. You can access the beach, however, you do need to get a pass from the Municipality of Mattinata. This way you're allowed to gain free access to the beaches. This beach in Italy looks like you're on a tropical trip!
15. Torre Sant'Andrea, Puglia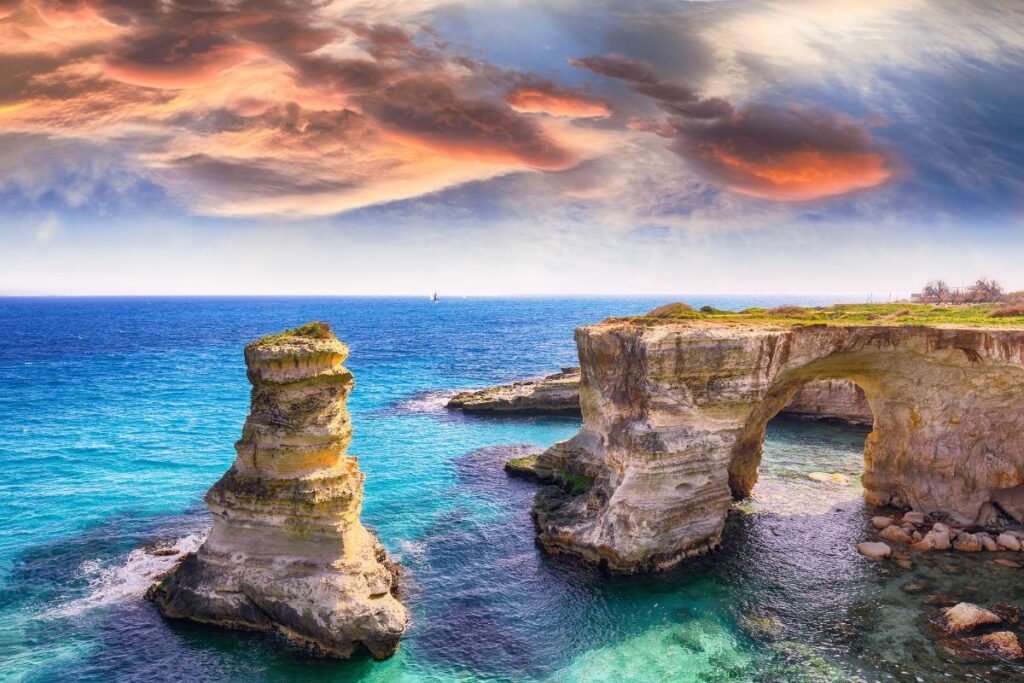 If you're a content creator, you'll surely appreciate the best beaches in Italy. Although there are plenty of them on this list, Torre Sant'Andrea will amaze you with its picturesque sights. Torre means towers, and that's what you'll see here. White cliffs with the shape of towers, formed by the sea for many years. There's only one tower that was constructed by humans in the 16th century, however, only the ruins are visible today. 
When you're in Puglia, if you have the possibility you must rent a car as it's the easiest way to get around. You can easily take accommodation in Lecce, and from here it's about 32 minutes by car. There are a few bus options from Lecce, however, these will take you over an hour to get to Torre Sant'Andrea. It's easy to access by foot and you'll be greeted with a spectacular view.
16. Porto Selvaggio, Puglia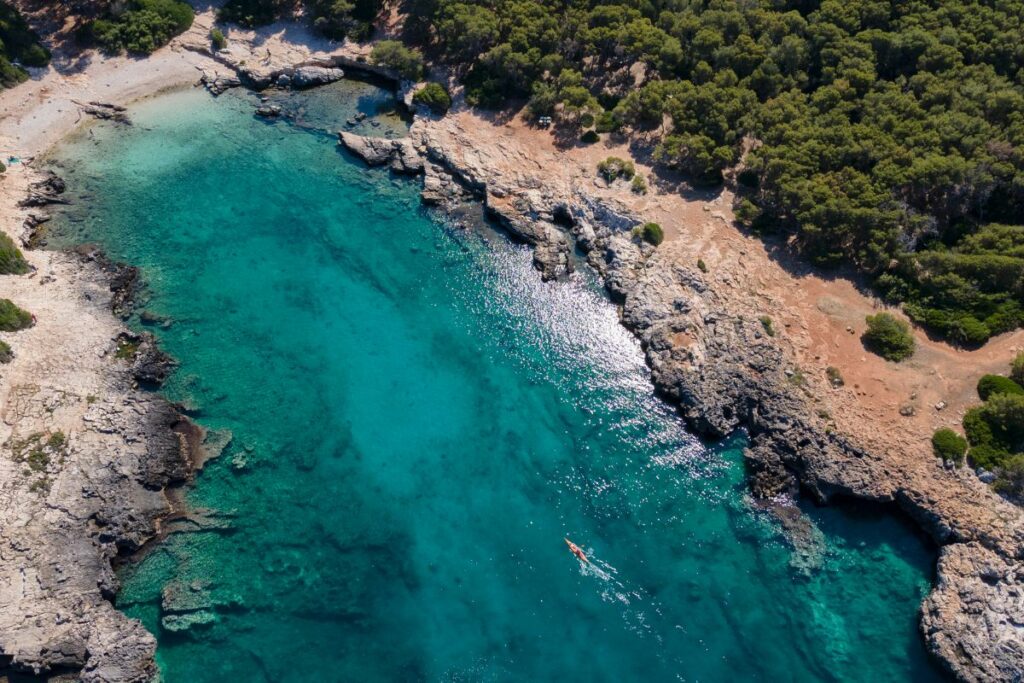 In my opinion, Puglia has the best beaches in Italy. They are breathtaking, you can easily reach all of them by car, with no need to take the ferry. Plus, the hotels and private accommodations are great to stay at. Porto Selvaggio is not just a beach, it's a natural park. It has over 1000 hectares and to actually reach the coastline, you would need to walk through the forest.
this is not difficult, it's barely a 10-minute walk. Although this area is protected from tourist developments, people can still visit the beach and experience its wildlife. You could see lizards, weasels, finches, foxes, and much more. You can access Porto Selvaggio by car or by bus. If you're in car, there's a parking lot about 1 km from Porto Selvaggio. 
17. Scala dei Turchi, Sicilia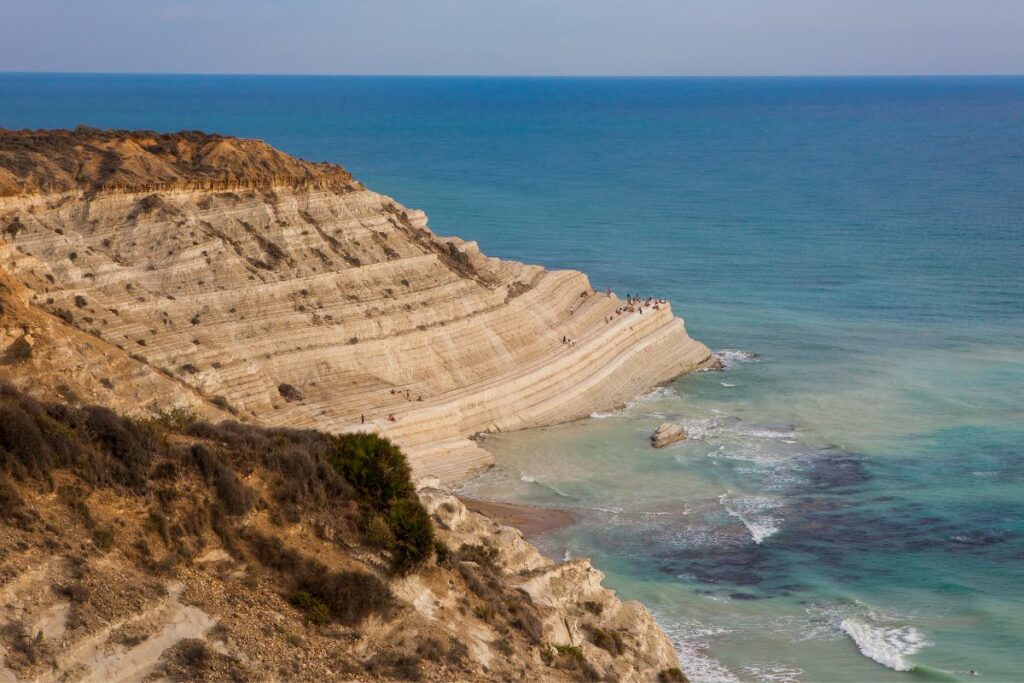 Another Italian coast that's worth the visit is Scala dei Turchi. The name means Turkish Stairs" or "Stair of the Turks" and is located near Porto Empedocle in southern Sicily. One of the reasons it is such a huge tourist attraction is thanks to Andrea Camillieri's detective series. 
The scenery is spectacular as the cliff looks like actual stairs. It's not too difficult to get there. If you are flying directly to Palermo's airport, then Scala dei Turchi is about a 2-hour ride. It's not too easy to find parking before you get to reach the beach. Once you did, you can just take the bus up to the Scala dei Turchi which is available during summers. Don't miss out on this Italian coast. 
18. Spiaggia di Fegina, Liguria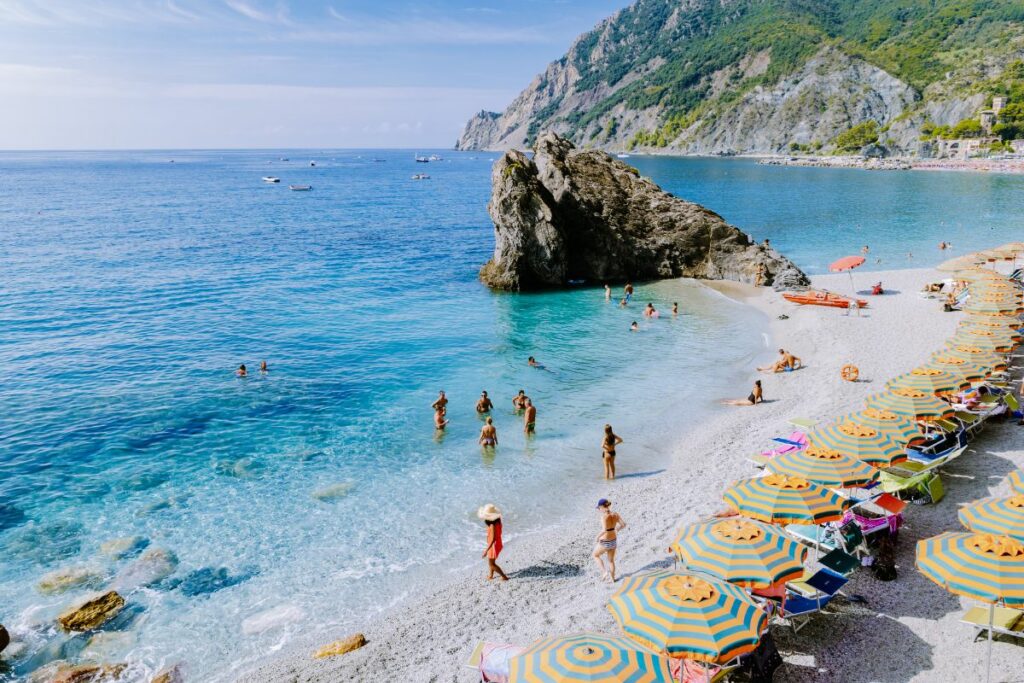 You are already familiar with the beauty of Cinque Terre, one of the most visited places in Italy. Spiaggia di Fegina is in Monterosso, one of the 5 small towns. Besides the Italy beaches in Cinque Terre, it's worth visiting due to the epic scenery you experience. You can easily stay at a hotel and eat out in the best restaurants in Monterosso. 
While you're enjoying life on Italian coast, visit Spiaggia di Fegina. It's a sandy beach with beautiful blue waters. It is a public beach so you can rent out loungers and drink cold Aperol on the terraces. It can get busy during summer, but that shouldn't stop you from enjoying an afternoon at the beach. Rent out those loungers and enjoy the views of the cliffs and the Ligurian sea on the Italian Riviera.
19. Cala Tonnarella, Sicilia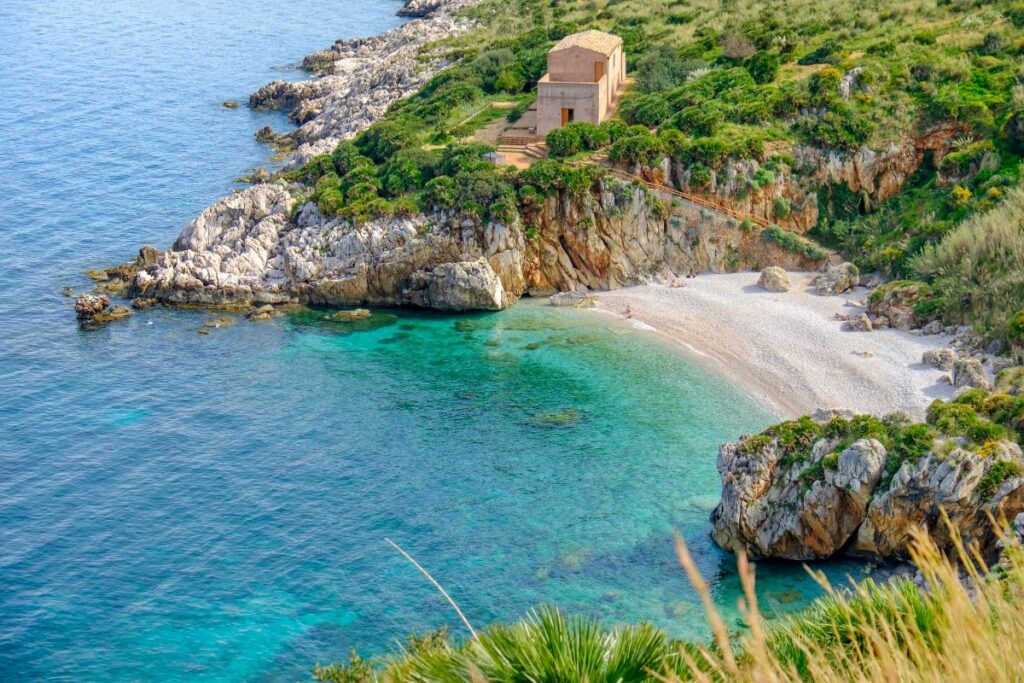 We have two more of the best beaches in Italy. Cala Tonnarella dell'Uzzo is the beach you need to visit. It is close to San Vito Lo Capo, a small town in northwest Sicily. It's absolutely worth visiting as you not only experience a stunning coastline but there's also an interesting history behind San Vito. 
First of all, you can get to San Vito Lo Capo by car and then from the car park it's a 10-minute walk to the beach of Cala Tonnarella. You'll be welcomed by pebblestones on the beach and clear blue water. There are some restrooms at the beach, so you can even spend the day here if you have packed sandwiches and enough food with you. 
20. Cala degli Infreschi, Cilento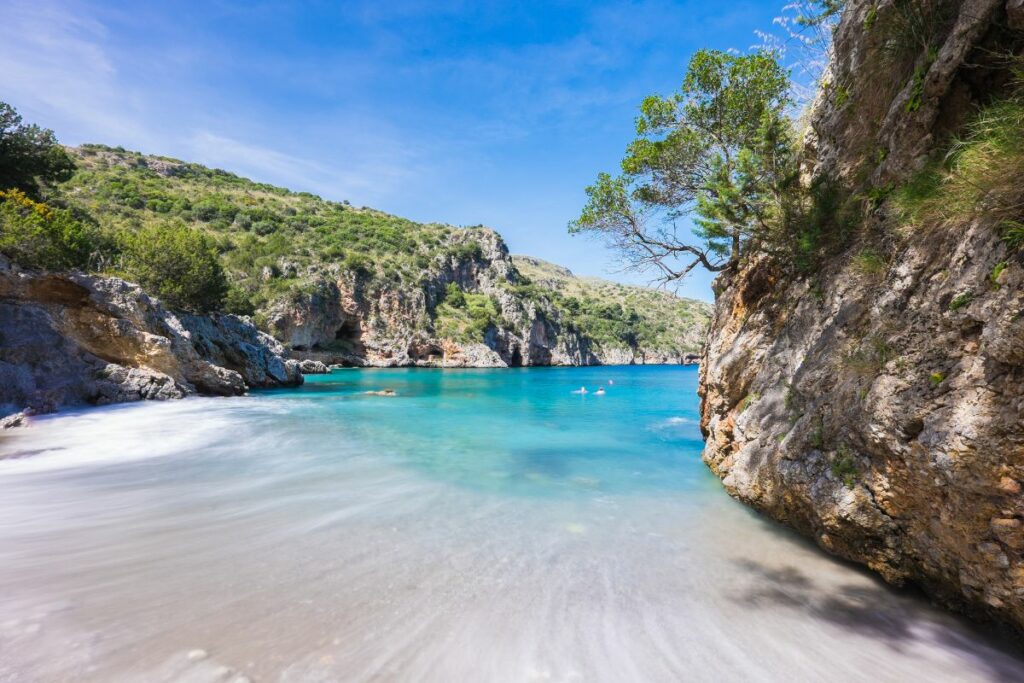 We are finally at the end of our best beaches in Italy list. Cilento is in the province of Salerno and the coast of Cilento is a UNESCO World Heritage Site. One of these beaches on the Italian coast is called Cala degli Infreschi. The Cilento Coast is about 40 minutes drive from degli Infreschi beach.
They are both worth the visit. The Baia Infreschi is situated at the end of the infreschi trekking path. Around the water you'll find cliffs with plenty of bushes, making it a scenic view. The path starts from the Marina di Camerota beach. But you can also reach it by car and then walk down to the beach.
This is also where the boats sail and if you do have a boat, you can easily come here to check out the beach. However, the number of people who can come to Baia Infreschi on a daily basis is limited and you can only stay for an hour. This way they allow others to join throughout the day.
Conclusion – Best Beaches in Italy – Italian Coast
Did you find your favorite beach in Italy yet? We are sure you have, it's impossible not to love these. Sardinia has some of the best beaches in Italy, but we can also not neglect Cilento or Sicily. Whatever you choose, you will have the best time. Enjoy the hot Italian sun with wine and delicious Italian food. Although some of the beaches do not have bars/restaurants, that shouldn't stop you from trying the best restaurants in Italy.
Pin it: Best Italian Beaches – Italy Beaches