10 Best Italian leather furniture brands
If you are unsure where to get good quality furniture from, you've come to the right place to check out recommendations. Italian leather is known for its quality and durability. Italians overall design beautiful furniture. They don't just meet the test of time, they are timeless pieces ready to occupy a place in your home. These 10 best Italian leather furniture brands are just a few of the many that are worth investing in.
10 Best Italian leather furniture brands
We will talk about furniture such as Italian leather sofa, Italian leather chair from different brands. Although some of the brands have photos with different furniture that show a fabric material, most of these products can be custom-made. Let's get into the best modern Italian leather sofa brands.
1. Smania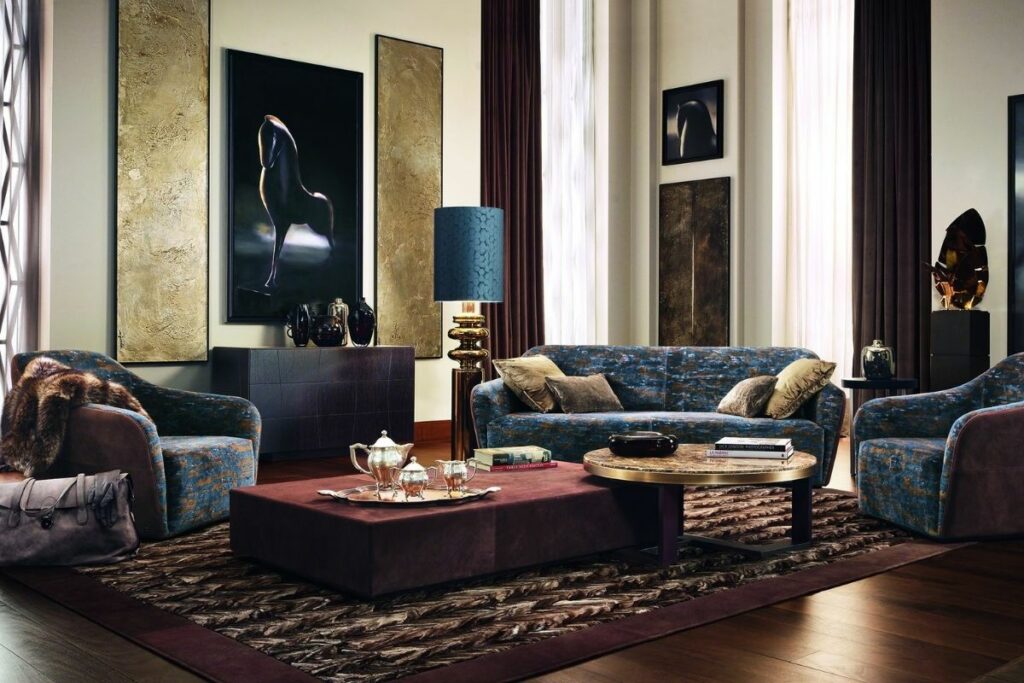 Starting our article with Smania, one of the luxury Italian leather furniture brands. The brand was founded in 1967 by Alberto Smania, who was already working in iron manufacturing. He started building furniture from iron, such as his first low table. Today, the iron is replaced by wood and you'll find the most beautiful Italian leather sofa in the collections.
Smania also designs furniture for luxury hotels, so you might have been sleeping in one of their beds before. Our favorite sofas include the Ernest, the Giano, Opium, and many others. At Smania you'll find the perfect Italian leather chair to fit your office or even bar table.
From the chairs, there's a wide selection of different styles and materials. If you're looking for one in the kitchen, then we would probably pick Barbaltadue, which is a beautiful chair with fixed padding. The padding is secured with buttons that make this Smania chair elegant. It is elegant and minimalist. Tecla would also look good both in the dining room and living room.
2. Flexform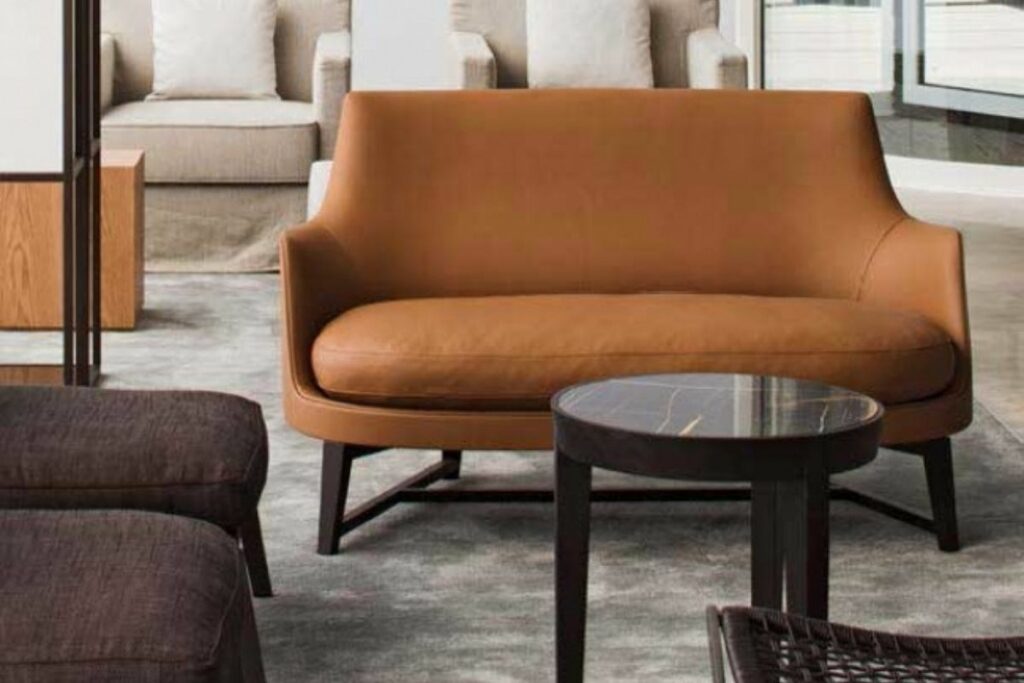 Flexform is the one that creates the most beautiful white Italian leather sofa, whether it's for your living room or outdoor garden. The brand has been around for over 50 years. Their legacy is to create long-lasting and reliable pieces you can count on for years. Choose the best sofa that also goes with your Italian lighting brands.
Everything is made in Italy and all of the materials meet the highest quality standards. Flexform is one of the best Italian leather furniture brands featuring armchairs, daybeds, tables, coffee tables, beds as well as an extensive range of outdoor furniture. Let's see some of their sofas. We particularly love the Adagio and the Max.
Adagio is a beautiful corner sofa, with enough seating for 5-6 people. It has an L shape so two of the seatings make it easy for people to talk to each other. This is the perfect sofa for the living room if you want to host parties or gatherings with friends. Pair it with one of the Flexform side tables and you'll have a statement decor piece in your home.
3. Casamilano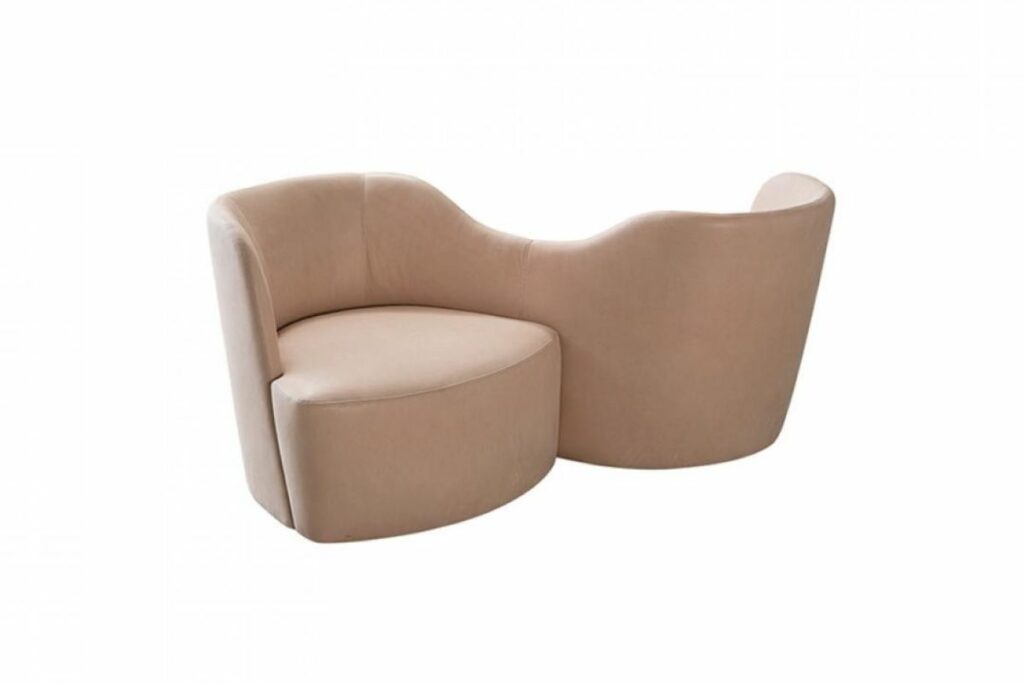 Are you looking for a beautiful Italian leather couch? Casamilano is the place to go to. We love that Italians start out as family brands that are passed out for generations. Casamilano is no different. In 1901 Carlo Turati set up a furniture district and since 1929 everything changed. Their furniture factory has always been manufacturing quality products.
Today Casamilano creates exquisite pieces, such as the Francesca. From their collection, you can choose between low tables, chairs, lamps, small tables, and many more. We love the Royale bed, which has an extended headboard and it comes with chairs, armchairs, and even a sofa! Speaking of armchairs, the one in this picture is called Vis à Vis. It was designed by Paola Navone.
The armchair is designed in a way that two people face each other. It's truly an innovation. You can have a completely white or neutral color interior and place this in the middle of the room as a statement piece. Although the photo shows a gorgeous sheer pink color, you get to choose different colors of leather when ordering it.
4. Selva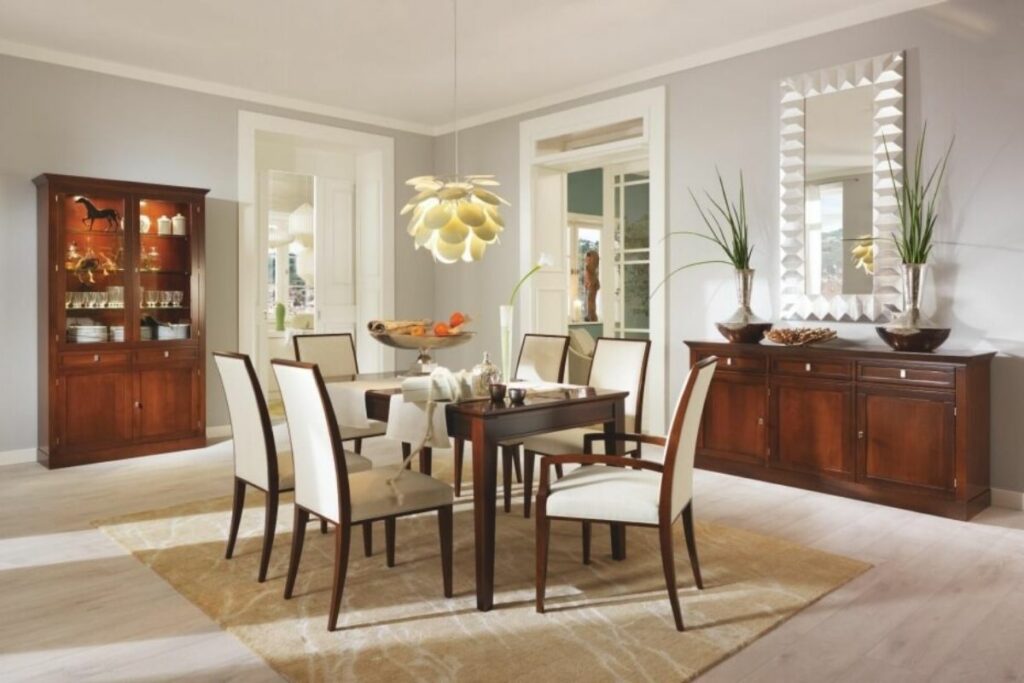 Selva is one of the many amazing furniture brands. They were founded in 1968 in Verona and have been determined to create timeless pieces ever since. Being one of the best Italian leather furniture brands for so many years means customers trust you and your products are of the highest quality.
Selva Italian leather sofa set such as the Villa Borghese will make a good statement piece in your home. You get to choose the fabric and color and then also pair it with your own Villa Borghese armchair. It's a true beauty and looks like it's part of a luxury villa. The dining table set is a great choice to go along with your dinnerwear sets.
No wonder the company is called Selva Timeless as whatever they create is to stay in your home forever. Or at least until you want to switch up the style again. The brand has some amazing chairs for any room. The Armchair Luna caught my eye. Although on the website it's showcased with suede material, leather is an option too. It looks like a really comfortable chair to have even in your study.
5. Natuzzi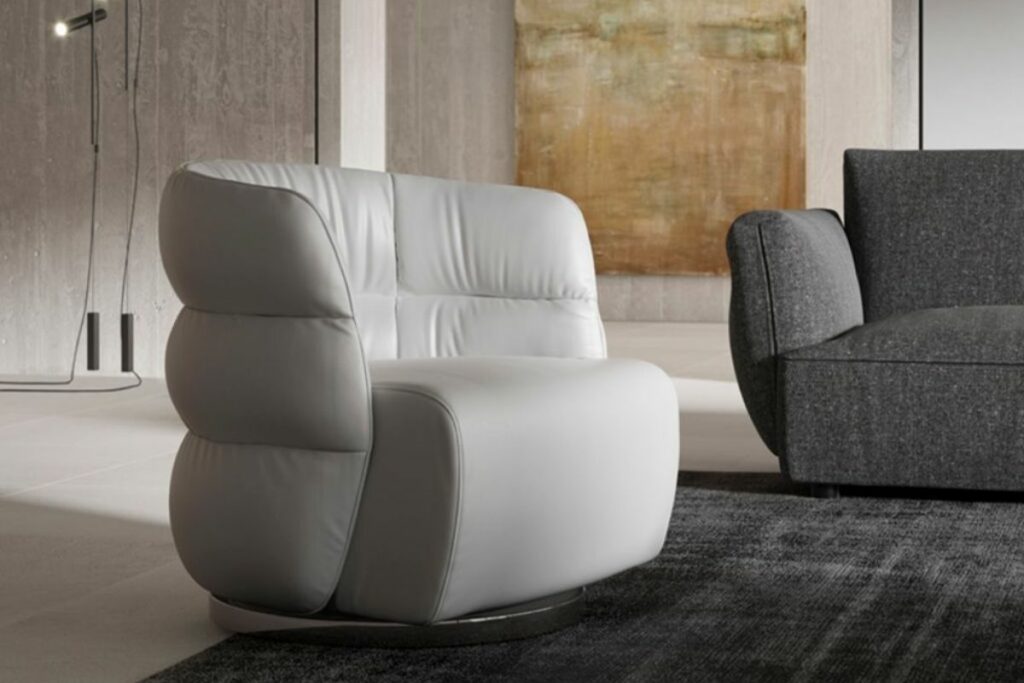 When we talk about Italian leather chairs, we have to mention Natuzzi. The brand was founded in Southern Italy in 1959 by Pasquale Natuzzi. The brand says that "smooth line combines in a casual modern design" and it couldn't be more true. First of all, have a look at the Mama Dining Chair. Comfort and smart design in one!
Secondly, we have the Italian leather sofas Natuzzi, premium furniture that has a contemporary design and is there to serve you for a lifetime. For example, take Sophy, a gorgeous brown leather sofa waiting for you to sit on and watch TV. Sophy can probably fit around 4 people. As Natuzzi says, the sofa "conveys a sense of hospitality and comfort" and we couldn't agree more.
Corner sofas are one of the most popular pieces of furniture. They fill out empty spaces in your home. Dorian is a dark blue leather corner sofa. The premium quality padding is there to last, no matter how many times you sit on it. It has resistant leather so you don't have to just look at it from afar, you can enjoy Dorian and how comfortable it is with your friends and family.
6. Maxalto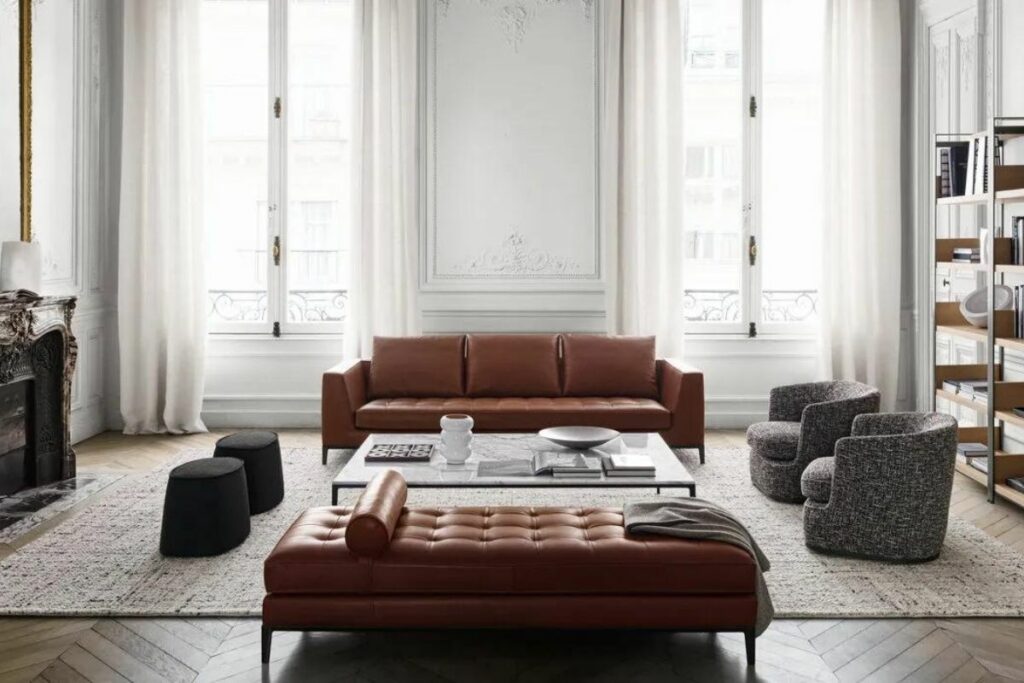 You've probably heard about B&B Italia before. The brand came to life in 1975 along with Maxalto, one of the Italian leather furniture brands. They specialize in artisan furniture. Using the highest quality of materials. The collection includes sofas, armchairs, beds, tables, and many other pieces of furniture.
The sofas that look the best in our opinion are the Lucrezia Soft, which is a classic Italian leather sofa. We also love the Nidus sofa from 2018, which comes in two sizes. First of all, the headrest is removable. Secondly, there's no armrest, so when you have your friends over the environment is friendly and open for any conversation!
Good sofas require good armchairs as well. Are you looking for a premium armchair? Kalos is the one for you. I absolutely love this little chair. The fabric and color can be changed according to one's taste. It comes with a regular armchair and also has a removable headrest. But wait, there's more! Kalos features a small chair to rest your feet on.
7. Arflex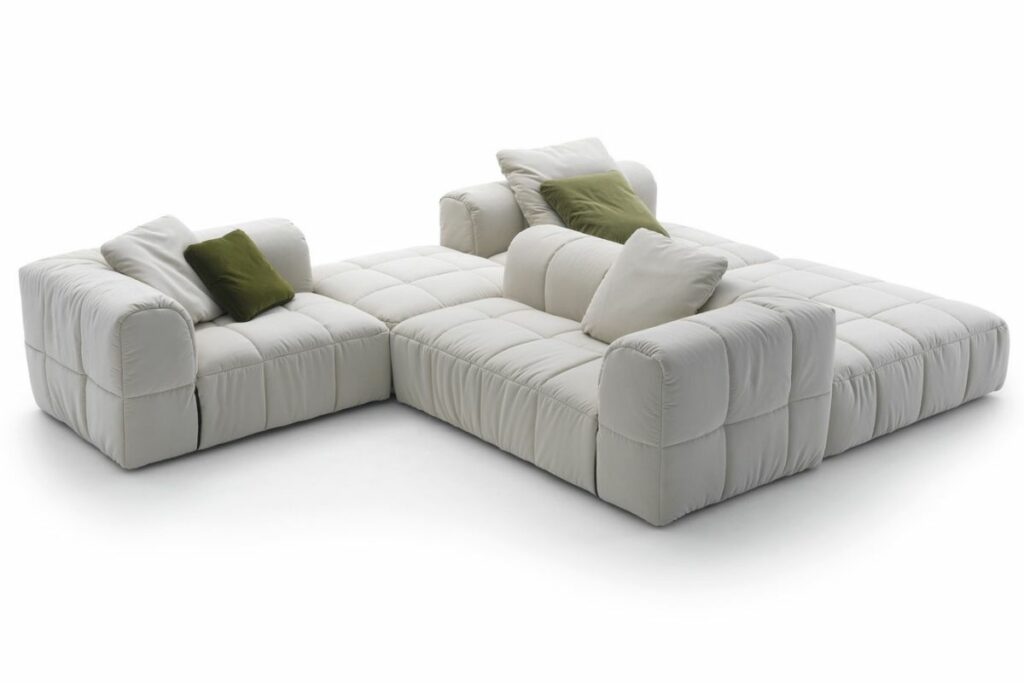 Arflex is famous for its Italian leather living room sets. The brand was founded in 1948 in Italy and today they ship its products worldwide. Their sofas are beautiful and some feature Italian leather chairs too. We love the Marenco system which can also come in different colors of leather. Mario Morenco is the one designing these sofas. For example, one of them features an L-shaped sofa but in the middle, there's a small table.
Another futuristic design is from Cini Boeri, the Strips. These sofas look like the ones a big company would have in their office for the employees, but they would also fit into modern houses. This style of sofa is called "evergreen" and it almost looks like a comfortable bed and sofa in one.
As you can see in the photo, there's a piece where you can sit down and rest your back to it. Then it features another two pieces which would allow you to even lay down or just sit on it with your legs straight. I am actually in awe of this furniture. Safe to say that Arflex furniture has a lot of great designers and quality furniture.
8. Marioni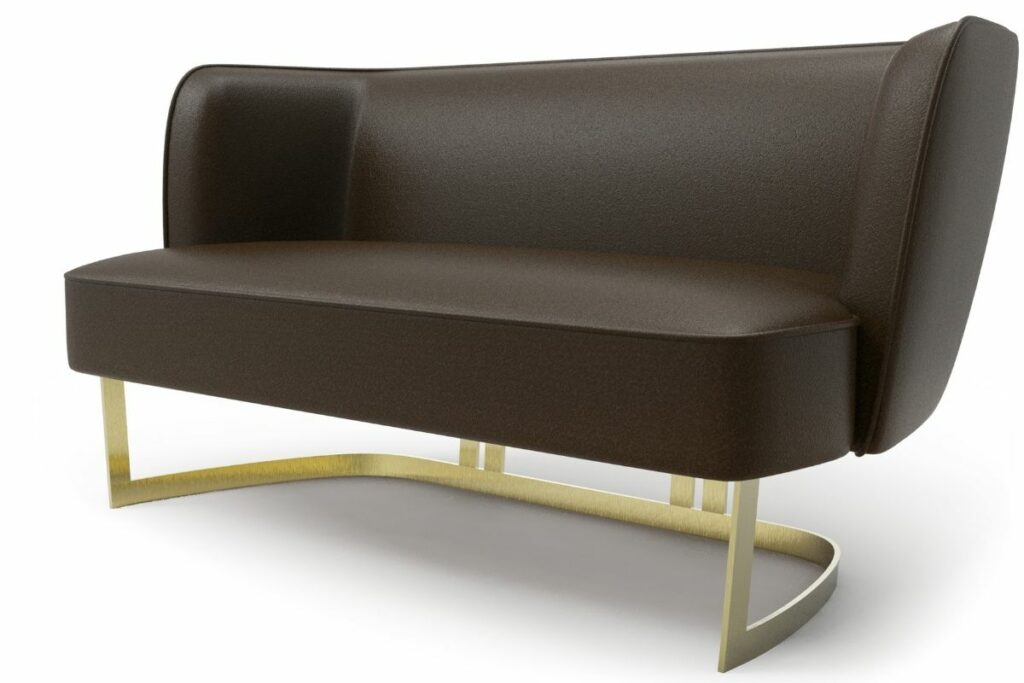 Marioni is the perfect example of what a modern Italian leather sofa should look like. This is a family business from 1966 and it all started in Florence by Paolo Marioni. Since then, it's been passed down to generations and today Marioni is a well-respected and loved brand.
Their sofas are both modern but classic. For example, the Joan sofa definitely has a more elegant feel, while the Gladiolus is a three-seater sofa that looks like a classic. Another favorite of ours is the Grace five or four-seater sofa. You will definitely love this!
If you want a comfortable armchair in your living room, go for the Dracena. It can be ordered in any type of material or cover. The chair has an armrest and it's high enough for the back as well. The upper part comes on either side, if you want to you can even rest your head on the side of it. It's such a classic and looks good in any color.
9. Cassina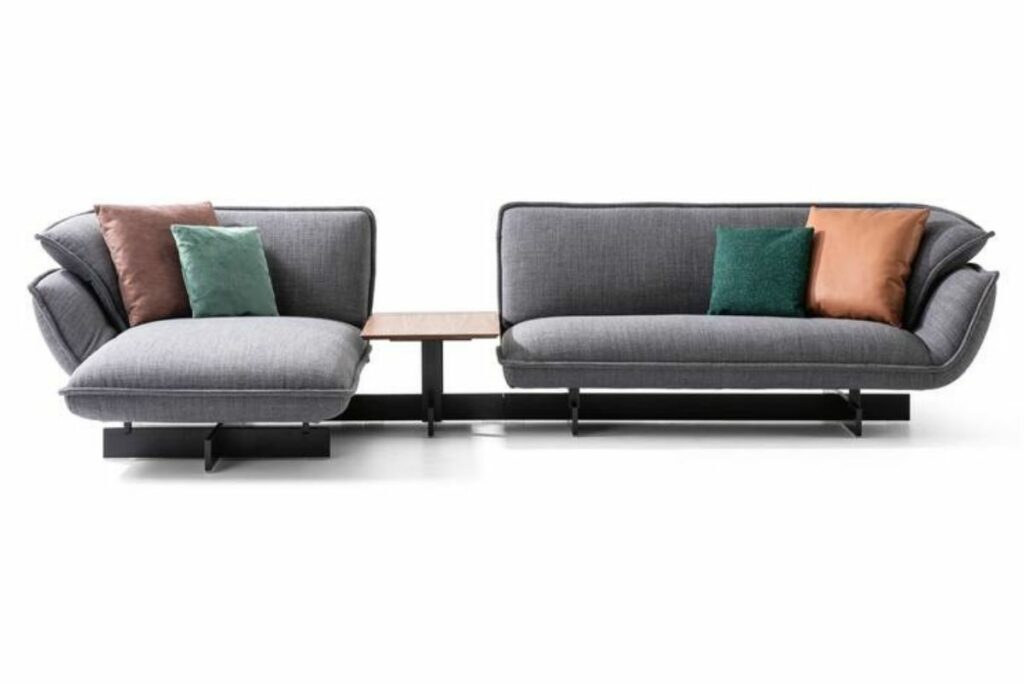 Cassina is from 1927 so they have a bit of history behind them. The brand was founded by Cesare and Umberto Cassina. They first started out with very little furniture, but then started mass producing products, such as Italian leather sofa set and other things.
Cassina is one of the respectful Italian leather furniture brands with an immaculate design. It once again looks modern, and sleek and you get the highest quality. Their Italian leather chair Fauteuil for example would look beautiful as a bar chair. Or the Beam sofa system has a side table in between the sofas which is innovative!
Whether you're looking for a dining chair or one in your living/study room, Cassina has the best ones. First of all, Exford is a comfortable chair but it's also meticulously designed. It features an armrest and a pillow. One design that caught our eye is the Dudet by Patricia Urquiola. These are the type of chairs you would see in a mansion next to the rest of the modern and minimalist design.
10. Sofa Italia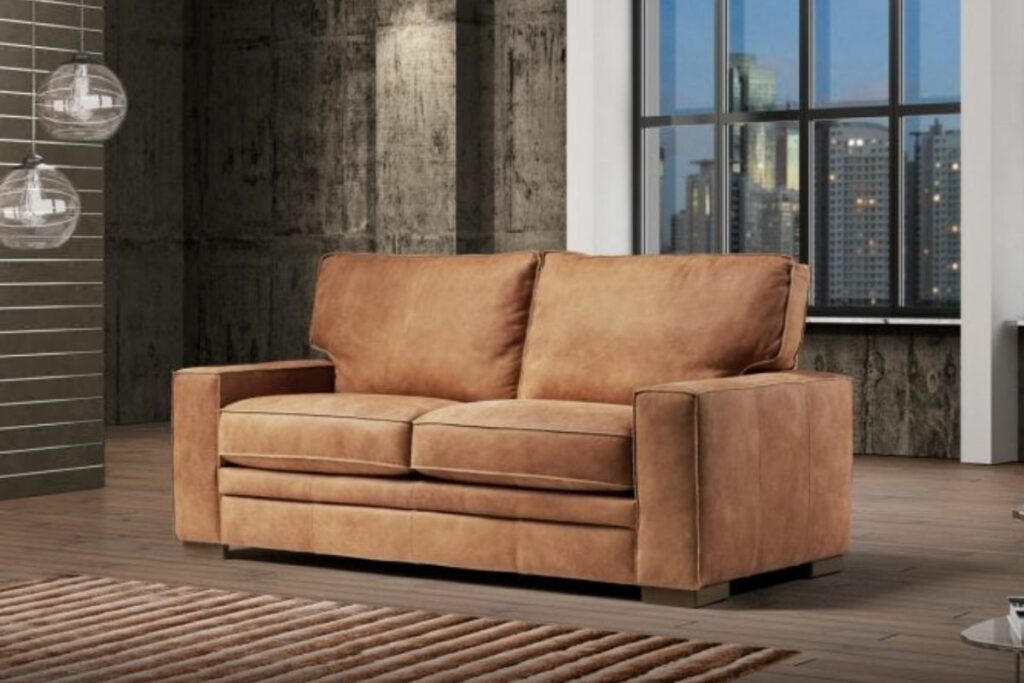 Sofa Italia is a website selling many of the great Italian leather furniture brands. Some of these also feature furniture such as an Italian leather loveseat. One of them caught our eye, the Osvaldo Borsani loveseat sofa. It has a yellow color and the design is simple yet elegant.
The Tito Agnoli sofas are beautifully designed. The Cognac Leather sofa model made in the 1970s is one of the sofas you would see in the movies. Gorgeous brown color and has the best Italian leather quality that lasts for ages. One of the bestseller sofas is the Chester 2-seat Italian leather sofa. It has a curved armrest and two large cushions for extra comfort. All of the Chester range sofas are handmade in Italy.
Sofa Italia has a whole section of sofa beds, which means they can be converted into regular-sized beds. For example, the Genoa Italian leather sofabed is available in 61 colors. It looks like a beautiful sofa when it's made, but can be turned into a comfortable bed for when you have guests. You really can't go wrong with this.
Italian leather furniture – Conclusion
That concludes our list of the best Italian leather living room sets as well as other furniture. We hope you have found a sofa for your taste on the list. There's one for every house. Whether you want a modern, elegant, or contemporary style. Italian leather is a gem on its own, and when it comes to being used in furniture, that brings it to a different level!
Pin it: 10 Best Italian leather furniture brands