10 Best Hotels in Ravenna
Visiting Ravenna is a must-do when you're already traveling in the Emilia-Romagna region. Ravenna is a beautiful city and it's called the city of Mosaics. The churches are decorated with stunning 5th and 6th-century mosaics and Ravenna is still one of Italy's top producers of mosaics. Where is Ravenna located? It lies in northeastern Italy and once it was an important capital of the Western Roman Empire in the 5th century AD. While you're planning to visit, you will need to know which are the best hotels in Ravenna Italy.
10 Best Hotels in Ravenna Italy
Whether you are visiting Ravenna for one day, two days or just staying a few nights to visit the rest of the beauties in the Emilia-Romagna region, it's important to find a few cheap hotels in Ravenna. From here, you can easily visit Bologna or even Florence. Venice is a little bit further up north, so you might want to find a hotel in Venice. Besides visiting the cities nearby, the Adriatic Coast is only a 20-minute drive and you'll be mesmerized by its beauty of it.
You must prepare your itinerary to visit Church of San Vitale, Mausoleum of Galla Placidia, Basilica di Sant'Apollinare Nuovo e in Classe, and many other beautiful buildings. Thankfully, a few of the best hotels in Ravenna Italy on our list are close to the historical center and you'll be within walking distance from them. And even the hotels that are a bit further away, the distance is still only 20 minutes of walking or a 5-minute drive to the major attractions. Enjoy the city and the best hotels in Ravenna!
1. Palazzo Bezzi Hotel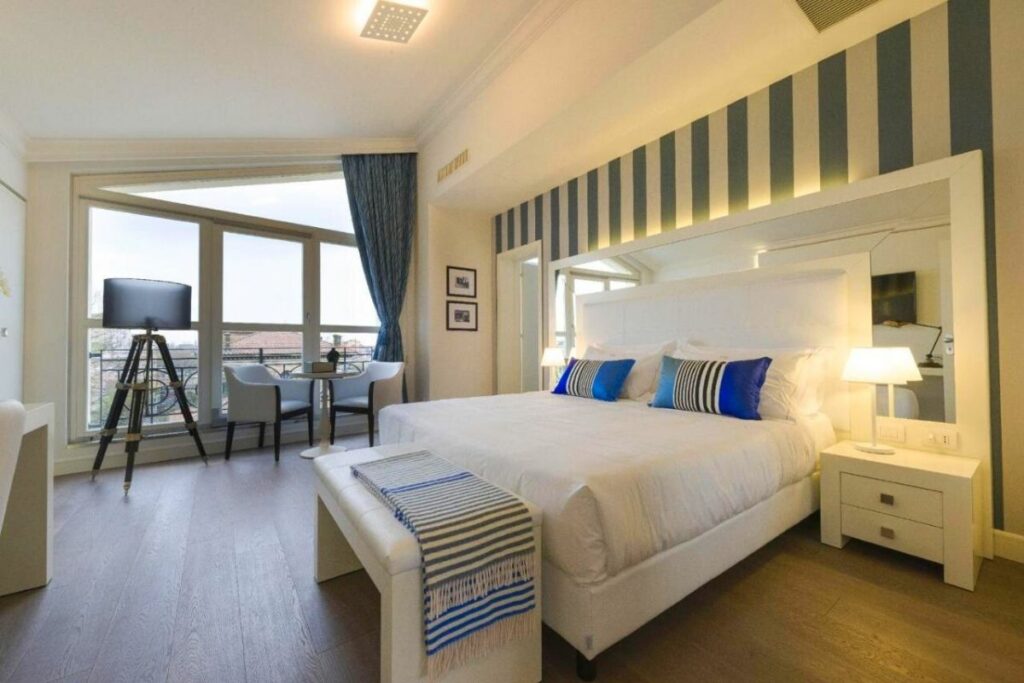 Starting our list with one of the 4-star hotels in Ravenna Italy, the Palazzo Bezzi Hotel. This beautiful hotel received a 9.1-star rating on Booking.com from over 2,000 reviews. Guests mostly love it due to its perfect location. It is only about 550 yards from the city center. The hotel has a modern twist, the rooms are all decorated in a simple yet elegant style.
You can choose between a double, superior room as well as a junior suite and executive rooms. Inside you'll find a minibar, a private bathroom with free toiletries. Some of the rooms have views of the city's rooftops. In case you are craving breakfast, Palazzo Bezzi Hotel offers a sweet and savory buffet either in the breakfast room or as room service.
One of the facilities that guests also choose this hotel is the spa and wellness center. There's a free gym for the guests along with a Turkish bath, sauna, and sensory shower. If you're looking for some real water, the Punta Marina beach is about 6 miles away from the property. There is no restaurant on-site, however, the Trattoria Al Cerchio is an excellent hotel serving Italian pasta.
Palazzo Bezzi Hotel address: Via di Roma, 45, 48121 Ravenna
2. NH Ravenna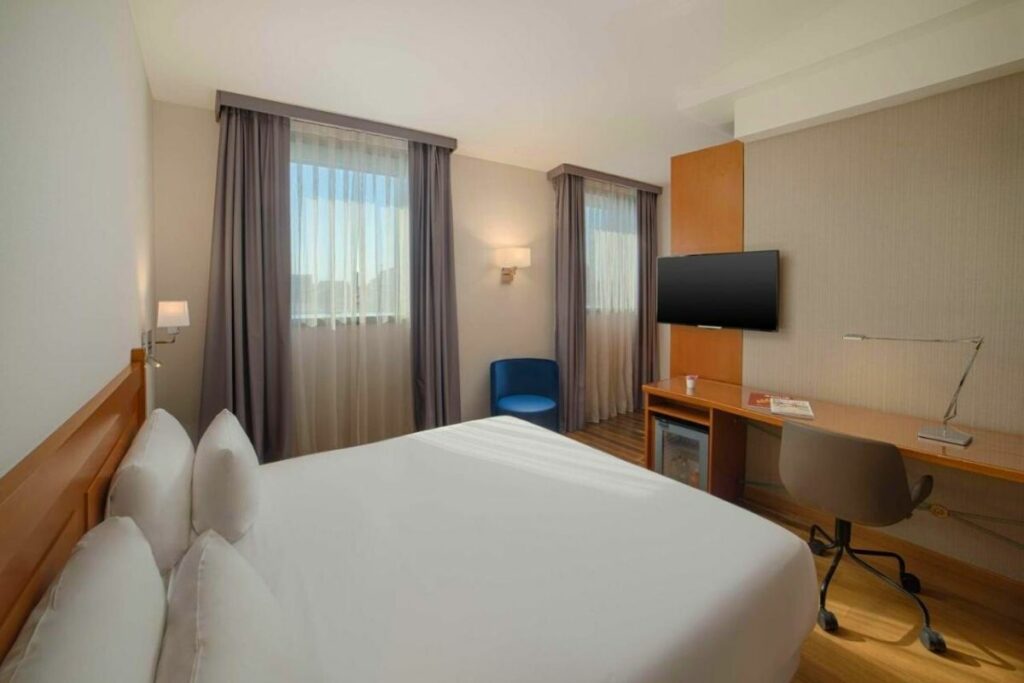 Next up we have another one of the 4-star hotels in Ravenna Italy, the NH Ravenna. If you're familiar with NH hotels then you know they usually don't disappoint. As it is near the city center you'll be close to the Basilica of Sant'Apollinare Nuovo and the Mausoleo di Galla Placidia. But that's not all, thanks to the nearby rail station you'll also get access to other famous attractions such as the Basilica of Sant'Apollinare in Classe.
NH Ravenna is rated at 8.2 stars out of nearly 1,500 reviews. It has a total of 84 rooms which are furnished with modern furniture and offer comfort. NH hotels are also famous for their conference rooms. This one has a convention room for 150 people. When you're in and out of business meetings you also want to enjoy some drinks, which you can thank the 24-hour bar on site.
The hotel's restaurant serves traditional Italian cuisine but also local specialties. Do you wish to discover other restaurants? Have a look at the Osteria Il Paiolo which serves piadina, seafood, pasta, and meat dishes as well as some delicious white and red wine. Other facilities include bicycle rental, and pets are also allowed within the hotel.
NH Ravenna address: Piazza Goffredo Mameli, 1, 48100 Ravenna
3. Grand Hotel Mattei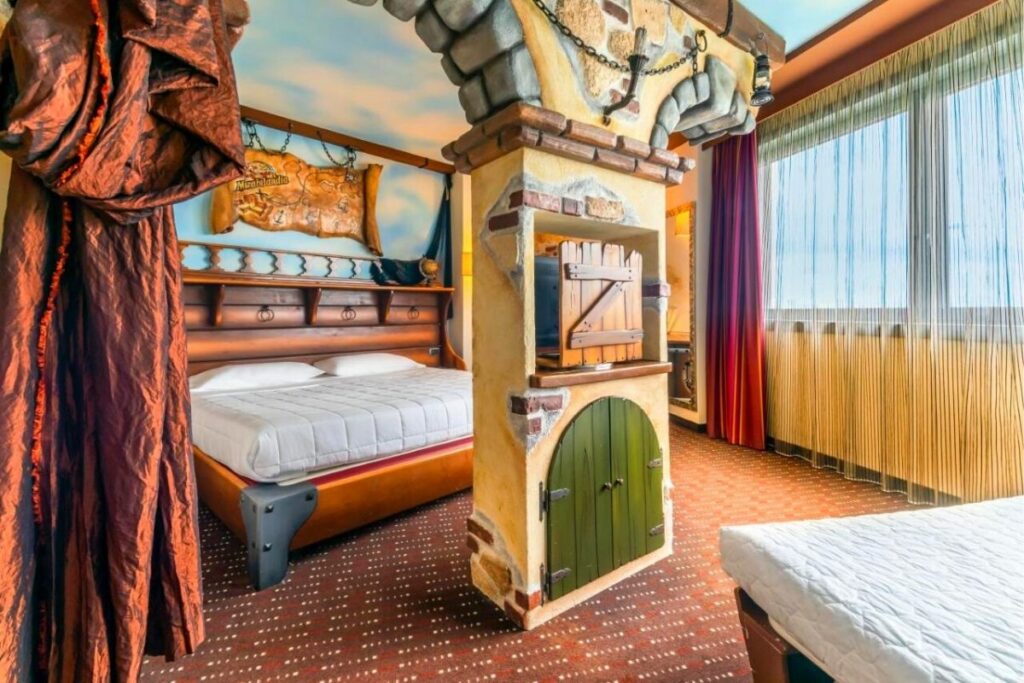 Grand Hotel Mattei is a 4-star hotel in Ravenna Italy. The hotel has some thematic rooms along with their classic modern rooms. If you wish to spice up your stay, choose the junior suite Covo dei Corsari. this is a room inspired by the area of the Pirates of the Mirabilandia park. It would be a great room for the kids! Besides these rooms, the rest of them all have large beds, air conditioning, a TV, a work desk, and a safe.
At Grand Hotel Mattei guests can enjoy the modern wellness center. This includes fitness rooms, sauna, hammam, full-body massages, manicures, pedicures, and much more. You can also book beauty services or spa packages before you arrive at the hotel. The spa has a large hot tub and Turkish bath too.
Thankfully the hotel offers both breakfast and all-day menu options. In the morning guests get to go down to the breakfast room for a continental buffet breakfast. Then at the Zina restaurant, they serve lunch and dinner. It is mostly Italian cuisine. As you're 5 minutes drive from the city center, you might as well walk to get there and discover the streets of Ravenna.
Grand Hotel Mattei address: V.le Enrico Mattei, 25, 48122 Ravenna
4. Exclusive Aparthotel La Reunion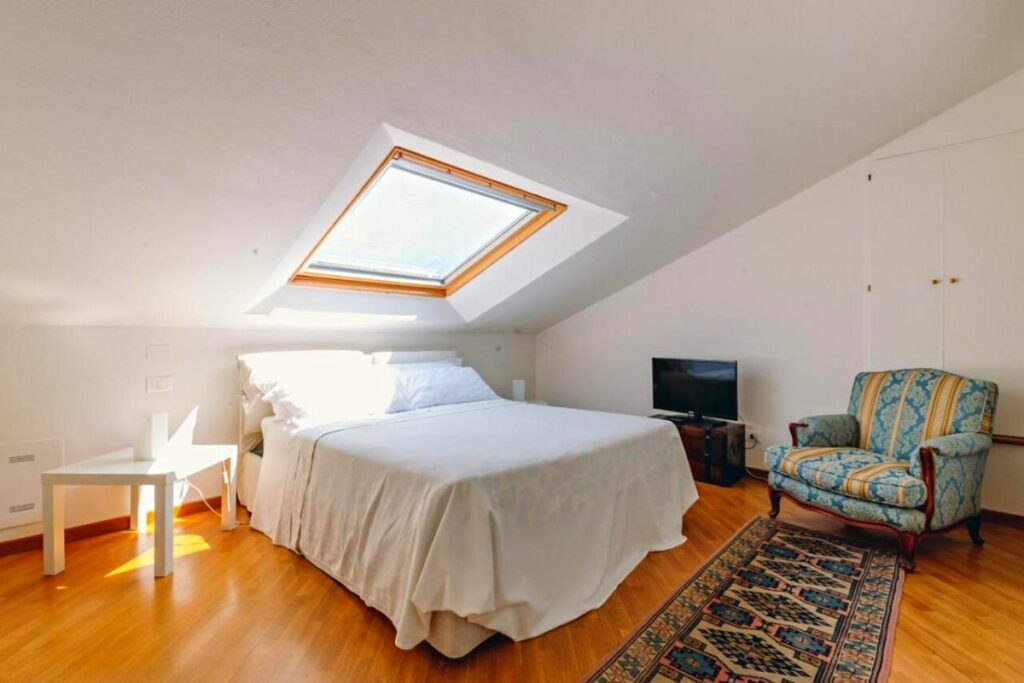 In case you were wondering where to stay in Ravenna Italy which is not a typical hotel, the solution is Exclusive Aparthotel La Reunion. Located close to the historic center of Ravenna, the Aparthotel is the perfect place to relax and feel good while you're enjoying the city. This property was designed to make sure of your well-being. The suites are large and spacious with modern furniture and parquet floors.
At the same time, the suites offer a fully equipped kitchenette for anyone who wants to prepare meals inside instead of visiting restaurants each day. There is an option to have breakfast served in the room. Guests rate this property 8.9 stars and gave it a high rating for cleanliness. You'll be close to Basilica of Sant'Apollinare Nuovo, San Vitale as well as Mausoleo di Galla Placidia.
Did you know that Mausoleo di Galla Placidia is a UNESCO World Heritage site? You must pay it a visit while in Ravenna. Let's talk restaurants. If you wish to try out an Italian restaurant, visit the L'Ingrediente Segreto – Piadineria dal 1972. Or the Osteria dei Battibecchi also received good reviews from other customers. There are a few cafes and bars on the same street as the Aparthotel, make sure you discover them!
Exclusive Aparthotel La Reunion address: Via Corrado Ricci, 29, 48100 Ravenna
5. Hotel Astoria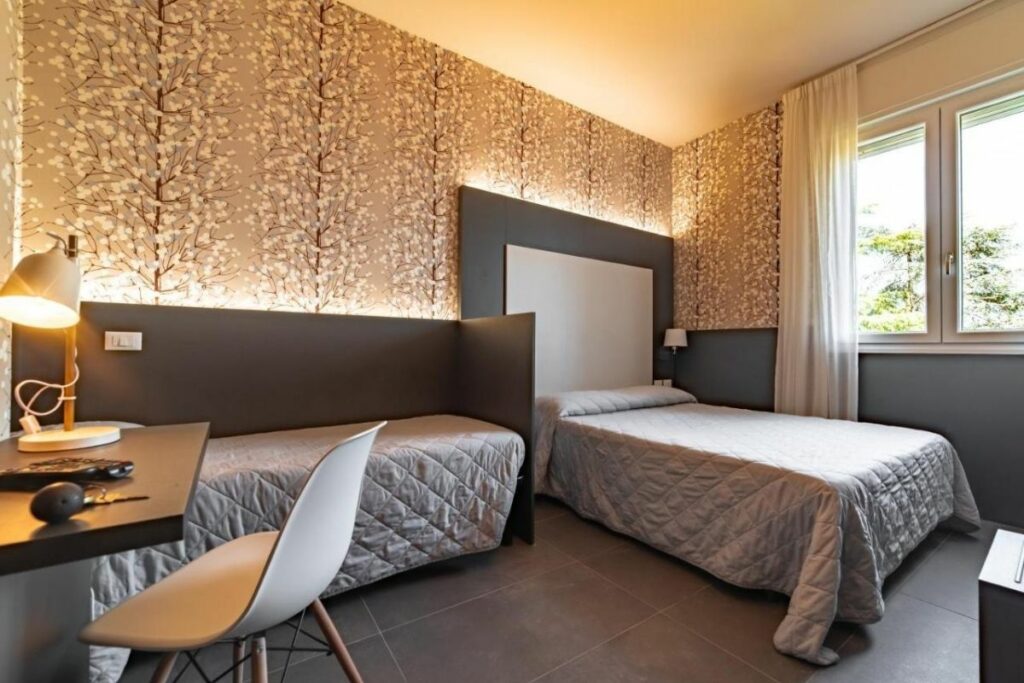 Hotel Astoria is one of the 3-star cheap hotels in Ravenna. Even during summer, you can find affordable prices at this hotel. That doesn't mean it is not a quality hotel. From 2,000 reviews it still received 8.3 stars. The hotel is a bit further away from the city center, but within walking distance, about 10-15 minutes.
Ravenna Train Station is nearby, about 550 yards away from the hotel. You'll find a large car park and Hotel Astoria rents out bikes for free. Their rooms have classic furniture with tiled floors. I'd say the rooms are quite spacious and the bathroom is clean and has a shower. Some of the rooms feature a balcony too.
Hotel Astoria serves breakfast on a daily basis, which you can consume either in the breakfast room or in your own room. The hotel does not have its own restaurant, but the staff will be happy to help you with some local suggestions. There are no attractions right next to the hotel, so you would have to take the bus or just simply walk into the city center. Let's check out the rest of the best hotels in Ravenna Italy on our list.
Hotel Astoria address: Circonvallazione alla Rotonda dei Goti, 26, 48121 Ravenna
6. Hotel Minerva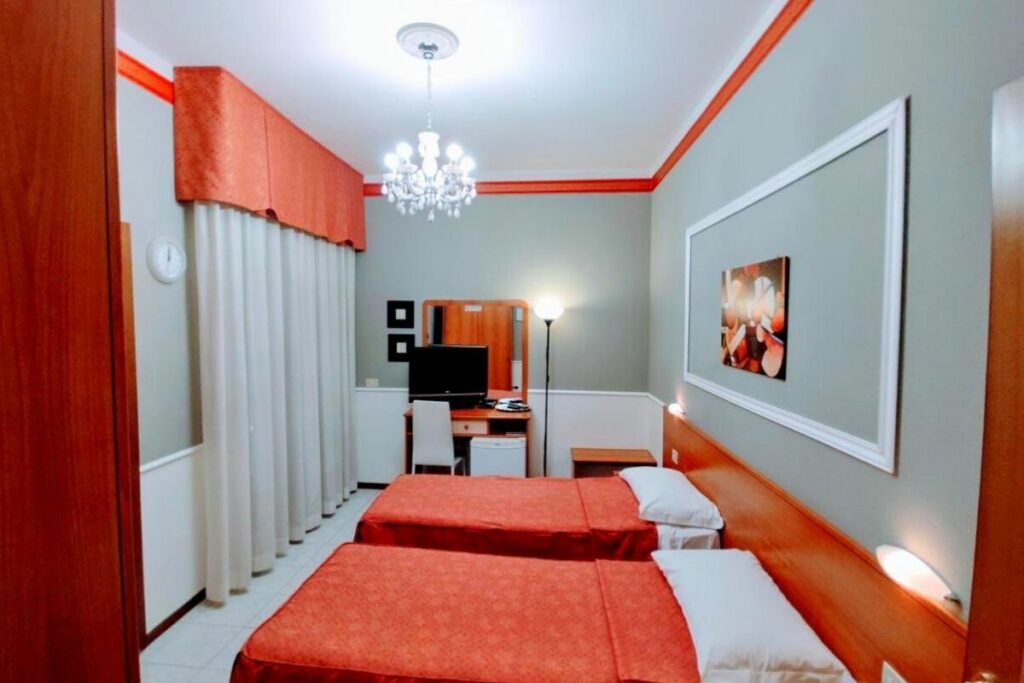 Among the best hotels in Ravenna, there's Hotel Minerva, a 3-star hotel only 10 minutes walking distance away from the center of the city. Hotel Minerva received 8.3 stars on Booking.com and the couples rate is 8.9 stars. This is a smaller hotel that features classic-style rooms. They all include a TV, a small fridge and are equipped with a hairdryer and free toiletries.
Choose from small double rooms to standard double/twin rooms as well as triple and family rooms. Hotel Minerva serves buffet breakfast at the hotel. There's no restaurant available at the hotel directly, however, there are many restaurants, pizzerias, and bars in the neighborhood. Although a bar is available at the hotel directly.
The closest attraction to the hotel is the Basilica of Sant'Apollinare Nuovo. There are two parks close to the hotel. Then you have another church worth visiting which is the San Giovanni Evangelista. Across the train tracks check out Moro di Venezia. There is a big sailboat which is not used anymore. The boat is called Il Moro III and was one of the five fastest boats built for America's Cup.
Hotel Minerva address: V.le Pier Maroncelli, 1, 48121 Ravenna
7. Palazzo Galletti Abbiosi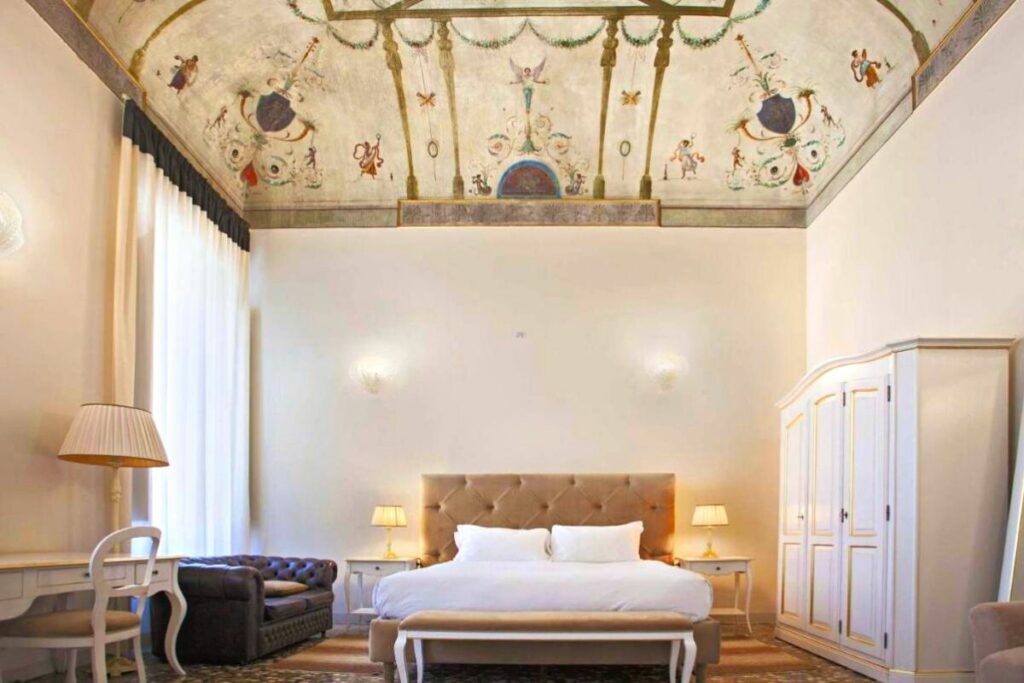 This next hotel in Ravenna will amaze you as it features 18th-century architecture. Palazzo Galletti Abbiosi was a noble residence and now it's turned into a beautiful hotel. The outside walls are a rustic orange and the garden has gorgeous trees and flowers. The rooms are contemporary but with minimalist decor. The high ceilings certainly give you the impression that you are in an old building.
The hotel does serve breakfast in a bright dining room or you can choose room service. If you wish to relax, just sit outside in the garden and enjoy a cup of Italian coffee. You can also rent out bicycles from the hotel to explore Ravenna's historic center. As far as restaurants, there's a pizzeria called Al Passatore not far away. As you're close to the center you'll discover plenty of local restaurants along the way.
Palazzo Galletti Abbiosi address: Via di Roma, 140, 48121 Ravenna
8. Hotel Centrale Byron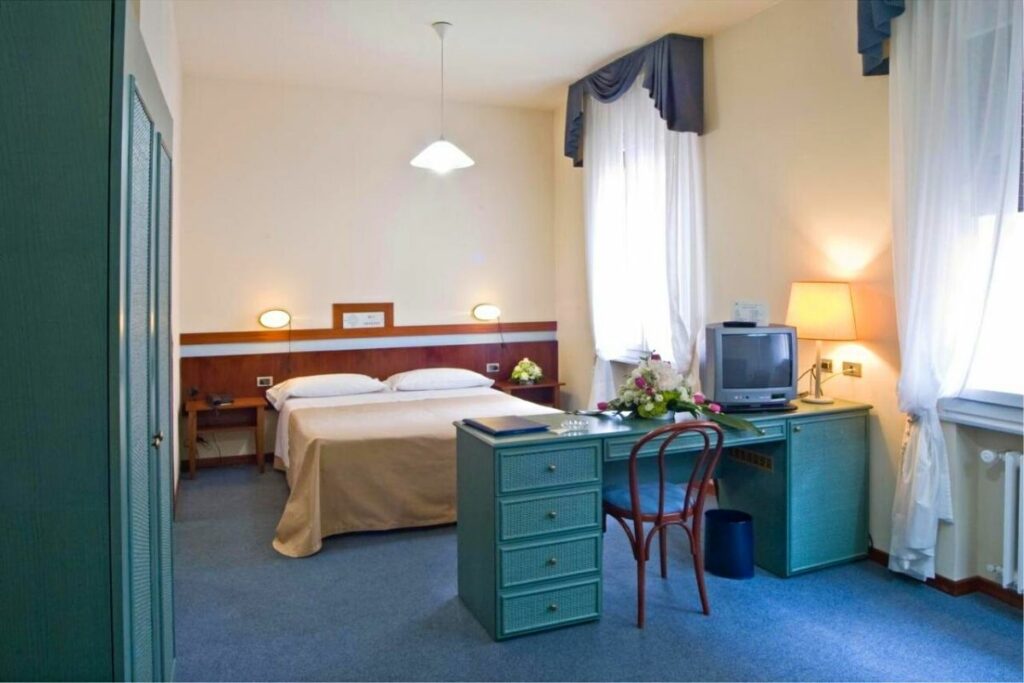 Hotel Centrale Byron is located on a quiet street in the historic center of Ravenna. The rooms have private bathrooms with air conditioning and free Wi-Fi. This is a very simple hotel, the decoration is simple and practical. The room features a spacious bedroom with a desk and TV. In the morning Hotel Centrale Byron serves a sweet and savory buffet breakfast.
For restaurant options, Hotel Centrale Byron is close to Osteria Il Paiolo. This hotel is right in front of Minerva Hotel, therefore you can also walk over the train tracks to check out the sailboat and the maritime scenery. The hotel is also close to a shopping area to get all of your souvenirs or authentic Italian clothes.
Hotel Centrale Byron address: Via IV Novembre, 14, 48122 Ravenna
9. Albergo Capello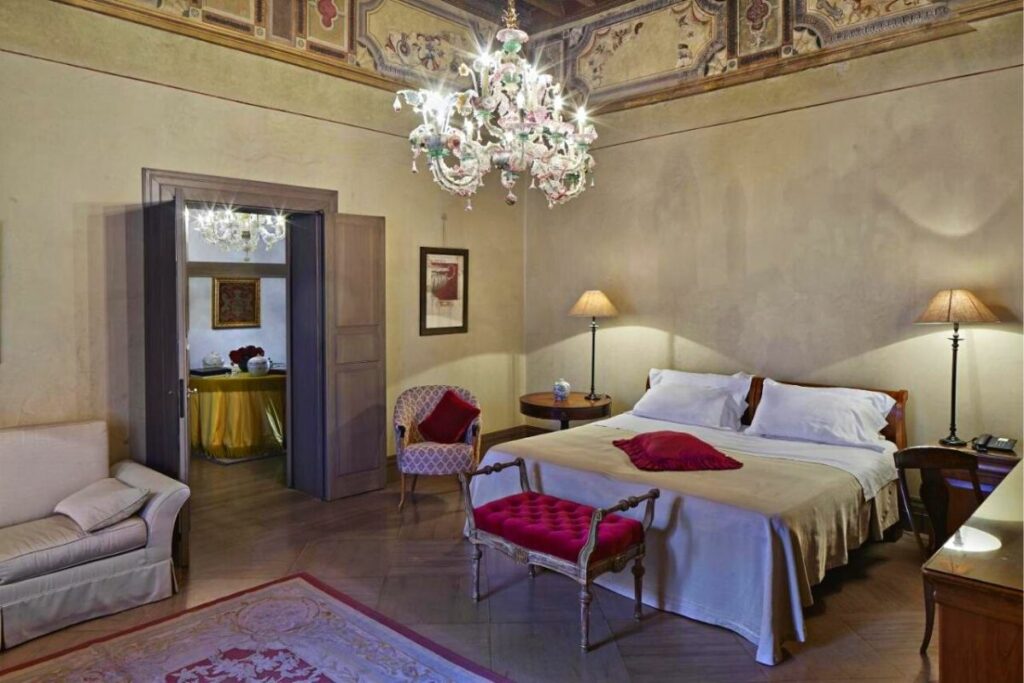 Albergo Cappello is a 3-star hotel that is set in a renaissance building under the name of Palazzo Bracci. This hotel is rated 8.9 stars by customers and we can understand why they love it so much. Moreover, couples rate it 9.8 stars and believe it's one of the best hotels in Ravenna. First of all, it is only a 5-minute walk from San Vitale Basilica and Galla Placidia Mausoleum. You're automatically close to the major attractions.
It is also one of the cheap hotels in Ravenna, considering its location and decor. Speaking of decor, the rooms have a classic style, with parquet floors, chandeliers, and even frescoes. The room has a TV, and beautiful bathrooms, some of which include a sofa, chairs, a desk, and lovely little side tables.
Thankfully, Albergo Cappello has a restaurant that serves Italian cuisine and Romagna specialties. All of their seafood dishes are made with freshly caught fish. Breakfast is available to take in the room. The hotel has a bar too that features a long list of Italian and foreign wines. Staff at the hotel recommend visiting the Adriatic Coast since it is only 20 minutes by car.
Osteria Il Paiolo address: Via IV Novembre, 41, 48100 Ravenna
10. Le Case Di San Vitale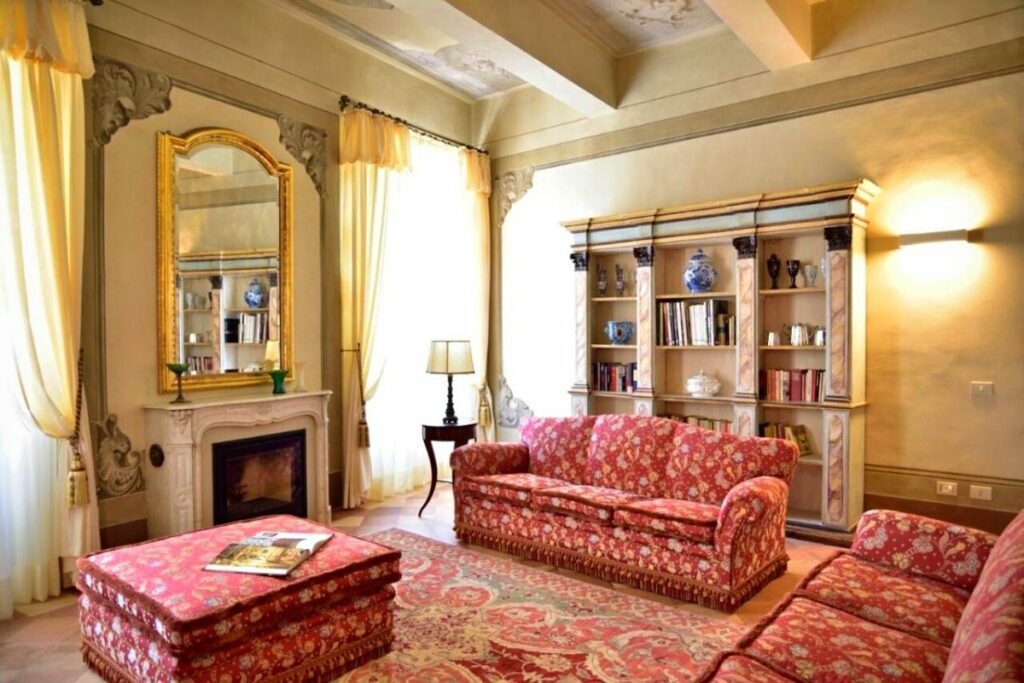 On our list of hotels in Ravenna Italy, we had to include a 4-star B&B. Le Case Di San Vitale is set in the city center of Ravenna, in a historical building. As the name suggests, you are very close to San Vitale and only about 100 yards away from Mausoleo di Galla Placida. The property is truly beautiful and luxurious. You'll see vintage furniture all over with a fireplace, golden accents, and high ceilings.
The ceilings also have frescoes which give an even better vibe to the whole bed and breakfast. You'll fall in love with the rooms. The bed frame is also vintage, light peaks through the windows and lights up the whole room. Guests can enjoy breakfast in the private garden.
Le Case Di San Vitale received a 9.4-star rating in the B&B category and 10 from couples. You're close to the main attractions in the city center as well as being close to restaurants and bars. The nearest cafes are Caffè Corte Cavour and Pasticceria Caffè Veneziana. As far as restaurants, have a look at Ristorante Bella Venezia.
Hotels in Ravenna Italy – Conclusion
As you can see, you must not miss out on visiting Ravenna. You can do a day trip from Bologna stay in Ravenna for the night or stay a few nights and take trips to other nearby cities. It's also worth visiting the Adriatic Coast as it's only 20 minutes away. So, if you've been thinking of going there but are unsure of where to stay in Ravenna Italy, check out the best hotels in Ravenna Italy for your stay!
Pin it: 10 Best Hotels in Ravenna