10 Best Italian Restaurants in Manchester
Manchester is one of the best upcoming cities in England. It's vibrant, and beautiful, with a variety of buildings and open spaces. London will always have a special place in my heart, but Manchester offers something else. The city is big, but still small enough to get around easily. There are many neighborhoods and buildings under construction right at this moment, which means it's getting more accessible by the minute. Consequently, that means the population will grow. This is where you can find your favorite Italian restaurant Manchester.
There are many restaurants in Manchester, so how do you choose the best Italian restaurant in Manchester? Some of the owners did a really great job and made sure that their cuisine is authentic Italian instead of bringing a very modern version of the dishes. Although a few might have turned into chain restaurants, they still kept the authenticity of the dishes and strived to offer the best service to customers. Manchester is the place you have to see and experience for yourself!
10 Best Italian Restaurants in Manchester – Italian Restaurant Manchester
So which Italian restaurant in Manchester should one visit? Well, if you are nearby the Central Library, then Don Giovanni Italian restaurant Manchester is the closest one that we would recommend visiting. They have been open since 1984 and the quality of the food is impeccable. Another famous spot you might want to check out is San Carlo. The venue is not only beautiful, but the dishes are appetizing and you have the chance to even see some celebrities. Let's crack on with our list of Italian restaurants in Manchester.
1. Sugo Pasta Kitchen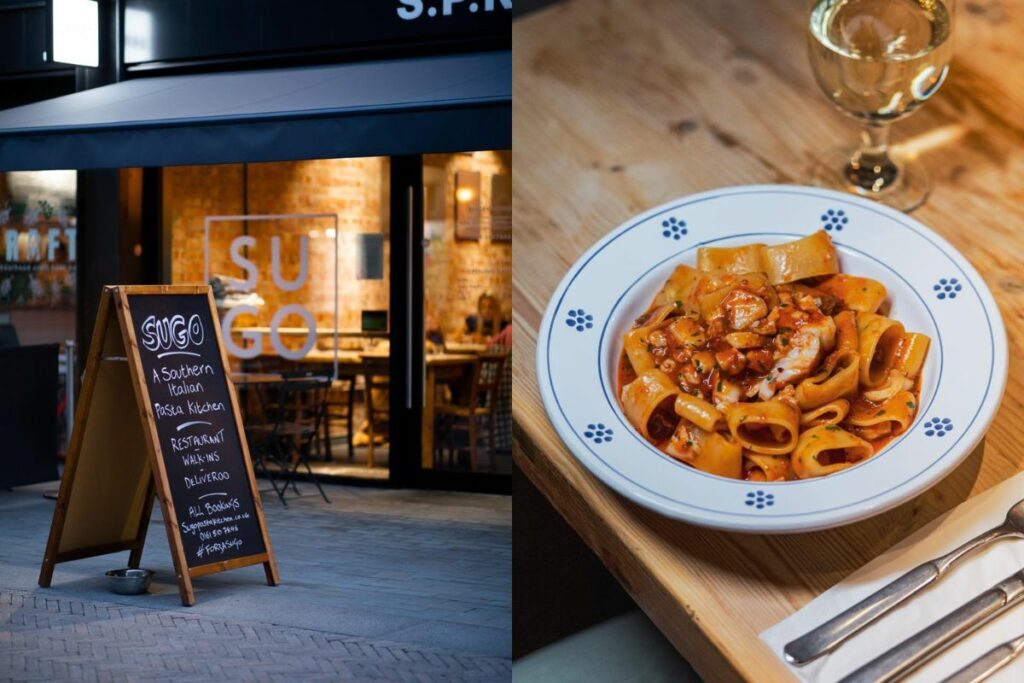 Sugo Pasta Kitchen Italian Restaurant Manchester is a highly rated place in the city. With nearly 800 reviews on Google, it gathered 4.6-star reviews in total. The location is in the famous Ancoats which is within walking distance from the city center. It was inspired by South Italy, the owners drew from their heritage to create a soulful restaurant in the middle of Manchester.
You would have to book a table at Sugo Pasta Kitchen as they are a very sought place. Thankfully the owners are not compromising with the Italian dishes, which means that they are authentic. The starter menu includes Bruschetta Pugliese, La Latteria Burrata, and even Sardinian Caviar! The pasta is made by the De Leonardis Family in Altamura Puglia, you are getting the good stuff, not store-bought! One of the famous dishes is the House Sugo, which is made up of orecchiette with an 8-hour beef shin, pork shoulder, and nduja ragu.
There are also gluten-free and vegan options, but there's no gluten-free pasta. As the pasta is made traditionally by an Italian family, it doesn't include any gluten-free flour. The delicious desserts include Panna cotta or Cannolo Siciliano. As far as drinks, the wine section is quite extensive and they are all Italian wines. Wines from Sicily or Puglia.
Sugo Pasta Kitchen Manchester location: 46 Blossom St, Ancoats, Manchester M4 6BF
2. Sicilian NQ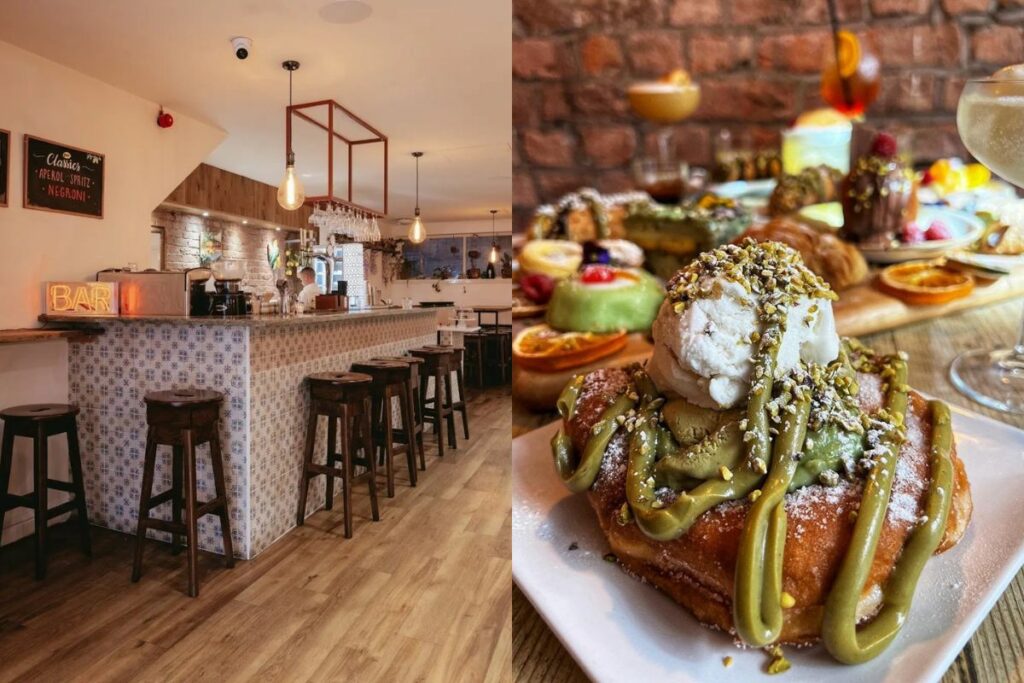 Sicilian NQ is a "friendly neighborhood bistro & bar" and they are serving the best Sicilian food and drinks as well as cocktails, desserts, and gelato. This Manchester Italian restaurant is located in the Northern Quarter of the city. But besides dining inside, they have an online shop where one can purchase their Sicilian NQ Gift Boxes, homemade sauces, cocktails, and so on.
The restaurant also put a disclaimer on its website stating that due to supply chain issues, its menu can change at any time. So these dishes which are customer favorites, might not be available at the time of your visit. One of the first things we wish to mention is their bottomless brunch. Customers can choose any dish from the menu and order bottomless drinks for 90 minutes. One favorite of visitors is the arancini.
Furthermore, the menu is made up of starters, pasta, and mains, Sicilian street food, Nibbles and Sides, Desserts, and drinks. From the Sicilian Street food section, the Mor Mount Etna is a great choice. This is the most popular arancino stuffed with slow-cooked beef, pork ragu, and cheese, then served with homemade tomato sauce and Parmesan on top. The restaurant also has exclusive Sicilian House wines by glass.
Sicilian NQ location: 14 Turner St, Manchester M4 1DZ
3. San Carlo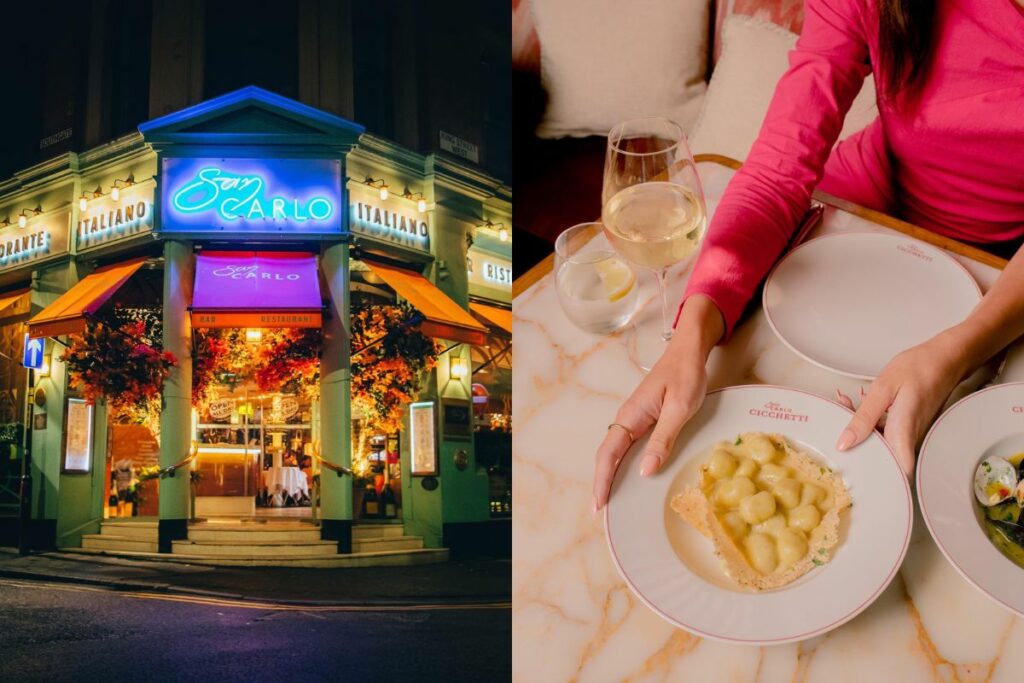 If you wish to be where celebrities are, then San Carlo is the best Italian restaurant in Manchester for that. It's a high-end restaurant that has been reviewed nearly 3000 times on google. That's a really high number and the rating is also 4.2. As soon as you look at the outside of the restaurant, you can tell it's going to be as beautiful from the inside as it is from the outside.
They do group bookings, and events such as Christmas so you can celebrate the holidays with your loved ones in a prestigious restaurant. Let's talk about food. What can one eat at San Carlo? As you can imagine, the menu is quite long and you'll find anything from caviar, and oysters to tasty pizzas. The started do include arancini, Colchester Rock Oysters, Mozzarella in Carrozza, or Gamberoni alla Diavola. You might want to look at the menu if you are curious about what type of dishes these names are hiding!
The pizzas are prepared with Neapolitan flour, Sicilian tomatoes, and the best mozzarella. One can find classics like Margherita or Prosciutto e Funghi, but also the San Carlo special which includes buffalo mozzarella, parma ham, rocket, and parmesan. Among the pasta dishes, you can find Rigatoni alla Norma, and Zitoni Toscanini which is made with long pasta tubes and Tuscan spiced sausage.
San Carlo Location: 42 King St W, Manchester M3 2WY
4. Don Giovanni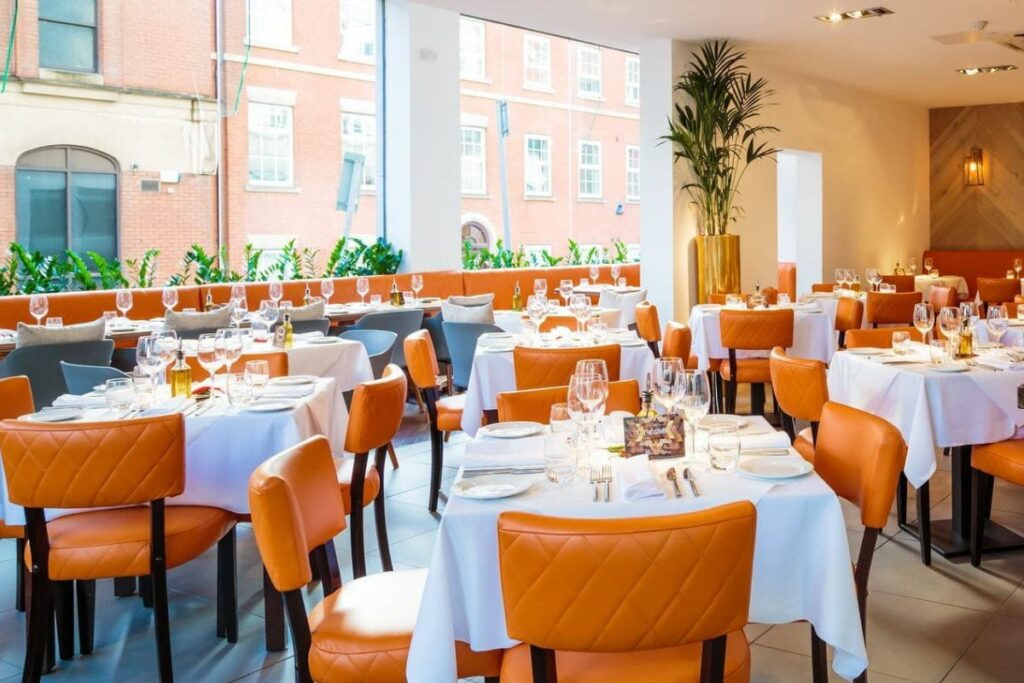 Don Giovanni Italian restaurant Manchester is a modern venue in the heart of the city. They have been serving people from Manchester since 1984 and the restaurant is still a great spot. It won multiple awards throughout the years. They were the first who introduced Italian food in the city, but not just any Italian food, authentic one. The menu is all about fresh food, quality ingredients, and paying attention to every little detail.
The A la Carte menu is very long and detailed, there are so many options to choose from for all dietary requirements. Vegetarian, Gluten-free, and vegan options are displayed nicely on the menu. The pasta menu includes Gnocchi al Gorgonzola, Linguine e Vongole, or risotto al funghi. Don Giovanni Italian restaurant Manchester also includes delicious pizzas with the option to choose a gluten-free base.
The best part of the menu is the wine selection. It features a small map of Italian grapes from different regions. For example, Piedmont, the famous Friuli-Venezia Giulia where the Pinot Grigio is produced, or the best Chardonnay in Lombardy. From the red wines, one can choose from Silenzi Rosso or Santa Cristina from Tuscany. Don Giovanni Italian restaurant Manchester is one of the top places one should go to when visiting the city or craving Italian cuisine.
Don Giovanni location: 1, Peter House, Oxford St, Manchester M1 5AN
5. Vincenzo Trattoria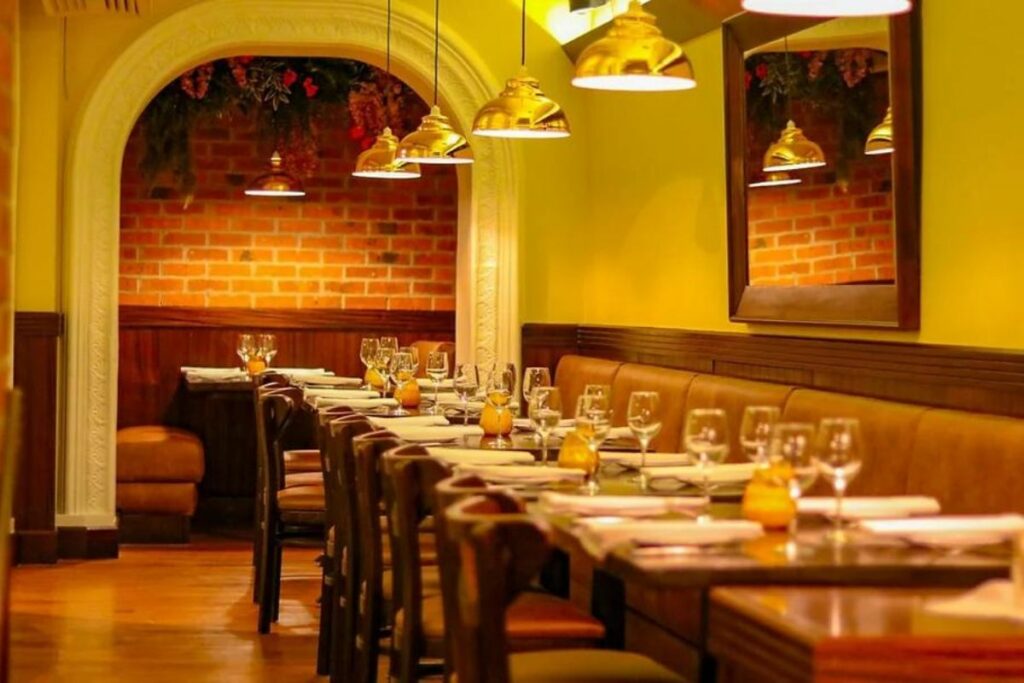 Manchester is not only filled with high-end Italian restaurants, but it also has multiple family-owned businesses where the food is as good as in Italy. Such Manchester Italian restaurant we can talk about is Vincenzo Trattoria. The restaurant opened in 2019 in memory of Vincenzo La Colla. His love for family and passion for food is what inspired the family to open this restaurant in Manchester and offer people quality meals made with fresh ingredients.
The location couldn't be any better, it is right in the heart of Manchester. It is around the corner from St Ann's Square and very close to Market Street. In case someone is going to the theatre, it's one of the best restaurants to stop by for a meal. The pizza menu consists of specials like Vincenzo which includes mozzarella, spicy homemade sausage, tomato, red onion, and porcini mushrooms. That does sound delicious! Then the pasta menu includes dishes like Risotto ai Porcini or Penne Pollo and which is served in beautiful pasta bowls.
The main courses are made up of several types of meats, for instance, chicken, sirloin steak, veal escalope with Parma ham, or even sea bass. Pollo alla Cacciatora is a delicious main dish with chicken breast cooked with onions, mushrooms, peppers, red wine, tomato, and herbs. To go with your main course, choose from sides like Sauteed potatoes, fried zucchini, or salads. Vincenzo Trattoria also has a good variety of wines and other spirits available.
Vincenzo Trattoria location: 34 St Ann St, Manchester M2 7LE
6. Tre Ciccio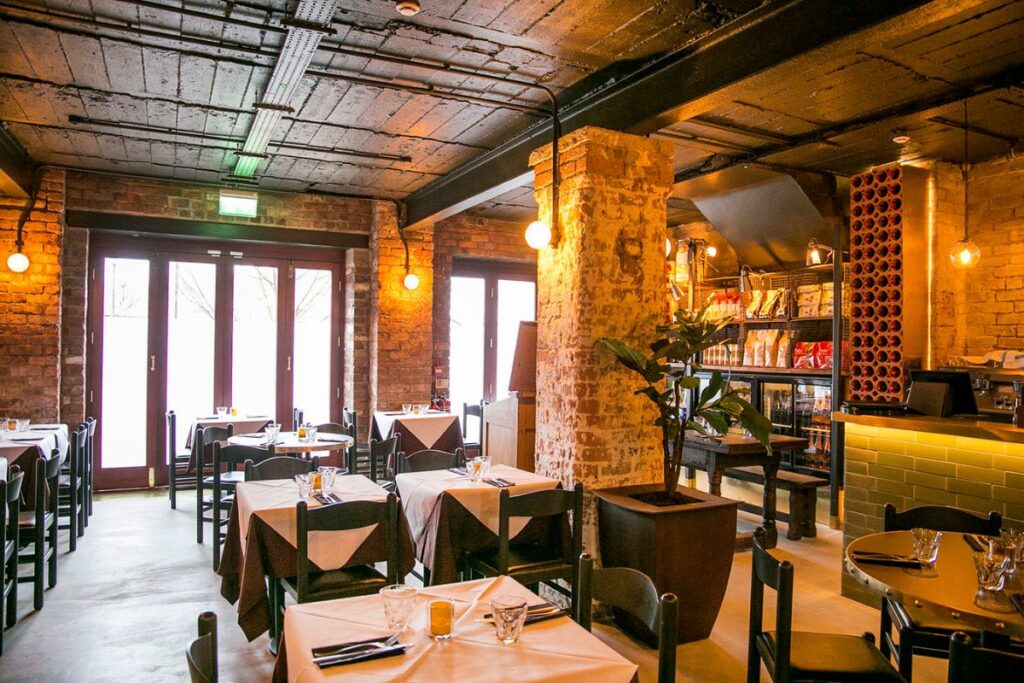 Up next is the Tre Ciccio Manchester Italian restaurant. They serve roast chicken as well as Neapolitan pizza. And the desserts at Tre Ciccio are to die for! I love a good Cannoli or Profiterole. Tre Ciccio opened up in 2016 and was inspired by a meal the owners had in Campania, a region in Italy. The owner Michele is there to ensure guests taste the most delicious meals made with love.
Tre Ciccio Italian restaurant in Manchester has two different locations. One is in Altrincham and the other one is in Ramsbottom. They are both in the greater Manchester area, so neither is city centered. The restaurant's menu is extensive, filled with Italian-style roast chicken, two types of salads, and delicious starters.
As they are mostly focusing on pizza, the menu doesn't include pasta. All of their pizzas are made in-house from high-quality ingredients. The sauce is also made by the chef with a blend of San Marzano tomatoes, extra virgin olive oil, and basil. You can choose from pizzas like the Marinara, which includes garlic, black olives, chili, and oregano. Or the Salsiccia e Friarielli is made with Tuscan sausage flavored with fennel, broccoli, and Fiori di latte. Tre Ciccio also has a separate vegan and dessert menu.
Tre Ciccio location: 4a Moss Ln, Altrincham WA14 1BA and 16-18 Market Pl, Ramsbottom, Bury BL0 9HT
7. The Pasta Factory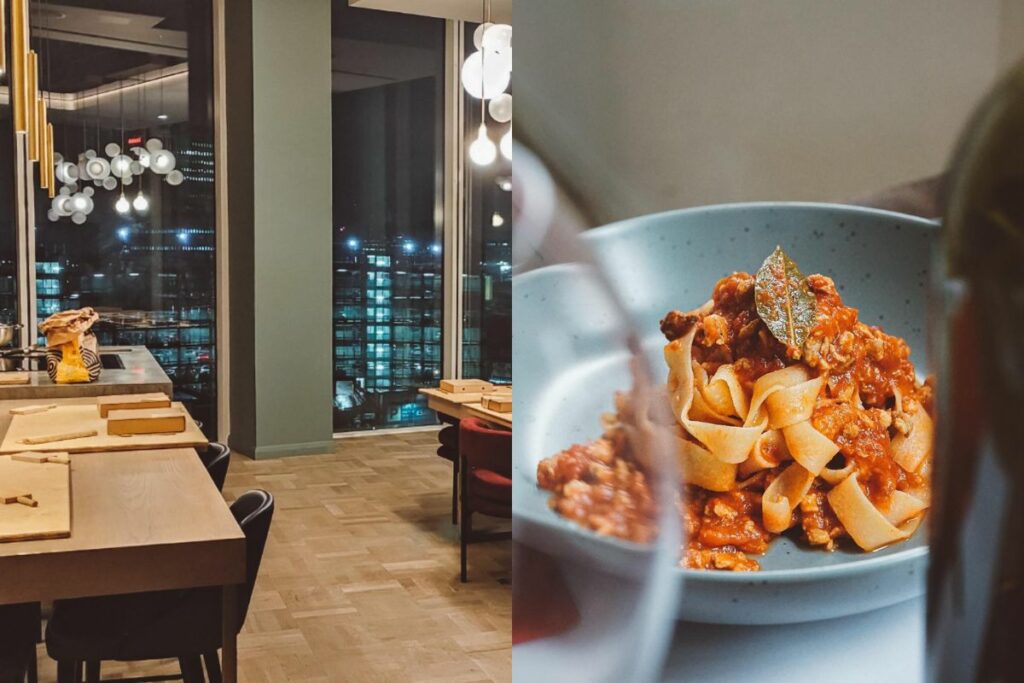 The Pasta Factory will make all of your dreams come true about pasta. It's one dish that is loved all over the world and people will travel to Italy for pasta. But what if you don't necessarily have to travel and have it at an Italian restaurant Manchester? The Pasta Factory serves delicious pasta that is made in-house. You can purchase fresh pasta from the restaurant as well which you can make at home!
As far as the menu, The Pasta Factory offers a good range of different pasta dishes. Rigatoni with octopus ragu, spaghetti with datterini and burrata, or tomato ravioli with black garlic cream. There are also vegan and vegetarian options. For everyone who loves sweets, the restaurant serves delicious chocolate cannoli.
The Pasta Factory location: 77 Shudehill, Manchester, M4 4AN
8. Vero Moderno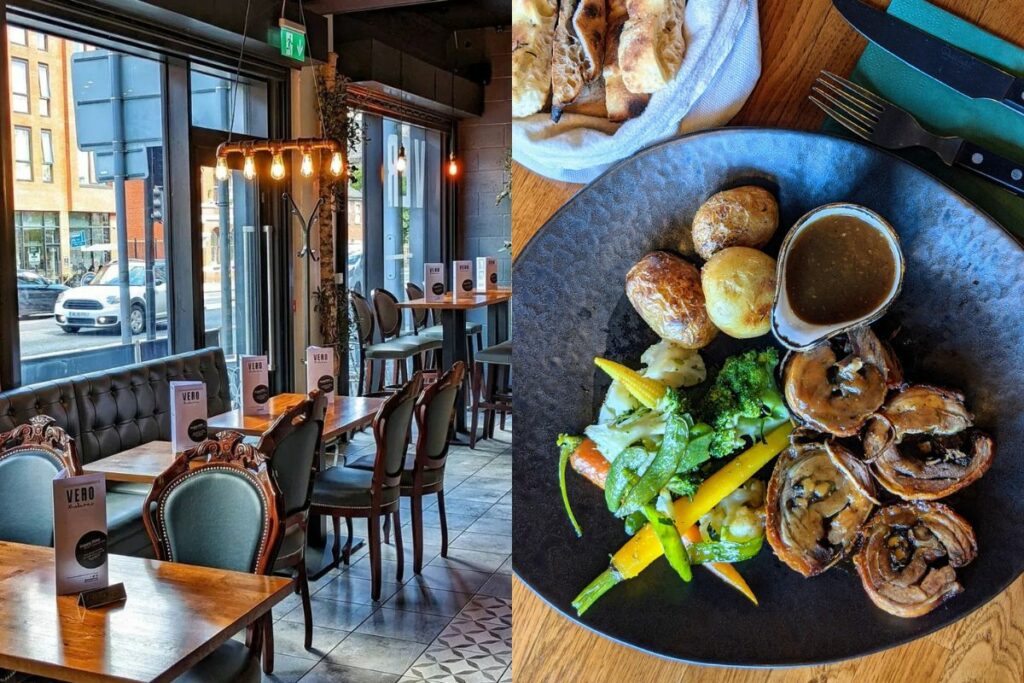 Vero Moderno has taken a twist on Italian cuisine and on what other Italian restaurants in Manchester are serving. According to the founders, they wanted to offer more than just the classic Italian dishes to the customers while still staying true to their roots. The restaurant in Salford opened up in 2016 and it's in one of the most popular areas of the city, Salford.
And they were nominated by the Sunday Times as one of the top three best Italian restaurants in Manchester. So let's have a look at the menu. Vero Moderno serves Foccacia, which I haven't really seen on other menus. I love some Foccacia! From the pasta dishes, you can choose one with ' homemade fresh thick pasta with saffron, diced king prawns and Italian datterino tomato'.
Or the Taglierini del Pescatore is made with mussel meatballs, cod, and baby squid. The best Italian restaurant in Manchester serves a popular Italian burger which is made from beef and served with chunky chips. British people do love a Sunday roast, so Vero Moderno offers an Italian Sunday roast. You don't want to miss out on this!
Vero Moderno location: Unit 4 Vimto Gardens, Chapel street Salford, Greater, Manchester M3 5JF
9. Double Zero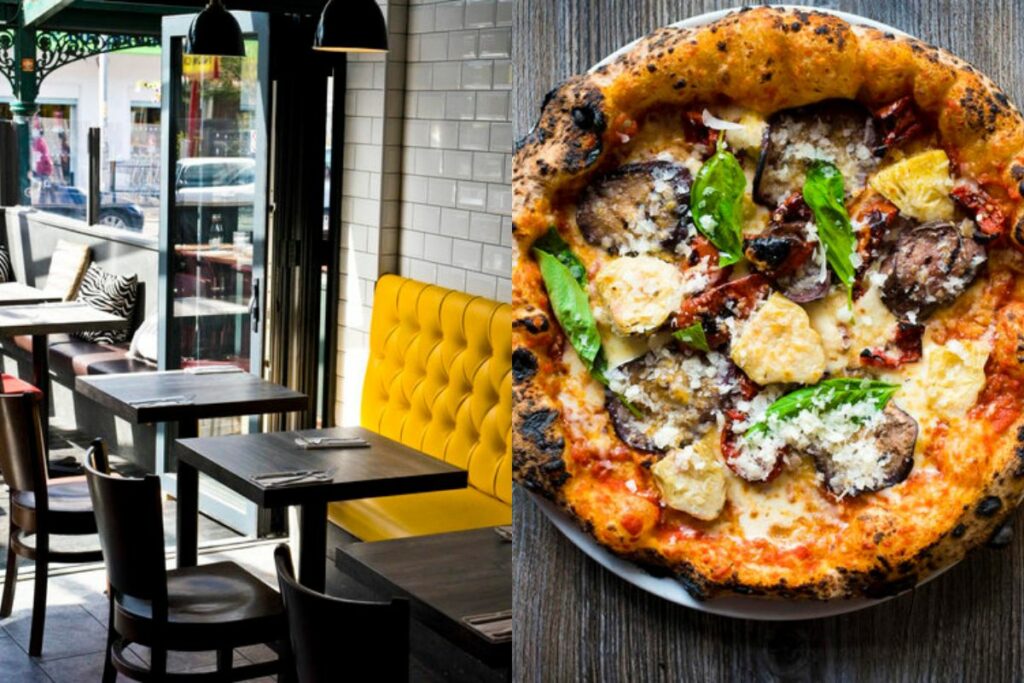 Double Zero is another Italian restaurant Manchester that serves Neapolitan Pizza. This is a soft-style pizza that is flatter, and crispier and it's loved for its delicious flavor. The restaurant makes the dough on-site and only uses 4 ingredients, but fermenting the dough for a minimum of 48 hours. That is the reason why their Neapolitan pizza is so tasty.
As you can imagine, the menu mostly includes pizza, about 15 different pizza types. They serve the usual pizzas like Margherita, Napoli, or Formaggio. Furthermore, if you love chorizo or Napoli salami, you've come to the right place. Lastly, from the dessert menu, it is worth trying out their homemade tiramisu or homemade vanilla panna cotta.
Double Zero location: 368 Barlow Moor Rd, Chorlton-cum-Hardy, Manchester M21 8AZ
10. Lupo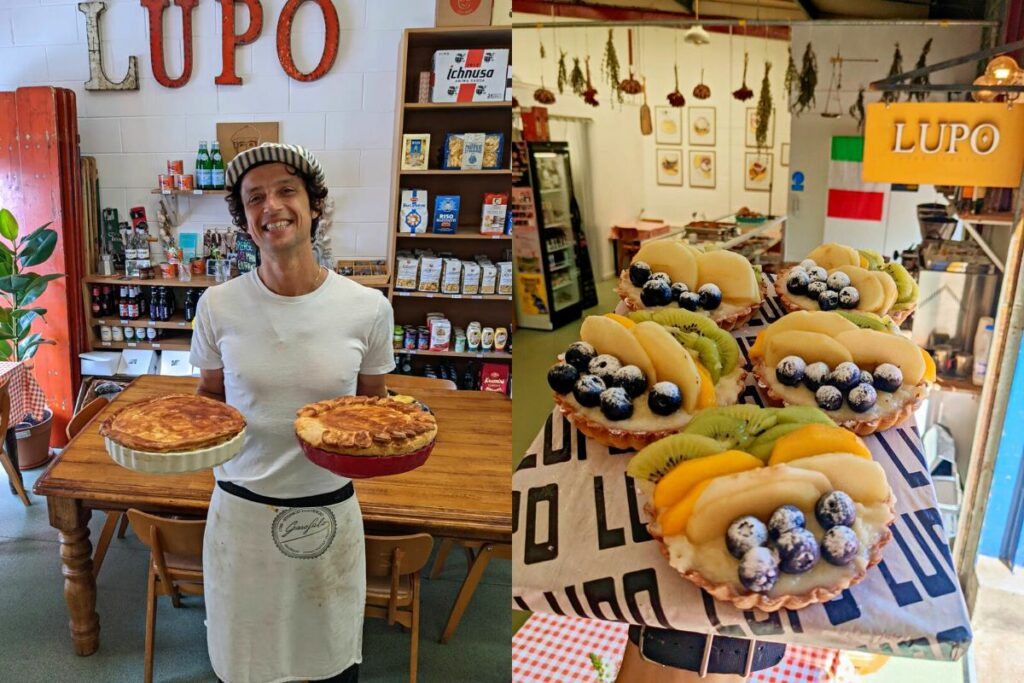 Lupo is a friendly and charming cafe that is only open from Thursday to Sunday. We had to include it on our list of best Italian restaurants in Manchester as everything they do is just perfect and isn't a part of a chain restaurant. As they say, Lupo serves 'proper Italian coffee, pasta, and pasticerria' and it's located in Prestwich. They also serve delicious pizza and aperitivo every Friday and Saturday. Step inside to taste the most delicious Italian pastries and sweets.
But that's not all that Lupo does, they also deal with catering in Manchester and the Salford area. Everything from hot food or buffets, as well as breakfast for board meetings. Do you have a party coming up and you wish to charm your friends and family? No problem, Lupo will cater to your needs by offering bespoke services.
Furthermore, Lupo serves Arabica beans coffee, which is selected and hand-roasted by Alberto. As the coffee beans are only roasted in small batches, the quality remains impeccable. They even have handmade Italian coffee cups! Beyond the coffee and sweets, Lupo offers pizza for dining in or takeaway. They make sourdough Napoletana pizza which is fermented for 72 hours. As you can see, this small cafe has everything you need for a real taste of Italy!
Lupo location: Trading Estate, Unit 65 Ardent Way Mountheath, Manchester M25 9WE
Italian Restaurants Manchester City Centre – Italian Restaurant in Manchester
Have you fallen in love with an Italian restaurant Manchester? We surely have! There are so many options to choose from, so you might have a hard time picking. From the Don Giovanni Italian restaurant Manchester to Lupo, there's a great place for every taste. A few of the places only offer quality pizza while others specialize in making pasta. These are really the best restaurants in Manchester one must visit to have an unforgettable night or day!
Pin it: Italian Restaurants Manchester