A forever favorite topic of Italy will always be food. Italians are very serious when it comes to their cuisine so it's important to know how they prepare the dishes and what ingredients are used. Italian dishes are commonly made with herbs of the best quality, just as the rest of the ingredients. The most common spices used are oregano, basil, sage, thyme, or rosemary. We have gathered a list of the best Italian seasoning brands used outside of Italy.
You can make delicious dishes anywhere in the world when you have these ingredients in your kitchen. Although Italians do not use pre-mixed spices like the ones on our list, it is an easy way for you to add that authentic Italian flavor to any pasta or meat dish. With the ingredients mentioned above, you'll find out from our Italian seasoning brands list that these are the common ingredients used by the brands in these blends.
10 Best Italian Seasoning Brands – Best Brand of Italian Seasoning
A number of rules of the Italian seasoning brands are that they need to be organic using the highest quality herbs, just as Italians do. There are a number of different companies all over the United States that manufacture amazing blends of spices. We cannot tell you the best brand of Italian seasoning, we can only give you the options that are already loved by so many. In case you're looking to make the best Italian dishes and are looking for a good blend of herbs, check out this list! If you're looking for Italian recipes, make sure you check our online Italian cooking course!
1. The Spice Hut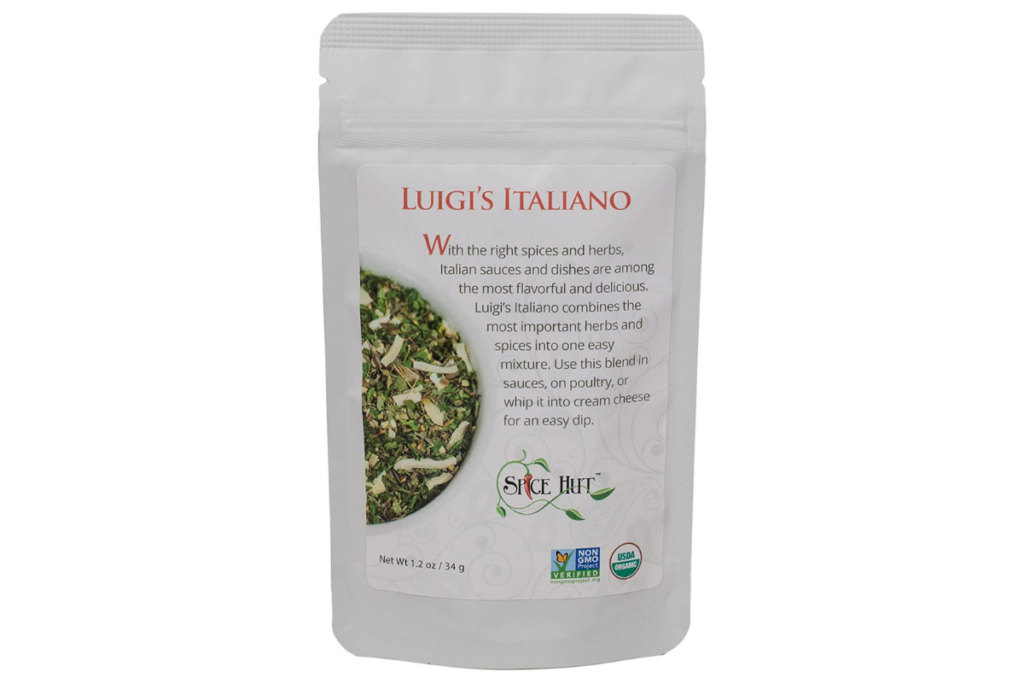 The first on our list of best Italian seasoning brand is The Spice Hut. They are not your usual spices found in the supermarket,t but rather a family-owned business in Bellingham, Washington that create spice blends of the highest quality. They have their own workshop and besides spices, The Spice Hut also created loose tea medleys. All of the flavors are 100% natural and their packaging is made to ensure the freshness of your spices.
This spice is the perfect blend of classic and essential herbs. This is a must-have for pasta and pizza connoisseurs. So what you can use it in? Well, sauces, poultry, or even spice up some cream cheese. The ingredients are very simple, it's kosher sea salt, basil, parsley, oregano, onion flakes, garlic flakes, and black pepper.
There's also another Italian seasoning that is a blend of kosher sea salt, basil, oregano, thyme, rosemary, and crushed red pepper. The Spice Hut recommends using this blend of flavorful herbs on spaghetti, meatballs, and Italian sausage. It is also amazing to top off appetizers. For instance, the brand even offers quick recipes for which you can use this brand. The Northwest Burger or a Quinoa Stuffed pepper recipe sounds simply delicious.
2. Tone's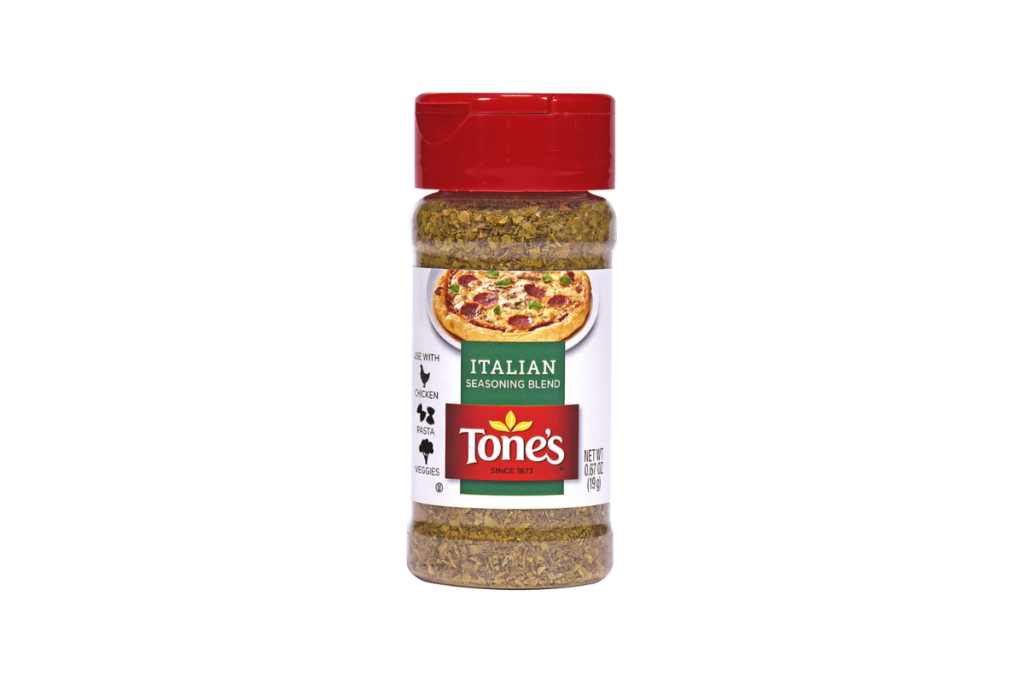 Tone's is among the oldest spice brands in the United States founded by the Tone Brothers in 1873. It wasn't just a spice business but also a coffee one. And as they were the first, the Tone brothers invented the packaging for pre-ground spices. Thankfully to their invention, we don't have to scoop out spices from barrels anymore. Today they are known worldwide and that's why Tone's is on our list of Italian seasoning brands.
You might wonder what is the difference between all of these Italian seasoning brands if they have pretty much the same ingredients. Well, those ingredients should be the best quality as that is what makes the spice mix good quality too. Tone's Italian seasoning is a blend of oregano, thyme, basil, rosemary, and sage. Tone's also suggests crushing the spice a little bit before adding it to your meals. This spice is the perfect addition to your tomato sauce for pizza, marinara sauce, minestrone, or calzone but goes well in other famous Italian dishes.
3. McCormick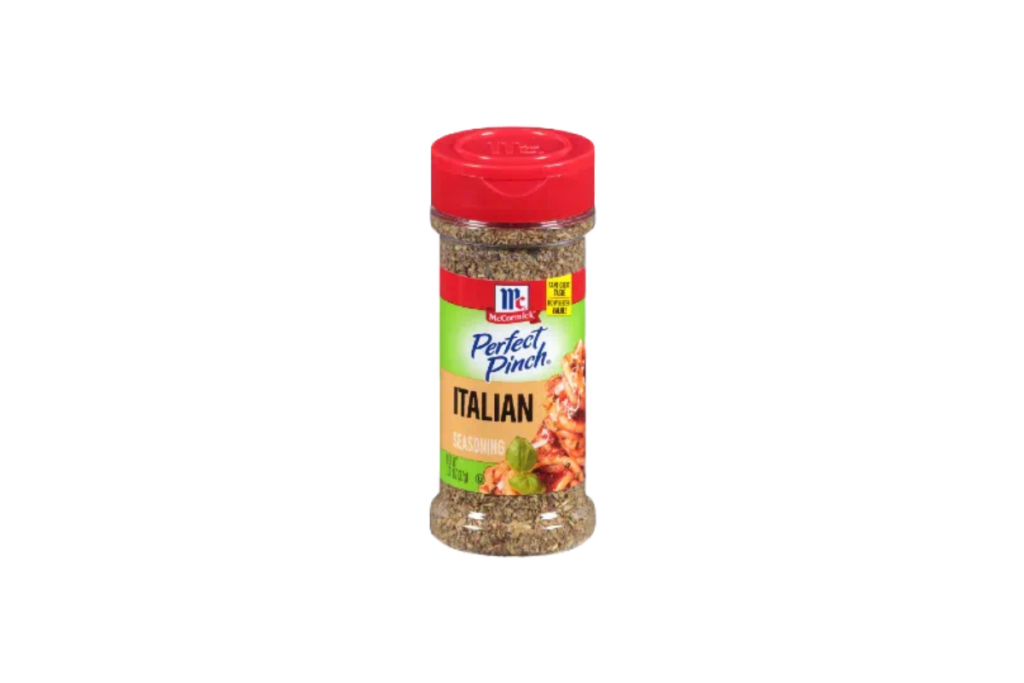 McCormick is a well-known seasoning brand founded in 1889 by Willoughby McCormick. He founded the brand in Maryland USA and it has been operating ever since. As there was no internet or social media to help him out then, he would go door to door to showcase his products. These initially were root beer, flavoring extracts, fruit syrups, and juices. Only later did he go into the business of spice, after buying F.G Emmett Spice Company.
The current CEO of the company is Lawrence E. Kurzius and McCormick has a wide variety of spices in its pocket. It's one of the best brand of Italian seasoning you could buy. One popular Italian seasoning is the Perfect Punch. It is a mix of marjoram, basil, rosemary, thyme, oregano, and other herbs. This spice usually goes well with chicken, fish, pasta, pizza, salads, and vegetables. McCormick recommends using this spice in a Garlic & Herb salad dressing or even on baked potato chips.
Another similar seasoning from McCormick is the Culinary Italian seasoning which is a bit similar to the previous one but the main herbs used are rosemary, marjoram, and thyme. This adds a bit of a sweet flavor profile to your dishes and once again goes well with pasta dishes, chicken dishes, as well as mashed potatoes or meatballs. Furthermore, McCormick products are Kosher and do not have MSG added.
4. Badia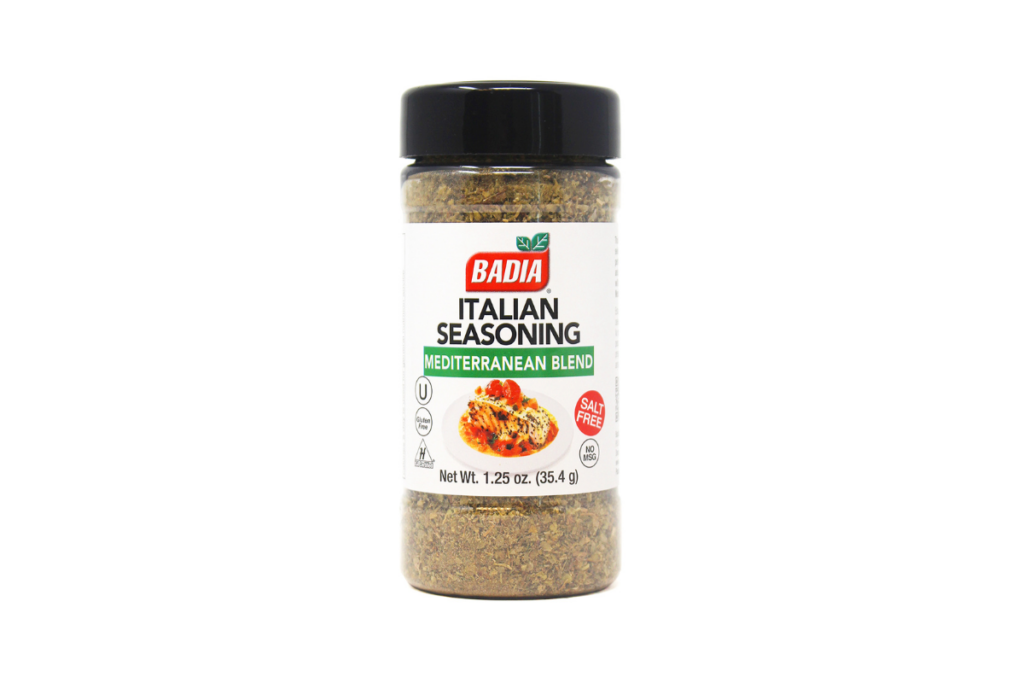 Badia is one of the renowned Spanish companies that have been producing spices since 1967. The founder of the brand is Jose Badia and thanks to his vision Badia is a great choice for any type of seasoning one might need in the kitchen. They distribute the spices to more than 70 countries in the world. You are mostly able to find them on Amazon or your local store.
Besides manufacturing spices, Badia also makes seasoning blends, marinades, sauces, and teas. They cater to gluten-free dietary needs and the products are organic. Badia is the best Italian seasoning brand and there are quite a few things to choose from. For example, the Italian seasoning with a Mediterranean blend is a great choice. You can add it to famous dishes from Sicily or Puglia.
It features ingredients such as marjoram, oregano, thyme, rosemary, savory, basil, and sage. It is the perfect blend for meats, poultry, fish, and pasta. You can prepare turkey meatloaf cups or Italian-inspired meatloaf. Other interesting Italian seasoning includes garlic & herb Italian seasoning, or minced garlic, lemon & basil.
5. Unpretentious Baker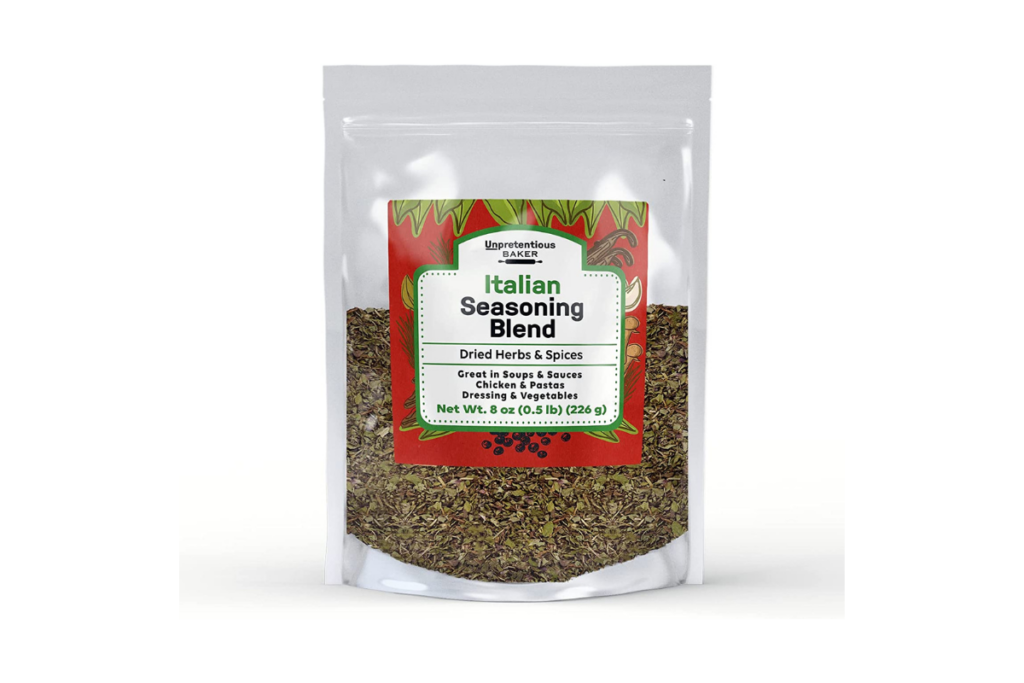 Unpretentious Baker is a brand founded in Virginia US and they are passionate about cooking and baking. They both have a variety of spices and baking products. The products are the best quality as they even cater to customers that are gluten-free, or prefer vegan options and they are also non-GMO. This spice blend mixed with quality pasta will take your taste buds to Italy!
If you're still looking for the best brand of Italian seasoning, then check out their special blend of spices. This Italian seasoning is perfect in soups or sauces. It's a blend of basil, marjoram, oregano, thyme, rosemary, and parsley. Pretty much all of these spices have the same ingredients, but the number of ingredients blended together is different and thus offering a new taste for you!
6. Frontier Co-op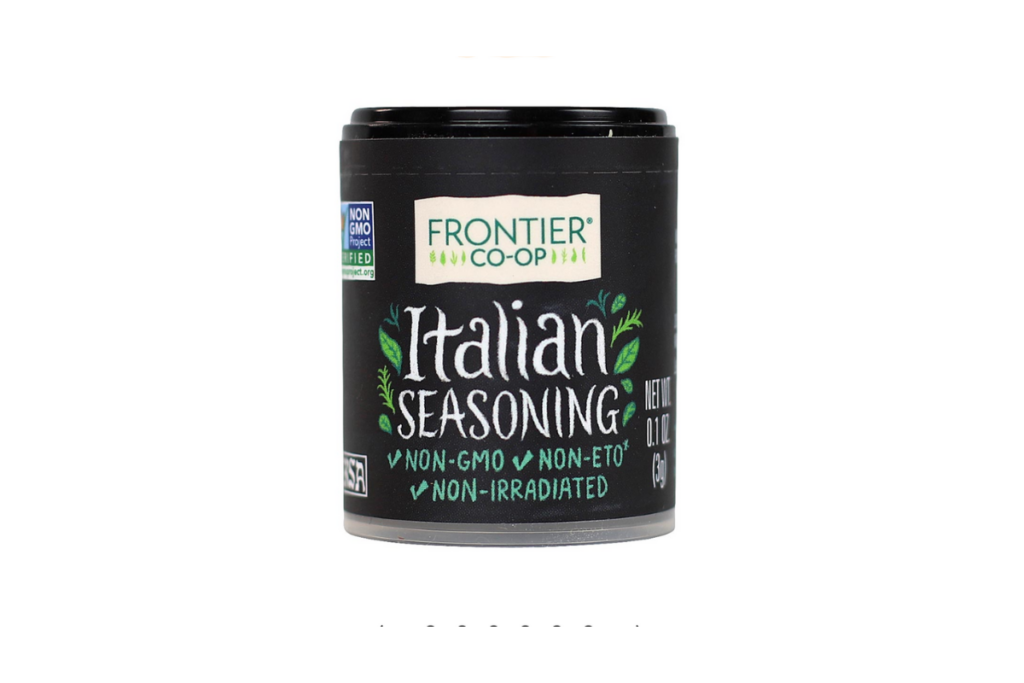 Frontier Co-op was founded in 1975 in Eastern Iowa and is a major supplier to the natural products industry. They started out as a small organization and sold spices and herbs only to local co-ops in Iowa. As the demand supplying different spices and oils grew, Frontier began expanding gradually.
Among the Italian seasoning brands Frontier Co-op is of high quality and because it's so natural, you'll do no wrong by having it in your kitchen. First of all, we must talk about the best-selling Italian seasoning that is non-GMO, non-eto, and non-irradiated. It's a blend of oregano, marjoram, thyme, rosemary, basil, and sage.
Then there is the Italian seasoning with Mediterranean oregano. This is Kosher and organic as well. It has the same type of ingredients, but all of them are organic. Frontier Co-op recommends adding this to any pizza or pasta dish. The last blend to mention is the Herbs of Italy, which is an aromatic blend of herbs. It features oregano, thyme, basil, garlic, black pepper, tarragon, red bell pepper, and chives.
7. Simply Organic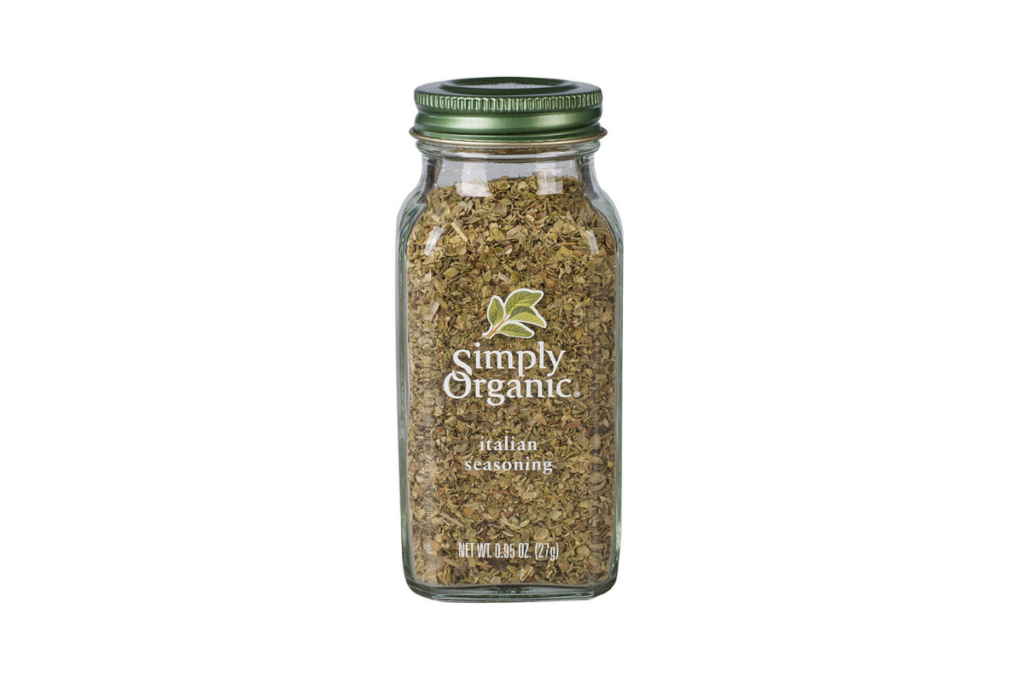 Simply Organic is a brand you might have heard about before. It's a popular spice brand in the USA and on the shelf of many stores. The mission of Simply Organic is to generate hearty meals, spices, and blends that are healthy and nutritious. They work with farmers thus ensuring the quality is always the best for the customers.
We consider it the best Italian seasoning brand and they have a few different options to consider when cooking Italian dishes. The famous one is the simple blend of herbs, similar to the ones on our list. It's made up of oregano, marjoram, thyme, rosemary, basil, and sage. You can also get organic parsley or pure organic oregano from them.
Simply Organic also offers a salad dressing mix and it's a gluten-free option. All you have to do is mix it with white wine vinegar and olive oil and you've got yourself a delicious salad dressing. Furthermore, if you love pesto, at Simply Organic one can find the sweet basil pesto seasoning mix and even an Alfredo sauce seasoning mix.
8. Starwest Botanicals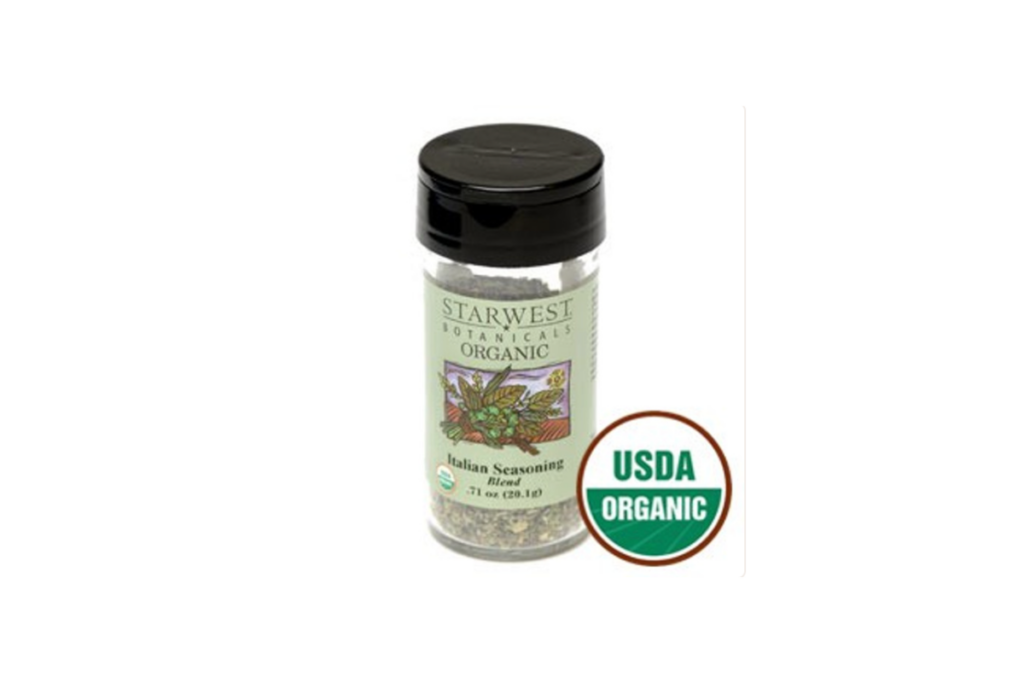 Starwest Botanicals is a company founded in Sacramento, California in 1975. Their mission was always to offer high-quality botanicals at accessible prices for everyone in order to encourage people to have a healthy lifestyle. As the years passed, Starwest Botanicals expanded and now they are the largest supplier in the country.
According to reviews, it's the best brand of Italian seasoning. The Italian seasoning they offer is salt-free and it's a blend of organic garlic, oregano leaf, basil, marjoram, and sage. Customers were complimenting the spice and said it works well with the dishes they prepare. It's suitable for most pasta dishes but also non-Italian dishes.
Starwest Botanicals also offers a spice jar gift set made of Italian herbs. You get four jars of full-size spices that include basil, garlic granules, onion granules, and oregano leaf. This is the perfect gift for someone who prefers to mix the individual spices together instead of having them pre-mixed.
9. Cento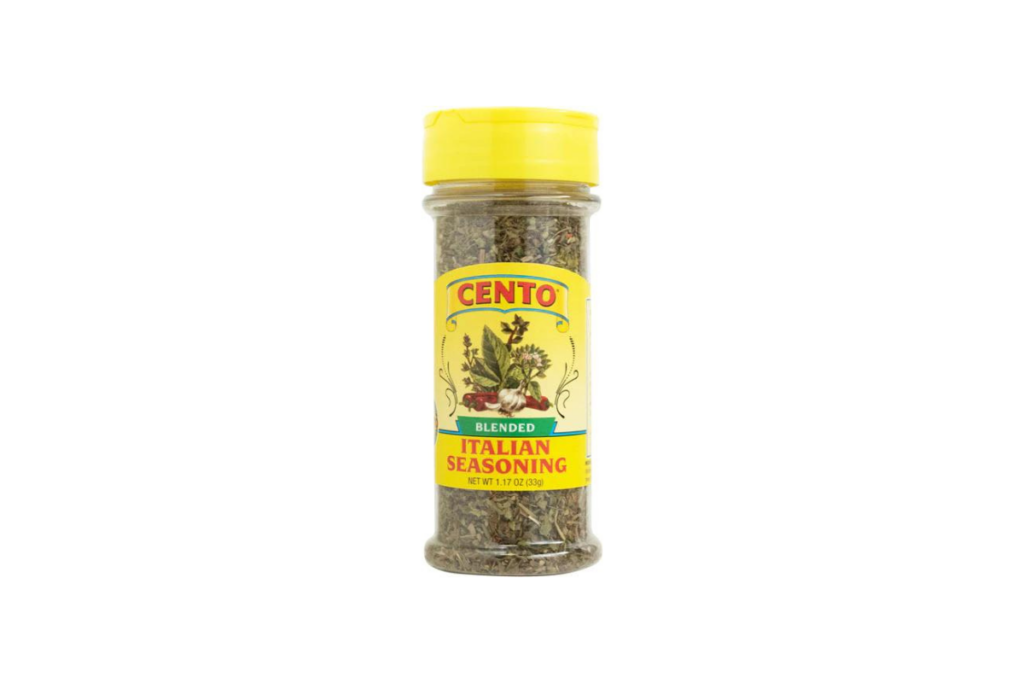 Unlike the rest of the Italian seasoning brands on our list, Cento was founded by Alfred Ciccotelli in the 1950s. As he was an Italian living in the USA he just wanted to bring Italian foods to America, just like a taste of Italy. But Cento was only founded later, as Mr. C used to sell Italian foods in his corner grocery store. Thanks to his children, Cento today is an amazing brand and is available in all 50 states.
The Italian seasoning is a great blend to use in preparing tomato sauces, pizza, or any other Italian dish. At the same time, it goes well with potatoes too. The blend has the same type of ingredients, oregano, basil, thyme, sage, and thyme. It is gluten-free with low sodium. The herbs give a pleasant aroma to any dish.
10. Happy Belly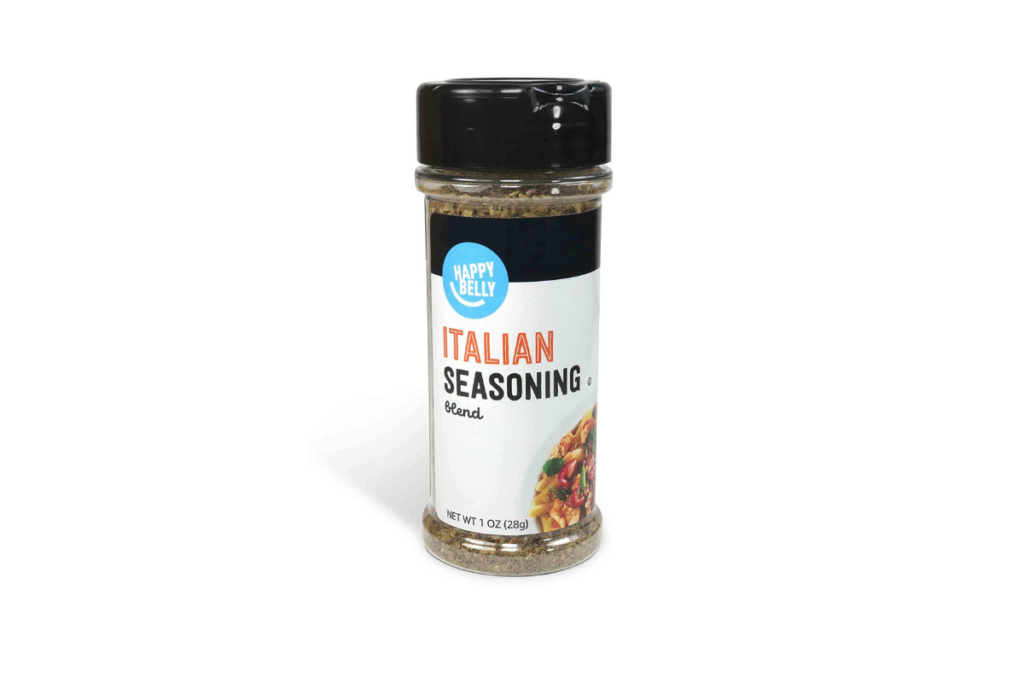 Happy Belly is the last best Italian seasoning brand on our list. This is actually an Amazon brand, therefore only available on amazon. That is convenient as most people love shopping there, so why not just add it to your basket? It has nearly 4000 reviews and an average of 4.6 stars.
Happy Belly offers quality food as well as beverages and the prices are affordable. The Italian seasoning blend has the ingredients of oregano, marjoram, thyme, basil, sage, and rosemary. It is recommended for pizza, pasta, chicken, beef, pork, and vegetables as well as marinades, tomato sauce, or dressings. The spice blend is also Kosher certified.
Best Italian Seasoning Brand – Conclusion
Now that you have found out about the best Italian seasoning brands, you can start saving some of the best Italian dishes like the Neapolitan dishes. Although many of the spice blends have the same type of herbs mixed together, they still have slightly different flavors as the number of herbs is used differently in each of them. And thankfully, some even have more aromatic herbs added to the mix so your dishes will taste the best no matter what.
Pin it: 10 Best Italian Seasoning Brands