10 Best Italian Kitchen Brands
Some people spend a lot of time in the kitchen, others not so much. That doesn't mean it's a sin to have the best-looking kitchen or spend money on home decor. In the modern world where home aesthetics are so popular, you do want your kitchen to be aesthetic as well. That's where the best Italian kitchen brands come into place. Italian design and innovation have never looked so good as with these 10 best Italian kitchen furniture brands.
Best Italian Kitchen Brands – Best Italian Kitchen Knife Brands
But it's not just the furniture that makes a kitchen. The best Italian kitchen appliance brands are bringing the best quality ovens, dishwashers, cookers, and refrigerators. What else does a kitchen need? Well, dinnerware for example. No worries, we also included some of the best Italian kitchen knife brands on this list so your meals are sorted out. Let us discover the best Italian kitchen design brands!
1. Schiffini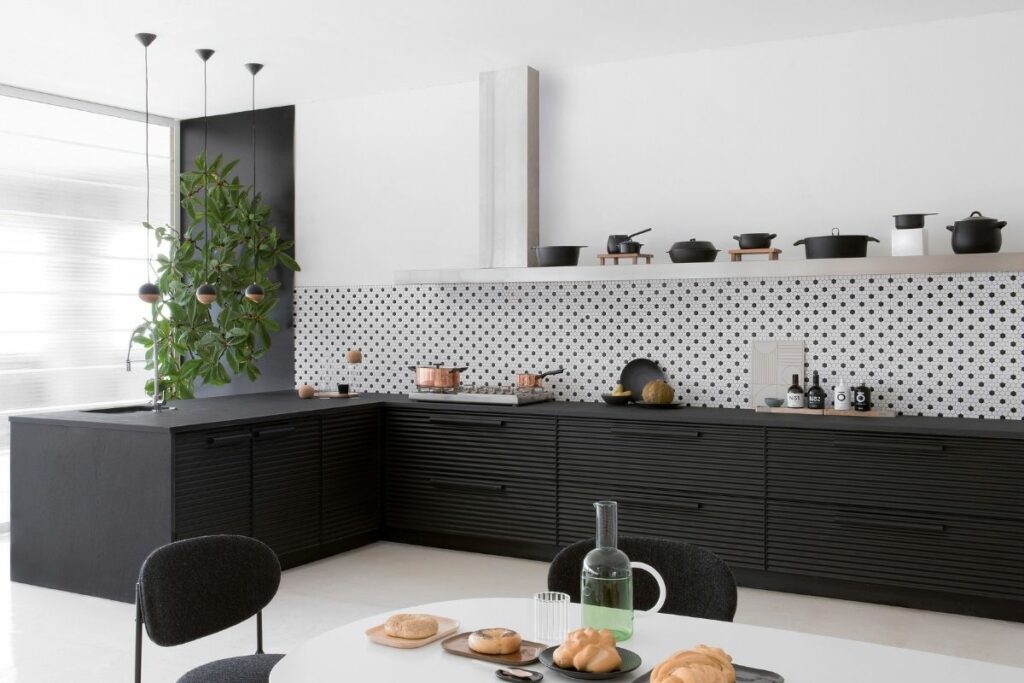 Starting our list with Schiffini, one of the best Italian kitchen brands. Schiffini was founded in the 1920s with the purpose of supplying nautical fittings to the Italian Navy in La Spezia. Until the 1950s that was the brands purpose. However, after the 50s they started producing modular kitchens and were actually the first brand to do this.
If you think of "Italian Design", Schiffini fits right into this. Their attention to detail is spectacular and the kitchens are suited for everyday living while they are modern and luxurious. Let's see a few of the Schiffini products. For example, Cinqueterre is a black aluminum fitted kitchen with a peninsula. This is designed by Vico Magistretti in the year 2000.
Taking care of black might be a difficult task when you are cooking, however, the natural aluminum makes it easier to clean. They added wavy anodized aluminum doors to the kitchen counter, which gives off an elegant look and feel. It's not your usual kitchen with wooden materials. The Cinqueterre is also available in natural aluminum color. It is an unusual material to work with, however, we love the way it looks! Let's see the rest of the Italian kitchen furniture brands.
2. Snaidero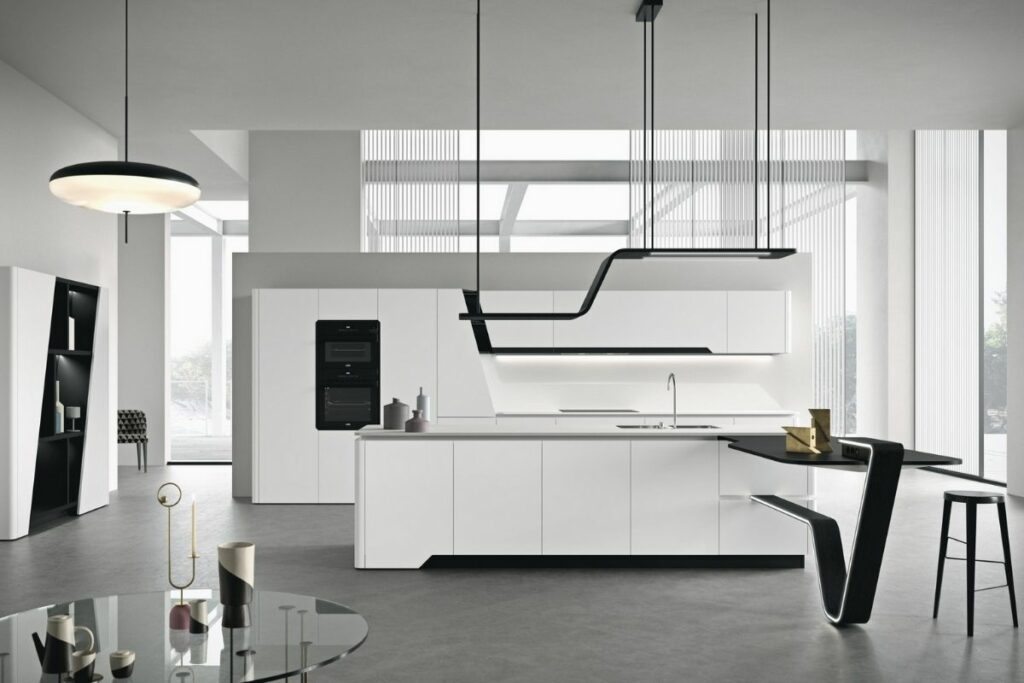 Who is Snaidero? It's one of the Italian kitchen appliance brands you might need in your house. It's been around for 75 years transforming kitchens and the lives of others. Their idea is to combine functionality with sustainability. Not only that, but all of the materials are environmentally friendly. "Snaidero's mission is to blend design, uniqueness, and style".
Snaidero has a few beautiful kitchens you might like. For example, you have Vision. When you look at Vision, imagine a futuristic modern twist. That was exactly their idea. To offer you a kitchen that has simple surfaces with materials conveying a sense of purity. Everything is seamless like they are meant to be there. There are also no handles on the doors. These Italian kitchen furniture brands can be versatile.
Although Snaidero has plenty of modern and elegant options, it also features kitchens with a 'loft' style. Which is why they called it "Loft". This is an urban-style kitchen inspired by loft-type apartments. It's perfect for people who love that urban lifestyle and wish for it to be reflected in their homes too. Inside the kitchen, you'll find wooden accents combined with dark and light colors. Insert some of the Italian lighting brands and your home will be complete.
3. Poliform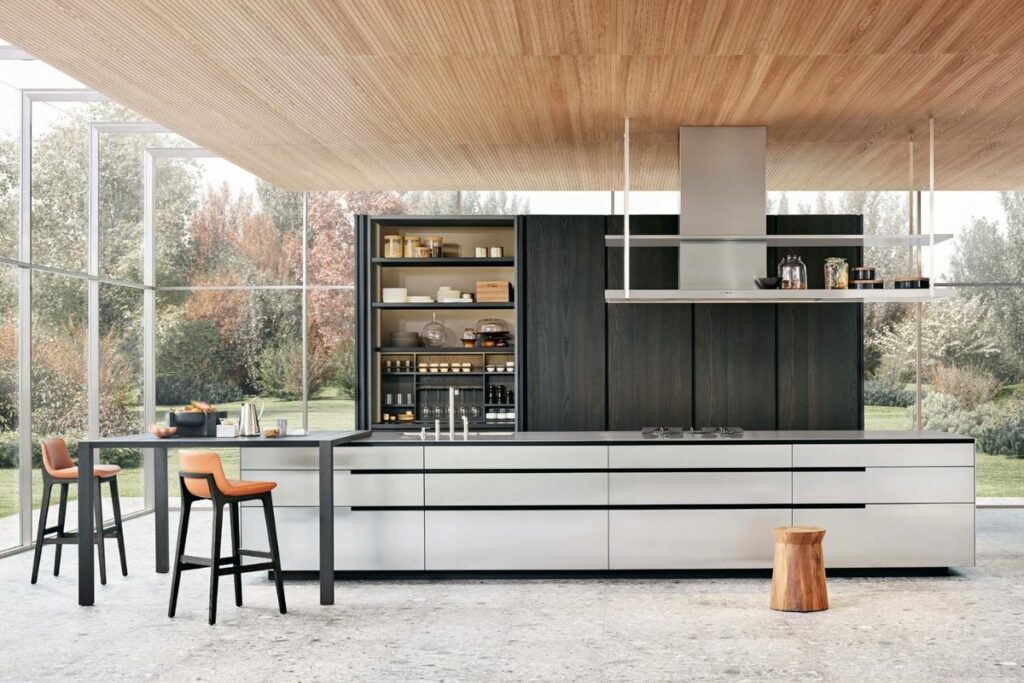 Poliform calms themselves a "human company". Its founders are Alberto Spinelli, Aldo Spinelli, and Giovanni Anzani. They established the company in 1970 with a vision to combine culture, work ethic, and entrepreneurship as well as technical knowledge and mastery in design. The idea is to offer contemporary beauty, timeless elegance, and technical excellence.
That's exactly why it's on our list of best Italian kitchen brands. Their kitchens are "able to capture the needs and tastes of a heterogeneous and international audience". This means, that they are versatile and there are infinite options of materials and finishes. Firstly you have Phoenix. This kitchen is an inspiration drawn from freedom. When you walk into it it's built in an open space, paying attention to the user experience.
It is built with a contemporary style, while still keeping it elegant and functional. Pheonix is one of those kitchens that you will want to spend time in. The island in the middle can have all of the important cupboards that you reach for as well as a sink. For example, all of your dinnerware can be in the same place. There are no door handles on the kitchen counters, everything has a soft opening. That's the easiest way to keep your kitchen seamless and stylish.
4. Coltellerie Berti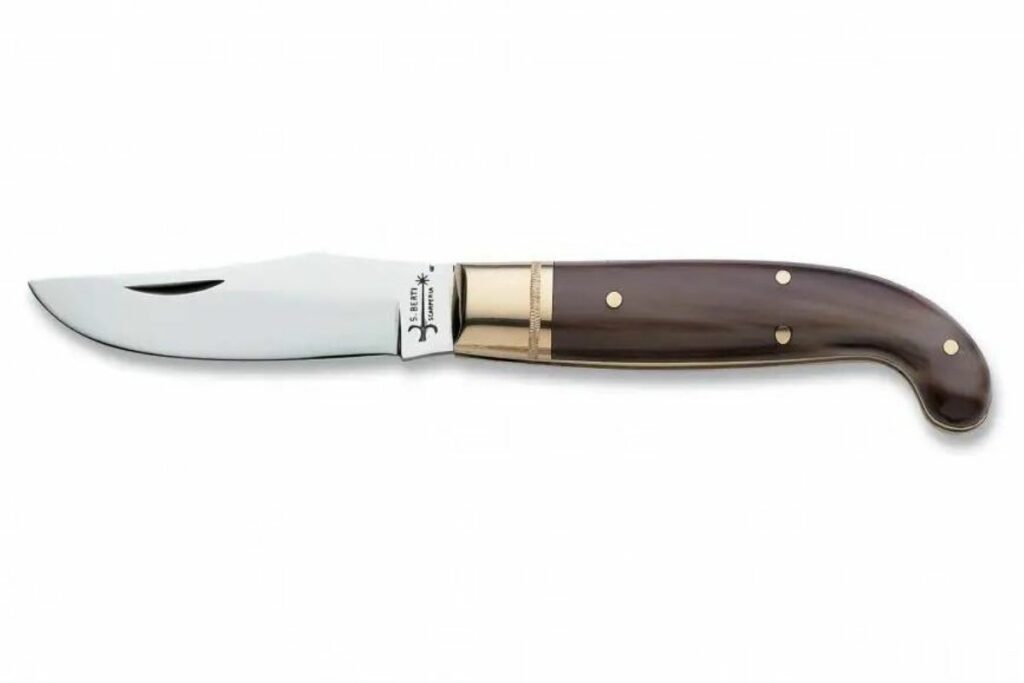 If you love to cook then having a great knife is crucial. That's why we're bringing these best Italian kitchen knife brands to you, so you can have the best of both worlds. Coltellerie Berti is an Italian kitchen knife brand founded by the Berti family back in 1895. These are handmade knives built by Italian artisans. According to Coltellerie Berti, each knife bears the initials of the person who made it.
From the kitchen knives, you have over 700 items to choose from. For instance, choose either a smooth blade or a serrated blade. The smooth blade is the one that will help you cut food on the table and keep the flavor and appearance intact. Consequently, the serrated blade is perfect for bread, pies, panettone, and other similar products.
Let's not forget about the large kitchen knife sets you can purchase from Coltellerie Berti. The Il Trinciante Da Parete is a kitchen knife set that includes 7 knives for the kitchen plus 7 knives for table service. This specific set has red handles, however, it is available in other colors too to match the aesthetic of your kitchen!
5. Viadurinimilano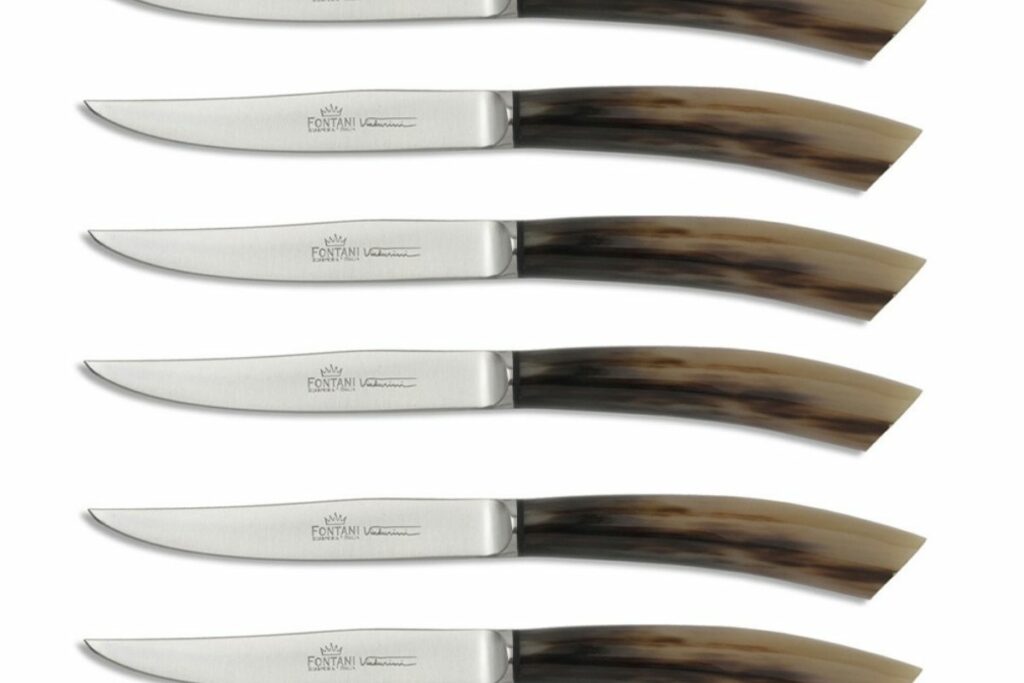 If the previous brand wasn't the best option for you, here's another one of the best Italian kitchen knife brands you want to try out. Viadurinimilano was founded in 2015 in Santarcangelo di Romagna, next to Rimini. Viadurini is born out of a passion for quality and made in Italy items. They strive to showcase their products both locally and internationally and choose the best artisans from Italy.
These kitchen knives are all handmade with love and care. A classic knife set to purchase is the Magnetic Block in Wood with 9 kitchen knives. The set includes a Santoku, Usuba, Chef, Boning, Chef's knife, Bread, Roast, Pillottino, and Fork knife. At the same time, you get a gorgeous knife holder to go on your kitchen counter. Viadurini also has a knife set in an olive wood and olive chestnut case. These are all great choices and versatile, you have the basics that you would need in any household.
6. Bertazzoni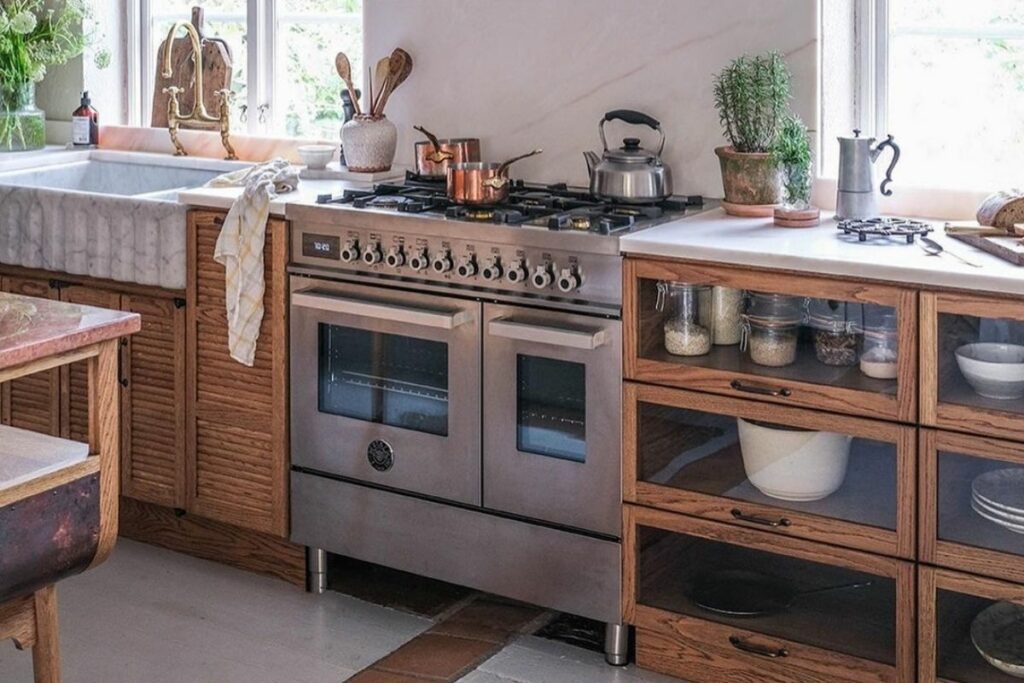 What's another thing a kitchen cannot be without? The answer is kitchen appliances! More specifically the best Italian kitchen appliance brands. Bertazzoni has some of the best appliances, such as cooking appliances, refrigerators, dishwashers, and ventilation machines. These appliances are not only practical but they are stylish.
The refrigerators are stunning and they can be combined together. Choose from four different series: professional, modern, master, and heritage series. The door finish can also be panel-ready or stainless steel. Besides fridges dishwashers are another handy tool to have in the house, especially with a big family.
From the heritage series, you can get the fully integrated dishwasher with an automatic open door. It has 8 programs and 4 functions. Lastly, from the cooking appliances, you can choose from cookers, built-in ovens, compact ovens, and hobs. They all have the same design and style, the best quality kitchen appliances for your perfect kitchen!
7. Daniel Rubinetterie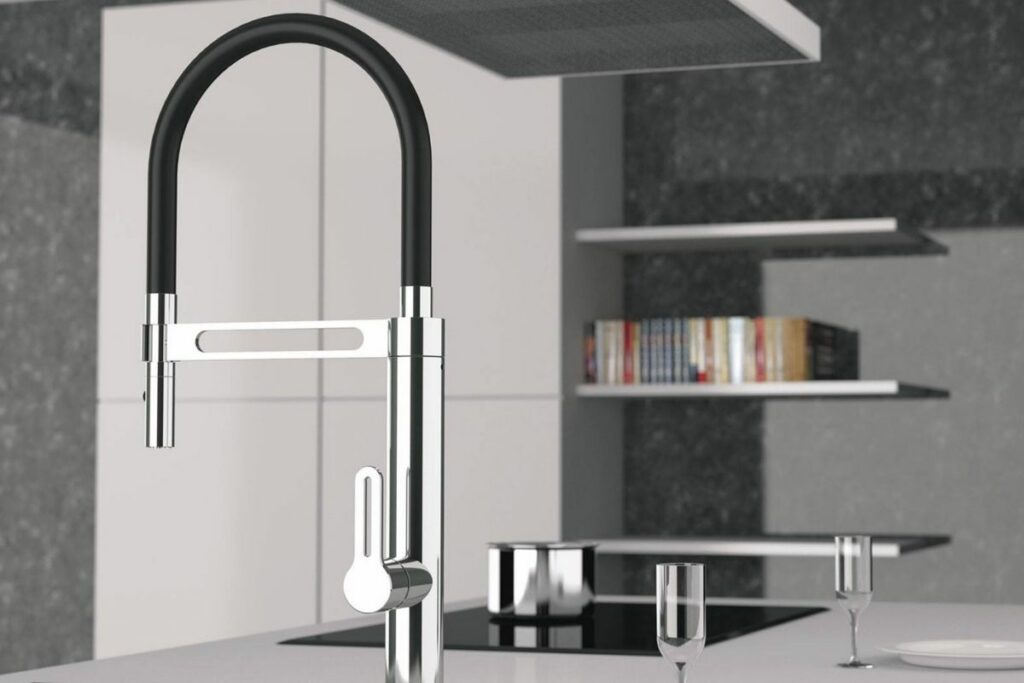 As you can see, we have built up this list to include everything you would need for a perfect kitchen. That includes the best kitchen faucet brands on the market made in Italy. Daniel Rubinetterie was founded in 1985 in the province of Milan. Since interior design is so important today, a simple element in your kitchen such as a faucet can make a huge difference in how your house turns out. Daniel Rubinetterie can customize your faucets according to your taste.
Among their products, you can choose from the bath collection, Dekora & Sense, faucets in the kitchen, hi-tech, wellness, and accessories. My favorite is Dekora & Sense. These are a series of carved faucets, ones you probably haven't seen before. For instance, Speed sense has two decorative themes. One is more linear and the other one with cubicles, both matt finishes.
8. Foster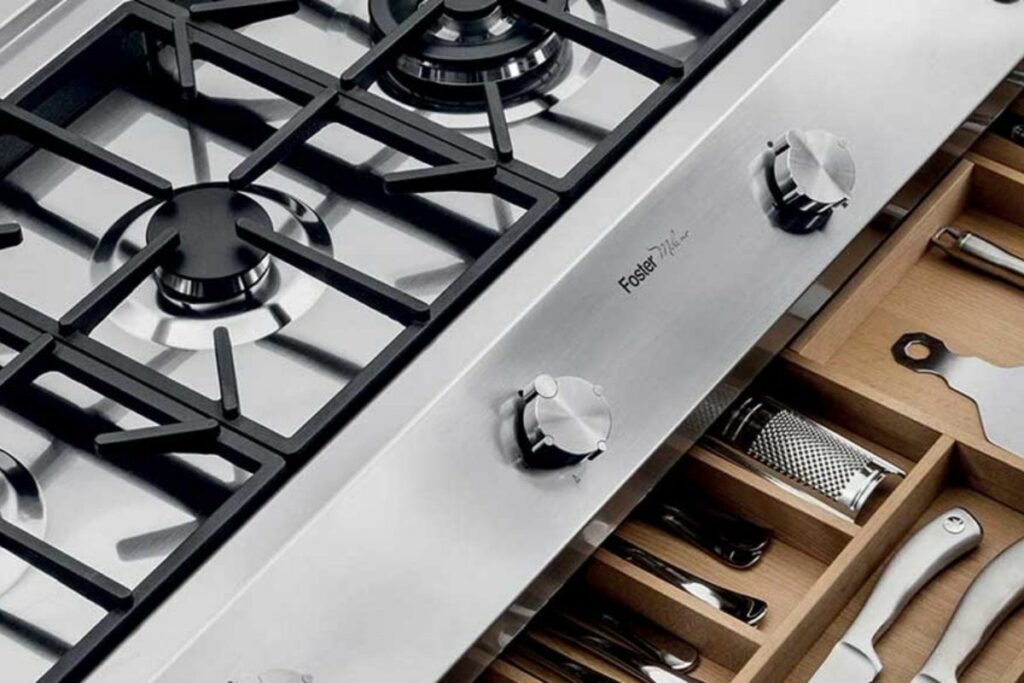 The Foster Group is one of the best kitchen appliance brands founded in 1973. Their headquarters are in the beautiful Palazzo Terranova. What makes Foster so special? They have a number of products suitable for your kitchen such as kitchen sinks, ovens, dishwashers, refrigerators, and so on. If you have Foster appliances, then all you need is some motivation, cookbooks, and music!
Let's talk kitchen sinks. Foster offers the best stainless steel sinks to ensure quality both indoors and outdoors. They are resistant to rust and corrosive phenomena. Whether you want to buy a double or single bowl or even one without a drainer, Foster has all of these. The Milano sink for example has everything you need for a fully functional kitchen.
It goes 56 cm deep with an automatic waste fitting. There's also a double mixer hole which means a large tap can be fitted inside. At the same time, the sink comes with a sliding drainer, to save space. You can also rinse food on it. Foster's idea was to "rinse, drain, slice, grate". It is without a question that Foster is among the best Italian kitchen sink brands.
9. Dada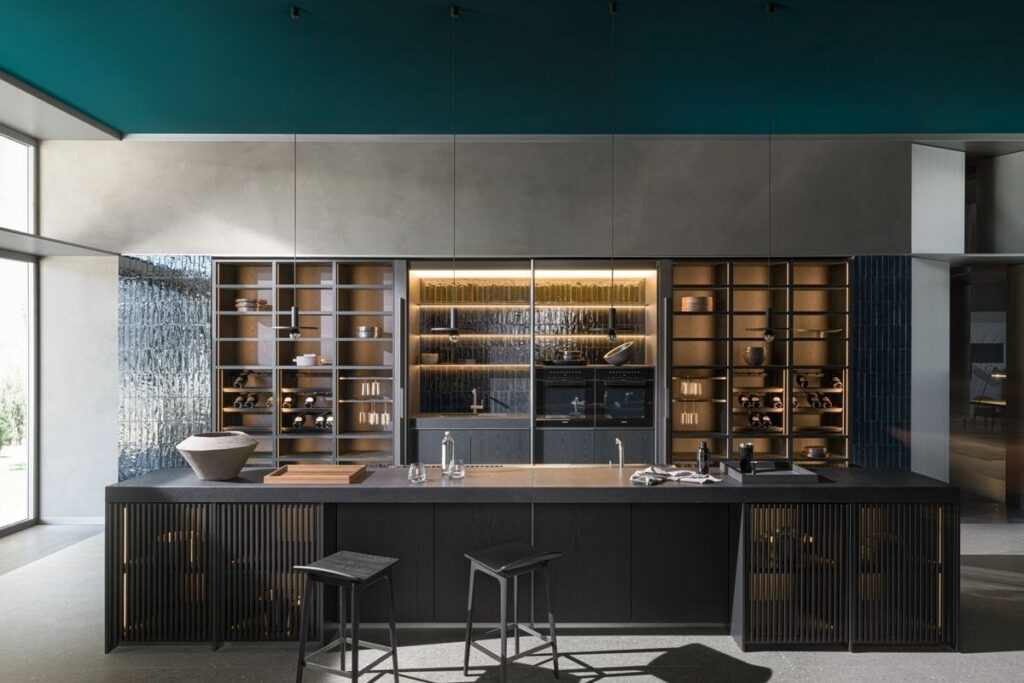 The brand started off in 1926 in a small woodworking workshop founded by Angelo Garavaglia. Later in the fifties, his son also joined the business and they turned Dada into a furniture factory. Their main focus was closets and kitchens. Of course, today we'll focus on why Dada is one of the best Italian kitchen design brands in the world now. It is worth mentioning that Dada joined Luigi Molteni's group in 1979 so they are under the same directorship.
The first kitchen we want to talk about is "Ratio". It's an iconic kitchen designed by Vincent Van Duysen. Ratio features Mediterranean characters, it is elegant, and gives back warmth to its users. The island has in-built cupboards with metal grids instead of classic doors. Everything is well thought out, detail to detail. Your kitchen appliances are smartly placed as well as all of the tools you would use. We hope Dada has earned the best Italian kitchen brands award in your eyes too.
10. Boffi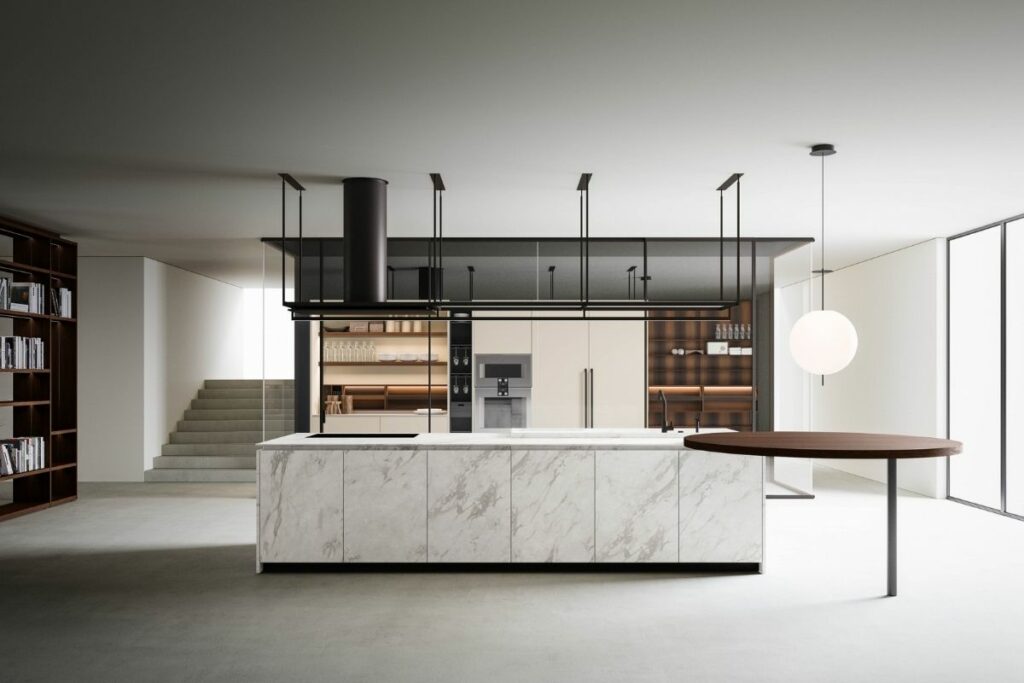 We reached the last of the Italian kitchen furniture brands on our list. Boffi was founded by Piero Boffi in 1934. He built the first factory in 1947 and then his sons joined the company within the same year. Another great historical moment for this company is in 1954 when they designed the first colored kitchen, which was red. As you can imagine, many things changed throughout the years for Boffi, except for the quality and uniqueness of its products.
We count them as one of the best Italian kitchen brands as its models are exquisite. You can already tell that just by looking at this photo. This particular kitchen is called De Padova and was designed by Piero Lissoni. Quoting his words the kitchen is "functional, rational and sober". This is the modern kitchen most wish for. It is very functional, considering how everything has its own place, and is made for people who love to spend time in the kitchen.
Other beautiful kitchens on their website are born at the hands of Norbert Wangen, Patricia Urquiola, and Alberto Colonello. These are exquisite, all have their unique feel, and definitely made for the modern people of this world. At the end of the day, this can count as art too. A form of expression, mixing and matching materials, colors, and textures. If you want the best Italian designs, go for Boffi!
Italian Kitchen Appliance brands – Italian Kitchen Furniture Brands – Conclusion
You have reached the end of this list with magnificent brands of furniture, faucet, knives, and much more. Italians prove time and time again how innovative they are, whether that's through food, fashion, or furniture. All of these brands are available in many different countries, therefore you do not need to be afraid if you're not residing in Italy. They have products available online and you can collaborate with the designers. Spoil yourself with the most beautiful kitchen with these Italian kitchen furniture brands!
Pin it: 10 Best Italian Kitchen Brands – Best Italian Kitchen Knife Brands