10 Best Brands for Italian Wine Glasses
Wine is the perfect beverage for any occasion, whether that's a birthday, engagement, wedding, or just a dinner in your favorite restaurant. It's a drink that will enhance the taste of your food if paired correctly. And Italians are known to have produced the best wines in the world. Therefore, it's only natural that we talk about Italian wine glasses.
Although not everyone will care about the glasses they drink the wine from, it is really important. Italians have been in the glassmaking industry since the Middle Ages and have produced beautiful pieces. Among them are the authentic Italian wine glasses that these brands have to offer. Each of them is crafted for a different type of wine. Red, white, sparkling, some for really special and old wines, while others for the sole purpose of winemaking.
10 Best Brands for Italian Wine Glasses – Authentic Italian Wine Glasses
Of course, it's not always easy to find a collection wine glasses made in Italy when you go to a restaurant or a friend's house. Only the really fancy and high valued restaurants will care for this, and I guarantee you, they will not serve you the wine in any glass they find. So sit back, read this list of the 10 best brands for Italian wine glasses and elevate the way you drink wine!
1. Bormioli Luigi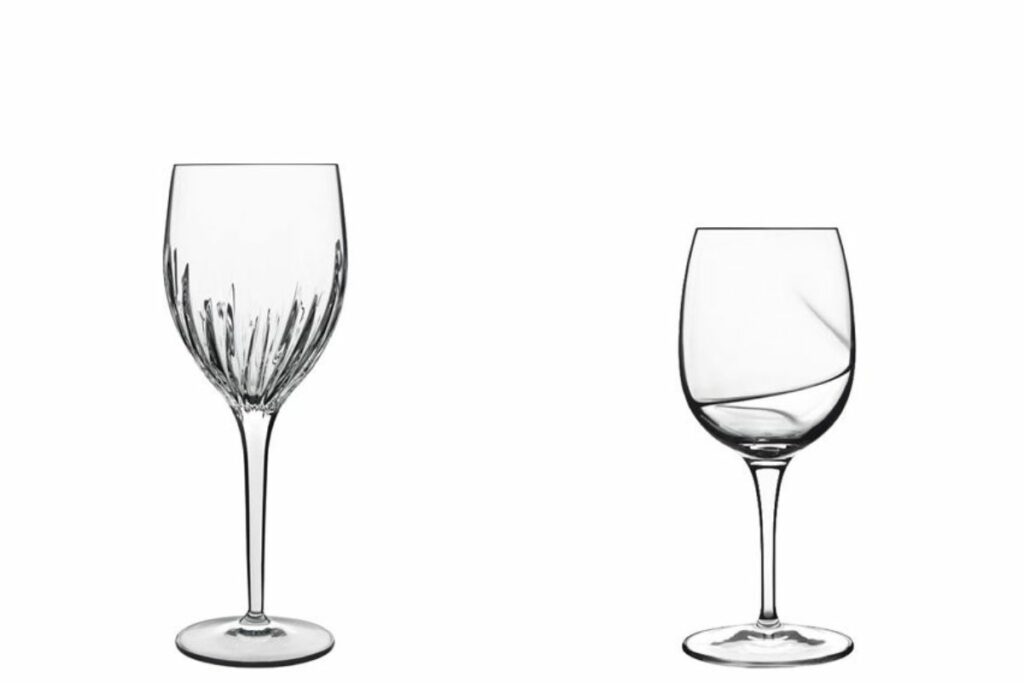 We're starting our article with the famous Italian wine glasses Luigi Bormioli. The brand has a long history of glassmaking, it's been passed down for 25 generations now. The Bormioli family emigrated from Northern France to Genoa and from Borniolle they took up the name Bormioli. The first glass factory was bought by Luigi's children in 1854 in Parma. Later it was moved to the San Leonardo district and already employed one hundred workers. I love looking at the old photos of the brand, it has so much history!
Making quality glasses such as Italian wine glasses, or cosmetics containers was a passion of Luigi's. When it comes to the Italian wine glasses Luigi Bormioli, we can differentiate a few of them. They have glasses of red wine, white wine, sparkling wine, and even wine tasting. What we couldn't find in the collection are Italian stemless red wine glasses. All of the Bormioli Luigi glasses have a stem. Choose from collections like Aero, Atelier, Bach, or Flute Collection.
These are all beautiful wine glasses and they each have a purpose for which type of wine you should drink. Furthermore, to go with your Italian wine glasses Luigi Bormioli, you can purchase carafes of different sizes. Alternatively, the brand also has wine decanters from the Supremo collection. Whichever you choose, just know that you have purchased a brand's products that hold so much history and knowledge when it comes to glassware. These are exquisite pieces!
2. Vietri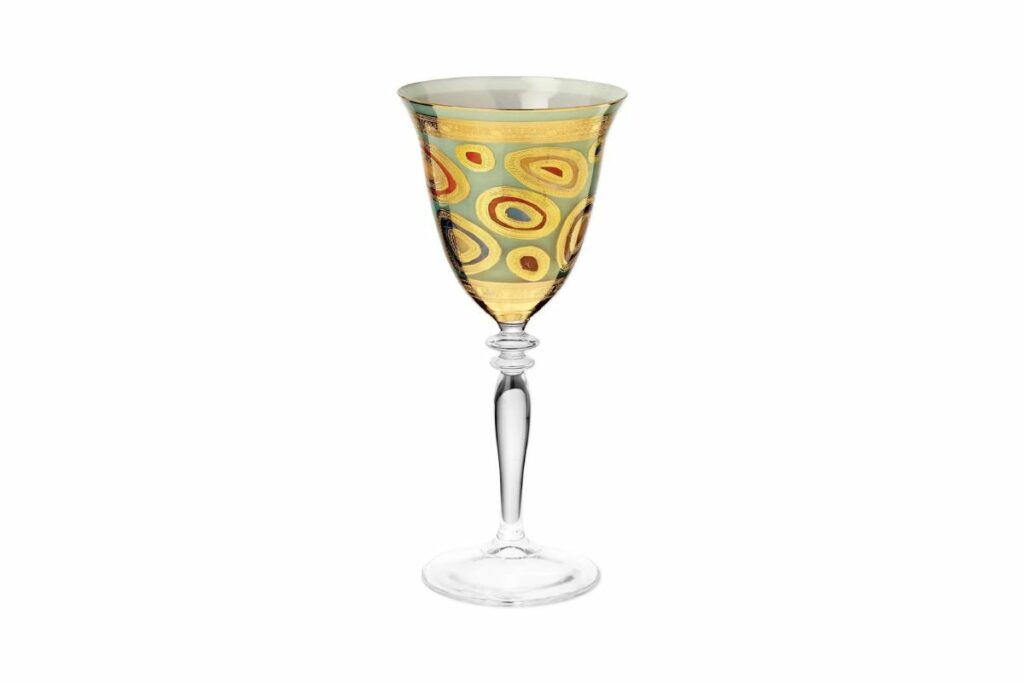 Vietri is one of my favorite brands when it comes to homeware and tableware. It started out as a trip to Italy with Susan, Frances, and their mother Lee Gravely. This was in 1983 and there they fell in love with handcrafted dinnerware made by local Italians. After returning to their home country, they were so inspired by what they saw in Positano, that the trio decided to create dinnerware as well. The artisans are from Italy and about 95% of the products are made in Italy.
On their website, there's a variety of small Italian wine glasses, Italian stemless wine glasses, and the best collection of wine glasses made in Italy. For example, the rainbow collection is really cute for decoration and for taking out parties. It comes in both stemless and with stem glasses. You can also buy a set of 4 rainbow glasses that have different colors. In case you wish to feel like you're from a royal family, buy the Regalia Wine glass collection.
Another collection that is worth mentioning is the Raffaello wine glasses. This is a set of 6, but 3 of them are in pairs. These Italian wine glasses are gilded with gold, they have golden circles inside the glass. For example, one is a spiral, the second one has a circle in the middle of the glass and the third one on the very bottom it's filled with golden colors. It was handcrafted in Campania and you should only handwash those.
3. Bormioli Rocco
Bormioli Rocco is a famous Italian company specializing in both tableware and glassware. It was founded in 1825 by the Bormioli family. They established the first glassworks in the area of Parma. By 1911 the Bormioli factory employed 300 staff members and started producing food containers. It's also worth mentioning that during World War I it was the Bormioli Rocco company that produced medicine and food containers for the purpose of helping doctors and anyone fighting.
Let's see the collection wine glasses made in Italy by Bormioli. You'll find a number of different wine glasses on the brand's website. For example, the Aurum collection holds three types of glasses: burgunder, white wine glass, and red wine glass. The Habana is one of the few Italian stemless wine glasses by Bormioli. It features a particular spiral that adds personality to the aperitif time.
4. Zafferano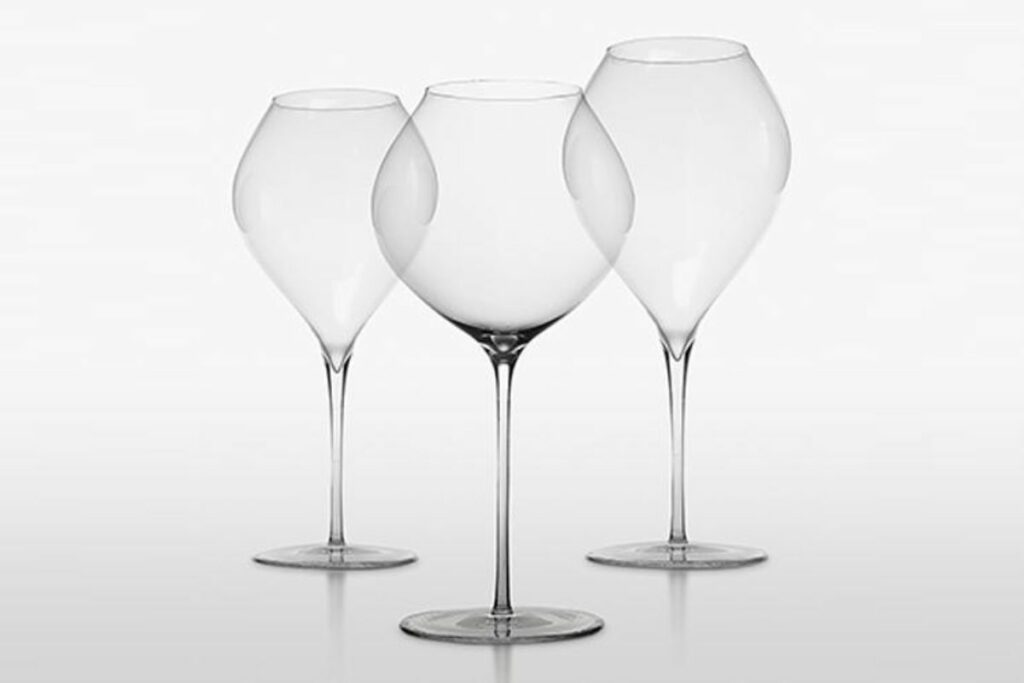 Zafferano is an Italian company founded in 2001 and it's under the direction of Federico de Majo. They are specializing in tasting glasses and tableware. So it fits perfectly in our article of Italian wine glasses. They create products that are both functional and decorative, which is what we love. Federico already has experience with Murano glasses. Taking inspiration from that, he created Zafferano to bring the world the most perfect and functional glasses.
When you browse the website, you'll find a section completely dedicated to wine glasses. You'll find everything from small Italian wine glasses to Italian stemless red wine glasses. There are a number of different collections to choose from. For instance, Chiaro di Luna, JCL, Scaligero or Ultralight as seen in the photo. These specific ones are made from lead-free crystals and the material was selected by Zafferano for its special resistance, transparency, and performance.
The Vem glasses look elegant and they come in different sizes. One can easily take the smallest glass and fit sparkling wines all the way up to the flute glasses which are designed for champagnes or aged wines. Then there are two more sizes that were specifically created for important aged red wines. Its larger size will amplify the aroma of the wine. So much attention goes into creating wine glasses and rightly so. You shouldn't drink a special wine from any glass!
5. RCR Cristalleria Italiana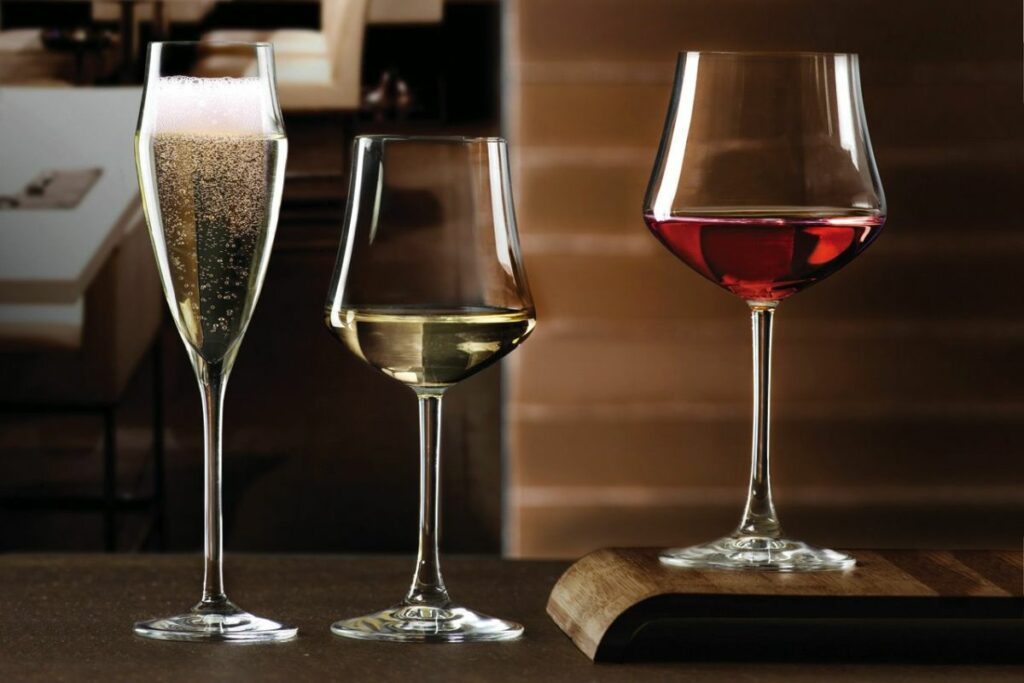 Next up on our list of Italian wine glasses is RCR Cristalleria Italiana. It started out in Tuscany in the year of 1967 by a group of craftsmen. They were passionate about traditional glassmaking and ensuring that the glasses have a higher pigment ratio. All of the RCR products are made of Eco-Crystal, which is a high-quality crystal made with care and love for the environment. What's even better about RCR is that the production process is emission-free, they use renewable energy and also create 100% recyclable product pigments.
I hope this has convinced you to purchase glasses from them. And I must say the website is beautifully created. Among the table furniture category, you have a number of different collections. In case you want to make sure you buy the best wine glasses from RCR, check out the Selection Sommelier collection. These glasses were chosen by Luca Martini who is the world's best sommelier. For red wines, he recommends the Invino Chalice 165, which has a wider belly and narrower mouth.
Then among the white wines, check out the Invino 167, which is classic and elegant. It can even be replaced with a decanter. But it's not just reds and whites that he recommends, but also sweet wines, distillates, and even bubbles. Browse through the rest of the categories RCR has to offer. The Aira or otherwise known as Air are blown glasses designed for high-level table furnishing.
6. GlassOfVenice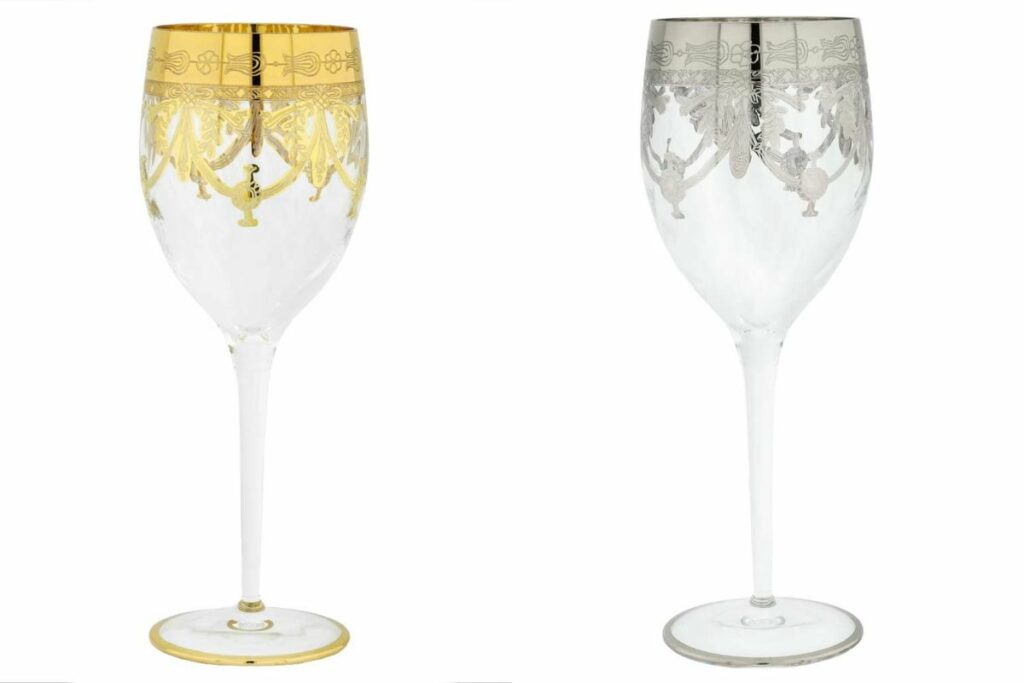 Since we are speaking of wine, how does one say 'a glass of wine in Italian'? Well, it's very simple 'un bicchieri di vino', of course, the pronunciation needs to be exercised, but at least you know how to ask for a glass of wine in Italian now! This brings us to the next brand, which is GlassOfVenice. They launched in 2007 and specialize in Murano Glasses with headquarters being in Venice. The Murano glasses already have a long history yet brands still find ways to create even more beautiful ones.
Everything is exclusively made in Italy and it's 100% authentic. These Murano collection wine glasses made in Italy will surely be a stunning addition to your home decor. There are a few different designs to choose from. For example, the transparent gold glass has exquisite details. They both sparkle and shine due to the Sterling Gold leaf decoration. These glasses also represent the 'sophistication and opulence of Venice and the dining traditions of old Europe'. The goblets are hand painted and feature real 24k gold!
7. Amarzo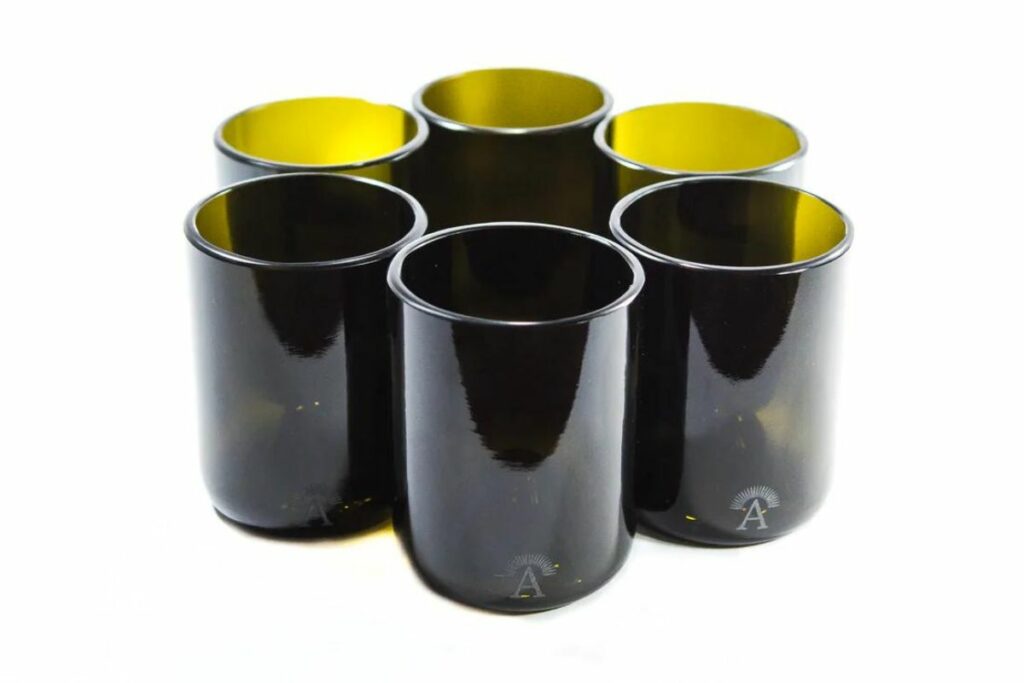 Amarzo was founded by the people from the Tuscan region who were passionate about wine and Tuscan traditions. They have worked in the cellars of Chianti and noticed that there were so many bottles thrown away by the cellar although these bottles were still in fine condition. So what did they think of doing? Iozzi, Luigi, and Bernardi thought about recycling these glasses. These bottles now have a new life and are all handmade by Italian artisans. And we have to agree that the innovation is just wonderful in this case.
There are a few different colored Italian stemless wine glasses in the Amarzo collection. These usually come in sets of 6. The names are Super Tuscan, Barbera, Malvasi, or Primitivo. Thanks to the subtle colors, you have a minimalist glass with different shades and colors. For example, choose from brown, black, yellow, bright or light green and even white. Amarzo only creates these glasses by hand using water and a diamond wheel. Imagine that! You can also purchase glass jugs or a tray made out of a recycled glass neck.
8. Italesse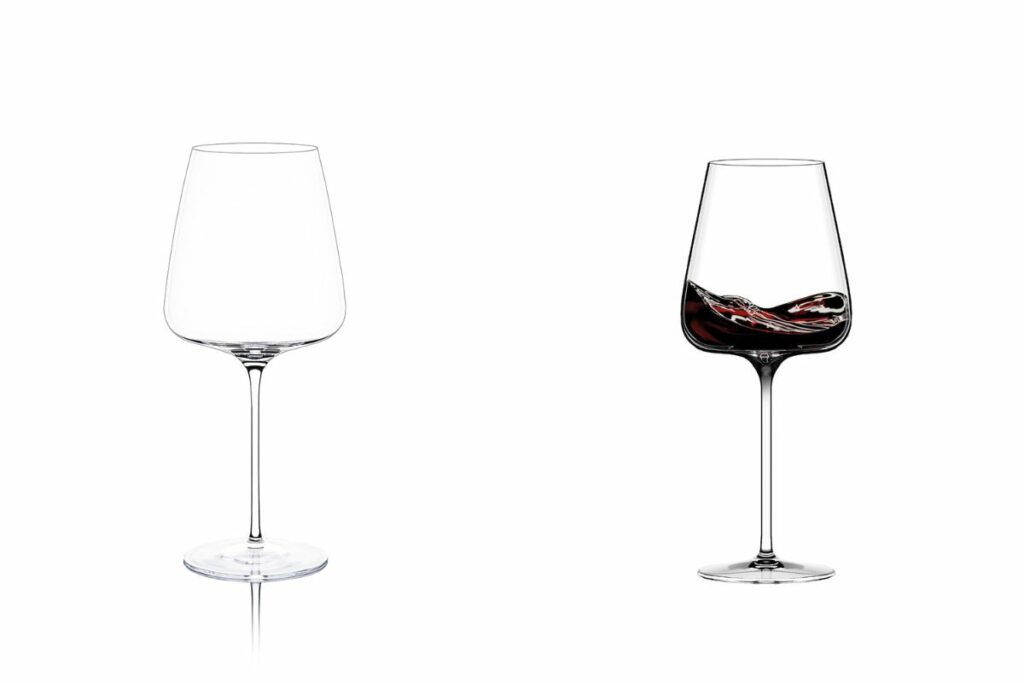 Are you looking for authentic Italian wine glasses? Look no further as Italesse can offer that. The brand was founded by Claudio Barducci. Their motto is 'In a wine glass there's the whole world'. And there is something special about drinking wine. Tasting the different notes it has, maybe even tasting which grapes were used and how they were used. That is why it's important to have the best glasses for your wine. Italesse has been in the market for many years and they specialize in producing products for restaurants, hotels, and resorts.
Italesse uses the highest quality materials as well as pays attention to the environment. Let's take the Etoilé Noir for example. This glass is elegant, sinuous, fancy, and gives you a full experience when drinking wine from it. These are high-performance professional wine glasses. It is made specifically for tasting structured wines that require optimal oxygenation.
For more vintage vines, full-bodied white vines, or fresh and elegant reds Italesse offers the Masterclass 70 Xtreme. Then we have the Richard Juhlin Optimum which is designed for tasting champagne or sparkling wines. It's also made from Xtreme crystal glass. We could not find any Italian stemless red wine glasses on the website, however, Italesse is a professional company with the best wine glasses.
9. Giberto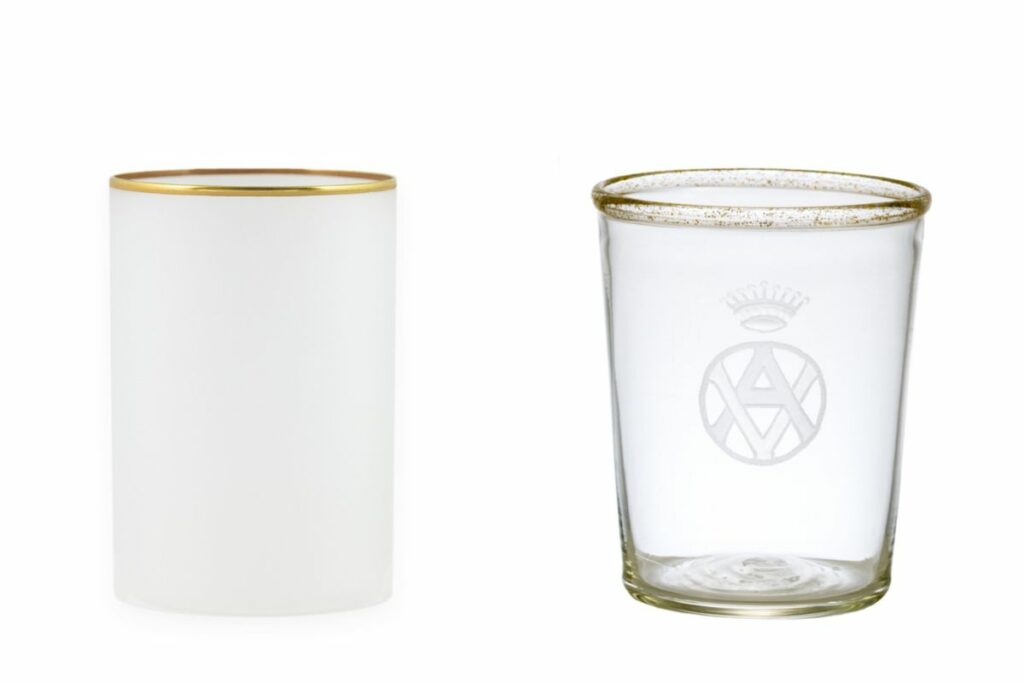 Giberto's brand was another one born out of a passion for Venice and its colors, just like GlassOfVenice. The owner of the brand is Giberto Arrivabene Valenti Gonzaga and due to the female presence in his early life, he found love for the beautiful things in life. Giberto was fascinated by glass and how craftsmen do it. Needless to say, the brand has been popular and appeared in Forbes, Elle, and Vanity Fair.
Looking at the collection wine glasses made in Italy by Giberto, there's a wide variety of them. A glass of wine in Italian culture is something sacred. So is the glass you're drinking it from. If you want to buy Italian stemless wine glasses, then check out the AV set of 6 wine glasses. These are cylindrically shaped wine glasses with the AV monogram. The rim of the glass is also gold and of course, it's made of Murano Glass.
Besides this transparent glass, check out the different colored wine glasses. They are available in gold, green, blue, and even red. Giberto products usually come in sets of 6, so you know you'll have a full set of wine glasses to serve your friends with. I also fell in love with the Frost glass which has a gold rim. Although wine will always taste better from the classical glasses made for wine, these are pieces of art and will look good in your set!
10. Nasonmoretti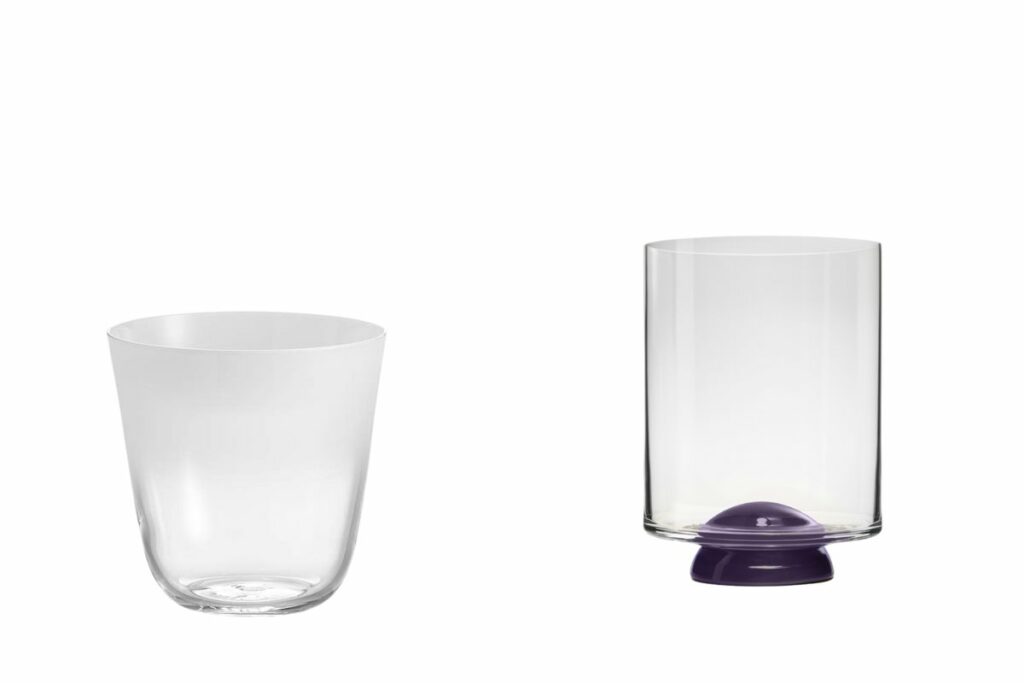 And we reached the end of our journey of authentic Italian wine glasses. Nasonmoretti is a famous Italian glassblower company that also produces Murano glasses. The brand was born in 1923 and it got famous thanks to its chalices and glasses that were special and refined. They won the second edition of the Compasso D'Oror Award in 1955 and their fame grew even more, internationally as well. Nasonmoretti's products come from the influence of baroque shapes.
Check out the many Italian stemless wine glasses they have to offer. For instance, the wine glass fog is a real beauty. It is inspired by the atmosphere created by Venetian fog when it's reflected on the waters of the canal. How beautiful is that! Or the wine glass dot blueberry is really unique. It's like a minimalistic glass, it has a Dot on the bottom of the glass with different shades of color. These are the perfect wine glasses for special occasions!
Conclusion – Authentic Italian Wine Glasses – Italian Stemless Wine Glasses
That concludes our list of the Italian stemless red wine glasses, the Italian wine glasses Luigi Bormioli and the small Italian wine glasses. These brands have proven to be great artisans and mastered the way they produce wine glasses. Some of them have many years of history and experience, while others are fairly new to the industry, but that doesn't mean they are less worthy. In case you're one of those people that cherishes wine tasting, this is the best way to take it to the next level. Purchase one of the glasses from these brands and drink the wine from those, see if you can find a difference between the way they taste!
Pin it: Italian Wine Glasses