15 Best Italian Cocktails You Can Make at Home
Are you looking for the best Italian cocktails? What else could we speak about here at Italy Best than only the best things you should try? Well, below, you're going to find some delicious Italian cocktails, such as one of my favorites, the Negroni Italian cocktail, as well as different Aperitivo drinks. On side of the delicious and refreshing drinks, we will also share with you the best Italian cocktail recipes, so if you want to make them at home, you can easily do it with our guidance.
15 Best Italian Cocktails
For those looking for the best Italian cocktail recipes, you're in the right place! Below you're going to find not 10 but actually 15 classic Italian cocktails and a guide to making each of them at home. Some of them are great for Aperitivo time, like an Italian bitter cocktail or a spritz.
Others are meant to be for after dinner. In each case, for a house party, for a grill party, or for a simple gathering with friends or family, you can always surprise your guests with delicious and refreshing Italian cocktails.
1. Aperol Spritz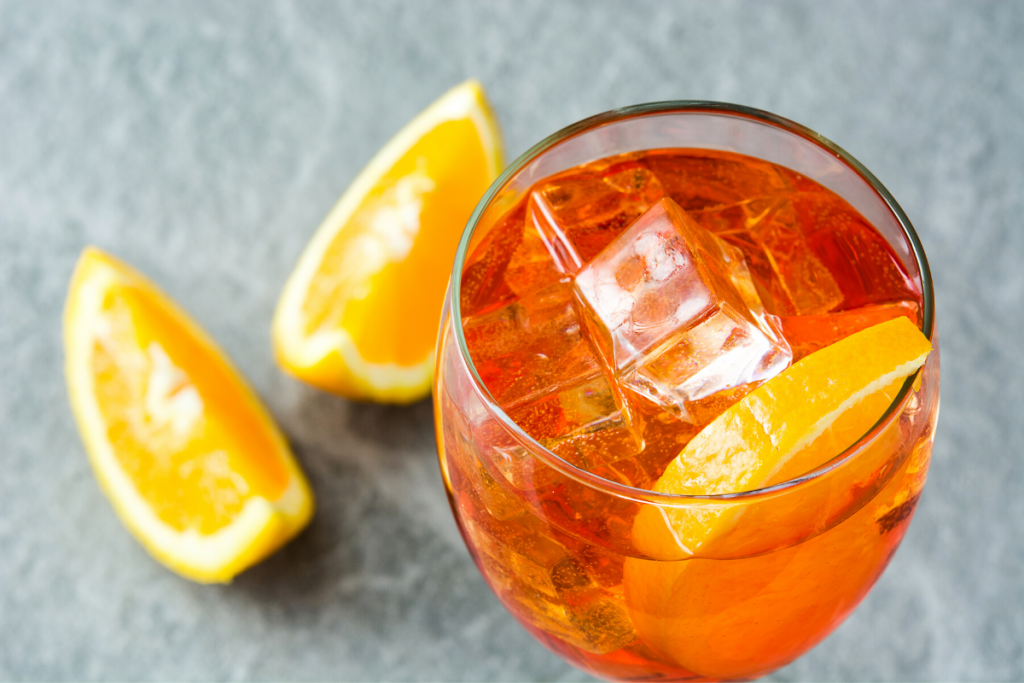 Most people I've seen search for Italian cocktail recipes, usually search for the Aperol Spritz right away. Aperol Spritz is one of the best cocktails for summer, an Italian spritz cocktail we drink during Aperitivo time and it's one of the most refreshing cocktails you could wish for especially during the warm months.
The Aperol Spritz is one of those easy Italian cocktails that you can make no matter which side of the world you're living on. As bottled liquor, Aperol is available from the US to Asia in many countries, so you should be able to find it at local grocery stores.
The Aperol Spritz history and the Aperol Spritz recipe
Here's a bit of history before the Aperol Spritz recipe! The Aperol was made by Luigi and Silvio Barbieri in Padua in 1919. After WW2, during the 50s' the Veneto region was at its peak of gastronomic delicacies and chic fashion. This was the time when the Aperol Spritz became popular around the society of Padua.
The term Spritz comes from German Spritzen, and this dates back to the Austro-Hungarian Empire in the 19th century, while they had the Veneto region (as well as others) under their control. In Hungary, the traditional spritz is still a thing, and people prefer drinking wine with soda water. This is called fröccs.
Austro-Hungarian soldiers put soda water in wine because that's diluting the strong flavor. To the spritz, later on, Aperol was added to create our favorite Aperol Spritz. There are also other types of Spritz with Campari for example (that's my favorite).
Now the Aperol Spritz recipe needs a larger glass than a wine glass. You should fill your glass with ice, and use 3 parts prosecco, 2 parts Aperol, and 1 part soda. Garnishing it with orange makes it the perfect Italian Aperol Spritz.
2. Negroni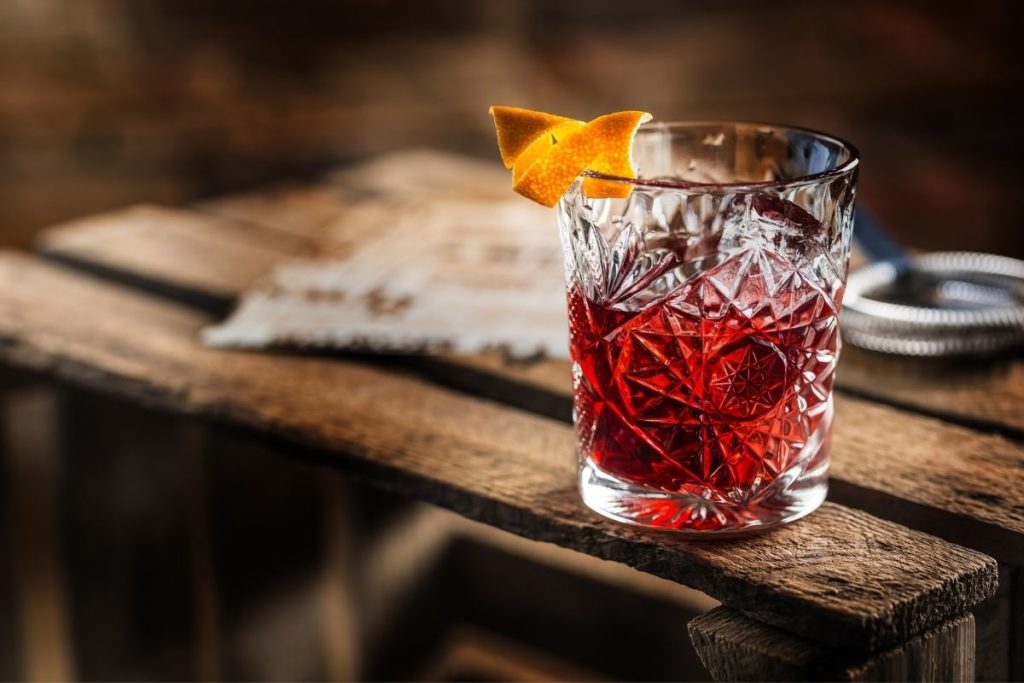 Within Italians, especially in the north, the Negroni is definitely one of the most popular cocktails. But what is the Negroni Italian cocktail? And why is it one of the perfect easy Italian cocktails you can do at home? First of all, the Negroni is made with three drinks, just like the Aperol Spritz, and just like many of the best Italian cocktails, you'll see below.
This drink, along with its two brothers, the American and the Negroni Sbagliato have become really popular in the past few years, and especially in the area of Milan, it is a favored drink. The drink was first created after the demand of Camillo Negroni, who insisted that the Americano is not strong enough, and requested the bartender to make to replace the soda water with Gin.
Negroni is a strong Apreitivo drink, but it's preferred to be consumed after dinner, when you have a night out, due to its level of alcohol. For a Negroni recipe at home, you'll need Campari, a good quality Gin, and Sweet Vermouth. You'll need a whiskey glass, or rocks glass, some ice, and an orange twist for garnishing. Then, you use from each of the three drinks the same quantity when you're making a Negroni. Quick and simple.
3. Americano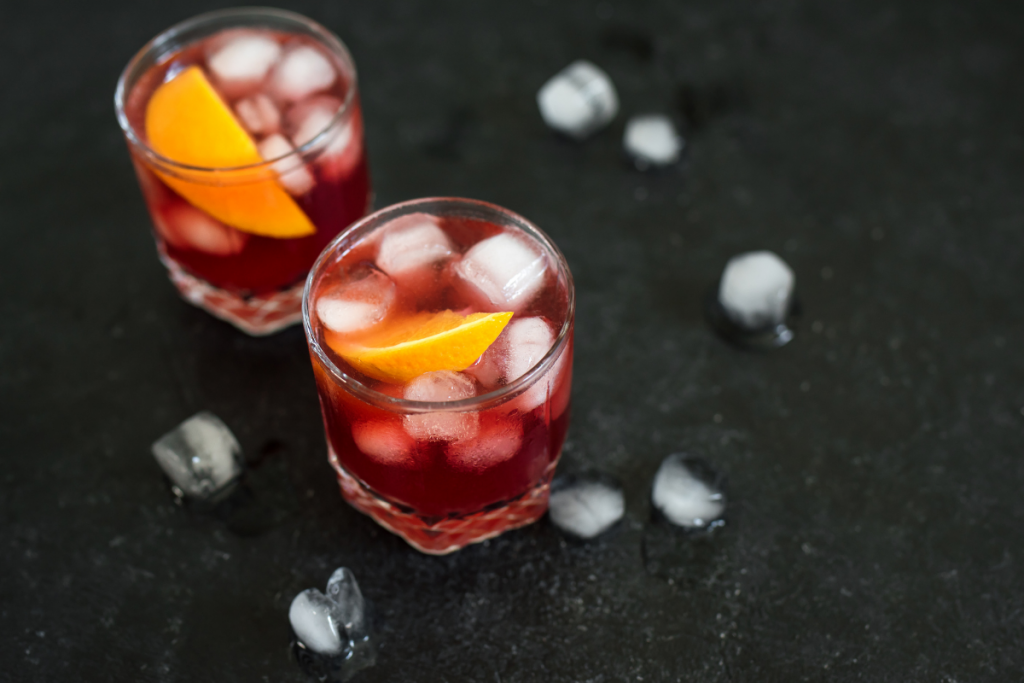 When it comes to classic Italian cocktails, the previously mentioned Americano is one of the tops. The first time the Americano was served was in the 1860s' in the bar of Gaspare Campari. At that time, this was the one called Milano-Torino, while the Milano-Torino is now a different cocktail you'll see below too.
During the 1920s' it became really popular among Americans, and there's when it changed its name to Americano. This is a simple, delightful, and fizzy Aperitivo cocktail (aperitif cocktail) that's really popular among Italians, especially up north. The Americano recipe was basically shared at the Negroni since there is only one ingredient that's changing.
To make an Americano cocktail at home, you'll need soda water, the same type of glass as for Negroni (whisky glass/rocks glass), ice, Sweet Vermouth, and Campari. The quantity of Campari and Vermouth should be the same. at these should make 85% of the drink. The rest is soda water. Then, garnish with an orange twist.
4. Sbagliato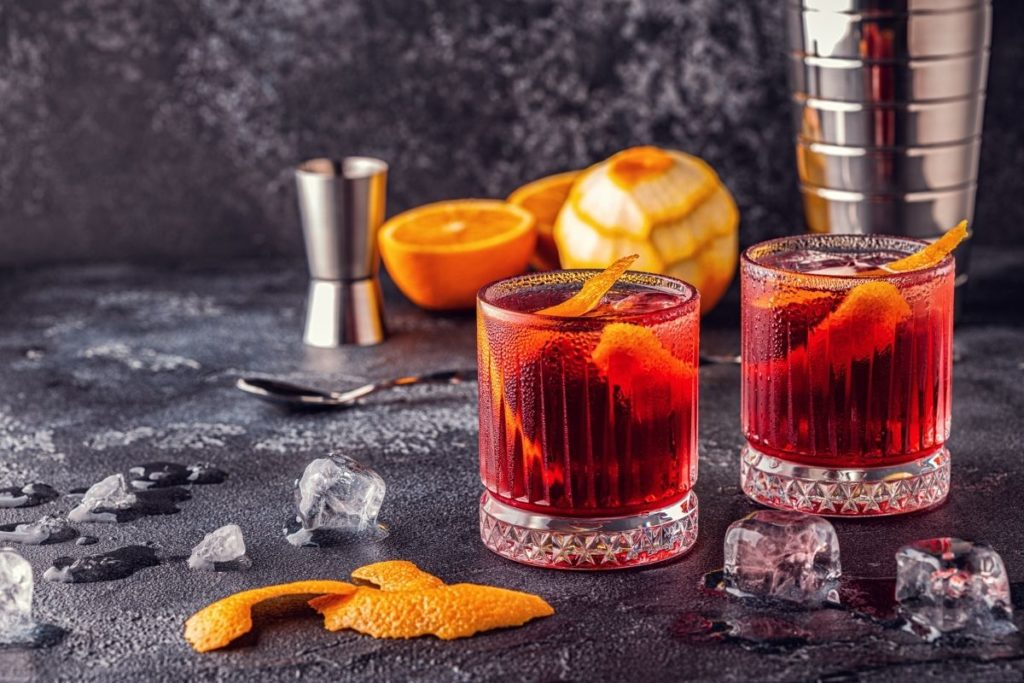 If you ask what is the best Italian bitter cocktail, in my personal opinion it is the Negroni Sbagliato. This has been my favorite for years now. So much so that at the bars where we go more often for Aperitivo, they already know I always have a Sbagliato. Now, the Sbagliato is another brother of the Negroni, and the name means literally messed up.
Negroni Sbagliato was made first in 1972, and it was Mirko Stocchetto, the bartenders' mess up. He was making a Negroni when he accidentally used sparkling wine to make the Negroni instead of the Gin. He soon realized what an amazing new taste he made, and the Sbagliato became popular slowly all around the country.
Since it is my favorite drink, I'll also share why. The Negroni Sbagliato is not as bitter as its brothers, the Negroni and the American. It's also not as strong as the simple Negroni, and it's sweeter and lighter, thanks to the sparkling wine. To make a Negroni Sbagliato recipe you need again rocks glass, ice, the famous Italian liquor, Campari, Sweet Vermouth, and Prosecco. The quantity between the 3 drinks here too are the same. Then, you garnish it with an orange twist and it's ready.
5. Bellini Italian Cocktail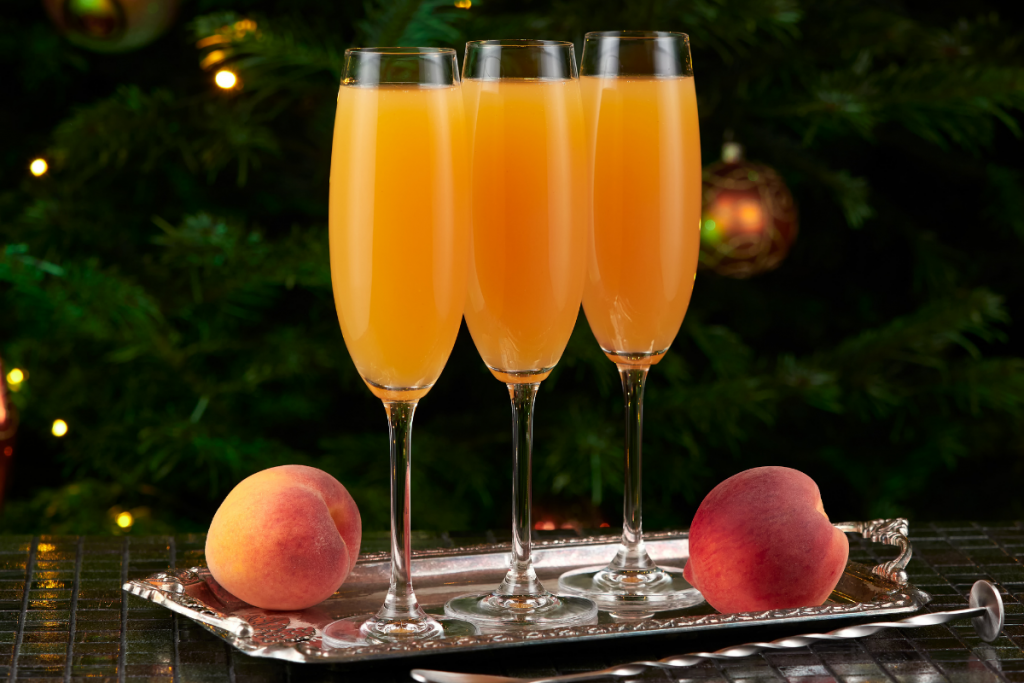 Bellini cocktail was born in Venice combining our beloved Prosecco or Frizzante (Spumante) with peach. The story tells that a barman, Cipriani spent years finding the perfect way to add peach into a perfect drink, while then he created the Bellini with fresh peach juice.
The Bellini cocktail recipe is made with 1 part Frizzante/Spumante and 3 parts Peach puree. We've tested it with freshly made peach juice and the taste was almost the same, so that can be another option. Bellini is one of the most delicious and simple Italian cocktails for summer for everyone who loves sweet, fruity drinks.
6. Spiked Affogato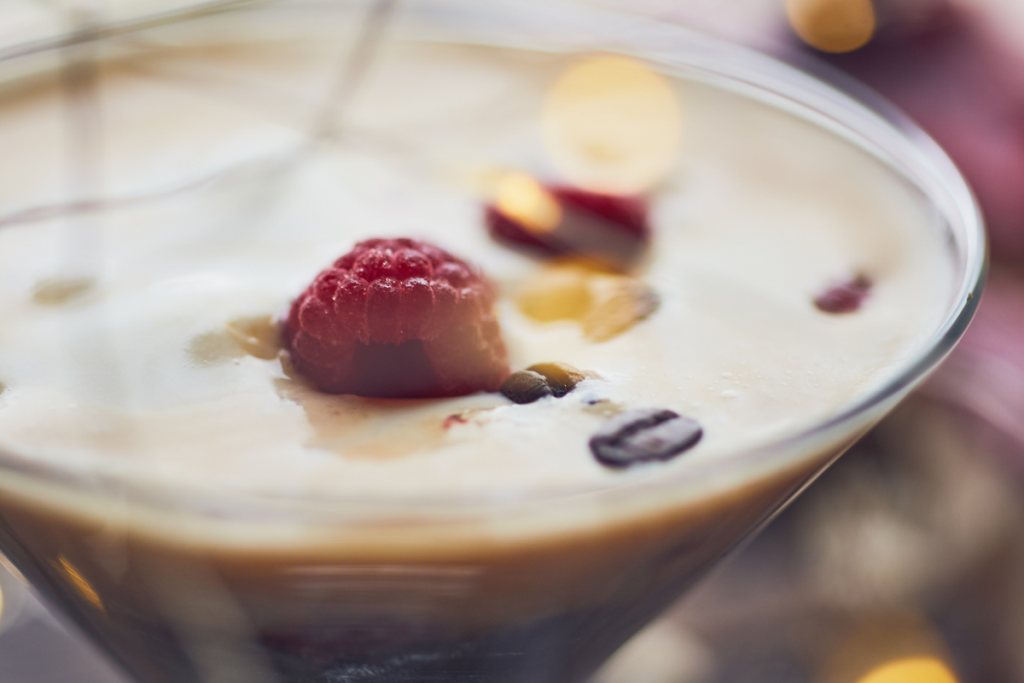 When it comes to the best Italian cocktails, Affogato is actually coming from the dessert called Affogato. This is a delicious coffee treat that now can be made in the form of a cocktail as well. Affogato combines the creaminess of vanilla ice cream with the strong flavor of Italian espresso.
If you love coffee and ice cream, I'm sure you'll love the Affogato cocktail recipe too! To make this you need 30ml of Bayley's liquor, 5 whole milk ice cubes, a scoop of vanilla ice cream, and 85ml of cold espresso. To be fair, the Affogato cocktail isn't actually an Italian invention, so different recipes require different drinks. You can also add whiskey to it to make it stronger.
7. The Garibaldi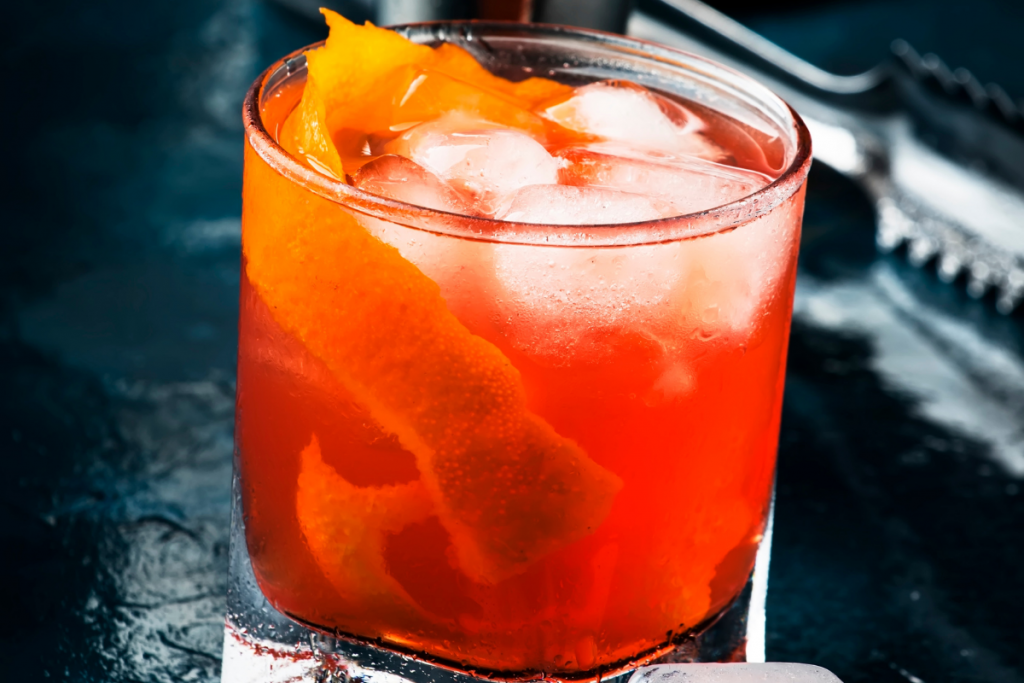 Another delicious Italian cocktail for summer is the Garibaldi. This is another Italian bitter cocktail with the base being the Campari again. The Garibaldi is also an aperitivo cocktail that got its name after the Italian military general, Giuseppe Garibaldi, the leader of the Italian troops at the unification of Italy in the 19th century.
There's a more modern variation to the Garibaldi which uses velvet falernum and rum, but we're now staying with the original Garibaldi cocktail. For the Garibaldi cocktail recipe, you need Tom Collins, rocks glass, and ice. Then, you should use 1 part Campari and 3 parts of freshly squeezed orange juice. Then, garnish it with a slice of orange.
8. Campari Spritz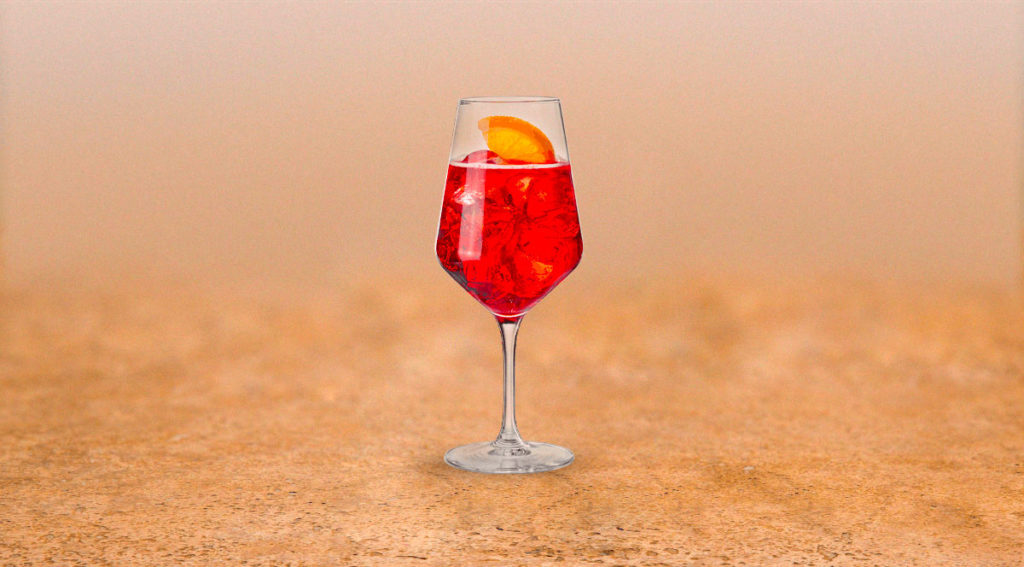 The Campari Spritz has the same history as the Aperol Spritz when it comes to where the Spritz itself is coming from. The difference between the two types of Spritz is, that Campari is more bitter than Aperol, and it has a stronger taste too.
When it comes to a Campari Spritz recipe, the steps and ingredients are the same as for the Aperol Spritz. The only thing you're changing is that you're using Campari instead of Aperol. Garnishing as well goes differently. While in Aperol they put orange, in Campari you'll see more often to have an olive in it. Also, the Campari Spritz is the most popular in Venice, and Venetians make it the best!
9. Hugo Spritz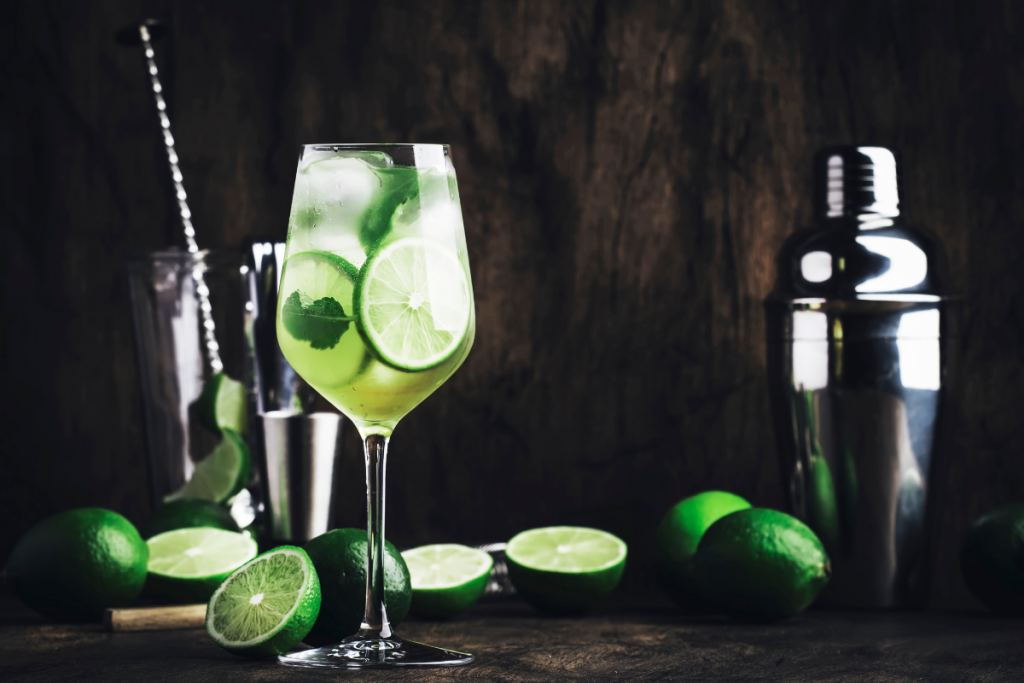 Many of you might have tried already this great Italian spritz cocktail, and if not, I'm telling you now that the Hugo Spritz it's one of the best Italian cocktails for summer. The Hugo Spritz is a simple, refreshing, and delicious drink made with elderflower.
It combines sparkling white wine with elderflower cordial and a dash of soda water. The Hugo Spritz recipe needs ice, half Prosecco, 1/4 elderflower, and 1/4 soda. You'll have to garnish it with an orange wheel, fresh mint leaves, and a lime wedge. Your perfect Italian spritz cocktail for the summer!
10. Puccini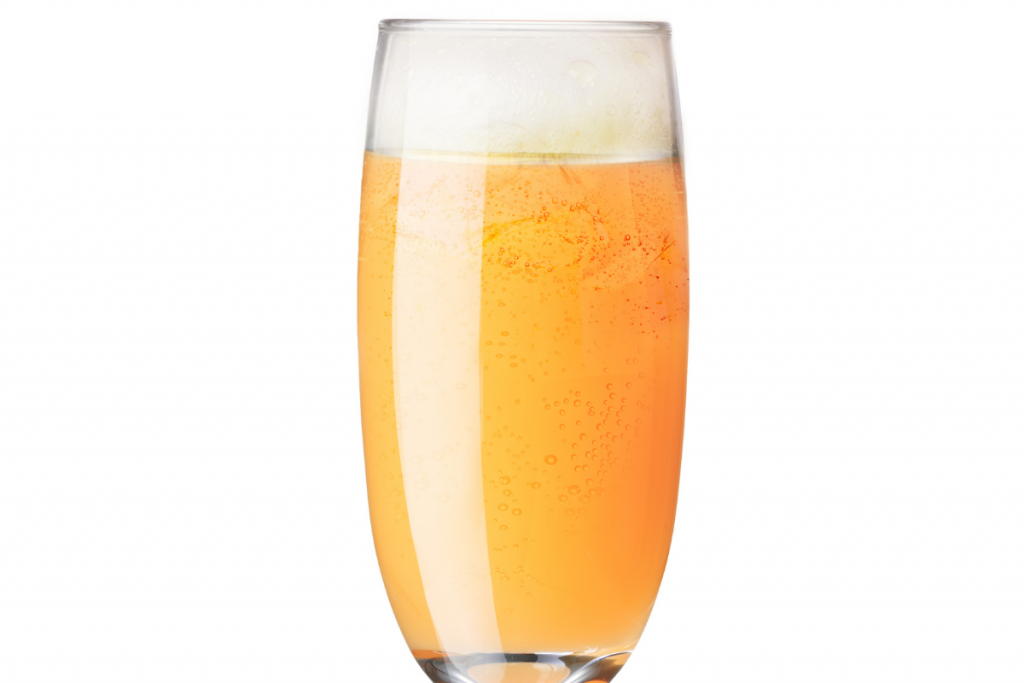 Puccini and Bellini are easy Italian cocktails that you'll love if you're hosting a fancy brunch, but it's great for any occasion actually. The two cocktails are basically the same so I decided to add both of them in here. Both Puccini and Bellini can be made easily and they both require only 2 ingredients.
You'll need a champagne glass for these cocktails and sparkling wine or Prosecco. The Puccini cocktail recipe should be made with 3 parts of Prosecco and 1 par Mandarin juice. It's a delicious and refreshing one you'll surely love.
11. Sgroppino al Limone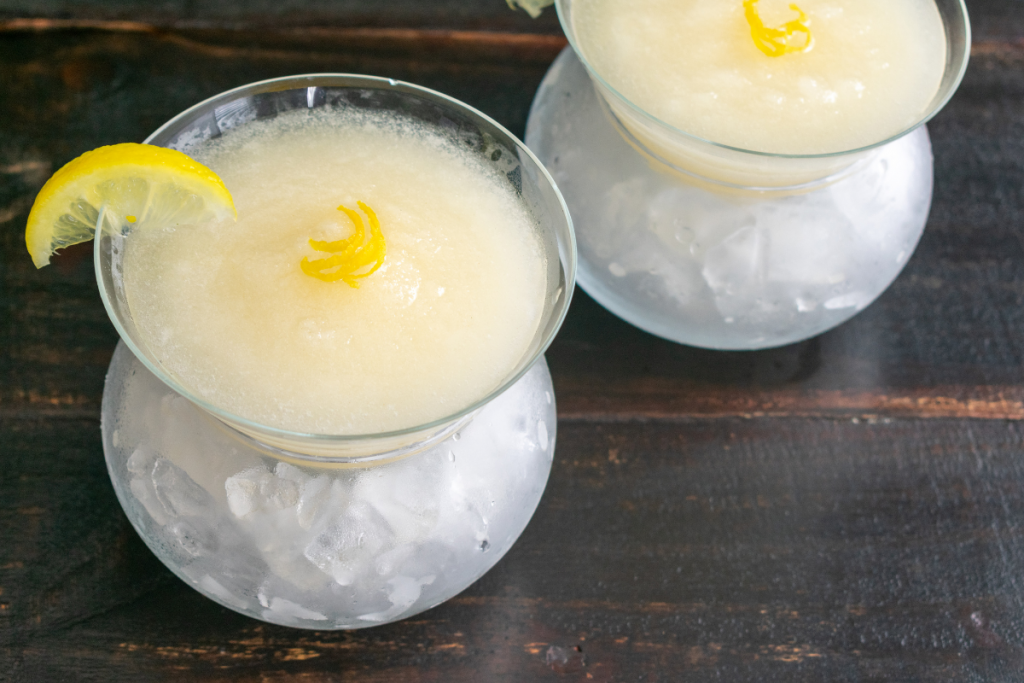 For anyone looking for the best Italian cocktails with lemon, this one will be a winner. Sgroppino al Limone is one of the most delicious Italian cocktails you could make at home if you like the icy citrus flavor. Now, the Sgroppino al Limone is a perfect combination of Prosecco, vodka, and lemon Sorbetto.
It's a great drink to have after dinner, or after a Sunday lunch. For a Sgroppino al Limone recipe, you'll need 2 parts of lemon Sorbetto, 1 part of Prosecco, and 1 part Vodka. Add all these in a blender and mix them together for a minute on the slowest setup. Garnish with a slice of lemon or lime, or even fresh mint leaves.
12. Milano-Torino cocktail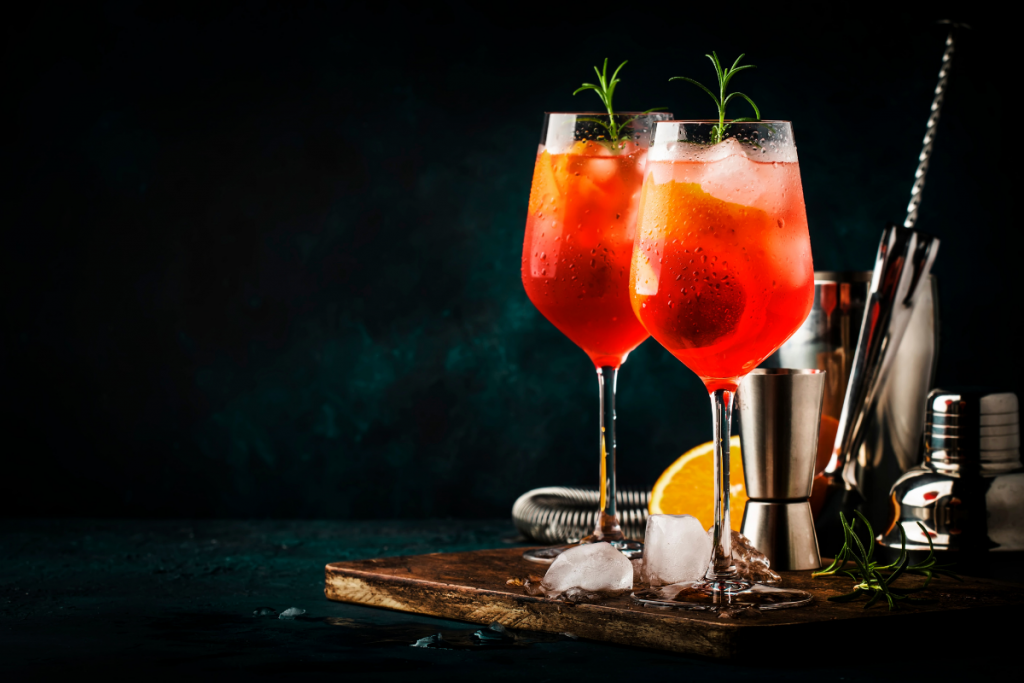 Another of the easy Italian cocktails which have Campari as a base is the Mi-To. As I mentioned at the Americano, that cocktail was called Milano-Torino before it gained its present name. Mi-To is similar to that, and for the reason of not mixing the two cocktails, the city names were shortened.
The Mi-To in taste and ingredients it's basically like the Americano, it's just missing the soda water. If you want to make a Mi-To recipe, you have to fill it with ice in a glass that's used in the Spritz cocktails. Then, you have to use half Campari, and half sweet vermouth, mix it and garnish with orange slices.
13. Angelo Azzuro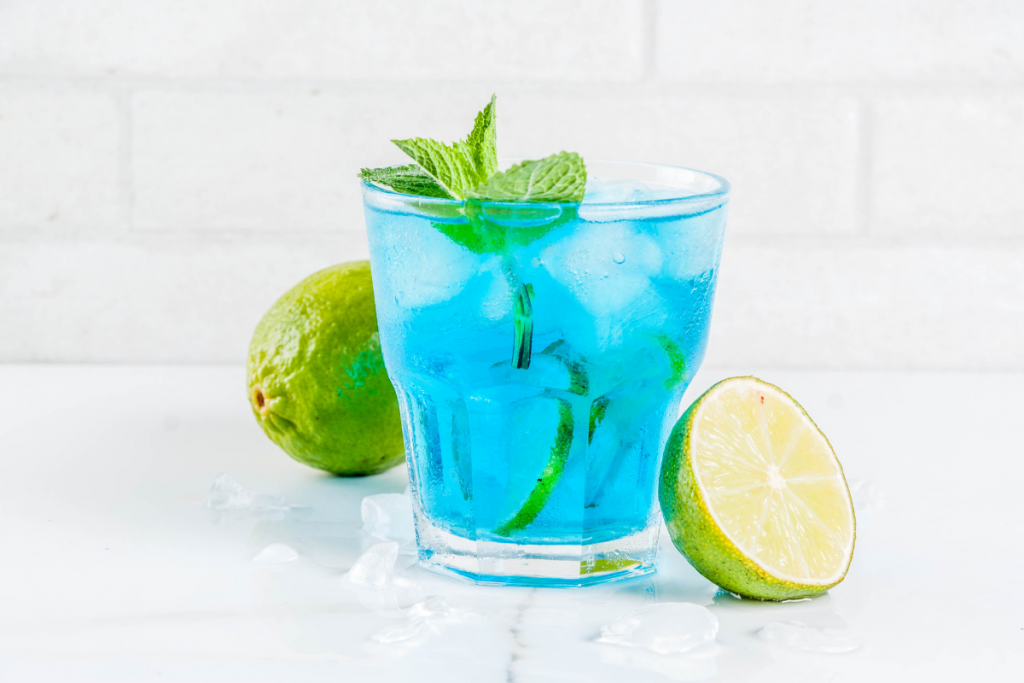 If you've been looking for Italian cocktails with Limoncello, we've finally got one for you! Angelo Azzuro is one of those Italian cocktails that are made with Limoncello and we do love it! Unfortunately, we don't know exactly the origin of Angelo Azzuro, but it's said to be a take on the Blue Lagoon cocktail which became popular in the 50s' and 60s'.
The name of the cocktail literally means blue angel, and it's quite easy to make. The Angelo Azzuro recipe requires one rocks glass, ice, and 4 ingredients. You should use the same quantity of Cointreau, Limoncello, and Gin, 30 ml of each. This you should be topping with 10 ml of Vermouth. Shake it well, then pour it into the glass and garnish with lemon or lime.
14. Rossini
One of the best Italian cocktails made with fruits is definitely the Rossini, especially if you love strawberries. But who doesn't love strawberries? Rossini is just as simple as the previously described Bellini and Puccini and it's similar to the Puccini cocktail actually.
For the Rossini cocktail recipe, you need again champagne glass, and you should use 1 part of strawberry puree and 3 parts of Prosecco. While Bellini and Puccini have no garnish, Rossini should be garnished with a slice of fresh strawberries.
15. Pirlo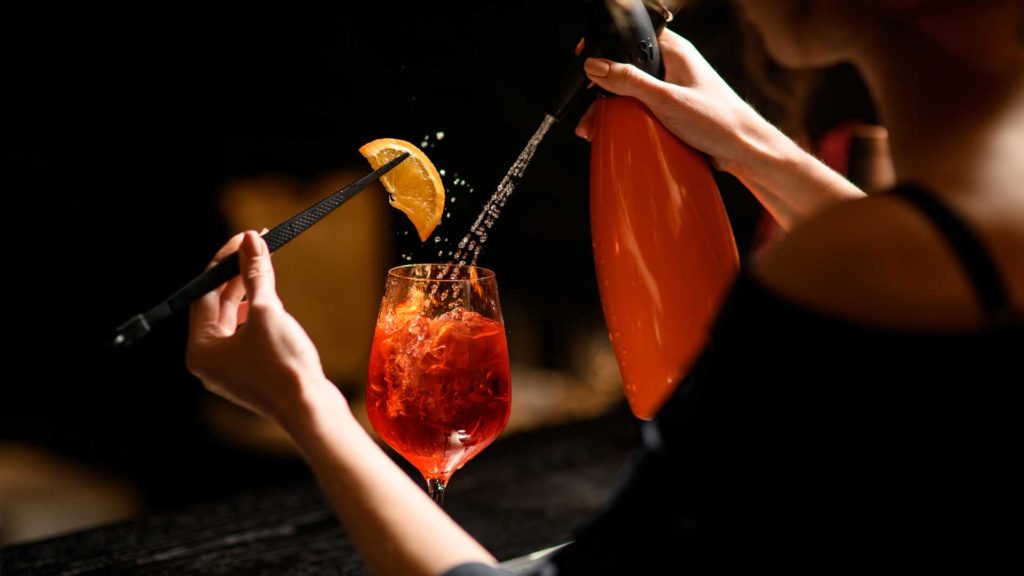 If you're not satisfied with the previously mentioned Italian cocktails for summer, here's another option for those who love bitter cocktails. To be fair, Pirlo is kind of like an Aperol or a Campari Spritz. More to the Campari Spritz actually, since it's using basically the same ingredients.
The only difference is that the Campari spritz is coming from Venice, the Pirlo is coming from Brescia, which is in the Lombardy region. There's also a tiny difference in the doses of the ingredients. As you could've seen already, most Italian cocktails are based on the same liquors.
They are really similar, yet different. For a Pirlo recipe, you'll need a spritz-size glass filled with ice. do 2 parts of Campari, 1 part Prosecco, and a splash of soda water. Garnish with orange.
Wrapping up the 15 best Italian cocktails
Now, we didn't give a full description of the method to make each of the Italian cocktail recipes, but the truth is that most of the classic Italian cocktails don't need such a big description. You use the quantity indicated for the classic Italian cocktail recipes, then you mix them.
Or at those where we pointed out that you need to use a shaker, you do that. Usually speaking, Italian bitter cocktails like the Negroni Italian cocktail, or the Spritz don't need any shaking, you just have to pour each ingredient directly into the glasses on the ice. Make sure you also check our lists of red and white Italian wines, as well as specific lists for specific types of wines, such as the Pinot Grigio.
Italian version of this article: Migliori cocktail da aperitivo
Pin it: The 15 best Italian cocktails – Italian cocktail recipes