10 Best Italian Pasta Brands
Italians are known to make the best pasta in the world, naturally, as they were the ones who discovered it and came up with over 400 different pasta shapes! Back in the day pasta was made from hard wheat with a strand shape. Today there are several pasta shapes and forms, as well as colors, and we are here for that. We really have to thank the Italians for creating such affordable, versatile food which can be turned into amazing dishes. The best Italian pasta brands are helping us fulfill all our pasta dreams.
10 Best Italian Pasta Brands
Which is the best dried pasta from Italy? In this article, we want to show you the best brands that have ingredients such as durum wheat semolina, the best dry pasta brand in Italy, the best Italian dried pasta brands, and Italian pasta brands in the USA. The most popular pasta brand in Italy is also known all over the world.
You will always taste an authentic pasta dish in Italy, however, that should not stop you from cooking your own. This list of the finest pasta brands is just for you in case you wish to cook your own best Italian dish. Let's see the top Italian dried pasta brands. Also, if any of you is visiting Rome in the near future, make sure you roll into a cooking class for the best food experience! You can also take an online cooking class to learn different traditional Italian recipes! Remember, if you're in Italy and you're looking for gifts to bring from Italy, pasta is always a winner!
1. Pasta la Molisana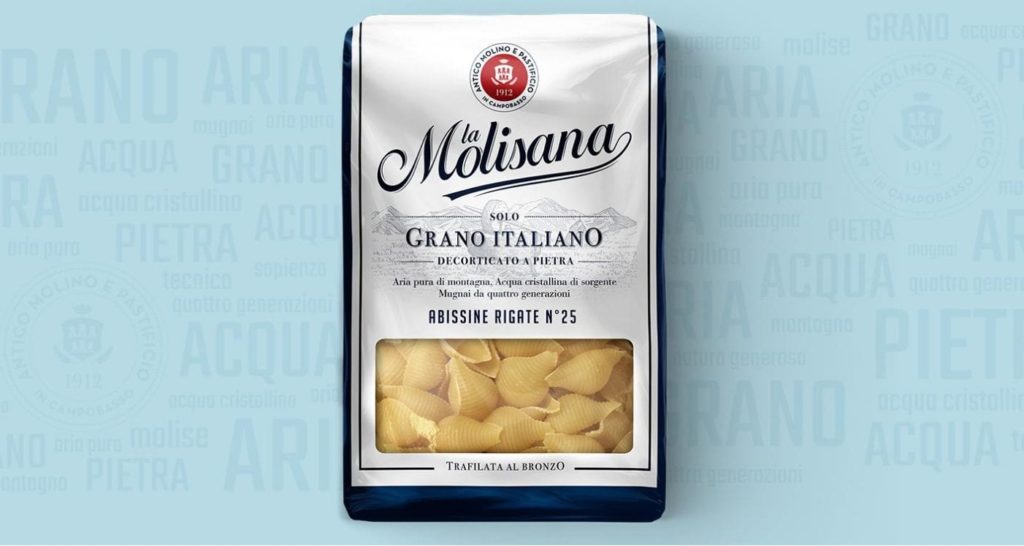 The first on our list of Italian pasta brands in the famous Pasta la Molisana. La Molisana has been around since 1912 and it is one of the famous Italian pasta brands in the USA. The ingredients are made up of 100% Italian durum wheat flour and have a very high protein content. Molisana is a premium product as it is rich in nutrients. The La Molisana pasta dough is loved by many Italian chefs.
The best dry pasta brand in Italy has also won the Leonardo Quality Italy award for its high quality and excellence. La Molisana wants to ensure that customers are happy all over the world with the products. Its packaging is simple, yet it looks elegant. The shape and color of the pasta are shown through the clear part of the packaging. You can find many shapes of the Molisana pasta, the best ones or the spaghetti, penne Rigate and fusilli. Which one is your favorite?
2. Pasta Rummo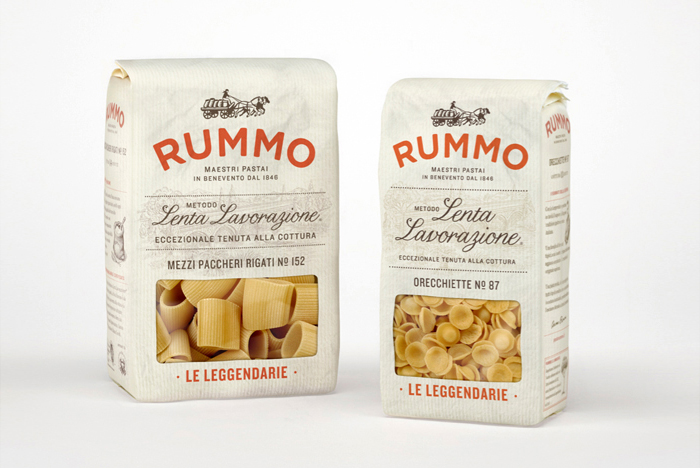 Pasta Rummo is another brand with a versatile pasta shape that you need to try out. Rummo is extra special as it is still a family-run business. Cosimo Rummo is the current CEO and it has been passed down for six generations now. The 175-year-old brand is still on top of the great pasta brands as it offers the best ingredients. It is rich in nutrients and high in protein. The quality is exquisite due to its special preparation, which is drying the pasta at low temperatures.
Pasta Rummo is also a bronze cut pasta, which means the pasta has gone through a bronze cutter that ensures the rough texture of the pasta. Their packaging is yet again simple and elegant, you'll find the information in multiple languages. Rummo is a part of the imported Italian pasta brands. The most famous products are the Spaghettini, the Tripoline, and one of their gluten-free products, Linguine. Make sure to try out pasta Rummo for an authentic Italian pasta dish.
3. Barilla
Barilla is the biggest and best dry pasta brand in Italy as well as Europe and America. It has been one of the best Italian pasta brands in USA for a while. The Italian pasta brands have many things in common and one of them is the ingredients used to make sure you have the best quality food in your household. Barilla is made of durum wheat flour which makes its protein consistency higher.
Pasta Barilla is also the biggest seller of baked goods in Italy. The packaging has only Italian instructions, and it comes in a nice blue color making it distinctive from other brands. You can choose from a great variety of pasta forms, such as fusilli, spaghetti, penne rigate, tortiglioni, coralline, and so on. Barilla also produces amazing rustic sauces to go hand in hand with your pasta. Also, Barilla is one of the best dried pasta from Italy, and you can find them in the US as well as all around Europe.
4. Pasta Voiello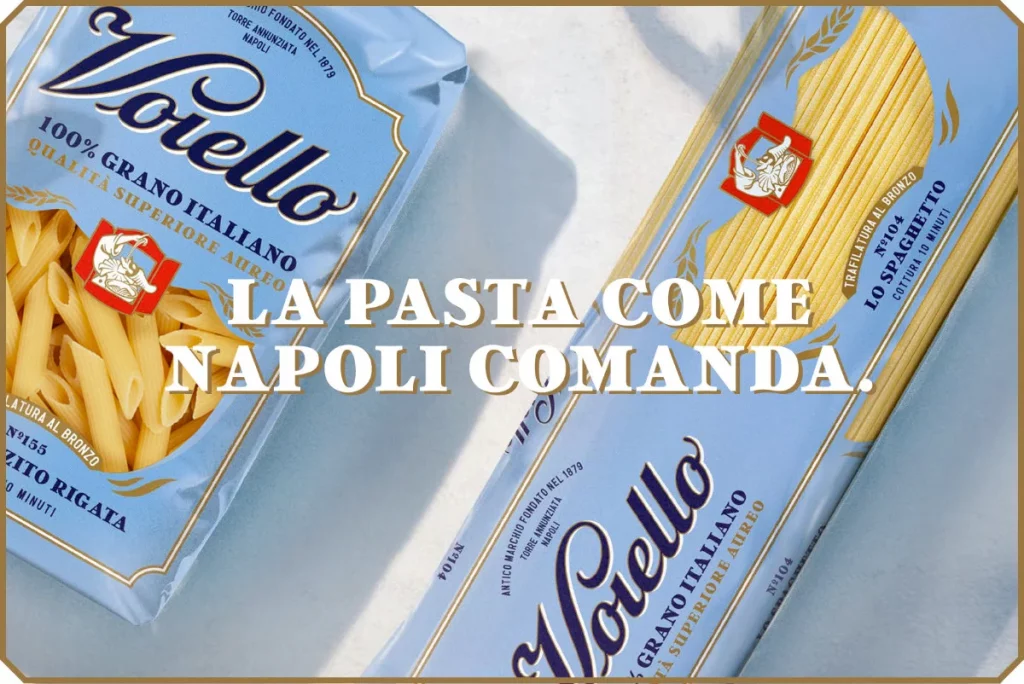 Our next product on the Italian pasta brands list is pasta Voiello. The pasta is made with 100% golden wheat and has a very high protein content of 14%. All of their pasta is bronze drawn. Voiello is considered the best Italian pasta brand in the world due to its top-quality wheat. It was founded in 1879 which makes it one of the oldest brands of pasta in the world.
The most popular pasta brand in Italy is going through a rebranding, thus creating higher quality products. Ginanni Tozzi says "The values of pasta Voiello – passion, truthfulness, exuberance, intensity and flair – perfectly correspond to the Neapolitan soul and are the recipe for a wonderful meal". Their packaging looks expensive and showcases the products in a beautiful way.
5. Pasta Garofalo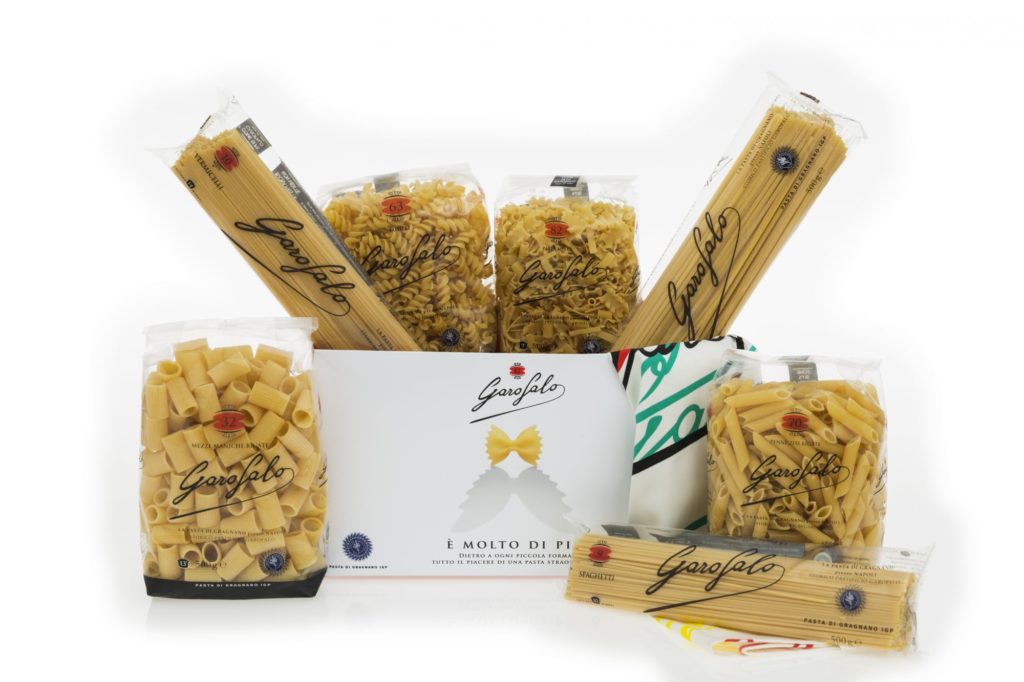 The best dry pasta brand in Italy, pasta Garofalo is one of the many Italian pasta brands. Garofalo is also one of the most imported Italian pasta brands and Italian pasta brands in USA. The production place is in Gragnano and they managed to deliver high-quality pasta since 1789 due to the climate conditions. Protein values are high, most formats are bronze drawn and others are Teflon-drawn.
This pasta is perfect for everyday household needs and it is also affordable. The packaging is transparent which makes the different formats visible. You have many varieties to choose from. The famous spaghetti is always present for as little as €2. Other pasta includes radiatori, rigatoni, fusilli tricolore and so on.
6. Granoro Dedicato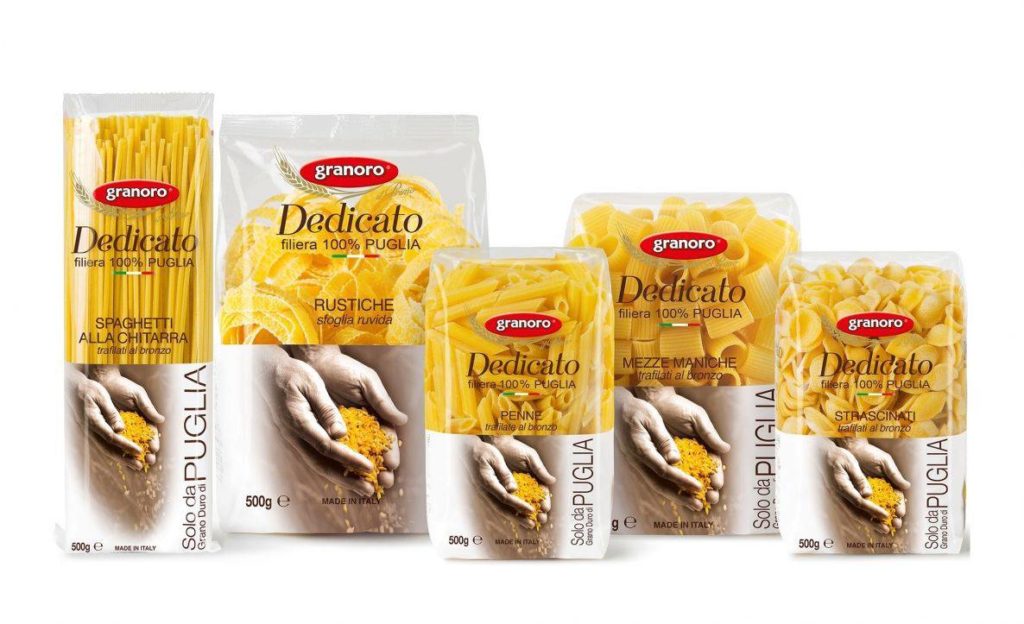 Granoro Dedicato is on our Italian pasta brands list as it is the best Italian pasta brand for many reasons. It is also the most popular pasta brand in Italy, made out of 100% wheat in Puglia. Puglia is where the best durum wheat semolina grows in Italy. The pasta is made with high-quality gluten and pure water from the Caposele and Casanova Irpino springs.
Granoro Dedicato is one of the Italian dried pasta brands as it is dried at a low temperature, thus maintaining its gold color. The packaging and label look premium, Puglia is clearly visible on it so everyone knows its origins. The prices are very affordable and you can prepare a delicious dinner from pasta casereccia, tagliolini, mafaldine, rustiche and many other different formats.
7. Pasta Delverde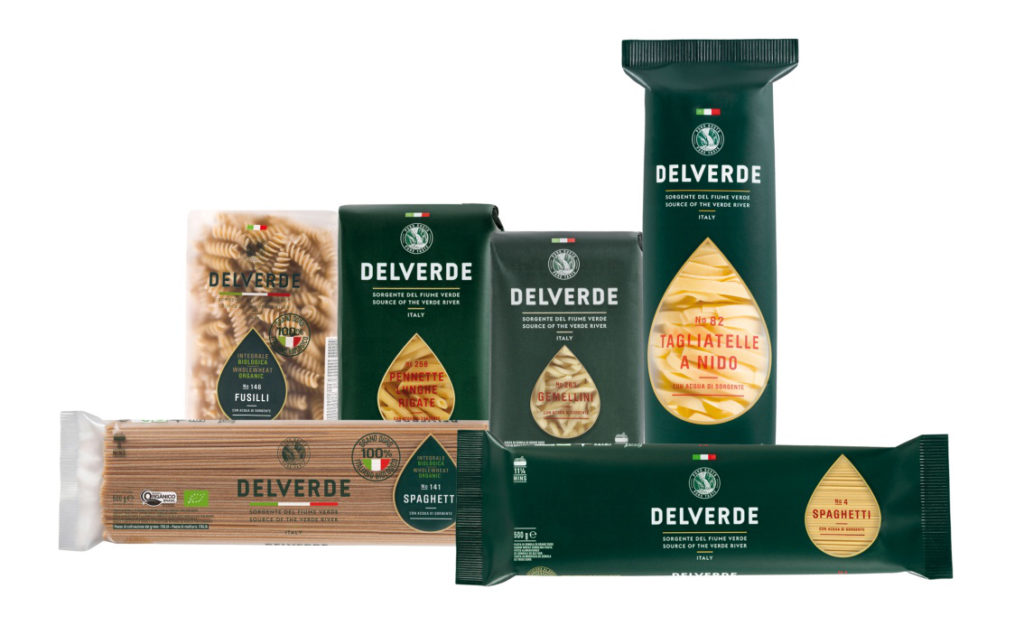 Delverde comes from the region of Abruzzo and it is slowly becoming one of the best Italian pasta brands and best dry pasta brand in Italy as well as in other countries. Made from two very simple ingredients, spring water, and durum wheat semolina. Delverde also has some good nutritional values, it is healthy and delicious at the same time.
A fun fact about Delverde is that the water used to make the pasta comes from the Verde river which flows right next to the factory. The water is used without any treatment, low-sodium with low mineral content. This is how Delverde delivers high-quality and delicious food. The packaging is quite beautiful and available in different languages.
8. Pasta de Cecco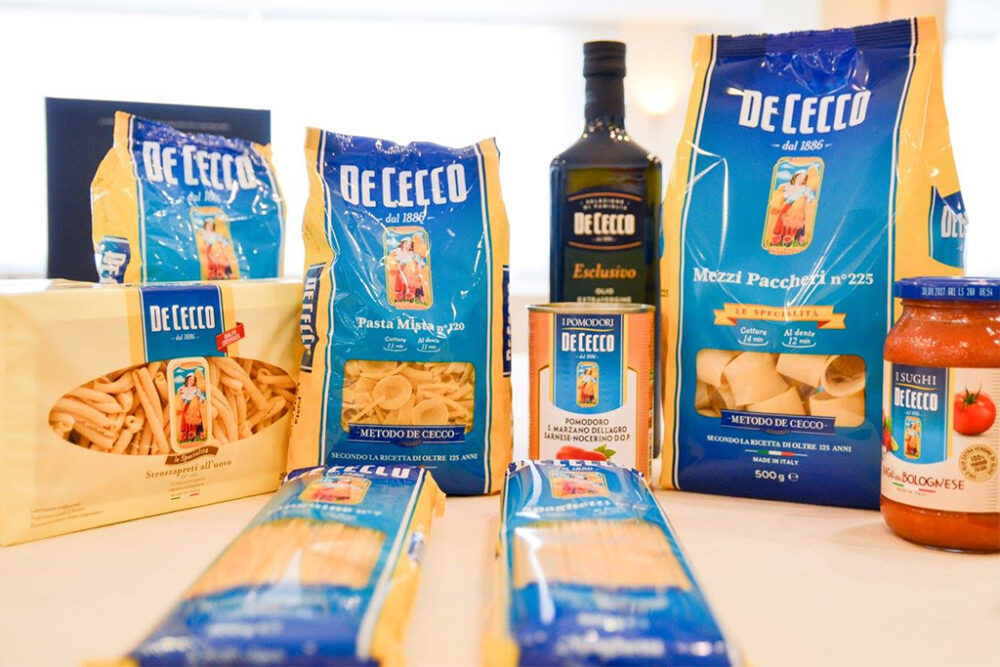 De Cecco is a very well-known brand in Italy and one of the Italian pasta brands in USA. For this reason, de Cecco pasta is on the list of popular imported Italian pasta brands. Thanks to the egg pasta it has high protein values and slow drying. As you can see, many of these pasta brands have very good nutritional values. This way Italians have been maintaining a healthy diet despite eating pasta almost every day.
De Cecco uses excellent water in the dough which comes from the Majella mountains. The pasta factories are obtaining the semolina from European grains. Pasta comes in a variety of different forms at de Cecco. Fusilli, durum wheat spaghetti, Tortiglioni, ratcheted pasta, and many others. Their prices are affordable and you can get them in many countries throughout Europe and the rest of the world. Would this be the best Italian pasta brand on our list?
9. Pasta Divella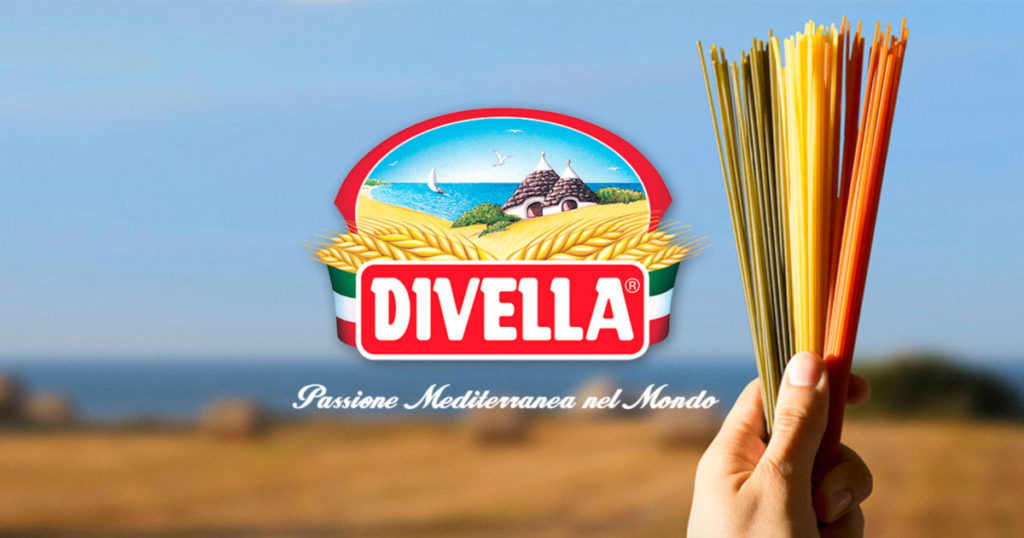 The last one of the most popular pasta brand in Italy is pasta Divella. Just like Granoro Dedicato, Divella also comes from Puglia and it is considered an icon in Italy. In the pasta, there are twelve die present with bronze drawings. Protein values are only at 13% which is still very good and the groats are from both the EU and outside the EU.
Divella is one of the renowned Italian pasta brands present since 1890. The first pasta was made near Bari by Francesco Divella. Their philosophy is all about quality control, attention to the consumer's health and safety. Divella, the best dry pasta brand in Italy comes in many forms and shapes. Spaghetti ristorante, Elicoidali Pasta, lisce zitoni, penne ziti rigate and many others.
10. Buitoni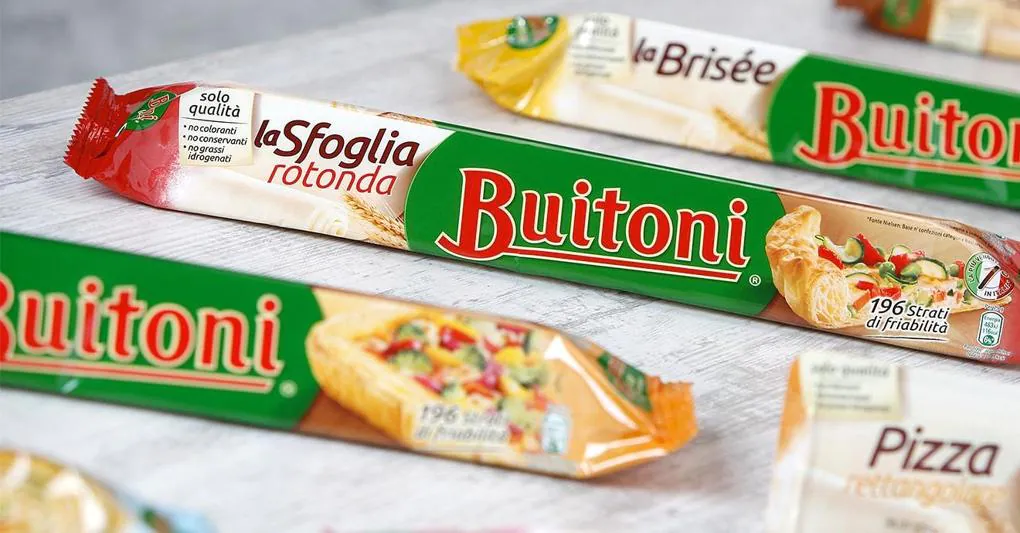 The last on our list of Italian dried pasta brands and the best Italian pasta brand is Buitoni. This is another historic Italian brand and you can really tell by the packaging. The classical colors in pasta Buitoni are very popular. The protein values are lower, exactly at 12%, and the semolina is from both EU and non-EU.
Customers are happy with this pasta overall, it cooks quickly, the price point is amazing. At less than €1 for a pack of spaghetti, penne, maccheroni, and so on. You really cannot beat these prices and you do get good quality. Serve the cooked pasta in one of your favorite Italian dinnerwear.
Best Italian pasta brands – Conclusion
We are now at the end of our best Italian pasta brands list. As you can see there is a huge variety and everyone has to decide themselves which do they consider the best Italian pasta brand. This list includes the best Italian dried pasta brands, imported Italian pasta brands, and Italian pasta brands in the USA. Our list was created by selecting the best brands for you to try and we hope you will find the olive oil that works best for your cooking needs.
In case you like this article about the best dried pasta from Italy, be sure to visit the best Italian frittata dishes, penne with tuna sauce and bruschetta recipe. The best thing about these recipes is that you can use these olive oils on our list to prepare them, how amazing is that!
Pin it: 10 Best Italian pasta brands