10 Best Italian Pasta Bowls
If you're passionate about pasta, then you must invest in the best Italian pasta bowls to impress your friends and family over dinner. An Italian pasta bowls set can add so much to your kitchen. They are fun, colorful and made out of the best materials. Italian ceramics date back to the 9th century and it's called maiolica. You can recognize these patterns immediately and say that they were handcrafted in Italy.
So what is Maiolica pottery? It's usually a tin-glazed piece decorated with colorful flowers, animals, and patterns on a white background. Some say it originated from Mesopotamia and thanks to trade routes it's still popular today. You'll see similar ceramics and pottery in Spain too.
One famous type of pottery is called Deruta, which we'll be mentioning in our Pasta Bowl made in Italy article. Deruta is also tin-glazed and it comes from the 16th century in the town of Deruta, near Perugia. According to artisans, that quality of clay has disappeared along the way, so now they usually purchase it from Tuscany.
10 Best Italian Pasta Bowls
Another form of Deruta is the Rocco Deruta. You'll find many pasta bowls from Italy under this name and they all have similar colors and patterns. Furthermore, if you wish to purchase authentic pottery, these are the best brands that sell pasta bowl sets made in Italy. The best regions with a history of making ceramics are Umbria, Emilia-Romagna, Puglia, Campania, and Sicily.
In case you're wondering to invest in dinnerware sets, now's the time. Your delicious pasta will never taste the same in any other bowl. So, if you've been wondering where to purchase made in Italy pasta bowl, check out these 10 brands! Remember, if you're looking for gifts from Italy, pasta bowls are always winners for any food lover!
1. Biordi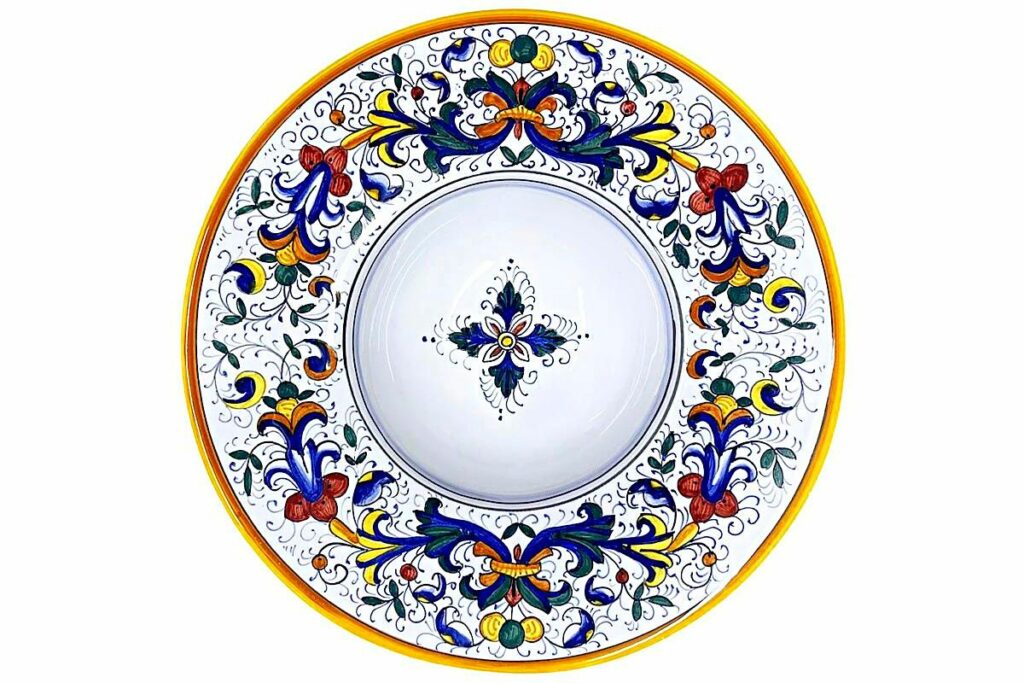 Starting our list of Italian pasta bowls with the famous brand, Biordi. The brand was founded in 1946 by Emilio Biordi, who was a native of the Abruzzo region of Italy. He started out by producing 'Italian Handicrafts and Products' such as espresso machines, ravioli cutters, rolling pins, and pasta machines. And of course, with all these pasta machines he also later came out with Italian ceramic pasta bowls.
Looking at the pasta bowls Italy on Biordi's page, there's a wide selection of them. You can choose from a selection of Raffaellesco pasta bowls, Ricco Deruta, Siena Pasta Bowls, and many others. The Ricco Deruta is actually a part of the brand's most popular pattern for classic Italian dinnerwear.
For example, the Ricco Deruta Wide Rim pasta bowl is hand-painted with colorful flowers on the rim. It's a 'distinctive Maiolica treasure heirloom'. In case you want to get your hands on pasta bowl sets made in Italy, choose Biordi's Antico Deruta Pasta/soup bowl set. They have a gorgeous blue pattern to them on a white background.
2. Deruta Italy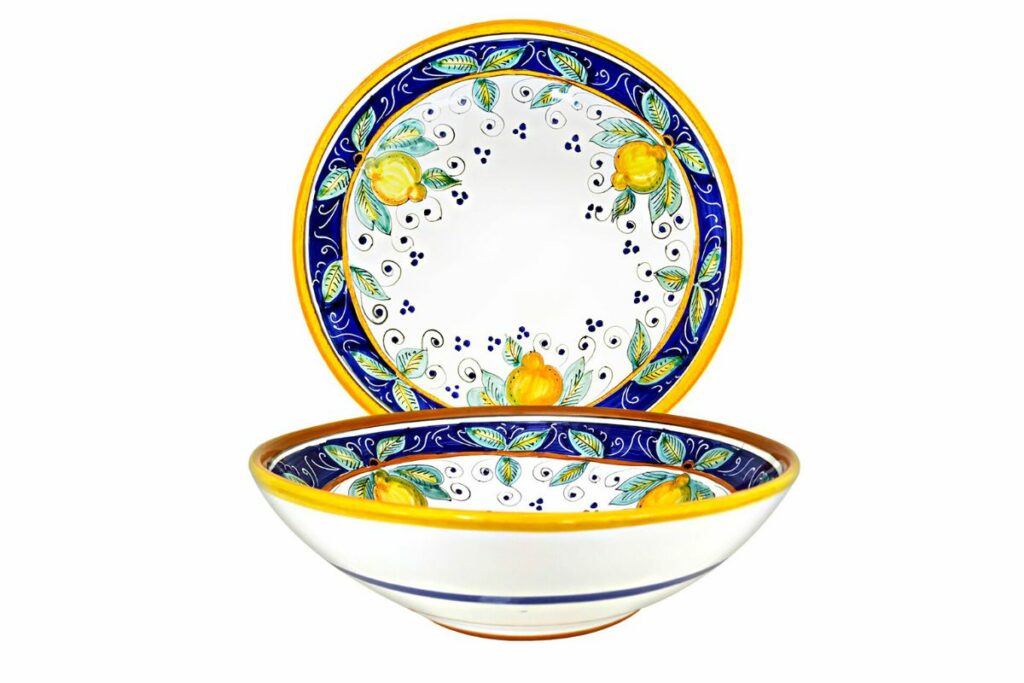 Just like Biordi, Deruta Italy is an important brand for Italian dinnerwear and pasta bowls made in Italy. The founders call the brand MOD – Maioliche Original Deruta. They started the brand around 1963. Antonio and Delia have been working together for nearly 70 years and what was once a small workshop called 'ceramiche Delia' now it's a big company named MOD.
They offer an extensive collection of Italian ceramic pasta bowls with all sorts of designs. Choose from the collections of made in Italy pasta bowl such as Peacock Decoration, Italian Ceramics, Archetti, Ricco Deruta, or Alcantara Ceramics.
My favorite Italian pasta bowl set is the Alcantara Ceramics. These are decorated with the typical Italian lemon and leaves style. The rim is yellow and inside there's another circle of blue beside the lemon painting. If you want something more colorful, choose the Peacock Decoration. Antonio and Delia along with their family are still taking care of the factory and producing these beautiful pieces!
3. Villa d'Este Home Tivoli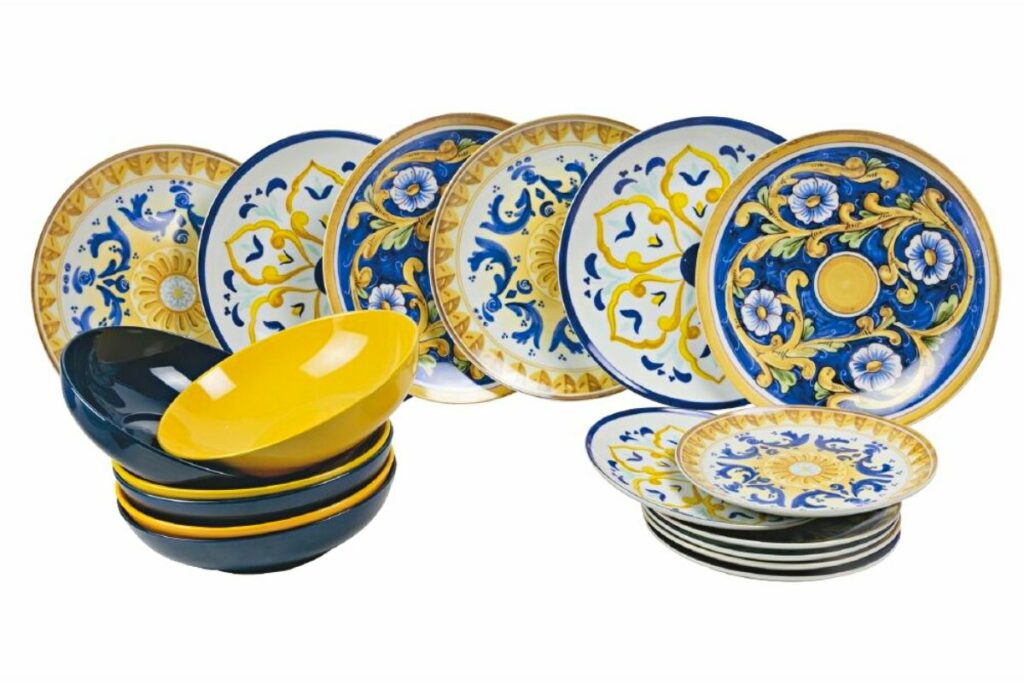 This is another exciting brand to talk about. Villa d'Este Home Tivoli is one of the Galileo Spa group brands and they are specifically producing tableware. This means you can purchase Italian pasta bowls set from them. The brand was founded in 1996 and began "with a pencil stroke on a sheet of paper".
They carefully choose the materials and make sure your kitchen looks beautiful with these sets, but they also last a long time thanks to their quality. There are some amazing-looking pieces at Villa d'Este Home Tivoli. For example, the Le Maioliche Table set consists of 18 pieces, both porcelain, and stoneware. The set includes 6 plates of pasta bowl made in Italy and their design is just stunning.
The Sicily porcelain and stoneware plates set is another one that will make you want to eat prepare pasta and Italian dishes every day. Although it might not be 5 piece Italian pasta bowl set, just like the previous it contains 6 deep plates, suitable for pasta and soup. The accent colors are blue and yellow and they are symbolic of Sicilian art. Simply beautiful!
4. Nuova Colì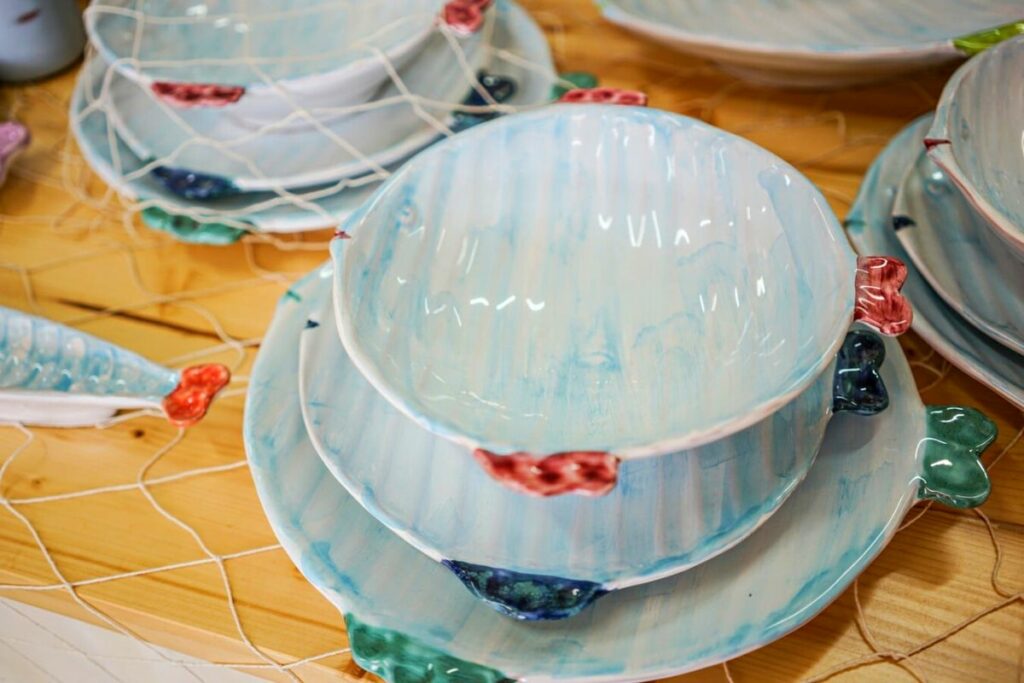 Nuova Colì is a family-owned business, passed down from father to son and they are best known for their ceramics and terracotta. But the tradition of Colì ceramics began in 1650 in Cutrofiano. Back then everything was simple, the land beautiful and people were honing their skills to make stunning pieces. Such as Italian pasta bowls, plates, fruit plates, and other dinnerwear.
Although a lot has changed in the past hundreds of years, true craftmanship remains the same, with additional modern technology. If you want to check their products, you have to download a catalog and then get in touch with them. There is a variety of hand-painted Italian past bowl, anything from green, orange, blue, or even pink colors. These ones are in the Nuova Colì General Catalog.
Furthermore, you'll also find Italian pasta serving bowl in bigger sizes and more traditional colors. These are all hand-painted and crafted in their factories. Their ceramics and terracotta are really beautiful and in the catalogs, you'll see all of the hard work that goes into producing these pieces.
5. La Table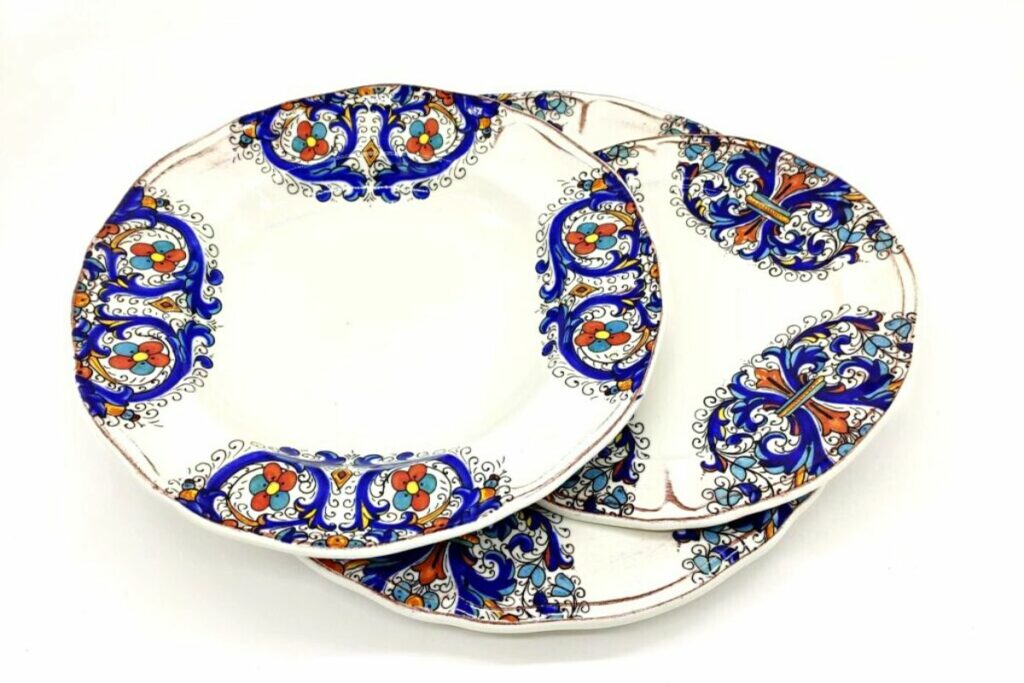 La Table produces stunning pieces of rustic Italian pasta bowls. First, let's have a look at the brand. They are passionate about ceramics. The family lives in the area where ceramics have always been famous, the Civita Castellana. La Table has been producing tableware for over 15 years. So all of the pasta bowls made in Italy come from materials used only in that area.
There are two places you can get their made in Italy pasta bowl. One is from the dishes & services. There are mostly 18-piece sets that you can purchase. Some have Deruta decor, others flowers, sunflowers, or fruit decorations. The 18-piece Deruta set is handmade and handcrafted. It's traditional and everything you wish your pasta bowls Italy to look like.
6. Modigliani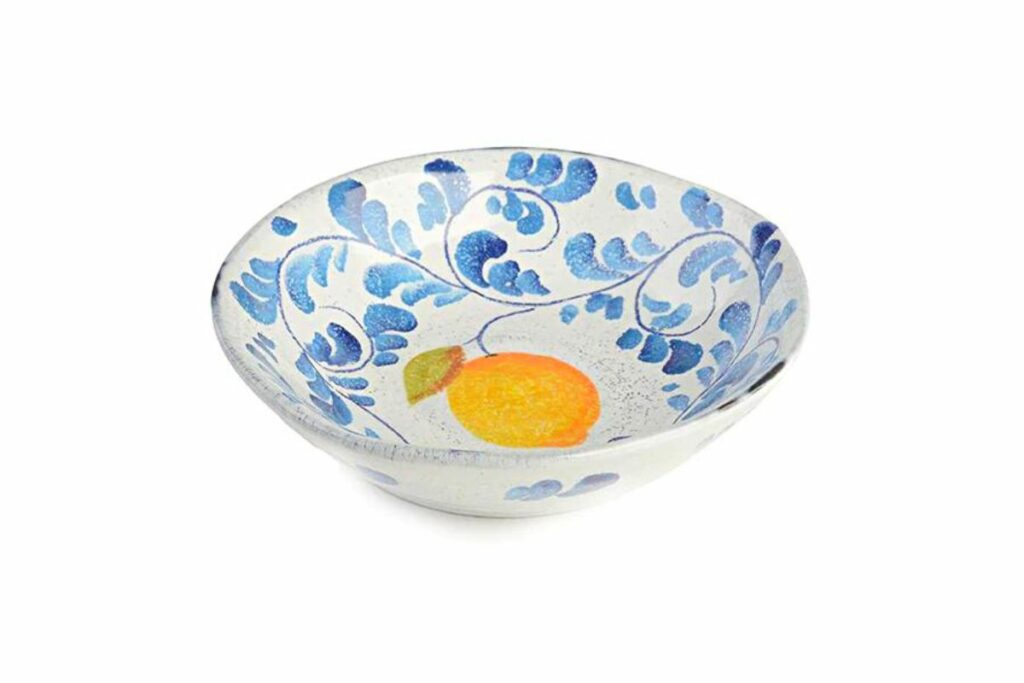 Continuing our list of pasta bowls from Italy, we have a beautiful brand called Modigliani. They also have rustic Italian pasta bowls in their collection. This brand has been around for over 150 years and they are inspired by Italian traditions. Back then the families started working in their small shop in Rome to bring handmade pieces to the locals. The shop is located in front of the Spanish Steps in the heart of Rome.
Modigliani has a number of different collections which also includes pasta bowl made in Italy. Choose from the Mediterraneo, Panarea, Porto Venere or Amalfi. For instance, the Amalfi collection is stunning. The description of the plates and bowls is: "lemons grown in the terraced groves on the Amalfi Coast with flowing blue detail on a creamy white background".
The Mosaica collection also has an interesting story. They were inspired by the "patterns of mosaics in Vatican City". Mosaica plates and bowls are colorful, either with yellow accents or blue accents and also mixed with orange. Your kitchen has never looked better with these Modigliani pieces!
7. Casa Amalfi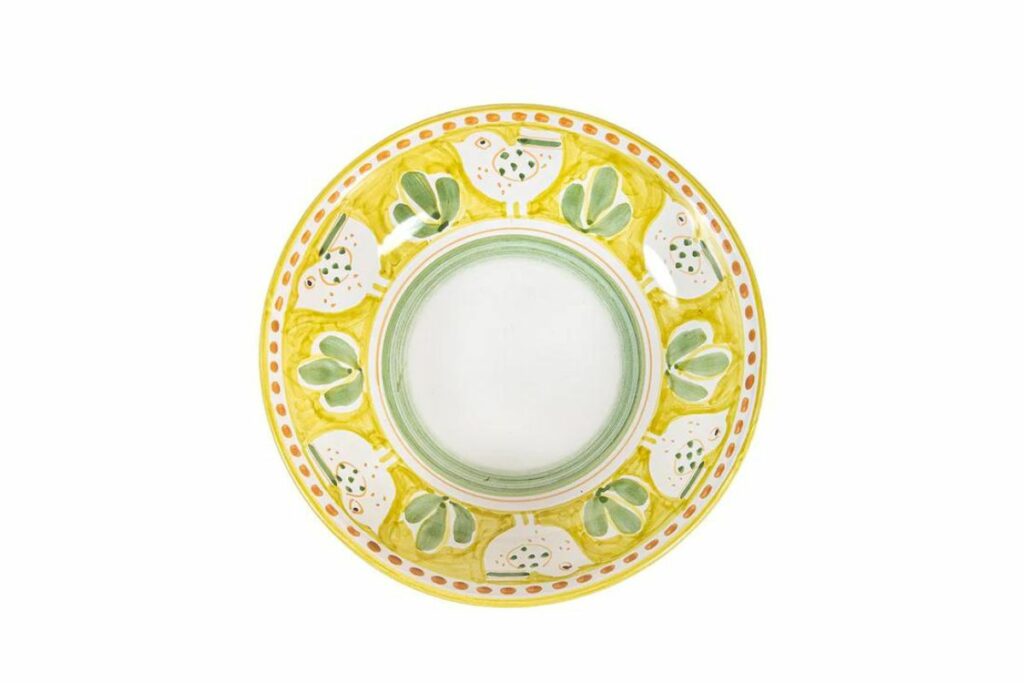 Casa Amalfi is what Italian dreams are made of. Their products are so beautiful and the brand produces everything from handmade soaps, candles, and homeware. The latter includes Italian pasta bowls of course. Their inspiration comes from the breathtaking Amalfi Coast. Everything is handmade at Casa Amalfi.
The founders Ivan and Simonetta started the brand in the hopes of providing people with luxury products that are drawn from the beauty of nature. If you're looking for a colorful Italian pasta serving bowl, check out the Yellow Pulcino Bowl. Although it doesn't come in a 5 piece Italian pasta bowl set, but you can purchase 5 of them individually.
The rest of the plates, there are designed with lobster, blue patterns, striped patterns, and other colorful plates. The big oval plates are perfect pasta bowl sets made in Italy. Casa Amalfi offers plate sets of 6 for those who want to have enough plates to serve guests. You cannot go wrong with them.
8. Ceramiche d'art Parrini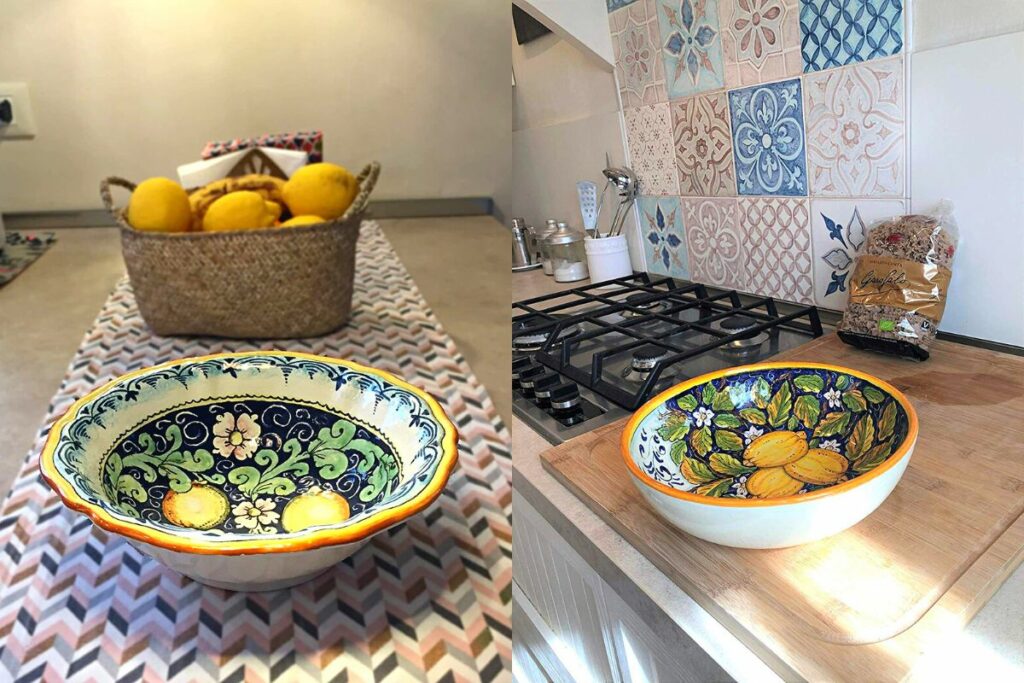 As we are getting to the end of our Italian pasta bowls brands, we wanted to bring Ceramiche d'art Parrini, who produces Italian ceramic pasta bowls. The brand is originally from Florence and they started making ceramics back in 1979. Everything you see on the website is purely handmade. Ceramiche d'Art Parrini takes its craftsmanship very seriously.
They are passionate about made-in-Italy products so the quality is always exquisite. You can look for made in Italy past bowl on the website and browse the products either by type or by collection. In the plates section, there are various pieces of Italian pasta bowls set. Some of these bowls have a different shapes, they are not all round.
For instance, you can choose between the bowls that have fruits as decoration or choose between the ones that are typical of the Chianti region. There are other different pasta bowls Italy from Ceramiche d'Art Parrini. Hand-painted with lemons, leaves, and flowers on either white or blue backgrounds. In case you were always wishing to have an Italian-inspired kitchen, purchasing dinner sets from them will help you achieve that.
9. Emporio Zani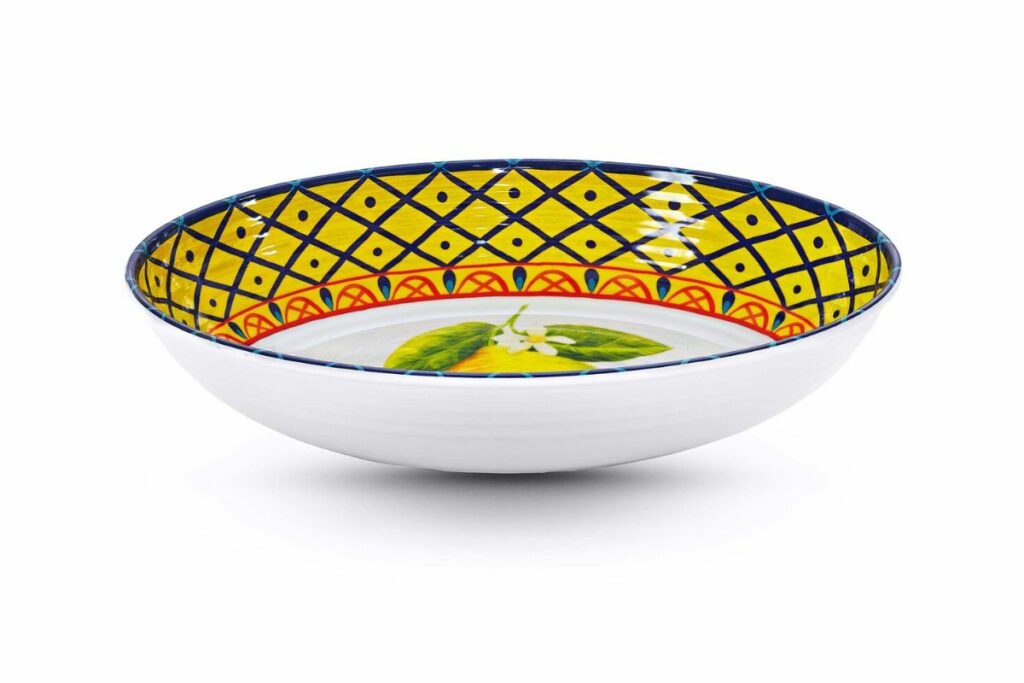 This next brand of pasta bowls made in Italy has some unique patterns to their dinnerwear sets. Although there's not much information about the brand itself, what they sell is truly stunning. There's a wide selection of different collections and patterns.
These are made from 100% Melamina, they are dishwasher safe, but not safe for the microwave or oven. You can choose an Italian pasta bowl from their collection of Amalfi. Although they have other collections from different cities, we'll just have a look at their Amalfi one.
The oval serving bowl has typical Amalfi coast decoration. It has yellow accent colors and there's a lemon in the middle. In this collection, you also find an Italian pasta serving bowl with the same pattern as well as a soup plate made up of two bowls. They are sold on multiple different sites and handled by the brand Serafino Zani, which is a kitchen and table utensils brand.
10. Virginia Casa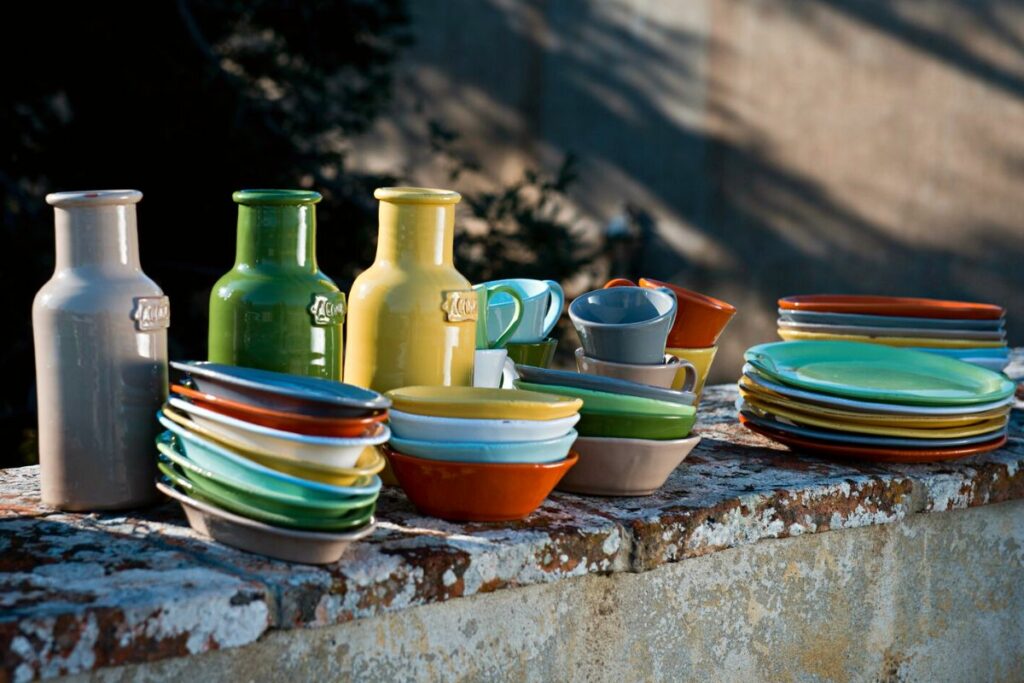 Virginia Casa is a renowned brand in Italy with over 50 years of experience. They were founded in Tuscany in 1971. Virginia Casa offers handmade products that furnish the house and table. Naturally, they have some beautiful sets of pasta bowls from Italy. Sine if their collections include Agrumi, Infinito, Safari or Tavolozza.
For those that are looking for more colorful tableware, choose the Agrumi collection. It is, however, available in white, green, and orange colors. This collection features the most beautiful pasta bowls Italy. You can even mix and match the bowls according to your own taste and decoration.
Tavolozza is the most colorful one, but these too are available in just white color. Choose from sets of bowls, plates, jars, and cups. Virginia Casa Bowls from this collection can be found in different sizes and shapes. Usually, the ones called soup plates can be used for your delicious pasta. Fill your pasta bowl made in Italy with delicious meals and impress your guests!
Conclusion Pasta Bowls Made in Italy – Italian Pasta Bowls
We reached the end of our extensive list of pasta bowls from Italy. These brands have a lot of history behind them. Some have been passed down from generations and they have been in the business for years and acquired unmatched craftsmanship. Are you passionate about pasta? Well, then you surely need your own Italian pasta bowls set. Or perhaps you need an Italian pasta serving bowl that will be perfect for the guests. Let is know which brand makes the best Italian pasta bowl in your opinion!
Pin it: Italian Pasta Bowls – Made in Italy Pasta Bowl – Pasta Bowl Sets Made in Italy