Do you know which is the third most consumed beverage in the world? Cofee! It comes right after water and tea. According to research, over 1 billion people drink coffee in today's world. This number is probably higher considering scientists cannot collect the data so precisely. But more importantly, about 97% of Italians drink coffee. A study is yet to be made about how many people drink from the best espresso cups made in Italy.
Some might think why is it important to consume coffee from Italian espresso cups? Well, coffee is really popular in Italy and has been for hundreds of years. The Italian coffee brands have mastered the way of creating coffee beans, machines, and all sorts of accessories that make your coffee taste the best. The best Italian made espresso cups will have a rounded bottom which allows the coffee to swirl and helps you get the last drop of your precious coffee. Furthermore, a tapered bottom is also crucial for Italian espresso cups as they allow the cream to sit on the top.
10 Best Brands for Espresso Cups Made in Italy – Best Espresso Cups Made in Italy
Before we check out the brands of espresso cups, let's answer the question "What is an espresso?". First of all, you'll have to familiarize yourself with the way Italians eat and drink. Espresso is a coffee-brewing method discovered in Italy. It is literally a shot of coffee in a cup, hence why the espresso cups are so small. It can be made with many types of coffee beans and ranges of roast, however, it is important which machine makes it and of course, the type of espresso cups used in the end.
How does one decide which espresso cups from Italy are worth money? Well, you can always go safe and buy Italian made espresso cups from big brands such as Illy, Segafredo, Bialetti, and many others. However, those are not the only brands of espresso cups Italy. We have found some traditional brands that make porcelain, ceramics, and glass espresso cups. Some of them are fully handmade, they feature simple, minimalistic, or even colorful designs. One thing is for sure, you'll find cute espresso cups on our list. Let's dive in and check out what these brands have to offer!
1. Illy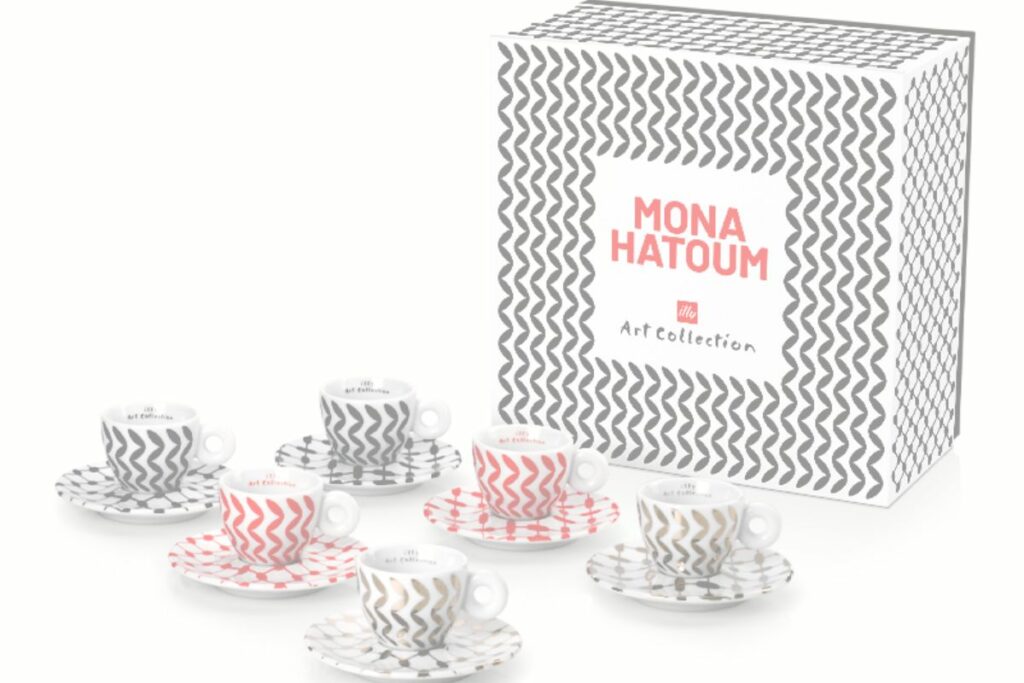 Illy is one of the first brands that we have to talk about, not just because of the Italian espresso cups they make, but also due to their excellent coffee and machines. The brand was founded in 1933 by Francesco Illy. The first invention was the illetta in 1935 which was the modern espresso machine. This revolutionized the way people prepare coffee and thanks to the packaging of the coffee, they were able to transport it to other countries like Sweden and Holland in the 1940s.
Let's talk about Illy's coffee for a minute. One of the best-selling ones is the Illy Classico, a medium roast coffee with hints of chocolate and caramel. You can purchase it in the ground or whole bean form. If you have the Illy espresso coffee machine and pair it with your Italian made espresso cups, your coffee will taste delicious.
Are you looking for a cute espresso cup and saucer? Check out Illy's online store with a ton of different designs. At the moment, you'll have options to purchase Illy espresso cups from the 2022 Biennale collection. But if you're looking for other models, there is an espresso cups set of 6 with different designs. The Mona Hatoum Illy espresso cups come in a set of 6 and have this really cool design of black and white stripes and shapes. It also comes in red and silver.
2. Bialetti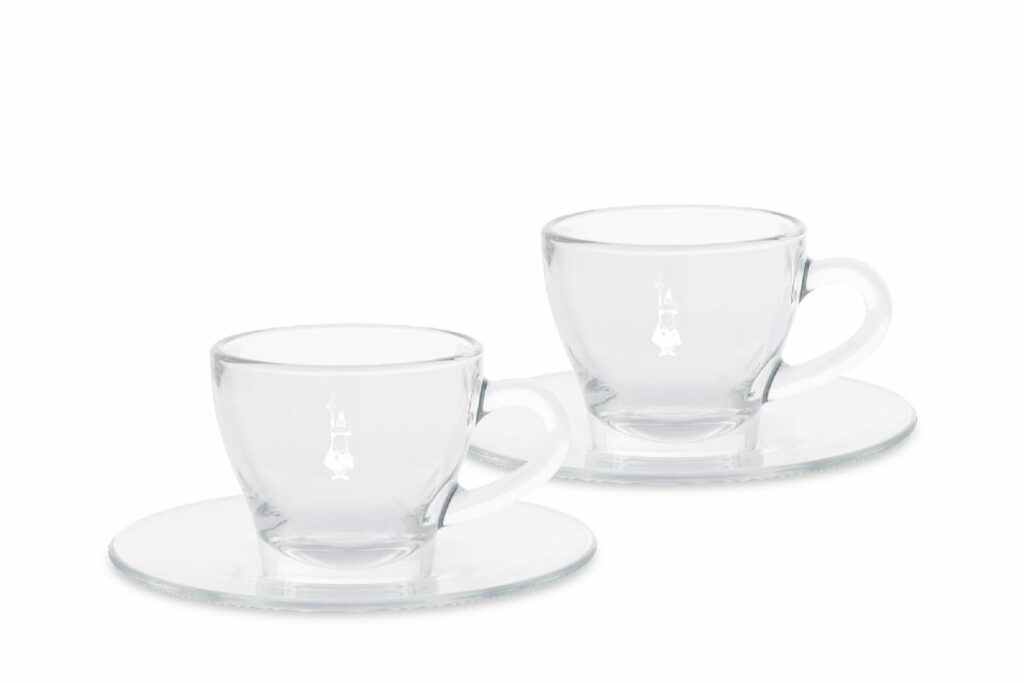 You might be familiar with Bialetti as the brand that founded the first Moka Express stovetop espresso maker in 1933. This allowed Italians to make delicious coffee at home in their espresso maker. Since then Bialetti has produced delicious coffee, coffee capsules, coffee press, and even unique espresso cups to enjoy your delicious coffee in. The most popular coffee Bialetti has on the website is the Perfetto Moka Intenso.
This ground Italian coffee is a dark roast and has the aromas of toasted bread and cocoa. The beans are of Robusta India origin and they give body and depth to the blend. Perfetto Moka is created to be made with the Bialetti Stovetop and then consumed in the best espresso cups made in Italy. The espresso cups set is available at the Bialetti store. For example, the two-piece glass espresso cup is the perfect way to show off your freshly made coffee.
It is very common nowadays for people to drink out of a glass espresso cup as it shows off the rich color of the coffee better. Plus, these cups have a double layer inside and the coffee looks amazing in them. Bialetti also has a 4 piece set of rectangular cups which are aesthetically pleasing, although sold out at the moment. Check out their online store to purchase the best espresso coffee cups.
3. DeLonghi Group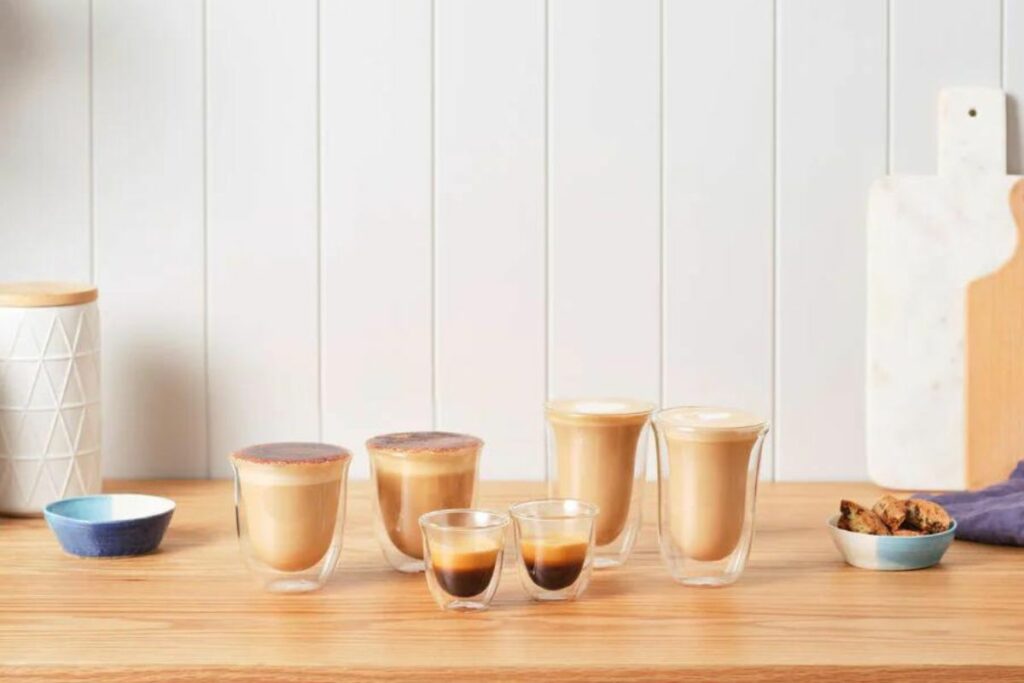 DeLonghi does not make coffee, however, they are mostly known for their amazing coffee machines. The group was founded in 1902 in Treviso and back then it was a small industrial manufacturing workshop. They don't just make coffee machines, but also portable heaters, air conditioners, and other appliances. DeLonghi also sells their own coffee, so not only do you get to buy the machines, coffee but also an espresso cup set.
The brand has two types of coffee makers. One is the Combi Coffee maker and the other is the electric coffee grinder. Combi coffee maker is great if you wish to switch up the way you drink your morning coffee. One side allows you to pump espresso in your cute glass espresso cup and the other one is a filter coffee. Both of them will give you a smooth and rich espresso either by using ground coffee or pods.
When you purchase a coffee machine or even a pack of a selection of different coffee types it automatically comes with an espresso cup set. If you're only curious about their porcelain espresso cups, you can purchase them online. My favorite type is the espresso glasses set which comes in a pair of two cups. They feature thermal properties which keep your espresso warm for longer. And the glasses are also dishwasher safe. You cannot go wrong with these!
4. Vergnano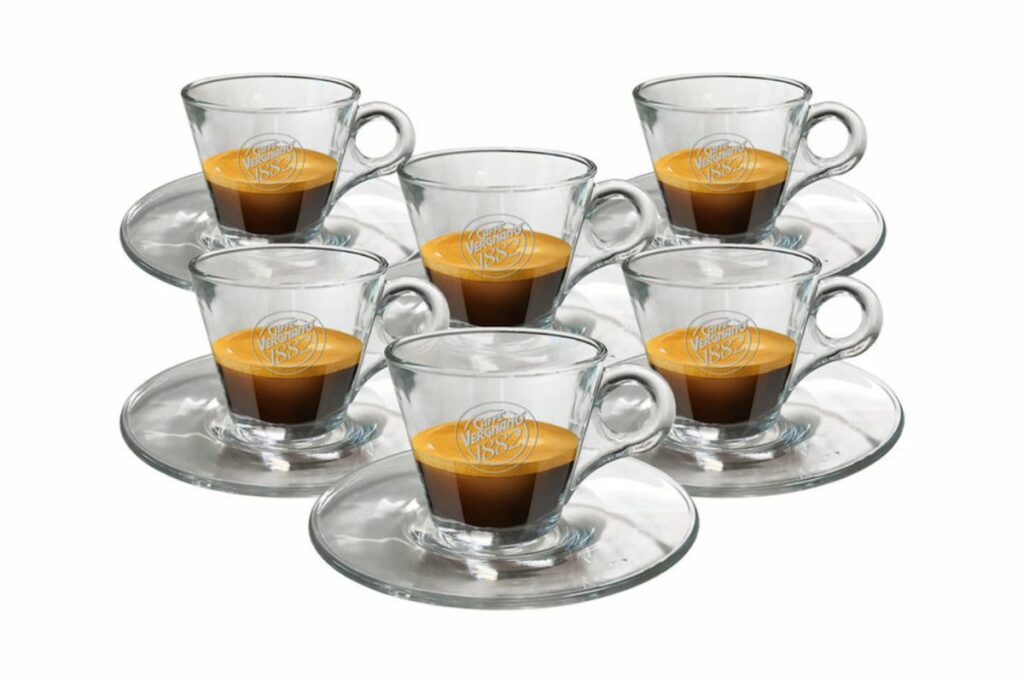 Vergnano is an even older coffee brand than the rest. It was founded in 1882 and has been passed down for 4 generations now. It sells authentic Italian espresso around the world. You can find ground coffee, coffee beans, coffee pods, and coffee machines at Vergnano. Since we're talking about espresso cups from Italy it is only natural that we mention Vergnano Espresso Casa. According to them, this coffee is "as good as at the bar".
This coffee is stronger, has a chocolate aroma and it's a full-bodied coffee. The fragrance is intense and thanks to the packaging the coffee inside remain fresh and fragrant. You can purchase it in a 250 gr pack or 2 x 250 gr pack in case you love to drink more coffee. Vergnano's online store at the moment only sells two types of Italian espresso cups.
The one that's worth mentioning is the glass espresso cups set. It is an espresso cup and saucer set in a box of 6 glasses. These glasses are also used in Vergnano's stores in different locations around the world. In case you love a bit of a vintage vibe, the pink espresso cups are a great addition to your kitchen. The Italy espresso cup sets by Vergnano will help you taste a bit of Italy and how it is to drink true Italian coffee.
5. Segafredo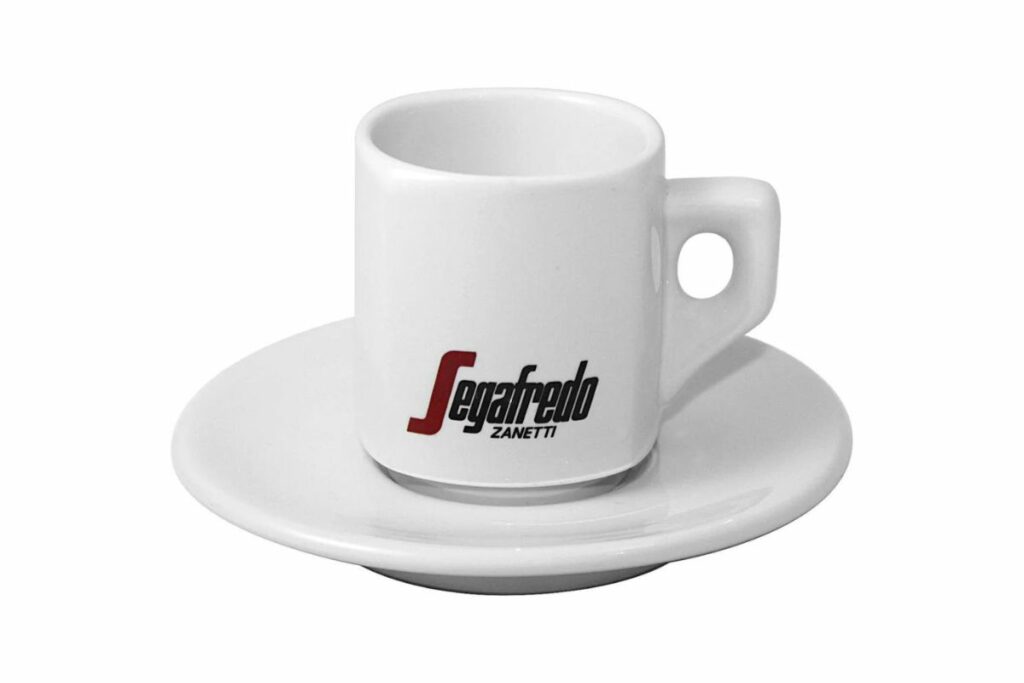 Segafredo doesn't need an introduction, it's a brand many knows throughout the world. It was founded by Massimo Zanetti, thanks to his passion for Italian coffee. He already had two generations of family that were equally as passionate about the coffee trade business as he was. Segafredo was launched in 1973 in Bologna and since then it's been famous for its delicious coffee, the coffee machines, and its signature espresso cup and saucer set.
In case you're purchasing an espresso cups set from Segafredo, you need the best coffee to go with it. One of the best sellers is the Vivace medium or dark roast. It is a ground coffee and 100% Arabica. The medium roast is an "artisan balance of Colombian and Brazilian arabica". It has a hint of chocolates, soft honey, fragrant blackberries, and a smooth finish. But if you prefer a light roast, the Brilliante is the one for you.
Your coffee will not taste the same without the best espresso cups made in Italy. The classic Segafredo espresso cup and saucer set to come in a set of 4. These are the espresso shot cups that you can purchase from their website in case you're already buying either the coffee or the machines. But unlike other brands, Segafredo only sells this Italian espresso cup, the signature white cups with the logo.
6. Kimbo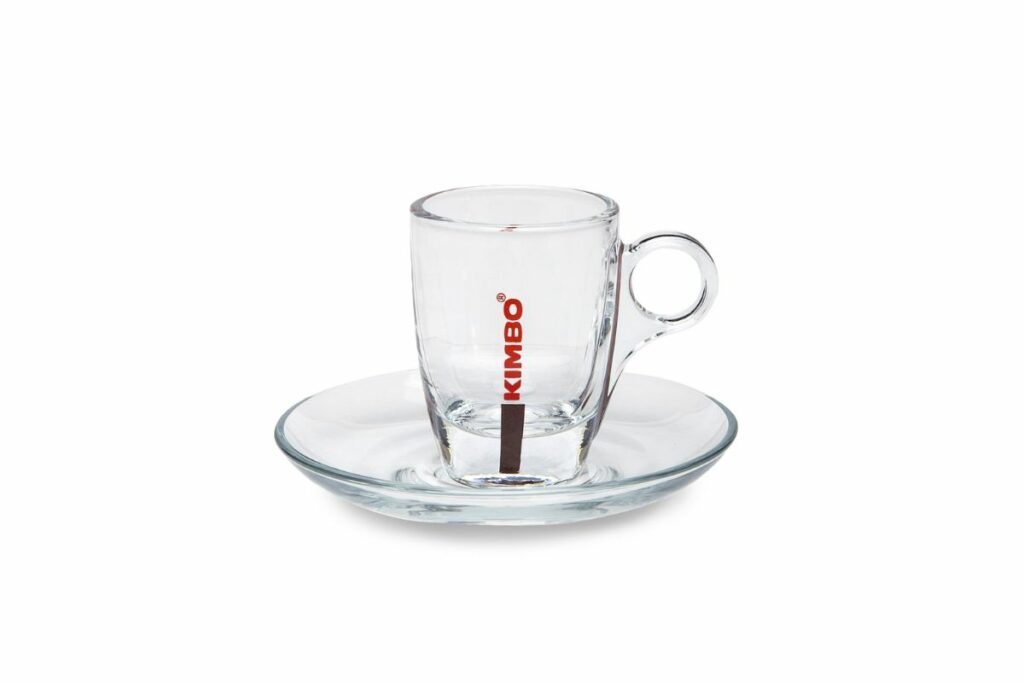 Kimbo is a brand founded by the Rubino Brothers in 1960 in Naples. Their first coffees made were in vacuum-packed cans which meant that people could take the Neapolitan coffee anywhere in the world and it would stay fresh. Kimbo's mission today is to spread the word of this Neapolitan tradition and coffee in the world. The best coffee to buy from Kimbo is the Kimbo Espresso Napoli, coffee capsules.
This specific one is "roasted according to the authentic Neapolitan tradition". The coffee comes from Central and South America but it is adjusted with a touch of Robusta from Asia. It has sweet and floral hints and undertones of freshly baked biscuits. What better way to consume Kimbo coffee than with their espresso cups from Italy.
Kimbo has a selection of espresso shot cups but also a Mosaic or Renaissance espresso cup set. The 6-piece espresso cups set with Renaissance decor are a beauty to look at. This is something you would keep in your glass cupboard. I am also very fond of anything glass, therefore the 6 espresso cups with saucers in glass are ideal for your morning coffee.
7. Pellini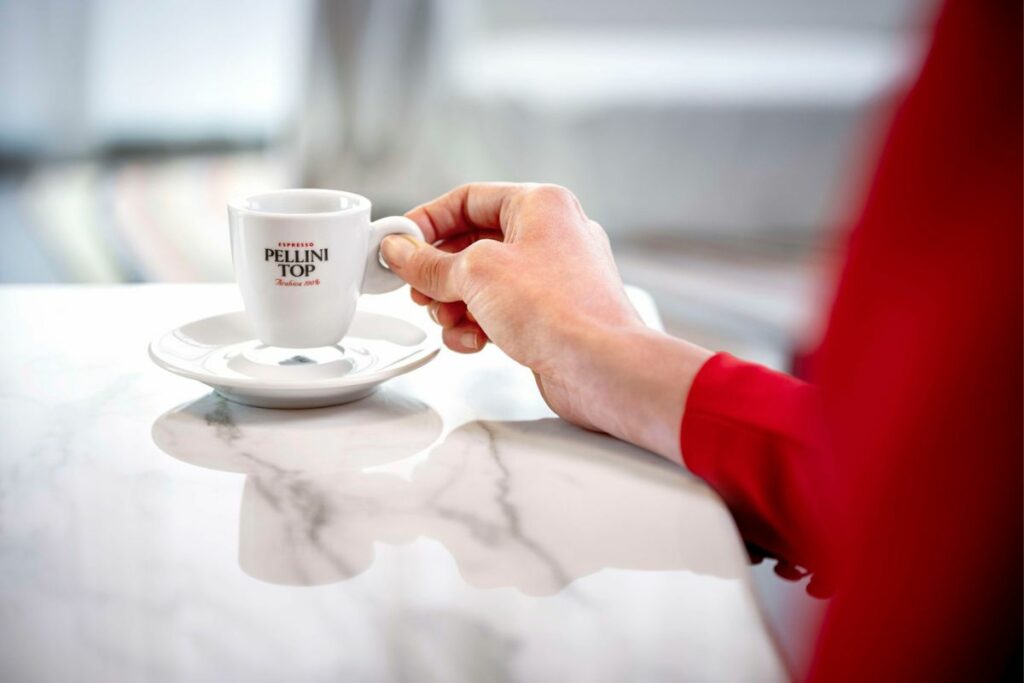 Another one of the brands that are selling Italian espresso cups is Pellini. The brand was founded in 1922 by the Pellini family in the province of Verona. Their espresso is still made traditionally, the way Italians would drink it. Today it has expanded to a variety of coffees, such as 100% Arabica blends available in ground coffee or coffee pods. Pellini does not sell coffee machines, however, when you purchase its capsules it's mentioned which machines it's compatible with.
When you drink their ground coffee in espresso shot cups or unique espresso cups made by Pellini, you'll experience the brand to the fullest. Among the ground coffee, you'll find Espresso Gusto Bar Velvety, which is a slow-roasting coffee. The Pellini Top Arabica 100% is in a tin can to keep its freshness and aroma. And people can also purchase the Superior Espresso for Moka which is a medium roast and have a creamy taste.
You can purchase the Italy espresso cup sets from Pellini, which come in a set of 6 porcelain espresso cups and saucers. These are just the classic white cups with the Pellini logo on them. It seems like the brand has kept its merchandise to the minimum by only producing coffee cups and simple decor. You can also buy Pellini cappuccino cups which have the same design but are larger in size.
8. Deruta Italy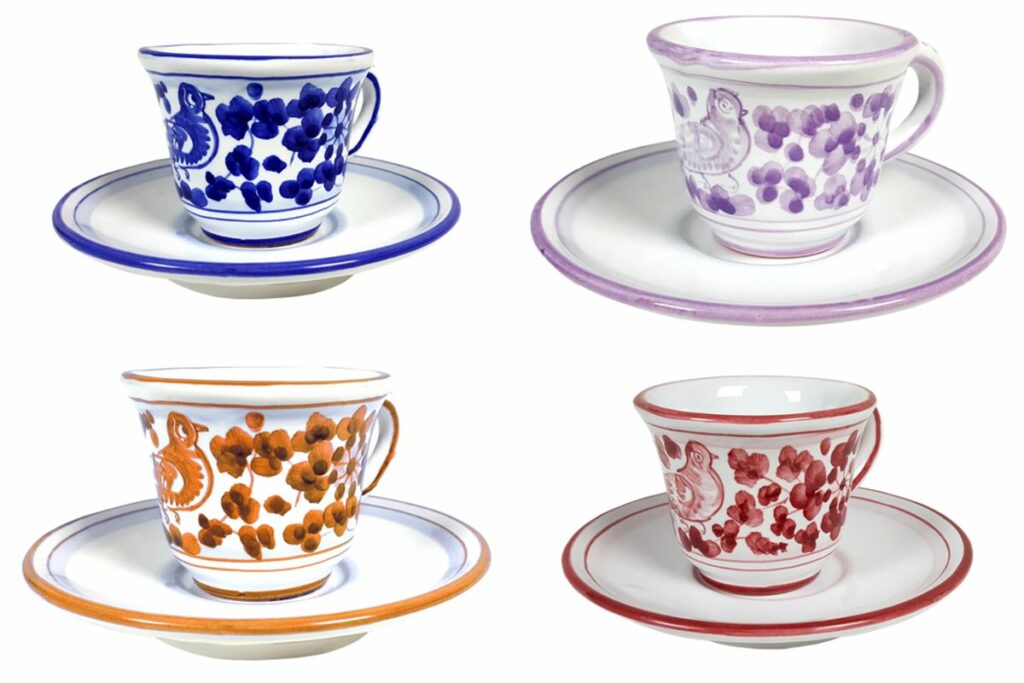 Deruta Italy is famous for its Italian ceramic espresso cups, tableware, pottery, ceramics, and so on. These pieces are stunning and will make any kitchen look like it's a part of Italy. You can buy full sets of tableware from them with all sorts of designs, and patterns and some of them are hand-painted. These are the best espresso cups made in Italy and besides looking good, it's a great experience to drink coffee in.
A few of the collections include Corallo, Peacock Decoration, Raffaellesco, and Ricco Deruta. The latter one has some of the most beautiful designs. I also love the Arabesco cups as they come in the same design but different colors, so it's easy to make an espresso cups set with them. These cups are handpainted and the ceramics are of the best quality. Some items might even be out of stock as they are popular, however, you can order them and they will take a few days to start shipping them.
9. Ceramiche de Simone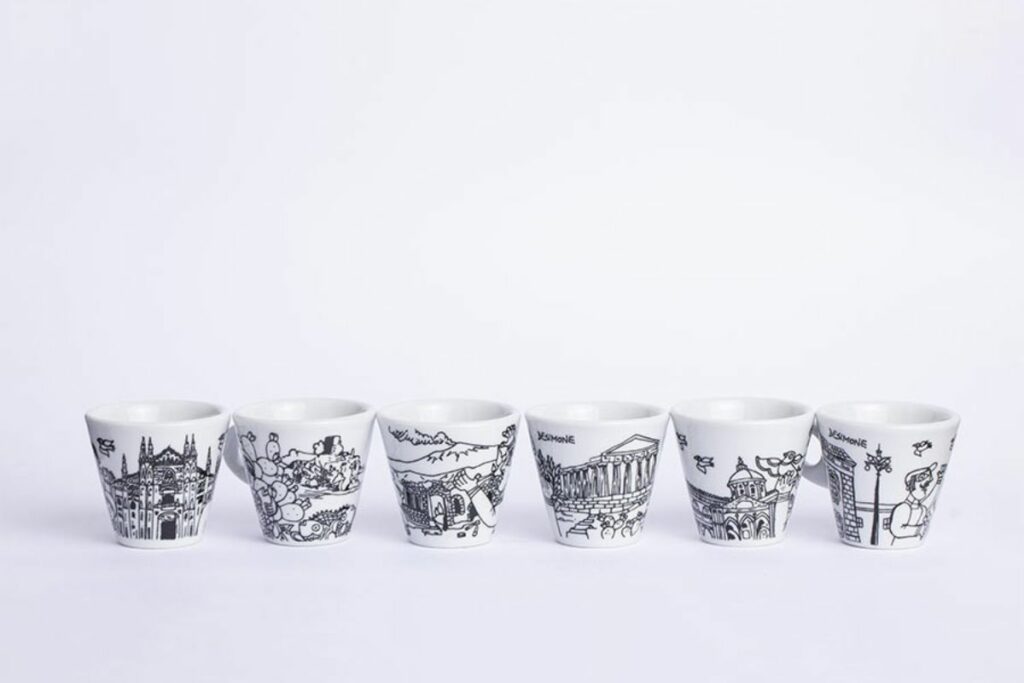 In this article, we wanted to bring you some more unique espresso cups and Italian ceramic espresso cups. De Simone has been manufacturing ceramics since 1960. The founder was Giovanni De Simone, a noble gentleman from Palermo. In Sicily, he created an artistic ceramic scene, and thanks to his unique style the brand started to become popular. Furthermore, his art was inspired by Picasso, Matisse, Leger, and Klee.
On the Ceramiche De Simone website, there is a separate category for Italian espresso cup with saucer. There are many different designs to choose from. For example, some of the names are Alicudi, Salina, Maestrale, Filicudi, and Selinunte. The Filicudi is within the Mangiallegro line and it's entirely hand-made by their craftsmen.
The espresso cup set painted by Ceramiche De Simone is literally art but in the form of cups. It's a colorful cup featuring bright yellow, green, and red colors. It also comes with other tableware if you search by the name of Filicudi. If you do not want colorful cups, the brand also sells coffee cups set with plain black and white designs. This specific set features Sicilian city patterns.
10. Bormioli Rocco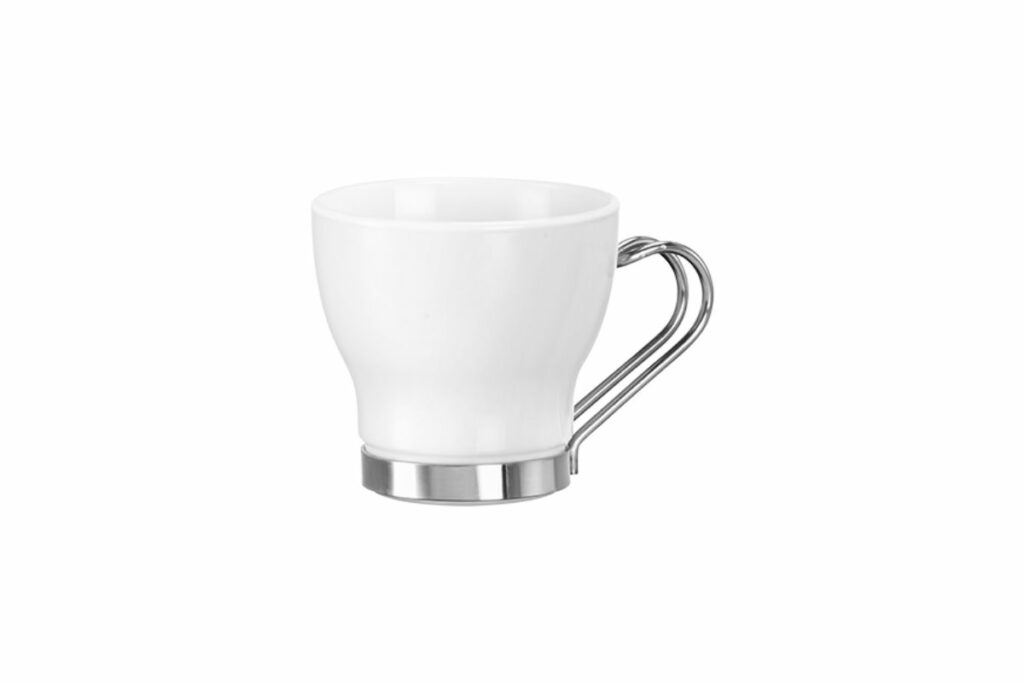 Bormioli Rocco has been around since 1825. They specialize in tableware and glass block and export products to over 100 countries in the world. Their first glasswork is established in Fidenza ( Parma). Bormioli Rocco even produced glassware for World War I for the purpose of transporting medicines. Today they pride themselves on many different products, among them Italian espresso cups.
Bormioli Rocco produces both cups espresso cafe and different glass espresso cup. In case your kitchen is simple and minimalist, you might want to purchase the Icon white espresso cups set in 12 pieces. These come with cups and saucers. There's another type of white espresso cup which has its base as stainless steel as well as the handle. Furthermore, you can complete the set with espresso shot cups made out of glass. My personal favorite is the cute espresso cups with coffee bean designs on them.
11. Tazza D'Oro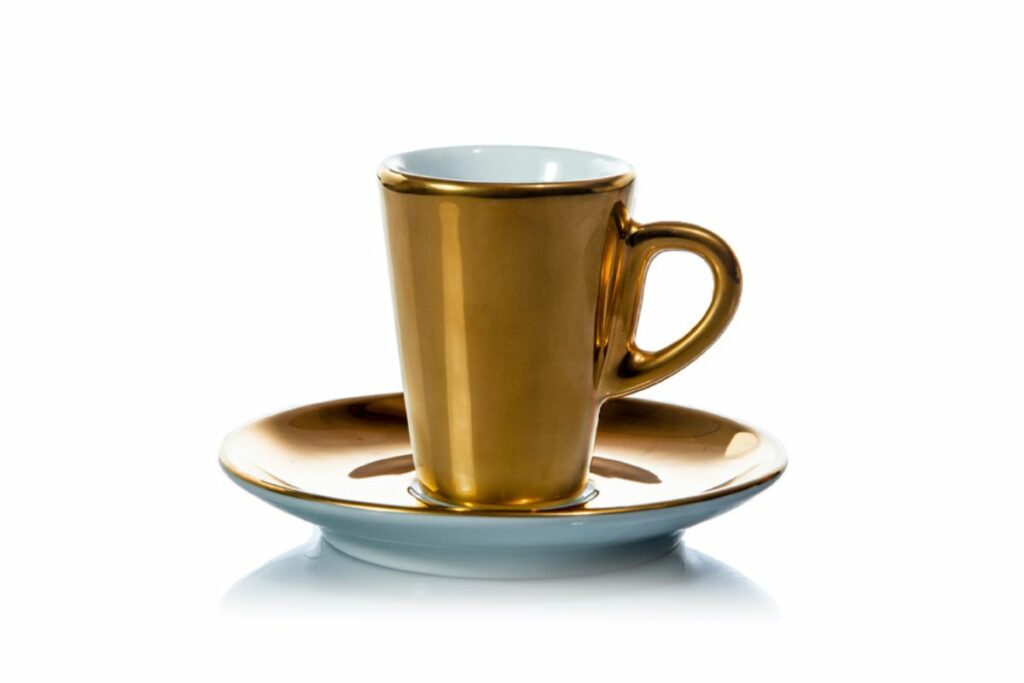 Tazza D'Oro is a coffee company that has been in the family for three generations and was founded in 1944. It is the only craft antique company in the coffee industry and it's still in the heart of Rome. People say it is the best coffee in the world. Although everyone has a different taste now and with hundreds of coffee brands, it's difficult to say whether that is true.
Tazza D'Oro coffee comes in 4 different forms: coffee pack, coffee can, juta, and coffee capsules. The juta is probably the most interesting of it all. It comes in an antique-looking sack and you can choose which type of coffee should be inside. The recipe has been a secret for over 50 years and only the generations that are taking care of the company learn it. It has 8 different types of Arabica.
The company is more creative when it comes to espresso coffee cups. They have a lot of different designs. Their most popular espresso cups Italy is the white cup with the golden logo on it. My favorite one is the golden porcelain cup. It's a real beauty. It has a sleek design and comes with a saucer that has the same golden yellow color.
12. Fratelli Coli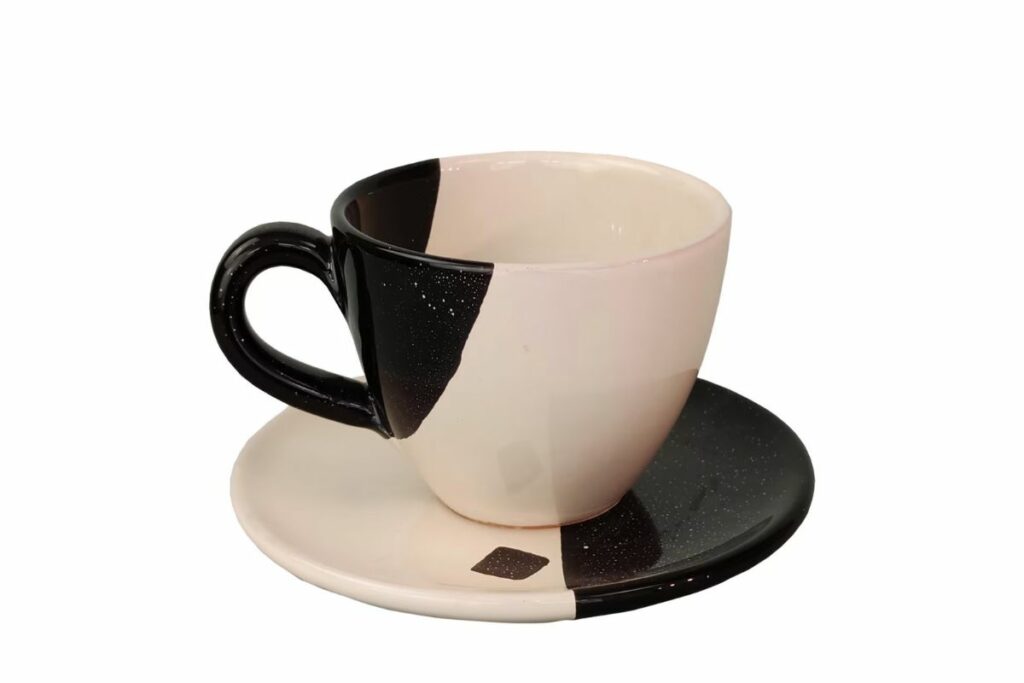 Fratelli Coli is an old brand, dating back to 1650. The founder, Andrea Coli "registered his trademark as a professional craftsman of clay vases". This business has been passed down to generations focusing on handcrafting exquisite pieces. To be more precise, it's been passed down from father to son for eight generations. This is truly wonderful! Furthermore, they are based in the Apulian district of Cutrofiano.
The 6-piece espresso cups set is detailed and beautiful. They all come with cups and a saucer and are Italian ceramic espresso cups. The design on it is Kiasmo Quare pattern. The Fratelli Coli combines traditional techniques of ceramic craftsmanship and an abstract twist on them. Moreover, all of them are painted by hand.
As the name suggests, these unique espresso cups are a collaboration between the brand and Kiasmo, which is an Italian company specializing in architecture, art, design, and fashion. The best way to showcase these best espresso cups made in Italy by Fratelli Coli is to pair them with other tableware from the same series. You can find the pieces on Artemest website.
13. Caterina Quartana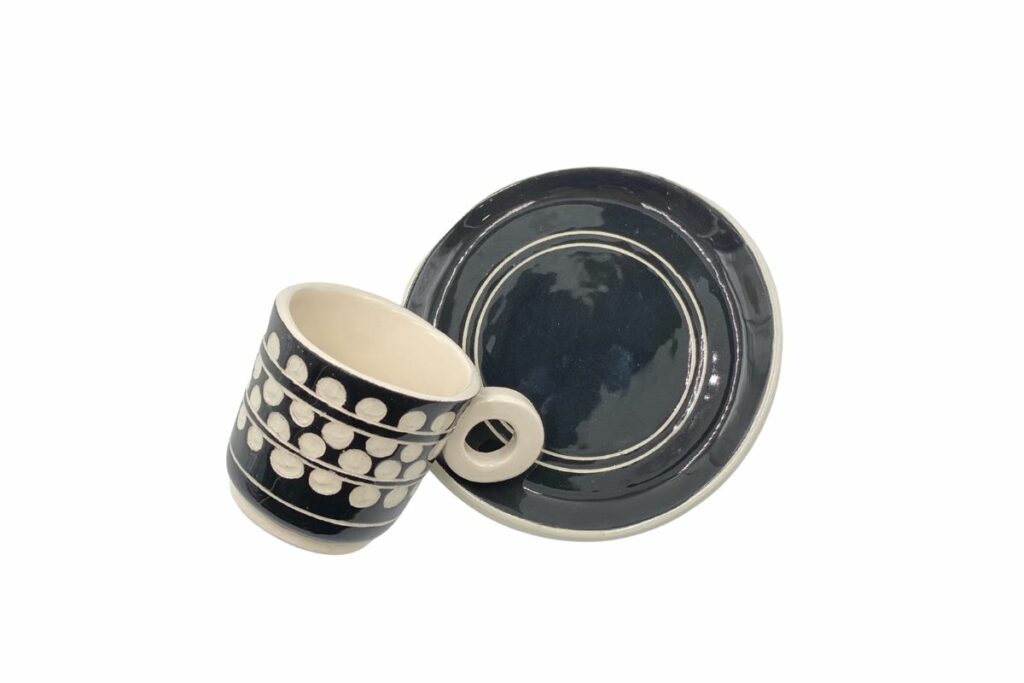 We have to mention one more Artisan that creates beautiful textile pieces as well as Italian espresso cups and other tableware. Caterina Quartana is from the stunning island of Sardinia and began her textile designer career in 2003. Her pieces are stunning and they showcase her love for art and unique techniques.
The two set espresso coffee cups are hand painted and they have a black and white design on them. Furthermore, the decoration on them is called bouclé and it is obtained by a "sgraffito" technique. Her designs and espresso cups Italy are all handcrafted in the country. Best to be paired with the same design within the tableware collection.
14. Biordi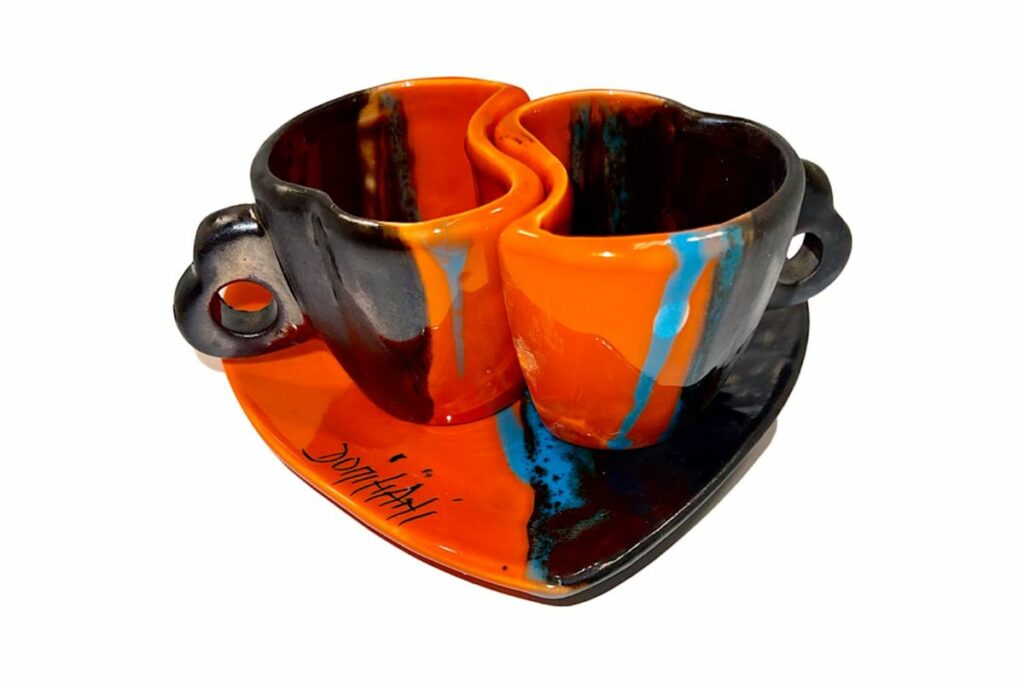 Biordi has the most unique espresso cups I have ever seen. Surely, it's easy to own other brands' cups espresso cafe, however, you have to appreciate the techniques and designs Biordi has to offer. Biordi was founded in 1946 by Emilio Biordi, who's a native of the Abruzzo region. Abruzzo is famous for its red wine, and also because of Biordi who creates the most stunning pasta bowls as well. The brand celebrated its 75th anniversary in 2021 and it continues to shine today.
As I mentioned, these espresso cups Italy Biordi creates are truly exquisite. First of all, you have a heart-shaped espresso cup. It is hand-painted by Domiziani. It symbolizes love and complete unity. Plus, coffee can bring many people together, even lovers! Biordi also has singular espresso cups and saucers with designs of dragon, turtle, goose, giraffe, and rhino. These are the cute espresso cups that showcase animal prints. For more serious prints, choose the Blue Carnation or Orvieto Espresso cup. You'll be satisfied with their quality!
15. Villa d'Este Home Tivoli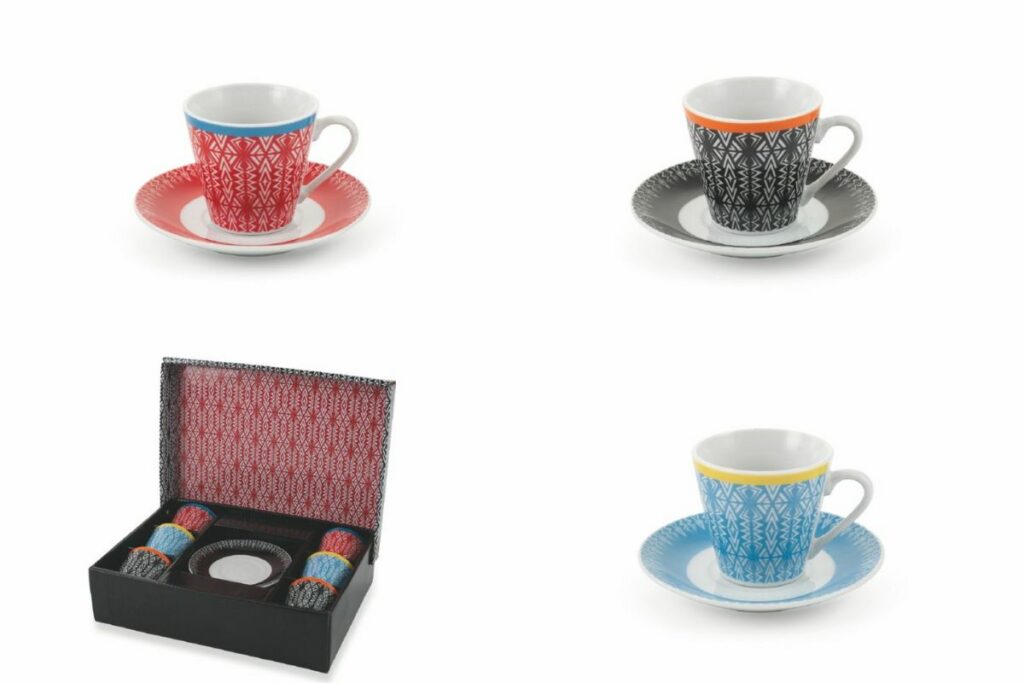 Villa d'Este Home Tivoli might be a familiar brand for you. It's one of the Galileo Spa Group brands and it was founded in 1996. They are mostly in the tableware sector, however, you can buy kitchenware, furniture, textile, and even furniture for bathrooms. The brand has expanded significantly in the past years, which is no surprise. Their handcrafted ceramics, stoneware, and porcelain are quality. All of them are made in Italy, including their espresso coffee cups.
You can filter the espresso cups Itlay on the Villa d'Este Home Tivoli website and search from a selection of coffee cups. This cute espresso cups set comes with 6 cups and saucers. They are the perfect size for your morning coffee. The set will be sent in a box and its design is inspired by South American folklore. They are both dishwasher and microwave safe. Furthermore, the brand also has some glass cups or other colorful ones that match any decor style.
Wrap up – Italian Espresso Cups – Italian Ceramic Espresso Cups
This concludes our list of the best espresso cups made in Italy. You'll get a variety of cups espresso cafe that will be from glass, ceramic, or porcelain. Depending on the purpose of purchasing these Italian made espresso cups, you should be able to easily choose which one suits your need the most. Just remember that espresso cups Italy are specifically created for your delicious espresso to taste the best thanks to the design of the cup. Treat yourself to Italian espresso cups, a machine, and roast coffee to experience how Italians drink coffee on a daily basis!
Pin it: Italian Espresso Cups – Glass Espresso Cup