Have you heard about Lusaviaroma and you don't know if you should trust the company? Do you want to make sure Luisaviaroma is legit before purchasing? Especially for those who are looking for Luisaviaroma UK, or the US, since the company is not yet as famous on the international market as some of their competitors, we understand how important it is to find out more about thIS firm! This is why we decided to not only collect some Luisaviaroma reviews and reshare them here, but to offer you a comprehensive review of the company, and different categories of clothing and accessories they have. We will go through everything you should know about Luisaviaroma shoes, clothes, accessories, and the brands they work with. By the end of this article, you'll have all your answers! And if you don't, there's also an FAQ sector for specific questions regarding the Italian luxury reseller firm.
We are in an affiliate partnership with Luisaviaroma, however, what you read in this article is not paid by them, and it's based on our own experience from the past year, while we were not only affiliate partners, but we were also their customers. There are affiliate links in this article. If you click through and make a purchase, we will earn a % of the brand's commission. This doesn't affect the prices of the items or you in any way.
LUISAVIAROMA Reviews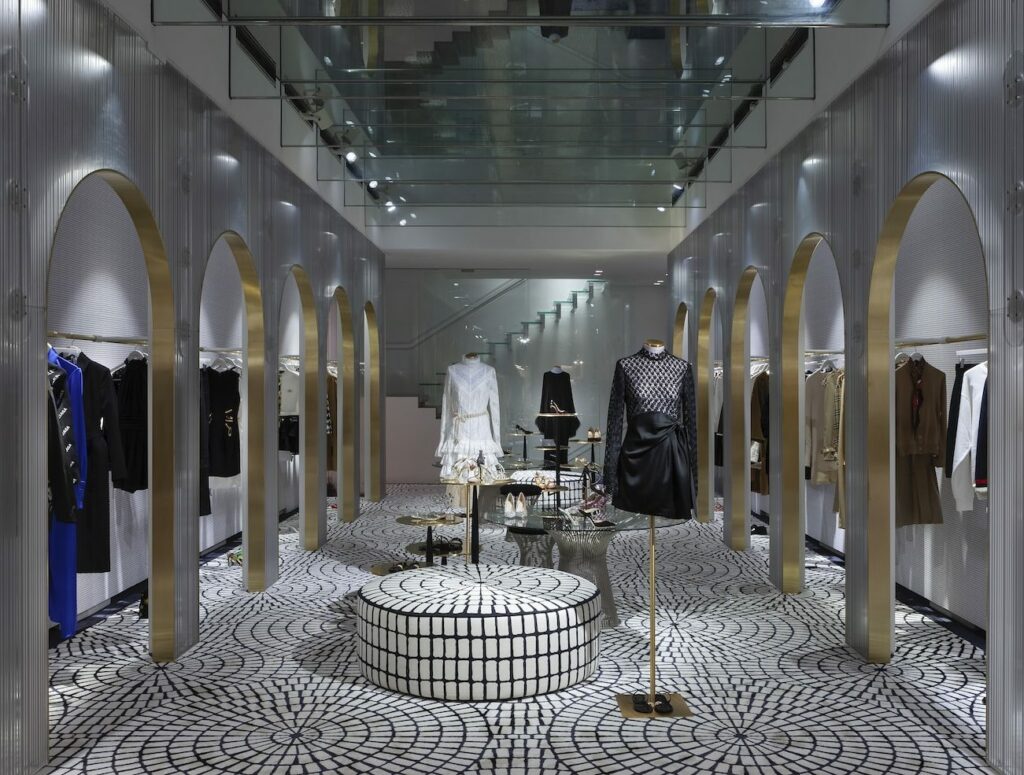 If you are looking for a Luisaviaroma promo code, make sure you bookmark this article, because we are already discussing with the brand a special luisaviaroma.com promo code. Before we start talking about what the firm offers, let's head back in time, and learn a little brand history first! Luisa Jaquin was a French hat designer who opened a straw hat boutique in Paris in the late 1800s. Luisaviaroma was founded in 1929 by Luisa Jaquin and Lido Panconesi who opened their store in Via Roma in Florence.
Andrea Panconesi, Luisa's grandson starts working as a buyer in 1968 with brands such as Saint Lauren, Balenciaga, Balmain, and Givenchy. He discovered Kenzo, the Japanese designer brand in Paris, and Luisaviaroma was the first store in Europe to sell their goods.
The label grew to this international company that's reselling luxury goods under the founders' grandson, Andrea Panconesi. He is the president today of Luisaviaroma, while Andrea's daughter Annagreta is the company's Creative Director – both the store and the website. Their online store grew since 1999 to the size where they invoice over 90% of the online sales.
Things started to get more interesting for Luisaviaroma in 2021 when a private equity fund that's specializing in fashion and lifestyle brands invested €130 million in the company. The new CEO is Alessandra Rossi, who has over 20 years of experience in fashion e-commerce. This partnership aims to accelerate the growth of Luisaviaroma and support its international expansion as well.
Luisaviaroma, the brand – Everything you must know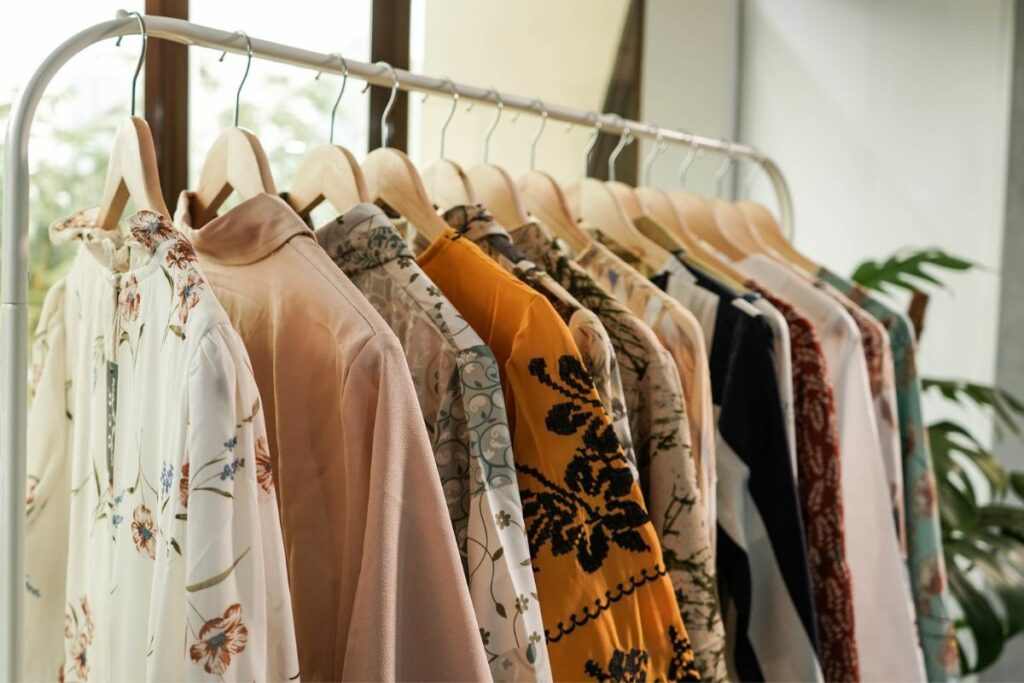 Luisaviaroma is the same everywhere, if you're searching for Luisaviaroma UK or Luisaviaroma US, you'll find the best quality luxury and quality goods. There are about 300 individuals working on the website from 20 different countries, and the website is available in 10 languages: English, Italian, German, Chinese, Russian, Spanish, French, Korean, Japanese, and Turkish.
The website though is managed entirely in the headquarters in Florence, where they have their design, IT, customer service, marketing, graphics, and buying departments. Luisaviaroma has another office in Milan, where their PR and press office operates. The top countries they have sales in are Italy, the United States, the UK, Germany, and France among others.
Beyond regular shopping, Luisaviaroma offers different services, such as Private Sales, Pre-Order, and there's the Sneakers Club, the LVR Privilege program, and the LVR Magazine as well. The brand offers a high level of attention to its clients, engaging with them, and treating them well. We all want to return to such places, right? Since the new partnership, LUISAVIAROMA had over 53 million unique visitors on their website, which means, that people do appreciate the brand a lot.
Luisaviaroma orders and sustainability
Luisaviaroma offers worldwide shipment. Their warehouse makes sure to ship orders with care, using branded boxes and tapes. Since 2019 they have had FSC® certification, which is the most important certification out there that ensures maximum recyclability. This deserves extra applause for the brand! Moreover, they pay attention to sustainability too!
Luisaviaroma is part of a shift towards sustainable fashion, and they offer a conscious option that's entirely dedicated to sustainability. Here, customers can find a curated collection of sustainable brands, featuring their best items. These brands are picked from those who promote non-profit entities, brands, and organizations that benefit environmental and social causes. Among the most significant collaborations of Luisaviaroma were with Unicef Italia, Oxfam Italian, and Extreme E.
Luisaviaroma Clothing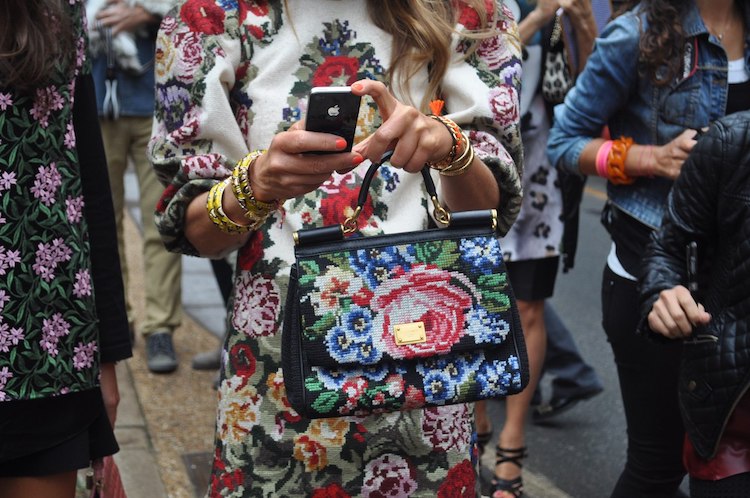 We are all waiting for a Luisaviaroma sale, right? But what should we purchase when we go on the website? The concept of the company is to not only provide products, but an experience too. They offer clothing, shoes, bags, and accessories. All these are for men, women, and kids too. Some of the most important brands you can find on Luisaviaroma are Giorgio Armani, Bottega Veneta, Alexander McQueen, Balmain, Balenciaga, Dolce & Gabbana, Burberry, Gucci, Loro Piana, Jacquemus.
You'll also find Max Mara, Moncler, Off-White, Versace, Valentino, Saint Laurent, and Tom Ford here beyond many many others. Luisaviaroma offers a section for beauty, makeup, perfumes, and one for home too. They've got you covered in everything you might need, offering the best brands, and the most carefully selected products of high quality. Now, when it comes specifically to clothing, you can find everything from beautiful dresses, and coats, to tops and pants, swimwear, and lingerie.
Some of our personal highlights for clothing brands to check on Luisaviaroma are Adidas and Nike for sportswear, Alberta Ferretti, Balenciaga, Etro, Giorgio Armani, Gucci, and Moncler for clothing, but there are about a hundred you can check out! One of the best things about Luisaviaroma is that they have items from almost all of the famous Italian fashion brands of high quality and luxury. This is one of our personal favorite facts about Luisaviaroma. We can find almost every one of the Italian luxury brands from Milan or Rome, and so.
Bags, leather goods, beauty, home, and accessories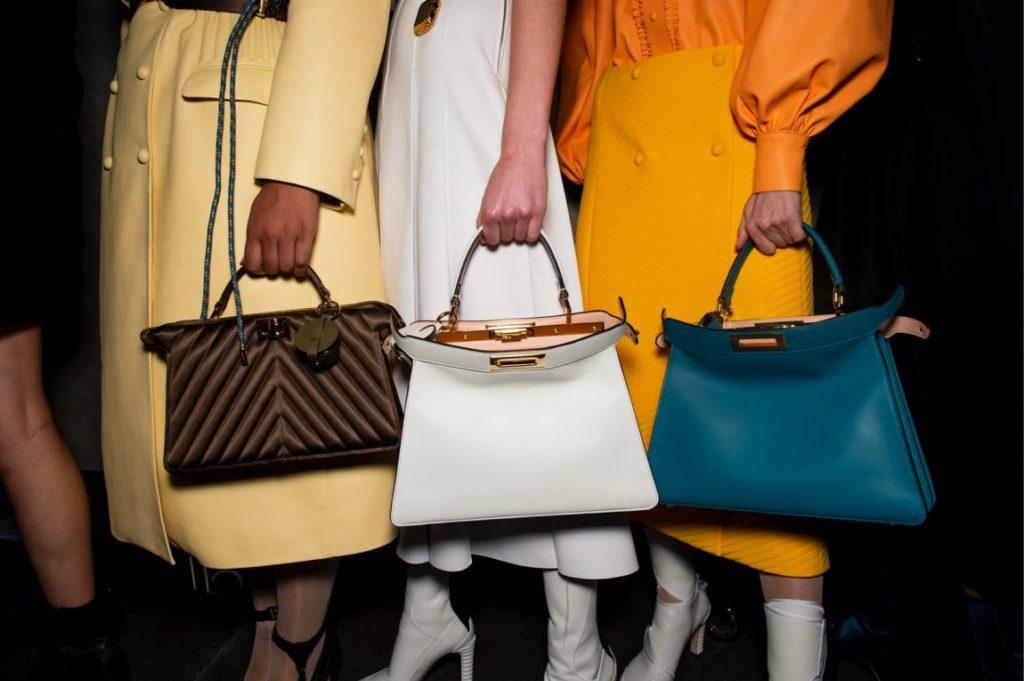 On luisaviaroma.com you can find the best quality handbags from the best brands. They always keep up with the trends, and they also make sure to select the best products on the market. Within bags, you can find literally everything from handbags to clutches, backpacks, tote bags, and so.
Find the best pieces from brands like Alexander McQueen, Brunello Cucinelli, Ferragamo, Stella Mccartney, and more. When it comes to accessories, think about everything from jewelry to scarf, from gloves to hats, and from eyewear to pet accessories. Luisaviaroma has really covered everything, and there are always so many great things that it's really difficult to choose.
Find chic and exclusive pieces of high-end accessories from brands like Burberry, Gucci, Jaquemus, or Zimmermann. Leather goods of the highest quality such as Prada, jewelry from Damiani, and beauty products from Le Mer (among many others). If it comes to home, furniture, and decoration, you can find plenty of great brands such as Dolce & Gabbana, D'Orsay, Jo Malone London, or Marioni among many others.
Luisaviaroma Shoes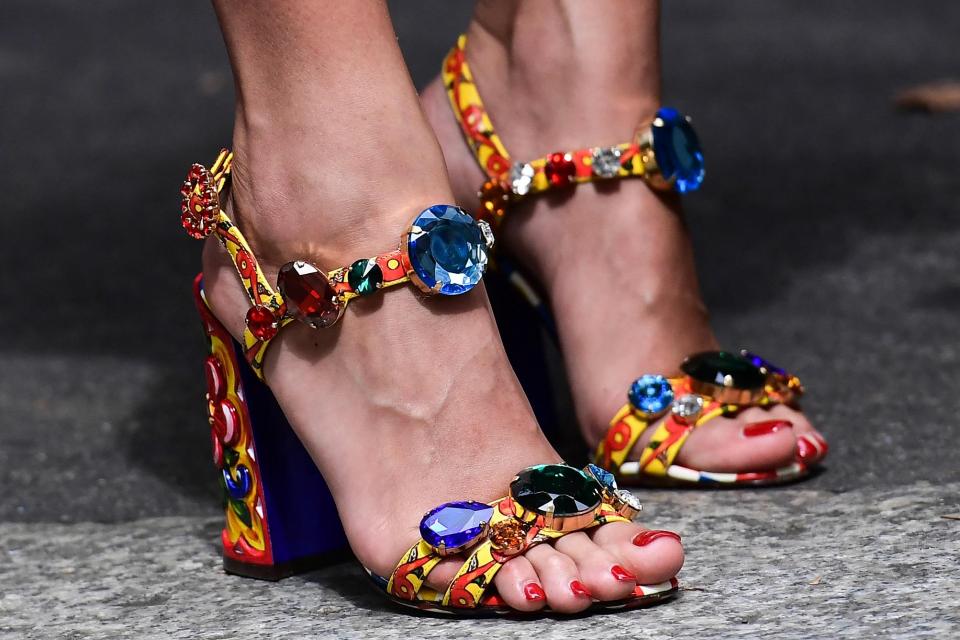 We must speak separately about Luisaviaroma shoes, so if you're looking for specific things to buy, or you're waiting for a Luisaviaroma sale, you'll know exactly what to look for. Some of our favorite shoe categories on Luisaviaroma are definitely the loafers and the mules. They've got some of the most beautiful Valentino and Gucci shoes in these categories that we love!
They have an incredible selection of high heels, sandals, boots, sneakers, and ballerinas too. We'd suggest looking for brands like those mentioned above, Gucci, Valentino, Salvatore Ferragamo, and Blumarine, but even Adidas, Crocs, Dr. Martens, Giovanito Rossi, and the amazing Jimmy Choo. You'll find some of the most unique pairs of footwear from some of the best international and Italian shoe brands! They've got of course separately covered international and Italian shoes for women, and international and Italian shoes for men.
Luisaviaroma Reviews by Customers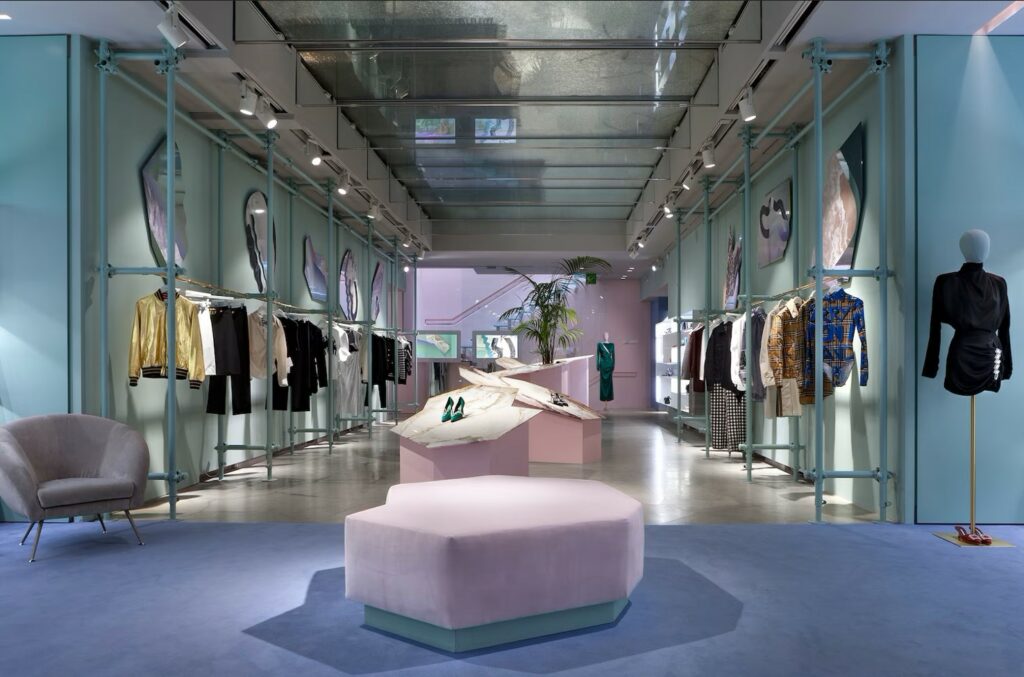 In order to know if you want to use that Luisaviaroma promo code, you should be aware of what other people think about the brands. After thorough research around the web, we are backing up what we sustain about this brand with the following ratings! Luisaviaroma on Tripadvisor has 4.2* out of 5*, from over 10.000 people. On ResellerRatings they have 5*, and 4.2* out of 5* on Facebook from over 27.000 customers. We believe this answers the question.
People overall love their products and their service. Luisaviaroma shipping and customer service are great too! Now, there is possibility for Luisaviaroma free shipping, as sometimes they offer free shipping for limited time, or you might find a coupon that's for free shipping. In Italy, as well as around Europe and in the US the express shipping price is $10.
When it comes to Luisaviaroma contact details, you can find the official Luisaviaroma store in Florence on Via Roma 19/21r. On their contact page on the website, you can find all phone numbers, and email addresses for buyers, personal shopper requests, and even press contact. The company is very transparent and they make it really easy to get in touch with them through the website, which I believe has to be much appreciated!
Luisaviaroma FAQ
Is Luisaviaroma Legit?
Yes, Luisaviaroma is a legit registered company with headquarters in Florence, a great reputation, working with the best luxury brands in the world, and offering high-quality Italian service, with the highest transparency.
Is Luisaviaroma Second Hand?
No, Luisaviaroma doesn't sell second-hand items. They resell new items corresponding to the current fashion phase.
How long does Luisaviaroma take to ship?
In Italy, it can take 1-3 business days, while internationally it can be between 5 to 9 business days, depending on the country. You can find more information about this on their website.
What country did LUISAVIAROMA originate from?
Luisaviaroma originates from Italy where the headquarters are in Florence, and the press and marketing offices in Milan.
Wrapping up the Luisaviaroma Reviews
Now that we are all ready for the next Luisaviaroma sale, I hope, here's what we've learned. We've learned that Luisaviaroma is a reputable company offering high-quality luxury goods. A reseller from Italy, who not only offers great selections of items, but an experience that we value. We've gone through clothing, bags, accessories, watches, beauty, and Luisaviaroma shoes too, discussing highlighted brands and subcategories. If you want to learn more about the Italian brands you can find on Luisaviaroma, make sure you check out our Italian brands category in the Menu bar and explore the best brands of Italy, and what they are leaders in!
Pin: Luisaviaroma Reviews