15 Best Italian Swimwear Brands
Are you looking for the most legit Italian swimwear brands list? Italy Best is based in Italy, working with and around Italian brands for many years now. After long and thorough research, we have found which are the actual best Italian bikini brands that you can not only find in Italy, but around the world as well. Some of these brands will be available only online, but you'll also see a few brands for Italian bikinis that have their own stores in your city too. Find some of the best materials, best quality, and best-designed swimwear in the world, with Italian quality that's unbeatable!
15 Best Italian Bikini Brands – Italian swimwear brands
When it comes to Italian swimwear brands, you can look for some of those that are already really big, and they are available at a much more affordable price, while their quality is also impeccable. In Italy, you can find for all of these brands AT LEAST ONE shop in every bigger town and city. These are the Tezenis, Calzedonia, and the Yamamay. The rest of the Italian bikini brands on this list are either available rarely in shops or only online.
You'll find some designer brands here, luxury Italian swimwear brands that are very unique, and their quality is unmatchable. Make sure you check out those that you find to be very similar to your style, and we'll highlight for you if you can find their products online or in stores too! Beyond these brands, you should also check our list of articles for Italian lingerie brands, the best Italian clothing brands, and much more. For now, let's see what Italian manufacturers and labels offer us when it comes to swimwear, bikini, and beachwear.
1. Aurumroma by Michele Morrone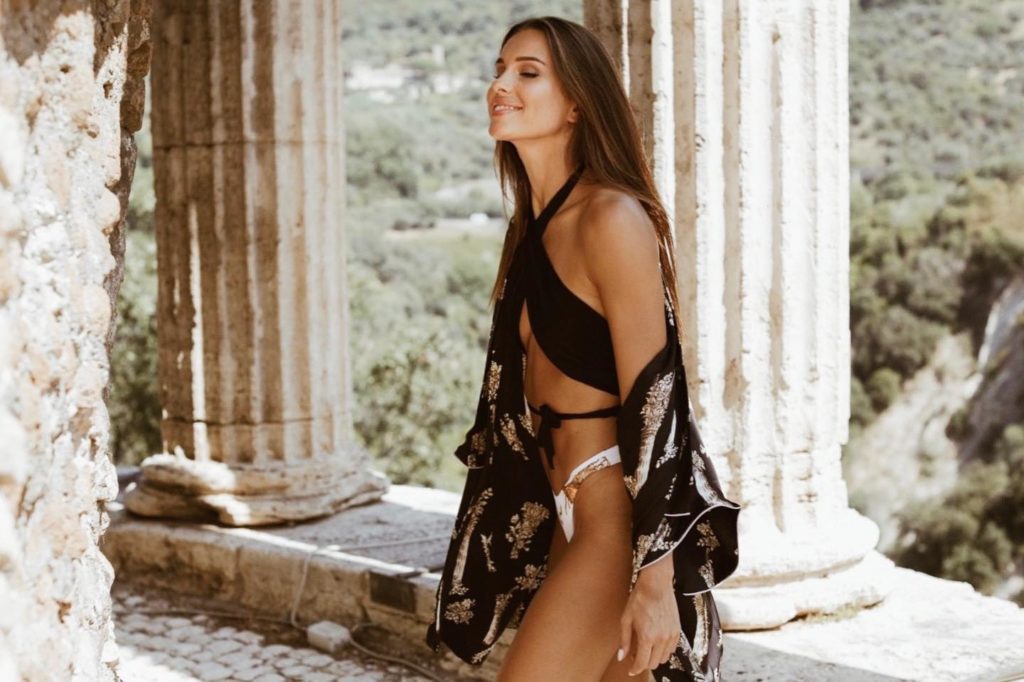 When it comes to swimwear Italia, we all want to keep an eye on one of the newest Italian bikini brands, Aurumroma. When it comes to Italy bikini, you want to look for designer brands too, as you'll find some of the most unique pieces that stand out in the crowd. Aurumroma offers unique designs for women who want to indulge in their full beauty and energy.
We know many of you are searching for Aurumroma because of its founder, the Italian actor, and singer Michele Morrone, who's probably the most celebrated Italian actor right now in the world. He founded Aurumroma a few years ago with designer Chiara Pollano. Beyond their bikini line, Aurumroma offers beachwear, lingerie, and a few unique designs of everyday apparel.
With the combination of the mythical ancient Rome, clothing inspiration, and modern touch, the pieces at Aurumroma are absolutely stunning, sophisticated, and elegant. If you have a look at any of the collections, you'll see each piece telling a different story, suggesting the mystery of a beautiful woman, proving a refined style.
2. Calzedonia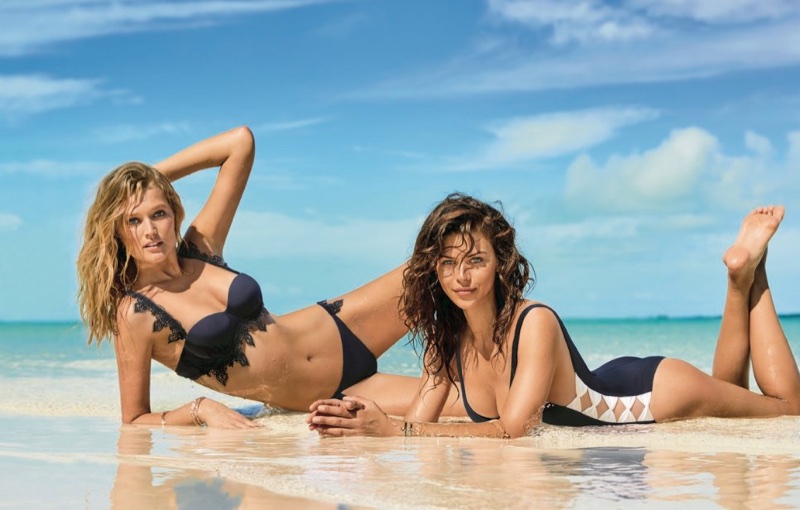 Calzedonia is one of the biggest Italian swimwear brands out there. It's not only for their swimwear line, but also their loungewear, endless range of tights, and socks. When it comes to affordable Italian bikini brands, Calzedonia is a leader, offering beautiful designs for all ages, great quality, and uniqueness. The brand is present in over 50 countries around the world from New York to Tokyo.
Each year, especially in Italy, you can see millions of women wearing Calzedonia's latest summer collection. The best part is, that their collections are actually so outstanding, that you can easily spot them on the beach. If you're looking to shop online or in-store, check the coverage of Calzedonia in your country. As we said, they are present all around the world.
Another highlight of this brand is that it's owned by the Calzedonia Group, which has multiple outstanding brands in different categories of fashion, and not only. Calzedonia Group owns one of the best Italian lingerie brands, Intimissimi, as well as the swimwear brand Tezenis. Moreover, they own the fashion brands Atelier Emè and Falconeri, as well as the wine brand and chain, Signorvino.
3. Grimaldi Mare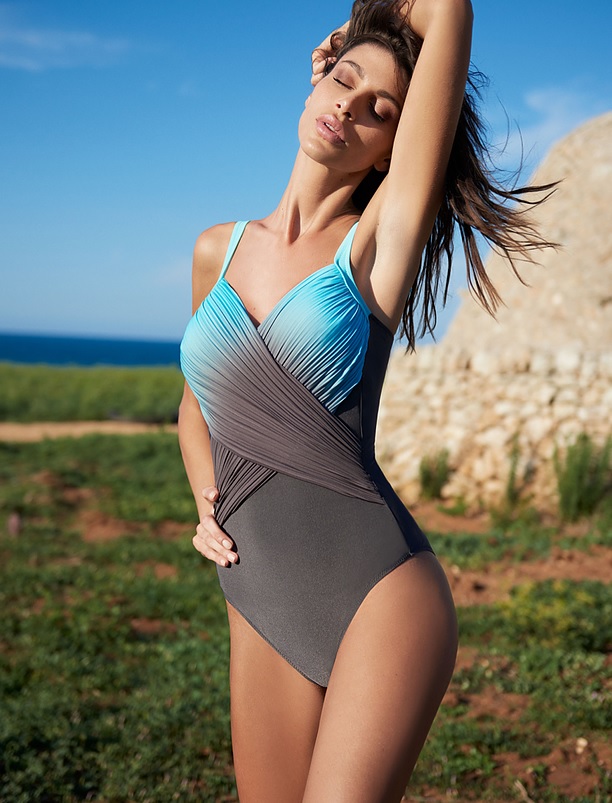 We are only just getting into the swimwear Italia topic, and another highlight for you is Grimaldi Mare. Grimaldimare is a beachwear company that was founded in 1991 in Seregno, which is located only a few km away from Milan, the capital of the fashion industry in Italy. This brand offers Italian bikinis that are very outstanding, and you could tell at any time that their pieces are great Italian quality pieces.
The designs of Grimaldimare are very specific and true to the brand. Apart from some current-fashion pieces, the designs of Grimaldimare can be recognized from their wrinkly-like bikini and swimwear, which they apply each year to their collections. You can see this type of sewing and layout on the upper part of one-part bikinis, and their swimwear bras as well.
Grimaldimare also pays a lot of attention to their designs' fitting, and their cup differentiations, to make sure they can offer products for every shape and size. Their attention to elegance, uniqueness, accessories, and embroidery gives a huge boost to their products. You can find their pieces online on their website, or if you're in Milan, you can visit their store in Seregno as well!
4. KAMPOS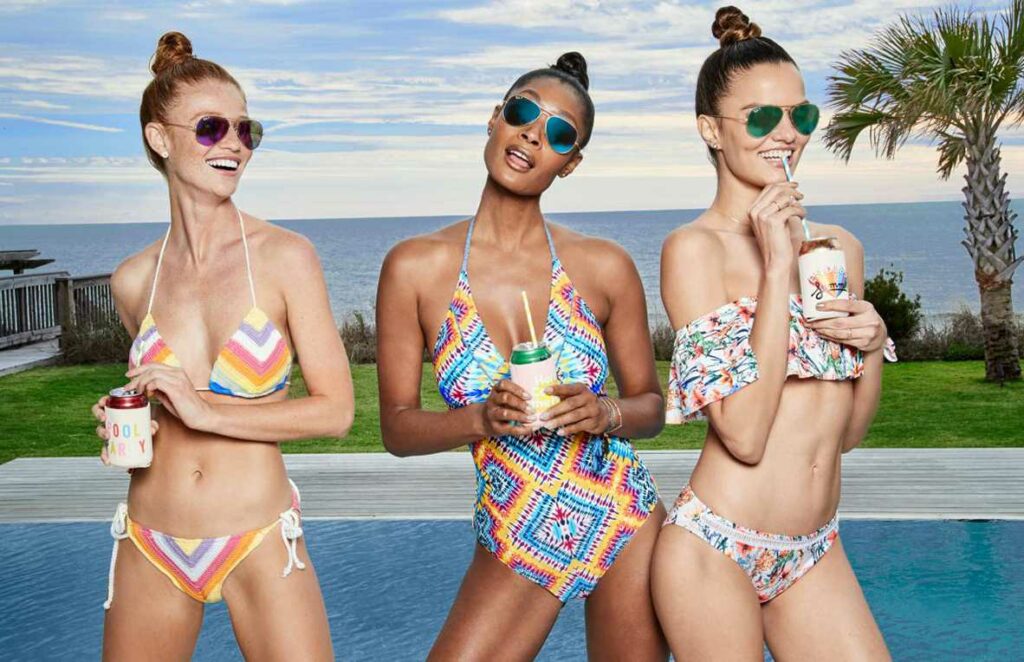 When it comes to Italian bikinis, KAMPOS is a king of beautiful prints, classic designs, sustainability, and luxury. The brand was born in 2019, in Costa Smeralda, Sardinia (Italy), in the heart of the Mediterranean Sea, led by a young Italian entrepreneur with a group of friends from all over the world. At KAMPOS they use 100% sustainable and recyclable materials, and they produce high-quality pieces entirely made in Italy.
They aim at raising awareness of over-fishing and marine pollution and we offer consumers unique pieces that are made of recycled plastic bottles and fishing nets or sustainable and organic fabrics. Every product supports this mission and includes information to educate consumers about their collective role in sustainability across the globe.
Kampos is also an official partner of the Coral Conservation Project, an initiative launched in 2009 by Planhotel Hospitality Group and the University of Milano Bicocca, whose aim is to restore the coral reef in the Maldives. When you buy a KAMPOS product, you help support their vision and contribute to our mission to save our oceans. 
5. La Perla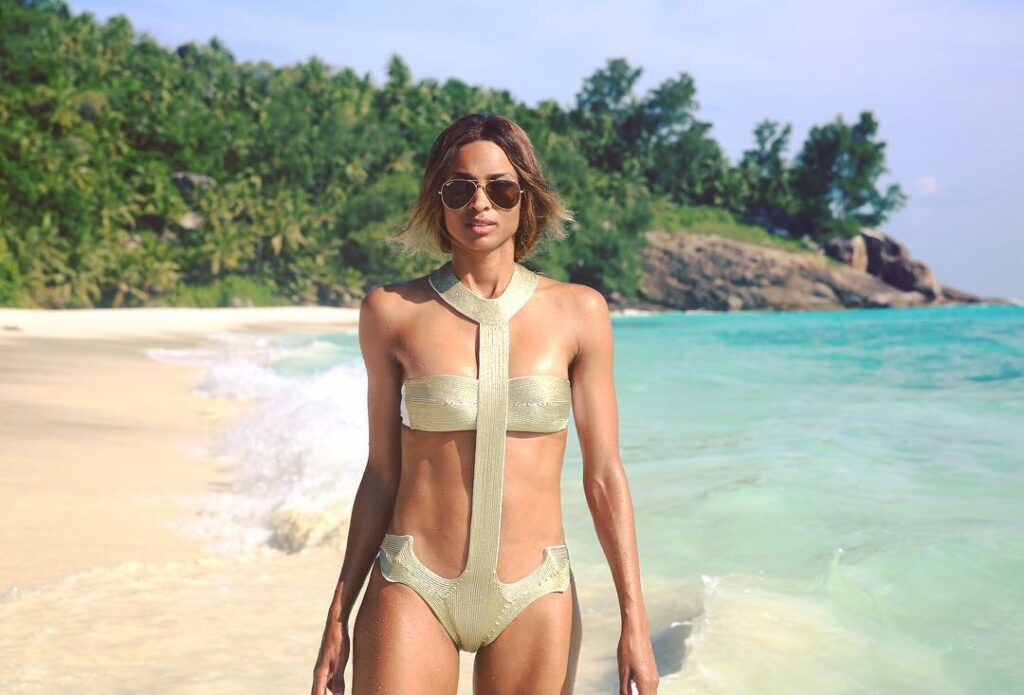 Italian style bikinis? La Perla is that and much more! The most luxurious brand on this list, the best quality, the most attention, and the most beautiful designs are to be found at one of the best luxury lingerie brands in the world, La Perla. The brand was founded by Ada Masotti in 1954, who dreamed of creating an atelier of corsetry in the name of the best Italian tradition.
La Perla started in a tiny manufacture in Bologna, which city is known for its unmatchable silk factories too. Ada's talent and vision, paired with the best quality material won the younger adults in the 60s, and from Bologna, it grew around the world. La Perla stands as a global leader in the luxury fashion market.
While it has a history of over 60 years, it can adapt, innovate and transform in the face of competition and the obstacles that affect the societies we live in. They offer a very wide collection of swimwear that includes plenty of different styles and designs of bikini and one-piece swimwear too. While I personally love them most for their breathtakingly beautiful lingerie, I highly suggest their swimwear line too, as it hits the highest expectations!
6. Laura Urbinati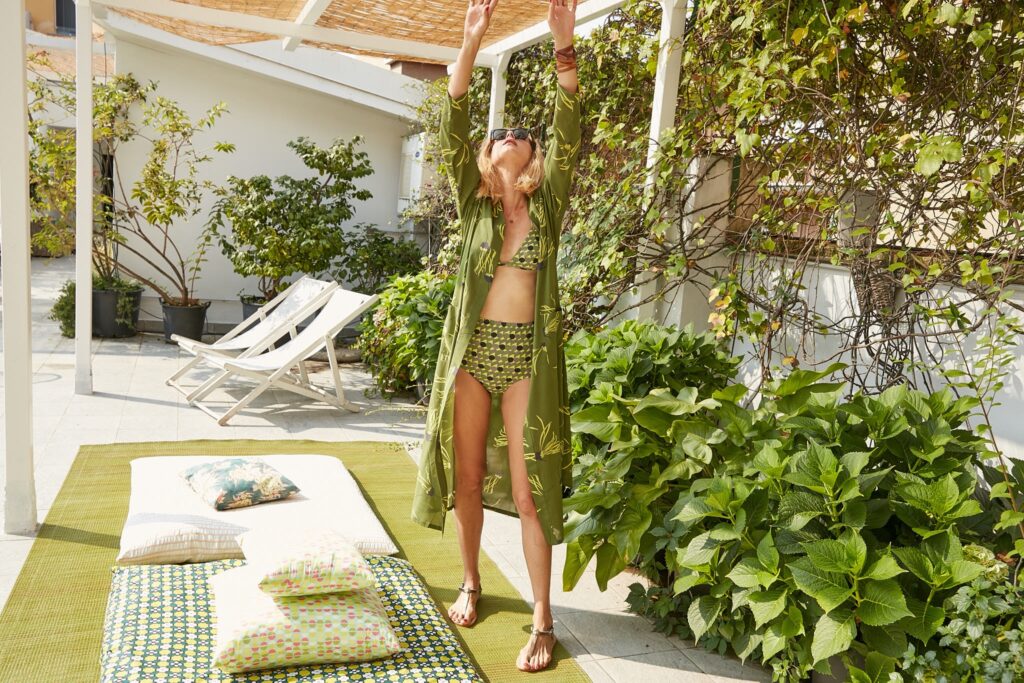 Laura Urbinati has the clear, beautiful, elegant, and pure style that every Italian woman loves. Her Italian style bikinis are absolutely gorgeous, especially for those who like clean designs with beautiful colors, instead of sparkle and bold cuts. I'd dare to say that Laura Urbinati has one of the most elegant swimwear designs, who offers simple and beautiful in a breathtaking blend.
The brand is using the year's colors, which means now olive and burgundy, along with black, of course, and some other popular colors for swimwear. Nothing cliche, though! The influence of the art world is reflected in color experimentation and her passion for finding innovative solutions. The fit is guaranteed by a cutting technique that allows the pieces to adapt to any figure.
Laura Urbinati is a fashion designer originally from Rome, Milanese by adoption, and trained in the United States. Besides her passion for fashion, art, and sea, two are the main influences in her life: Laura grew up surrounded by museums and galleries, among the colors of Rome and then Malibu, California. In 1989, Laura opened her first boutique on Sunset Plaza in Los Angeles, between the glamour of Hollywood and the surfing philosophy of life.
She then opened two boutiques in the historic center of Milan and Rome, far from the usual shopping haunts. Year after year, Laura Urbinati develops and spreads her own individual style both in Italy and abroad, creating a sophisticated but simple collection that plays around with timeless prints and colors, fine fabrics and carefully considered details.
7. La Revêche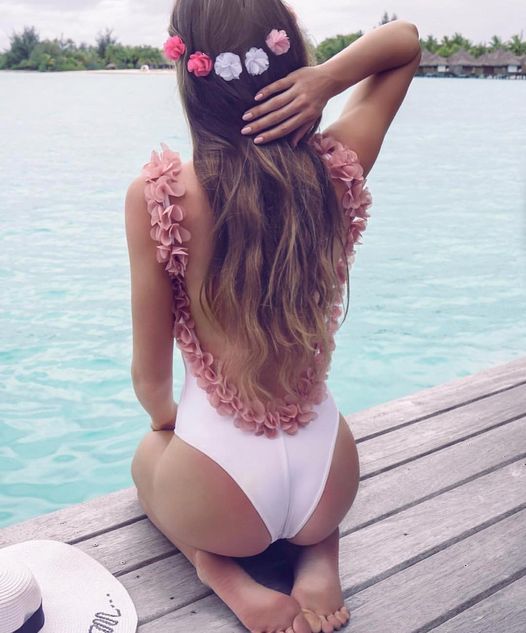 Beautiful designs, bright colors, and flower details, La Revêche has all that, and more! Elegance and femininity are the main things you'll see when you check the La Revêche. High quality only topped all that. La Revêche was founded by Sara Melis in 2016, and it quickly became a leader in luxury beachwear.
Sara Melis was born and raised in the south of Sardinia, a fascinating region that boasts some of the Mediterranean's most beautiful water and coastline. She began traveling at a young age, encountering new environments and cultures as she explored and stayed in faraway places. In 2015, her curiosity, together with an innate passion for fashion and a sense of style she inherited from her mother, prompted her to take her first steps in the fashion industry.
A graduate of Milan's Sacro Cuore University in Economics and Business Management, Sara combines an entrepreneurial attitude with a creative vision that allowed her to invent La Revêche's iconic 3D flower applications. Sara now runs her company in keeping with the tradition of Italian-made craftsmanship, while looking to the future to face and overcome the challenges of a market in constant evolution. 
8. Lido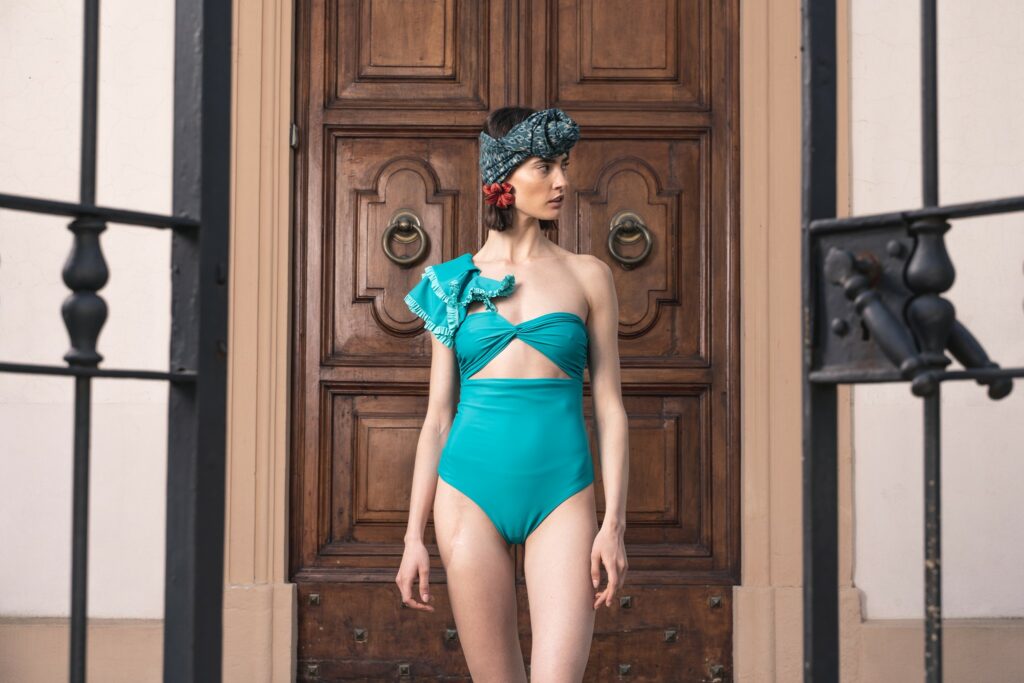 You still didn't find the best swimwear from Italy? Looking around some more Italian bikini brands, you'll find one that's elegant, simple, colorful, and unique, and that's Lido! They've got beautiful 2-piece and 1-piece bikini and swimwear which are really adorable.
The brand's name comes from the island of the Venetian Lagoon, where it actually was founded in 2017. They have a bold combination of classic and contemporary styles, and their swimwear pieces are produced in Northern Italy by local Italian artisans.
Lido uses super fast-drying fabrics which ensure the garments are comfortable and fit you beautifully at all times. They focus on diversity in their collection, so you can find at Lido all shapes and forms of bikini and swimwear you can imagine. They are available in the link above, on Luisaviaroma, or on their own website too!
9. Missoni Mare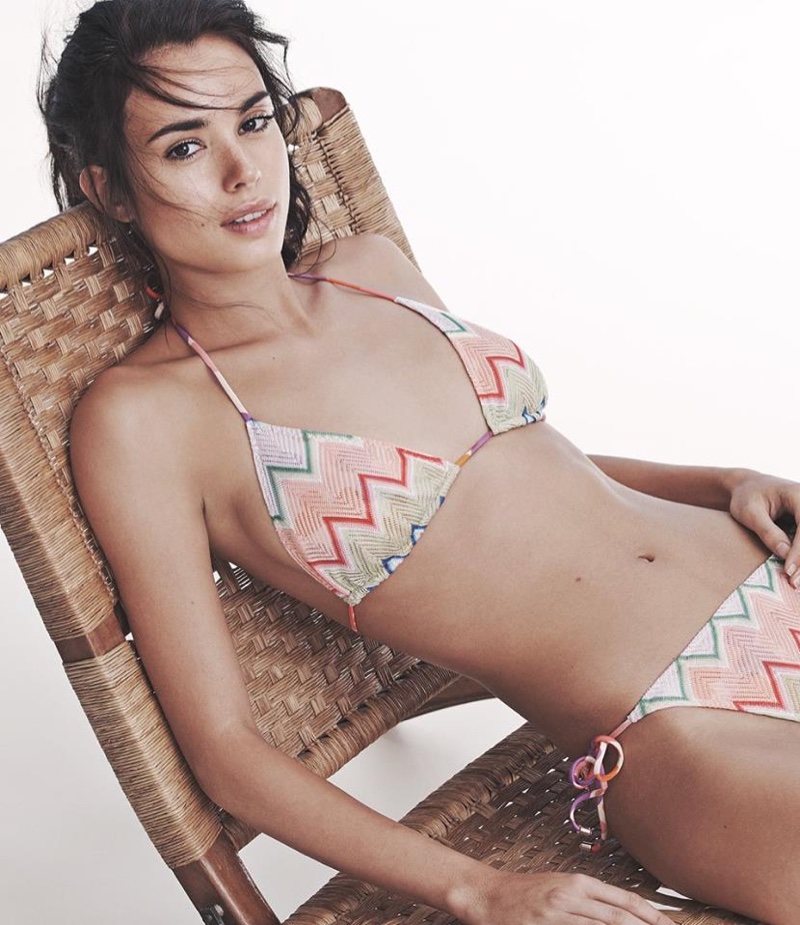 Missoni is one of the top tire Italian fashion brands, and they've also got their own swimwear line that's absolutely stunning, just like their ready-to-wear collections. When it comes to Italian swimwear brands, many of the high-end brands have a large Italy bikini collection, and Missoni Mare is a perfect example!
Sensual and feminine are the keywords of the Maison. It is a safe bet as the vibrant colors and fresh patterns will perfectly match any event of your summer. Missoni was founded in 1953 by Rosita and Ottavio Missoni. Today they are known for their zig-zag pattern that appears on all their designs.
Add to it thoughtful details and finishes, and you've already got the best, high-quality swimwear from Italy! When you check their website, you'll see at Missoni Mare not only bikinis, 1 pieces, but also coverups, and beachwear clothing too. You'll find pieces that are right in color, and that can be matched together in the same color patterns.
10. Oséree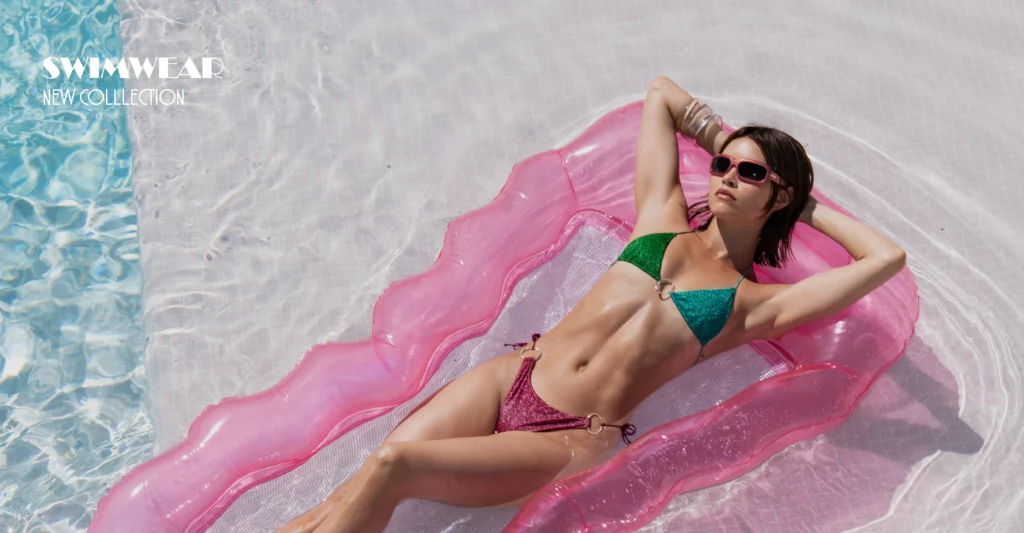 If you're looking for Italian bikini brands where glitters and shiny materials are in the spotlight, you must have a look at Oséree! A fairly new brand, Oséree was founded by Jannine Vinci and Isabella Cavallin in 2015, and it's based in Milan, Italy.
The brand's name comes from the French word "oser", which means "to dare". Well, their designs are surely bold, for those who dare to stand out and shine. Sensual, fun, and colorful, even using lace details sometimes, sequins, and metallic accents.
Not content with providing the most covetable swimwear pieces, the design duo set their attention to effortlessly elegant loungewear. Dreamy satin slip dresses and wear-me-anywhere separates have become a mainstay of the label, making it a one-stop shop for all things vacation.
11. Parah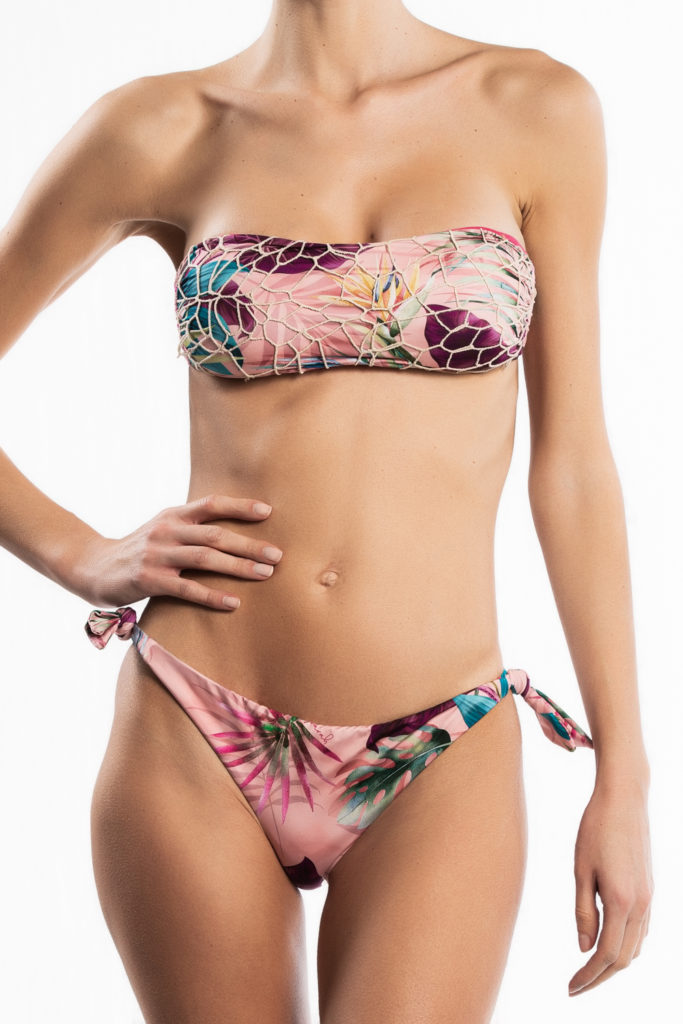 If you say swimwear Italia, we say Parah! Some of the boldest designs of Italian bikinis are hiding behind this name. Bold and colorful prints, eye-catching designs, and beautiful fits. The history of Parah goes back to the 50s, to Edda Paracchini and Giovanni Piazzalunga. Parah as a brand was born in 1953, and it followed the evolution and history of bikini and beachwear over the past 70 years.
We must not forget, that these were those significant decades when the evolution of female swimwear and beach apparel went down. One of the main characteristics of Parah swimwear today is the prints they use. They don't do simple, one-colored bikinis, but each of them has unique prints. This also makes you, who wears them unique!
They offer some really unique designs, that will make you feel like a Roman goddess, especially in their Parah Noir collection. They also have the Parah Imrponte line, which is more for women who prefer covering up a bit more. Here you can find swimwear for new mommas', all the way to plus size, and elderly ladies too.
12. Panarea Couture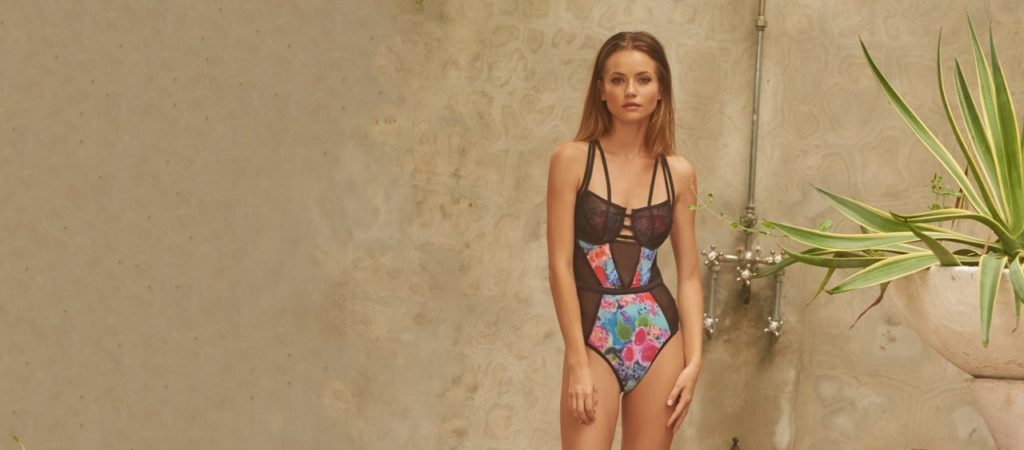 Here's another great pick for you, though you might not find them on the market when you read this article. Willing to match the vibes of a stylish traveler, Panarea Couture is definitely part of the top Italian swimwear brands. None of their designs look like the next, and they truly reflect the free spirit of their customers.
From the beaches of Côte d'Azur to the palm trees of Sicily, they have something in stock to match your expectations of a perfect summer. Beautiful designs, breathtaking prints, and colors. That's all in one place. Though the brand has gone a little bit M.I.A. lately, we keep it on our list, hoping that it will be back on the market soon.
13. Sundalia
Sexy, high-end, and elegant Italian bikini brands? Sundalia is everything and more! Luxury, design, and exclusivity, a unique brand that was born in Sardinia. The Sundalia collections are a tribute to all strong and courageous women who lead a suffused and refined elegance, lovers of luxury and a glamorous and sophisticated lifestyle.
Great fit cuts, and exclusive models, with a sartorial feel, enhance the silhouette while guaranteeing comfort and portability. Bikinis and one-piece swimsuits are designed to elegantly enhance the natural beauty of every woman, with particular attention to fabrics, details, and finishes. Sundalia Beachwear swimwear combines tradition and metropolitan chic style with the Mediterranean lifestyle.
These pieces are suitable for a relaxing walk through the streets of the trendiest summer locations, a refined event on the beach, or an elegant aperitif by the pool, in the most exclusive resorts of the world. Each garment is conceived and made in Sardinia, from the concept to the design up to the packaging, the latter entrusted to expert local ateliers and with the use of high-end fabrics and accessories, all Made in Italy.
14. Tezenis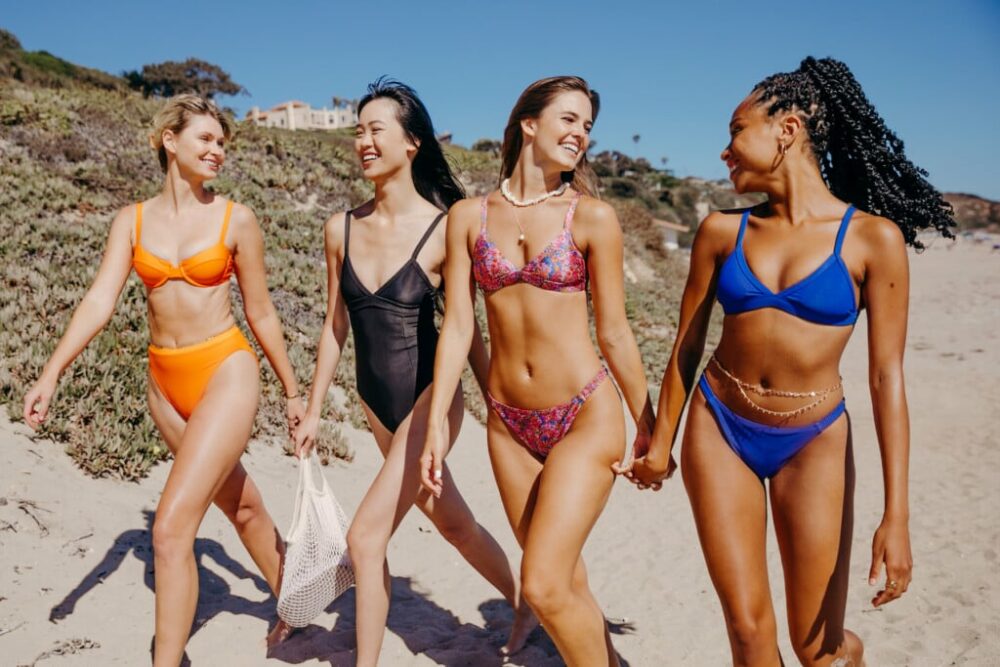 When it comes to swimwear from Italy, Tezenis is definitely the most famous brand of all. Being part of the Calzedonia Group, Tezenis shops are present in over 50 countries around the world, and you can also order online, from almost every country on the planet. If I may add, Tezenis is also my personal favorite budget brand for swimwear and lingerie.
The quality they offer is unbeatable, even if it's mid-budget. Also, the designs they come up with every single year are just lit! Their underwear collections are always great quality, and they are especially great in their bra lines. They offer designs for every shape, size, and age. This of course stands for their swimwear line too.
Tezenis is a youthful brand, therefor it's more celebrated among teenagers and young adults, but that doesn't mean that they would have collections only for them. As I mentioned, they cover all ages, sizes, and shapes. They also have their men's line, both for underwear and swimwear, though it's not even close to as big as their collections for women.
15. Yamamay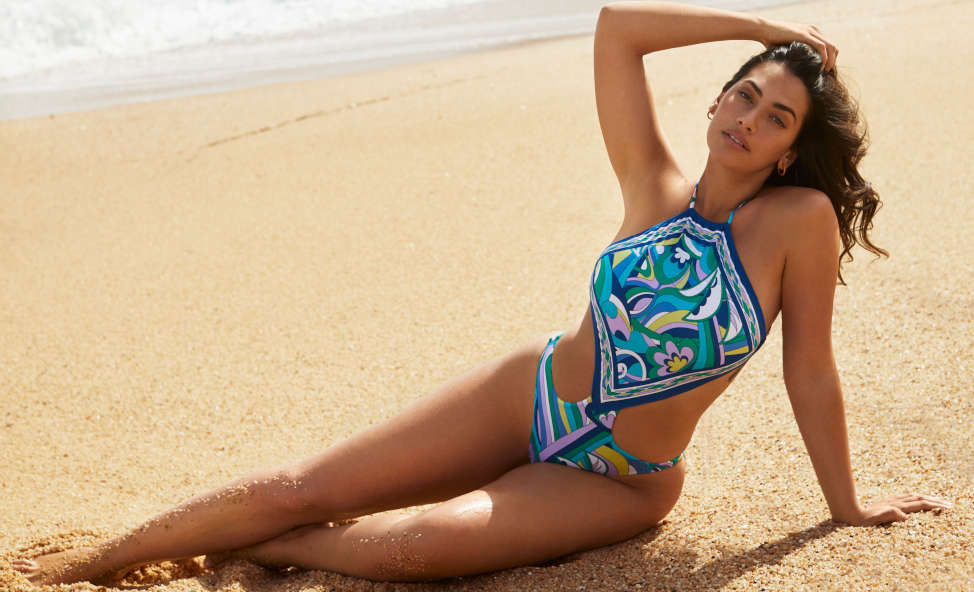 Yamamay is a gem when it comes to swimwear Italia. They are present in 37 countries, owning 622 stores. Probably the biggest competitor of the Calzedonia group, and also one of the best swimwear brands out there. After twenty years in business, today Yamamay is a leader in the retail sale of underwear, corsetry, lingerie, swimwear, clothing, and accessories.
Yamamay is committed to the well-being of our customers through the creation of durable and quality products. We need to travel all the way to Japan to discover the roots of the name Yamamay. Here, enclosed in its ethereal beauty, shines a cocoon characterized by silver and crystalline reflections.
Until its timid sparkle turns into magnificent wings and its green body is ready to take flight and enchant the world with its centuries-old beauty. Its name is Bombix Yamamay. Today Yamamay plans, designs, and develops collections of underwear to dress all types of women and ensure their well-being. You will find products of all types, each representing uniqueness, freshness, and quality.
Wrapping Up 15 Best Italian Bikini Brands
We've listed our favorite Italian beachwear brands, which include the best Italian swimwear brands for women and men, for you to enjoy your summer in an elegant fabric or more colorful designs. Find the perfect shape, fabric, color, and pattern to fully experience the Italian beachwear savoir-faire. Bikinis are not the only spotlight stealer this summer – lingerie pieces are also eternal gems, so why not check out the very best lingerie brands in Italy?
Italian version for this article: Migliori costumi da bagno donna
PIN IT: 15 Best Italian Bikini and Swimwear Brands