10 Best Italian Sneaker Brands
Who doesn't love a good pair of great quality sneakers? In today's modern world it is so easy to dress up or dress down any outfit with some fancy-looking sneakers, or if you're more sporty there's an option for you as well on this list. We bring you the 10 best Italian sneaker brands, both luxury and affordable. With the Italian sneaker brands list we hope you can find a pair of Italian sneakers that is right for you!
10 Best Italian Sneaker Brands
So what can you expect? We have included some of the luxury fashion brands, but probably not the ones you might think of. On the list, you'll also find mens Italian sneaker brands, but most of them also sell women's sneakers so you might want to check that out too. You can wear these shoes with some jeans, or even a suit, that is your choice entirely. Let's see what these Italian sneakers look like!
1. Brunello Cucinelli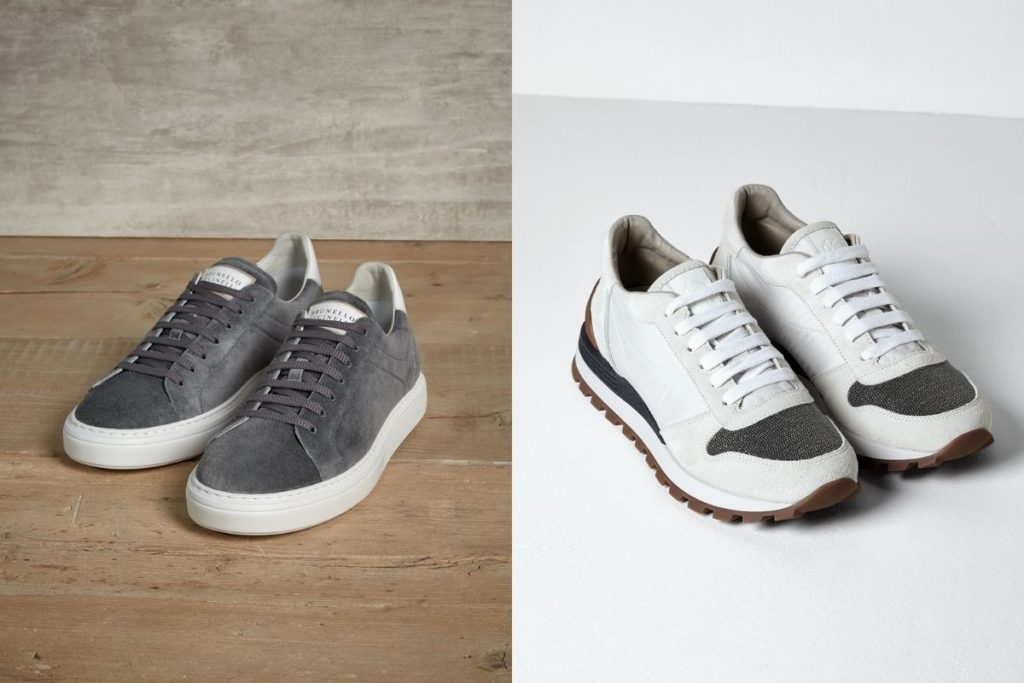 Starting our list with mens Italian sneaker brands, the luxury brand called Brunello Cucinelli offers high-quality sneakers. Founded in 1953 by Brunello Cucinelli in Corciano, they sell both beautiful looking suits as well as women's wear and accessories. What is interesting about the brand is the values they stand for, which is being a 'humanistic enterprise'.
The sneakers can be found both on their website and also in retailers such as Mr. Porter. These are not just sneakers, they can be worn with suits and professional attire. After all, Brunello Cucinelli is one of the best Italian sneaker brands thanks to its beautiful designs and craftsmanship. The collections are a combination of modern and elegant styles.
Men's sneakers include models like Knit runners, Calfskin sneakers, and Suede, and Calfskin runners. The Washed suede sneakers are this beige color, with white platform bottom. The sneakers are lightweight and comfortable. Sizes are available from 40 to 46. Women's sneakers are also delicate. The Mesh fabric and matte calfskin sneakers are sporty yet offer a classy look. Sizes go from 35 to 41.
2. Diesel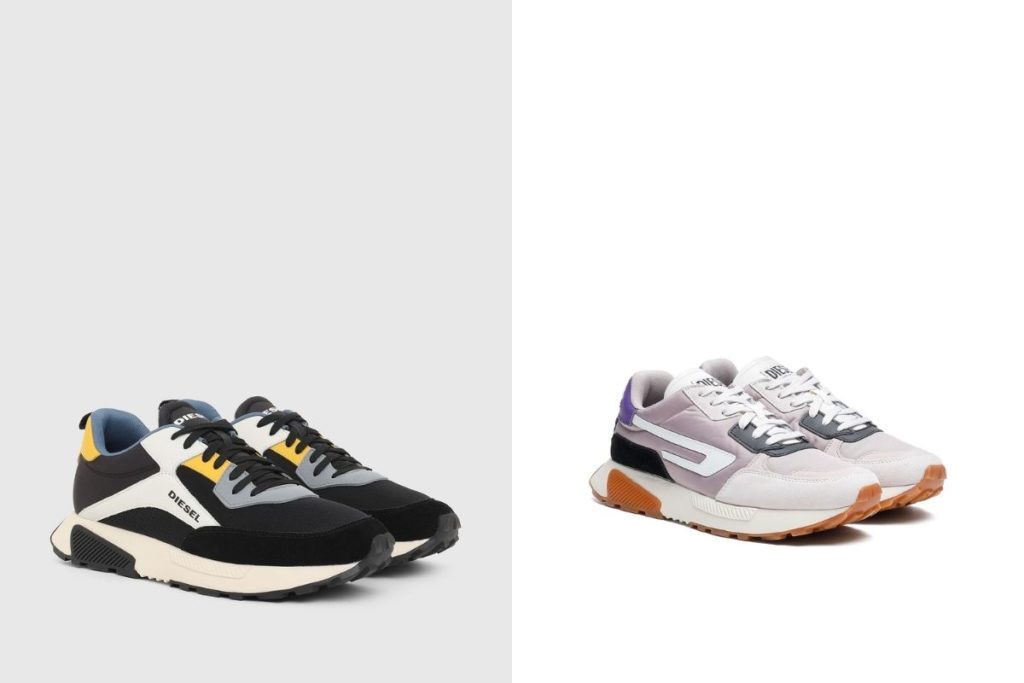 You have probably heard of Diesel before, as it is a famous brand all over, but in this article, we mention why it's a mens Italian sneaker brands as well. So Diesel was founded by Renzo Rosso who used to sew jeans with his grandmother's machine. How did he go from there to owning a multi-billion dollar company? By being smart enough to buy a part of the company then named Moltex.
Today Diesel sells in multiple countries throughout the world, they have their very own website at diesel.com and their clothing is available through famous retailers. Diesel sneakers come in all shapes and forms. Some of them look more sporty, while others look a bit elegant. Overall it is one of the better Italian made sneaker brands.
For example, the low-top leather sneakers have a subtle design showcasing the Diesel logo. It is an all-black shoe, from the bottom to the laces. Comes in 4 different colors as well so if you don't like black then you'll have more options. US sizes range from size 6 to size 13. Diesel prices are very much affordable yet you receive a great quality product.
3. Fila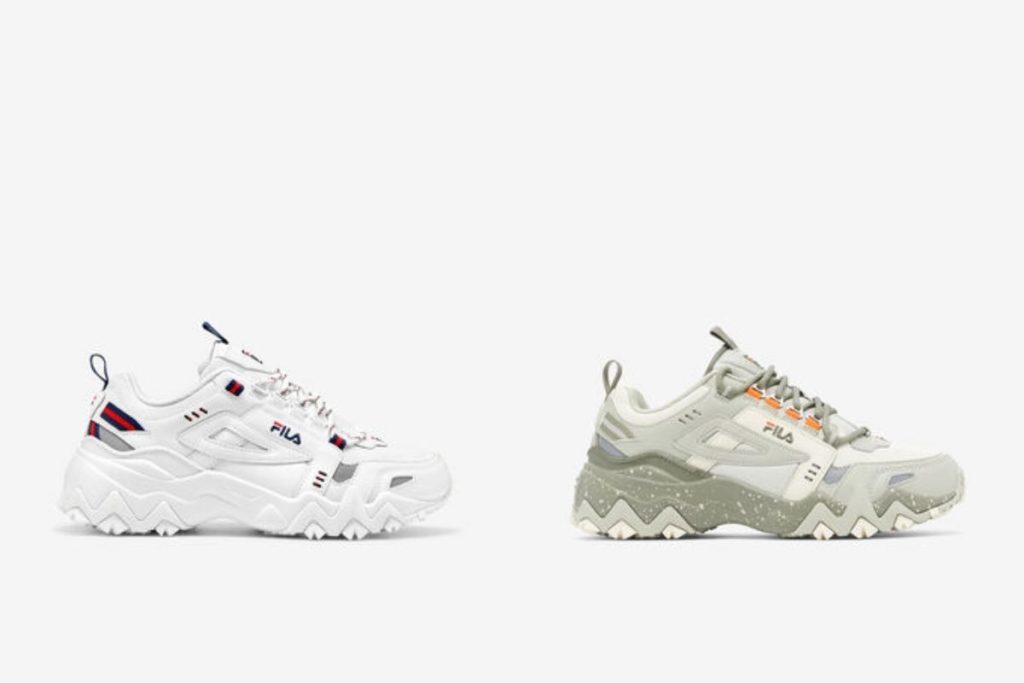 Fila might be the type of Italian sneakers most of you heard about. So you probably aren't thinking why are we mentioning Fila. In case you didn't know, Fila was founded in 1911 by Ettore and Giansevero Fila. They were making underwear and then moved to make sportswear in 1970. Today Fila is famous for its sportswear products manufactured in South Korea. Even so, it remains one of the best Italian sneaker brands.
Where can you buy Fila sneakers? Fila is thankfully available almost everywhere. Whether it's their own website at fila.com, or other retailers such as Deichmann, Footlocker, or Walmart in the USA. Fila's style is definitely on the sporty side, after all, they do design sportswear. At the same time, they have had partnerships with both Fendi and Miansai.
Fila's famous sneakers are the Disruptor low-top sneakers. These are made out of 100% leather and the bottom is rubber. They are quite chunky yet with an elegant style. Women's shoes start in sizes 4 to 12. As far as men's shoes go, they also have similar styles, such as the Fila Ecru Ray Tracer Trainers. The materials are a combination of leather, synthetic, and mesh fabric.
4. Lotto Sport Italia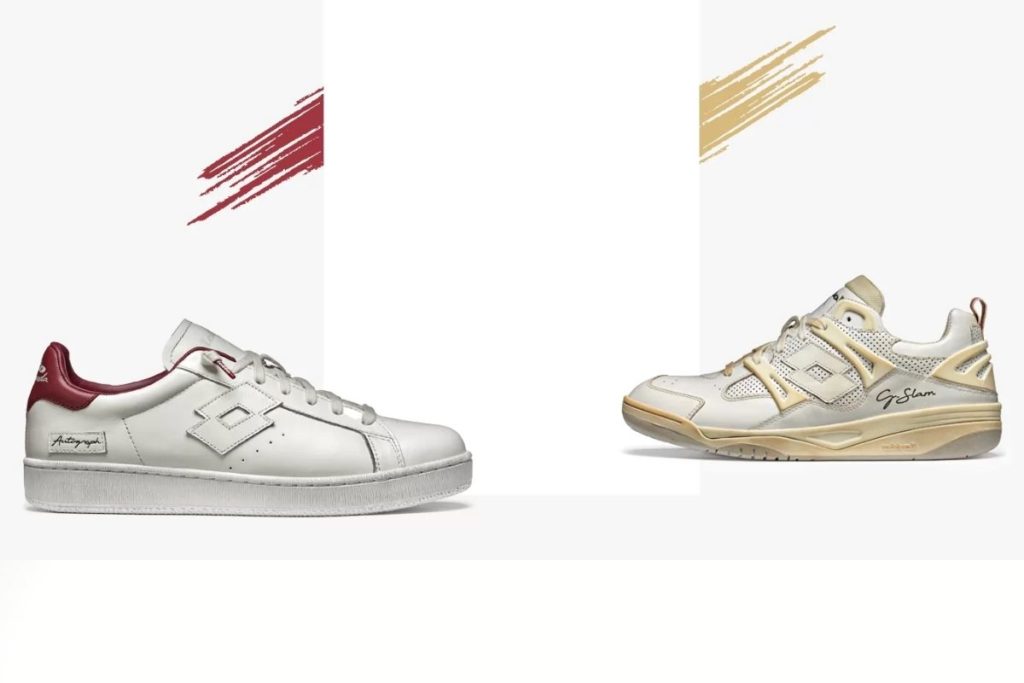 Lotto Sport Italia is another one of the famous Italian sneaker brands and sportswear brands. It was founded in 1939 by the Caberlotto family and ever since the brand is doing amazing. Their prices are very affordable and the quality is impeccable.
You can find Lotto shoes and clothing in pretty much every sports retailer. They have their own website on lotto.it and based on your country you would have to switch the location in order to shop. Lotto Sport Italia is also famous for sponsoring tennis players.
Their designs are classic and quite simple. The Lotto logo is usually on the side of the sneakers. For men, there are many different styles of sneakers, either chunky ones suitable for outwear or some even for casual office wear. The same goes for women, but with different colors. Whether you need the shoes for the gym or for everyday wear, Lotto is a go-to brand to pick.
5. Kappa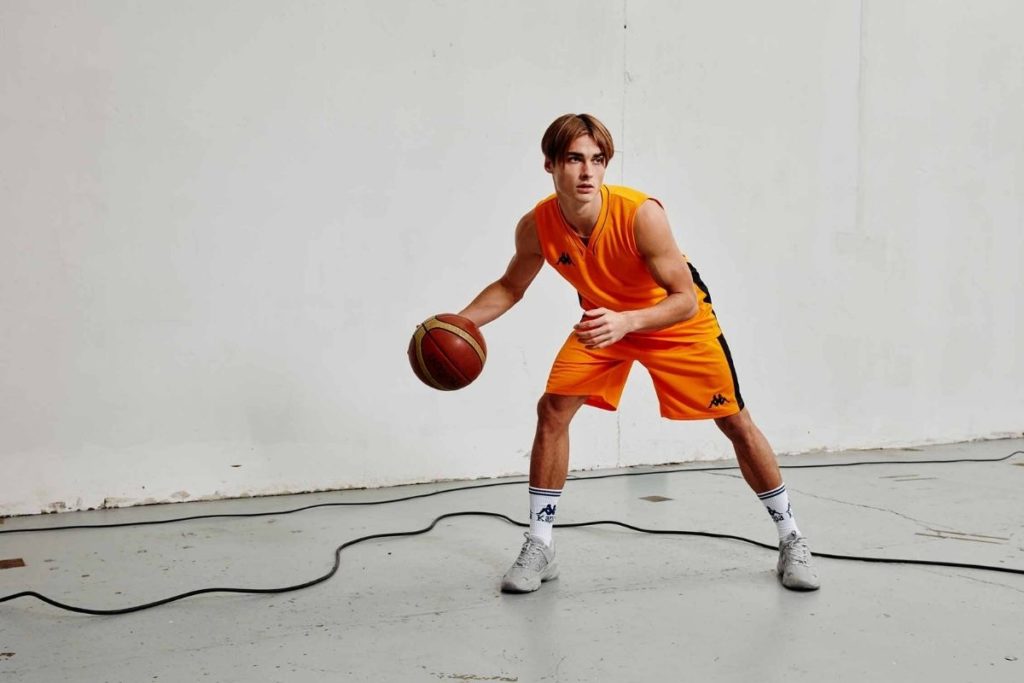 The Kappa brand is next on the Italian sneaker brands list for its great quality shoes and clothing. Kappa was founded by Marco Boglione in 1978, their logo is known worldwide, with a man and a woman leaning against each other. It represents equality between the two and to mutual support each other.
Their online website kappastore.com is where you would find your wanted items. Same as with the other famous Italian made sneaker brands like Lotto, they can also be found in any sports retailer. These clothes and shoes are yet again affordable and with so many unique styles.
Both men's and women's shoes are sporty, with the logo clearly displayed on the side of each sneaker. This sneaker brand would be for casual wear or doing sports as you couldn't wear them to the office. Bradyny Black man sneakers are elegant enough to wear on many occasions. These shoes are lightweight and provide comfort.
6. Premiata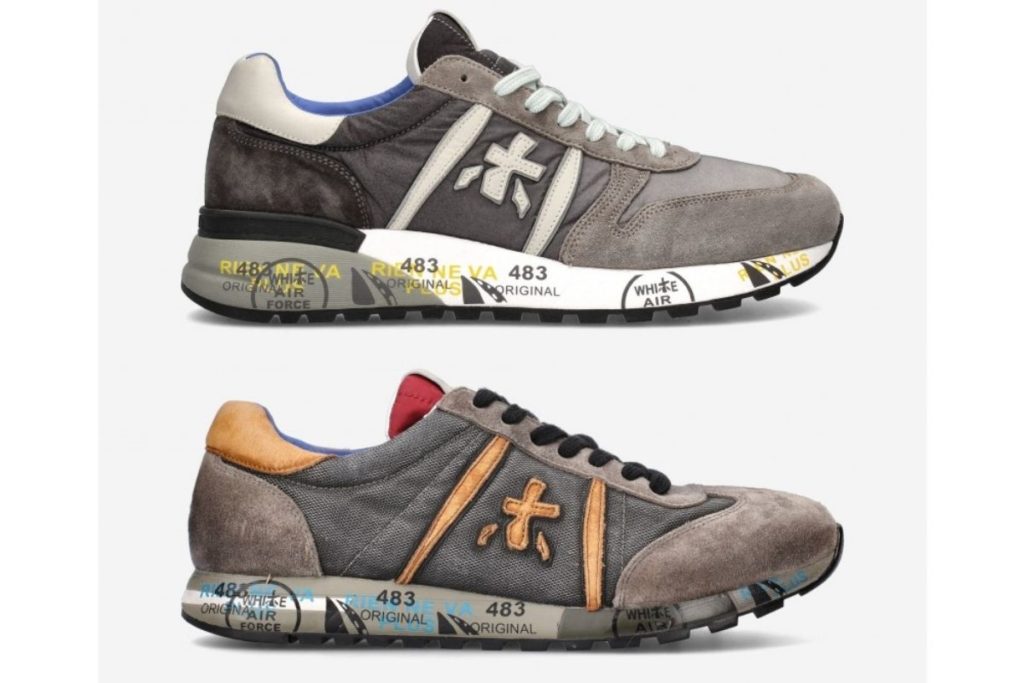 Premiata might not be such a popular brand around the world, but it is known in Italy as one of the best Italian sneaker brands. They are praised for making elegant shoes, and their attention to detail is one of a kind. The brand has been present since 1885 and all of the shoes are handmade and made in Italy. Their Price point is fairly affordable, but not as affordable as the rest of these brands.
Where can you find Premiata sneakers for sale then? A simple Google search will help as it will narrow down the location on your computer. Companies like Schuhe Lueke or Benvenuti International have these shoes available. Premiata's website is premiata.it and you'll be able to order from there as well.
How is the style? I have to say that these sneakers have a distinctive style. The Premiata logo is on the side, just as for Kappa or Lotto. On the bottom of the shoe, more precisely on the rubber, each sneaker has text on it. Premiata word is printed on the rubber. Each style has different colors, but the text remains the same for all of the sneakers.
7. Hogan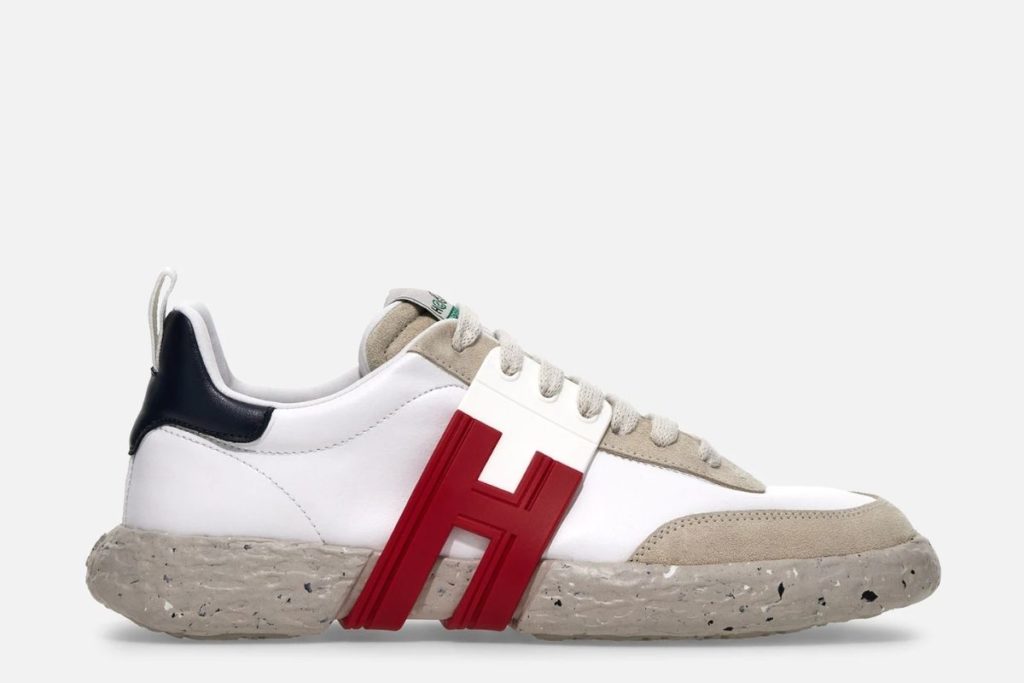 Hogan would only be familiar to you through Tod's Group. So what is Tod's Group? They are an Italian company producing luxury shoes and leather goods. Hogan is one of their sub-companies launched in 1985. Hogan stands for luxury sneakers and a mix of sports plus urban chic. That is why Hogan is on our list of Italian sneaker brands.
They use the highest quality materials to bring to life their luxurious-looking and feeling sneakers. If you want to feel like you're wearing a luxury brand but also one that is comfortable and elegant, Hogan is the number one for you, especially when it comes to mens Italian sneaker brands. Pair these shoes with the highest quality laptop leather bags on your way to the office.
Hogan has 4 styles of sneakers for men, which are Hohan Rebel, Hogan Interaction, Interactive, and H383. As far as women's sneakers go Rebel and Interactive are present along with Hogan Hyperactive and Olympia-Z. What is distinctive about these shoes is the logo, the letter H is on the side of the shoe and it goes all the way down to the bottom rubber.
8. Diadora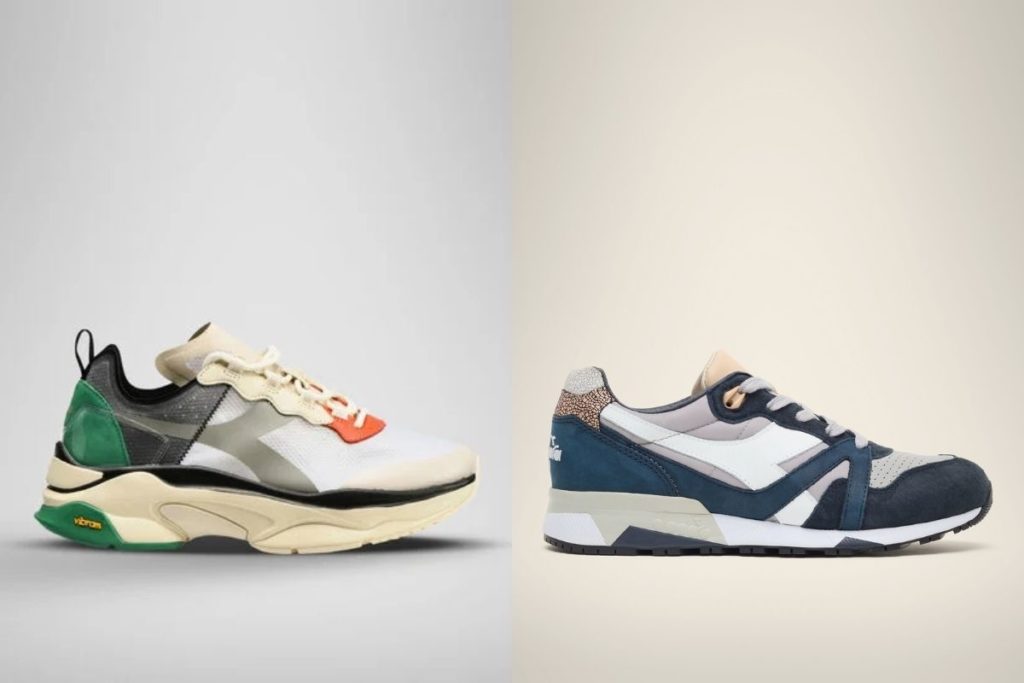 The next on our list of best Italian sneaker brands is Diadora, a sportswear and footwear manufacturing company from Veneto. Diadora was founded in 1948 by Marcello Danielli and it is owned by Geox, another famous Italian shoe brand. Their products range from t-shirts, hoodies, leggings, shorts and also expensive-looking sneakers at an affordable price.
These sneakers look like you bought a luxury brand's shoes but at a much cheaper price. Diadora has its own website at diadora.com where you can purchase all of the different styles. One of their famous collection is Diadora Heritage, Italian style and quality with vintage-looking items.
One of the coolest-looking sneakers is the Terrena Light. With a high platform, made out of Ribber Vibram. The best thing about this sneaker is that it's unisex. If you want to wear your boyfriends or girlfriends' shoes, then this is the perfect pair to choose from. Diadora has shoes made for both women and men separately, so if you don't want to be twinning with your love, still plenty of pairs to choose from.
9. Salvatore Ferragamo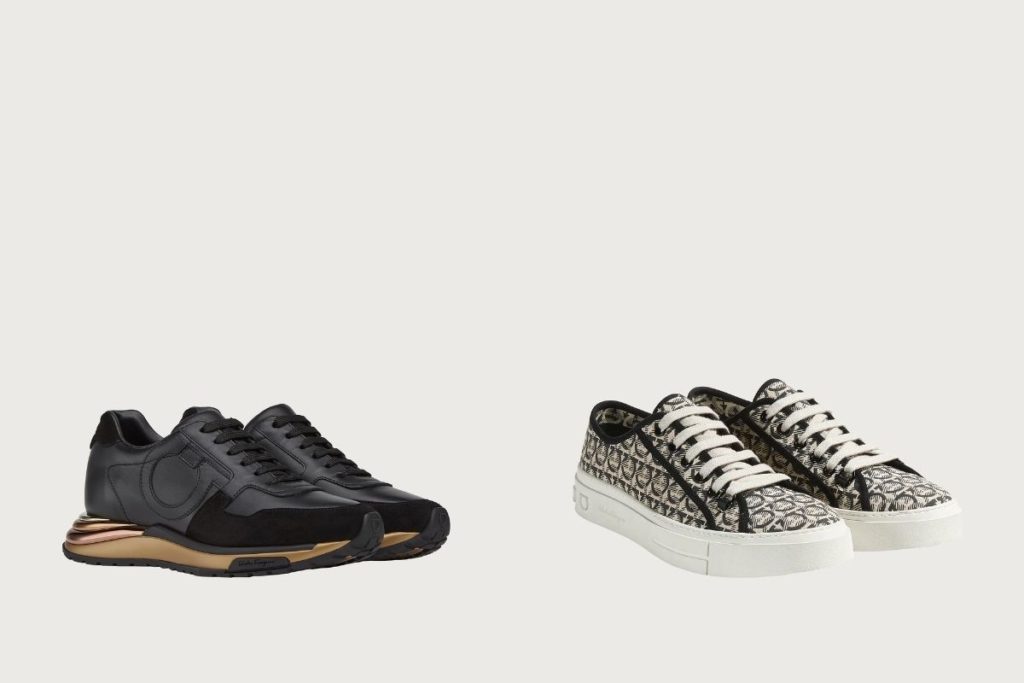 We are down to the two last brands on our Italian sneaker brands list. Salvatore Ferragamo is probably a familiar name to you and for a good reason. Founded in 1927 by Salvatore Ferragamo, it is an Italian luxury goods company, that also has a license in eyewear and watches. The sneakers are not quite at the luxury price point, but very close to it.
So why is Salvatore Ferragamo one of the best mens Italian sneaker brands? These sneakers just speak to us. Some of them are quite simple and elegant, while others are very provocative and show a lot of patterns on the shoe. For example, they made a Love Collection with red tones products.
Our favorite sneakers? It is this dark leather shoe, with dark red undertones and the Salvatore Ferragamo logo printed all over it. The design has a chromatic finish and the sole of the shoe is with a shark tooth design. These are also available in Bluemarine, Black, and Rhinoceros grey. Only the latter and the red have this chromatic design on them. Salvatore Ferragamo has the high end Italian sneakers we all need!
10. Chiara Ferragni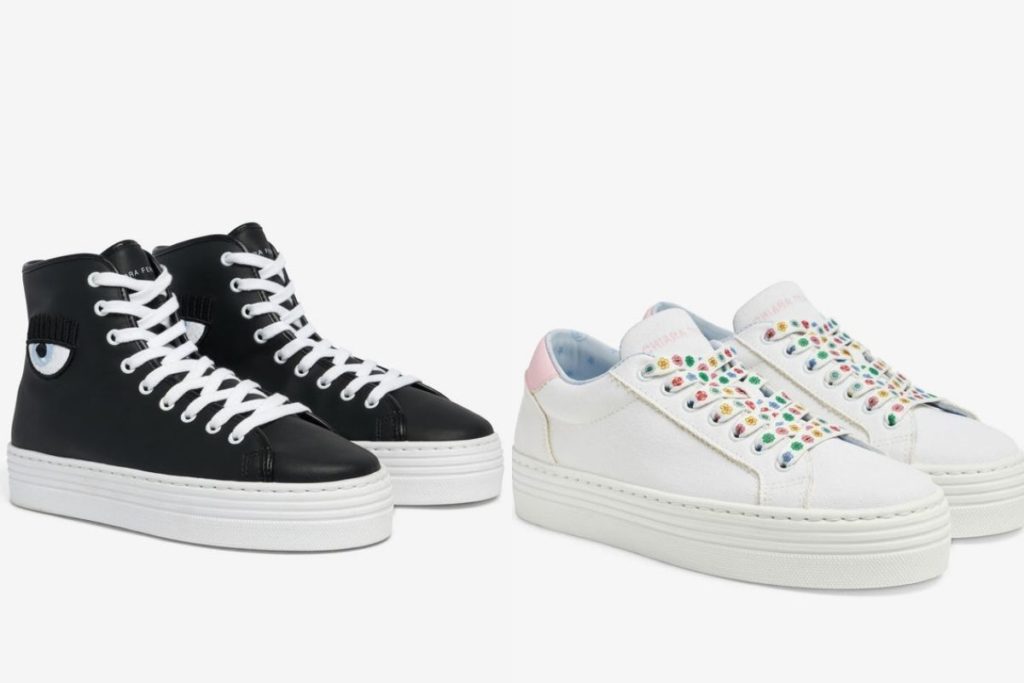 After concentrating on the best Italian sneaker brands for men, we want to talk about a brand that makes women look fashionable while out on the streets. Chiara Ferragni's brand was launched in 2013 and Chiara is the CEO, Creative Director, and Muse of the brand. The website is all pink and it looks inviting.
They launched with shoes, garments, and accessories as well. What is the style? they call themselves 'pop shoe brand'. But that's not all, Chiara Ferragni also opened flagship stores in Milan, Paris, Shanghai, and Hong Kong! Alight, let's talk about the shoes.
If you want to bring attention to your outfit, with some Chiara Ferragni sneakers you sure can! Their prices are quite affordable and there are so many different styles to choose from! Whether you want high-top or low-top shoes, there's something for everyone. I love the simple black high-top sneakers with their eye-heart logo. It's made out of leather and the logo is embroidered on the sides. You must check them out!
Italian sneaker brands – Conclusion
This concludes our 10 best Italian sneaker brands article. If you have been looking for some great Italian sneakers, but were unsure what to purchase we hope this Italian sneaker brands list has helped you. Nothing beats Italian quality and style! Make sure you've checked out some other great Italian brands, such as fashion brands, handbags, and shoes!
Pin It: 10 Best Italian Sneaker Brands