10 Best Italian Shoes For Men
Nothing says luxury quite like having Italian-made items. As seen in our article of the best Italian men's fashion brands, they have an eye for detail and use premium materials in their products. It is no wonder Italian shoes for men have a reputation of being considered the best shoes in the world. Italian fashion designers are the best in the world and have left a huge mark on international fashion. Italian men's shoes can be defined as the high essence of refinement, which materializes in elegance and quality. Below, we will explore the best Italian dress shoes for men.
10 best Italian shoes for men
Our article that rounded up the Italian fashion brands shows that Italy is important in fashion history. We also have an article on the top Italian men's shoe brands that our team has hand-picked. The best mens Italian dress shoes are often made with 100 percent genuine leather and are usually hand-stitched.
When it comes to Italian dress shoes, Italy is home to some of the most reputable fashion houses on the planet. As a place of the opulent fashion industry, no footwear brand outside this region gets higher recognition than Italian brands. Be sure to read our article on the best Italian shoe brands to know more about the brands that specialize in men's and women's shoes made in Italy. With that in mind, roll the dice as we unlock the best pairs of Italian mens shoes.
1. Armani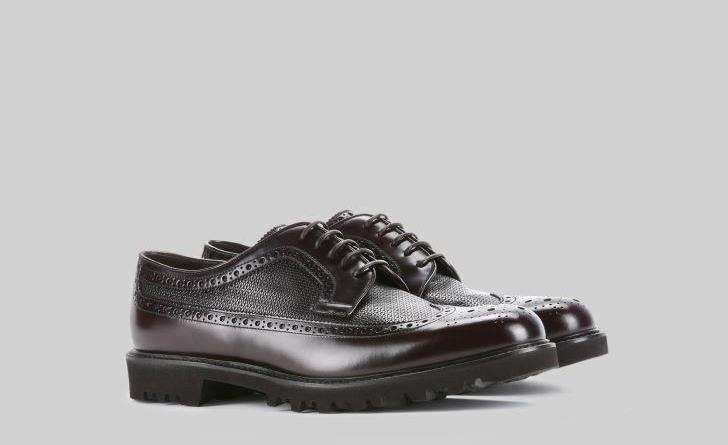 As a world leader, Armani is one of the definitive symbols of Made in Italy. It's regarded as one of the best Italian men's shoe brands because its footwear is suitable for people who love the classic taste and are looking for an accessory on their feet in step with the times, and this dictates fashion instead of following it.
Armani crafts its Italian shoes for men with high-end and durable materials to ensure quality. Designed to be worn on an array of occasions, the brand's shoes are comfortable and add sophisticated flair to many looks. Some of the materials they use to make shoes include calfskin leather, polyester, bovine leather, and rubber.
Armani's refined style and contemporary design are reflected in all its Italian men's shoes. Whether you are looking for sporty, classic, casual shoes with an exclusive style, Armani has got you covered. Armani's shoe collection includes men's sneakers, slip-on, slides, sandals, loafers, lace-ups, and boots. The shoes are also available in different colors and sizes. You can find some of the best Armani shoes on Luisaviaroma too!
2. Prada
Since its inception, Prada has revolutionized Italian men's dress shoes. Renowned for its simplicity and utter minimalism, this Italian brand produces men's shoes in different styles, colors, and sizes to suit a wide array of looks and occasions. Its collection consists of some of the best shoes to ever graced the luxury world.
Blending sporty inspirations and formal designs, Prada's men's shoe collection includes elegant brushed leather lace-up shoes, new versions of the standout Monolith boots, and loafer shoes with a classic feel. The brand also offers sandals with a modern minimalist design, refined leather ankle boots, and sneakers with iconic lines, including the Prada Collision and Cloudbust Thunder.
Mario and Martino Prada founded the company in 1913 as a Milan-based leather goods shop called Fratelli Prada. In 1979, the brand added footwear to its growing product line. Prada is now one of the leading brands that sell mens Italian dress shoes. 
Miuccia Bianchi has worked as Prada's head designer since 1978 and has won numerous fashion awards. If you are looking for an excellent selection of mens Italian shoes, Prada's shoes are elegant with unparalleled quality.
3. Ace Marks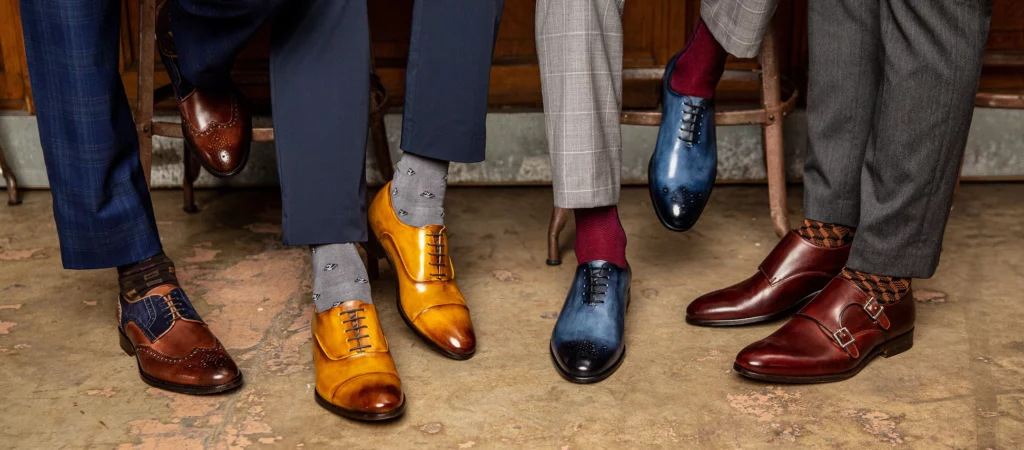 Ace Marks is an indisputable king of Italian men's shoes. Although it was founded in 2012, the brand works with a fourth-generation factory to provide high-quality, affordable Italian shoes for men to the worldwide market. Their footwear is Benchmade in Italy with closed stitches using the Blake flex construction; this ensures their shoes are unique and high-quality. 
Ace Marks produces Italian mens shoes are made from hand-dyed and burnished full-grain calfskin. The brand aims to encourage men to come out of their comfort zone by wearing extraordinary shoes with bold designs. Their shoes are durable and designed to be long-lasting. 
Ace Marks prides itself as one of the leading brands that offer Italian leather shoes mens, as it gives no compromise in quality and style. It's also the first brand that rebuys its shoes. That means you can send your old Ace Mark shoes and receive a 50 credit that you can use to get a new pair of shoes. The company donates these old shoes to Career Gear, a not-for-profit organization.
4. Bontoni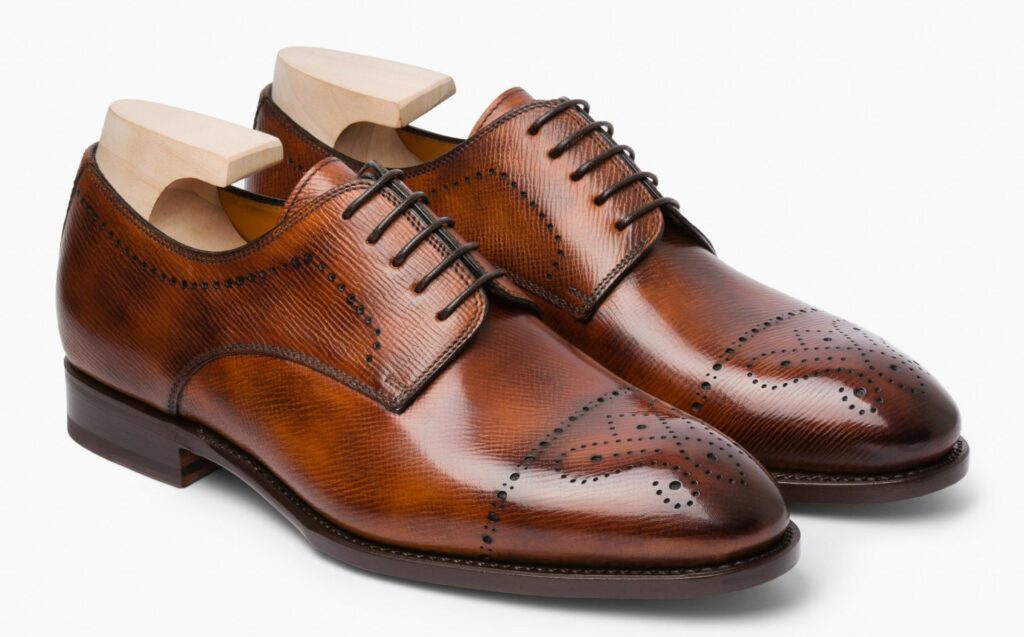 As one of the best third-generation luxury shoemakers, Bontoni crafts handmade Italian dress shoes men. The brand produces an exclusive line of ready-made dress shoes that range from casual to dressy. Located in Sant'Elpidio A Mare, Bontoni's nine-person workshop only makes 9-12 shoes per day to ensure quality. Each pair of shoes takes around 14 weeks to complete and about 26 working hours.
The name of the brand originated from bon ton, which means in a sophisticated manner in French. Franco Gazzani and his cousin Lewis Cutillo founded Bontoni in 2004. Before 2004, Gazzani's father, grandfather, and uncle made custom shoes for wealthy people and friends under no label. Most of the mens Italian dress shoes that the brand produces were created by Gazzani's grandfather and father.
Despite its measured expansion, the brand has remained true to its roots with a collection of careful in-house construction, and it uses homemade dyes as its signature patina finishes. Bontoni shoes for men are designed to stand the test of time.
5. Cesare Paciotti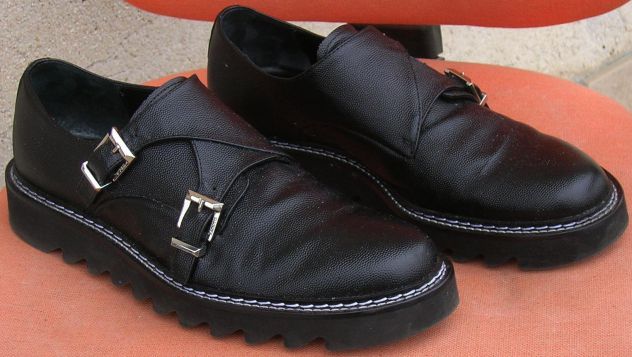 Founded on a solid style identity, Cesare Paciotti has earned the recognition of top customers and international press with a combination of glam-rock details, sensuality, and pure volumes. Cecilia and Giuseppe Paciotti established a shoemaking business in 1948 and started producing a classical range of handmade shoes. The two master craftsmen managed to turn their profession into their kids' passion. 
The brand makes a range of men's shoes in different designs, including Italian dress shoes for men, sneakers, loafers, and boots. The company pays attention to details and uses high-quality materials when making its shoes. They also offer women's shoes and have a clothing line that caters to women and men. 
The unique materials this company uses to craft its Italian men's shoes and the excessive shapes are all the result of their ongoing research to find symmetry between technology and craftsmanship. Cesare Paciotti mens Italian shoes are timeless and suitable for different occasions.
6. Ermenegildo Zenga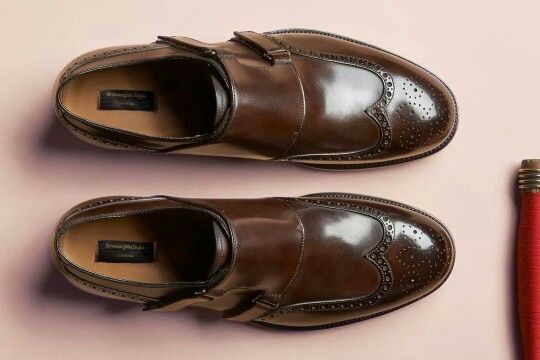 As one of the world's best luxury brands offering Italian shoes for men, Ermenegildo Zegna has a storied history stretching back over a century. It started as a textile company in 1910 and later evolved into ready-to-wear apparel, accessories, and shoes. Ermenegildo Zegna continually adapts to the needs of modern men with new shoe styles and leather while maintaining the originality of the brand's vision. 
Ermenegildo Zegna has a great collection of Italian men's dress shoes that add formality to your attire. The brand's Italian dress shoes for men can take any boring outfit to sophisticated fashion; these shoes are designed to elevate any outfit, whether it is casual or formal wear.
The brand's Italian dress shoes men are available in different colors, materials, and styles. Ermenegildo Zegna men's dress shoes are not only stylish but also practical. The brand offers loafers, moccasins, and boots. The quality of Ermenegildo Zegna shoes for men is palpable, as is the passion that goes into making them.
7. Fratelli Rossetti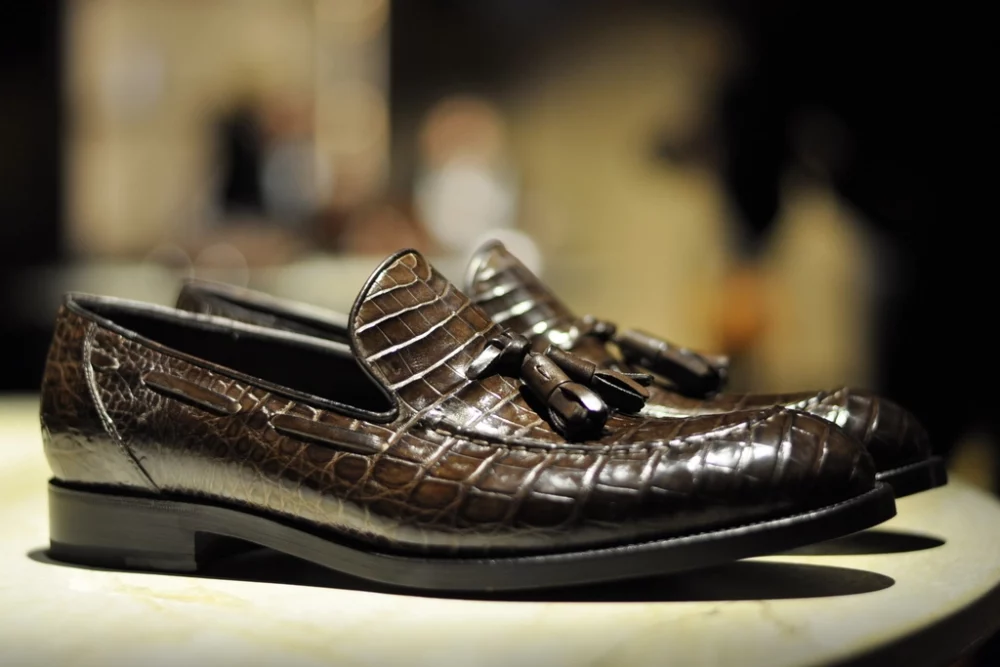 Founded in 1953 in Parabiago, Milan by Renzo Rossetti and his spouse, Fratelli Rossetti is a leading shoe brand specializing in luxury Italian mens shoes. Fratelli Rossetti is now run by their three sons: Luca, Dario, and Diego. Now, Fratelli is an Italian word that means brothers. 
Fratelli Rossetti enjoys appreciation and success for its workmanship, comfort, and timeless designs. The brand's Italian leather shoes mens are flexible, soft, and comfortable. In 1978, Diego joined the family business and dealt with commercial aspects, especially the expansion of the brand retail network abroad and in Italy and export market development. 
Under his direction, Fratelli Rossetti became the first fashion label in Italy to open a boutique on Madison Ave. in the borough of Manhattan in NYC. He's currently the company's chairman. Fratelli Rossetti sells high-quality mens Italian dress shoes that provide value for money and offer all-day comfort. Whether you want timeless leather loafers, lace-up shoes, ankle boots, or sneakers, Fratelli Rossetti has aesthetically appealing designs that will make you look stylish.
8. Meccariello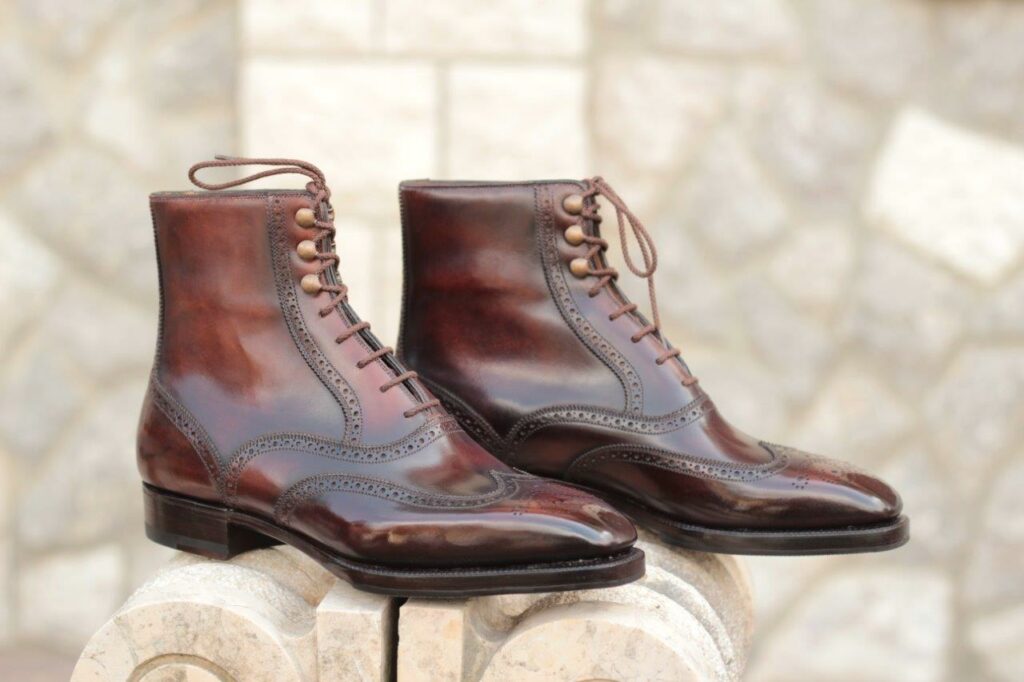 While it was only founded in 2012 by Antonio Meccariell, Meccariello has grown to be one of the Italian men's shoe brands. Antonio was working in the footwear industry even before he started this brand. He comes from a respected shoemaking family that had a workshop in a town near Benevento since 1950. 
After graduating from high school and doing his military service, Antonio learned shoemaking and leather pattern making in the Milan-based Ars Arpel school. He also studied under several local shoemakers before establishing his workshop. 
Antonio Meccariell earned a loyal fan base swiftly via forums and blogs. With a workshop located northeast of Naples, he established Meccariello with numerous pictures of jaw-dropping Italian men's shoes that attracted discerning shoe enthusiasts.
Antonio is known for his signature hand-welted bespoke Italian dress shoes for men and breathtaking designs. Meccariell shoes are made with the highest precision to ensure quality.
9. Santoni
If you are looking for mens Italian shoes, nothing compares to the pair of bespoke shoes that Santoni offers. With the brand's Made-To-Order service, you can play a role in designing your dream pair of Italian shoes for men and fine-tuning it. You can choose the premium leather, shape, and finish of your customized men's shoes. 
Santoni also has numerous options of ready-to-wear Italian leather shoes men's, including ankle boots, loafers, and slippers. Santoni shoes fit the feet perfectly because they are handmade by real craftsmen. The shoes are made from calfskin leather, which is scrutinized beforehand to ensure it doesn't have any defects. The result is high-quality and comfortable shoes with timeless designs. 
Andrea and Rosa founded Santoni shoes in 1975 to create state-of-the-art pairs of shoes for true connoisseurs. They made and sold their shoes exclusively in their workshops. Andrea gradually expanded the brand and moved to a larger building after his studio became too small. Today, Santoni makes its shoes in an eco-friendly factory, with all processes outside the workplace remaining the same.
10. Tod's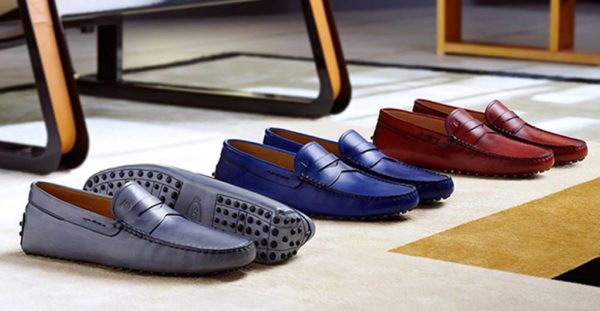 As one of the brands that produce Italian shoes for men, Tod's deserves a spot in our list of the best Italian mens shoes. The brand is majority controlled by Della Valle Family, the founding family. Tod's men's shoes scream luxury from a mile away, as they are made from premium materials and feature sophisticated designs. 
When it comes to unmatched Italian men's dress shoes, this brand covers the gamut. Tod's offers loafers in rich colorways, ankle boots, moccasins, and more. Tod's men's shoes are handcrafted with outstanding attention to detail. That means you'll get excellent value for money. 
You can rely on Tod's to provide elegant men's shoes that are the ideal accompaniment to any outfit. There is a perfect Tod's design for every occasion and taste. Perfection is the word that will come to your mind when talking about Tod's men's shoes.
Wrapping up the 10 best Italian shoes for men
If you are looking for the best mens Italian dress shoes admired for their unabashed elegance and unique style, this list has everything you need. Buying any of these luxury designer shoes means you'll be getting premium quality. The craftsmanship, styling, and sense of color of Italian dress shoes men are very particular. Italian leather shoes mens can stretch to match the feet's shape without experiencing any damage, making them comfortable.
Pin it: Italian shoes for men