15 Best Italian Furniture Brands
Who doesn't love interior design? Pinterest is full of modern kitchens, neutral-colored bedrooms, and marvel bathrooms. In this 15 best Italian furniture brands article, we want to show you true Italian craftsmanship, brands that have survived a few decades and that are still thriving when it comes to interior design. These are mostly luxury brands, but ones that offer the highest quality to anyone interested. Whether you want to purchase one piece or design an entire house, we cannot recommend these luxury Italian furniture brands enough.
15 Best Italian Furniture Brands
On this list, you will find Italian bedroom furniture, Italian leather furniture, Italian living room furniture, Italian outdoor furniture, and contemporary Italian furniture. Italian bedroom furniture sets are a dream come true, combining wooden and metal materials, with different shapes and sizes.
Italian furniture online shopping is fun, just looking at their showrooms you'll find inspiration to decorate your house and live in the dream. Nothing beats the feeling of purchasing modern Italian furniture from the best luxury Italian furniture brands. Let's dive in!
1. Martini Mobili
We are starting with one of the best Italian furniture brands called Martini Mobili, founded in 1966. The idea developed in Verona, where Cabinet-makers were already famous around the world. Martini Mobili is a luxury brand with a combination of comfort, classics, modernity, and comfort. They use higher-quality wood with non-toxic materials. Martini Mobili is safe for your health and we absolutely recommend ordering furniture from them.
This Italian bedroom furniture set Martini Mobili has to offer is truly a dream. Starting from beds to chairs, dressers, tables, and so on. Looking at their kitchen styles, Martini offers a great variety of options. For example, Kitchen Nevada which is manufactured in Germany is a country style. A more modern-looking kitchen would be the Maryrose built in Italy. This style is a mix of wood, metal, and stone. Their prices are within the luxury price range.
2. Provasi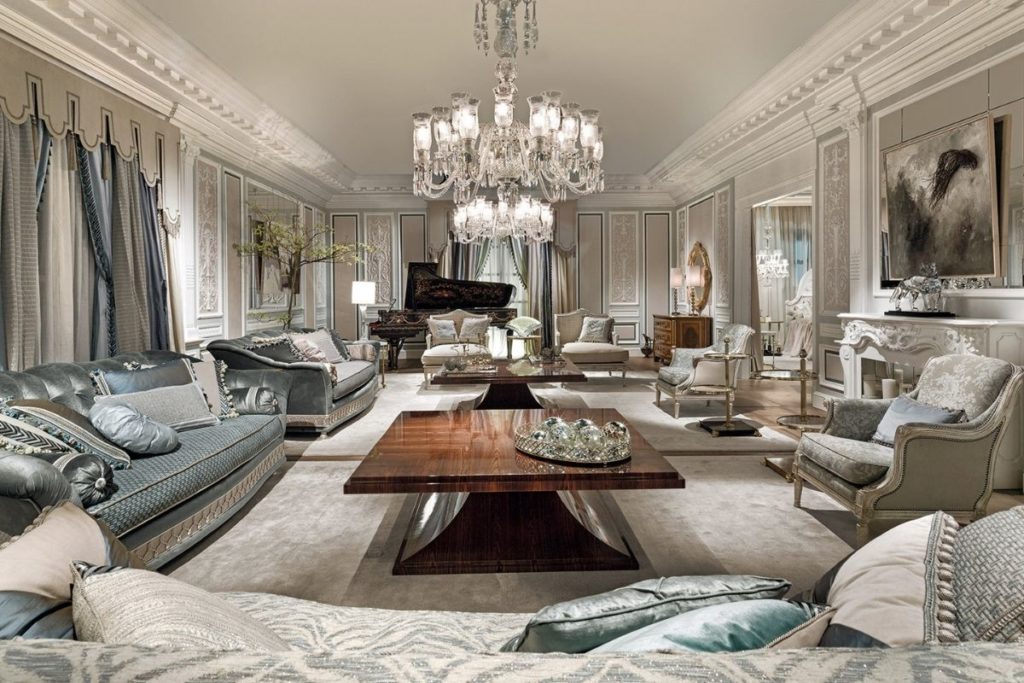 Italian style furniture never looked so good. Provasi is yet another luxury brand for Italian furniture online. They are the 'expression of elegance in the furniture'. The founders of the brand are brothers Enrico, Paolo, Giovanni, and Robert from Brianza from the year 1970. Their idea was to design English and French classic furniture from the 70;s and 80s. If you want to have a close look at this Italian furniture store, you can visit their showroom by appointment.
Provasi has three main collections so far. Firstly, we talk about the collection with contemporary style, a color palette of grey to cherry red. The second collection is a mix of both contemporary but also materials like velvet and linen and a lot of colors. Lastly, the third collection is a mix of everything. Influenced by a combination of shapes, lines, materials, and textures. As it is a luxury brand with Italian style furniture, the prices are also in the thousands and hundreds. These prices are not available online unless you request a quote.
3. Visionnaire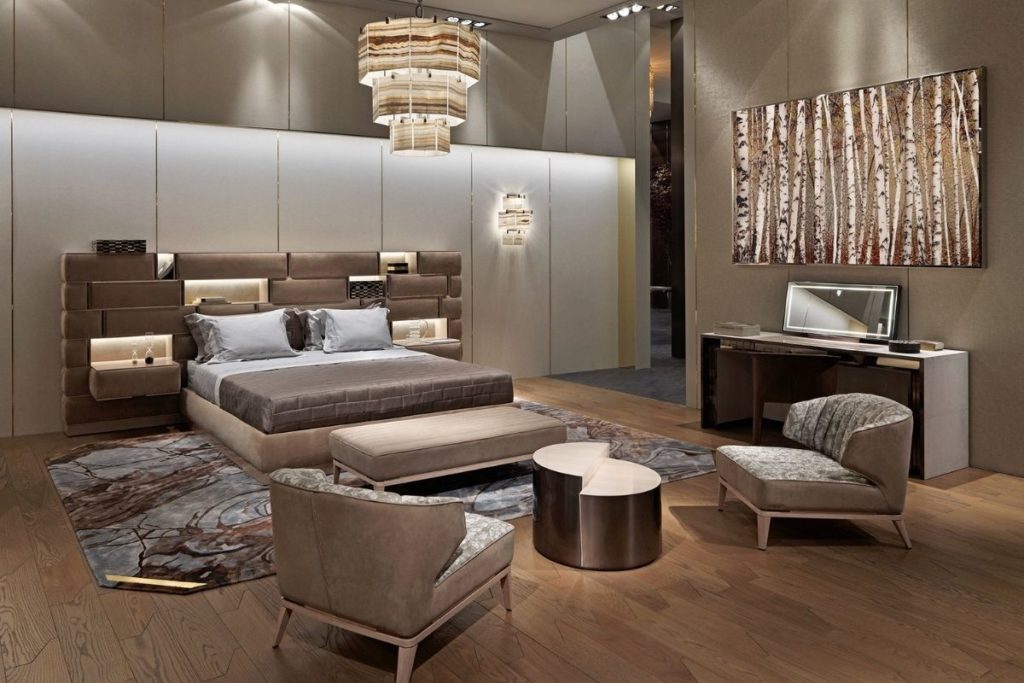 The next luxury Italian furniture brand is Visionnaire, founded in 1959 by the company IPE in Bologna. This made in Italy furniture brand has a one-of-a-kind design and usually, it's tailored based on clients' requests. Visionnaire has resources and stores in over 55 countries and multiple showrooms all over the world. They also receive contracts for doing interior design in luxury hotels as well as yachts.
Looking at their website, they have a few collections which are divided into different categories. Their most recent collection is the Beauty and the previous one is the Caprice. In the latter collection, the Babylon Rack is a tropical-looking living room, containing a sofa, lamp, low table, a lounge chair, table lamp, and chandelier. In the Beauty Wellness room, they bring to life a bathroom you would find in a wellness club! That is Visionnaire, one of the famous Italian furniture brands luxury.
4. MARIONI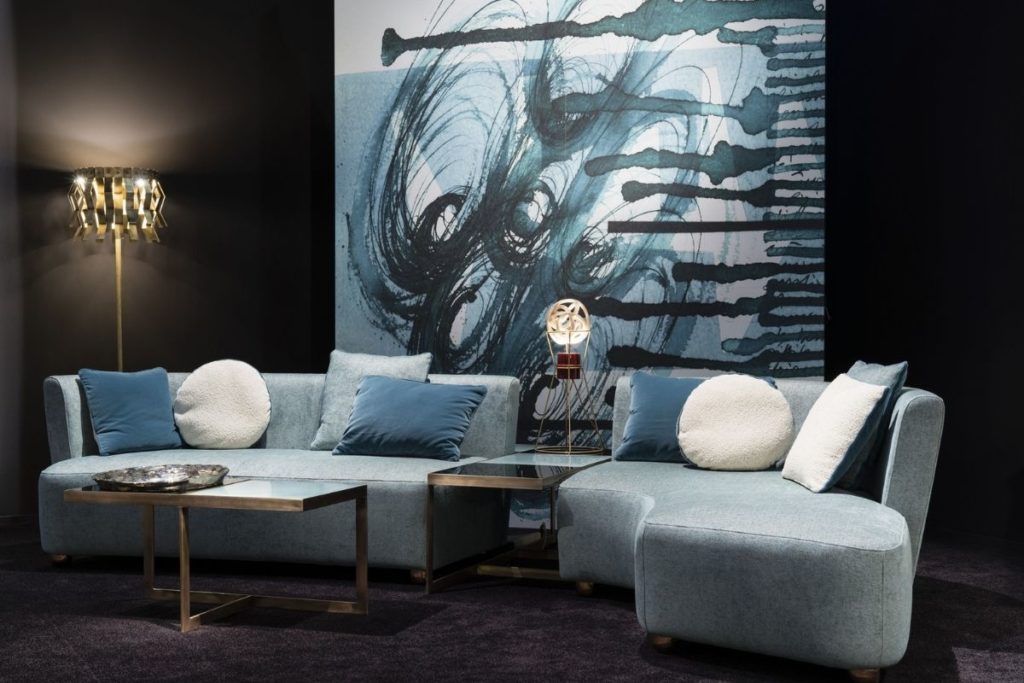 This story is about a family who started designing furniture out of passion. Marioni is from 1966 and was born in Florence at the hands of Paolo Marioni. Since then it has been passed down to three generations. They first used materials like ceramics and later paid more attention to details of color combinations and different materials. Marioni has contemporary Italian furniture and a distinctive Italian bedroom furniture style. While browsing for Italian furniture online, Marioni is at the top, and here is why.
We can talk about three main collections of Marioni, the best Italian office furniture brands, Notorious, Concept, and Classic. The first one is inspired by the 40s style. It suggests a strong personality while using Ebony and Rosewood. The concept is more of a modern and luxurious design. These are perfect for both hotels and residential interiors. Finally, we have the Classic one, inspired by Tuscan villas. These materials are handcrafted and Marioni cared for every little detail while designing this gorgeous collection.
5. Fendi Casa
We don't need an introduction to this luxury Italian furniture brand, Fendi Casa. Fendi is a well-known designer brand all over the world and we are so happy to include them on the list. The brand was founded in 1988 by Alberto Vignatelli and Anna Fendi. As it was already a fashion house, it made sense to further expand and bring out the best Italian leather furniture and Italian furniture store. Prices per piece of furniture can be as low as $900 and as high as $11,500.
The interior looks like the staple clothing pieces, colors including black and yellow. Their idea was to combine functionality and style while maintaining their iconic designs. The furniture are designed by Silvia Venturini Fendi, who wanted to give a feel of part contemporary and part sophistication. From vintage club chairs to leather headboards, you can find a collection of furniture that is here to stay for a lifetime. Fendi will not be out of style anytime soon!
6. SELVA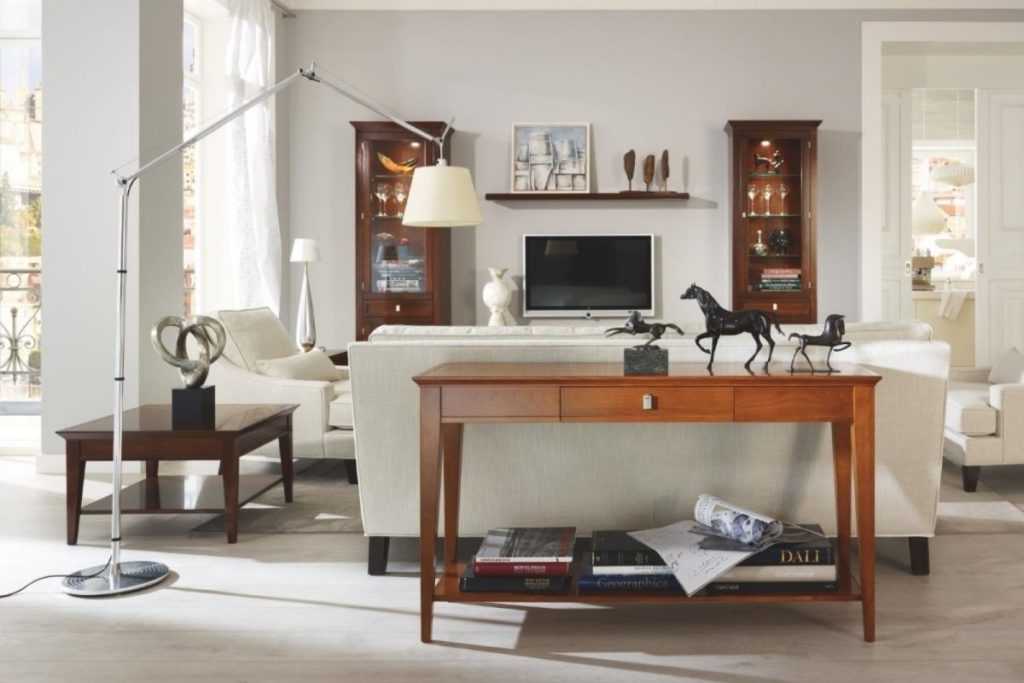 Here we have another one of the contemporary Italian furniture brands and best Italian office furniture brands called Selva. The company was founded in 1968 in Verona and Selva is there to provide us with classic elegance and timeless beauty. They have both classic and modern designs but also contemporary furniture. Selva is inspired by different cultures and eras, providing new aesthetics to furniture.
Whether you are looking for a living room, bedroom, or even office furniture, Selva has it all. One of the best Italian furniture brands offers high-quality wooden desks. For example, the Desk Villa Borghese is a vintage-style wooden desk perfect for your office. To match the desk, you can also find a 2 seat sofa Villa Borghese furniture, which is a beautiful cream-colored sofa with wood accents.
7. Maison Valentina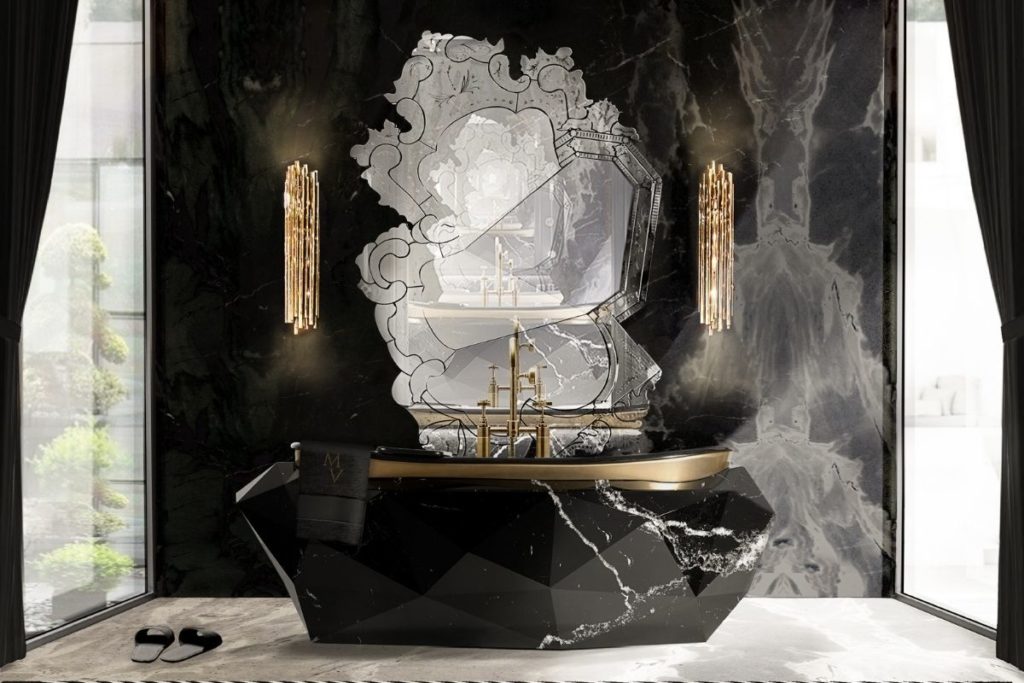 This has to be my favorite on our list of Italian furniture brands luxury edition and best Italian furniture online. Maison Valentina was actually born in Portugal and she is known for designing high-end and sophisticated bathrooms, dressing rooms, and closets. She started this Italian style furniture brand back in 2014 and since then Maison brand has become famous all over the world.
These types of bathrooms you usually see in movies, but today you can even get them in your own home. The Diamond bathtub is a real gem! Besides designing gorgeous bathrooms, you can also find a number of Italian bedroom furniture pieces such as armchairs. A good egg chair is always needed in the office or bedroom and the Maya armchair would look perfect with its golden yellow color.
8. Armani Casa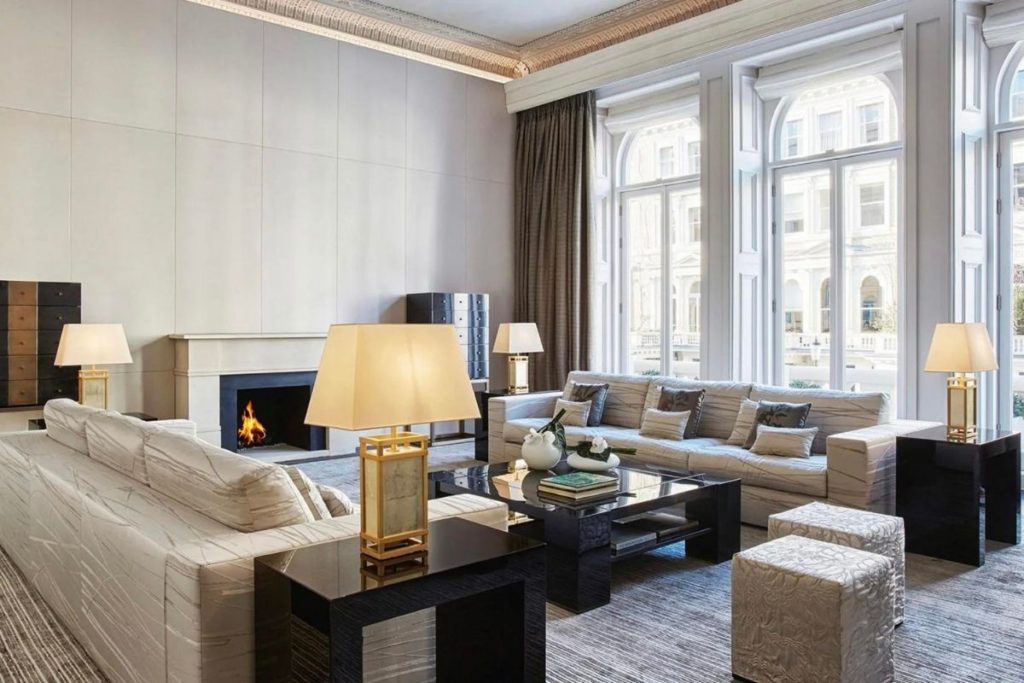 We had to include Armani Casa, another iconic luxury Italian furniture brand. Furniture made in Italy is high quality and Armani knows what they are doing. Launched in 2000 the first store opened up in Milan. They have 22 years in the business now and many beautiful collections. Besides designing interiors, Armani also has beautiful hotels. It's like the rooms are wearing an expensive suit tailored just for them.
When it comes to Italian furniture brands luxury, Armani manufactured some limited edition pieces. The furniture sometimes looks futuristic, like the Oliver dining table or the Matrix Consoles. My favorite is the Jolie desk with the Jaime table lamp. This dark green desk will complement your Armani furniture beautifully and I can guarantee you will always be inspired to sit down and do the work. If you are looking for some inspiration the Armani Italian furniture store will surely help you with this.
9. CASAMILANO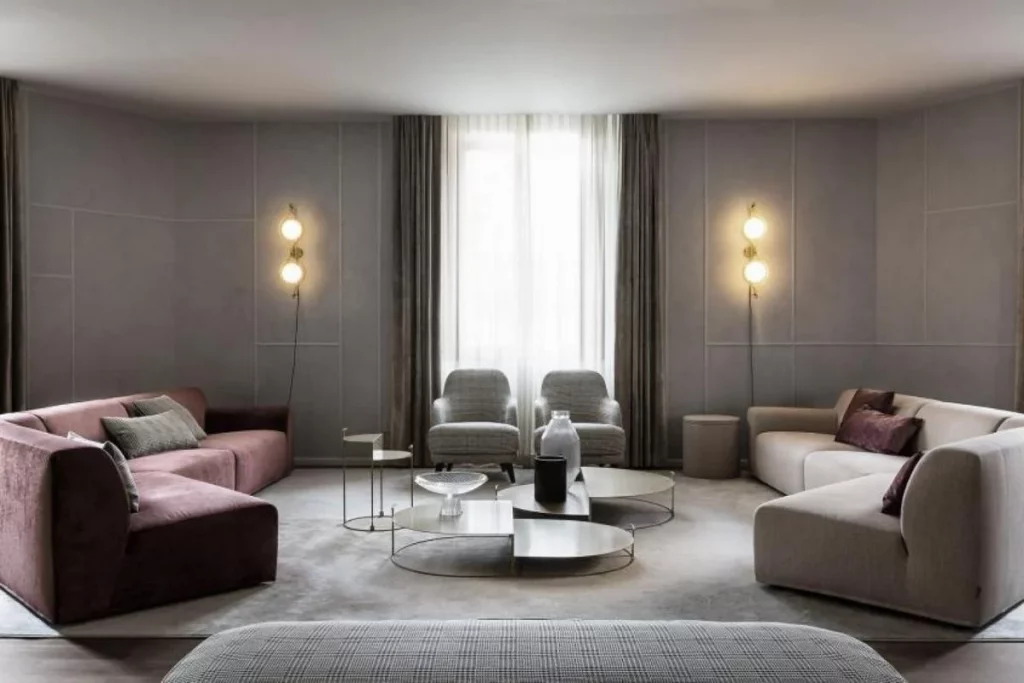 What is the story behind our next Italian furniture brands and contemporary Italian furniture brand Casamilano? Well, it started in 1929 with Carlo Turati. He set up a furniture business in Brianza and soon started producing top-quality furniture. thanks to his son, Giuseppe Casamilano was not just a small family business anymore. Their aim is to create a timeless functional design, which will last you a lifetime.
Casamilano is also one of the Best Italian office furniture brands. The Ernest writing desk is a sturdy desk made to help you with your everyday work, while also becoming a statement piece in the room. It has a minimalist style. With this desk, you can choose chairs like Elsa, Royale or Diana Capitonne. They are all comfortable and complement the aesthetics of the room. The sofas are probably my favorite, especially the Pillopipe which is a contemporary piece.
10. Zanotta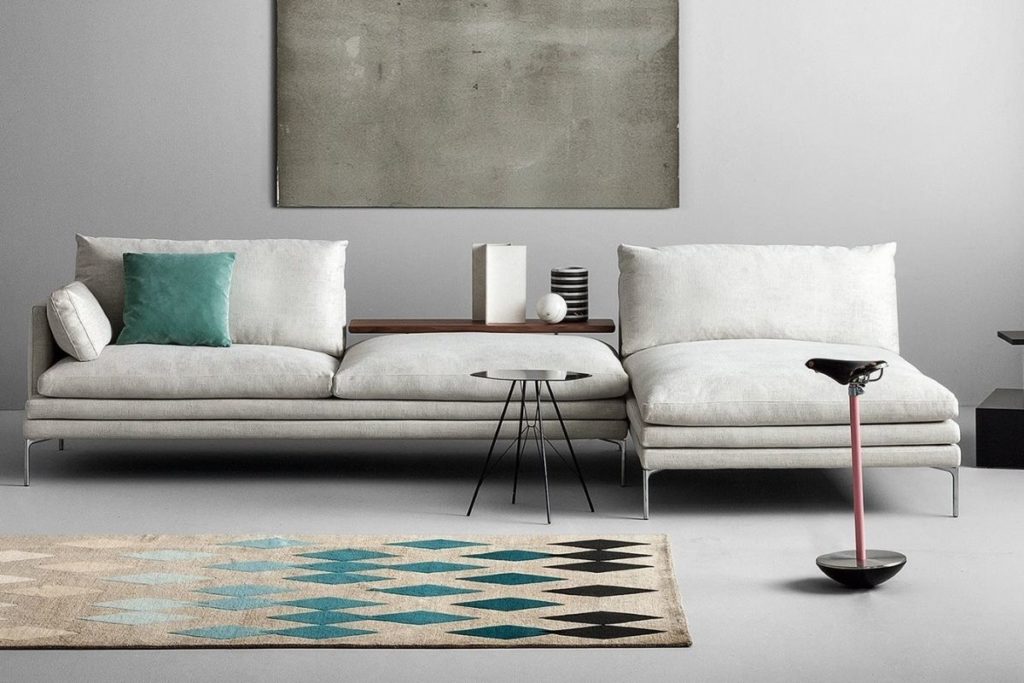 Moving on with our list of Italian bedroom furniture and Italian style furniture brands. The founder of the brand was Aurelio Zanotta who established the company in 1954. Their aim is to produce high-quality furniture using the best materials on the market. Aurelio was a businessman, yet he found beauty in designing pieces that fit into your daily life. Zanottais a contemporary luxury furniture brand and many of its collections won awards and are now residing in museums.
Zanotta is also one of the best Italian office furniture brands, providing the best desks, chairs, and lamps to make your office comfortable. It is easy to find Italian furniture online and Zanotta showcases its products beautifully on the website. The Botero sofa is a Monoblanc sofa, made of one simple color, gray. You can pair this sofa with the Arom armchair to give a modern feeling to the room. Whether you are looking for a futuristic or contemporary table, Zannotta has it all.
11. B&B Italia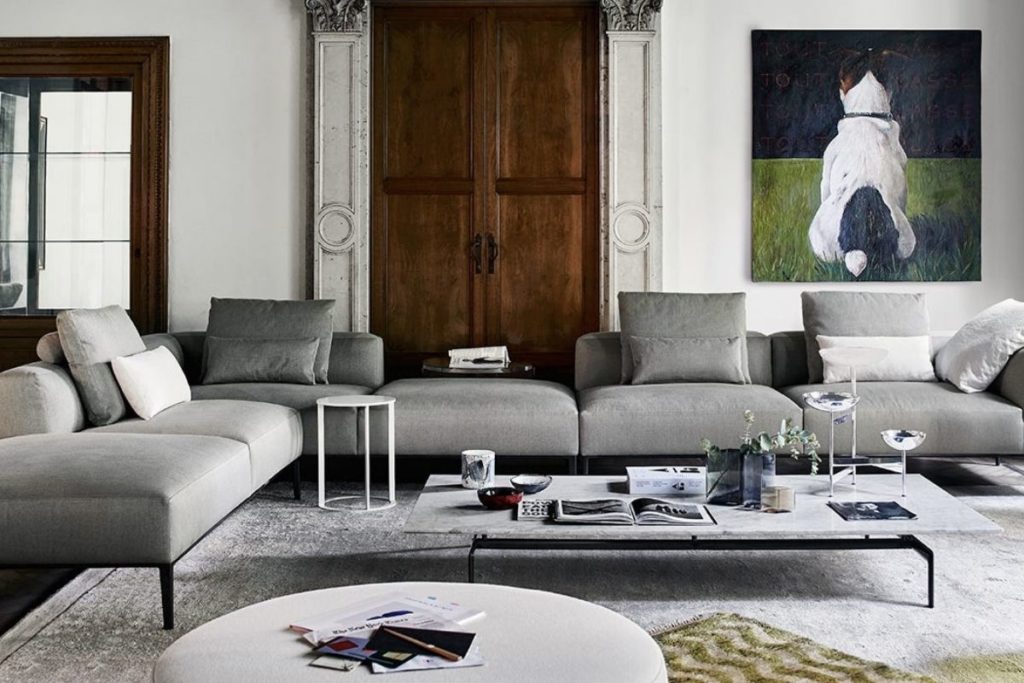 We must say that Italian furniture design is exquisite and if I ever decorate my house, Italian leather furniture will be present in it. Next up is B&B Italia, founded in 1966 by the Busnelli family. They were the ones introducing molded polyurethane foam with iron frames and created sofas which you see in most movies. B&B Italia is also famous for its Italian outdoor furniture which looks impeccable next to any pool or in the garden.
Starting with the outdoor collection, you have Ayana, Bay, Borea, Canasta, and so on. Each of these collections matches together and include sofas, armchair, small tables, and even sunbeds. Perfect for any occasion with friends. You just need to buy some Italian lighting brands to create a vibe. Furthermore, the indoor collections include more chairs, sofas, tables, and beds. These bed frames are very different from each other, so everyone can find the style they like to fit their household.
12. Flexform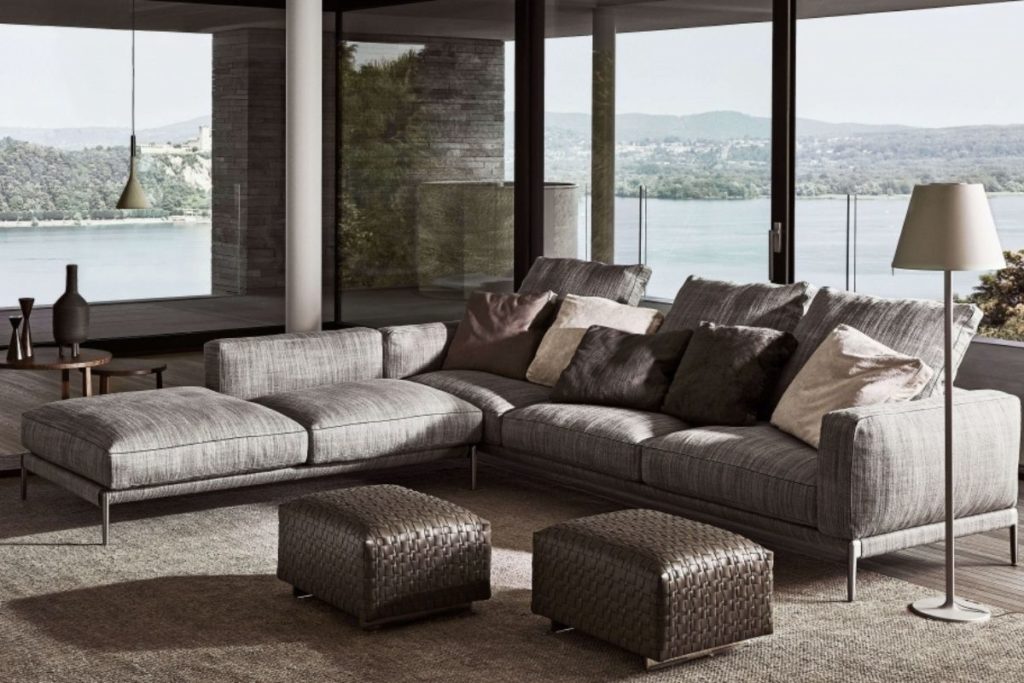 Flexform is yet another one of the Italian furniture brands starting out as a family business. Founded in the 1960s by the Galimberti brothers. The original name was Flexform di Galimberti. They did not waste time and soon displayed their sofas and armchairs in showrooms. Children took over their father's legacy and created a well-known brand, with stores all over America, Asia, and Australia.
Flexform has a Mood collection that includes stylish, gorgeous interiors. Premium materials are used with different shapes, providing you with an intimate look. The styles flow from retro to art deco but also modern. In the indoor section, you will find sofas, lounge chairs, tables, dining chairs, coffee tables, and so on. Flexform also has Italian outdoor furniture made of the best material to survive the burning sun or any weather. Their prices are also within the luxury or high-end price point.
13. Missoni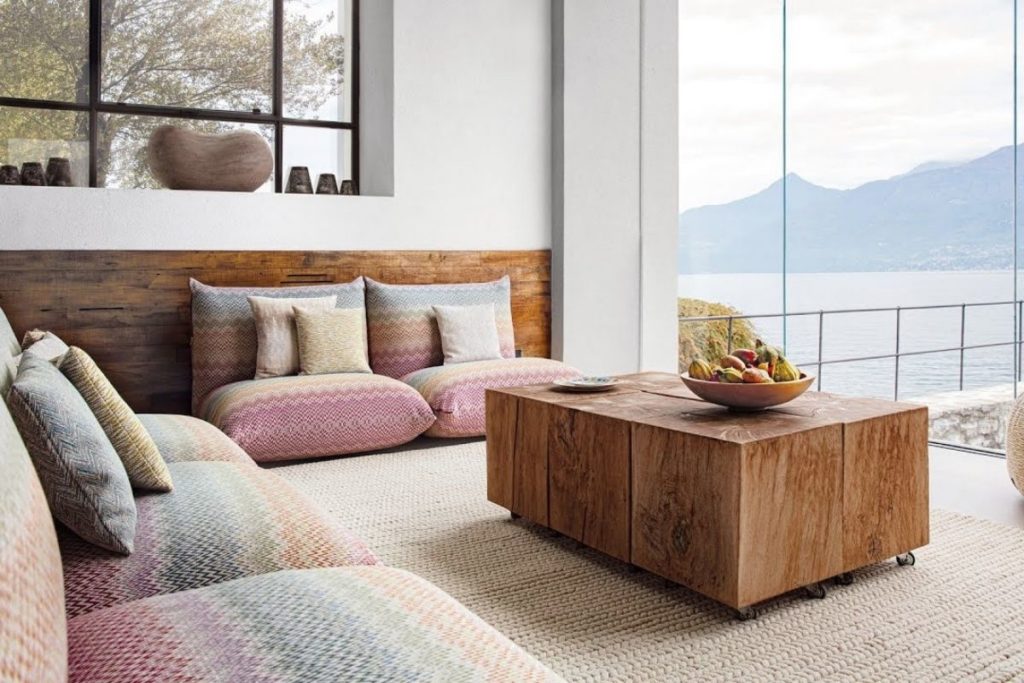 Missoni is a very creative brand offering colorful and modern designs. Rosita Missoni is the founder of the Italian fashion brand which later developed into Italian furniture design. This furniture made in Italy is all about colorful patterns and fabrics. Missoni has a playful style and I have to say it looks amazing in any house. You can match these collections with so many different styles, whether it's modern, vintage, contemporary, it just goes well with everything.
Missoni Home has 2020 and 2021 collections. The Iconic FR is a 'story of sophistication and performance'. Jacquard fabrics, wool, or silky handles. Geometric, micro, and zigzag patterns, Missoni even added chevrons with pine forest wood. This collection just speaks to me on a different level. The light brown wooden tables cool down the colorful palette going on in the background. If you want some cushions, they cost around $300 or more, depending on the patterns. You can pair them with some blankets to dress up any sofa.
14. Porada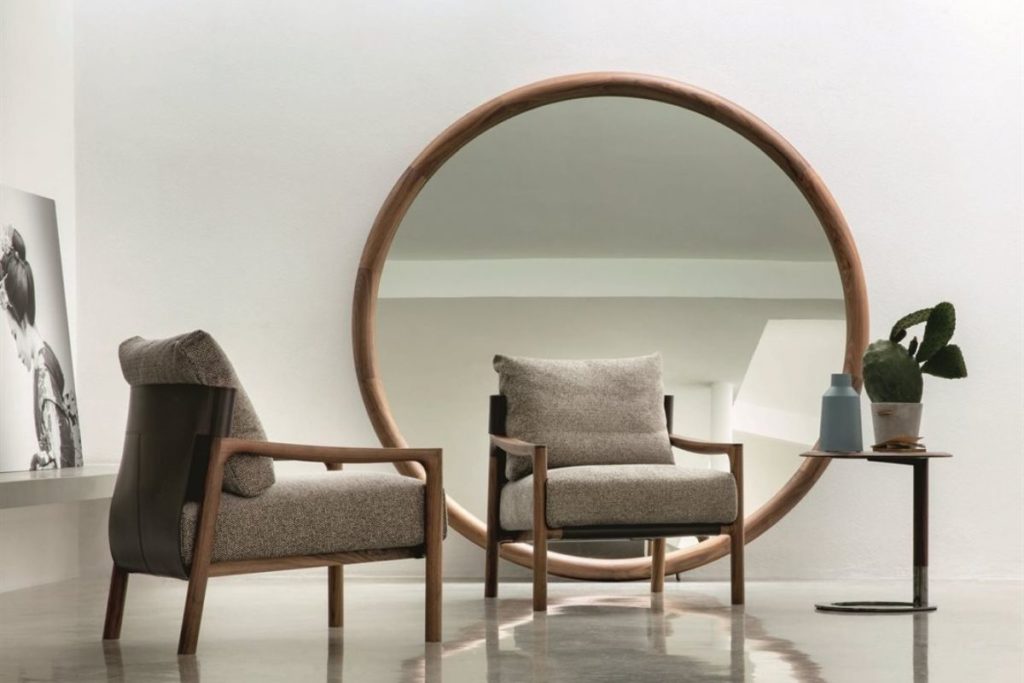 Porada was founded in 1968 by Luigi Allievi. Back in those times, craftsmanship was valued more than ever and it was a true passion project to start this made in Italy furniture brand. Luigi received support from his sons, who made sure the company will offer quality products to its buyers. As they already had experience in wood manufacturing, it was not difficult to make a name for the company. With every piece Porada comes out with, you can tell the designers worked hard to craft them to perfection.
There are a number of collections in 2020 and also in 2021. Porada sells, beds, lamps, desks and even clothes stands. For example, the Sam clothes stand is a solid canaletta walnut piece. It has a turnable cloth and trouser hanger, a coin tray with a mirror, and also a stool. I love armchairs, and my favorite one is the Opium. A deep red and orange-colored chair automatically moves as you lean back, yet returns to its position if the chair is not in use. It is a beautiful piece.
15. SIGNORINI & COCO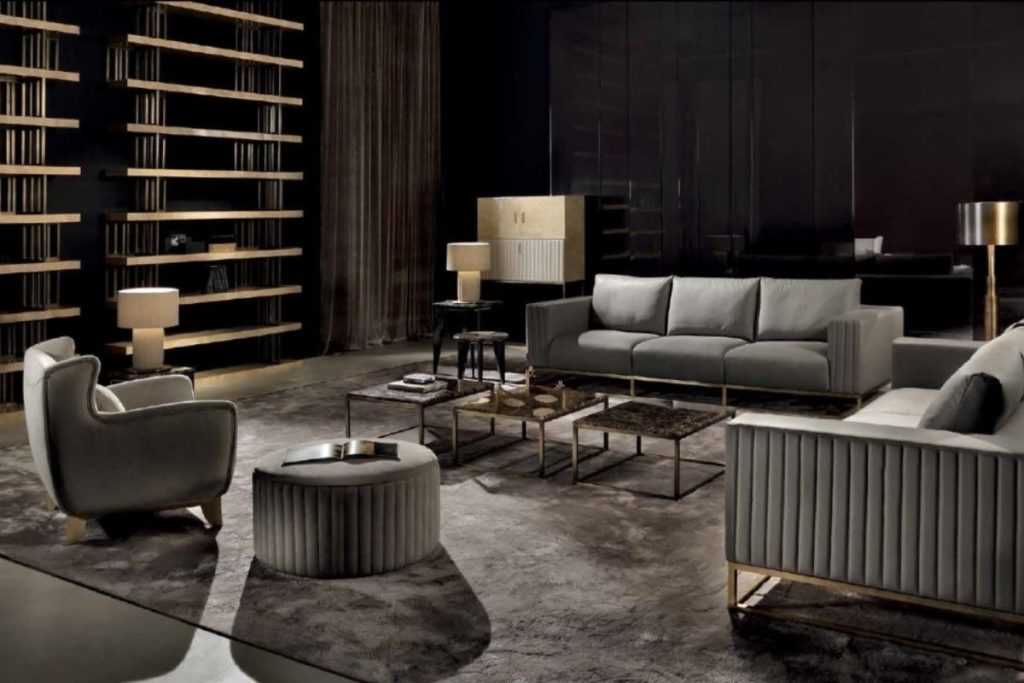 Lastly, we have Signorini & Coco on our list of Italian living room furniture and Italian furniture brands. They have been manufacturing furniture since 1968, just like the rest of the Italian cabinetmakers in that time. This brand was already special and to this day it is passionate enough to produce luxury furniture. In their design, accents of white and gold can be found which goes well with neutral colors.
The main collections are New Classic, Classic, and Alchimie. As Signorini & Coco says, 'Alchimie achieves the perfect balance between beauty and function'. Within this collection, there are also two categories, Naxos and my life. Naxos is an elegant and classic room, it almost looks like a modern queen's room. Everything is of cream and white color and different shades of brown. My life is slightly more modern, again with shades of light brown or even golden.
Italian furniture brands – Conclusion
This concludes our list of the 15 best Italian furniture brands and Italian bedroom furniture. We wanted to bring you a diverse list of both contemporary Italian furniture, but also luxury Italian furniture, and modern Italian furniture. Although these are mostly luxury Italian furniture brands, we should buy quality Italian bedroom furniture to last us a lifetime. As we mentioned in the beginning, most of these companies do not showcase their prices, so you will have to check out their showrooms or request a price on the website if you are interested in purchasing their products.
Don't forget to check out the best Italian lighting brands, and Italian dinnerware to go hand in hand with your newly purchased decor.
Pin It: 15 Best Italian furniture brands