10 Best Italian Watch Brands
Who's looking for fabulous Italian watches? If you like fashion statement pieces and accessorizing your outfits, this article is for you. We gathered a list of the 10 best Italian watch brands, which will serve as inspiration for your next purchase either for yourself or as a gift for a loved one. Watches are not only a timepiece, but they reflect our personalities and style. Explore the list of watch brands in Italy we carefully selected, which offer you one of the best watches on the market!
10 Best Italian Watch Brands – Italian watches
Before we start discussing Italian watches, let us quickly list a few other brand articles we published! We've already covered Italian fashion brands, handbags, jewelry, and similar topic. Now, if you have ever wondered for how long your watch can resist underwater, or at least it is water-resistant? Then the diver's collection from Panerai is for you!
Or you would love something unique, more like a bracelet full of diamonds? Check out Gucci and Fendi. Explore these wonderful brands and find the timepiece which resonates best with your personality and style. Let's see if you can find watch brands in Italy that suit you! Let's see the most fabulous accessories out there!
1. Emporio Armani
Emporio Armani is one of the vintage Italian watch brands, inspired by the Art Deco movement of the 30s and 40s. These watches are characterized as accessories with geometric structures and shapes made for special occasions. Giorgio Armani designed Emporio as he wanted to target young adults who love to wear modern and cutting-edge designs.
Overall, the watches have a high-end luxury outlook, although this range is slightly cheaper considering the target audience. This sub-brand of Armani is considered in the middle tier of the Armani brands. Affordable, yet looks classy and it is perfect for someone who loves this iconic brand, but can't afford the higher tier.
Their price range starts from €153, moreover, you can choose from a wide range of swiss made and fashion watches. They also have a few types of wrist straps: leather, stainless steel, silicone, and fabric. This way you can opt for either a sporty or a classier watch to complete your outfit.
2. Fendi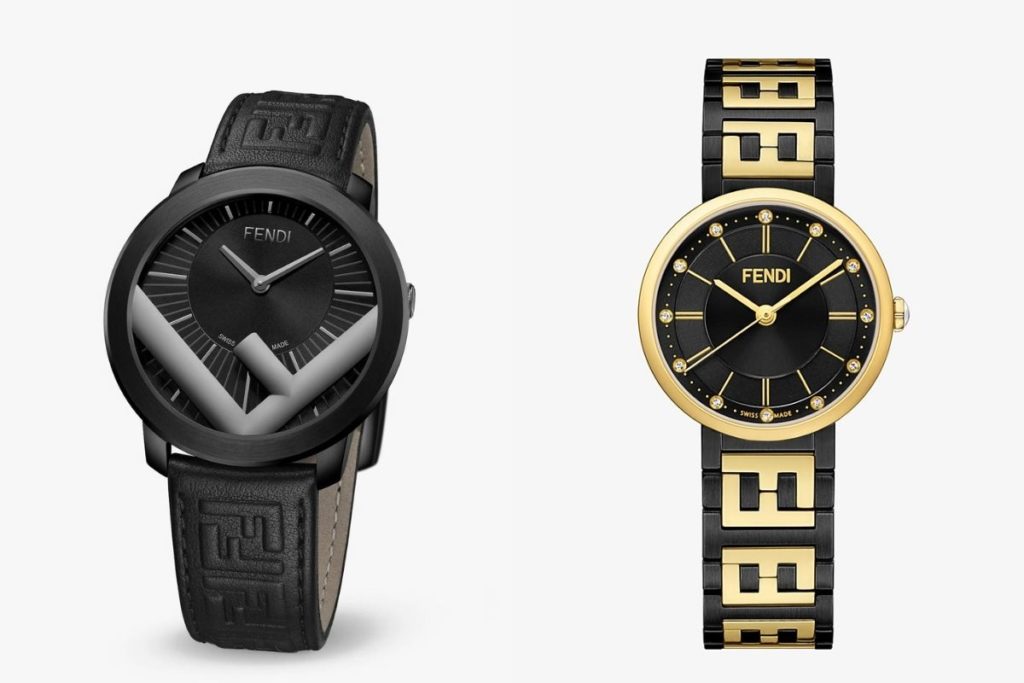 Fendi is one of the Italian watch brands, which was first known for its bags. Then in the 80s, they launched a whole line of watches designed for both men and women with the signature double F, as a logo on the bracelet.
This lineup was a huge success as women used to buy this for their men to bring style and class into their life. Fendi watches are very stylish and classy. They own a range of stainless steel, leather-strapped, solid-looking brass front watches. The Fendi accessories are competitively priced for a luxury brand.
Some of the luxury watches cost several thousands of dollars, but Fendi retails them for a much lower price, this way becoming competitive on the market. One of their popular watches is the Mother of Pearl design, but some of them include precious diamonds or the Classico Fendi band design too. Let's see some other Italian watches!
3. Salvatore Ferragamo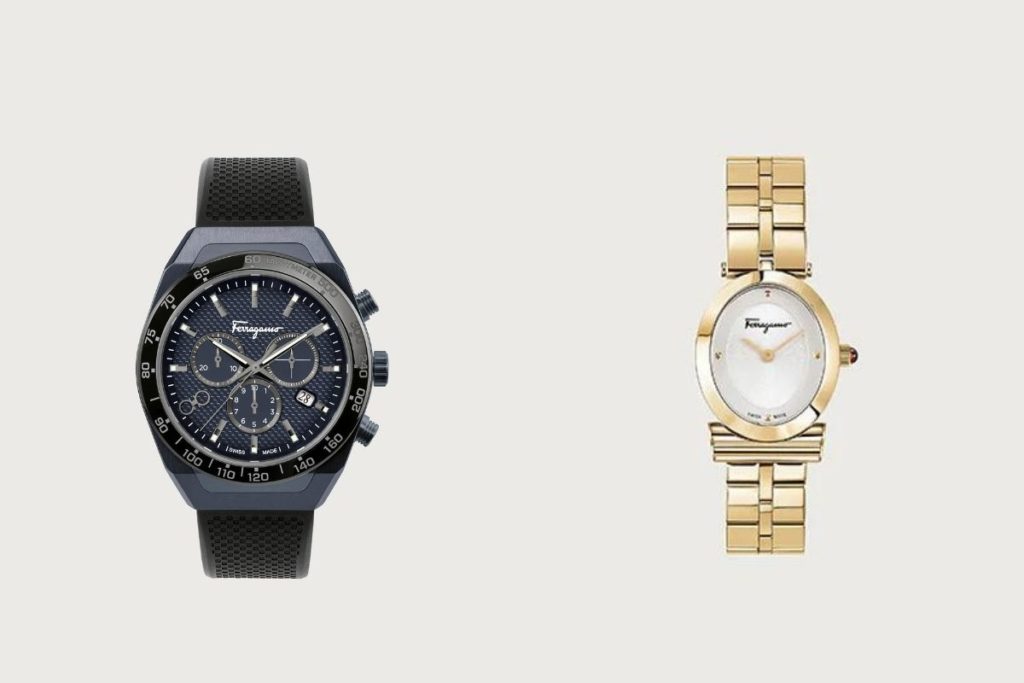 Salvatore Ferragamo is one of the fine Italian watch brands, which first became well-known for their shoes for women, but later they expanded the line with a luxury watch selection. This brand is using stainless steel for its cases.
Another big plus is their water-resistant feature, which is not that common amongst luxury brands. Salvatore Ferragamo also has multiple types of straps, such as stainless steel, leather, or rock-hard sapphire crystal. The style and design of women's and men's watches are rather different. For men's watches, the models are mostly chronographs with silver, gold, and back shades.
Whereas for women you can get a wider range of colors with distinctive face and case designs. One of these interesting designs is the 'buckle' edition, in which the strap resembles a buckle. Price-wise, their model ranges from €1,000 on the low end and €40,000 on the high end. Indeed it's one of the pricy, bit quality watch brands in Italy!
4. Panerai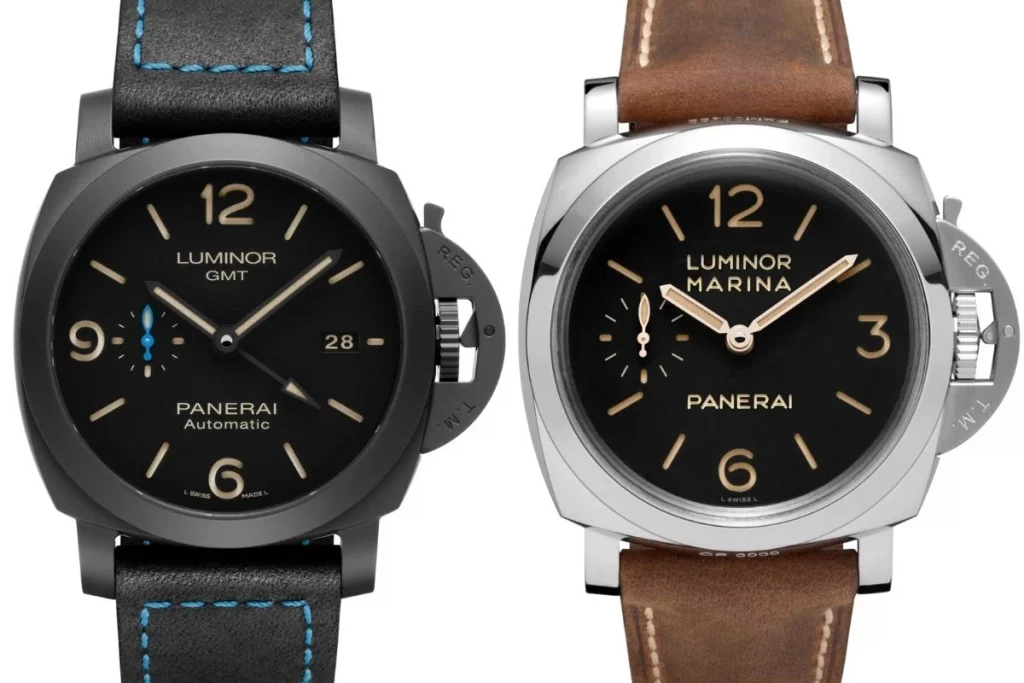 Panerai is one of the best Italian watches brands, which combines Swiss technology with Italian design. The brand's mission was and still is to create collectible watches on a very limited scale to honor Panerai's history (timestamps with importance both to the brand itself and the Italian Navy).
Knowing this it doesn't come as a surprising fact that they were the official supplier of watches to the Italian navy in the 20th of century. These vintage Italian watch brands are part of the top 15 most expensive Italian watch brands in the world due to their limited volume of production. The straps made for this brand are easily changeable.
It comes with a tool kit, which assists you in the comfort of your home. Overall the straps are made out of either rubber or leather. If you purchase a wristwatch, you will get two straps with your watch box. Their style is retro and old-fashioned and it is loved and worn by several iconic names such as Sylvester Stallone and Arnold Schwarzenegger.
5. Anonimo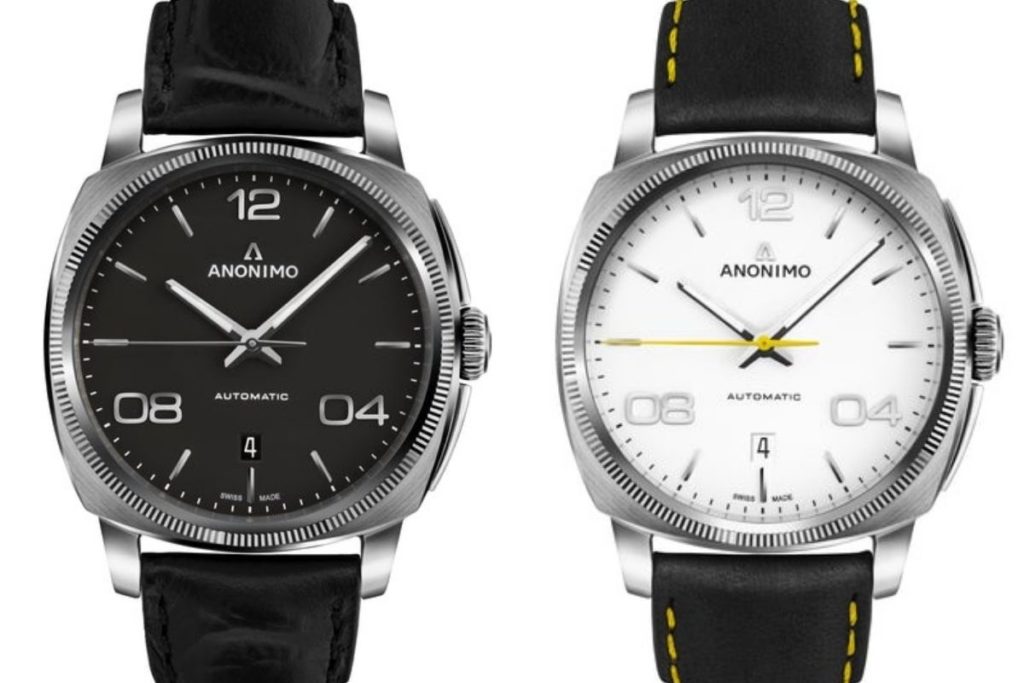 Anonimo is one of the Italian brand name watches, which first became famous for its waterproof technology dedicated to divers. They were the brand, which brought to the market the very first diver's watch called Millimetri, resistant to over 1000 meters of water pressure. Now, they have more than one collection dedicated to divers.
All of them have a patented screw-in crown locking system with strap-securing functionality to keep the watch secured on the wrist while diving in deep waters. Millimetri's style could be characterized by martial elements featuring bronze and an oxidized bronze casing. This collection retails between €3,000-4,500. Moreover, they own two more iconic collections called Epurato and Nautilo which have an average of €1,750.
Nautilo has a minimalistic design, whereas Epurato has a bronze metal casing with two very unique dials, which makes this wristwatch stand out. Overall, Anonimo produces durable and resistant watches, however, do make sure you understand their warranty as it does not cover the damage, which happened as a result of accidental impact or water-resistant loss after two years from the date of your purchase.
6. Dolce & Gabbana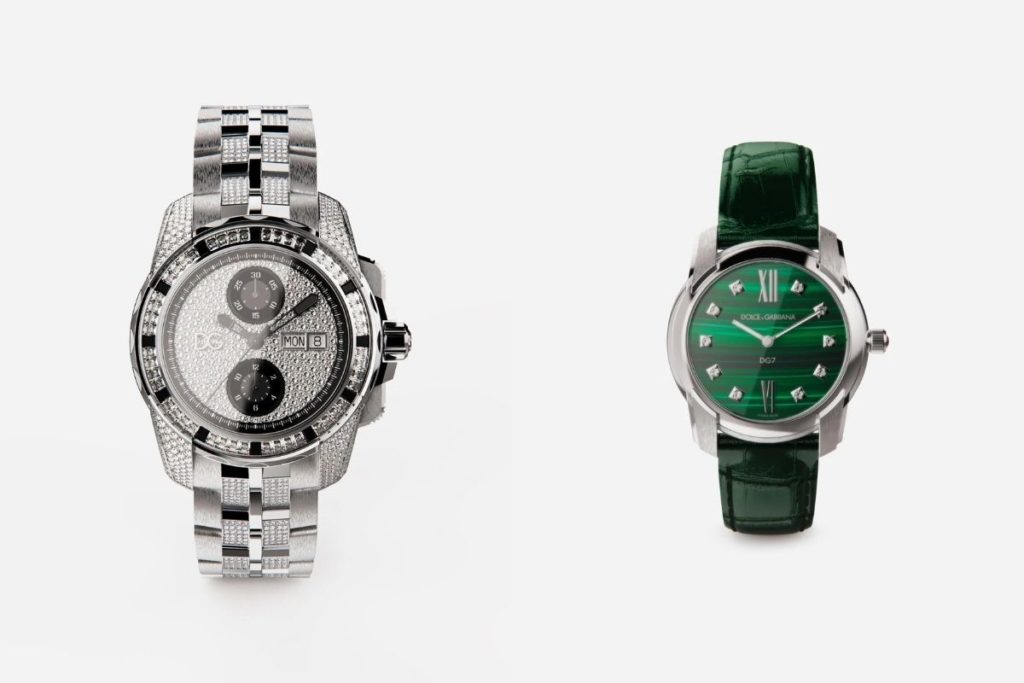 Dolce & Gabbana became an iconic Italian designer brand with their 'Real Women' collection. Then within the fashion industry, they slowly broke into new markets, such as fragrances or watches. D&G watches were made to be outstanding, and bold, however, they produced more sophisticated ones too, to fit everyone's taste.
This Italian brand's main aim is to continuously design and create accessories, which never go out of style: their attention to detail and market trends are outstanding. These Italian watches are a time-telling work of art: sophisticated aesthetics, bold designs, and endless rich and vivid color options to choose from.
Offering collections for both men and women not only in different designs, but price ranges too. Their price starts from €1,500 to €19,500. If you are looking for a unique watch with gems on it, do check out their multi-colored gemmed wristwatch.
7. BVLGARI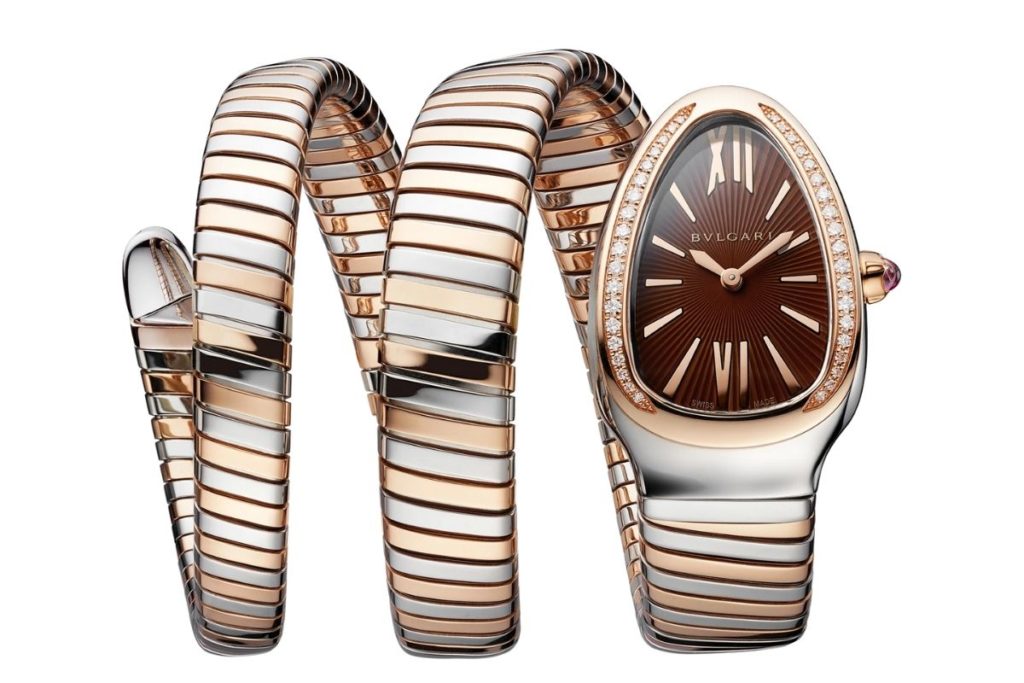 BVLGARI is an iconic and well-known Italian watch brands beginning with b. They offer a large selection of luxury products including watches, purses, fragrances, and even hotels. Their women's collection leans towards the more color and shimmery side, similar to Gucci, whilst for men they designed a more bold masculine, elegant and classy range. BVLGARI loves to use in their design Roman and Greek symbols, such as serpents and coins.
It is also important to mention the world's record-breaking success at creating ultra-thin watches, whilst still offering complicated designs on the accessories. Some of the most impressive watches make part of the 'Haute Horlogerie' collection, their high-end range. For instance, Octo Finissimo Tourbillon Squelette is one of these carefully made watches, which has a complex rotating system. It is a thin (5.0 mm) watch, which you can get for around €8,500.
Another unique watch would be the II Giocatore Veneziano. This was inspired by 'Cardsharps' from the 16th-century Italian Baroque painter, Caravaggio. Once you activate the automation, the gambler's hand will start to move, revealing the dice. The watch was made in a way that it would have a total of 504 possible dice combinations. A one-of-a-kind timepiece.
8. Gucci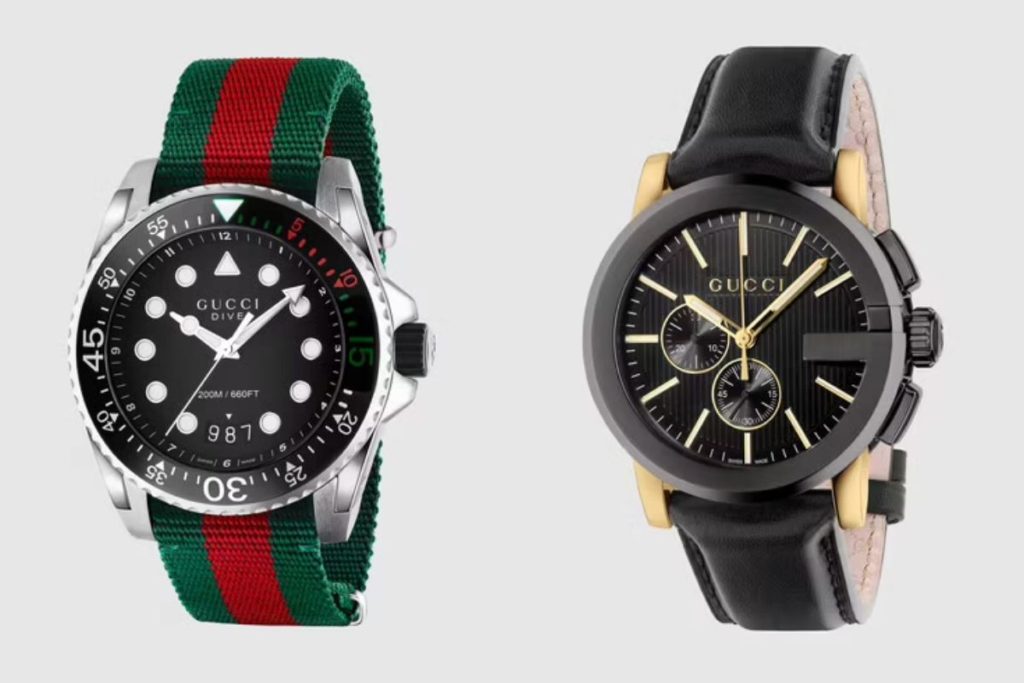 One of the famous Italian watch brands, Gucci, started its watchmaking venture in 1997. Their watches are luxury themselves, thanks to the impressive crafting. This brand sells watches, which are suitable for both men and women. For instance, The Grip watch was inspired by skateboarding.
When it is worn, it resembles a sneaker sticking to a skateboard. Quite an exquisite design if you ask me! One of their interesting, innovative yet classy design for men only is the Eryx collection. You can get this in either gold or silver and it can be paired with a black leather strap.
Another bonus is that the watch resists up to 50 meters underwater. Their Le Marché Des Merveilles has three styles and it is unisex. This was designed with the concept of connectivity. Unisex, men or women only, you will surely find an innovative, yet elegantly styled watch from this brand. Their price range from €800 to €8,200.
9. U Boat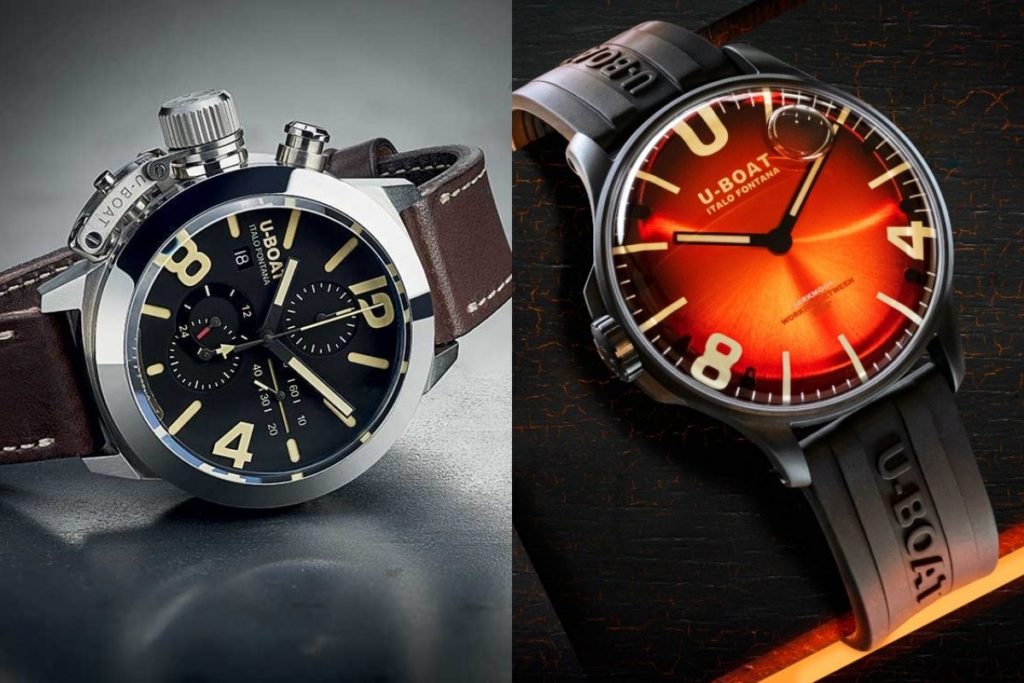 U Boat, the expensive Italian watch brand is a master at combining the Italian style with Swiss movements. Entirely handmade with selected leathers and materials. One of their distinctive and signature designs is their large crown design.
The brand's philosophy is to create new designs with freedom, without the need of following the current trend. The Italian watch brand offers nine impressive collections, presenting unusual techniques in over 60 key markets.
For example, the Net Skeleton collection which has a wire and mesh design, which makes the watch instantly recognizable, made it into the lineup of limited edition U Boat watches. Alongside comes the Pearl lineup, which had only 300 limited pieces, becoming a true fashion statement. However, you might have to take a look at their Bronze, Sideview, and Capsoil collections too.
10. Giuliano Mazzuoli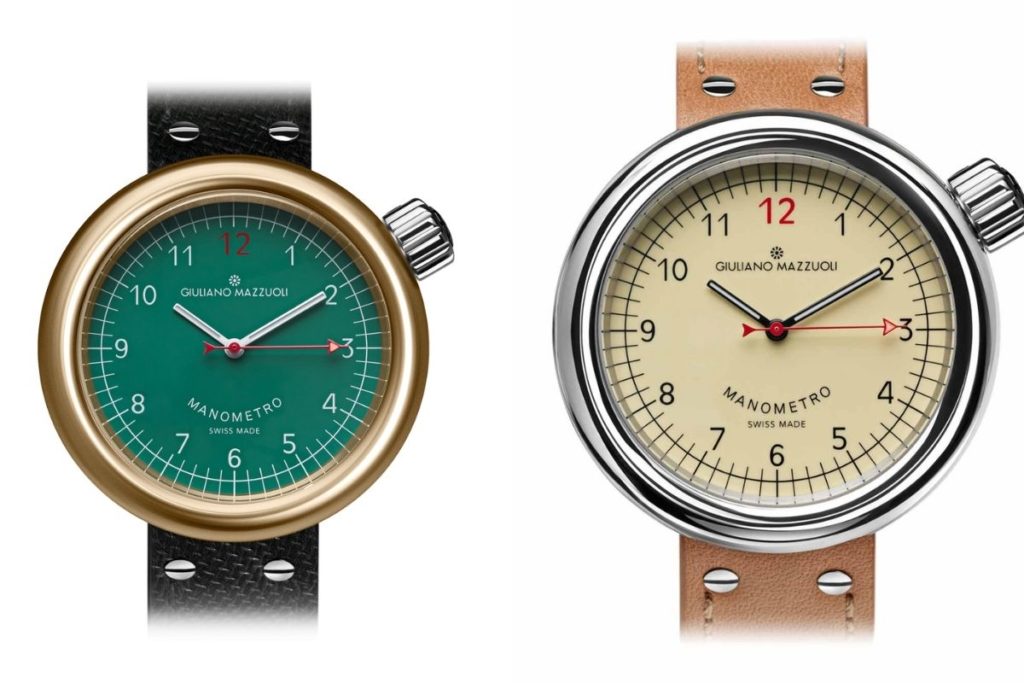 Giuliano Mazzuoli is one of the Italian wrist watch brands, which used automotive designs as inspiration. Mazzuoli himself is an enthusiast when it comes to art, the object that he creates. Therefore it does not come as a surprise that each design is unique in its way.
In all of his timepieces, the automatic Swiss movement is nicely combined with Italian craftsmanship and design. One of his popular launches is the Manometro collection. Its case is designed in Mazzuoli's usual style, with vibrant dial colors.
Another signature characteristic of this wristwatch is the placement of the crown at exactly 2 o'clock, which makes it comfortable to wear, without the crown hurting your wrist. And if all of these weren't enough to make this watch stand out, the red accents highlighted by the 12 o'clock marker, will surely make the watch pop with each and every glance. You can get your timestamp starting from €2,400 euros.
Wrapping up the 10 best Italian watch brands
This concludes the article about the ten best Italian watch brands. With insight into what these famous Italian watch brands have to offer, hopefully, it will be easier to choose one to your liking. From high-end luxury to the lower budget, vividly colored to black and white statement pieces, you can find here everything. Explore the limited collection of these Italian wrist watch brands. Who knows, you might be one of the lucky people who can get their hands on them!?
In order to choose the perfect one, you will have to look into its characteristics of it: strap, frame, technology, water-resistant or not, and other features. A watch goes beautifully with everyday casual wear but also with formal wear such as designer suits. These famous Italian watch brands can really dress up any outfit and will make you stand out. Let's see if you can find among these Italian watches one to suit your needs!
Italian version: Migliori marche orologi italiani
Pin It: 10 Best Italian watch brands – Italian watches