15 Best Italian Restaurants in London
In the great city of London, there's no shortage of restaurants. It's one of the most versatile cities in the world, with thousands of different nationalities and cultures. You'd think the market for Italian restaurants London is already saturated, but these places prove how one can never have enough London Italian restaurants.
From fine dining to family-owned businesses, small cafes, or trattorias, London literally has it all. And the best Italian restaurants in London are all different and versatile. This list includes Italian restaurants central London and an Italian restaurant London Bridge with amazing views. You'll find homemade fresh pasta, pizza, and risotto featuring delicious Italian wines.
15 Best Italian Restaurants in London – Italian Restaurants London
How does one decide which are the best Italian restaurants in London? Our list is only a guideline as there are more than 15 Italian restaurants in London. We tried to select the best based on location, reviews, and the different types of dishes they serve. Although these dishes can come up in different trattorias and cafes, the taste will always be slightly different. Let's get into our list of London Italian restaurants without further ado!
1. Bocca di Lupo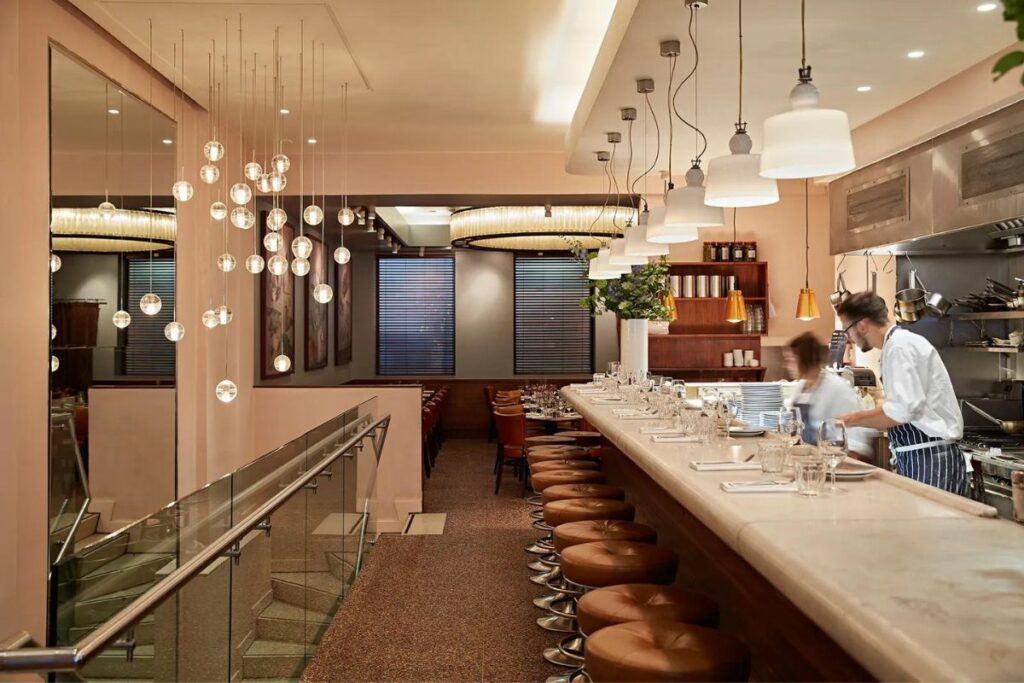 Bocca di Lupo is a popular choice within the Italian restaurants central London, with nearly 2000 reviews and 4,4-star ratings on Google. It sits in the famous neighborhood of Soho, close to Covent Garden and public transportation. It was founded in 2008 by Jacob Kennedy and Victor Hugo. The decor and style are modern and stylish yet very simplistic.
The menu is not too overwhelming, there are only twenty typical Italian dishes. Bocca di Lupo changes the menu twice daily and keeps up as the seasons change. You can check the menu ahead by downloading the file on their website. A few examples of what might be on the menu are spaghetti with bottarga and breadcrumbs or Pappardelle with venison ragú.
One of the exciting features of the menu is that it shows which region the dish is from. For instance, the Pappardelle is from the Veneto region. Italian wines are famous worldwide, and Bocca di Lupo's restaurant is extensive. Wines from Umbria, Friuli, Puglia, or Sicily are available with your delicious food. Make sure to check out this fantastic restaurant, Bocca di Lupo!
Bocca di Lupo location: 12 Archer St, London W1D 7BB
2. Murano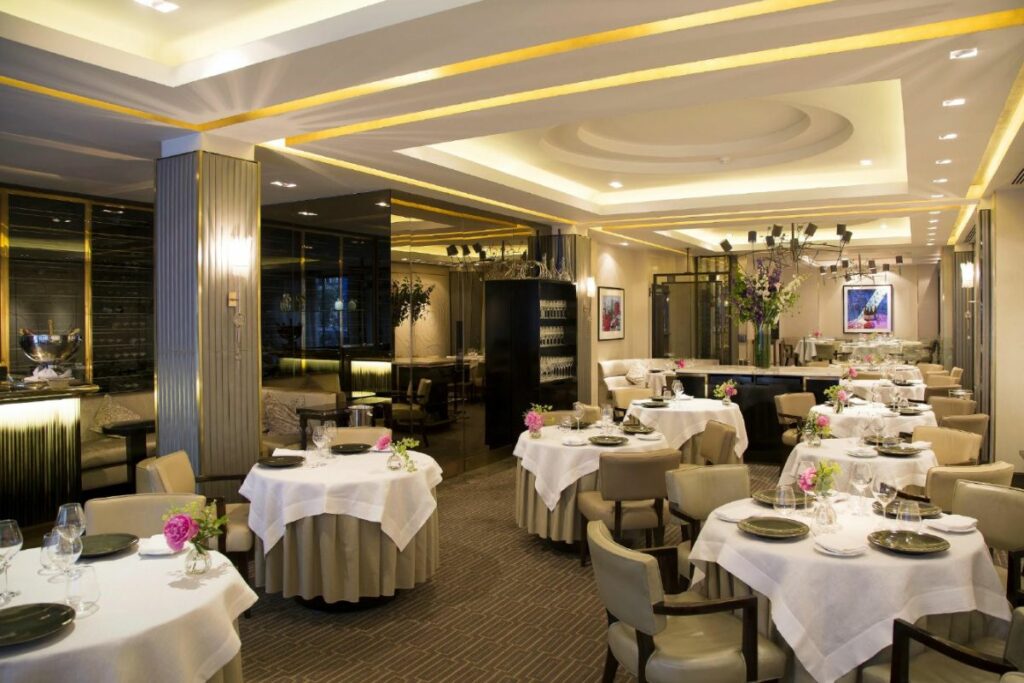 Murano is an Italian restaurant in London that gained a Michelin star within four months of opening. It is in the heart of Mayfair, and the renowned chef Angela Hartnett is the owner. It features Modern European cuisine in a stunning setting. In case you are unfamiliar with Angela's life, her Italian upbringing is why she has been so successful in her career and running Murano.
Some of the best Italian restaurants London offer a wide selection of regional wines from Italy. Murano features a large wine cellar serving just that! The most famous wines available are Montepulciano d'Abruzzo from the Abruzzo region of Italy; Emilia Romagna wines cannot be missing from the list. Furthermore, you'll find white wines from Tuscany, Piedmont, or rose from Sicily. The a la carte menu is very simple; you can choose between 3 to 6-course meals.
Some examples from the menu are Crispy sweetbread, carrot, and hazelnut, or Carnaroli risotto, parmesan, and pied de mouton. From the seafood dishes, we can count Monkfish, BBQ prawn, prawn bisque, fennel or Charred octopus, and seafood broth with autumn vegetables. Murano serves both vegetarian and vegan dishes in the same style of courses, and they are equally as delicious as the rest of the meals.
Murano location: 20 Queen St, London W1J 5PP
3. River Café
River Café has a beautiful atmosphere inside with seasonal Italian cuisine and a list of fine wines. Located in the Hammersmith area right next to the River Themes, its position has an advantage compared to the rest of the restaurants. Nearly 1400 people think it's the best Italian restaurant London, with a 4.4-star review. Before we dive into the menu, it's worth mentioning that River Café has an online shop featuring pasta, biscuits, cocktails, desserts, and even cold cuts.
Their menu changes daily, so it will only be a sample menu whenever you visit the website to check it. For instance, one can take advantage of the three or four-course menu. These dishes might include Panzotti di Zucca, taglierini, fresh pasta with artichokes, or delicious wild sea bass roasted with olives. Desserts can include lemon tart or Stracciatella ice cream. Ask for a cup of coffee at the end of the meal to experience the authentic feeling.
River Café location: Thames Wharf, Rainville Rd, London W6 9HA
4. Artusi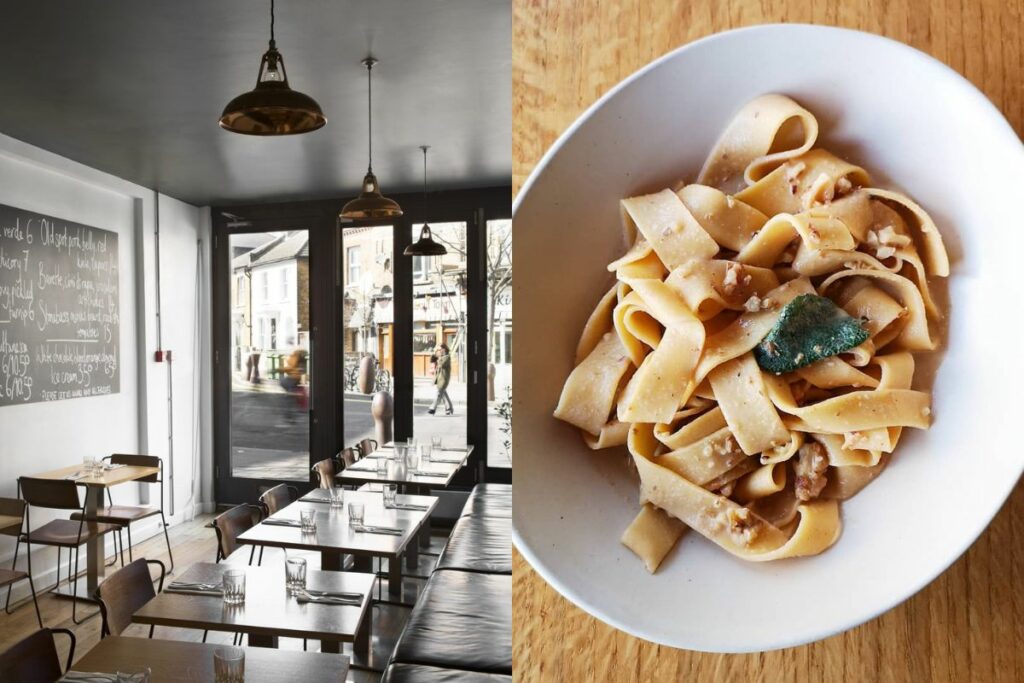 Continuing our list of best Italian restaurants London, next up is Artusi. It is a very simple restaurant further away from central London. They went for the chalkboard vibe, where the menu is written on a blackboard daily, and they serve delicious Mediterranean dishes. It is definitely not an ample space, therefore you cannot show up with 20 people, however, it is intimate, and you'll have the best time as well as the best meals.
Artusi's menu consists of simple dishes. For example, spaghetti with leek, bottarga, and pistachio, or cod with Cocco Bianco, Pancetta, and heritage carrots. The menu is slightly reduced during lunchtime and differs from the dinner menu. Lastly, the wine list is more extensive than the food, with wines from Sicily, Friuli Venezia Giulia or Liguria, and different regions in France. Whether your choice is red, white, rose, or orange, they have everything.
5. Padella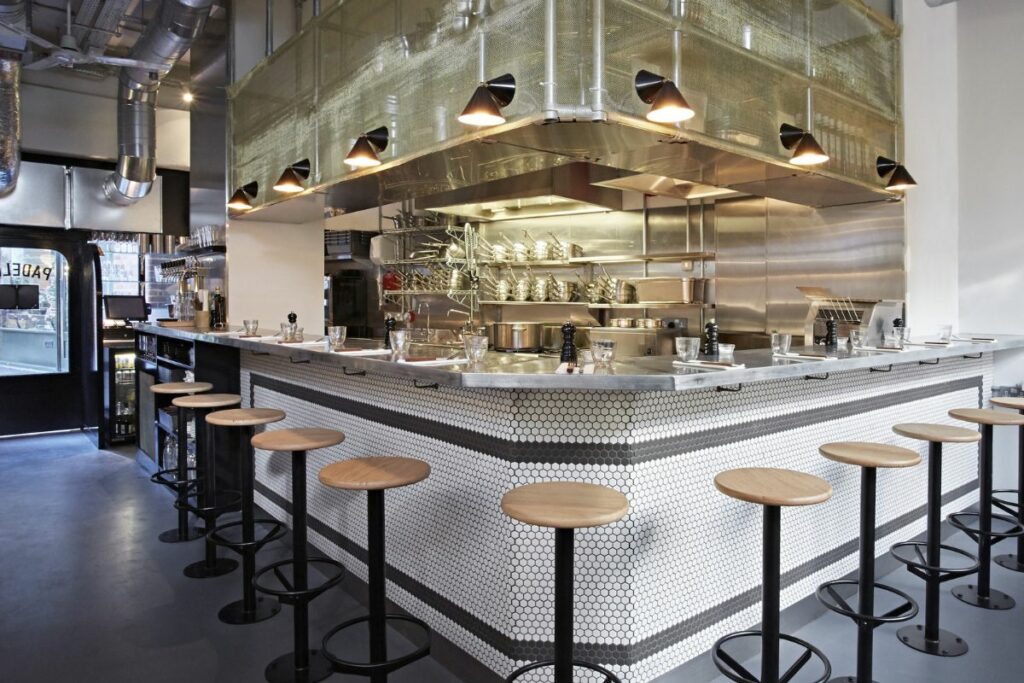 Padella is an Italian restaurant in London located in the Borough Market and Shoreditch. The first restaurant is really small, therefore you do not have to make a reservation, you can walk in and see if there are any free spaces. As for Shoreditch, Padella recommends queuing remotely this way, you don't waste time queuing outside. I think this is genius and probably attracts more guests.
That's not the reason why PAdella is among the best Italian restaurants London. Its menu is filled with the classics of Italian dishes and made in an open-style kitchen. Their pasta dishes include Stracci with gorgonzola fonduta and sweet onion, fettuccine, ravioli or cavatelli as well as pappardelle. You get to try out all of the different pasta shapes with various delicious sauces. Padella's wine list is modest, with wines from Puglia, Veneto, or Tuscany.
Padella location: 6 Southwark St, London, SE1 1TQ
6. Vapiano Tower Bridge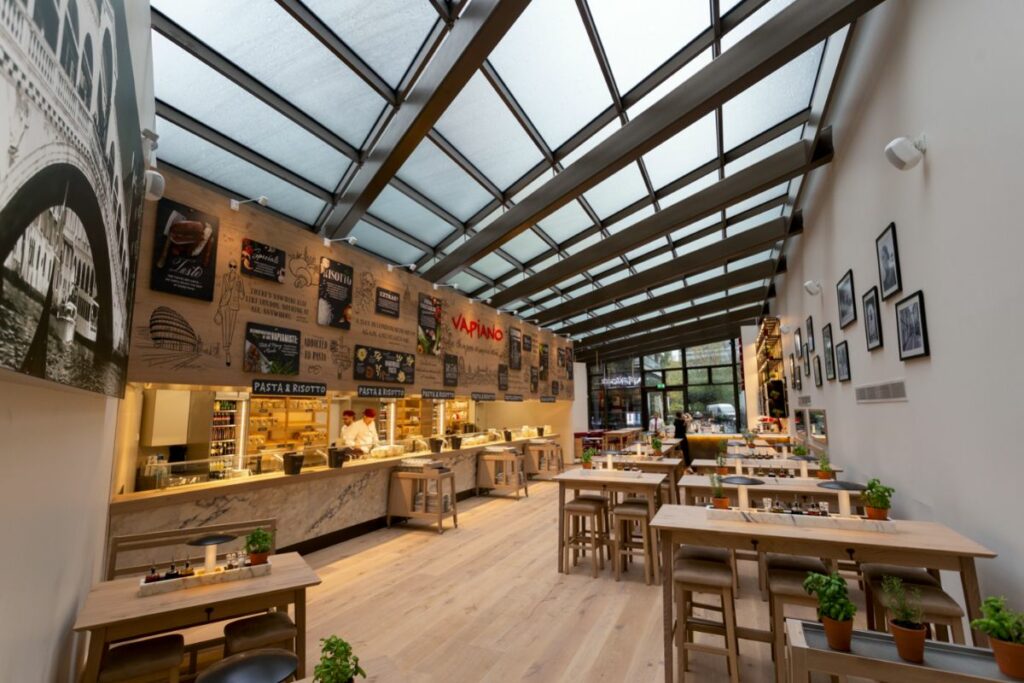 Vapiano restaurant chain caught my eye with its funky interior designs. It's a beautiful Italian restaurant London Bridge and is also in Paddington, Tottenham Court Road, and Great Portland Street. The views of the Tower Bridge restaurant are unmatched, and it is only a short walk from the station or the river. Vapiano prepares fresh pasta, risotto, and pizza daily.
They prepare it from the best quality durum wheat pasta and cut it into different shapes, such as spaghetti, linguine, tagliatelle, Campanelle, penne, or Fusilli. If you're looking for a versatile space, Vapiano is the best of the Italian restaurants central London. From carbonara to Bolognese or chicken alfredo, Vapiano serves classic Italian dishes. Don't forget to try out their handmade sourdough pizza as well!
Vapiano Tower Bridge location: Unit 2, 1 Tower Bridge, London SE1 2SF
7. Marcella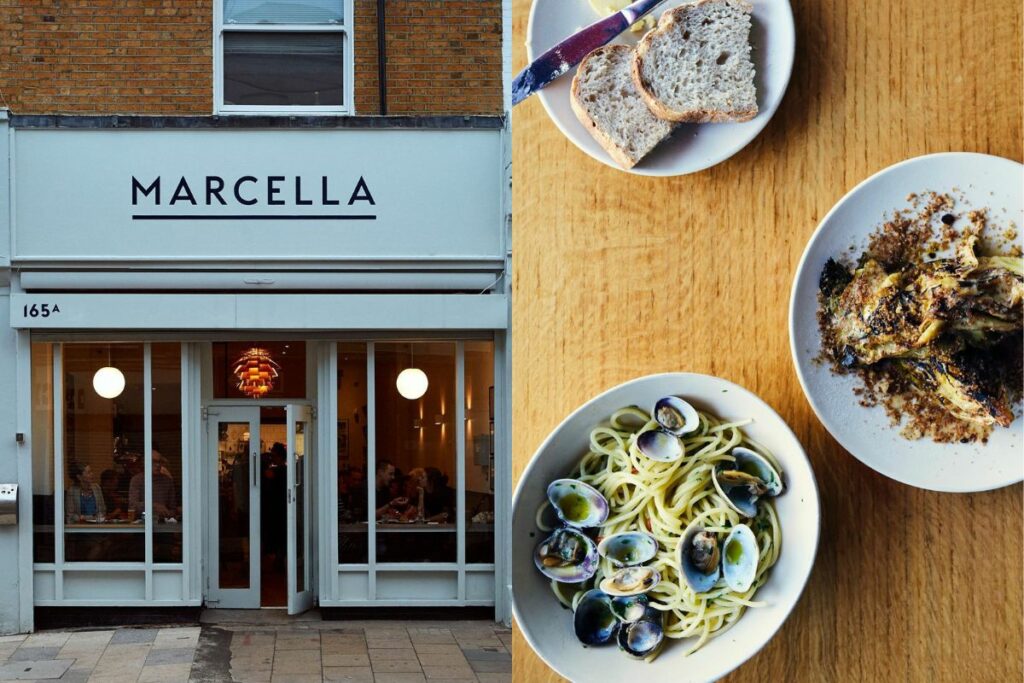 If you're looking for one of the cozy London Italian restaurants, you must visit Marcella. It is located on the opposite side of Canary Wharf across the river in Deptford. They serve homemade pasta, a variety of meat dishes, and seafood. Their motto is "the art of simplicity," as Marcella stands for simple, delicious food and drinks while keeping their focus on seasonal Italian and British focus and an exclusive all-Italian wine list.
Why did we feature Marcella on our best Italian restaurants in Lond list? Besides what they stand for, the menu is filled with amazing dishes, and on Sundays, Marcella serves a 3-course set menu. Some examples of dishes are salt cod, Cocco Bianco with black olive, or hay smoked deep fried pink fir potatoes with lemon aioli. Tagliatelle is served with pheasant, wild mushrooms, and tarragon. It is a must-visit!
Marcella location: 165A Deptford High St, London SE8 3NU
8. LARDO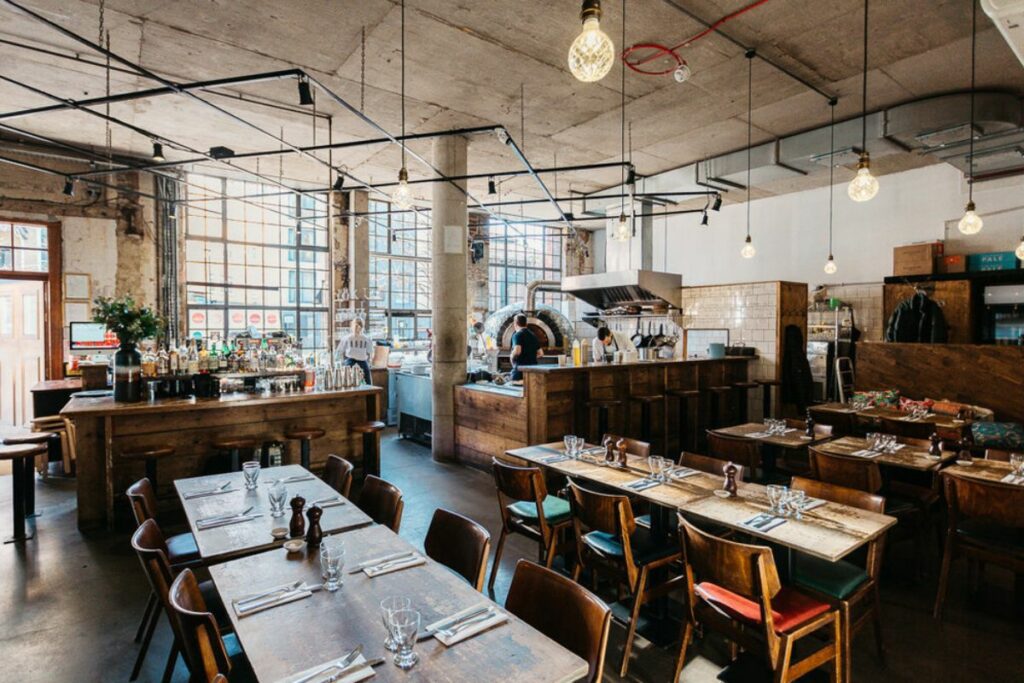 LARDO mixed the best of London with the best of Italy. Finger-licking good pizza with an industrial style interior design, and with that, they are automatically among the best Italian restaurants London. It is located in the Dalston Hackney borough. LARDO opened in 2012, aiming to prepare authentic Italian food with the best ingredients.
The best part about Italian cuisine is that it can change with the season, meaning the meals will be prepared with the freshest ingredients as the seasons change. For instance, at the time of writing, their December menu features some homemade focaccia or salt-baked celeriac. The pizza dishes at this Italian restaurant in London are truly tasty. Sausage pizza, mozarella, and toppings like goat cheese, pepperoni, or chanterelle mushroom.
LARDO location: 197-201 Richmond Rd, London E8 3NJ
9. Manteca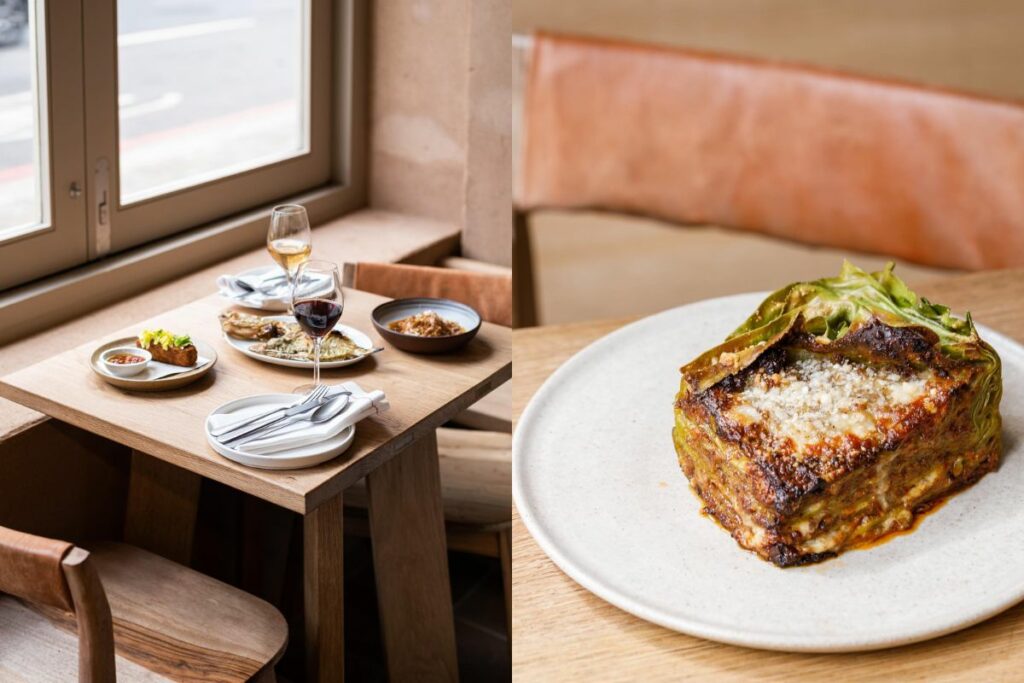 Manteca is slightly different from the other Italian restaurants, as it features an in-house Salumeria, fire-cooked cuts, nose-to-tail cooking, and hand-rolled pasta. In case you are unfamiliar with the term, Salumeria specializes in cooked and cured meats, cheese, and other delicatessens. The food menu is extended with loads of tasty Italian meals.
From the pasta dishes, you'll find rigatoni, tonnarelli, fazzoletti as well as white truffle taglierini. Furthermore, the meat and seafood section offers wood-roasted whole fish, sika deer chop, or limousin beef. Manteca serves different cocktails, liquor, beer, and non-alcoholic beverages that go well with the dishes. The interior design makes it the best Italian restaurant London.
Manteca location:  49-51 Curtain Rd, London EC2A 3PT
10. Alma's Restaurant Italian Cuisine & Pizzeria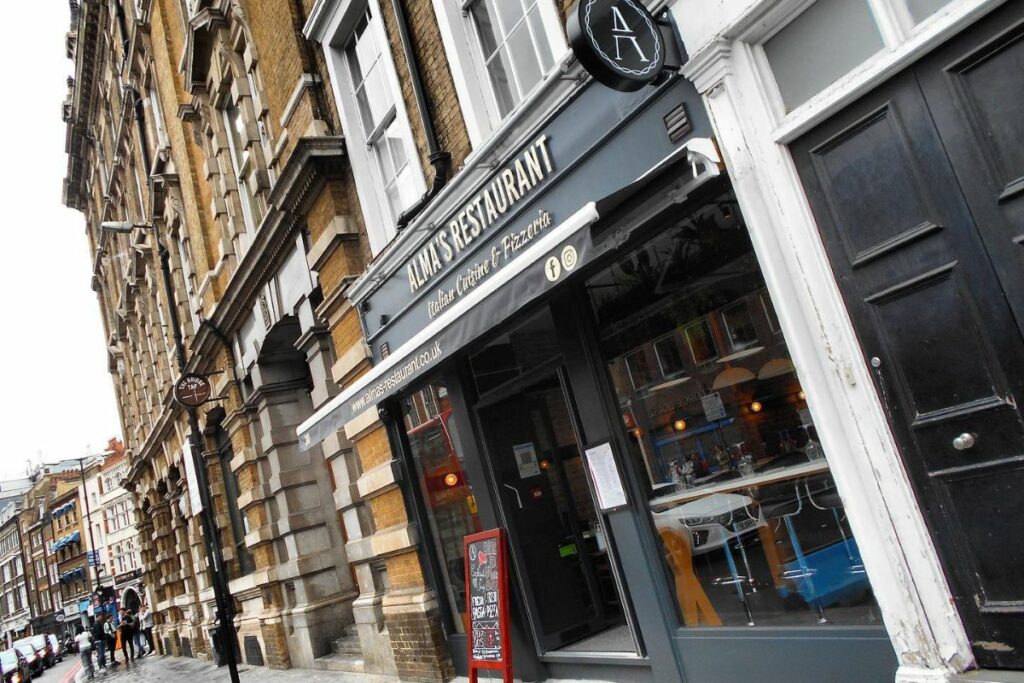 For anyone looking for restaurants around London Bridge, this is the one for you. Alma's Restaurant is an Italian restaurant London Bridge, serving small plates of traditional Italian cuisine. The wine list is filled with the best Italian wines, such as Pinot Grigio, Syrosa Doc, or Montepulacnio D'Abruzzo Doc from the Abruzzo region. I also have to mention the classic Chianti from Tuscany.
The rest of the menu can be separated into 3 sections. Starters, mains, and desserts. Within the starters section, Alma's serves Italian-style croquettes or focaccia bread. Homemade pizza is the best pizza, you can choose from Piccantina, Margherita, Prosciutto e Rucola, and many others. They also serve fresh pasta and risotto with the most delicious sauces. You cannot leave without trying out the Panna Cotta or the Souffle al cioccolato!
Alma's Restaurant Italian Cuisine & Pizzeria location: 30 Borough High St, London SE1 1XU
11. Tavolino Bar & Kitchen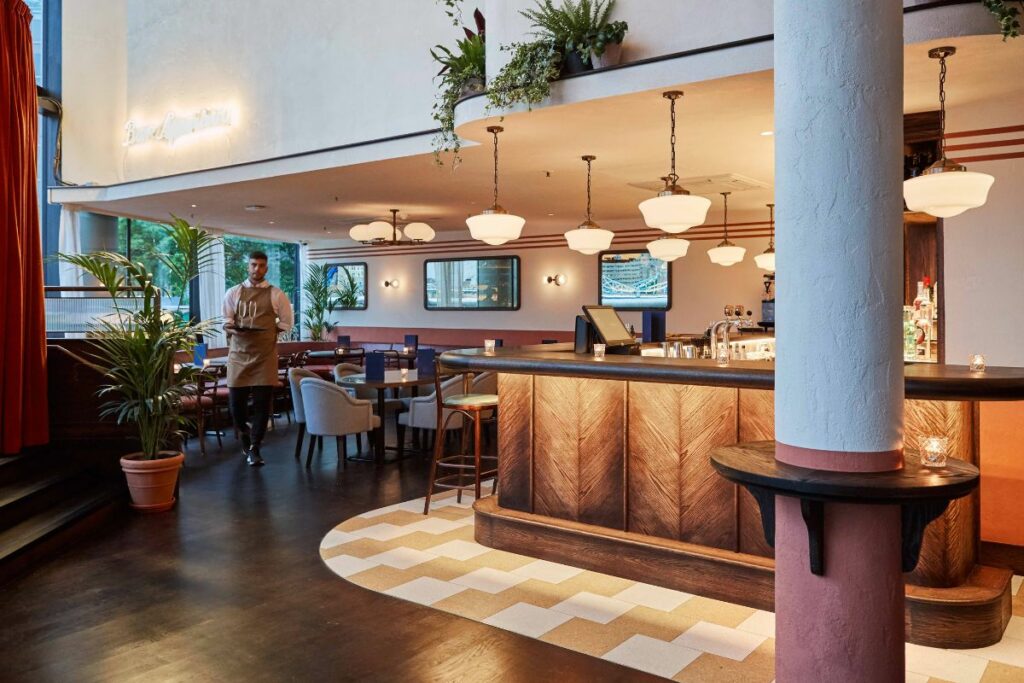 Another Italian restaurant London Bridge is the Tavolino Kitchen & Bar. If you've walked along the river Thames close to Tower Bridge, it's impossible to miss out on this stunning restaurant. It has breathtaking views of the bridge, the interior design is extraordinary, and the dishes are also delicious. Besides the restaurant, Tavolino also features an Aperitivo bar separate from the main space where the meals are served.
Tavolino can also be booked for special events, such as dinner parties, corporate meetings, or any special occasion. It is among the best London Italian restaurants thanks to its extensive menu and choices of Italian dishes. For instance, the pasta dishes feature pappardelle or tagliatelle with prawn. You can also find chicken Milanese, pan-fried cod fillet, and a few types of pizza. If you're satisfied with your meals, head over to the bar to drink the best wines from the menu!
Tavolino Bar & Kitchen location: 2 More London Pl, London SE1 2RR
12. Trullo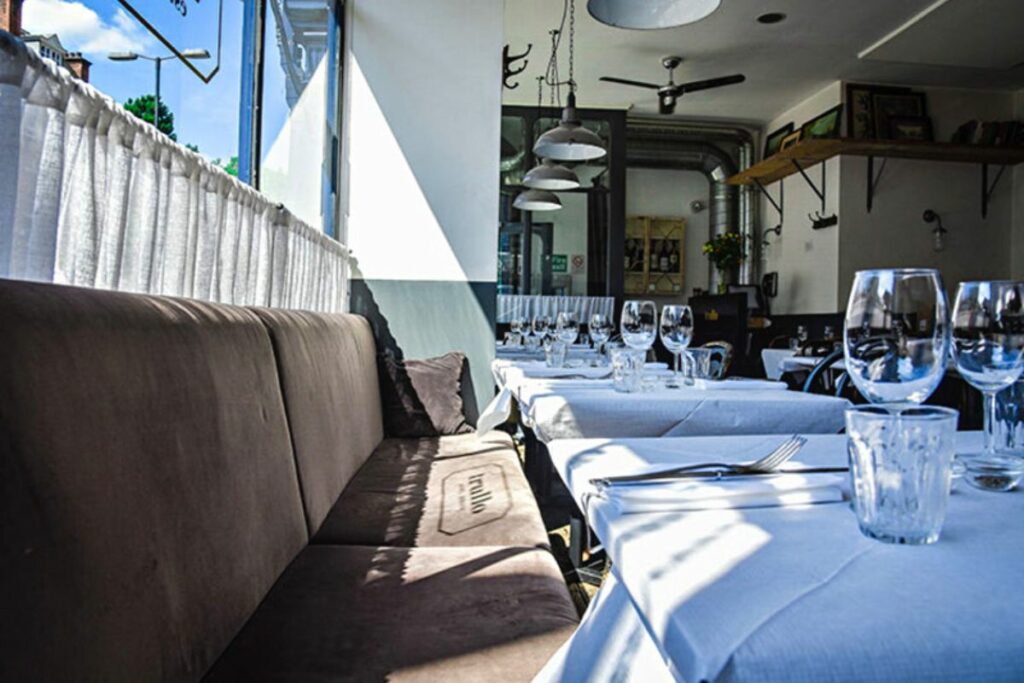 Trullo restaurant opened in 2010, and its menu is quite simple, focusing on seasonal Italian dishes. Handmade pasta can be found on the menu, and the meats are cooked on a charcoal grill. Trullo pays attention to the ingredients used and sustainability, understanding where each product comes from. While browsing the menu, you'll find separate menus for lunch, dinner, wine lists, and private hire.
The lunch menu is a bit shorter and includes dishes like bruschetta, pici Cacio e Pepe or Dorset lamb. At the same time, the dinner menu consists of focaccia, roasted shallots with trevise, or cornish monkfish spiedini. The wine menu is forever changing, but some can include sparkling wine from Lombardy, Puglia, or Veneto and white wines from Liguria or Piedmont.
Trullo location: 300-302 St Paul's Rd, London N1 2LH
13. Circolo Popolare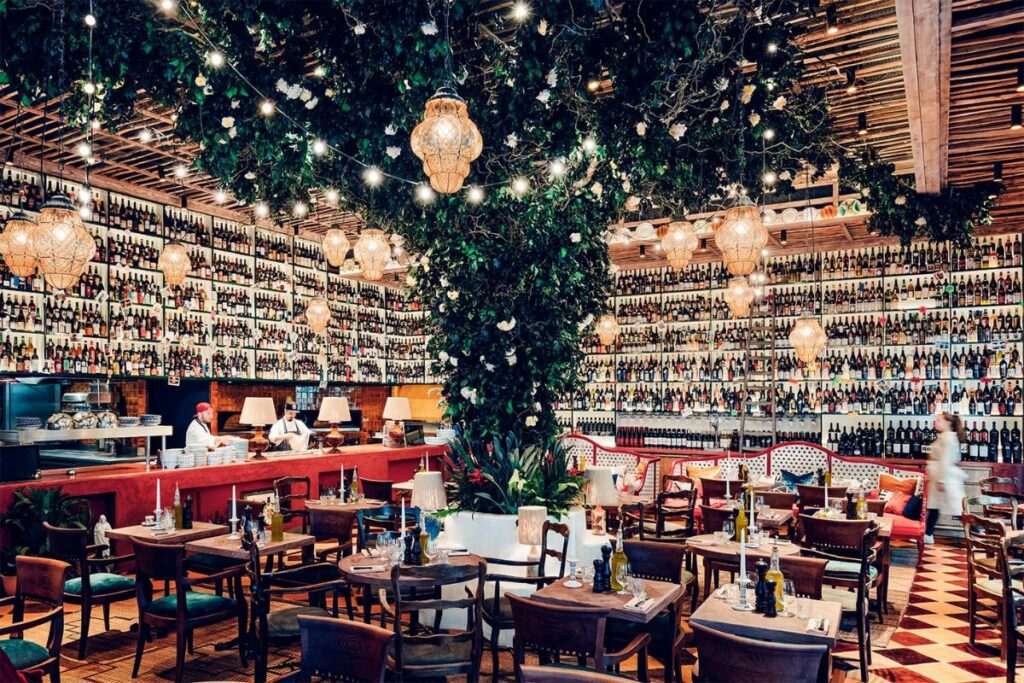 There are many excellent Italian restaurants central London, including Circolo Popolare. The interior of this restaurant is exquisite, displaying over 20,000 bottles of drinks on its shelves. I've never seen this anywhere else! It has an incredible atmosphere, and it's nearby the British Museum. Circolo Popolare is inspired by the sunny Sicily, and 130 Italians run it!
The menu is always changing, but there are a few staples. The starters include pizzetta Della nonna, a fluffy pizza, or smoked stracciatella. Circolo Popolare includes Neapolitan pizza, like Emrata Burrata, tomato base, stracciatella, taggiasche olives, capers and lemon on top. There are also plenty of vegetarian options and even a few vegan ones. It's a fantastic place to visit when you're unsure where to eat.
Circolo Popolare location: 40-41 Rathbone Pl, London W1T 1HX
14. Il Giardino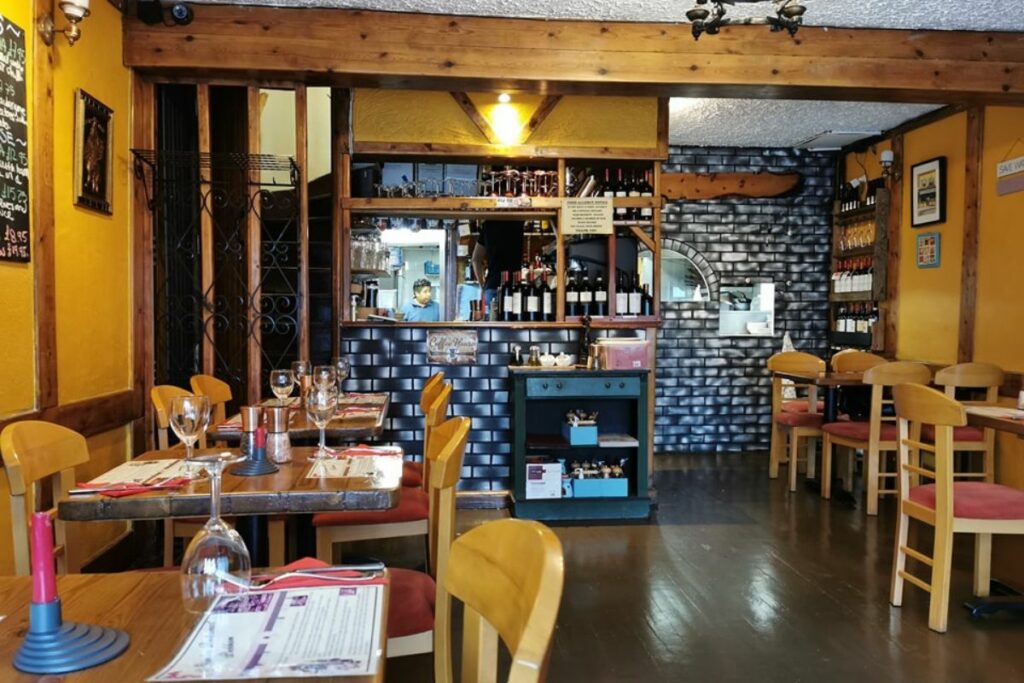 Il Giardino is a homestyle Sardinian restaurant in a rustic setting serving tasty pizzas both inside and on the terrace. It's the best Italian restaurant London if you're looking for an authentic experience. They do not have a website, so the reviews are probably from people who just stumbled upon this trattoria. Regardless, the reviews are great, and they serve delicious food.
The menu has classic Italian dishes such as cold cuts, tomato or mozzarella, and Asparagi Al Forno. Il Giardino serves the best cheese! Its pasta dishes do not disappoint, featuring penne, tagliatelle, and spaghetti with mussels. Furthermore, Il Giardino also includes a few different types of pizza on the menu. Lastly, one can taste seafood dishes like off-bone trout or kingfish.
Il Giardino location: 7 Blenheim Grove, London SE15 4QS
15. Locanda Locatelli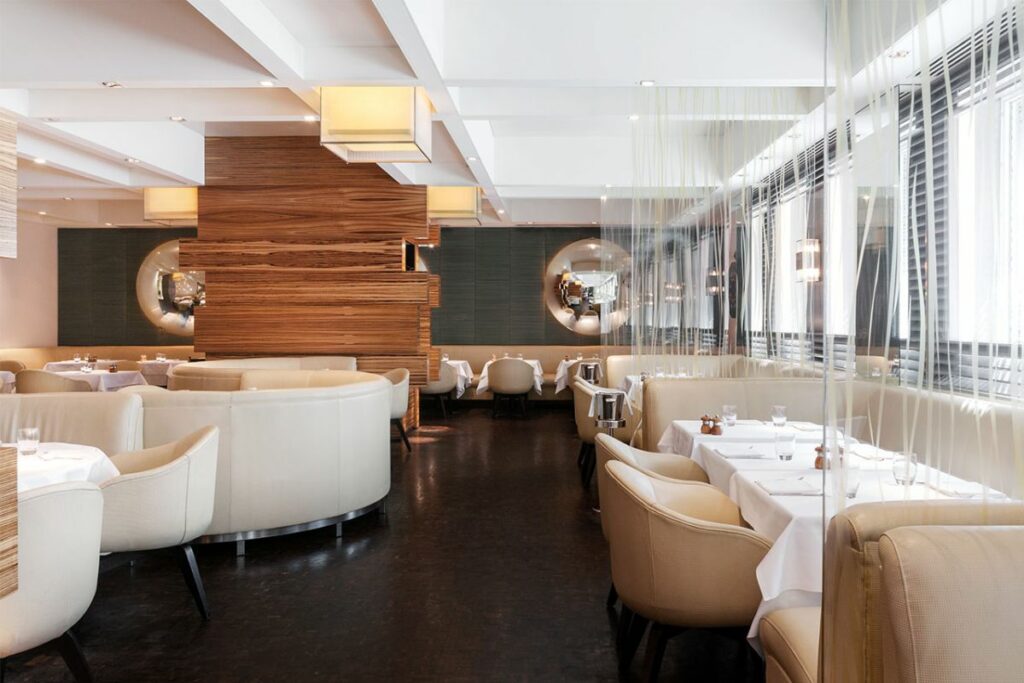 Finally, the last of the Italian restaurants central London is the Locanda Locatelli. It is a Michelin-star restaurant with stunning interior design, an imaginative take on Italian dishes, and a long list of wines. They are located inside the Hyatt Regency in London, so you already know it will be a one-of-a-kind experience.
The menu comprises appetizers, pasta, fish, meat, and even vegan dishes. The pasta dishes can include linguine with cornish lobster or homemade gnocchi. Some meat dishes feature roast rabbit leg, chargrilled rib eye steak, or pan-fried calf liver. Needless to say, the presentation of these dishes is exquisite, as you would expect it to be from a fine dining restaurant.
Conclusion – Italian Restaurants London
That concludes our list of the best restaurants in London. From fine dining to small trattorias, London has it all. It's not easy to choose your favorite Italian restaurant London, but with this list, you can try out a few different locations and find one you'll go back to from time to time!
Pin it: Italian Restaurants Central London – Best Italian Restaurants in London