10 Best Beaches in Veneto region
As a region of Italy, Veneto and also called the Venetian Riviera is well known for the beauty that awaits to be discovered. It is a diverse region, called the top service excellence region by visitors. It is also well known beyond Italy as tourists worldwide are coming to enjoy the Italian experience on holidays. Veneto is much more than just Venice or Murano. There are beautiful beaches to explore along the coast, and if you're not looking for really crowded places, such as the Italian Riviera, the Amalfi Coast, or Rimini, this might just be the right place for you. Discover the best beaches in Veneto, Italy with us!
10 Best beaches in Veneto, Italy – Best beaches to visit in Italy during summer if you're around Venice
If you don't know where to go in Italy during summer, the Veneto region is the answer to all the expectations you might have. Well-groomed beaches surrounded by nature and ancient fishing villages are all around you.
Relaxation facilities are the top features to describe the beaches in Veneto. Designed for every traveler that wants to spend their summer in Italy, elite resorts are placed all around the 100+ coastline beaches with diverse relaxation and entertainment features. So, here is our list of the 10 best beaches in Veneto, Italy!
1. Spiaggia di Lignano Pineta, Pineta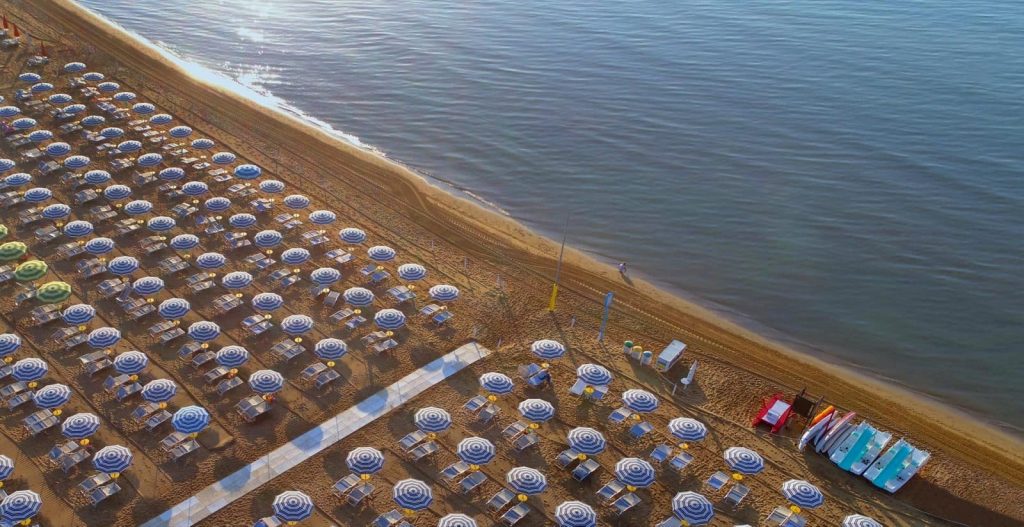 We start our introduction to the best beaches in the Veneto region of Italy with Spiaggia di Lignano beach. This is a place for all those who want to combine greenery and relaxation with the desire of having fun and enjoying the sea experience at another level. The beach has everything, and it's often called a glamorous beach, having 5 stars hotels, restaurants, massage facilities, and also a whirlpool with a sea view.
Moreover, this glammy beach in Veneto has also a VIP area. There you have access to umbrellas, sunbeds, and even a mobile charging facility. On Lignano Pineta beach, you can order a snack, a lunch, or a drink from your own sunbed. You do it through the VIP app, Lyzard while watching some animation activities. The activities that can be practiced on Lignano Pineta are swimming, windsurfing, canoeing, and pedal boat, all these with experienced trainers from the prestigious school of Mosaics.
2. Spiaggia Bagni Al Granso, Rosolina Mare

Soft sand and easy access in the sea, all along the 8-km zone of Rosolina Mare's beach Bagni Al Granso in Veneto is what inspires the best holiday experience for every traveler. Being one of the most visited beaches for holiday tourism, Rosolina Mare beaches where you can have your relaxations and get out of your comfort zone by having lots of opportunities such as horse riding and sailing.
Lots of sports can be practiced on Rasolina Mare beach, tennis and volleyball being the most required activities. On the 9+ kilometers, you can discover pristine sand, beautiful pines, dunes, the lagoon, and immerse yourself in a nature escape experience during summer in Italy.
3. Spiaggia di Sattomarina, Chioggia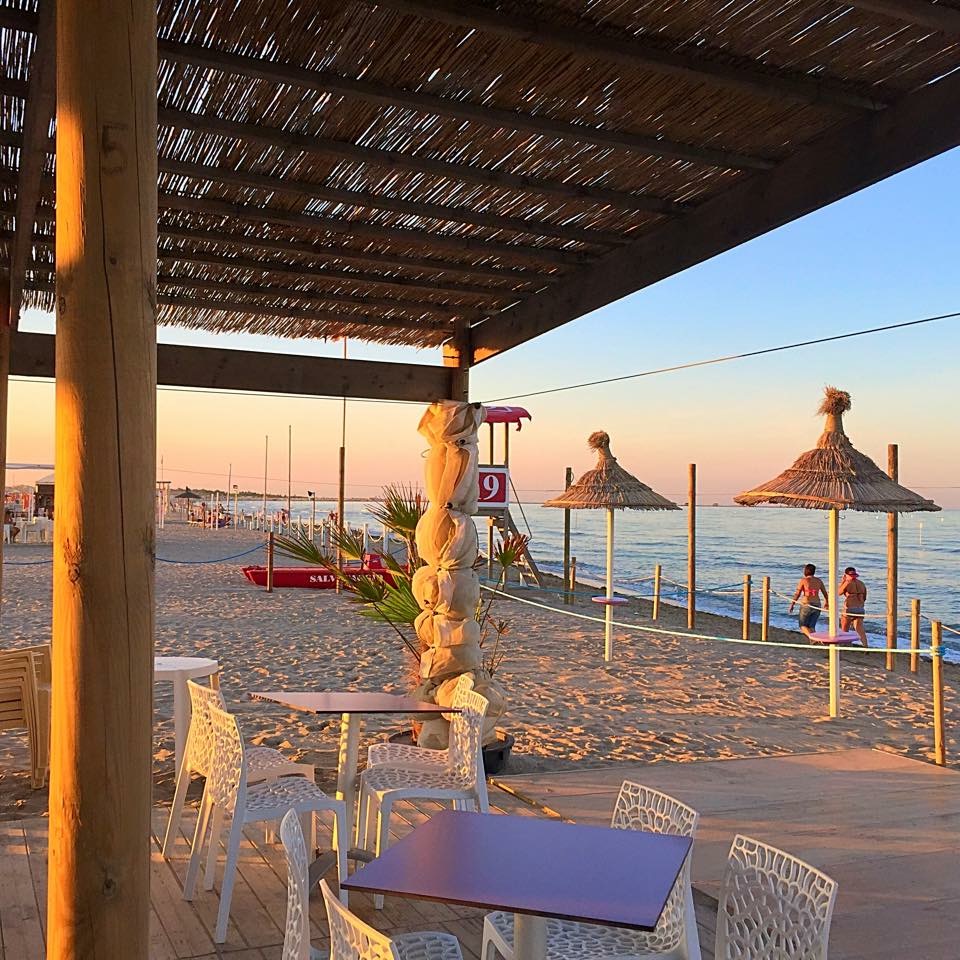 in Sattomarina, you will find one of the best beaches in Veneto, which is the synonym for comfort and well-being. Equipped with plenty of relaxation features and also with pet-friendly areas, Spiaggia di Sattomarina is a refreshing environment for singles, families, and anyone who wants to bring their furry friend.
Also, the ones who want to get fascinated can see the Tegnue, the beautiful natural reef in the Adriatic, and the variety of sea life forms that populate the surroundings. Traveling to a beach full of wanders for their summer in Italy, the ones who love scuba diving will be happy to practice their hobby or profession. They can, by following lobsters, crabs, and teams of fish, all majestically waiting to be discovered in their natural habitat.
4. Spaggia Lungomare d'Annunzio, Lido di Venezia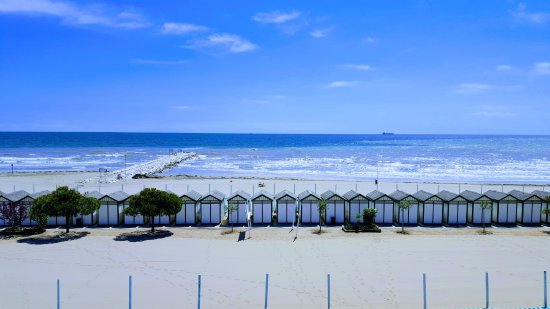 Not so far from the center of Lido, Spiaggia Lungomare d'Annunzio beach is rich in accommodation features nearby. It offers a total relaxation establishment for your sunny days in Italy. A quiet beach in Veneto makes it the best choice for families and couples who quietly enjoy their day or make local friends.
The chill, relaxed vibe and safety settings allow you to sleep, and read a book. You can just go for a swim in the sea without any problem. There are no crowds, no music or drinking on the beach. All the sunbeds, umbrellas, and chairs are distanced, allowing you to enjoy your little heaven spot in Italy's Spiaggia Lungomare d'Annunzio.
5. Spaggia di Albarella, Albarella
Explorers will be amazed by Spiaggia di Albarella, the beautiful beach of Albarella. A well-equipped beach full of golden sand, having a clear warm sea on an Island, connected to the mainland by a bridge. There can be lots of activities such as beach volleyball, tennis, and soccer, restaurants, bars, and kiosks offering everything to have happy visitors.
Once you arrive at Spiaggia di Albarella, you will see that is not as crowded with tourists as the other beaches in Veneto. It is the best retreat place for those who want some private time. There is high protection ensured to the environment, and the visitor numbers are being regulated. Still, it is the best place to practice water sports such as stand-up paddle and windsurfing.
6. Spiaggia di Cavallino Treporti, Cavallino Treporti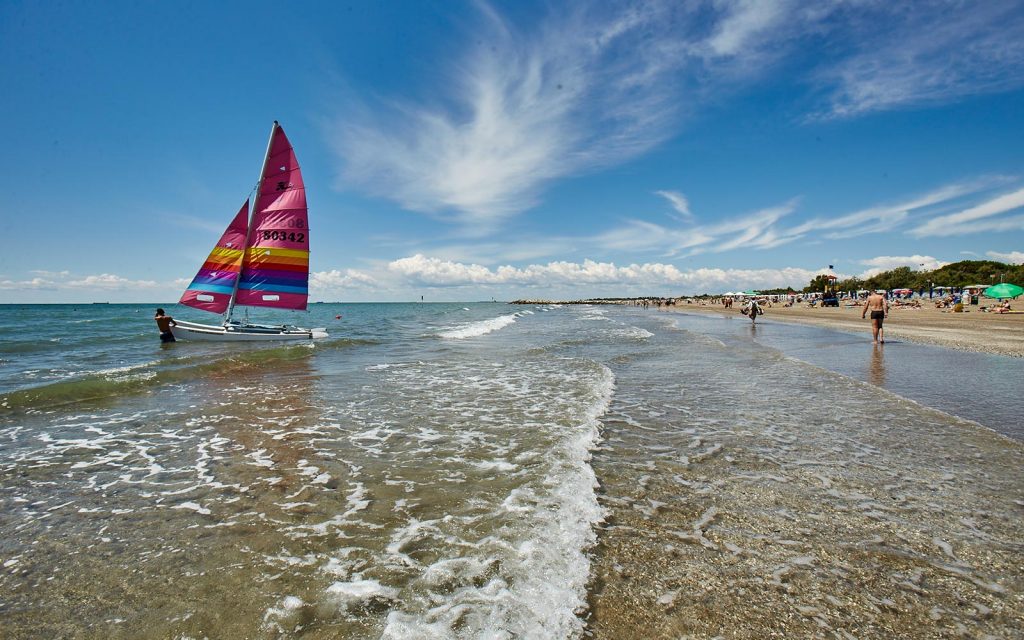 For joyful experiences and amazing sunsets, all set on a wonderful beach of Veneto, Cavallino Treporti is the best choice you can make! It is known as a cure for every visitor, as walking along the shoreline is an excellent therapy session, thanks to the water's iodine richness. Cavallino Treporti is a blue flag beach, which makes it one of the high-quality beaches in Italy.
It is a safe destination for all families who want to quietly watch their children. It's for getting familiar with the seawater while chilling on air mattresses, under an umbrella in a totally natural environment. Then, for the young who want some beach activities, plenty of animation groups await to design some cool activities for you to enjoy your summer in Italy.
7. Eraclea Mare Spiaggia, Eraclea Mare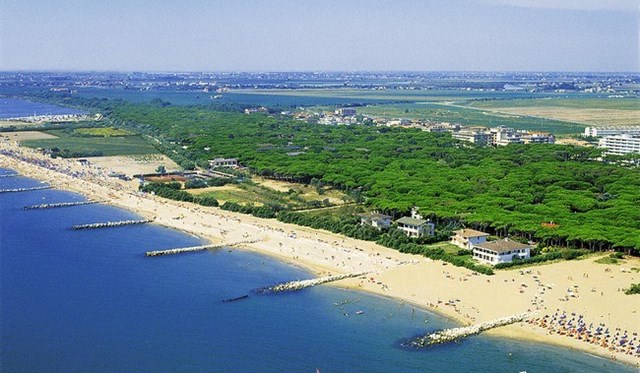 The beach called Eraclea Mare is a wide and long beach also called the paradise of shells! Cleanness, soft sand, and warm, calm water make this beach to be extremely visited by tourists all around the world. It is a child-friendly beach, with lots of restaurants and bar services overlooking the sea. Sunbeds, umbrellas, and snack bars offer a great atmosphere to rest and have a chill time with your family.
Eraclea mare is the largest beach of the beaches in Veneto. It has features for different-abled tourists, special rigid walkways, and a special wheelchair to enter the water directly. Let's not forget about the children's area, filled with toys and entertainment stuff, and of course, free wifi.
8. Jesolo Spiaggia, Jesolo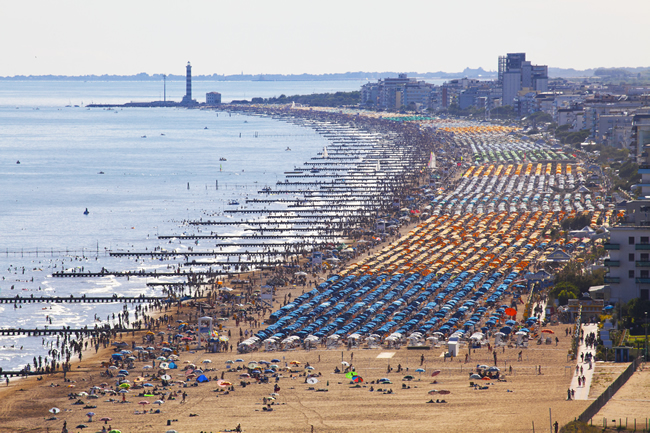 As one of the best beaches in Veneto, Spiaggia Jesolo is divided into many sections. It offers you plenty of relaxation, fun, or even adrenaline opportunities. Tourists have grown an interest in the Jesolo beach. Besides sunbathing on a long beach and swimming in the warm water, they finally found epic festival experiences on the sand, with DJ'S performing until the sun comes up! You can just wander along the coastline and satisfy each of your needs, one by one.
For sure, you will get amazed by the unique sand sculptures. You will be undecided whether to practice surfing or paddleboarding. You can try windsurfing, sailing, banana boat rides, or even diving in the Adriatic sea when you get to Jesolo beach.
9. Bibione Spiaggia, Bibione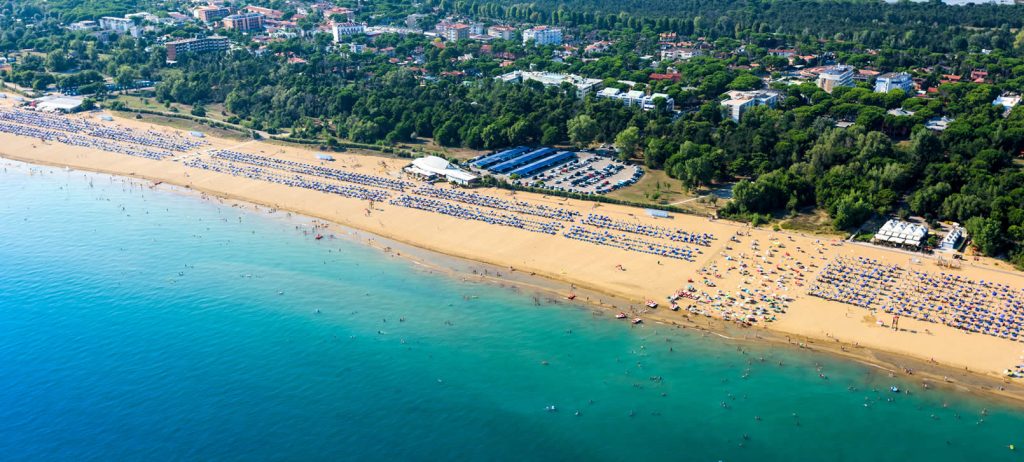 Fortunately, if you are into diving or other different experiences, there are different sports. Some fun activities and even dancing and fitness sessions are available for practice every day on the Bibione Spiaggia beach. It is a destination mostly for family holidays, pure and healthy air, clean sand, and non-smoking areas. The beach is totally immersed in a natural environment, harmoniously waiting for its respectful tourists every year.
Moreover, Bibione Spiaggia is very accessible, safe, and alive. It has different settings for everyone's access. The beach is one of the best beaches in Veneto for differently-abled tourists, equipped with free chairs, sea wheelchairs, and sanitary facilities. Qualified personnel is set along the beach offering the tourists free health features. Bibione Spiaggia is known as the heaven of dogs. Also, the far end of Bibione beach is reserved for those who want to spend their holidays with their furry pals. You can spoil your beloved dog with beach umbrellas, refreshing showers, and of course, dog beds.
10. Spiaggia de Levante, Caorle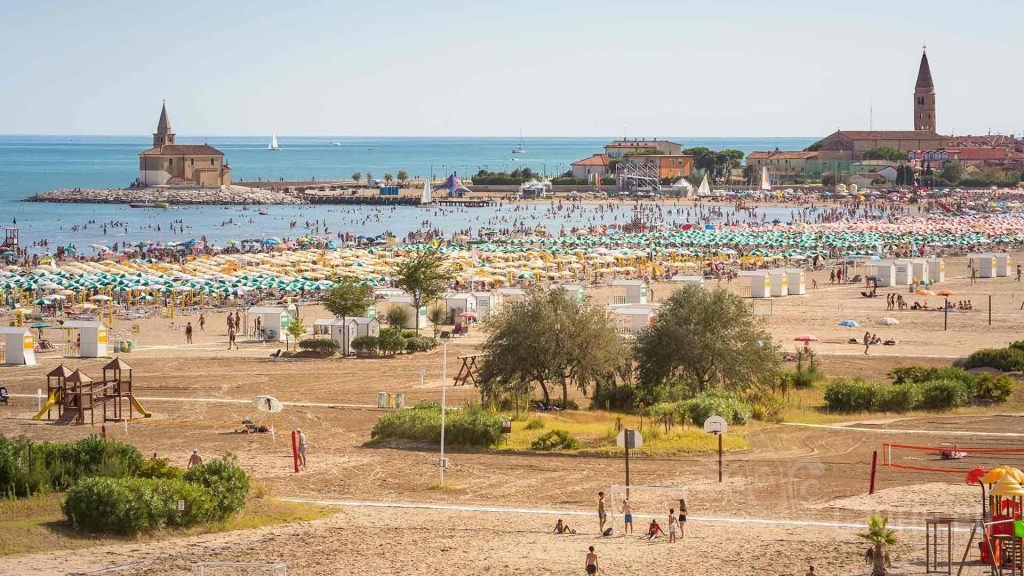 Long sandy beaches and clean seawater, are the perfect combination. It's for those who want to spoil their young kids while having the best sunbathing experience. The town of Caorle is called an example of good Italian coast management. The Spiaggia di Levante is the safest beach for children, thanks to the easy access to the sea and the possibility to play sports.
Therefore, being situated in the east part of Caorle, Spiaggia de Levante is first chosen for its extraordinary sunrises. Also, for the family setting atmosphere. Several attractions such as bars, restaurants, and activities for families are at everyone's nearby, and first ad stations, lifeguards and nurses are always around to look after the tourists.
Crapping up the best Veneto beaches – Holiday in Italy in the Veneto region
After seeing all those best beaches of Veneto, it is sure that they can't be missed during your summer trip to Italy. Judging by all the surroundings, establishments, and attractions that the beaches in the Veneto region have, a solo traveler or a family gets everything they would need to have the best beach experience in Italy and the safeness that allows them to have fun! Moreover, the beaches in Veneto are for all ages and preferences! We hope you enjoyed our short introduction.